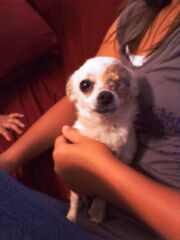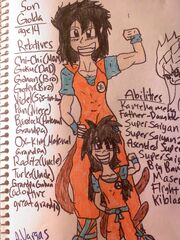 "No day is SO bad that it cannot be fixed with out a nap"
— Carrie Snow

My name's Lexy. I'm a fan of DBZ, AVP, a little Naruto, but all for DBZ.
YueHatake

BirthName

Lexy

Height

5'3"

NickNames

Dummy, Cowlover, Confused.

Gender

Female

Born

October

Location

Earth

Race

Human/Saiyan

School

10th grade
"Wait? If you have enough time to jump in front of someone to take a bullet for em, wouldn't that same person be able to jump out of the way too?"
— My younger sister

Me and my bros are fans, while my younger sister is all for those reality shows. Bleh!!! My first episode of DBZ was of Bulma and Goku meeting Master Roshi. I read most of the books, and tried to draw Akira Toryiama style. It turned out a wee bit ok, as the SonGolda image is my own, I drew it myself. I've tried out Naruto drawing, but I like the DBZ style better. I really detest animal cruelty, as I heard from my grandmother yesterday that she had taken her small dog, Rocky, had crawled through a hole in a fence..Someone thought it'd be funny to kick poor Rocky, who doesn't even weigh 5 lbs and isnt a threat, and now he lost his eye..When I saw him yesterday I was mad. His jaw had been broken by the kick, and the force had also caused him to lose use of his eye..Now he has a blind spot and can't eat right because of his jaw. The vet sewed him up, and Im still mad about it.
My Favorite Characters
Edit
10.Chi Chi
9.Android 17
8.Mirai Trunks Briefs
7.Bardock
6.Buu
5.Prince Vegeta
4.Android 18
3.Kid Goten
2.Son Goku
1.Son Gohan
My Least Favorite Characters
Edit
5.Yamcha
4.Dr Gero
3.Dr Myu
2.Baby
1.Pan(GT)
My favorite pages
Edit
I will draw your OCs for you! :) For the requests, I'lll often ask if you want any specifics, like hair wise clothes poses etc so you'lll most likely get a message from me about it x3
Upcoming Stories
Edit
If Only-A one shot of Bardock and his feelings of his son and the twins
Warrior Twins-Gojie and Gohan's adventures in the DBZ world
Community content is available under
CC-BY-SA
unless otherwise noted.