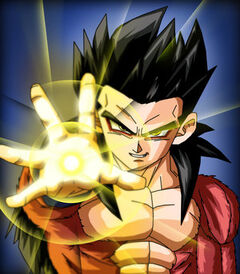 Hey there, I am ExtremeSSJ4 also known as Ex, 4 or Extreme. I've been on the wiki for a while now (a year) and love the community here (even though some of them are jerks xD). Its fun to hang around and read stories from other users and see how creative their ideas are.
I have some projects of my own like Dragon Ball What If, Days of Pain (My main story for now), Life of a Son (Legacies Episode) and Dragon Ball Ultimate Saiyans...I would be so happy if you read any of them and if you leave me a review/opinion of it. Anyway, hope you guys like them if you read any and have a good time read. I am a current admin at the Fanon and Data Wiki, Percy Jackson Fanfiction Wiki and The Walking Dead Fanfiction Wiki. If you have any question, you are free to ask and good luck!
ExtremeSSJ4 — Status:
TALK — Tuesday, 14 July 2020
Offline
Coming Soon
Edit

Top Ten Favorite Characters
Edit
10.) Piccolo
9.) King Cold
8.) Bardock
7.) King Vegeta
6.) Frieza
5.) Goku
4.5) Raditz
4.) Vegeta
3.) Trunks (kid and future)
2.) Goten (kid and adult)
1.) Gohan (kid and adult)
Top Ten Favorite Dragon Ball Moments
Edit
10.) Raditz getting killed
9.) Goku turning SSJ3 for the first time
8.) Goten and Trunks doing the fusion
7.) Piccolo trainig Gohan
6.) Vegeta staying alive after his battle against Goku
5.) Pan getting lost in the desert
4.) Future Trunks killing Android 17 and 18
3.) Vegeta killing Android 19
2.) Goku defeating Kid Buu
1.) Gohan defeating Cell with the Father and Son Kamehameha
Community content is available under
CC-BY-SA
unless otherwise noted.