This page, The KidVegeta Anthology/Dragon Ball: Cold Vengeance (final draft), is property of KidVegeta.
This article, The KidVegeta Anthology/Dragon Ball: Cold Vengeance (final draft), is the property of Hyper Zergling.

Hyper Zergling and I originally wrote Cold Vengeance in 2012 as a sequel to both of our main stories (The Forgotten and The Mrovian Series). This would tie our universes together, allowing us to pursue future collabs, particularly Dragon Ball: Heart of the Dragon. The original draft of this story wasn't terrible, and I was satisfied with it at the time, but as time wore on and both of us became better writers as well as more mature adults, we grew dissatisfied with the quality, knowing we could do better. It went alright with the original versions of TF and (the barely-written) TMT, but once those stories were updated, rewritten, and polished, CV remained a relic of times past, and that was mostly a bad thing.
Hyper Zergling wanted more SSB-style combos for his fight scenes, and I wanted to expand upon some of the secondary characters, like Kirka. In addition, we both wanted to expand upon the scenes that take place after Cuber, Chaiva, and Ledas arrive on Earth, with the former two being introduced to the Z Fighters for the first time. Indeed, one of the most important features we came up with that necessitated this rewrite was reviving Cuber's long-dead brother Kailon with the Dragon Balls. I had also expanded upon Yuki's history in some stories of mine, especially in The History of the Decline and Fall of the Planet Trade Organization, and so I wanted to incorporate that more-developed understanding of her into this story. We also decided to keep Yuki alive, instead of killing her, formulating a plot for her in Heart of the Dragon that would require a significant rewrite of Cold Vengeance.
All of this was spurred on by what I have called the "year of HZ". In 2019, he finished Dragon Ball: The Mrovian Series: Genocide Escape saga, Dragon Ball: The Mrovian Series: Nitro saga, Dragon Ball: The Mrovian Series: Hidden Memories of Chaiva (mostly written by me, but we still planned it together), and Dragon Ball: The Mrovian Series: Return of the Ancient Enemy in rather quick succession. This allowed us to start really planning Cold Vengeance by mid-August, as timeline-wise, it was the next story in The Mrovian Series. Even eight months prior, such a thought seemed unthinkable. But due to HZ's impressive pace in 2019, this early of a rewrite was made possible.
I was not expecting to rewrite almost everything, but that is what we ended up doing when it came down to it. Even the scene with Ledas and the bugs on Niflheim was rewritten, as once I went back to reread everything, it was clear that there was very little we were going to keep word-for-word even if some concepts were going to remain.
The way the writing was broken up was that I wrote for almost all characters not named Cuber, Chaiva, Kailon, or any of the Mrovians (there may have been a few scenes where I wrote a line or three for any of these characters, but it was nothing major, and always HZ-approved). Additionally, as expected, HZ wrote for Yuki when she was fighting Cuber, and we split up the Cubas fight between us. As I quite liked Kirka in my other stories, I tried to give him a notable presence here, which was lacking in the previous version. This story was more about Cuber than it was about Ledas, even if through it, Ledas comes to be attracted to Yuki, and by the end of it, he's gotten Chaiva pregnant with twins (both of these events are as significant as anything in TF sans Ledas' SS transformations), so it made sense for me to take on more of the secondary character roles, as well as writing for Yuki herself. Being able to define her relationship with Chaiva a bit more following her scene in Hidden Memories of Chaiva was beneficial for developing her character in Cold Vengeance.
This version turned out much better than the original not only because both of us had improved our writing abilities in the 7 years since the original draft, but because we incorporated a large amount of lore from our universes into this story, interweaving our universes together in nifty, logical, and sometimes complicated ways. I was personally very pleased to have a scene with Audacci in this story, as The Benefactor's plotline in the original draft was left unresolved, and was unsatisfying for me. Lots of different things going on in this version with the expanded Earth and Mrov plotlines (I quite enjoyed Yuki's trial, setting up her plot for Heart of the Dragon), but perhaps the most significant part about this rewrite was that we polished up "Bedtime" and commissioned it for a manga. That was certainly a long time coming, and I'm glad to have lived to see it.
I won't pretend I was completely satisfied with the plot when we originally did it. One thing that bothered me was that Ledas basically had no plot after returning to Earth. I could've come up with more for him, I suppose, but one thing I did come up with was having him spar with Chaiva, which would lead to them having sex in "Bedtime". This is much like when he fought against Yuki in earlier chapters, using their fights to get to know his opponent in a sensual way through the actual fight choreography - a decidedly Saiyan type of thing I came up with for this story. However, I didn't find their fight to be sufficiently well-written at the time (it seemed to me like HZ put not much effort into Chaiva's moves and tactics, but I could've been wrong), and it took me getting really drunk several weeks after we had officially finished to reveal that to HZ. How I did so was certainly not ideal and not something I am proud of. I was quite too mean to him about it. The good news is that he is a very patient and understanding individual, not prone to provocation or immaturity like I am, so we were able to rewrite that scene to make it much more interesting, which was for the best all around.
The entire rewriting timeline was not that long. The first few chapters were completed relatively quickly, starting on September 1, 2019 for chapter 1 and going up to chapter 8 in little more than a month (October 2). Having had many brainstorming sessions before and during the writing of these chapters, we knew exactly what we wanted to do. After those ones were completed, it took us a lot longer to write out the last few chapters. Following Yuki's defeat, it seemed like every time we completed a chapter, another chapter had to be added to accommodate for the expanded plotline. I remember that happening two or three times at least, if not more. I wouldn't say I was disheartened by that, but being impatient by nature, it was something I had not expected. I had expected this story to be completed in a month or so, as the original had been 8 chapters. The expanded plot resulted in longer chapters as well as five additional chapters, though. That said, the almost-three-week-gap between chapters 8 and 9 was an anomaly, as once chapter 9 was posted, 10, 11, 12, and 13 were completed within 9 days. I was writing "Bedtime" throughout our writing of this story, and finished it on the same day HZ finished chapter 12, and so everything was wrapped up neatly at that point, except for Ledas vs Chaiva in chapter 11.
This story got me hyped for Heart of the Dragon, and not just because it's written in script format. I am much happier with this version than the previous version, and I think overall it's one of the best stories on this wiki. But we shall see as I dive into the anthology. Onto the endnotes!
Story
[
]
Chapter 1: The Empire Strikes Back

[

]
<AGE 777>
<CUTS TO A BAR ON PLANET NITRO 001 IN THE TOWN OF GENNI; MANY SOLDIERS ARE LOUNGING, SOME PLAYING SNIRAAK, OTHERS GETTING AS DRUNK AS THEY CAN; MANY ARE MAKING A MOCKERY OF THE PLANET TRADE ORGANIZATION IN THEIR DRUNKEN EUPHORIA AS THEY DANCE AROUND; A HEAVYSET GEOMOGEO, BROWN-SKINNED AND BROWN-HAIRED WITH AN OCULAR IMPLANT THAT GLOWS BLUE, LEANS BACK IN HIS CHAIR, EXHALING HORRIBLY AFTER TAKING A SHOT OF MAULXE GIN; HIS COUNTENANCE HAS SLACKENED AND HE LOOKS ALTOGETHER TOO PLEASED WITH HIMSELF AS HE SLAMS THE SHOT GLASS ONTO THE TABLE>
Nroop: Ya know, I say we blow 'em all away. I mean, why bother? If they're not going to submit <HICCUPS>, we should just blast 'em away!
Soldier 1: You know, doctor, I always thought we should destroy them all. Why bother with diplomacy? Those who won't submit to the empress should be punished accordingly.
Nroop: <TAKING ANOTHER SHOT WITHOUT SO MUCH AS NEEDING A CHASER> I hear you, I hear you. You should tell the empress!
Soldier 2: <LEANING IN WITH A SLY LOOK> Good idea! But, given our position, it's not like we could say anything. You're the captain here.
Nroop: Captain? I'm just a doctor…
Soldier 1: Aw, don't be modest, doc, you know as well as we do you're one of the empress' elites.
Nroop: You know, you're right. I should tell her. I mean, she could use my advice, right? I'm her lead scientist!
Soldier 2: <QUIETLY> Yeah… better you than us.
<NROOP JUMPS UP>
Nroop: <DRUNKENLY> Ya know, I banged her mother. <PROUDLY> I did! <LAUGHS OBNOXIOUSLY> That's gotta be worth something. And… I don't want to gloat or anything, but I was the one who created h–
<WITHOUT WARNING, YUKI LEAPS UP FROM A TABLE BEHIND HIM, STARING THE GEOMOGEO DOWN>
Yuki: What did you say?!
Nroop: <TREMBLING; SWAYING BACK AND FORTH GENTLY> I-I-I… I'm sorry, my lady! I didn't mean it! I was… careless with how I phrased that…
<YUKI LOOKS AT HIM, UNIMPRESSED; SHE TURNS AWAY, HER TAIL FLOPPING AROUND IN IRRITATION; WITHOUT WARNING, NROOP EXPLODES, HIS BLOOD AND ORGANS PAINTING THE TABLE CRIMSON; THE EMPRESS' TAIL SLAPS A TABLE IN HALF, SENDING ITS OCCUPANTS RUNNING AS GLASS AND WOOD SHATTER AS SHE EXITS THE BAR, A FROWN UPON HER FACE>
<CUTS TO PLANET NITRO 001, SHOWING THE PLANET FROM SPACE; THE SNOWY WORLD'S SURFACE IS STILL SCARRED AND POCK-MARKED BY CRATERS FROM THE BATTLE AGAINST THE CORVOS LEAGUE; CUTS TO THE SURFACE OF THE CAPITOL CITY, WHICH IS STILL IN THE PROCESS OF BEING REBUILT; THE CAMERA PANS OVER SEVERAL PLANET TRADE ORGANIZATION SPACE SHIPS; SOLDIERS OF VARIOUS SPECIES ARE SEEN ENTERING THE SHIPS AT A SLOW PACE, SOME CARRYING CRATES OF SUPPLIES, OTHERS NOT>
<THE CAMERA ZOOMS OUT WHILE ALSO REMAINING AT GROUND LEVEL, REVEALING THREE ALIENS WHO ARE OBSERVING THIS FROM THE BALCONY OF A LARGE BUILDING; THE FIRST IS A DIMINUTIVE IMP-LIKE CREATURE WITH DARK PURPLE SKIN, BIG EARS, AND FOUR YELLOW EYES; THIS IS, VERITABLY, KIRKA; STANDING BESIDE HIM IS A TALL, MUSCULAR SOLDIER, WEARING FULL ARMOR AND A HELMET (WITH A SCOUTER BUILT IN), WITH ORANGE FUR AND BLUE EYES; THIS ALIEN IS NARO; AHEAD OF THESE ALIENS IS A PEACH-SKINNED ARCOSIAN-LOOKING ALIEN WITH LONG, SPIKY BLACK HAIR AND DARKER CRIMSON PATCHES AND A SLENDER, FEMININE PHYSIQUE; THIS BEING IS NITRO'S DAUGHTER, YUKI>
Yuki: <FOLDING HER ARMS AS SHE WATCHES THE SOLDIERS READYING HER FLYING SAUCERS> How many?
Kirka: <IN A DRY VOICE> One thousand two hundred forty-three, my lady.
Yuki: <RESTRAINED> They will have to do. Even if we do not know the location of Mrov, we will draw them out to us with this offensive. The Mrovians will have no choice but to respond to our invasion.
Naro: These aliens are pathetic, brittle creatures; I will tear them limb from limb, leaving nothing behind. My soldiers will serve you faithfully, my lady. You have nothing to worry about.
Yuki: <STARING OFF AT THE SAUCERS> I have no doubt, Captain. But you must remember this: the Mrovians murdered my father. I don't know how or under what circumstances they managed it. <GRITS HER TEETH AND LOOKS AWAY, ALMOST EMBARRASSED> They were lucky. That's it. But it doesn't matter. I will sweep them aside, like the vermin they are. They will get what's coming to them. Not even Kuriza can stand against me. The Mrovians are nothing compared to him.
<THE CAMERA PANS BACK SLIGHTLY AS THE THREE OBSERVE YUKI'S SOLDIERS BOARDING THE SPACESHIPS>
<CUTS TO GLAYSIA, ON-PLANET>
<CUBER FACES OFF AGAINST SALHIOR; BOTH ARE IN THEIR TRAINING CLOTHES AND STANDING ON THE GOLDEN BATTLE PLATFORM ANCHORED AT THE DEPTHS OF GLAYSIA'S OCEAN; CUBER FIRES OFF A STUN BOLT, PROMPTING SALHIOR TO PUT UP AN ENERGY SHIELD TO BLOCK IT; AYSUIDA COMES UP FROM BEHIND CUBER WITH A PLASMA BATON ACTIVATED OUT OF HER RIGHT HAND; SHE ATTACKS WITH TWO QUICK HORIZONTAL SLASHES, BUT CUBER MOVES FORWARD, AVOIDING BOTH SWINGS; THE SAIYAN IS NOW ONLY SEVERAL METERS IN FRONT OF SALHIOR>
<SUDDENLY, THE NINE-YEAR-OLD BAOCHOI, WEARING THE SAME GRAY LEGWEAR HIS FATHER HAD AS A CHILD, IN ADDITION TO A SKIN TIGHT TANK TOP OF THE SAME COLOR, DROPS ONTO CUBER WITH A DOUBLE-FOOT STOMP SURROUNDED BY PLASMA ARCS (LIGHTNING STOMP); THE RESULTING EXPLOSION BLASTS OPEN A CRATER IN THE PLATFORM AND HITS ALL THREE OF THE OTHER COMBATANTS; CUBER IS EMBEDDED AT THE BOTTOM OF THE CRATER WHILE THE MROVIANS ARE LAUNCHED DIAGONALLY UPWARDS AWAY FROM EACH OTHER; THE ADULT SAIYAN QUICKLY RECOVERS AND STANDS BACK UP>
Baochoi: Sorry!
Cuber: You just gotta watch where you stomp.
<THE MROVIANS, HAVING RECOVERED, APPROACH THE SAIYANS FROM OPPOSITE DIRECTIONS; BAOCHOI LEAPS OVER AYSUIDA AND THEN DESCENDS WITH ANOTHER LIGHTNING STOMP; AYSUIDA BLOCKS BAOCHOI'S ATTACK WITH AN ENERGY SHIELD, AND THEN GRABS HIS ENTIRE FACE IN HER LEFT HAND; SHE SLAMS HIM ACROSS THE GROUND AND BEFORE HE CAN FLY TOO FAR, SHE BRINGS HER PLASMA BATON DOWNWARDS IN A BIG VERTICAL ARC, SENDING THE YOUNG SAIYAN FAR AWAY; AS BAOCHOI REGAINS COMPOSURE AND BEGINS FLYING BACK TO THE PLATFORM, AYSUIDA DASHES TO THE EDGE, PREPARING TO REPEL THE YOUNG SAIYAN>
<CUBER, WHO IS FACING SALHIOR, GLANCES BEHIND AT AYSUIDA BEFORE RIGHT-FLYING-BACK-KICKING SALHIOR IN THE FACE; CUBER THEN BARRAGES AYSUIDA WITH A BURST OF STUN BOLTS, FORCING HER TO ABANDON HER PLAN, THUS ALLOWING BAOCHOI BACK ONTO THE PLATFORM; CUBER TURNS HIS ATTENTION BACK TO SALHIOR WHILE AYSUIDA APPROACHES HIM FROM BEHIND; SALHIOR FLIES UP TO CUBER WITH HIS ARMS CROSSED IN PREPARATION FOR AN EXPLOSIVE WAVE, BUT BEFORE HE CAN RELEASE IT, BAOCHOI ONCE AGAIN DESCENDS FROM ABOVE WITH A LIGHTNING STOMP, HITTING ALL THREE OF THE OTHER FIGHTERS, YIELDING THE SAME RESULTS AS BEFORE>
Baochoi: Sorry dad!
Cuber: <AFTER STANDING BACK UP> You really need to stop doing that.
<CUBER IMMEDIATELY GOES AFTER SALHIOR, WHO HAD JUST LANDED ONTO THE PLATFORM; IN ONE SWIFT SEQUENCE, CUBER HITS SALHIOR WITH A POINT-BLANK STUN BOLT FOLLOWED BY A HARD CLOCKWISE TAIL SWEEP TO THE LEGS (A MOVE CALLED DIAMOND TAIL), SENDING THE MROVIAN FAR INTO THE DISTANCE>
<WITH AYSUIDA BEING HIS ONLY OPPONENT REMAINING, CUBER FLIES TOWARDS HER; AS CUBER APPEARS TO BE WITHIN STRIKING DISTANCE, AYSUIDA SWINGS HER PLASMA BATON VERTICALLY DOWNWARDS WHILE HOPPING BACKWARDS; CUBER SLOWS DOWN JUST ENOUGH TO AVOID THE BLADE AND GOES INTO AYSUIDA WITH A DRILL KICK AND THEN GRABS HER BY THE THROAT WITH HIS RIGHT HAND; HE THROWS HER STRAIGHT UP WITH THE HELP OF HIS OTHER HAND AND FIRES A BURST OF STUN BOLTS UPWARDS BEFORE PURSUING WITH A DOGOM FLIP; AYSUIDA FLIES OVER CUBER'S TAIL AND RIGHT HEEL BUT CUBER CONTINUES TO CHASE HER DOWN, THIS TIME WITH A LEFT FLYING SIDE KICK; THE MROVIAN RETREATS FROM THIS ATTACK AS WELL AND CUBER RETREATS BACK TO THE GROUND>
<FROM ABOVE AND AIMING DOWNWARDS, AYSUIDA THROWS A BACKHAND SLASH, BUT CUBER BLOCKS THE ATTACK WITH AN ENERGY SHIELD; THE MROVIAN THEN REACHES OUT WITH HER LEFT HAND, ALTHOUGH CUBER MOVES OUT OF THE RANGE OF HER TELEKINETIC PULL AND THEN CONTINUES TO DASH TOWARDS AND AWAY FROM AYSUIDA VERY QUICKLY; AYSUIDA ATTEMPTS TO CATCH CUBER BY FLYING AT HIM WITH TWO QUICK HORIZONTAL SLASHES, BUT SHE MISSES AND IS MET WITH A DRILL KICK; AS AYSUIDA IS PUSHED AWAY, CUBER TRIES TO FOLLOW UP WITH ANOTHER DRILL KICK, WHICH SHE IS ABLE TO RETREAT FROM AND ATTEMPTS TO RESPOND TO WITH A RISING FOREHAND SLASH; CUBER NARROWLY LEANS AWAY FROM THE PLASMA BATON AND THEN LEAPS TOWARDS AYSUIDA, WHO DOES NOT WASTE TIME WINDING UP ANOTHER AERIAL ATTACK; THIS TIME, AYSUIDA SUCCESSFULLY CLIPS CUBER WITH A DOWNWARD VERTICAL SLASH AND TRIES TO FOLLOW UP WITH ANOTHER, BUT CUBER RETREATS FROM THE SECOND SWORD SWING BEFORE COMING BACK WITH A GLANCING DRILL KICK THAT PUTS HIM BEHIND HIS OPPONENT>
<CUBER RELEASES AN EXPLOSIVE SHINE, WHICH AYSUIDA IS ABLE TO NARROWLY MOVE AWAY FROM AND RESPOND TO WITH A RISING FOREHAND SWORD SWING; CUBER, HOWEVER, ENDURES THE MROVIAN'S ATTACK AND RELEASES ANOTHER EXPLOSIVE SHINE, THIS ONE SUCCESSFUL, VERTICALLY LAUNCHING HER THE WAY THE ATTACK TYPICALLY WOULD DO; CUBER FLIES OVER AYSUIDA BEFORE DESCENDING WITH A DRILL KICK FROM ABOVE, BUT SHE LEANS AWAY FROM IT AND THROWS OUT A RISING BACKHAND SLASH WHILE PERFORMING A BACKFLIP; CUBER NARROWLY DODGES AYSUIDA'S PLASMA BATON AS HE FLIES BELOW HER>
<CUBER COMES BACK UP WITH A LEFT FLYING CURVED KNEE AIMED SLIGHTLY DOWNWARDS, SENDING AYSUIDA TOWARDS THE OCEAN; THE SAIYAN FOLLOWS THE MROVIAN BELOW THE EDGE OF THE ROOF AND LANDS A DRILL KICK IN AN ATTEMPT TO ENSURE THE RINGOUT; AYSUIDA CRASHES THROUGH AN UNFORTUNATE MROVIAN PROBE BEFORE SHE STOPS HERSELF FROM TOUCHING THE WAVES, ALTHOUGH THE AIR BENEATH HER CREATES A HUGE TEMPORARY WATER CRATER; STILL ON THE MOVE, CUBER DRIFTS BACK TO THE WALL OF THE TOWER BEFORE LEAPING OFF OF IT AS HE DID IN HIS FIGHT AGAINST CHAIVA A DECADE PRIOR BEFORE HITTING AYSUIDA WITH ANOTHER DRILL KICK; THE MROVIAN STILL RESISTS THE SECOND RINGOUT ATTEMPT, BUT THIS ONLY PROMPTS CUBER TO FOLLOW UP WITH ONE LAST DRILL KICK THAT FINALLY FORCES AYSUIDA INTO THE OCEAN, RESULTING IN THE INEVITABLE KINETIC EXPLOSION>
<CUBER TAKES A DEEP BREATH AND SMIRKS, SATISFIED IN HIS VICTORY, BEFORE FLYING INTO THE OCEAN HIMSELF; HE COMES BACK OUT WITH AYSUIDA'S ARM OVER HIS SHOULDER SHORTLY AFTERWARDS AND SETS HER ONTO THE ROOF>
Baochoi: Dad, that was awesome! She really got destroyed.
Cuber: Yeah, that had to be the nastiest finish I have ever pulled off. <TO AYSUIDA> You alright?
Aysuida: <AS SHE STANDS UP> Yes.
<SALHIOR LANDS ON THE OTHER SIDE OF THE PLATFORM>
Salhior: Well fought, but now, we must return to our duties.
Cuber: Yeah, of course. And thanks for agreeing to this again, both of you. <TO BAOCHOI> Come on, Baochoi, let's go home.
<ALL FOUR INDIVIDUALS DISAPPEAR IN MROVIAN TELEPORTATION>
<CUTS TO THE INSIDE OF CUBER'S RESIDENCE FROM RETURN OF THE ANCIENT ENEMY; THE AUTOMATIC DOORS OF THE SIDE ENTRANCE OPEN UP AND CHAIVA, IN HER TRAINING CLOTHES, STEPS INSIDE>
Baochoi: Hi, Mom!
Cuber: Welcome home. How was the patrol? Same as usual?
Chaiva: Yeah, nothing new to report.
Cuber: I figured as much.
Chaiva: <TO BAOCHOI> How is your training going? Are you still doing doubles with Dad?
Baochoi: <LOOKS DOWN> Yes…
Chaiva: You can't rely on him forever. You're going to need to learn how to fight by yourself against stronger opponents.
Baochoi: I know, but–
Chaiva: <SMIRKING LIGHTLY> I am off-duty for the next few days. It will just be the two of us. How does that sound?
Baochoi: You're just gonna beat me up the whole time!
Chaiva: So?
Cuber: Come on, Baochoi. It won't be that bad. I'm sure you'll have plenty of fun.
Baochoi: Ugh, fine.
<CUTS TO LATER, IN CUBER AND CHAIVA'S BEDROOM>
Chaiva: I still don't get it. It didn't matter if we won or lost; we just fought. But Baochoi…
Cuber: He just doesn't like losing.
Chaiva: He needs to be challenged in order to get stronger.
Cuber: To be fair, Chaiva, he is far stronger than either of us were when we were his age. If I was as strong as he is now, I would've easily wiped out all those Planet Trade Organization soldiers back then.
Chaiva: Our son was born with a power level that likely rivaled Kailon's at birth, and he also has access to much better resources for training. You shouldn't make that comparison.
Cuber: Maybe not, but there aren't any major threats right now either, so what's the rush?
Chaiva: Did you already forget about Nitro's and Frieza's other relatives who are probably still out there?
Cuber: Come on – you, me, the Supreme Admiral, and Aysuida – each of us is now far stronger than Nitro ever was. I doubt we will have that much trouble dealing with his family if and when they do show up.
Chaiva: That might be true, but sooner or later, Baochoi will need to be able to fight for himself. We were already fighting for survival when we were his age, so he should be learning to do the same.
Cuber: You're right. Just don't be too hard on him. He's a Saiyan, so of course he likes fighting. We don't want to beat that out of him, do we?
Chaiva: Like you said, he'll be fine.
<CUTS TO THE FORTRESS OF ATTAINMENT, HOVERING IN ORBIT OF TYPHON; CUTS TO THE BRIDGE OF THE SHIP, WITH MULTIPLE MROVIAN WARRIORS WORKING AT VARIOUS COMPUTERS AND THE LEADER, WEARING GOLD ARMOR TRIMMED WITH WHITE AND WITH HELMET AND PAULDRON DESIGNS OF AN ADMIRAL, STANDING BEHIND HIS SUBORDINATES; ZOOMS IN ON THE SCREEN OF ONE OF THE MROVIAN WARRIORS>
Mrovian Warrior 1: Admiral Saibron, our deep-space observers are detecting multiple warp signatures on approach. They appear to be of Planet Trade Organization origin, and among them is a power far greater than anything we have ever faced.
Saibron: So they have returned after all. Bring those below aboard and open a channel to the Lance of Mrov!
<CUTS TO OUTER SPACE, WITH TYPHON VISIBLE IN THE DISTANCE; YUKI'S VESSELS APPEAR AND RAPIDLY DECELERATE FROM WARPING AND REMAIN AT A DISTANCE BEYOND THE RANGE OF TYPHON'S ORBITAL DEFENSE LASERS; THE FINAL SHIP TO ARRIVE IS NONE OTHER THAN YUKI'S SAUCER; WITHIN A FEW SECONDS, THE TOP HATCH OF HER SHIP OPENS AND AND SHE SLOWLY RISES FROM IT, ARMS CROSSED; SHE FLIES TO THE FRONT OF HER FORCES>
<CUTS TO THE MAIN COMMUNICATOR SCREEN IN THE BRIDGE OF THE FORTRESS OF ATTAINMENT, WHICH IS ZOOMED IN ON YUKI>
Saibron: This must be one of Nitro's relatives Chaiva had spoken of, and yet, she appears to radiate the energy of a Saiyan. No matter. She will destroy us before Cuber's arrival. Prepare the primary sterilizer!
<CUTS TO THE EXTERIOR OF THE FORTRESS OF ATTAINMENT, WHICH GRADUALLY TILTS ITSELF TO EXPOSE ITS VENTRAL PRIMARY CANNON TO ITS TARGET; THE STERILIZER VIBRANTLY GLOWS BLUE-WHITE, ILLUMINATING ALMOST THE ENTIRE SHIP>
Saibron: Commencing sterilization!
<THE GIANT MROVIAN SHIP DISCHARGES ITS CANNON; A SINGLE IMMENSE PULSE NEARLY AS WIDE AS THE SHIP ITSELF MAKES ITS WAY TOWARDS THE PLANET TRADE ORGANIZATION SOLDIERS; IN RESPONSE, YUKI IMMEDIATELY HOLDS OUT HER RIGHT HAND, TELEKINETICALLY STOPPING THE HUGE PLASMA BOLT IN PLACE>
Saibron: No...
<YUKI CLOSES HER HAND INTO A FIST AND THEN REOPENS IT; THE STERILIZER PULSE RETURNS TO ITS SENDER, NOW SLIGHTLY NARROWER THAN ITS ORIGINAL FORM; IT TEARS THROUGH THE FORTRESS OF ATTAINMENT, DETONATING IT ALMOST INSTANTLY, AND CONTINUES ITS WAY INTO DEEP SPACE; WHEN THE EXPLOSION VANISHES A SPLIT-SECOND LATER, THE SIDE OF TYPHON FACING THE EVENT IS REVEALED TO BE COMPLETELY MOLTEN>
<THE CAMERA ZOOMS IN ON YUKI'S FACE; IF ANYTHING, SHE LOOKS IMPATIENT>
Endnotes:
Hyper Zergling named chapter 1. I am very pleased with this chapter's title. Yuki is not dead yet, though her empire is in tatters.
The opening scene was mostly written by me. It was difficult to conceptualize because it deals with a plotline that takes place after the end of The History of the Decline and Fall of the Planet Trade Organization. I had to make a decision on how many planets and soldiers Yuki has remaining at the end of that story, despite not having written the final 26 chapters at the time. Ultimately, I decided that she would have around 4-5 planets (most being farming worlds, not military outposts), and at best slightly more than 1000 soldiers remaining, following the devastation of the Corvos League war, which wasn't even over at this point in the timeline (Yuki is just no longer a major factor in that war, as it has shifted to universe 8 with Icer and Audacci staging assaults in the Corvos League's territory).
Originally, this story took place in Age 774. We bumped it back 3 years for a couple of reasons. One reason was that this had to take place after A Quest for Booty, which takes place in Age 776, and also I wanted Chari and Olivien, Ledas' twin children who are conceived in the last chapter of this story, to be as close in age to Bulla as possible. With this new timeline, they are only two years older than her, as opposed to being 5 years older than her in the previous draft.
The opening scene with the drunk Nroop and the other soldiers was based on this scene from A Bug's Life.
I never liked Nroop, and I don't think HZ did either. He's a creep. Having Yuki kill him here after what he did in previous sagas of TMT (especially in Hidden Memories of Chaiva) was extremely satisfying and a nice way to tie up a loose end before Yuki's empire collapses utterly. There is something thematically resonate to me about Yuki killing the scientist who created her, too.
Nroop should have never bragged about banging Chaiva. That was such a stupid thing to do in the presence of her daughter. While Yuki is depressed by her mother leaving her with Nitro and the rest of Frieza's family, she nonetheless holds Chaiva in high regard, and slandering her bloodline is something any successful empress will never tolerate.
I have yet to write the battle of Planet Nitro 001, but I think that Yuki herself will successfully defend it from the Corvos League's assault.
1243 soldiers is not much, but Yuki considers their numbers alone to be enough to draw out the Mrovians so she will be able to find where they are hiding. This would not have been possible had she not already known the location of Typhon. She was expecting that all or most of these cannon fodder soldiers would die in the assault.
Cuber uses a hell of a lot of Stun Bolts.
Cuber sometimes feels like more of an android than Android 19 to me.
I've always personally believed that blocking with an energy bubble, like in Smash, would be inefficient compared to dodging or using Afterimages. In Heart of the Dragon, the Venyi instructors will tell this to HZ's Saiyans. I get why he does it though. HZ really, really loves smash.
I like that HZ uses the Saiyan tail in his combos. I see very few writers on this wiki do that, and it's something I also do with Ledas, so I very much approve of that creativity.
Cuber, much like HZ and his brothers in real life, is a huge mega spammer and likes to reuse his favorite moves more than I like bacon.
The dynamics between Chaiva and Baochoi were well-written by HZ. Very Saiyan-like and actually pretty comedic for him.
As strong as Cuber and Chaiva are right now, they would not be able to beat Icer (to be fair though, they likely would have been able to beat every other member of the royal family sans Icer and Yuki). Chaiva's desire to make Baochoi the best warrior he can be is a very attractive trait in her from my perspective, and something I hope that she continues to push onto Olivien and Chari.
Yuki destroying Saibron's fleet was something I really wanted as it shows a hint of her power early on, setting the stage for what is about to happen. I wanted her power to be scary and make it seem like our characters have no chance against her from this early point, much like it felt like with Frieza in the Namek Arc, although in that one, they merely sensed his power level and were frightened - a bit of that is here too, but I wanted to also have her show off some measure of skill by dominating the fleet.
The sterilizer beam is slightly more powerful than Semi-Perfect Cell. It is no joke. The fact that Yuki stops it like that is crazy, and shows that she is far stronger than anyone or anything the Mrovians have encountered in recent times. Additionally, we had her telekinetically catch the beam and throw it back at the fleet because otherwise, even if she dodged it, it would have destroyed her fleet, and that would have been no fun.
Badass moment from Yuki destroying that Mrovian fleet. Also a good setup for the next chapter. She is no joke of a fighter; she is far stronger than her father had been when he assaulted Typhon. There is a sense of hopelessness with Cuber's impending arrival - that he won't be able to stop her, regardless. Ramping up the tension was a deliberate action on our part.
Of course, the Mrovian research facility was on the other side of the planet so that it wouldn't be vaporized by the sterilizer beam.
Chapter 2: Empire Of Dirt

[

]
<CUTS TO A SNOWY WORLD FROM SPACE; THIS IS NIFLHEIM, WHICH IS SUPPOSEDLY A FREE WORLD>
<THE CAMERA SLOWLY ZOOMS IN ON THE PLANET; A BLUE SPACE POD ENTERS THE SCREEN FROM THE LEFT, APPROACHING THE SNOWY WORLD; THE CAMERA CUTS TO A FROZEN WASTELAND>
<THE CAMERA SLIDES ACROSS THE SNOW AND SLOWS DOWN AS IT PASSES A SPACE POD; THE CAMERA STOPS SLIDING WHEN A CHILD IN A RED HOODIE AND JEANS IS SEEN GETTING OUT OF THE POD; SHIVERING, HE LOOKS AROUND, HIS BROWN FURRY TAIL MOVING ABOUT IN SLIGHT IRRITATION; THIS TWELVE YEAR OLD BOY IS LEDAS>
Beelzebub: <OVER THE COMMS> You're close to a planet called Kharhone. The bounty's this dude named Kohitsu. He's nothing super impressive–just a pirate–but it's not a bad price for someone of his power.
Ledas: <OVER THE COMMS; DISMISSIVELY> Uh huh. I'll get around to it eventually. I'll be taking a little break first. I'll let you know when I'm hunting again.
<WITH THAT, THE SAIYAN CUTS THE COMMS; LOOKING BACK AT HIS OPEN POD DOOR, HE RAISES A HAND; A MOMENT LATER, AN ENGRAVED PYRAMID, NO LARGER THAN A SMALL TELEVISION, FLOATS OUT FROM THE DOOR>
Ledas: <STARING AT IT> Just me and you again, old buddy. I wonder what would happen if I destroyed your prison. Would you get out, or would you die? I guess we'll never know.
<HE LOWERS HIS HAND, ALLOWING THE PYRAMID TO FALL ONTO A PATCH OF SNOW>
Ledas: Are you bored in there? I hope so. <HE RAISES HIS LEFT HAND AND CUTS THROUGH THE SNOW AROUND THE DEVICE WITH A WEAK YELLOW ENERGY BEAM, MELTING ALL OF IT> Some days, I want to let you out just to test myself against you again. But that's my pride speaking, not me. I have to be in better control of my emotions.
<AS HE DOES THIS, A GREAT RUMBLING OCCURS AND LEDAS STUMBLES OVER AND FALLS BACKWARD INTO THE SNOW; BEFORE HE CAN GET UP, A DARK SHAPE SPRINGS UP FROM RIGHT UNDER THE MIND PRISON AND SENDS IT FLYING DOWN THE SLOPE>
<JUMPING UP, THE BOY NOTICES A HUGE ARMORED INSECT-LIKE ANIMAL, BLACK AND BROWN; IT STARES DOWN AT LEDAS WITH ITS MANY EYES, AND REACHES FORWARD WITH ITS MANY ARMS; LUNGING AT HIM THE CREATURE ATTACKS, ITS MANDIBLES DRIPPING SALIVA>
Ledas: Ah! <KICKS OFF INTO THE AIR AWAY FROM THE BEAST, A DISGUSTED LOOK ON HIS FACE> Ew, ew, ew! Get away from me!
<KICKING THE BEAST ASIDE, THE BOY TAKES TO THE AIR ONLY FOR ANOTHER BUG TO LUNGE AT HIM FROM BEHIND; DODGING THE ANIMAL WITH A BACKFLIP, THE BOY REAPPEARS BEHIND THE CREATURE AND THEN HEEL-KICKS IT TO THE SNOW; LANDING, THE BOY HOLDS HIS ARMS OUT, ORANGE ENERGY FORMING IN EACH PALM; AS HE GOES TO AIM AT THE FALLEN BUG, ANOTHER ONE RUSHES HIM FROM THE LEFT, POUNCING ON THE BOY; HOWEVER, THE CREATURE FLIES RIGHT THROUGH THE BOY'S BODY; IMMEDIATELY AFTER, SEVERAL DOZEN ADDITIONAL BUGS LUNGE THROUGH LEDAS' AFTERIMAGE, CRASHING INTO A PILE TOGETHER>
<REAPPEARING IN FRONT OF THEM, THE SAIYAN BRINGS HIS ARMS TOGETHER, MERGING BOTH BALLS OF ENERGY INTO A GREATER ONE, THEN AIMS AT THE PILE, AND RELEASES A TORRENT OF BURNING KI; HIS ATTACK TEARS THROUGH THE BUGS, INCINERATING THEM QUICKLY; AS HE DOES THIS, MORE OF THEM ATTACK FROM ALL SIDES AND HE HAS TO RISE INTO THE AIR, MOVING HIS HANDS IN A SWEEPING MOTION TO OBLITERATE ALL OF THEM; STEAM RISES AS ALL THE SNOW IN THE AREA MELTS; THE BUGS ARE VAPORIZED WITHOUT MUCH PROBLEM; LOOKING AROUND, THE BOY REMAINS ON GUARD, THOUGH HE LOWERS HIMSELF TO THE GROUND AGAIN>
Ledas: <SCOWLING AND SHIVERING> Maybe I should've picked somewhere warmer to relax…
<SUDDENLY, THE BOY DETECTS A HUGE POWER LEVEL; GASPING, HE SPINS AROUND, HAND RAISED AS IF TO BLAST ANOTHER BUG, BUT HE SOON SLACKENS HIS POSE WHILE STILL STARING OFF INTO THE DISTANCE>
Ledas: Whoa! That power's insane. <HIS HEAD JERKS TO THE RIGHT AS HE PICKS UP ANOTHER HUGE POWER LEVEL> And there's another one heading right for it. Interesting. <HE SMILES SLIGHTLY> I haven't felt anything like that since… <HE GLANCES AT THE MIND PRISON, PSYCHOGENICALLY SHIVERING> Maybe I should check it out. I bet they're gonna fight!
<WITH GREAT EXCITEMENT, THE BOY AIR DASHES OVER TO HIS POD, JUMPS IN IT, AND FLIES OFF AFTER THE POWER LEVELS HE HAD SENSED; THE CAMERA PULLS BACK SLIGHTLY, WATCHING HIS TAKE-OFF FROM BEHIND THE MIND PRISON; AS THE POD FLOATS INTO THE AIR AND THEN SHOOTS OFF, THE PYRAMID REMAINS UNFOCUSED IN THE FOREGROUND>
<CUTS TO A MROVIAN TRANSPORT EXITING A WORMHOLE ABOVE TYPHON; WHILE STILL IN SPACE, CUBER, WITH HIS HELMET ON, IMMEDIATELY EXITS HIS SHIP VIA THE VENTRAL LIFT AND MAKES HIS WAY TO THE SURFACE; HE DOES NOT SEE ANY OTHER SHIPS IN ORBIT>
<CUTS TO YUKI, WHO IS STANDING ON OPEN GROUND ON THE SURFACE; BEHIND HER IN THE DISTANCE A WAYS BACK, THE LANDED SAUCERS ARE OFF-LOADING THEIR TROOPS SLOWLY; IN MOMENTS, HER SCOUTER EXPLODES, FOLLOWED BY THE SCOUTERS OF THE REST OF HER SOLDIERS; YUKI HERSELF IS NOT CONCERNED, WHILE MOST OF HER SOLDIERS ARE STARTLED; SHORTLY AFTER, CUBER LANDS A FEW DOZEN METERS IN FRONT OF YUKI AND GOES INTO HIS FIGHTING STANCE; HIS HELMET DISAPPEARS, REVEALING THAT HE IS ALREADY IN SUPER SAIYAN FORM>
Yuki: I imagined you'd be quicker, after what you did to my father. Perhaps wit does not accompany brawn.
Cuber: <AFTER A BRIEF MOMENT OF SILENCE> He killed my brother, and he also nearly killed my friend.
Yuki: <SAVORING THE THOUGHT> Well, I'm sure that was very traumatic for you, monkey. <NARROWS HER EYES AND LUNGES AT HIM> I know that feeling all too well, myself, thanks to you.
<CUBER LEANS BACK, EVADING YUKI'S INCOMING LEFT OVERHAND AND THEN SHOOTS HER WITH A STUN BOLT BEFORE GOING IN WITH A DRILL KICK FOLLOWED BY A VERTICALLY-LAUNCHING EXPLOSIVE SHINE; AS USUAL, CUBER FLIES AROUND TO END UP ABOVE YUKI AND COMES DOWN WITH ANOTHER DRILL KICK; HE CUTS PAST HER IN MORE OF A GLANCING BLOW AND LANDS BEFORE SHE DOES; FROM BELOW, CUBER THROWS OUT A RIGHT SCORPION KICK, BUT YUKI STOPS HERSELF JUST SHORT OF ITS RANGE AND THEN STOMPS ONTO CUBER'S BACK WITH HER RIGHT FOOT, BURYING HER OPPONENT AND EXPLODING THE GROUND BENEATH; WITH HER FOOT STILL ON CUBER'S BACK, SHE KICKS HIM FORWARD, LAUNCHING CUBER THROUGH THE WALL OF THE CRATER AND CREATING A MOLTEN VALLEY IN THE PROCESS>
<AFTER BEING SENT OUT OF THE GROUND AT A FLAT ANGLE, CUBER STOPS HIMSELF, STILL WINCING IN PAIN; THE CAMERA ZOOMS IN ON HIS BACK, SHOWING A LARGE GAPING HOLE IN HIS UPPER BACKPLATE, REVEALING HIS BRUISED SKIN UNDERNEATH; HE LOOKS FORWARD AND SEES YUKI ALREADY MAKING HER WAY TOWARDS HIM; CUBER SHOOTS HER WITH A STUN BOLT, WHICH SHE IS UNAFFECTED BY, BUT THE DISTANCE BETWEEN THE TWO ALLOWS CUBER TO PULL BACK FROM HER DOUBLE-FIST PUNCH; HE COMES BACK WITH A LEFT FLYING SIDE KICK, HITTING YUKI IN THE FACE; YUKI BARELY FLINCHES AND GRABS CUBER'S ANKLE WITH HER RIGHT HAND, AND THEN PULLS HIM INTO THE GROUND BEHIND HER; AS YUKI RELEASES HER GRIP, THE SAIYAN CONTINUES HIS WAY ACROSS ANOTHER NEWLY-FORMED BURNING VALLEY; CUBER LEAPS UP FROM TUMBLING AND BREATHES HEAVILY>
Cuber: <THINKING TO HIMSELF> Shit, she's stronger than I am; my attacks are barely fazing her. I'm going to have to keep my distance. This will have to be a war of attrition.
<AS YUKI APPROACHES CUBER, HE FLIES AWAY BACKWARDS WHILE BOMBARDING HER WITH STUN BOLTS; WHEN SHE ALMOST REACHES MELEE DISTANCE, HE TURNS AROUND AND STICKS HIS RIGHT LEG OUT BEHIND HIM IN YUKI'S DIRECTION WHILE FIRING OFF AN ORANGE-WHITE ENERGY WAVE OUT OF HIS FOOT; THE BLAST HITS YUKI, NOT INJURING HER MUCH AT ALL, BUT DOES ENOUGH TO PUSH HER BACK, ALLOWING CUBER TO CONTINUE HIS STRATEGY>
<CUTS TO FURTHER AWAY, WITH YUKI CHASING AFTER CUBER, WHO CONTINUES TO KEEP HIS DISTANCE WITH BARRAGES OF STUN BOLTS AND THE KEEP-AWAY ENERGY WAVE KICK; BOTH TAKE ON THE APPEARANCE OF DANCING LIGHTS IN THE DISTANCE, WITH CUBER BEING YELLOW-WHITE AND YUKI, BLUE-WHITE; EVENTUALLY, BOTH DESCEND AND HOVER ONLY A FEW METERS ABOVE THE GROUND>
<CUTS TO YUKI'S SOLDIERS; MANY OF THEM ARE STANDING AROUND OUTSIDE OF THE LANDED SAUCERS, UNSURE OF WHAT TO DO; AHEAD ON A ROCKY OVERLOOK, NARO, KIRKA, AND A FEW DOZEN OTHERS ARE WATCHING CUBER AND YUKI FROM A DISTANCE; INDEED, AS THE TWO CONTINUE TO FIGHT, THE FAINT LIGHTS OF THEIR AURAS FADE TO TINY POINTS>
Soldier #1: Where are all the damn Mrovians? I'm getting bored.
<A SOLDIER TO HIS LEFT, COMING DOWN THE RAMP OF ONE OF THE SAUCERS CARRYING A CRATE OF SUPPLIES, SLIPS WITHOUT WARNING, FALLING OFF THE SIDE OF THE RAMP WITH A YELP, SPILLING RATIONS ALL OVER THE DESERT>
Soldier #2: <GASPING AS HE SITS UP AND WIPES THE SAND FROM HIS EYES> One just went speeding by! He knocked me off the ramp!
Soldier #1: <SCOFFING> Oh, nice one, man. First you make a fool of yourself and now you go blamin' the wind…If only we still had our damn Scouters.
<SHAKING HIS HEAD, THE ALIEN MUTTERS TO HIMSELF AND WALKS OFF>
<THE CAMERA TURNS RIGHT, FOCUSING BACK ON THOSE WATCHING THE FIGHT FROM BEHIND; NARO HAS FOLDED HIS ARMS, WHILE KIRKA IS LEANING AGAINST A BOULDER; AMONGST THE GROUP, ALTHOUGH NO ONE HAS NOTICED HIM YET, IS A BOY IN A RED HOODIE, HIS FURRY TAIL FLUTTERING ABOUT IN EXCITEMENT AS HE PERCEIVES WHAT IS HAPPENING IN THE FAR-OFF BATTLE>
<CUTS TO YUKI UP CLOSE>
Yuki: <TELEPATHICALLY TO CUBER> You call yourself a Saiyan? Fight me, you coward!
<CUBER DOES NOT RESPOND AND DOES NOT CHANGE HIS COURSE OF ACTION; YUKI'S AURA, ULTRAMARINE IN COLOR, ENVELOPS HER BODY; SHE ACCELERATES TOWARDS CUBER, NOW TEARING THROUGH ALL HIS ENERGY ATTACKS UNHINDERED, AND GOES FORWARD WITH A RIGHT VERTICAL PUNCH; CUBER JUST BARELY LEANS AWAY FROM IT BEFORE RETURNING WITH A DRILL KICK AS YUKI HOLDS UP HER FOREARMS TO BLOCK; CUBER'S LEFT HEEL HITS YUKI'S GUARD AND HE FOLLOWS UP WITH AN EXPLOSIVE SHINE BEFORE SHE CAN RETALIATE; WITH YUKI STILL ON THE DEFENSIVE, CUBER GOES FOR ANOTHER DRILL KICK, BUT THIS TIME, THE HALF-ARCOSIAN GRABS HIS ANKLE AGAIN, SWINGS HIM OVER HER HEAD, AND THEN SLAMS HIM ON THE GROUND BEHIND HER INTO A NEW CRATER ABOUT AS LARGE AS THE FIRST; YUKI RELEASES HER GRIP AND LIFTS HER RIGHT FOOT TO STOMP ON CUBER, WHO IMMEDIATELY ROLLS OUT OF THE WAY; YUKI'S ATTACK ULTIMATELY RESULTS IN ANOTHER EXPLOSION, DEEPENING THE CRATER SHE ALREADY MADE>
<CUTS TO CUBER, WHO IS ON HIS FEET NO MORE THAN FORTY METERS AWAY FROM YUKI'S CRATER; SOON, YUKI FLIES OUT AND LANDS AT ITS EDGE AND FACES HER OPPONENT>
Yuki: <FURIOUS, BUT REMAINING COMPOSED> That can't be all your power.
Cuber: You're a lot stronger than your father was, I'll give you that.
Yuki: Why are you surprised, monkey? You should already know about me. Hasn't your friend told you anything?
Cuber: What are you talking about?
Yuki: I must confess, I do find it odd that there are two monkeys in this area of space, so far from home. Frieza blew up your homeworld all those years ago, and that was in his territory halfway across the universe. Why did you end up in my father's empire?
Cuber: <UNSURE OF HOW TO APPROACH THIS> What does it matter to you?
Yuki: I haven't seen my mother in more than a decade. She went with my father to Mrov, and, like the rest of them, never came back. Don't know why I expected it. Now I'm stuck living under the tyranny of my uncle. Thanks for that.
Cuber: So Chaiva is your mother...
Yuki: <EXHALES; SHE TELEPORT-KNEES CUBER IN THE CHEST, SENDING HIM TO THE GROUND AGAIN> You should have been prepared for this. I know she told you about me. She must have.
Cuber: <GETTING EVEN MORE FLUSTERED> She knows about you?!
Yuki: <OVER-TALKING HIM IN IMPATIENCE> Tell me what you did to her! Is she still alive? Did you make her your whore?
Cuber: <GOING REAL RED> You'll never find out. You're not leaving this planet.
Yuki: <SIMMERING WITH RESENTMENT; SMUGLY> I don't think you quite appreciate the situation you've gotten yourself into, monkey. Fighting you, I can see how my father would succumb to such power, for he never held the passion for battle as we do. Yet, it appears that you've slacked off in your training since murdering him. You've grown too content with your power. Moreover, it has become abundantly clear that you cannot stop me. What a pity. You dishonor our species.
Cuber: <MOCKINGLY> Our species? By your own logic, you're a monkey too.
Yuki: <CHUCKLING SOFTLY TO HERSELF> I'm not the one groveling in the dirt.
<SHE STEPS FORWARD, HER AURA COMING UP AROUND HER; CATCHING HIS BREATH, THE SAIYAN GETS TO HIS FEET, A LOOK OF DISTRESS AND FURY UPON HIS FACE AS HE PREPARES TO FACE HER AGAIN>
Yuki: Now, monkey, fight me as if your life depends on it. Enough playing around!
Endnotes:
I came up with this chapter's name. It is a reference to "Hurt" by Nine Inch Nails. This chapter name remains the same from the previous version of CV. Additionally, I think it's a good title response to the chapter 1 title, somewhat mocking Yuki's empire and the state of her army. What use is it calling yourself empress when you are ruling over barely anybody? Hell, there are probably cult leaders on Earth at this time who command more people than Yuki does.
This chapter is a combination of the old versions of chapter 2 and 3, updated and refined with a few new scenes at the end. Also, this chapter ends before where chapter 3 of the previous draft ended, so it's not a total blending of the two chapters. Notably, Yuki and Cuber are already on Typhon in this chapter, whereas in the previous version, they were merely on their way there by the end of this chapter. The reason why the chapters were combined is because in the old draft, chapter 2 was extremely short - only 854 words. That wasn't long enough at all, so the chapters were combined.
Niflheim is not a free world in reality, but that fact doesn't come up in this story until much later (this is also expanded upon in Ice Age Coming, which shows how The Benefactor gets off of Niflheim in the ensuing chapters of CV).
Adding in Beelzebub was very rewarding for me personally, as this is the first time we've seen him and Ledas working on a bounty together since they became allies/partners in A Quest for Booty.
Kohitsu will be Ledas' first bounty in Dragon Ball: Heart of the Dragon. Kharhone will be where Ledas meets Linessi for the first time and where she joins his team, unless I decide to change that from now until when I write it. That was a fun little bit of foreshadowing there for me.
I believe Ledas using telekinesis on Verlate's mind prison is the first time he is shown using that technique, but I could be forgetting some other instance of that happening in TF.
If Ledas destroyed the mind prison, I think The Benefactor would be released, but I am not entirely sure about that myself.
The original scene of Ledas on Niflheim was really awkwardly-written and had a lot of cringey stuff in it. I liked the idea of Ledas being there and fighting some bugs, but I pretty much rewrote all of the dialogue and most of the scene direction to polish it up to my 2019 standards.
The bug scene reminds me of an early Dragon Ball type of encounter, or perhaps even some of the stuff in GT when Goku, Pan, and Trunks were going from planet to planet, not always fighting super strong opponents.
Ledas uses his new Burning Swath attack against the bugs as a means of introducing the new technique and foreshadowing its later use in his fight against Yuki. In the old draft of CV, I don't think he used it against Yuki, which made the bug fight scene irrelevant to the story.
Niflheim is in the same solar system as Typhon, meaning that Ledas' journey to Yuki and Cuber's location takes only a few minutes. If it had taken much longer, he would not have arrived in time to save Cuber.
Really intelligent detail that HZ added with Cuber leaving his ship in orbit, lest Yuki destroy it upon entry (thus stranding him on Typhon).
I loved how all their scouters exploded when Cuber arrived. Talk about a badass entrance. This was a detail HZ insisted upon. I originally did not write this as happening (as I wrote the scene), but he correctly pointed out that any of them sensing Cuber in his Super Saiyan state would lose their scouters. As all of their scouters would pick him up, that meant that 1246 scouters had to blow up in near unison.
Yuki knows that Cuber was the one who killed her father just from the scouters exploding. She's never met the guy before, obviously, but she isn't a dummy. She can put two and two together rather quickly. There's a reason he was sent to deal with her. I think the only thing that surprised her was that Cuber came alone, not with tons of Mrovians to help him. She is also no doubt surprised that he is a Saiyan like her mother.
I don't think Yuki loved her father much, but still, losing a parent sucks. It was a nice moment to have the two sort of bond in their fury towards one another due to mutual losses.
Cuber knows that Yuki is Nitro's daughter, but he doesn't care to get to know her. That is really funny to me. I like how he just attacks her after she says that she too has felt great loss from losing someone. He doesn't want to be reminded of the fact that his brother's gone. This was really nice character development by HZ, and it does show that should Cuber ever learn of the Dragon Balls, the first thing he would do, unquestionably, would be to revive Kailon.
Not only is Cuber not stronger than Yuki, but he's not stronger than a barely-powered up Fourth Form Yuki. If only he knew how strong she really was. His strategy of keeping a distance between them and peppering her with ki attacks was a strategy I used in Xenoverse and Xenoverse 2 to beat various campaign missions when I was a much lower rank than the CPU, although I don't think he came up with that strategy with Xenoverse in mind.
Very few writers have their characters fire ki blasts out of any appendage other than the hand, mouth, or eyes. Hyper Zergling using a foot beam here was really cool. It's something I've done as well, something I like doing a lot as it's unexpected, so I was really happy to see it.
I much prefer how Ledas introduces himself in this version of CV compared to the previous version. It's more trolly. Also, it shows how he does not consider Yuki's soldiers to be a threat to him. He knows they're from the PTO, and he can sense that they are no threat to him, so why sneak around them? He wasn't hiding from them; he was more interested in the fight going on in the distance between Yuki and Cuber, and was only there (and not at the fight location) in case he needed to ask anybody about what was going on.
Chaiva not mentioning Yuki to Cuber revealed a lot to Cuber in that moment. Certainly, she had to have some shame about being the mother of Yuki, but also about leaving her behind without ever going back for her. I assume that she thought Yuki was evil or dead, although I do not know HZ's reasoning entirely.
Yuki's conversation with Cuber at the end of chapter 2 was done in order to make the stakes clear between them, and also to show how complicated their relationship is. The Cuber/Chaiva/Nitro/Yuki dynamics are quite complicated, although they are the main reason this story takes place. A lot needed to be said before they got too wounded and tired.
Cuber doesn't have an answer to Yuki's power. His strategy of staying away from her won't work forever, so his threats ring hollowly to her. She's not stupid. She knows she's about to kill him at the end of chapter 2 and is relishing in the opportunity to do so slowly and to make him suffer. In her mind, she has already won.
Chapter 3: And The Horse You Rode In On

[

]
<YUKI'S ULTRAMARINE AURA FLARES UP AROUND HER AS SHE FLIES STRAIGHT AT CUBER; HER FOREHEAD IMMEDIATELY IMPACTS HIS, KNOCKING HIM BACK; AS CUBER CONTINUES TO FLY BACK, YUKI FLIES AROUND HIM TO END UP BEHIND AND UPPERCUTS HIM INTO THE SKY; YUKI ONCE AGAIN FLIES PAST CUBER, THIS TIME ABOVE HIM, AND THEN DOUBLE-AXE-HANDLES HIM BACK INTO THE GROUND; THE IMPACT CREATES A FAR LARGER EXPLOSION ANY OTHER IN THIS FIGHT>
<THE SMOKE CLEARS, REVEALING A HUGE POOL OF LAVA; YUKI LIFTS HER RIGHT HAND ABOVE HER HEAD AND CREATES AN IMMENSE PINK ENERGY BALL ABOVE IT; SHE THEN THROWS THE SPHERE DOWNWARDS AT THE NEW LAVA LAKE, AND SHORTLY AFTER LEAVING HER HAND, THE SPHERE EXPLODES INTO MILLIONS OF SMALL BOLTS THAT RAIN DOWN>
Yuki: <TELEPATHICALLY TO CUBER> Get up, wretch! You think you can insult my father's memory by putting on such a weak show?
<CUBER EMERGES FROM THE LAVA AND FIRES A PAIR OF STUN BOLTS AT YUKI, WHO TAKES THEM IN THE FACE; ALTHOUGH THEY DON'T REALLY DO ANY DAMAGE, THEY DO SERVE TO BLIND HER BRIEFLY, ALLOWING CUBER TO GET BEHIND HER AND STRIKE WITH A RIGHT FLYING BACK KICK, HITTING HER AWAY AT AN UPWARD ANGLE; CUBER FOLLOWS YUKI AND GOES FOR A DOGOM FLIP FROM BELOW; YUKI DODGES BY FLYING AROUND CUBER TO END UP BEHIND HIM; WHEN HE TURNS AROUND TO FACE HER, SHE WHIPS HIM ACROSS THE LEFT CHEEK WITH HER TAIL; WHILE CUBER IS STILL IN PAIN, YUKI SHOOTS TWO EYE BEAMS THAT HIT CUBER RIGHT IN THE THROAT>
<DOING HIS BEST TO FIGHT OFF THE PAIN, CUBER PUTS UP AN ENERGY SHIELD, BUT YUKI BACKHANDS RIGHT THROUGH IT AND THEN PROCEEDS TO PUNCH HIM REPEATEDLY IN THE FACE AND FRONT OF THE TORSO WITH ALTERNATING FISTS WHILE FLYING FORWARD, CARRYING HIM AROUND THE WORLD; AFTER A FINAL GUT PUNCH, YUKI GRABS CUBER'S HEAD WITH BOTH OF HER HANDS BEFORE PERFORMING A BACKFLIP; WITH HER HANDS GRIPPING HIM, SHE SWINGS CUBER OVER HER HEAD AND INTO YET ANOTHER CRATER; BY NOW, CUBER'S ARMOR ABOVE THE WAIST IS COMPLETELY DESTROYED, SANS HIS GAUNTLETS>
<YUKI LEAPS OVER CUBER AND THEN STOMPS DOWNWARDS WITH BOTH FEET, INEVITABLY DEEPENING THIS CRATER WITH YET ANOTHER EXPLOSION; WHEN THE SMOKE CLEARS, YUKI TAKES HER LEFT FOOT OFF WHILE KEEPING HER RIGHT ON THE SAIYAN'S BACK>
Yuki: If you cannot offer me a better challenge, I will just have to pull the life out of you right here. It will be agonizingly slow; I promise you that.
<CUBER LETS OUT A PAINED GRUNT IN RESPONSE; YUKI OPENS HER PALM AT CUBER AND RELEASES A TORRENT OF BLUE-WHITE ELECTRICITY>
Cuber: <THINKING TO HIMSELF; NUMB FROM YUKI'S ATTACK> So this is how I die. Pretty ironic, isn't it? I made it this far only to be killed by the child of my lifelong enemy and...my best friend.
<SEEING THAT CUBER IS LESS THAN RESPONSIVE TO HER SHOCKING BEAM, YUKI STOPS IT AND DIGS HER RIGHT TOES DEEPER INTO HIS BACK, GRIPPING HIM BY THE FLESH BEFORE THROWING HIM UP INTO THE AIR; YUKI FLIES AROUND CUBER TO END UP ABOVE HIM, AND THEN ELBOWS HIM BACK DOWN INTO THE NEWEST CRATER, DEEPENING IT EVEN FURTHER>
<CUTS TO A CLOSEUP OF CUBER, WHO IS PRONE>
<CUE CUT VERSION OF OVERLOCKED'S "PASSING OF THE BLUE CROWN" REMIX OF THE MEGAMAN 3 MAIN MENU THEME>
Cuber: <THINKING TO HIMSELF> But Chaiva...Baochoi...<A TEAR ROLLS DOWN CUBER'S RIGHT EYE, FLOWING DOWNWARDS INTO HIS LEFT> I won't ever see them again. I never even got to say goodbye…
<CUBER'S EXPRESSION SUDDENLY CHANGES TO ONE OF ANGER>
Cuber: No…
<CUBER SLOWLY STANDS UP>
Yuki: Don't make me laugh. It's hopeless. I've won this fight.
<MEGAMAN 3 REACHES 0:24; CUBER'S YELLOW SUPER SAIYAN AURA FLARES UP AROUND HIM; HE FLIES AT YUKI WHILE FIRING A BARRAGE OF STUN BOLTS AT HER, SOME OF WHICH HIT BUT DO NOT AFFECT HER MUCH>
<MEGAMAN 3 REACHES 0:28; WHEN CUBER REACHES YUKI, SHE PREPARES A RIGHT OVERHAND, BUT THE SAIYAN IS FASTER AND THROWS A LEFT CURVED KNEE TO HER RIBS; NOT HAVING EXPECTED THE ATTACK, YUKI CLUTCHES HER SIDE WHERE CUBER HAD HIT HER AND THEN LOOKS UP TO SEE CUBER COME DOWN ON HER WITH A DRILL KICK>
<MEGAMAN 3 REACHES 0:33; YUKI RAISES HER LEFT FOREARM, SUCCESSFULLY BLOCKING CUBER'S HEEL, AND THEN AS CUBER DESCENDS PAST HER GUARD, SHE REACHES OUT WITH HER RIGHT HAND; CUBER NARROWLY DRIFTS AWAY FROM YUKI'S HAND AS HIS AURA FLARES OUT MORE VIOLENTLY, BLUE-WHITE PLASMA ARCS FLICKER AROUND HIS BODY, AND HIS HAIR STRAIGHTENS FURTHER UP AND BACK>
<MEGAMAN 3 REACHES 0:37; CUBER UNLEASHES A FLYING REVERSE ROUNDHOUSE KICK, CONNECTING HIS HEEL TO THE SIDE OF YUKI'S HEAD, CAUSING A PITCH-BLACK GOLF-BALL-SIZED SPHERE TO APPEAR AT THE POINT OF CONTACT, AND THEN IMMEDIATELY AFTER, THE HALF-ARCOSIAN IS SENT FLYING UP AND AWAY BY A HUGE ORANGE-WHITE ENERGY WAVE>
<MEGAMAN 3 REACHES 0:41; CUBER, NOW CLEARLY IN SUPER SAIYAN 2, WAITS FOR YUKI TO RETURN TO THE BATTLEFIELD>
<MEGAMAN 3 REACHES 0:48; YUKI APPEARS SEVERAL DOZEN METERS IN FRONT OF CUBER>
Yuki: So, you've finally achieved the state beyond a Super Saiyan. I would have expected you to have reached it sooner.
<CUBER DOES NOT ANSWER AND GLARES AT HER IN SILENCE>
Yuki: No matter; you are still nothing compared to me.
<YUKI POWERS UP, HER ULTRAMARINE AURA SHINING EVEN MORE BRIGHTLY THAN EVER BEFORE; HER MUSCLES ENLARGE SLIGHTLY AND NOWHERE NEAR TO THE EXTENT OF FRIEZA AT 100% POWER>
<MEGAMAN 3 REACHES 1:13; YUKI FLIES AT CUBER WITH A RIGHT FLYING SIDE KICK; THE SAIYAN LEAPS OVER YUKI AND THEN THROWS A RIGHT FLYING BACK KICK INTO HER BACK ON HIS WAY DOWN; YUKI DOES NOT FLINCH MUCH AND RETALIATES WITH A RIGHT BACKHAND, WHICH CUBER BLOCKS WITH AN ENERGY SHIELD, THIS ONE MAINTAINING ITS SHAPE; CUBER DEACTIVATES HIS SHIELD BEFORE ATTACKING WITH A DRILL KICK, BUT YUKI BLOCKS WITH HER FOREARMS; THE SAIYAN TAKES UP INTO THE SKIES AND YUKI FOLLOWS SOON AFTER; NOW FACE-TO-FACE, CUBER ATTACKS WITH A LEFT CURVED KNEE, WHICH YUKI DODGES BY DRIFTING BACK; IMMEDIATELY AFTER MISSING, CUBER RETREATS BACK TO THE GROUND AND THEN FIRES A STUN BOLT AT YUKI, WHO FLIES OVER IT BEFORE PURSUING HER OPPONENT>
<WHEN SHE REACHES HIM, SHE THROWS OUT A RIGHT OVERHAND, BUT CUBER PULLS BACK AWAY FROM HER FIST AND THEN PUNISHES YUKI'S MISSED ATTACK WITH A RIGHT FLYING BACK KICK; YUKI DOES HER BEST TO ENDURE THE HIT AND PREPARES TO DELIVER ANOTHER BACKHAND, BUT THE SAIYAN VERTICALLY LAUNCHES HER WITH AN EXPLOSIVE SHINE BEFORE SHE CAN THROW OUT HER ATTACK; CUBER IMMEDIATELY FOLLOWS HER AND HITS HER WITH THE DOGOM FLIP; STILL STRONG ENOUGH TO RESIST, YUKI SOON RESPONDS WITH A CLOCKWISE SWIPE OF HER TAIL, BUT CUBER DUCKS UNDER IT AND RETURNS TO THE GROUND; JUST AS YUKI LANDS, CUBER RELEASES AN EXPLOSIVE SHINE, BUT SHE BACKS AWAY JUST IN TIME; THE SAIYAN PURSUES YUKI, WHO RAISES HER FOREARMS TO BLOCK THE FOLLOW-UP EXPLOSIVE SHINE; CUBER THEN MOVES TO THE SIDE AND GRABS YUKI'S THROAT WITH HIS RIGHT HAND, CAUSING HER TO DROP HER GUARD, AND THEN HOOKS HER ACROSS THE FACE WITH HIS LEFT FIST AS HE RELEASES GRIP, KNOCKING HER BACK>
<YUKI STOPS HERSELF BEFORE LOOKING FORWARD TO SEE CUBER MOVING TOWARDS AND AWAY FROM HER AT VERY HIGH SPEEDS, ALMOST TOO QUICKLY FOR HER TO FOLLOW; YUKI GOES INTO A DEFENSIVE STANCE, UNSURE OF WHAT TO DO; AFTER NO MORE THAN A SECOND, CUBER RELEASES AN EXPLOSIVE SHINE, WHICH YUKI IS ABLE TO BLOCK WITH HER FOREARMS RAISED; YUKI REACHES OUT AGAIN IN AN ATTEMPT TO GRAB CUBER, BUT HE RETREATS AND THEN COMES BACK WITH A DRILL KICK; YUKI NARROWLY DODGES THE ATTACK BY FLYING AROUND CUBER, WHO TURNS AROUND IMMEDIATELY AND FIRES A STUN BOLT; YUKI REACTS QUICKLY ENOUGH AND PUSHES HER LEFT PALM FORWARD, HITTING THE ENERGY BEAM RIGHT BACK TO CUBER; ALTHOUGH CUBER'S OWN ATTACK HITS HIM, HE BARELY FLINCHES, FLIES OVER AND AROUND YUKI, AND STRIKES HER WITH A RIGHT FLYING BACK KICK, AND FOLLOWS UP WITH A DRILL KICK THAT SCRAPES HER THROUGH ANOTHER MOLTEN VALLEY; YUKI ONCE AGAIN STOPS HERSELF FROM GOING TOO FAR; JUST AS SHE PUSHES HERSELF UPRIGHT, CUBER DRILL-KICKS THE GROUND NEXT TO HER, CREATING AN EXPLOSION THAT LAUNCHES HER UP IN THE AIR>
<MEGAMAN 3 REACHES 2:17; CUBER IMMEDIATELY ASCENDS ABOVE YUKI BEFORE NAILING HER WITH A FINAL DRILL KICK; ANOTHER SMALL PITCH-BLACK SPHERE APPEARS AT THE POINT OF CONTACT AND AN IMMENSE ENERGY WAVE OF BLUE-WHITE SURROUNDED BY ORANGE COMES OUT OF CUBER'S HEEL AND PUSHES YUKI DOWNWARDS>
<MEGAMAN 3 REACHES 2:19; CUTS TO A SHOT OF TYPHON FROM OUTER SPACE; TWO MASSIVE EXPLOSIONS APPEAR NEAR-SIMULTANEOUSLY ON OPPOSITE SIDES OF THE PLANET; A BLUE-WHITE STREAK LEAVES OUT FROM ONE OF THE EXPLOSIONS, WHICH CAN BE ASSUMED TO BE YUKI AND CUBER'S DRILL KICK BEAM>
<MEGAMAN 3 REACHES 2:23; CUTS BACK TO CUBER, WHO LOOKS DOWN AT THE LAVA CRATER THAT IS EVEN LARGER THAN YUKI'S FROM EARLIER>
<MEGAMAN 3 ENDS>
<WITHIN A FEW SECONDS, AN ULTRAMARINE LIGHT APPEARS IN THE DISTANCE AND CUBER LOOKS TO IT; CUTS TO YUKI UP-CLOSE; SHE IS FLYING AT CUBER, ANGERED AND BRUISED; CUTS TO CUBER, WHO BOMBARDS THE INCOMING YUKI WITH STUN BOLTS; YUKI DODGES SOME BOLTS WHILE LETTING OTHERS HIT HER AS SHE CHARGES UP A VIOLET-WHITE ENERGY SPHERE IN HER RIGHT PALM; JUST AS YUKI THROWS THE ATTACK WHICH TAKES ON THE SHAPE OF A LARGE TEARDROP (DEATH SURGE), CUBER'S AURA AND PLASMA ARCS VANISH, AND HIS HAIR BECOMES LESS SPIKY; HIS EYES WIDEN AS YUKI'S ATTACK APPROACHES HIM>
<CUTS TO A FEW HUNDRED KILOMETERS AWAY; YUKI'S ATTACK EXPLODES, TAKING ON THE APPEARANCE OF AN OVERLY-BRIGHT SUN; CUTS TO CUBER, WHO IS BLASTED BACK; SOMETHING CATCHES HIM BY THE THROAT, AND WHEN THE LIGHT OF THE EXPLOSION DISSIPATES, IT IS REVEALED TO BE YUKI'S TAIL; YUKI IS BEHIND CUBER, POSING THE WAY FRIEZA HELD VEGETA ON NAMEK>
Yuki: Looks like you finally ran out of steam. Now I will make sure to enjoy this.
<YUKI CREATES TWO ENERGY KNIVES, ONE IN EACH HAND, AND REPEATEDLY SLICES INTO CUBER'S BACK; NOT MUCH BLOOD COMES OUT OF HIS WOUNDS, AS YUKI'S BLADES VAPORIZE MOST OF THE BODILY FLUIDS THEY COME IN CONTACT WITH>
<CUTS TO YUKI'S SOLDIERS>
<THE CAMERA SHOWS NARO, KIRKA, LEDAS, AND YUKI'S ELITES WITNESSING THE EXPLOSION OF YUKI'S LAST ATTACK; IT EXPLODES IN THE SKY, SOMEWHAT FAR-OFF IN THE DISTANCE, THOUGH STILL BRIGHT ENOUGH TO FORCE THEM TO LOOK AWAY; IT IS ONLY AS A HELMET-WEARING SOLDIER DOES SO THAT HE NOTICES THE BOY IN THE RED HOODIE STANDING AMONGST THEIR GROUP>
Soldier #3: <TOO LOUDLY> Hey! What the hell?! Who are you?!
<LEDAS DOES NOT EVEN LOOK AT HIM, BEING TOO FOCUSED ON THE FIGHT GOING ON IN THE DISTANCE TO CARE>
Soldier #4: <IN A WHINY VOICE> Captain, we've got an enemy spy in our midst!
<THAT GETS NARO AND KIRKA'S ATTENTION; THE BULKY WARRIOR APPEARS ANNOYED AS HE APPROACHES THE BOY; HIS FRAIL COHORT LOOKS MORE THAN A LITTLE AGITATED AT THE SIGHT OF AN ENEMY SO CLOSE BY>
Naro: <IN A DEEP VOICE> Form up! <HIS ELITE SOLDIERS, AROUND THREE DOZEN STRONG, SPLIT OFF AND SURROUND LEDAS, WHO HAS YET TO MOVE> Now who the hell do you think you are, kid? This ain't no place for you to be. How'd you get here?
Ledas: <TO HIMSELF; RAISING HIS ARM UP TO HIS EYES> That power's awesome! I've got goosebumps!
Soldier #4: Hey, brat! Listen up! The captain's talkin' to ya!
<HE GRABS LEDAS BY THE TAIL TO GET HIS ATTENTION; INSTANTLY, THE BOY SLAPS HIM AWAY, AS IF THE SOLDIER WERE A BUG, SENDING HIM FLYING INTO THE AIR AND SOON DISAPPEARING IN THE DISTANCE WITHOUT A SOUND; THE OTHER SOLDIERS FREEZE UP IN SHOCK; NARO FEARLESSLY STEPS FORWARD>
Kirka: <CALLING OUT DESPERATELY> Look at that tail, Naro. He's a Saiyan!
Naro: <RELAXING> That makes sense. I was wondering why he didn't look like those damn photosynthesizers.
Kirka: He must be that other warrior's son. Be careful trying to fight him! Use extreme caution!
Ledas: <ENGAGING THEM FOR THE FIRST TIME> Huh? Which warrior? Who's fighting out there anyways?
Naro: You mean you don't even know? I find that hard to believe.
Kirka: <SHOUTING PASSIONATELY> Never trust a monkey!
Ledas: Look, I don't care about you guys. You're all really weak. I'm more interested in the fight going on over there. One of the powers is fading fast. That must mean it's over. <HE FLASHES A CHEEKY GRIN> I'm gonna challenge the winner!
Kirka: <COVERING HIS MOUTH AS IF LEDAS HAD JUST SPOKEN NAKED HERESY> An ape like you could never challenge the Empress! You would be vaporized immediately.
Ledas: <COCKS HIS HEAD TO THE SIDE> Ooh, an empress? Is she really strong?
Naro: Stronger than you could imagine. But you won't be facing her. You'll have to get through me first. That's not happenin'.
Ledas: <LOOKS LIKE HE WANTS TO SAY SOMETHING; BITES HIS LOWER LIP, THEN STEPS UP TO FACE THE THEKAR> Alright, show me whatcha got.
Naro: I'll knock your teeth out!
<NARO PUNCHES AT LEDAS WITH HIS RIGHT FIST; THE BOY CATCHES HIS FIST AND JERKS HIS ARM SHARPLY TO THE SIDE, RIPPING IT FROM HIS SHOULDER; THE THREE-EYED ALIEN ROARS IN PAIN AS HE FALLS TO HIS KNEES, BLUE BLOOD SPURTING OUT FROM HIS GAPING WOUND; THE CAMERA ZOOMS IN ON LEDAS' FACE; HIS GREY EYES SHINE WITH COLORLESS ENERGY FOR A MOMENT; THEN, THE CAMERA SHOWS HIS POINT-OF-VIEW AS YUKI'S FLYING SAUCERS SIMULTANEOUSLY EXPLODE; THE EXPLOSIONS OVERTAKE THE WEAKER SOLDIERS, VAPORIZING THEM BEFORE THEY KNOW WHAT HAS HIT THEM>
<HOWLING, NARO RAISES HIS REMAINING ARM AND FIRES A CRIMSON FINGER BEAM AT LEDAS; HIS ELITES WHOOP AND SHOUT AND SCREAM THEIR WAR CRIES AS THEY TOO ATTACK THE BOY WITH A VARIETY OF ENERGY BLASTS; THE SAIYAN THRUSTS HIS ARMS OUT, CREATING A RED-ORANGE BARRIER OF ENERGY AROUND HIMSELF; AS THE ATTACKS HIT THE ENERGY SHIELD, HE CLOSES HIS EYES, CAUSING HIS ADAPTIVE BARRIER TO SELF-DESTRUCT, A WAVE OF BRIGHT BLUE KI WASHING OVER NARO AND HIS ELITES, DECIMATING THEM; KIRKA, WHO HAD JUST BEEN STANDING THERE, SHRIEKS LIKE A BANSHEE AS HE IS THROWN OVER THE EDGE OF THE CLIFF BY THE FORCE OF THE EXPLOSION>
<RISING INTO THE AIR ABOVE THE SMOKE, LEDAS DOESN'T SCAN TOO THOROUGHLY FOR SURVIVORS BEFORE DASHING OFF TO THE BIG POWER LEVELS HE CAN SENSE IN THE DISTANCE>
<CUTS BACK TO CUBER AND YUKI; THE LATTER OF WHOM NOW HAS CUBER TURNED AROUND TO FACE HER; SHE IS PUNCHING CUBER REPEATEDLY IN THE ABDOMEN; THE SAIYAN IS SUFFOCATING, UNABLE TO COUGH UP BLOOD; YUKI THEN PAUSES, SMILING AS SHE READIES A SMALL PINK BEAM IN HER RIGHT HAND, FINGERNAIL OUT>
Endnotes:
Hyper Zergling named this chapter and he did so referencing Halo. This chapter retains its name from the original draft.
Goes without saying, but HZ wrote almost all of the Yuki vs Cuber fight in this chapter, while I focused on Ledas' moment with her soldiers.
Cuber landed too many Stun Bolts to be realistic in my opinion. Yuki is way faster than him, and even if they do little to no damage, I don't think she would let them hit her. Moving out of the way or slapping them aside more often would have been a better-written reply to the spamming.
I don't generally like the music HZ picks for fight sequences (tends to be too fast, repetitive, and robotic-sounding - video game background music, essentially), but the Megaman 3 remix feels Dragon Ball-esque to me. Decent choice there. I think I like it because it's a remix that uses an actual guitar, the instrumentation being crisp and album-like, instead of the usual synths.
The cue seconds for the Megaman 3 song don't really work. Especially for first time readers, it's impossible to read it that fast and stay in pace with what HZ was intending. Conceptually he could've done better, but I get why he did it that way. For my commentary, I basically had to pause at every paragraph break to finish the paragraph, and some of them are just not possible to read in 4 seconds (the 0:33 to 0:37). Then, the gap between the 0:48 part and the 1:13 is far too slow, so the pacing is really quite messy for Cuber's SS2 transformation in my opinion. You have to conform the choreography to the song, and it felt like HZ didn't really do that, that he already had an idea of exactly the move sequence he wanted to do and then tried to fit it in with the song. That is never a good way to approach musical cues in stories. Not saying that I've been super successful at this either, but this specific instance really stuck out to me as being absurdly-paced.
Cuber didn't go SS2 in the original draft of CV, so he is far stronger in this version. It had to happen with the changing of the timeline, as he needs to be a SS2 before he appears in HOTD. HZ did very well with coming up with an emotional breakpoint for Cuber in my opinion.
Again, I don't see why Yuki lets multiple Stun Bolts hit her. If this were an anime I would absolutely refuse to allow that to happen. She would easily dodge them in midair while charging up her attack. I don't like that, for it doesn't take into account Yuki's self-preservation at all. She would not be so sloppy as to allow weak, slow energy blasts to hit her if she didn't need to. There's no reason to have it happen other than to let Cuber damage her by another 0.000001%. Pointless and illogical.
I much prefer Ledas' nonchalant attitude in this version compared to the previous version. In the previous version, he was too energetic and awkward about how he talks to Naro and the soldiers. He's more mature in this version while also remaining excited by the fight between Cuber and Yuki, as any proper Saiyan would be.
Ledas' conversation with Naro and Kirka is much enhanced in this version. Them telling him about Yuki was quite useful and I should've done it in the last draft too. He doesn't know what the fuck is going on, so this was necessary to bring him up to speed on the events that are taking place. Also, it provides him a reason to save Cuber, as Ledas despises the Planet Trade Organization.
Ledas is not one to get in boasting matches with people, as prideful as he can be. Biting his lip there was a subtle move to show that some small part of him wanted to continue arguing with Naro, but he thought better of it, knowing all the fools would be dead in a couple seconds anyways.
It's been a while since Ledas used the Lightning Strike. Him using it here shows how he's gained more precision control over it compared to when he used it in TF.
Kirka died with Naro and the others in the original draft of CV. I wanted to keep him alive for a little longer here, as he's a character I'm fond of from other stories and don't think he should have died so easily. Naro and the soldiers dying was enough for that scene. I didn't have an idea for how to reintroduce Kirka when I originally wrote this, knowing that the opportunity would present itself at some point, which it did. With that said, the way Kirka's exit was written, it was left a little ambiguous as to if he really did die or not. I did not want the readers to be certain that he would return.
Chapter 4: True Love Waits

[

]
<THE CAMERA FADES IN FROM BEHIND YUKI AS THE PINK GLOW OF HER ATTACK ILLUMINATES HER AND HER PREY; AS CUBER CONTINUES TO SUFFOCATE, GAGGING SILENTLY, THE HALF-ARCOSIAN RAISES HER FINGER AND POINTS IT AT HIM; THE SAIYAN IS LOOKING UP AND TO THE LEFT, NOT AT HER, THOUGH HIS EYES ARE WIDE OPEN IN SURPRISE, WHEN A DARK BLUE ENERGY BALL EXPLODES AGAINST THE SIDE OF HER HEAD; AS SHE HAD COMPLETELY DROPPED HER GUARD IN HER LUST FOR VENGEANCE, SHE LETS CUBER SLIP FROM HER GRASP JUST IN TIME TO BE PELTED WITH DOZENS OF ADDITIONAL ENERGY BALLS>
<CUBER'S BODY FLOPS AROUND LIKE A RAGDOLL UNTIL HE'S LOST IN THE SMOKE AND DUST; HIS HAIR HAS CLEARLY REVERTED TO BLACK AGAIN; YUKI DODGES MOST OF THE BLASTS, SWATTING A FEW ASIDE WITH HER HANDS AND TAIL, GAINING DISTANCE FROM THIS NEW ATTACKER; THE CAMERA PANS BACK FROM HER AS SHE LOOKS UP INTO THE SKY, REVULSION ON HER FACE; THE CAMERA FLIPS AROUND TO REVEAL LEDAS IN SUPER SAIYAN 2, PLASMA SPARKS FLICKERING IN HIS GOLDEN AURA, WHICH IS LIGHTING UP THE SKY>
Yuki: <IN AN AGITATED AND IMPATIENT MOOD> Another monkey?! Are you serious? And this one knows how to perform that trick as well. Unbelievable. Where are they coming from?
Ledas: <IN HIS MIND; HIS EXPRESSION IS RELAXED> That other guy's a Super Saiyan too. It felt like he was about as strong as me, and he was beating her before his energy ran out.
<HE GLANCES BACK TO WHERE HE LAST SAW CUBER, BUT ALL THAT REMAINS OVER THERE ARE A SERIES OF SMOKING CRATERS; INSTANTLY, YUKI LEAPS AT HIM, CLOSING THE GAP WITH A FLYING KNEE INTO LEDAS' STOMACH; THE BOY RECOILS SLIGHTLY, BUT ABSORBS THE BLOW EASILY NONETHELESS>
Yuki: <LOOKING SLIGHTLY ALARMED> Impossible!
Ledas: Psh, that was nothing special. Watch this.
<WITH A SUDDEN LEFT SPINNING HEEL KICK, THE BOY KNOCKS HER BACK TO THE GROUND; YUKI CATCHES HERSELF ON HER TOES AND FINGERTIPS JUST AS SHE HITS THE GROUND, PREVENTING ANOTHER CRATER FROM FORMING; COMPOSING HERSELF, SHE GETS TO HER FEET, RUBBING THE SIDE OF HER JAW AND SPITTING OUT A MOUTHFUL OF BLOOD; LEDAS DESCENDS TO THE GROUND AND APPROACHES>
Yuki: <TRYING VERY HARD WITH FACIAL EXPRESSIONS AND SUCH NOT TO LOSE CONTROL OF HER TEMPER; IN A HIGH, PRETENTIOUS TONE> So tell me, are you his son? Have you come here to vanquish me and save Daddy all by yourself?
Ledas: Huh? What? Who?
Yuki: The other monkey. You're too young to have been born when Frieza vaporized your species' homeworld. That means you must be his son.
Ledas: I dunno who that other guy is. I just sensed a couple big powers over here, so I came to watch you and him fight. I was watching some of it with your soldiers. That was pretty awesome. But then I had to kill them so I could come fight you myself.
Yuki: Insolent beast. You've left everything up to me. I am going to hurt you for what you did to my soldiers.
Ledas: <SARCASTICALLY> Ooh, you're a real pleasant lady. <SHAKING HIS HEAD> You must be the empress.
Yuki: <RATHER MAD THAT THE BOY DOES NOT ALREADY KNOW WHO SHE IS> I am Yuki, Empress of the Planet Trade Organization, and I will not be mocked by a stinking monkey!
Ledas: <NOT LISTENING> Cool, looks like I found a girl Frieza.
Yuki: How dare you speak of me in such base terms?! I am the daughter of Emperor Nitro. Don't you dare compare me to that loathsome worm!
Ledas: <BARELY PAYING ATTENTION> Mhm, mhm. You know, I fought Cooler once. That was intense. Your uncle was pretty strong.
Yuki: Liar! He would have ground you to dust, boy. Do not boast so recklessly in my presence. Do you take me for some common housewife?
Ledas: I sensed you fighting earlier. You're gonna have to power up a lot more if you wanna to beat me. Can you even do that? Do it. I'm not afraid of you.
Yuki: Very well, little man. You'll regret this. If I do power up to my next form, you will stand no chance against me.
Ledas: <UNCONCERNED> Yeah, yeah, yeah… let's see what you got, Miss Empress Lady.
<YUKI FOLDS HER ARMS, UNIMPRESSED; LEDAS STANDS UP STRAIGHT IN A POSE WHICH IS SLIGHTLY FACING YUKI; HIS HANDS ARE DOWN AT HIS WAIST, PULLED BACK SLIGHTLY; AS HIS AURA BEGINS TO SIMMER DOWN A BIT, YUKI'S OWN AURA CLINGS TO HER BODY, SOON BRIGHTENING ENOUGH TO FULLY ENSHROUD HER; WITHOUT SO MUCH AS A SCREAM, SHE BUILDS HER AURA UP EVEN MORE UNTIL A SHOCKWAVE RIPPLES THROUGH THE AIR, FOLLOWED IMMEDIATELY BY ANOTHER, AND THEN THE LIGHT QUICKLY FADES AWAY; LEDAS SHIVERS, FEELING HER NEW POWER>
<YUKI STEPS FORWARD WITH A SMIRK ON HER FACE; SHE IS AT LEAST A HEAD TALLER THAN SHE WAS BEFORE, AND NOW HAS A FOUR-SPIKED HELMET OF BIO-ARMOR THAT STARTS AT THE BOTTOM OF HER FACE AND GOES THROUGH THE BACK OF HER HEAD; HER HAIR IS NOW GOLDEN, SPIKY, AND STANDING UP LIKE A SUPER SAIYAN'S; HER AURA HAS SPARKS OF PLASMA>
Ledas: Uh-oh… I really probably shouldn't have allowed that! <SHOCKED AT SEEING HER> Hey! What the heck?! Your hair looks like mine!
Yuki: I know. I get that from my mother.
Ledas: I bet you got your ugliness from her t–
Yuki: You are the first person to witness this form… not even Kirka has seen me power up to this level. You're in for a rare treat. The pain will be unbearable… <SHE SWALLOWS A CHUCKLE> but isn't that what you wanted? Tell me your name, monkey, before I obliterate you.
Ledas: <EYEING HER SUSPICIOUSLY> My name's Ledas.
Yuki: You have done well to push me this far, Ledas… but it's time for you to go. Goodbye.
<SHE RUSHES AT THE BOY, CATCHING HIM OFF-GUARD; THOUGH HE TRIES TO BLOCK HER, THE FORCE OF HER PUNCH SENDS HIM SKIDDING BACK SEVERAL FEET; BEFORE HE CAN REACT, SHE IS ON HIM AGAIN, THIS TIME LAUNCHING HERSELF AT THE BOY WITH A SUPERMAN PUNCH; LEDAS DESPERATELY TRIES TO JUMP OUT OF THE WAY, BUT SHE SLAPS HIM WITH HER TAIL, KNOCKING HIM INTO THE AIR; YUKI PURSUES THE SAIYAN, STRIKING HIM WITH A RIGHT ELBOW; THIS TIME, LEDAS' GUARD BREAKS; HE FRONT-FLIPS HIGHER INTO THE SKY, ABSORBING THE BLOW WHILE GAINING ENOUGH DISTANCE TO LAUNCH AN ATTACK OF HIS OWN>
<THIS TIME WHEN YUKI RUSHES HIM, LEDAS MANAGES TO FIRE A CYAN ENERGY BEAM DOWN UPON HER BEFORE SHE CAN REACH HIM; THE HYBRID, WHO IS DASHING UP TO HIM, DOES NOT HAVE TIME TO BLOCK; A MOMENT LATER, SHE SLAMS INTO THE GROUND IN A CRATER; NOT WAITING FOR HER TO GET BACK UP, LEDAS CLOSES THE GAP BETWEEN THEM, BUT REMAINS HOVERING IN THE AIR AS HE FIRES AN UNRELENTING ENERGY BURST AT HER, TEARING APART THE LANDSCAPE AROUND YUKI AS HE PUMMELS HER WITH HUNDREDS OF BRIGHT GREEN ENERGY BALLS>
<FROM OUT OF THE RISING DUST CLOUD, A THIN PINK FINGER BEAM SHOOTS UP AT LEDAS, BLASTING THROUGH MULTIPLE ENERGY BALLS ALONG THE WAY; LEDAS TRIES TO DODGE, AND WHEN HE DOES, IN A MIDAIR SPIN TO THE LEFT, YUKI FLIES UP TO HIM, UPPERCUTTING HIM WITH HER LEFT FIST; YUKI PURSUES HIM AS HE SAILS HIGHER INTO THE SKY, LEADING WITH A LEFT FLYING KICK INTO HIS STOMACH, FOLLOWED BY A BACKHAND TO THE MOUTH, A RIGHT HAMMERFIST TO THE NOSE, WHICH OF COURSE BREAKS HIS NOSE, THEN A LEFT SIDE KICK TO THE BOY'S RIBS; YUKI TAKES LEDAS BY THE THROAT AND THROWS HIM TO THE GROUND; BEFORE HE REACHES IT, SHE AIR DASHES DOWN TO HIM, HER AURA FLARING UP AROUND HER, AND ELBOWS THE SAIYAN IN THE BACK, SENDING HIM TO THE TURF WITH A SICKENING CRASH>
<WINCING, LEDAS FLIPS UP TO HIS FEET, THEN KICKS OFF TO THE LEFT, STAYING LOW, FLYING AROUND YUKI AS HE SHOOTS DUAL PARTICLE BEAMS FROM HIS EYES AT HER; THE HALF-ARCOSIAN SLAPS HIS PURPLE ENERGY BEAMS ASIDE WITHOUT MUCH EFFORT, THEN, HER TAIL SWINGING IN IRRITATION, SHE THRUSTS HERSELF AT LEDAS, FIST OUT; HE TRIES TO BLOCK, BUT THE POWER OF HER ATTACK BREAKS THROUGH HIS DEFENSES, SENDING HIM TO THE GROUND; BEFORE HE CAN GET UP, SHE STOMPS ON HIM AND THEN KICKS HIM AWAY; AS HIS BODY FLIES THROUGH THE AIR, YUKI READIES A VIOLET-AND-WHITE TEARDROP-SHAPED ENERGY BLAST; INHALING, SHE RELEASES THE BLAST, TELEPORTING AWAY FROM HIM IMMEDIATELY AFTER>
<THE BLAST EXPLODES, SENDING A SHOCKWAVE THROUGH THE AIR; YUKI EXHALES, LOWERING HER HAND; OUT FROM THE SMOKE, LEDAS RUSHES AT HER, HIS LEG EXTENDED IN A FLYING KICK; YUKI DODGES TO THE RIGHT, SPINNING TO SLAP THE SAIYAN IN NOSE AGAIN WITH HER TAIL; HE FLIES BACK, NARROWLY AVOIDING HER ATTACK, AND REGAINS HIS BALANCE IN MIDAIR ONLY FOR YUKI TO ATTACK HIM AGAIN WITH ANOTHER LEFT UPPERCUT, SENDING HIM SAILING INTO THE AIR; WITHOUT MERCY, SHE TELEPORTS ABOVE HIM AND KNEES HIM TO THE GROUND, WHICH HE IMPACTS WITH AN EXPLOSION, LEAVING THE SAIYAN IN A CRATER>
<AS LEDAS FLIPS UP TO HIS FEET, YUKI SHOOTS ANOTHER FINGER BEAM AT HIM, BUT HE IS ABLE TO FRONT-FLIP OVER IT; THE EMPRESS RUSHES IN FOR THE KILL WITH A GRAB, BUT WHAT SHE GRABS IS MERELY AN EXASPERATED-LOOKING AFTERIMAGE; REALIZING THIS SLIGHTLY TOO LATE, SHE PUNCHES LEFT, BUT THE AIR DISPLACEMENT SHE HAD FELT WAS JUST ANOTHER AFTERIMAGE; PANICKING, SHE SPINS AROUND, HER RIGHT LEG SWINGING THROUGH YET ANOTHER AFTERIMAGE; LEDAS APPEARS BEHIND HER, DROPPING TO HIS PALMS TO KICK OUT HER LEGS FROM UNDER HER; HE FOLLOWS THIS UP WITH A RIGHT ELBOW, AND HALF-A-HEARTBEAT LATER, HE STRIKES THE BACK OF HER NECK WITH AN OPEN-PALM STRIKE WITH HIS LEFT HAND, WHICH SENDS HER FLYING HORIZONTALLY AWAY FROM HIM; LEDAS' AURA FLARES UP AROUND HIM MOMENTARILY AS HE FIRES OFF A SOUNDLESS KYORRA FLASH AFTER YUKI WHICH EXPLODES AGAINST HER TUMBLING BODY A FEW DOZEN METERS AWAY>
<CATCHING HIS BREATH, LEDAS DISGUISES HIS ENERGY AMONGST HALF A DOZEN AFTERIMAGES, WHICH FORM A HALF-CIRCLE AROUND THE EXPLOSION; EXPECTING YUKI TO HAVE SURVIVED, THEY ARE IN DEFENSIVE POSITIONS; BEFORE THE DUST HAS SETTLED, A FLURRY OF PINK FINGER BEAMS SHOOT OUT FROM THE SMOKE, TAKING OUT THREE AFTERIMAGES BEFORE THE REST ARE ABLE TO REACT AND DODGE ASIDE; THEN, YUKI, HER COUNTENANCE REMAINING CALM, AIR DASHES OUT FROM THE SMOKE CLOUD, FLYING AROUND THE VARIOUS AFTERIMAGES FEINTING SEVERAL ATTACKS, CATCHING THEM OFF-GUARD; AS SHE SEES THEIR REACTIONS, SHE SOON NOTICES WHICH ONE IS THE REAL LEDAS, ALLOWING HER TO RUSH IN WITH ANOTHER PUNCH; ALL OF LEDAS' EYES START GLOWING PURPLE AGAIN, INDICATING HE'S ABOUT TO FIRE ANOTHER PAIR OF PARTICLE BEAMS; YUKI COUNTERS THIS WITH AN EXPLOSIVE WAVE, THE FORCE OF WHICH SURPRISES THE BOY, COUNTERING HIS REMAINING AFTERIMAGES AND SENDING HIM FLYING INTO THE AIR BEFORE HE CAN ATTACK>
<SPINNING TO STOP HIS MOMENTUM, LEDAS RETALIATES WITH A PURPLE AND BLUE ENERGY BEAM; YUKI KNOCKS THE PLAYFUL GALICK ASIDE WITH LITTLE PATIENCE AS SHE CHARGES UP AT HIM AND PUNCHES THE BOY HARD IN THE STOMACH; THEN SHE HEADBUTTS HIM VICIOUSLY, SNAPPING HIS HEAD BACK; EXHALING IN A GROAN, LEDAS ALMOST LOSES CONSCIOUSNESS AS HIS EYES NEARLY SHUT; HE FALLS FROM THE SKY ON HIS BACK AND HEADFIRST AS THE CAMERA ZOOMS OUT JUST ENOUGH TO SHOW HIM HIT THE GROUND WITH A DULL THUD>
<CUTS TO CUBER, WHO HAS BEEN FLUNG AWAY FROM THE FIGHTING GOING ON; HIS STAMINA DRAINED, THE SAIYAN IS COVERED IN BRUISES AND OPEN WOUNDS, BREATHING HARD; HE IS WATCHING LEDAS AND YUKI CONTINUING THEIR FIGHT>
Quoeyg: <OVER COMMUNICATOR> Cuber.
Cuber: <TELEPATHICALLY OVER COMMUNICATOR> What is it, Quoeyg? I'm kind of dying here.
Quoeyg: <OVER COMMUNICATOR> We have been observing the fighting on Typhon.
Cuber: <TELEPATHICALLY OVER COMMUNICATOR> Then you know that there's no point in sending anyone else out here. Nitro's daughter is too strong; it must be… Chaiva's DNA. Even though he's probably stronger than me, this other Super Saiyan doesn't look like he'll last much longer either.
Quoeyg: <OVER COMMUNICATOR> I contacted you to inform you that not all hope is lost.
Cuber: <TELEPATHICALLY OVER COMMUNICATOR> Wait, what do you mean?
Quoeyg: <OVER COMMUNICATOR> The engineers of that outpost were developing fusion devices, which have been tested on various fauna with successful results. These devices can merge two beings into one, and the abilities of the resulting entity are drastically magnified. You must go to the Typhon facility immediately if you hope to stop Yuki.
Cuber: <TELEPATHICALLY OVER COMMUNICATOR> You're telling me to fuse with the kid? Are the effects permanent?
Quoeyg: <OVER COMMUNICATOR> They are not. Removal of the device should restore each of you to your original forms.
Cuber: <TELEPATHICALLY> Alright, I'm on my way.
<CUBER GETS UP AND FLIES OFF IN THE DIRECTION OF THE OUTPOST>
<CUTS TO YUKI AND LEDAS; THE SAIYAN IS ON HIS FEET AGAIN; YUKI DESCENDS TO THE GROUND, HER ARMS FOLDED; NOT ALLOWING HER TO ATTACK FIRST THIS TIME, HE FIRES A STREAM OF RAZOR BLASTS AT HER WHILE RUNNING AROUND HER TO THE LEFT AGAIN; UNIMPRESSED, YUKI STANDS MOTIONLESS AS THE ATTACKS SIZZLE AND BURN AGAINST HER AURA, WHICH HAS GROWN IN SIZE, NOT SO MUCH AS TOUCHING HER; HE GOES IN FOR A LEAPING KICK, BUT SHE CATCHES HIM BY THE ANKLE, SLAMS HIM AGAINST THE GROUND FOUR TIMES BEFORE TOSSING HIM INTO THE AIR AND CATCHING HIM BY THE THROAT; SHE SQUEEZES HIS NECK, HOLDING HIM UP TO HER FACE; SHE SMILES CRUELLY AS SHE WATCHES HIM STRUGGLE FOR AIR>
<THRASHING ABOUT, LEDAS CANNOT BREAK FREE OF HER ONE-HANDED GRIP; AS HIS FACE STARTS TO TURN BLUE, HIS LEFT HAND REACHES OUT AND GRABS ONTO HER RIGHT TIT, AND HE TWISTS THE NIPPLE SIDEWAYS AS QUICKLY AS HE CAN; IT GOES ALMOST A FULL CIRCLE; YUKI LETS OUT A HORRIBLE SCREAM OF PAIN; SHE DROPS LEDAS, HUNCHING OVER AND HUGGING HER OWN CHEST; SHE LOOKS OVER AT HIM WITH A TERRIBLY MAD LOOK>
Yuki: Impertinent ape! How did you know to do that?
Ledas: <COUGHING TAKING A FEW BREATHS BEFORE SPEAKING; WITH A LITTLE GRIN> I think I know my geography pretty damn well.
Yuki: You're a dead monkey!
<SHE RUSHES HIM, FORCING LEDAS TO BLOCK PUNCHES FROM BOTH FISTS; CLEAR EXHAUSTION IN HIS FACE, THE BOY HAS CLEARLY NOT YET RECOVERED FROM THE PREVIOUS ASSAULT; HE SLUGGISHLY HOLDS HER BACK FOR A FEW SECONDS, PROMPTING YUKI'S AURA TO GROW AS SHE CALLS FORTH MORE OF HER POWER RESERVES>
Ledas: <IN HIS MIND> Well, that could have gone a lot better… Oh well, guess it's time to run.
<YUKI IS PUSHING HIM BACK, ABOUT TO BREAK THROUGH HIS BLOCK, WHEN LEDAS RAISES HIS TAIL OVER HIS LEFT SHOULDER, AIMING IT AT HER FACE; HE SHOOTS THREE PARTICLE BEAMS AT HER FROM HIS TAIL, EACH ONE HITTING YUKI IN THE FACE IN QUICK SUCCESSION; NOT EXPECTING SUCH AN ATTACK, SHE LETS OUT A SCREAM AND RELEASES HER HOLD OF LEDAS>
<HE KICKS OFF INTO THE AIR AND AIR DASHES AWAY AS FAR AS HE CAN; INCIDENTALLY, HE IS HEADING BACK TOWARDS YUKI'S DESTROYED FLEET; THE HALF-ARCOSIAN, WHO HAS BEEN MOMENTARILY BLINDED, DOES NOT PURSUE HIM YET; THE CAMERA STAYS FOCUSED ON LEDAS, TO THE RIGHT SIDE AND LOOKING UP AT HIM FROM BELOW AS HE FLIES OFF, HIS BROKEN NOSE STILL LEAKING BLOOD, AND A MUCH MORE WORRIED LOOK UPON HIS FACE>
Endnotes:
This chapter was named by me. It references a Radiohead song of the same name. The previous version of the story called this chapter "What Is This Even?", which was probably the worst chapter name in the old version of CV. I renamed this chapter with this title because HZ and I decided that Yuki and Ledas coupling was a good idea, and so this is the chapter in which they first meet (in the old version, he met her at the end of chapter 3, but I re-paced that chapter by combining it with the old chapter 2, and HZ added in a SS2 Cuber transformation/fight scene, so that that was no longer possible). I think the way that Saiyans fall in love, moreso than through talk, is through the dance of battle - I think this is true of Layeeck and Cyleria, of Cuber and Chaiva, and now of Ledas and Yuki. They are enemies here, so those feelings are only slightly pronounced, but the groundwork towards their relationship in Heart of the Dragon was being deliberately laid here.
It was exciting to get to the fight between Ledas and Yuki. HZ put a lot of pressure on me, though I don't think he knew it, with how he wrote his fight scenes up to this point. I really had to put a lot more effort into my fight scenes than previously, as I didn't want mine to be super inferior to his. We also have slightly different writing styles. I would say that my style is more energy-attack-based, and not inspired by SSB like his is. So they are different styles, it's just that with how detailed he got, I had to get a lot more creative than I had been previously to keep up with his level of quality.
Yuki has a massive weakness in not being able to sense energy. This is first seen when she does not anticipate Ledas sneaking up on her and instead gets hit in the side of the head by his attack. The boy doesn't realize that yet, but that is the key to defeating her.
When we rewrote this story, I wanted Ledas and Cuber to be equal in terms of strength. I did not say that to HZ before writing Ledas' internal monologue line where he says that to himself, but after I did, HZ was very appreciative. I guess I didn't really consider that to be a magnanimous act, but I can see why in retrospect. I just want our characters to be equal - that was never a drama I wanted to have. So going forward, Ledas and Cuber will essentially have the same power level, unless one or the other gets a couple extra zenkais. Not planning on that happening, but you never know with so much of HOTD's plot undecided at this stage.
Ledas and Cuber were essentially at the same strength when fighting Yuki. However, Cuber lacked two things in his fight, which is why he failed and why Ledas forced Yuki to transform: Cuber was inexperienced in SS2, so he burned through his stamina too quickly; he also had not watched someone fight Yuki, so he has no knowledge about what her capabilities were. Ledas benefited greatly from watching Cuber fight Yuki, and so knows what the half-Arcosian is capable of. He did not know about her Fifth Form, however, which put him in the same predicament as Cuber later on.
I thought it was funny to have Yuki assume Ledas was Cuber's son, that he was motivated by revenge like her. All he wanted to do was have fun and fight a strong opponent. That's it. He is being a pure Saiyan here, and he's acting quite a bit like Goku would, if I do say so myself.
The Ledas/Yuki conversation was a lot of fun to write. Ledas is being extra sarcastic here, which I love. He's humbling Yuki more than just through sheer strength. She has rarely encountered such an insolent person. That's who Ledas is, though. He doesn't care if one calls oneself Empress, or how highly one thinks of oneself. What matters to him is how well one can fight. He despises the elitism of Frieza's family.
Ledas did indeed fight Cooler in TF, and he would have died if not for escaping from the man due to being able to mask his power level, so Yuki's impression is correct, but she is just so haughty that she can't think of any scenario where such a thing could happen.
Ledas makes the same mistake with Yuki that Vegeta makes with Semi-Perfect Cell.
HZ's earlier fight sequences inspired me to come up with a very complicated battle sequence for Ledas vs Yuki, particularly the part after she attacks him following the Unrelenting Energy Burst.
The fight between Yuki and Ledas was brutal and fast-paced, with Ledas using numerous tactics that always failed because he's just so much weaker. The way this was written was to show just how fearsome Yuki's new form was. She is tiers above Ledas and Cuber now in terms of strength, leaving them both in a hopeless situation.
Quoeyg was always my favorite Mrovian, and it's a shame that his character only has the two scenes now (the one in this chapter, and one short scene in the next chapter). He's still great in those scenes, just wish he could've been around when they later went to Mrov.
Cuber would still have had to fuse with Ledas if the fusion had been permanent. Better to live fused than to die.
The titty twister was an idea I came up with a long time ago and was also in the original draft, though if I remember correctly, Cuber was the one to use it there. HZ didn't write him using that move again in his rewritten fight sequences, so I brought it back here. Some nice Toriyama-style humor if I do say so myself. The line that Ledas says in response to Yuki is a lyric from "Dramamine" by Modest Mouse. It's a good thing he's had some private meetings with Miki so that he could, indeed, learn the geography of the female body.
As I've said previously, I really like it when writers add in foot beams and the like - nonstandard areas to fire energy attacks from. Ledas using his tail to shoot Particle Beams was something I had planned from the start, even before we rewrote chapter 1. He will continue to use his tail as an appendage for physical and energy attacks in Heart of the Dragon.
Ledas being able to get away was crucial for giving Cuber enough time to find the Mrovian fusion device. As she cannot sense energy, it will be difficult for her to find him again. It's a good thing she has a Saiyan's improved sense of smell at least.
Chapter 5: Splicer No Splicing

[

]
<IN THE DISTANCE, THE CLIFF-FACE THAT YUKI'S SOLDIERS HAD BEEN WATCHING HER FIGHT CUBER FROM CAN BE SEEN; SMOKE IS YET RISING FROM HER DESTROYED SAUCERS BEYOND IT; AS THE CAMERA REMAINS FOCUSED ON THE CLIFFS, A GOLDEN AURA SHOOTS INTO VIEW FROM THE UPPER RIGHT, APPROACHING THE ROCKS; AS THE FIGURE MOVES ACROSS THE SKY, TWO PURPLE BALLS OF ENERGY SHOOT INTO VIEW, CHASING THE FIGURE; THE CAMERA CUTS TO HIM, REVEALING SUPER SAIYAN 2 LEDAS, WHO IS BREATHING HARD AND LOOKING OVER HIS SHOULDER WITH A GRIMACE>
<HE BARELY MANAGES TO RAISE AN ADAPTIVE BARRIER IN TIME AS YUKI'S ATTACKS HOME IN ON HIM; THEY EXPLODE AGAINST HIS ORANGE ENERGY SHIELD, SHATTERING IT WITH A MASSIVE DETONATION THAT DESTROYS THE ENTIRE CLIFF AREA, VAPORIZING THE REMAINS OF HER OWN SHIPS AND THE MOUNTAINS BEYOND THEM; THE CAMERA CUTS TO SPACE, SHOWING THE DETONATION EXPANDING MASSIVELY OVER A PORTION OF THE TYPHONIAN DESERT>
<CUTS BACK TO THE SURFACE; A MASSIVE CRATER HAS REPLACED THE LANDING AREA, GOING DEEP ENOUGH TO EXPOSE THE MANTLE; IN THE DISTANCE, THE FORCE OF THE EXPLOSION HAS SHATTERED THE NEAREST MOUNTAIN RANGE, VAPORIZING ABOUT EIGHTY PERCENT OF IT, LEAVING THE REST AS A PILE OF ROCKS, OF WHICH A DUST CLOUD IS YET RISING OVER>
<YUKI APPEARS OVER THE CRATER IN HER FIFTH FORM SUPER SAIYAN 2 TRANSFORMATION WITH HER ARMS FOLDED; SHE DOES NOT LOOK PLEASED AS SHE SEARCHES FOR THE BOY IN THE NEAR VICINITY>
Yuki: Where are you, monkey?! <THERE IS NO REPLY; SHE FLIES HIGHER SEARCHING FOR HIM STILL; AFTER NO MORE THAN HALF A MINUTE, SHE COMES TO A HALT AGAIN; SHE RAISES THE INDEX FINGER OF HER RIGHT HAND; A LIGHT PURPLE BALL OF LIGHT BEGINS FORMING ABOVE HER FINGERTIP> Perhaps I expected too much of him. No matter. Whether he's out there hiding or dead, it won't make a difference. This planet has no further use to me.
<THE ENERGY BALL EXPANDS TO THE SIZE OF A VOLLEYBALL WHEN THE FIRST SALVO OF HOMING FINGER BEAMS COME RACING AT HER FROM BEHIND; SHE MERELY INCREASES THE POWER IN HER AURA TO VAPORIZE THEM BEFORE THEY CAN IMPACT AGAINST HER; THIS TIME, SHE REMAINS ALERT AS SHE INCREASES THE DEATH BALL'S SIZE TO THAT OF A BOULDER; ONCE MORE A GROUP OF YELLOW HOMING FINGER BEAMS FLY AT HER AND DISSOLVE AGAINST HER AURA; HOWEVER, IMMEDIATELY AFTERWARDS, A PAIR OF PARTICLE BEAMS FOLLOW; YUKI SMILES, KNOWING WHERE THE BOY IS HIDING>
Yuki: Found you. Now, let's see if you can handle but a sliver of my power.
<SHE RELEASES HER UNDERPOWERED ATTACK AT THE BROKEN MOUNTAIN RANGE; A BLUE AND BLACK ENERGY BEAM IMMEDIATELY FLIES OUT FROM THE ROCKS TO MEET HER DEATH BALL, PUSHING IT BACK; YUKI STOPS THIS AT ONCE, HOLDING HER ATTACK IN PLACE>
Yuki: Do you really think detonating it up here will save you? Not a chance. You have no hope, either way.
<SHE FORMS HER HAND INTO A FIST, CAUSING THE DEATH BALL TO EXPLODE IN MIDAIR, CAUSING ANOTHER DEEP CRATER TO FORM IN THE PLANET'S SURFACE; THE GROUND SHAKES INTENSELY AS SHE WATCHES HER ENERGY OVERTAKE THE MOUNTAIN RANGE>
<CUTS TO CUBER, WHO HAS ARRIVED AT THE GOLDEN STRUCTURE, TYPHON'S OUTPOST, WHICH IS UNDAMAGED, BUT ENTIRELY ABANDONED>
Cuber: <OVER COMMUNICATOR> I'm in.
Quoeyg: <OVER COMMUNICATOR> I am sending the appearance of the device as well as the instructions for its use to your neural implant.
<CUBER FLIES ACROSS A FEW HALLWAYS UNTIL HE REACHES A ROOM; UPON ENTERING IT, HE SEES A ROW OF FUSION DEVICES, EACH SUSPENDED IN ITS OWN BLUE ENERGY COLUMN AGAINST THE WALL>
Cuber: <OVER COMMUNICATOR> Found 'em.
<THE GROUND SUDDENLY BEGINS SHAKING VIOLENTLY, SLIGHTLY DAMAGING THE INSIDE OF THE OUTPOST>
Quoeyg: <OVER COMMUNICATOR> Make haste, Cuber. The boy–
Cuber: <OVER COMMUNICATOR> I know. I can feel his power dropping.
<CUBER, DESPITE HIS INJURIES, GRIMACES IN PAIN AS HE FLIES QUICKLY BACK THE WAY HE CAME, SURROUNDED IN ORANGE-WHITE ENERGY>
<CUTS BACK TO YUKI AND LEDAS; THE CAMERA IS AIMED AT YUKI FROM THE GROUND AND A GOOD DISTANCE AWAY; SHE IS STANDING ON THE EDGE OF ANOTHER MASSIVE, SMOKING CRATER; EVERYTHING IS BLURRY, AND YUKI IS WALKING TOWARDS THE CAMERA; THE BACK OF LEDAS' HAND COMES INTO VIEW AS THE CAMERA BECOMES CLEARER; HE IS ON THE GROUND; STILL FROM FIRST PERSON, LEDAS STRUGGLES TO SIT UP, PANTING, BLINKING LONG, AND ROLLS OVER ONTO HIS KNEES; HE NOTICES YUKI APPROACHING>
<THE CAMERA CUTS TO LEDAS IN THIRD PERSON; HAVING REGRESSED TO HIS BASE FORM, THE BOY REMAINS ON HIS KNEES FOR A SECOND WITH A BLANK FACE; HE GRIPS HIS RIGHT SHOULDER WITH HIS LEFT, AS HE QUICKLY FEELS OVER HIS DAMAGED BODY FOR ANY SERIOUS WOUNDS>
<YUKI CONTINUES WALKING EVER SO SLOWLY TOWARD THE SAIYAN; SHE IS MAYBE HALF A KLICK AWAY FROM HIM; LEDAS TAKES ONE DEEP BREATH, THEN GOES SUPER SAIYAN 2; HE DARTS AWAY, FLYING LOW AND FAST OVER FLAT GROUND TOWARDS THE NEAREST SHATTERED MOUNTAIN, AS THAT IS HIS ONLY HOPE OF HIDING FROM HER>
<SEEING HER QUARRY GETTING AWAY, YUKI FLIES AFTER HIM, BUT DOES NOT GET THERE IN TIME BEFORE THE BOY IS LOST IN THE MAZE OF JAGGED ROCKS AND RISING DUST; YUKI RAISES HER RIGHT PALM AND SWEEPS IT TO HER LEFT, OBLITERATING MUCH OF THE LAND BEFORE HER IN ONE COLOSSAL ARCING PURPLE ENERGY WAVE; A FEW YELLOW SHARDS OF ENERGY COME SHOOTING AT HER FROM ABOVE; THEY KNICK HER, BUT DO LITTLE DAMAGE>
<SHE SENDS OUT A SECOND ARCING BEAM, WHICH CLEARS THE DUST OUT OF HER WAY AND DESTROYS MORE POSSIBLE HIDEOUTS AMONGST THE ROCKY LANDSCAPE; YUKI LIGHTS UP HER KI ENERGY AROUND HER AND FLIES AFTER THE SAIYAN AND INTO THE RUBBLE AT LAST>
<LEDAS IS BELOW HER, STUCK IN A CANYON OF SPLIT ROCKS; HE IS SITTING UP AGAINST A WALL WITH A DIAGONAL CRACK RUNNING ACROSS ITS FACE, DAZED AND STILL BREATHING HARD; HE IS NOT IN SUPER SAIYAN 2 ANY LONGER IN ORDER TO CONSERVE WHAT ENERGY HE HAS LEFT>
<AS A RAIN OF BLASTS COME DOWN AROUND HIM, LEDAS HOPS UP, SHIELDING HIS HEAD FROM FALLING DEBRIS BEFORE FLYING OUT OF THERE; AS HE DOES SO, HE FIRES SEVERAL HOMING FINGER BEAMS BEHIND HIM TO CONFUSE YUKI; THEY COME ROARING UP AT HER UNEXPECTEDLY, FORCING HER TO PUT SOME SMALL EFFORT INTO DODGING THEM; SHE NARROWS HER EYES FURTHER, BECOMING AGITATED; ONCE MORE, SHE DECIMATES THE NEARBY LAND, REDUCING THE SURFACE TO A DEEP CRATER; TYPHON SHAKES AGAIN, CAUSING MORE OF ITS LAND TO BREAK APART AND COLLAPSE>
Yuki: Come out, coward! Face me!
<A FEW MILES AHEAD, LEDAS CRASHES INTO A ROCK AND FALLS RIGHT INTO A BUNCH OF CRASHING BOULDERS; HE LETS OUT A SMALL CRY AND DOES NOT GET UP, EVEN AS MORE ENERGY COMES RAINING DOWN AROUND HIM, TOSSING HIM LIKE A RAGDOLL>
<CUTS TO KIRKA, YUKI'S ADVISOR, WHO IS HIDING BEHIND A ROCK IN A MASSIVE PILE OF RUBBLE; YUKI IS JUST VISIBLE IN THE SKY, KILOMETERS AWAY FROM HIS POSITION; SHE IS STILL SCORCHING AND POCK-MARKING THE LAND, BUT NO LONGER IN HIS DIRECTION; THE AGED ADVISOR'S CAPE IS IN TATTERS, HIS ARMOR CHIPPED AND CRACKED, AND ONE OF HIS SHOULDER PAULDRONS IS SMASHED; THERE IS A DRIED TRICKLE OF BLOOD RUNNING DOWN HIS LEFT CHEEK; SEEING THAT YUKI IS FINALLY MOVING AWAY, HE LETS OUT A SIGH OF RELIEF>
Kirka: Her power is unbelievable… no one can stop her like that… not even her uncle, heh…
<HE LIMPS AROUND A FEW ROCKS TO GET A BETTER VIEW OF WHERE SHE'S MOVING OFF TO IN THE SKY; AS HE DOES, HE NOTICES LEDAS LYING ON HIS STOMACH, ARMS AND LEGS SPLAYED LIMPLY IN VARIOUS DIRECTIONS; HE IS NOT MOVING; KIRKA GASPS AND THEN SNIGGERS IN DELIGHT, LIMPING OVER TO THE UNCONSCIOUS SAIYAN; THE FOUR-EYED IMP GRASPS HIS TAIL, PULLING HIM UP BY IT AND HOLDING HIM UPSIDE DOWN>
Kirka: Heheheh, what have we got here? <HE SHAKES LEDAS, BUT THE BOY DOESN'T REACT, HIS BODY MOVING LIFELESSLY> Knocked out, too. Perfect. The Empress will undoubtedly forgive my earlier failure if I take out the brat. Today's my lucky day!
Ledas: <OPENING HIS EYES; TWISTING HIS NECK AROUND TO LOOK AT KIRKA> I dunno about that.
<A BLUE ENERGY BALL FIRES FROM THE TIP OF HIS TAIL, BLOWING KIRKA'S ARM OFF; IN A DRY SCREAM, THE IMP, WHOSE LUNG CAPACITY IS QUITE POOR, SHOOTS A DARK BLUE FINGERBEAM AT THE SAIYAN AND THEN FALLS TO HIS KNEES; LEDAS, HAVING REMAINED HOVERING IN PLACE AFTER BLASTING KIRKA AWAY, NOW SPINS 180 DEGREES SO THAT HE'S STANDING; IN ALL THIS TIME KIRKA'S ENERGY BEAM HAS REMAINED AS IF FROZEN IN PLACE NO MORE THAN A FEW FEET IN FRONT OF LEDAS; ONCE THE SAIYAN HAS RIGHTED HIMSELF, HE BENDS OVER, TRYING TO CATCH HIS BREATH; OUTRAGED AT THE BOY IGNORING HIM, KIRKA TRIES TO RISE TO HIS FEET, PREPARING TO ATTACK AGAIN; A SHIVER GOES THROUGH THE ALIEN'S ENERGY BEAM, AND NOT A SECOND LATER, IT SHOOTS ITS WAY THROUGH KIRKA'S THROAT AND LOWER JAW, LEAVING ONLY A HOLE BEHIND>
<A LOOK OF SHOCK ON HIS FACE, KIRKA'S JAW SPASMS A FEW TIMES AS IF HE IS CHEWING SOMETHING AWFULLY CHEWY, HIS REMAINING HAND OUT, ONE FINGER POINTED UP; TO LEDAS' HORROR, THE BOY REALIZES HE HADN'T BEEN POINTING AN ATTACK AT HIM, BUT AT THE SKY; A MOMENT LATER, THE BLUE ENERGY FLARE DETONATES, ALERTING YUKI TO LEDAS' EXACT LOCATION>
<SHE LANDS WITH A HEAVY THUD RIGHT IN FRONT OF HIM, JUST AS THE BOY HAD BEEN PREPARING TO AIR DASH OFF SOMEWHERE; HE GOES SUPER SAIYAN 2 IN REFLEX; UNIMPRESSED, YUKI GRABS HIM BY THE WRIST AND THROWS HIM INTO A NEARBY WALL OF ROCK, CRACKING IT AND FORCING IT TO COLLAPSE ON HIM; SLOW TO GET UP, LEDAS IS SO DELIRIOUS, HE IS BARELY TRYING TO STAVE HER OFF ANY MORE; HE FIRES A CLUSTER OF ENERGY BALLS AT HER BEFORE SCURRYING ON HIS HANDS AND KNEES TO ANOTHER HIDEY-HOLE FURTHER AWAY; HE IS GREETED WITH A RATHER LARGE BLANKET OF BURNING KI ENERGY; LEDAS USES A BARRIER TO SAVE HIMSELF, BUT THIS DRAINS HIS STAMINA SEVERELY; PANICKING, KNOWING HE WON'T BE ABLE TO STOP ANOTHER SUCH BLAST, HE STANDS UP AND SKIDS ON THE HARD DIRT BEFORE SETTING HIS SIGHTS ON THE HALF-ARCOSIAN ONCE MORE>
Ledas: <DETECTING CUBER APPROACHING; IN HIS MIND> Oh no, that other guy's headed right for us. He probably doesn't realize we're here…
<HE MOMENTARILY LOSES FOCUS AND TWISTS HIS HEAD TO THE DIRECTION THAT CUBER IS COMING FROM; YUKI SEES HIM PAUSE AND SNARLS; SHE THROWS A PAIR OF SNOW BLADES AT HIM; LEDAS QUICKLY REGAINS HIS COMPOSURE BY FALLING TO HIS STOMACH TO AVOID THE SHARP BLASTS; HE STANDS AGAIN AND LOOKS AT YUKI, RESOLUTE; HE HOLDS HIS SHOULDERS HIGH AND DOES NOT BACK DOWN>
<YUKI APPROACHES AND READIES A PURPLE BLAST IN HER HAND; LEDAS LETS OUT A YELL AND STEPS FORWARD; HE SHOOTS A PULSE WAVE WITH BOTH OF HIS HANDS, SHATTERING YUKI'S GUARD; SHE STUMBLES BACK; HE FOLLOWS THIS UP TWO SALVOS OF PARTICLE BEAMS, EACH ONE HITTING YUKI HARD; SHE STUMBLES BACK FROM THE SUCCESSIVE BLOWS, BLINKING RAPIDLY; LEDAS CONTINUES WALKING FORWARD AS HE DOES THIS; YUKI, FOR ALL HER THEATRICS, HAS NOT TAKEN ANY NOTICEABLE DAMAGE FROM LEDAS' ATTACKS>
<LEDAS ABANDONS THE BARRAGE, FLICKING ONE FINAL BUNCH OF KI INTO HER EYES; SHE BLINKS THAT AWAY, DISSOLVING IT WITH HER AURA, BUYING HIM A SECOND OR TWO; THE SAIYAN IS ABLE TO PERFORM A HIGH ANGLED JUMP KICK, WHICH COMES DOWN RIGHT INTO YUKI'S FACE; HE SMASHES HER COLLARBONE WITH HIS LEFT FIST; IN HIS RIGHT HAND, HOWEVER, IS A KI SWORD; HE STABS AT HER ABOVE THE EYES; CLICKING HER TONGUE, YUKI TAKES AHOLD OF THE SWORD, DISINTEGRATING IT IN HER GRIP; SHE PUSHES LEDAS BACK, AND CHOPS HIM ONCE AT THE BASE OF HIS NECK, BRINGING HIM TO A KNEE>
<FROWNING IN DISGUST, YUKI PREPARES A DEATH BEAM>
<LEDAS, ON ONE KNEE, LOOKS UP IN DEFEAT AT THE HYBRID EMPRESS; HE LOOKS ONE LAST TIME OVER TO CUBER, WHO IS SLOWLY MAKING HIS WAY AS CLOSE AS HE CAN; LEDAS LOOKS HIM IN THE EYES>
Ledas: <MUTTERING TO HIMSELF> What are you do–
<TWO BLUE BEAMS SHOOT OUT OF CUBER'S EYES AND HIT LEDAS, SURROUNDING THE YOUNGER SAIYAN IN A LAYER OF BLUE ENERGY; THE BEAMS DRAG LEDAS AND CUBER TOWARDS EACH OTHER AT A RIDICULOUS SPEED, WITH BOTH SHIELDING THEMSELVES WITH THEIR ARMS RIGHT BEFORE THEIR MERGING; OF COURSE, LEDAS JUST ABOUT HAD A HEART ATTACK FROM THIS; CUBER WAS AT LEAST EXPECTING SOMETHING LIKE THIS TO OCCUR>
<YUKI FIRES HER BEAM AT LEDAS, BUT IT MISSES; THE FUSION PROCESS HAS SENT HIM FAR, FAR AWAY>
<THIS COMMOTION GETS YUKI'S ATTENTION, WHO TURNS TO SEE A BRIGHT, BLUE, STATIONARY ENERGY SPHERE TO HER LEFT, AND THEN CHARGES AT IT; WHEN YUKI REACHES THE SPHERE, SHE IS PUNCHED STRAIGHT IN HER FACE AND TUMBLES BACKWARDS; ON THE GROUND, SHE LOOKS UP, SHIELDING HER EYES AS SHE BEHOLDS HER NEW FOE>
<THE LIGHT DIMS DOWN, REVEALING A NEW FIGURE WITH PHYSICAL FEATURES OF BOTH CUBER AND LEDAS; THIS BEING'S HAIR IS NOT QUITE AS TALL AS LEDAS' WAS, BUT IT ACTUALLY HAS SOME SPIKES AND WHATNOT IN IT, WHICH WERE ALWAYS ABSENT FROM CUBER'S HAIR; THIS CHARACTER IS NEITHER AS OLD AS CUBER NOR AS YOUNG AS LEDAS; HE LOOKS TO BE ABOUT AS OLD AS VEGETA WAS WHEN HE FIRST CAME TO EARTH>
<THE FIGURE STEPS FORWARD, TILTING HIS HEAD; HE IS CLAD IN A BLACK JUMPSUIT NECK-DOWN THAT IS DECORATED WITH LINES OF NEON-GREEN LIGHTS; THE INJURIES SUSTAINED BY BOTH FUSEES CAN BE SEEN ON THIS FUSION, BUT THAT IS NOT TO SAY THAT HE IS SEVERELY WOUNDED>
Cubas: <FLEXING HIS FINGERS; HE SPEAKS WITH NEITHER LEDAS' OR CUBAS' VOICE, BUT AN ALL NEW ONE, LIKE GOGETA IN THE BIG GREEN DUB> It still hurts all over. I was hoping this fusion would at least heal me a little.
Quoeyg: Your wounds may not have healed, but the merging does give you the advantage, even as weak as you two were before.
<THE LEDAS PART OF CUBAS FREAKS OUT AT THIS VOICE INSIDE HIS HEAD, CAUSING CUBAS TO JUMP UP IN THE AIR, ABOUT THREE HUNDRED FEET; OF COURSE, NOW THAT QUOEYG HAS COMMUNICATED ONE TIME, THE LEDAS PART OF CUBAS IS NOW USED TO IT FOREVER>
<WHEN HE COMES CRASHING DOWN, CUBAS HAS REGAINED HIS COMPOSURE; HE BRACES HIMSELF AND BEGINS CHARGING UP TO SUPER SAIYAN 2; THE LIGHTS ON HIS JUMPSUIT TURN YELLOW TO MATCH THE COLOR OF HIS AURA; PLASMA SPARKS APPEAR AROUND HIS FORM>
<CUBAS LOOKS OVER AT YUKI AS HE IS CHARGING UP; SHE IS RUBBING HER CHEEK IN ANNOYANCE, THOUGH CUBAS HAS HER FULL ATTENTION; FROM BEHIND THE BITS OF LIGHTNING AND BRIGHT LIGHTS, HE SAYS ONE THING TO HER>
Cubas: You're done.
Endnotes:
I came up with the title of this chapter. It is a reference to Swiper from Dora the Explorer. This chapter retains its title from the original draft.
In chapter 4, I did not have much physical destruction of the planet. HZ had that happen in his fight with Yuki, so as the fight with Yuki and Ledas reaches its climax, I wanted to mimic his style by also exposing the mantle with one of Yuki's attacks. This is really do-or-die, and even though she was attacking Ledas with much the same power in the previous chapter, it felt better for pacing to have her only start to destroy the planet again in this chapter. This also allowed me to give Ledas a place to hide amongst the rubble, for Yuki cannot sense energy. Had he not had a place to hide, he would have surely died before Cuber returned.
There was some small measure of parallelism going on with Ledas using an Adaptive Barrier in chapter 3 to destroy several of Yuki's soldiers, and then using it again here, mere feet away from where he did that before, but as a last-gasp effort to prevent his death.
The focus on the Yuki vs Ledas fight shifted almost entirely to energy attacks in this chapter because Ledas could not get close to her without risking immediate death. He's using a similar hit-and-run tactic that Cuber used in chapters 2 and 3, having learned of its usefulness from watching their fight. With that said, Yuki doesn't care about Typhon so she is able to carelessly throw energy around, ripping apart the planet's surface in the process. Typhon probably would have detonated soon after, even had this fight ended in this chapter.
Most of Ledas' weak energy attacks have fizzled against Yuki's aura. Only a few Particle Beams and Razor Blasts get through. These require him to use much more energy, so while Ledas is managing to stall a bit, he's massively burning through his stamina just to keep Yuki at bay. The Razor Blasts have probably done the most damage so far as they cut into the flesh.
The aesthetics of Ledas hiding from Yuki in this chapter were inspired by a mixture of Gohan, Dende, and Krillin hiding from Dodoria, as well as Salza revealing he's still alive (only to be killed by Piccolo moments later) in the first Cooler movie.
Ledas not being able to stay in SS2 at all times anymore was a necessary detail to bring Kirka back into the story. I wanted to wait until Ledas was sufficiently tired before having the imp make his move.
Kirka is mistaken in his assessment of Icer's power level in comparison to Yuki. While it is true that she would make him sweat in his Golden Form, there is no guarantee that she'd be stronger than him. And indeed, by this point in the timeline, Icer may well have reached a level beyond the Golden Form.
In order for Kirka to hold Ledas by his tail, he did have to hover a couple feet off the ground.
While Kirka fails in his attempt to kill Ledas, he still goes out heroically in my opinion. Shooting that flare was extremely important, and would have cost Ledas his life had not Cuber appeared at that very moment to fuse with the boy. Kirka had his moment, so to speak, and proved his loyalty to Yuki's line. He just wasn't strong enough to stop Ledas, even in the state he was in. Sad moment for me personally as I quite liked Kirka. He's a longtime character, and one who is very important in The History of the Decline and Fall of the Planet Trade Organization. I was always quite fond of writing his point of view chapters. RIP in piece little imp.
Being able to sense energy is rare (usually only Joleans can, and Ledas never met another Saiyan who could until he went to Earth), so that is why I had Ledas incorrectly assume that Cuber could not sense energy.
Ledas' final attempt against Yuki used up pretty much all of his energy. It wasn't a bad attempt, but he didn't damage her at all.
Cubas vs Yuki would not have been super fair, as strong as Yuki is, had Cuber and Ledas' damage before the fusion not affected their fusion's power. Cubas is not nearly at 100% strength and yet can still dominate Yuki.
I like the little punch that Cubas does as soon as Yuki approaches him. I like to think that was more of Ledas' boyish fury seeping out, but it could've been both or either of them feeling the need to humble her at once while also testing the capabilities of their new fusion.
Having both of them speak at once like what happens with Gotenks would've made this sound really awkward, as Ledas' voice hasn't dropped yet and Cuber is a full-grown man. Not like we're ever going to dub this, but it's an important detail to have nonetheless for the sake of quality.
Ledas had to be super scared by Quoeyg talking as he's never had something like that happen to him before. Of course, now that the two are fused, they are able to share memories, but it's not like they're computers and instantly download everything either one ever knew within 2 seconds of fusing. That would be highly unrealistic even for Dragon Ball.
Chapter 6: I Would Have Been Your Daddy

[

]
<CUBAS IS STANDING STILL, LOOKING AT YUKI, WHO IS MOSTLY UNINJURED, BUT LOOKS CONCERNED; CUBAS IS BRUISED AND BATTERED AND HAS SOME OPEN CUTS ON HIS FACE; THEY STAND THERE FOR A FEW MOMENTS; THEN, CUBAS WALKS FORWARD; HE TRIPS OVER HIMSELF; HE IS NOT USED TO HIS BODY YET; YUKI USES THIS MOMENT TO ATTACK HIM>
<SHE PUNCHES AT HIM WILDLY, ALL OF THEM HITTING; CUBAS STUMBLES UP, TRYING TO BLOCK; HE IS A BIT LATE WITH HIS BLOCKS, SO YUKI REMAINS DOMINANT; SHE BEGINS A DIZZYING DISPLAY OF FINGER JABS INTO CUBAS' FACE; THIS CAUSES HIM TO FALL BACKWARD; HOWEVER, BEFORE HE CAN HIT THE GROUND, SHE CATCHES HIM WITH HER FEET AND KICKS HIM UP TO THE AIR; SHE PURSUES IMMEDIATELY; HE FLIES OUT OF THE WAY, PROMPTING YUKI TO CHASE AFTER HIM; WHEN YUKI REACHES CUBAS, HE SPINS AROUND AND ELBOWS HER IN THE FACE; SHE IS IMMEDIATELY KNOCKED UNCONSCIOUS, AND FALLS; CUBAS FOLLOWS THIS UP WITH A QUICK PLAYFUL GALICK; THIS HITS YUKI, SENDING HER TO THE GROUND>
<CUBAS LANDS ON ONE FOOT, SLIGHTLY STUMBLING; HE MOVES UP TO YUKI'S CRATER, FINDING HER UNMOVING WITHIN IT; HE STARTS CHARGING UP A KYORRA FLASH TO FINISH HER OFF; HIS AURA AT THIS POINT IS MASSIVE>
<YUKI, HOWEVER, IS AWAKE NOW; SHE SITS UP, AND LOOKS AT CUBAS INTENTLY>
Yuki: What are you? <HISSING> You both combined together. How did you do that?!
<CUBAS DOESN'T ANSWER; HE ANGLES HIS BEAM AT HER; YUKI GOES 100% POWER AS QUICKLY AS SHE CAN; HER OWN AURA IS EQUAL IN SIZE TO CUBAS; CUBAS FIRES HIS BEAM; YUKI CATCHES THE BLAST, WHICH BURNS HER HANDS, BUT DOES NOT KILL HER; WITH ALL HER MIGHT, SHE PUTS HER LEGS DOWN IN A LOCKED POSITION AND PUSHES THE BEAM BACK TO CUBAS; CUBAS DID NOT EXPECT THIS, SO HE IS HIT SQUARE IN THE CHEST WITH IT; HE DROPS TO ONE KNEE AS HIS BODY SINGES AND HE FEELS THE PAIN>
<YUKI USES THIS TIME TO JUMP OVER CUBAS; SHE LANDS BEHIND HIM AND SENDS SIX SNOW BLADES FLYING INTO HIS BACK; THEY CUT INTO HIM, THEN EXPLODE; GETTING UP, CUBAS TURNS BACK AROUND TO YUKI AND CHARGES HER; SHE ATTEMPTS MORE SNOW BLADES, BUT CUBAS EASILY BATS THEM ASIDE; HE REACHES HER, AND GREETS HER WITH AN OPEN PALM PUNCH TO THE FACE; YUKI STAGGERS BACK AND PUTS UP HER GUARD; CUBAS PUNCHES HER AGAIN, BUT SHE CATCHES HIS ARM AND THROWS HIM BACK; THEN, SHE TELEPORTS IN A BURST, THEN KICKS HIM TWICE ACROSS THE CHEST; YUKI THEN TRIES TO FLURRY ATTACK HIM>
<CUBAS, HOWEVER, HAS REGAINED HIS FOOTING AND AVOIDS HER ASSAULT BY DODGING AND PUSHING HER HANDS AWAY; WHEN SHE TRIES A RATHER DEEP PUNCH, CUBAS SIDESTEPS IT, THEN COUNTERS WITH A KNEE TO HER STOMACH; THEN, CUBAS GRABS YUKI'S STILL-OUTSTRETCHED HAND AND PULLS DOWN ON IT WHILE KICKING UP, BREAKING IT; YUKI SCREAMS OUT; SHE CREATES A DEATH SURGE IN HER OTHER HAND, AND USES THAT TO BLAST CUBAS BACK; AS CUBAS COVERS HIS BLINDED AND BURNING EYES, YUKI FOLLOWS UP WITH A DEATH BEAM, WHICH GOES RIGHT THROUGH CUBAS' RIGHT SHOULDER; HE YELLS OUT IN FRUSTRATION BEFORE RELEASING A SUPER EXPLOSIVE WAVE AROUND HIM; THIS BLOWS YUKI FAR AWAY; CUBAS DOES NOT PURSUE, HOWEVER, AS HIS EYES ARE STILL BLINDED FROM THAT POINT-BLANK BLAST>
<HE FURIOUSLY BLINKS UNTIL HE CAN START SEEING BLACK AND GREY FUZZINESS AROUND HIM; THE CAMERA IS IN FIRST PERSON, AND IT SHOWS HIM PUT HIS ARMS OUT, AND SLOWLY REGAIN THE SIGHT TO SEE THEM; AS HIS EYES CLEAR, HE LOOKS UP, AND SEES YUKI COMING RIGHT AT HIM>
<SHE PUNCHES AT HIM, BUT HE CATCHES HER FIST WITH HIS LEFT HAND, AND FLIPS HER OVER BEFORE SLAMMING YUKI DOWN ON THE GROUND; SHE SPINS AROUND ON THE GROUND, KICKING CUBAS AND MAKING HIM FALL; SHE JUMPS UP AND BACKFLIPS, USING HER LEGS AS LEVERAGE AGAINST CUBAS>
<YUKI STANDS IN FRONT OF CUBAS, STARING HIM DOWN; HE LOOKS UP AT HER, HOLDING HIS WOUNDED SHOULDER; SHE CREATES A PULSE BEAM, A MASSIVE FINGER BEAM THAT IS QUITE DEADLY; CUBAS ATTEMPTS A COUNTER, WITH A YELLOW FINGER BEAM OF HIS OWN>
<THE TWO BEAMS CLASH, SHOOTING THE DUST UP; A GREAT WIND COMES ABOUT, AND PUSHES THE TWO BACK FROM THE POINT WHERE THE TWO BEAMS ARE CLASHING; YUKI IS PUTTING ALL OF HER ENERGY INTO THIS, AND CUBAS IS PUTTING A FAIR BIT OF HIS IN; CUBAS THEN PUTS MORE OF HIS ENERGY INTO HIS BEAM, NEARING HIS MAXIMUM AND STARTS TO OVERPOWER YUKI RATHER EASILY; SHE SCREAMS OUT CURSES TO HIM, BUT HE DOESN'T LISTEN>
<JUST BEFORE THE BEAM OVERTAKES YUKI, CUBAS STOPS PUTTING MORE ENERGY IN; HE KEEPS THE BEAM RIGHT IN FRONT OF HER FINGERS>
Cubas: <IN HIS MIND> No, too easy.
<CUBAS GINGERLY RAISES HIS FREE, WOUNDED ARM, AND AIMS IT AT YUKI; WITH THAT, HE SENDS OFF HOMING STUN BEAMS, WHICH RUSH OVER TO YUKI, IGNORING THE CURRENT BEAM STRUGGLE; THEY ALL HIT HER IN THE FACE AND UPPER CHEST, DOING SIGNIFICANT DAMAGE>
Yuki: STOP! YOU FOOL! STOP IT!
Cubas: <CLEARLY LEDAS' SIDE> You deserve it.
<HE CONTINUES SHOOTING HER WITH ADDITIONAL HOMING FINGER BEAMS, CAUSING YUKI TO GIVE UP ON THE BEAM STRUGGLE; AS SHE IS CONTINUOUSLY PUMMELED BY THE ENERGY, SHE FALTERS AND LOSES ENOUGH ENERGY FOR THE BEAM TO OVERTAKE HER; THE LIGHT AND FORCE OF THE EXPLOSION CAUSE THE SCREEN TO GO ALL WHITE FOR ABOUT THREE PANELS>
<THEN, THE CAMERA FADES BACK TO REALITY, FOCUSING ON CUBAS, WHO IS CROUCHING ON ONE KNEE, HOLDING HIS BLOODY SHOULDER; YUKI IS NOWHERE TO BE SEEN; AS HE STANDS UP AND MOVES FORWARD, CUBAS SEES A LONG STREAK OF BURNT BLOOD IN A RAGGED LINE LEADING ABOUT HALF A MILE AWAY; YUKI IS LYING ON THE GROUND, UNMOVING, AND IN A POOL OF HER OWN BLOOD; CUBAS LANDS IN FRONT OF HER>
Cubas: I can still sense you, so get up.
<YUKI RAISES HER HEAD AT HIM, AND SHOOTS WHAT ENERGY SHE HAS LEFT FROM HER EYES; CUBAS CASUALLY LEANS HIS HEAD TO THE SIDE TO AVOID THE PATHETIC ATTEMPT>
Yuki: What does it matter? You'll kill me anyways.
Cubas: <WALKS RIGHT UP TO HER> That's right.
<CUBAS RAISES HIS RIGHT PALM AT YUKI, WITH HIS LEFT HAND HOLDING UP HIS RIGHT ARM; A BLUE-AND-BLACK ENERGY SPHERE FORMS IN FRONT OF HIS PALM; HE GRIMACES IN PAIN OF USING HIS WOUNDED ARM AS HE GATHERS UP ALL HIS ENERGY; YUKI WATCHES>
Cubas: Any last words? Or are you too much like your father?
Yuki: <GLARING AT HIM> Look at me, monkey!
<CUBAS DOES SO NONCHALANTLY; EVERYTHING GOES PINK AS YUKI RELEASES AN EXPLOSIVE WAVE WITHOUT WARNING; WHILE THE BLAST IS NOT VERY POWERFUL, NOT EVEN FORCING HIM TO BLOCK, IT BLINDS CUBAS, STUNNING HIM BRIEFLY; WHEN THE LIGHT DIMS, CUBAS IS SEEN FIRING HIS KYORRA CYCLONE OFF INTO THE SKY IN ORDER TO AVOID DESTROYING THE PLANET ACCIDENTALLY; THERE IS NO SIGN OF THE EMPRESS; HE QUENCHES HIS AURA IN EXTREME FRUSTRATION AS HE SENSES FOR YUKI>
<CUTS TO YUKI, WHO HAS FLOWN TO THE OTHER SIDE OF THE PLANET; CATCHING HER BREATH, SHE RAISES HER INDEX FINGER ABOVE HER HEAD AND CHARGES UP A DULL-BLUE ENERGY SPHERE; WHEN THE SPHERE REACHES ABOUT THREE METERS IN DIAMETER, YUKI HURLS IT AGAINST THE GROUND, CAUSING AN IMMENSE EXPLOSION; THE ATTACK BLOWS ITS WAY THROUGH THE PLANET'S CRUST AND KEEPS TRAVELING THROUGH THE MANTLE TO THE PLANET'S CORE, WHERE IT SWIFTLY DETONATES, CAUSING THE PLANET TO SHAKE EVEN WORSE THAN BEFORE; THE GROUND BEGINS TEARING ITSELF APART SPECTACULARLY; HER BREATHING NOT HAVING YET RETURNED TO NORMAL, YUKI WATCHES FROM THE SKY AS TYPHON DIES>
Yuki: <HOARSELY> Now I win.
<YUKI IS SO PROUD OF HERSELF, SHE DOESN'T HEAR CUBAS FLY UP BEHIND HER; HE DOESN'T EVEN BOTHER SPEAKING TO HER; INSTEAD, HE COMES DOWN ON THE SIDE OF HER HEAD WITH A DIAGONAL FLYING KICK, KNOCKING HER AWAY; HE IMMEDIATELY BACKFLIPS, FOLLOWING HER DOWN, AND ELBOWS HER HARD IN THE GUT; FLIPPING OVER, HE AIR DASHES BELOW HER, KICKING THE HALF-ARCOSIAN UPWARDS WITH BOTH FEET, AND FOLLOWING THAT UP WITH A SLEW OF NEON GREEN KI BLASTS; CUBAS IS ALREADY TELEPORT DASHING UP TO HER; HE GRABS HER BY THE TAIL, PULLING HER DOWN TO HIM IN MIDAIR; DELIRIOUS THOUGH SHE IS, SHE CAN FLY, STEADYING HERSELF JUST IN TIME TO THROW HERSELF AT HIM WITH AN ERRANT RIGHT HOOK; THE HYBRID SAIYAN TILTS SLIGHTLY BACK, AVOIDING HER RANGE, AND THEN LEANS IN, KNOCKING HER HARD ON THE RIGHT EAR WITH HIS LEFT FIST, THEN FOLLOWING THAT UP IMMEDIATELY WITH A RIGHT HOOK TO HER JAW; YUKI THROWS ANOTHER WILD PUNCH THAT MISSES COMPLETELY AS CUBAS REPEATS WITH ANOTHER LEFT PUNCH TO THE EAR AND A RIGHT PUNCH TO THE JAW; HE IMMEDIATELY FOLLOWS THIS UP WITH AN EXPLOSIVE SHINE THAT SENDS YUKI EVEN FURTHER INTO THE SKY; AT ONCE, CUBAS APPEARS ABOVE, FRONT-FLIPPING, HIS LEFT FOOT EXTENDED, THE HEEL COMING DOWN HARD ON YUKI'S HEAD, SENDING HER SHOOTING DOWN TO THE SURFACE>
<AN ORANGE ENERGY BEAM BEGINS FORMING IN HIS HANDS, BUT AS HE GOES TO FIRE IT, CUBAS NOTICES NOTICES THE GLOWING HOLE IN THE PLANET'S CRUST; REALIZATION DAWNS ON HIS FACE; HE DESCENDS TO THE SHAKING GROUND; YUKI HAS NOT GOTTEN UP FROM THE CRATER HE LEFT HER IN; SHE IS BLEEDING AND BRUISED, CRADLING HER BROKEN ARM>
Cubas: <OUTRAGED> What… what did you do?!
<YUKI ROLLS OVER AND SITS UP, SNEERING AT HIM>
Yuki: <TO HERSELF> Just a minute or so… <TO CUBAS> You're too late. This place will be gone in a few seconds, and you with it. <TURNS AROUND> I, on the other hand, will survive in space, and my father will finally be avenged. There is nothing you can–
Cubas: <INTERRUPTING HER; IN A COLD FURY> Say hello to your father for me.
<CUBAS FIRES THE ORANGE ENERGY BEAM AT HER, GATHERING THE ENERGY FOR IT ALMOST INSTANTANEOUSLY IN HIS RIGHT PALM; AS THE BLAST CONTINUES TO HIT HER, IT GROWS LARGER AND MORE POWERFUL; YUKI ATTEMPTS TO BLOCK THE ATTACK, BUT WITH A BROKEN ARM AND HER POWER BEATEN FROM HER, SHE IS UNABLE TO EVEN PUT UP AN ATTACK OF HER OWN TO TRY TO STOP CUBAS'; THE FIERY ORANGE ENERGY OVERTAKES YUKI; SHE SCREAMS OUT AS SHE IS OVERWHELMED BY THE ATTACK; IT EXPLODES SOON AFTER>
<THE GROUND RUMBLES HARD, FORCING CUBAS INTO THE AIR AGAIN; AS THE SMOKE CLEARS, HE FINDS NO TRACE OF YUKI; THE CAMERA ZOOMS OUT, SHOWING THE WOUNDED SAIYAN, THE LAST PERSON ON TYPHON, AMIDST THE RUINED AND DYING PLANET; HE EXHALES, LOOKING TIRED, BUT SATISFIED>
<WHITE LIGHT OVERTAKES THE SCREEN; THE CAMERA CUTS TO OUTER SPACE, SHOWING TYPHON EXPLODING VIOLENTLY AND SILENTLY IN THE VACUUM>
Endnotes:
Hyper Zergling came up with this chapter's name, and it is (naturally) a Halo reference. This chapter retains its title from the original draft. This is a really great chapter name in my opinion, as the statement is actually true - Cuber would've been her daddy, but the goddamn Arcosian beat him over the fence. I also think that this sentiment is sympathetic to Yuki's plight. She is more a product of her fucked up situation than a truly evil woman.
This chapter is pretty much the same as in the original draft, save for two important details: we polished up the fight scenes and dialogue significantly, and Yuki no longer dies at the end. Yuki's a cool cat, and her presence in Heart of the Dragon will be a most welcome one. Indeed, freeing her from the Mrovians is going to be a major plot point for Kuriza's arc in the first saga of HOTD.
The only way to have tension in the fight (and not have Cubas just annihilate Yuki at once) was to have the fusion not be used to his body at first. This wasn't just to allow for tension, as I thought this detail was an important one for the realism of the story. Cubas is a nice transformation, but he's not perfect, and especially not immediately.
HZ did everything up to the point where Cubas asks Yuki "Any last words Or are you too much like your father?" After that point, I wrote some combos myself up until the end of the chapter. Much of the early fight sequence which HZ was responsible for was taken from the original draft with minor modifications by the both of us.
Notice how Cubas knocks out Yuki with one elbow to the face. That's the first attack he's landed on her in this chapter and she's already in deep trouble. She should have fled as soon as waking up, but her pride kept her behind. She's more of a Saiyan than she cares to admit with things like that.
Yuki should have destroyed Typhon and fled as soon as Cubas broke her arm. Like Ledas at the end of chapter 4, this was her chance to get away. Instead, she decides to attack him again, which is a moment of hubris for her. She may or may not learn from that mistake during her stay in Mrovian prison.
After Yuki tortured both Saiyans in previous chapters, essentially playing with her food, it felt like justice to have them turn it around on her. While it's Ledas' side of the Cubas personality who says "You deserve it.", I think the Saiyans share that sentiment, just that Cuber might not be so vocal about it.
For my section of the chapter, I wanted to do a really nice new combo to go in line with the rest of the fights in previous chapters. It felt like the previous fights would remain more sophisticated and interesting if I did not do that. Being that this is the climactic fight in the entire story, the most important fight, I put a lot of effort into the choreography, even if it is an overall short sequence (Yuki would not have survived a much longer thrashing).
Hopefully I used that Explosive Shine in a nice way for the combo that would be in-line with Cuber's style. I did try to use aspects of both of their styles here, but writing for Cuber will always be much harder for me.
Cubas intended on killing Yuki, but was unable to due to a combination of her species' high durability, his tiredness, and the lack of time he had to fire At World's End (this being the most important of the three reasons). Had they been on a regular planet at that moment, he could've charged up the attack for a longer amount of time and vaporized her. However, not having the time to do that allowed for her survival.
Chapter 7: Yuki's Fate

[

]
<THE CAMERA SHOWS PLANET GLAYSIA FROM SPACE>
<CUTS TO A SMALL ROOM; CUBAS, WEARING AN UNDAMAGED BLACK JUMPSUIT, IS LYING UNCONSCIOUS ON HIS BACK ON A METAL EXAMINATION TABLE; HE IS FULLY HEALED; THE CAMERA ZOOMS OUT TO REVEAL CHAIVA AND BAOCHOI WATCHING HIM; THE BOY LOOKS SOMEWHAT CONFUSED BY HIS FATHER'S APPEARANCE; WITH THEM ARE SEVERAL MROVIAN SCIENTISTS, INCLUDING CHIEF ENGINEER JOIJYHOV, THE WRINKLIEST OF THEM ALL, WHO IS STANDING CLOSEST TO THE BED, WATCHING INTENTLY>
<WITHIN A FEW SECONDS, CUBAS' FINGERS AND NECK BEGIN TO TWITCH SLIGHTLY; THE CAMERA CUTS TO A CLOSE-UP OF HIS FACE; HIS EYES OPEN WIDE, BUT HE DOES NOT MOVE; LOOKING LEFT, THEN RIGHT, HE LETS OUT A SIGH AND SITS UP>
Cubas: Where am I?
Joijyhov: Glaysia. Do you remember what happened?
Cubas: <LOOKING AROUND THE ROOM, LINGERING ON CHAIVA> It was Nitro's daughter… she destroyed Typhon and everyone on it. Took out Admiral Saibron and the crew of the Fortress of Attainment as well. She killed them all.
Joijyhov: We are aware.
Cubas: Right, of course.
Chaiva: She's being held captive in a dimensional prison as we speak.
Joijyhov: The High Council will soon decide her fate. Do you know how you arrived on Glaysia?
Cubas: No clue.
Joijyhov: It was Chaiva who found you drifting amongst the rubble of Typhon, surrounded by a ball of energy and a dwindling air supply. <HE PAUSES BRIEFLY, LOOKING INTENTLY AT CUBAS> You had nearly passed out from what I heard. She was fortunate to be there when she was.
Cubas: <EYEING CHAIVA> Have you seen her?
Chaiva: I brought her back with you. Neither one of you was conscious for the journey.
Cubas: So is she…?
Chaiva: <COOLY> That's right, Cuber.
Cubas: I'm not Cuber - I'm Cubas! I'm the most powerful Saiyan to ever live!
<CHAIVA ROLLS HER EYES>
Joijyhov: Speaking of which, it's long past time you defused. Simply pull the device off from your neck, and you will split into two again.
<CUBAS DOES SO WITHOUT HESITATION; A WHITE LIGHT COVERS HIS BODY, AND THEN SPREADS THROUGH THE WHOLE ROOM, BLINDING THE POOR MROVIANS, NOT TO MENTION THE SAIYANS; WHEN THE LIGHT FADES, THERE ARE TWO SAIYANS SITTING ON THE EDGE OF THE FLOATING METAL TABLE; THE TALLER ONE IS CUBER, WHO IS FULLY HEALED, BUT WEARING NEAR-RUINED ARMOR FROM HIS BATTLE AGAINST YUKI; LEDAS IS SITTING NEXT TO HIM; HIS RED HOODIE IS RIPPED AND ONE OF THE SLEEVES HAS BEEN BURNT AWAY; HIS JEANS ARE RIPPED IN SEVERAL PLACES>
Cuber: <DAZED> Man, that was weird.
<LEDAS LOOKS AT HIS LEFT HAND AND GRADUALLY CLOSES IT INTO A FIST BY PUTTING DOWN ONE FINGER AT A TIME STARTING WITH THE PINKY; HE THEN REOPENS HIS HAND AND LOOKS DOWN AT HIS FEET AS HE SWINGS THEM GENTLY SIDE-TO-SIDE>
Baochoi: Dad! Are you okay?
Cuber: <ARMOR REMAINS DISAPPEARING, REVEALING TRAINING OUTFIT, STANDING UP> Still living.
Baochoi: What happened?
Cuber: I got destroyed. She was really strong. <SMIRKS> You should see the combo I got on her though.
Chaiva: You almost died; I wouldn't sound so excited.
Ledas: Your daughter sure is strong. She was gonna kill us!
Chaiva: I didn't think any other Saiyans survived the genocide. Who are you?
Ledas: <FLUSHES WITH PRIDE AS HE STANDS UP PRECARIOUSLY ON THE FLOATING TABLE AND POINTS AT CHAIVA> You should recognize me. I'm a Super Elite.
Cuber: <LOWERING HIS VOICE> So am I.
Ledas: Oh, really? Who's your father?
Cuber: Dogom.
Ledas: <LOOKING OFF INTO THE DISTANCE> I think I've heard of that name before… My father was Layeeck, Captain of the King's guards.
<CUBER RAISES AN EYEBROW BUT SAYS NOTHING>
Chaiva: But you're a kid. Our homeworld was destroyed four decades ago.
Ledas: That's right. I, um, accidentally absorbed some energy from two other people a while back, and for some reason, I haven't aged since! I dunno what's going on with that.
Joijyhov: I am sure we could run some tests on you if you are willing, Saiyan.
Ledas: Sounds good to me.
Chaiva: Anyways, he's Cuber. I'm surprised you didn't already know that. I'm Chaiva, and this is our son, Baochoi.
Baochoi: <AWKWARDLY> Hi.
Ledas: <WHISTLES> I didn't think so many other Saiyans survived after all these years. <TO BAOCHOI> Hey Baochoi, can you go Super Saiyan like your father?
Baochoi: No…
Cuber: <TO BAOCHOI> You'll get it eventually.
Chaiva: <TO CUBER> By the way, the High Council is waiting for you.
<LEDAS JUMPS OFF THE TABLE, APPROACHING THE FAR DOOR; JOIJYHOV STANDS IN HIS WAY, HOWEVER>
Ledas: Tell the High Council that I wanna talk to them about Yuki.
<JOYJIHOV GLANCES TO CUBER AND TO LEDAS>
Joijyhov: Yes. You may go now if you wish.
Cuber: Before we go in, we need to talk about what to tell them. <TO CHAIVA> You did bring her back after all.
Chaiva: I did.
Cuber: Which means you do see her as your daughter. I imagine the Council was not too pleased with you bringing her here and not leaving her to die.
Chaiva: I don't care what they think.
Cuber: What will you tell them? She massacred an entire contingent and research team of Mrovians.
Ledas: <CUTTING IN> Don't worry about that. We can bring them back to life.
Cuber: Wait, what?
Ledas: <NONCHALANTLY> Everyone Yuki murdered.
Cuber: Oh, right, the Dragon Balls. I remember now from when we were fused.
Chaiva: The what?
Ledas: I'll tell you - and them – how to use them.
Cuber: <SUSPICIOUSLY> Why do you care about her so much?
Ledas: <LOOKING AWAY; GOING SLIGHTLY RED> Um, well, even if she's half-Frieza, she's still a Saiyan. There aren't too many of us left. We gotta stick together.
Chaiva: I don't believe you.
Ledas: I'm not lying. I already used a wish to bring my friend's brother back to life. I know it works.
Chaiva: That's not what I was talking about…
Ledas: <QUICKLY> Alright, alright, come on, let's go! Can't keep the Council waiting!
<HE RUNS OUT OF THE ROOM, WAITING FOR THE OTHER SAIYANS TO FOLLOW, AS HE CERTAINLY HAS NO CLUE OF WHERE TO GO; CUBER AND CHAIVA EXCHANGE A LOOK; CHAIVA THEN TURNS TO BAOCHOI>
Chaiva: Baochoi, your dad and I have an important meeting to go to. Keep up with your training and remember what I taught you.
Baochoi: Yes, mom.
<CUBER AND CHAIVA FOLLOW LEDAS OUT THE ROOM>
<CUTS TO THE MEETING; THE ENTIRE MROVIAN HIGH COUNCIL, COMPRISING OF THIRTY-SIX INDIVIDUALS, IS PROJECTED HOLOGRAPHICALLY ON A METALLIC COUNTERTOP-LIKE SURFACE; CUBER, CHAIVA, AND LEDAS FACE THE PROJECTED MROVIANS>
Slivij: This is most unusual. Bringing the hybrid here has presented a grave risk to all the residents of Glaysia.
Chaiva: She was unconscious for the duration. Had she awoken, I am certain she would not have killed me.
Dlugzh: She is your own blood after all, though she is an abomination created artificially by the Planet Trade Organization.
Chaiva: She was their prisoner, and so was I. Now that we've reunited, I am certain I can convince her to ally with us.
Isuelr: She slaughtered every Mrovian on Typhon. Justice demands she die for her crimes!
Chaiva: <ANGRILY> Admiral Saibron trusted me to kill General Fassfu when I wasn't even allied with you. Why can't any of you trust me now?!
Isuelr: Do not speak of Admiral Saibron! He is now gone because of that abomination!
<ENRAGED, CHAIVA'S BECOMES SUPER SAIYAN, STARTLING THOSE AROUND HER SOMEWHAT>
Cuber: <BEFORE CHAIVA CAN SPEAK> Look, we need to come to an understanding of what to do about Yuki. Even if I wanted her dead, Chaiva wouldn't let me lay a finger on her.
Laulget: What do you propose?
Ledas: The planet I am living on has seven artifacts called Dragon Balls that will grant the one who finds all of them any three wishes they desire. I know this for a fact, as I have already collected them once before and used them to bring a friend back to life. Let her live, and I will wish Admiral Saibron and the rest of those Yuki murdered back to life.
Cuber: The boy speaks truth. In Typhon's final moments, when fused, our last thoughts were of these Dragon Balls. We will go to Earth and wish back Admiral Saibron and those stationed on Typhon, and in exchange, Yuki is not to be executed.
Slivij: It was her intent to kill you, and yet you wish to defend her?
Cuber: She's no longer a threat, and like I said, Chaiva wouldn't allow me to kill her anyway. So are we in an agreement?
<THE MROVIAN COUNCILORS EXCHANGE LOOKS AS THEY WHISPER TO EACH OTHER TELEPATHICALLY, SHIELDING THEIR CONVERSATION FROM THE SAIYANS>
Fadjist: Very well. You will go to Earth and undo what Yuki has wrought, and in return, she will continue to live. However, we deem her too much of a danger to roam freely, so she is to remain imprisoned.
<CUBER GLANCES BACK AT CHAIVA, WHO REGRESSES TO HER BASE FORM>
Cuber: <TURNS BACK TO FACE THE COUNCILORS> Alright, deal.
Ledas: So where's your fastest ship?
<TWO DAYS LATER>
<A PAIR OF DOORS OPEN, LEADING INTO A HANGAR; A SHORT FIGURE WEARING MROVIAN COMBAT ARMOR THAT IS COLORED RED AND BLACK ENTERS; AS SOON AS THE FIGURE ENTERS THE HANGAR BAY, HIS HELMET STRIPS AWAY, REVEALING LEDAS' FACE; USING HIS NEURAL IMPLANT, HE STRIPS AWAY THE ARMOR PROTECTING HIS TAIL AS WELL, LETTING OUT A SIGH OF RELIEF ONCE IT IS UNENCUMBERED AGAIN>
Ledas: Whew… that's better.
<CUBER APPROACHES HIM FROM ONE OF THE PARKED TRANSPORT VESSELS>
Cuber: So Ledas, how does that new armor feel?
Ledas: Not bad. I'm itching to test it out against a worthy opponent. <HE EYES CUBER, THEN RAISES HIS CHIN INDIGNANTLY> Maybe Prince Vegeta will do…
Cuber: Vegeta - that's right! <HE BLINKS RAPIDLY, TRYING TO REMEMBER MORE THAN FRAGMENTS OF MEMORIES HE HAD ABOUT VEGETA WHILE AS CUBAS; A BRIEF MONTAGE FLASHES BY, SHOWING VEGETA AS A SUPER SAIYAN, THEN A SUPER SAIYAN 2, AND THEN A SUPER SAIYAN WITHOUT EYEBROWS AND EXTRA LONG HAIR; THIS DISTURBS CUBER, WHO SHIVERS UNCONTROLLABLY> I think I remember… you thought of him when you used his attack. What was that last form he took?
Ledas: The next level of Super Saiyan. Kakarot can do it too. He's another Saiyan living on Earth.
Cuber: I guess I'll have to meet them. I never thought there would be this many Saiyan survivors.
Ledas: Yeah, yeah, anyways, Vegeta doesn't like Super Saiyan 3. He thinks it's a waste of stamina. It's a flawed form! Ugly as hell! Maybe he's right. I dunno. I still wanna reach that level.
Cuber: Alright. We can spar when we reach Earth. Baochoi's onboard my transport. We're just waiting for Chaiva. The Council was generous to give you that armor and a ship for what you did in helping take down Yuki. Mrovians are real big on loyalty...even the councilors, as stuck-up as they are. Don't dishonor their trust in you.
Ledas: <LOWERING HIS VOICE> I won't.
Cuber: Now if only Chaiva wasn't taking her sweet time.
Ledas: Where is she?
Cuber: <STIFFLY> Talking to her daughter, supposedly.
Ledas: <FOR NO REASON OTHER THAN TO STIR UP A COMMOTION> Yeah, she is taking her sweet time! Doesn't she know we have places to be? We gotta make those wishes!
Cuber: Speaking of which, you said earlier we get three wishes.
Ledas: Yeah?
Cuber: Well, if we're just using one wish for the Mrovians Yuki killed, perhaps I could use another wish for… something else.
Ledas: Sure, but you'll owe me.
Cuber: <CONFUSED> Owe you? Owe you what?
Ledas: <CASUALLY; WAVING HIS HAND IN THE AIR> In the future, you'll have to pay me back. You'll know when, I promise. So what's gonna be your wish?
Cuber: Bringing my brother back to life. Yuki's father killed him.
Ledas: <SHRUGS> Fair enough. Better than what I was going to wish for.
Cuber: Which is…?
Ledas: <GOING RED AGAIN> None of your business, man!
Endnotes:
This chapter was named by Hyper Zergling. Another excellent chapter name in my opinion. It was originally called "DON'T GO HOME" in the previous draft of CV.
This chapter was much shorter in the old version of CV. With the way we expanded the plotlint by having Yuki survive, this necessitated that more scenes were added. Thus, the original chapter 7 of CV ended up turning into the six remaining chapters (before "Bedtime"). A lot of stuff was added, especially once they get to Earth, but also the early part of the old chapter 7 is now split into 3 chapters too, so it is equally expanded.
I originally wrote Joijyhov as being Quoeyg, but HZ changed that as Quoeyg doesn't leave the fleet orbiting Mrov too often.
I don't really remember who wrote what for this chapter, as I believe it took place on one night when HZ was still in China and couldn't access the google doc. I had to manually put his edits in. But for the most part, I think he wrote for his characters and I wrote for Ledas, with me also writing the opening with Joijyhov and Cubas until they defuse.
Cubas is especially surprised that Chaiva was merciful to Yuki and brought her back with them. She probably could have killed Yuki when she found her drifting in the rubble of Typhon, considering how wounded the half-Arcosian was. I don't think she brought Yuki back in order to protect the Mrovians from her trying to find them again some time in the future. If anything, it shows how relieved she was that her daughter survived the fight against Cubas.
"I'm not Cuber - I'm Cubas! I'm the most powerful Saiyan to ever live!" - this is probably more of a Ledas thing to say. But yeah, Chaiva calling the fusion Cubas was super disrespectful to the poor boy! That bruised his pride and prompted that response.
I like how the Mrovians, Chaiva, and Baochoi have almost no reaction to Ledas.
The part about Chaiva and Ledas musing over their pasts was really fun to write, and something I had wanted to add in for some time. It also ties in their histories all the way back to Dragon Ball: The Great War. Conceivably, Ledas and the Mrovian Saiyans would have met each other at least a few times in the past. Chaiva and Cuber are older than Ledas, but not by enough that they would never see each other. Being Super Elites, they would have been in the royal city quite often.
While Ledas is aware that he physically stopped aging, he doesn't know why, and it's not something he thinks about often. I don't know if anything will come of Joijyhov's tests, though. I probably will never have Ledas age up.
Baochoi is so goddamn awkward. I remember writing for Ledas when he asked if Baochoi could go Super Saiyan and having HZ respond and I was somewhat baffled by why he did that to poor Baochoi. There is so much unintentional humor with how serious and horrified by joking HZ's characters can be. For that reason, I've always thought that they fit in with the Mrovians quite well, as I don't think I've ever seen a Mrovian make a joke.
Chaiva is great. I love when she says that she doesn't care what the Mrovians think about her saving Yuki. As well she shouldn't. She is 100% correct that it's not up to them. Strength is power, after all, and Chaiva could single-handedly destroy the Mrovian Empire if she ever wanted to. They can't force her to do anything.
Cuber seems somewhat distressed that Chaiva still sees Yuki as her daughter. In my opinion, it's an interesting bit of tension between the two that might come up again in HOTD.
Ledas' reasoning about them needing to keep every remaining Saiyan alive is correct. He believes that. That's not to say it's the most important reason why he wants to keep Yuki alive. It was in this chapter, and in the scene where he tells Cuber and Chaiva about the Dragon Balls in particular, where he finally reveals that he may be attracted to her.
I find it funny how Cuber and Chaiva were prying into why Ledas wanted to save Yuki, with Chaiva commenting that she may well know the reason why. That was a great little detail. They are so unamused by Ledas' games, it's hilarious to me.
The Dragon Ball idea was introduced in order to revive Kailon, but relevantly for this chapter, as a means to spare Yuki, for if those she killed are brought back, it will be much easier for the Mrovians to forgive her.
I, and by extension Ledas, do not like how the High Councilors speak about Yuki. She can't control that she was artificially created by Nitro's scientist Nroop. Abomination is too strong of a word for them to use and remain in my good graces.
The High Council scene reminds me of the opening of Halo 2 on High Charity, although I am not sure how directly either one of us was referencing it at the time. It feels thematically similar even if the dialogue is not really taken from Halo 2.
Chaiva handles herself magnificently in the council chambers, especially when she goes Super Saiyan.
Cuber seems like he would like to kill Yuki, but won't do so out of respect for Chaiva. That's true love right there.
Hyper Zergling did an exceptional job coming up with the Mrovian armor. It's really fucking cool and I'm glad he allowed me to give Ledas a pair. Of course, Ledas recolored it to his own favorite colors (the colors of his Saiyan armor in the Prince Vegeta Saga). In the original draft of CV, Ledas spray-painted his armor himself. In the final version of the story, the Mrovians did this when they designed his armor, which was a lot better for keeping the paint on.
I personally cannot stand long sleeves or long pants for the most part (unless I'm super cold), so that is why Ledas de-armors his tail. It allows for more fluid movement, and I'm sure with all the fur getting itchy in there during a long fight, it would have felt less than pleasant. It does open him up to more attacks against his tail, however, but he's a Super Elite and has desensitized it long ago. It's another appendage for him to use in physical and energy attacks.
Super Saiyan 3 disturbed Cuber (pretty sure I added this in) because HZ does not like how SS3 looks. Can't blame him with the no eyebrows thing, but the hair is alright in my opinion.
Ledas is Vegeta's good friend, and indeed, he's been influenced by Vegeta's pride, arrogance, confidence, and fighting style since he was 4 years old. So it only made sense for him to call Goku Kakarot. However, I believe when he does so in this chapter, that is the first instance where he is shown calling Goku by that name. He will always do so, but I don't expect Goku to appear in Heart of the Dragon, so there may not be another instance of it in my writing.
Ledas will call in the favor he demands from Cuber in HOTD for Cuber taking the second (and actually third, but they don't know it yet) wish and leaving Ledas without any. I don't know yet how he will do that, but he will do that at some point, and it may be something super trivial.
The wish that Ledas refers to at the end of chapter 7 is not something I will ever go into on this wiki, and probably not something that will ever happen, if I'm being honest. I considered it for a long time but I don't think I'll go through with it. Then what would Ledas wish for? I am not sure, actually. There are tons of ideas that would make him semi-broken as a fighter, but those are uninteresting for long term conflict with enemies, so not anything I'd want to do. I really don't know right now. I don't think he has much of anything to wish for other than to be made permanently hairless below the neck.
Chapter 8: Tying Up Loose Ends

[

]
<CUTS TO CHAIVA, WHO IS STANDING INSIDE HER DAUGHTER'S DIMENSIONAL PRISON; YUKI, WHO IS ALSO IN THE PRISON, IS SITTING ON A BED>
Yuki: <NOT LOOKING UP> Why are you here?
Chaiva: <DODGING THE QUESTION> You attacked Typhon, Yuki. You killed hundreds of people. That's why you're in this place.
Yuki: <LOOKING UP AT HER; DELAYED RESPONSE> That Saiyan killed my father. Was I just supposed to let that slide?
Chaiva: Nitro attempted to invade Mrov. His forces were routed in the process. That is no one's fault but their own.
Yuki: <LOOKING DOWN> Easy for you to say. You left me with them. <MORE IMPASSIONED> You knew I was there and you left me with them. Why did you bring me to this place?
Chaiva: <SIMPLY; LOOKING AWAY> You were attempting to destroy the Mrovian Empire, to achieve what your father could not. Don't deny it.
Yuki: <WITH A SIDEWAYS GLANCE> I should have killed you when I had the chance.
Chaiva: <FOLDING HER ARMS> And yet you did not.
Yuki: Don't try to sympathize with me. You're wasting your breath. What kind of life is this?! <SHE GESTURES TO HER PRISON AROUND HER> I'd rather be with Father.
Chaiva: You're alive. That's all that matters.
Yuki: <WITH A HOLLOW LAUGH> So long as it eases your conscience, Mother.
Chaiva: You murdered hundreds of Mrovians on Typhon. There will be grave consequences for that. You must understand, Yuki, I didn't want any of this to happen. I was not in control of the situation. Your father-
Yuki: <SPITTING WITH RAGE> Do not speak of him again!
Chaiva: <WITHOUT HESITATION> Your father and his family have done great harm to the universe. Their egos, left unchecked, have led them to believe that they're like gods, that they can take whichever planets they want, that they can kill whomever they want, that they can dominate any civilization as they see fit. If you truly are another one of their ilk, then you'll spend the rest of your life here. <TURNS AWAY> But that's not why I brought you here. You're not like them, Yuki.
Yuki: <SARCASTICALLY> What a noble speech. You're just like Uncle Icer - coming to me only to ease your conscience. Well, Mother, I am not your slave.
Chaiva: <UNEASILY> This was not a decision we made lightly. The High Council demanded that you be executed for your crimes. It was due to the two Saiyans you fought, and my own words, that you are still living.
Yuki: Now I owe you a great debt, isn't that right? <SHAKING HER HEAD IN DISGUST> No, I won't go along with it. I owe you nothing, and I will give you nothing. <SHE STANDS UP, UNWILLINGLY APPROACHING CHAIVA> Were I not in this prison…
Chaiva: You'd be dead. You've already fought Cubas. You know as well as I do that he's the far superior warrior.
<YUKI'S TAIL SLAPS THE SIDE OF HER BED IN AGITATION>
Yuki: If you're going to mock me, get it over with, or leave. My patience has entirely waned.
Chaiva: I'm not here to kill you.
Yuki: Then why bother coming?
Chaiva: You're my daughter. Someday, your debt will be paid in full. If all goes to plan, you may even get out of here.
Yuki: <DISMISSIVELY> If Uncle Icer doesn't kill you first.
Chaiva: We can discuss him later. Right now, you need to take ownership of what you've done.
Yuki: <ROLLING HER EYES> I don't deny destroying the planet. So what?
Chaiva: You'll never get out of here with that attitude. You have to regret what you've done. Yuki, please…. you need to show us that there's some good left in you.
Yuki: <OUTRAGED> All I've done is try to avenge my father. I regret nothing.
Chaiva: <SCOFFING> Do you really believe he was worth dying for?
<YUKI SAYS NOTHING, FLOPPING BACK ONTO HER BED>
Yuki: <EXASPERATED; AFTER A LONG TIME OF SITTING THERE IN AWKWARD SILENCE> Leave me.
Chaiva: <WALKS TO THE END OF THE ROOM; CLEARLY, CHAIVA IS NOT EAGER TO CONTINUE THIS CONVERSATION, BUT SHE HAS TO> It was wrong of me to leave you behind. I was immature, and I didn't allow myself to realize how vulnerable you were after his death.
Yuki: Shut up.
Chaiva: <SHRUGGING> You're not like your father, Yuki. I was his slave, but in many ways, so were you. You didn't deserve that.
<CHAIVA LOOKS LIKE SHE WANTS TO SAY SOMETHING ELSE, BUT HER LIP TREMBLING, SHE TURNS AWAY FROM YUKI AND EXITS THE ROOM; THE HYBRID SAIYAN EXHALES FORCEFULLY, PLACING HER ARMS BEHIND HER HEAD>
<CUTS BACK TO THE HANGAR; AUTOMATIC DOORS NEAR CUBER AND LEDAS OPEN, REVEALING CHAIVA WHO STEPS IN>
Ledas: What took you so long?
Chaiva: That's none of your business.
Cuber: Baochoi's already in our ship. You ready?
Chaiva: I'm going with Ledas. Someone needs to teach him how to fly his ship.
Ledas: <WITH A LOOK OF SUPREME SATISFACTION> That's what I'm talking about.
<CUBER WALKS UNDER THE NEAREST MROVIAN TRANSPORT, AND THE SHIP'S VENTRAL PLATFORM LIFTS HIM INTO THE VESSEL ITSELF; LEDAS FOLLOWS CHAIVA TO THE NEXT ONE DOWN, AND THEY BOTH ENTER THAT TRANSPORT IN THE SAME MANNER; THE ROOF OF THE HANGAR OPENS UP, AND THE TWO SHIPS TAKE OFF AND DISAPPEAR ABOVE THE CLOUDS, ONE AFTER THE OTHER>
<CUTS TO LEDAS' SHIP; CHAIVA AND LEDAS ARE SITTING IN THE COCKPIT AT THE CONTROLS>
Chaiva: <LEANING OVER THE CONTROLS> See? It's really not that complicated.
Ledas: Yeah, I think I understand… <SMIRKING LIGHTLY> This sure beats those old space pods, huh?
Chaiva: Mrovian technology far exceeds the capabilities of the Planet Trade Organization.
Ledas: Good thing I ran into you. <HIS SMILE EVAPORATES AND REALIZATION DAWNS ON HIS FACE; THERE IS A BRIEF FLASHBACK TO VERLATE'S MIND PRISON SITTING IN THE SNOW; HIS EYES WIDEN, AND A LOOK OF SHEER HORROR SPREADS ACROSS HIS FACE> Oh shit.
<LEDAS JUMPS UP, UNABLE TO CONTAIN HIMSELF>
Chaiva: What is it?
Ledas: We gotta make a stop before Earth.
Chaiva: Why?
Ledas: <UNCONVINCINGLY> Oh, it's nothing! Just gotta be sure about something.
<CHAIVA GIVES HIM A LOOK, BUT DOES NOT PRESS HIM FURTHER; THE BOY CLOSES HIS EYES, INHALING DEEPLY AS HE SHAKES HIS HEAD>
<CUTS TO NIFLHEIM; THE PLANET IS SHOWN FROM SPACE, ROTATING SLOWLY; TWO OF ITS MOONS, ELIVAGAR AND NIFLUNGAR, CAN BE SEEN ENTERING FROM THE RIGHT OF THE SCREEN, BOTH ROCKY MOONS POCK-MARKED WITH CRATERS; TWO MROVIAN TRANSPORT VESSELS ENTER FROM THE LEFT SIDE, THEIR LIGHTS BEING LOST IN THE GLOW OF THE PLANET'S UPPER ATMOSPHERE; THE SURFACE OF EVIVAGAR SOON OVERTAKES THE SCREEN>
<CUTS TO LEDAS' TRANSPORT; THE BACK DOOR HAS BEEN LOWERED; WALKING UP TO THE EDGE OF IT, HIS HAIR WHIPPING AROUND HIS FACE, BUT HIS TAIL REMAINING POISED, HE RAISES HIS LEFT HAND; CLOSING HIS EYES AND TAKING A DEEP BREATH, HE CREATES THIRTEEN SMALL SWIRLING PINK KI BALLS THAT FORM A CIRCLE (AND WITH ONE IN THE MIDDLE) BEFORE HIS FINGERS, WHICH ARE SPLAYED APART; SUDDENLY, THE ENERGY BALLS GROW AND COMBINE TOGETHER INTO A MASSIVE ENERGY BALL THAT SHOOTS OFF WITH GREAT FEROCITY AS SOON AS THE BALL REACHES ITS MAXIMUM SIZE>
<THE ENERGY BALL IS LOST IN THE FOG AND CLOUDS BELOW; LEDAS TURNS AWAY AND NODS TO CHAIVA, WHO IS WATCHING HIM FROM BEHIND, LOOKING MILDLY CURIOUS; THE DOOR CLOSES AND THE WIND STOPS HOWLING AS THE SHIP AND ITS COMPANION FLY OFF INTO SPACE ONCE MORE>
Ledas: <IN HIS MIND> I didn't sense anyone special down there… but there were a few life signatures. Better to be safe than sorry. That mind prison could be anywhere under all that snow…
Chaiva: <STARING HIM DOWN> Are you going to tell me what that was about?
Ledas: Just tying up a loose end. Nothing to worry about. We can continue onto Earth.
Chaiva: Good.
<CUTS TO SPACE, SHOWING THE PAIR OF MROVIAN TRANSPORT VESSELS FLYING BY IN A BLUR>
<CUTS TO THE INSIDE OF ANOTHER SHIP; THE SHOT SHOWS A CLOSE-UP OF A BLUE HAND HOLDING A GLASS OF WHAT LOOKS LIKE NAVY BLUE WINE; THEY ARE SITTING IN A CURVED SILVER-AND-BLACK CHAIR, SPINNING IN IT SLOWLY; THE HAND IS RAISED OFF SCREEN FOR A MOMENT AS THE BEING TAKES A SIP OF HER DRINK>
Soldier: <OVER THE COMMS> My queen, Niflheim has just been blown away by some unseen force. We're not scanning any survivors in the system!
<THE CAMERA CUTS TO A CLOSE UP OF THE WOMAN AS SHE TAKES ANOTHER DRINK; SHE IS A BLUE-SKINNED HERAN, YOUTHFUL IN APPEARANCE; THIS IS AUDACCI, THE DAUGHTER OF BOJACK; SHE CLICKS THE COMMS OFF; SPINNING IN HER CHAIR, THE CAMERA TAKES HER POINT-OF-VIEW, WATCHING HER DRINK RIPPLE; SOMETHING STIRS IN HER ROOM, BEYOND THE LIGHT OF HER COMPUTER MONITORS>
Voice: I did tell you he would be coming for me.
Audacci: The Saiyan will die for destroying Niflheim. <SHE TAKES ANOTHER DRINK> After the demon is awakened, not before.
Endnotes:
This chapter was named by me (it did not exist in the original draft). I probably could have done better, but it is a line in the chapter, so meh. If I were to rename it today, it would be called "Unfinished Business".
I wrote almost all of this chapter by myself. HZ wrote for Cuber in his short appearance and for Chaiva during that interaction as well as during the Niflheim scene. I wrote for Chaiva in her confrontation with Yuki.
The Yuki and Chaiva scene was the most difficult thing I have written in a long time. Certainly for all of CV, it was the most difficult scene to write. After I wrote it, I spent the next two days editing it significantly to try to make it as good as I could.
I tried to defend Yuki a bit in this chapter, as I don't think she's unjustified by wanting to avenge her father. The problem is that her father was terrible and brought it upon himself. She has a warped view of things, and may not have been fed entirely accurate information by Kirka on why exactly Nitro went after the Mrovians. Indeed, Chaiva later brings up that her family has a major imperialistic ego problem. That is probably the first time that someone Yuki cares about has reprimanded the actions of the PTO so thoroughly. It makes Yuki reflect upon her actions and the actions of her family (most of whom she despises anyways), but not immediately (she'll be in the prison for at least a year).
Chaiva absolutely deserves criticism for leaving Yuki behind, but I don't think she really had much of a choice in the matter. I also don't think that Yuki would have even gone with her, regardless of how she is acting now. It's easy to criticize actions made in the past when one is so far removed from the context and environment in the present.
Yuki would never be able to bring herself to kill Chaiva in my opinion. She is acting haughty here to protect her pride. HZ may think differently though.
I agree with Yuki that being imprisoned in the Dimensional Prison is a fate worse than death - if she were to stay there the rest of her life. However, Chaiva does not want that to happen and is basically pleading with Yuki to show regret so that her sentence will be lessened. This is not for the High Council's sake, even though Chaiva overtly says that. She's not going to be disrespectful/too revealing by saying, "I could get you out at any time, but I don't trust you yet.". She wants to trust Yuki again, but the half-Arcosian is not ready for that yet. She needs to spend some time in solitude, as boring and confining as it is, to reflect on her actions and become a better person. This will of course pay off somewhat in HOTD, though I don't think she'll ever become a "good" person in the same way that Ledas never did either.
Yuki is unlike the rest of her family, but so is Kuriza. The two of them were the oddballs the entire time - neither really considers planet selling and conquering as their passion. They do so out of duty and because it's what they are ordered to do by their fathers, by Icer, and the rest. Kuriza realizes this in PTO, going rogue because he is tired of defending an empire he doesn't care about. He later frees Yuki from the Mrovians because she was the only friend he had (aside from the robotically dutiful Lingon). Chaiva recognizes this because of their talk at the end of Hidden Memories of Chaiva, and also because she knows that Yuki, as her daughter, can't entirely be her father's daughter. She's gotta have some Chaiva in her - a safe bet to make, in my opinion.
I like how Yuki doesn't have a second thought about Ledas in this chapter. He's not on her mind at all.
Chaiva calmly and methodically dismantles Yuki's pride in their conversation, putting in her place, essentially. Yuki has never been treated like this before. Indeed, it was my intention for this to be a moment where Chaiva is acting like a real mother to her daughter, regardless of if her daughter likes it or not. This is how she treats Baochoi, how she will treat Casua and Chari and Olivien too. She does not take shit from her kids. When Yuki threatens her, the way in which she reminds her daughter that Cubas would kill her if she tried anything is instructive for the half-Arcosian. She's being taught that she cannot be a tyrant anymore and that if she tries to go back to her old ways, she will end up dead. The argumentation that Chaiva is using is mainly going after Yuki's pride and complacency.
Yuki mentioned Icer several times as a way to foreshadow his importance in her plotline in HOTD. Icer will ultimately have a very important duel with Yuki in the seventh saga of HOTD, so the seeds are being laid for their tension here. Of course, in my PTO story, there is tension between them too, but this was a way to keep that going. Also, he is a looming threat that will have to be dealt with eventually, regardless of if Yuki gets out of the Dimensional Prison or not, so setting him up as the next big villain was important here (I do the same with The Benefactor and Audacci at the end of this chapter).
I don't think Yuki felt that her father was worth dying for, but at the same time, she has to fight for her family's honor. It's a complicated position to be in. Truthfully, I don't think she liked Nitro much, which makes her position more tragic.
While Yuki thinks that Chaiva apologizes to her just to ease her conscience, I don't think that's the case. Chaiva is truly regretful of leaving Yuki behind. I don't think she knew how bad it was for Yuki, and if she could see into the future and look upon the hate-fueled girl seeking vengeance for a man she didn't even love, because it was her obligation to not let the universe slander her family's name, Chaiva would have certainly taken Yuki with her to Mrov, or she would have at least attempted to contact her in the years after Nitro's death. I think she never went back because she did not think that Yuki would listen to her, and she also didn't know how strong Yuki was, so there was the threat of being killed.
Chaiva going with Ledas on his ship was a nice touch. Not only was Chaiva able to teach Ledas how to fly the Mrovian ship, but they were able to get to know each other better on the ride (which really isn't that long, but it's better than him being isolated from her), setting up "Bedtime" in the process.
Ledas doesn't curse often, but when he does it's real serious business. This is also true in TF. I believe I only have him curse once in that story.
Ledas didn't tell Chaiva why they were going to Niflheim because he was embarrassed about his mistake and did not expect The Benefactor to have escaped anyways.
The attack that Ledas uses to destroy Niflheim is a new attack that he came up with after battling Yuki. It's called Razorhail and is the most complex energy attack I've come up with for Ledas yet, as it has 3 separate forms it can take (only one is shown in CV). It goes without saying that this bad boy will get some exposure in HOTD.
Ledas had no way of finding the mind prison again, as it doesn't give off an energy signature. The people he sensed were Audacci's miners, some of whom are seen in Ice Age Coming. Even if blowing up the planet released The Benefactor, Ledas knew the guy couldn't breathe in space, so that would solve that problem, and if the mind prison survived that (as it would have, being of Damani origin), he did not think it would ever drift to an inhabited planet. The odds of that happening are astronomical.
Ledas did not believe that The Benefactor had escaped from his mind prison when he blew up Niflheim.
Audacci is drinking a Faereth vintage.
The Audacci scene was really fun for me to write. She is, essentially, the main character of Heart of the Dragon, as crazy as that might sound. She is currently on her way to awaken Majin Sesami for reasons that will be revealed perhaps as early as chapter 1 of HOTD. This scene sets up her villainous role in that story in a nifty way, showing that already Audacci has her sights on Ledas and has a reason to want to kill him (she also mistakenly believes that he was the young Super Saiyan who killed her father).
This chapter overall has the most setup for HOTD out of any chapter in Cold Vengeance.
Chapter 9: Another Saiyan Reunion

[

]
<THE CAMERA SHOWS EARTH'S ORBIT FROM SPACE; A PAIR OF MROVIAN TRANSPORTS EXIT THEIR RESPECTIVE WORMHOLES THAT MATERIALIZE IN SPACE, AND THEN FLY DOWN TOWARDS THE PLANET BELOW; CUTS TO THE CAPSULE CORPORATION BUILDING FROM SOME DISTANCE AWAY; THE FOUR SAIYANS ARE WALKING TOWARDS THE FRONT DOOR; THE CAMERA THEN CUTS TO A CLOSER VIEW OF THE SAIYANS>
Baochoi: Where are we going?
Cuber: To get the device that will track the Dragon Balls
Ledas: It would take us months to find them all without Bulma's Dragon Radar.
Baochoi: Our ships can't find them?
Cuber: I scanned Earth before we landed. It seems like the Mrovians' scanners were never designed to locate things like the Dragon Balls.
<THE GROUP REACHES THE DOOR OF THE BUILDING; LEDAS KNOCKS ON IT; AFTER A FEW MOMENTS, THE DOOR OPENS, REVEALING BULMA>
Bulma: Oh, hey Ledas. I didn't know you were coming over for dinner…
Ledas: <GETTING EXCITED> Ooh, you're cookin'?
Bulma: Vegeta should be finished with his training soon. I'll put out extra plates for you and your friends. <THE CAMERA SHOWS A CLOSE-UP OF BULMA EYEING THEM, THEN IMMEDIATELY CUTS TO A WIDER SHOT, SHOWING BAOCHOI, WITH HIS FATHER AND MOTHER STANDING BEHIND HIM> Hang on… are those tails?
Cuber: So you must be the Prince's mate.
Ledas: <SPEAKING QUICKLY> Oh yeah, these are my friends - Cuber and Chaiva, and their son Baochoi. They're Saiyans just like me.
Bulma: <GIVING LEDAS A LOOK> They're not here to conquer the Earth, are they?
Cuber: Why would we do that?
<DESPITE CHAIVA'S GRIM LOOK, BULMA'S EXPRESSION SOFTENS>
Ledas: We were just stopping by for the Dragon Radar, but dinner sounds perfect right about now. <TO THE OTHER SAIYANS> I dunno about you guys, but I'm starving. What do you say? Bulma makes the best feasts I've ever had.
Baochoi: Feasts?
Ledas: Oh, you'll see. It's nothing like on Mrov, trust me.
<CUBER AND CHAIVA EXCHANGE A LOOK, PERHAPS COMMUNICATING TELEPATHICALLY>
Bulma: Well, in that case, follow me. <SHE GESTURES FOR THEM TO WALK WITH HER INTO THE BUILDING> I'm sure Vegeta would be very curious to meet you.
Chaiva: We've seen him in person, but we haven't formally met.
Cuber: Yeah, but that was like forty years ago when we were still kids.
Ledas: Vegeta's pretty much the same as he was back then. Maybe he's gotten a little more arrogant since becoming a Super Saiyan.
Cuber: I didn't think becoming more arrogant was even possible.
Chaiva: Of course he too is a Super Saiyan.
Bulma: <LAUGHING> Just don't try to spar with him until after dinner, okay?
<SHE LEADS THEM DOWN THE HALL AND AROUND A CORNER, COMING TO A DOOR, WHICH SHE PULLS OPEN, REVEALING A DINING HALL INSIDE; SERVANTS ARE PLACING FOOD OUT ON THE TABLE, WHICH IS ABSOLUTELY PACKED FULL OF THE MOST DELICIOUS TREATS IN THE WHOLE WORLD; WITH A LOOK OF SATISFACTION, BULMA WHISTLES AT THE SERVANTS>
Bulma: Bring chairs for our guests.
<THE POOR OLD SERVANTS RUSH OFF TO FULFILL HER REQUEST; LEDAS DOES NOT WAIT TO BE SEATED, HOWEVER, RUNNING UP TO THE TABLE AND, FINDING A PLATTER OF NIGIRI SUSHI, STUFFS HIS FACE; THE OTHER SAIYANS WATCH HIM IN ASTONISHMENT; IT DOESN'T TAKE LONG FOR BAOCHOI TO JOIN IN>
Cuber: <TO BAOCHOI> Careful not to break anything. Humans are really weak, and so they don't make their things as sturdy as Mrovians do.
Baochoi: I got it, dad.
<THE SAIYANS START EATING, AND IN THE TYPICAL SAIYAN FASHION, THEY CHOW DOWN ON THE FOOD RATHER QUICKLY; SERVANTS ARE INEVITABLY FORCED TO RUSH TO THE TABLE WITH MORE FOOD; THEY ARE ENTHRALLED BY TASTE, BAOCHOI ESPECIALLY>
Chaiva: <TO CUBER> I haven't had anything close to this since we stopped traveling.
Cuber: I know. <LOOKS TO BAOCHOI> You seem like you're enjoying your meal.
Baochoi: I've never had anything like this before. Why don't the Mrovians make food like this?
Cuber: They don't eat; they don't have a sense of taste at all.
<BULMA HAS SAT AT THE END OF THE TABLE BY THIS POINT, SIPPING A COFFEE DESPITE IT BEING SO LATE IN THE DAY; THE FOUR SAIYANS CONTINUE STUFFING THEIR FACES WITHOUT PAUSE; THEN, VEGETA ENTERS THE ROOM FROM THE FAR SIDE, WEARING HIS BLUE JUMPSUIT, WITH A TOWEL HANGING AROUND HIS NECK; HE STOPS DEAD IN HIS TRACKS WHEN HE NOTICES CUBER>
Vegeta: What the hell?! What are you doing here?
Bulma: <STANDING UP AND GOING OVER TO VEGETA> Well, well, well, look who the cat dragged in.
<HE LOOKS AWAY FROM HER TO MAINTAIN HIS PRIDE; LEDAS GRINS>
Ledas: <NONCHALANTLY> Don't worry, Vegeta, it's alright. I found them in space. They live on a planet called Mrov. Pretty cool, huh? Who'd have thought there were other Saiyans still around?
Vegeta: <SNORTS; EYES NARROWING, HE APPROACHES THE TABLE; TO CUBER> I know you.
Cuber: <SLIGHT NOD> Prince Vegeta.
Vegeta: Cuber, isn't it? You were on Priyep's team. Zarbon told me you were dead.
Cuber: Zarbon sent his team after us, but in the end, Chaiva and I survived.
Ledas: Wait, you're talking about Nappa's son, aren't you?
Chaiva: He tried to kill us. That didn't work out so well for him.
Vegeta: <RAISING AN EYEBROW, THEN SETTLING INTO A CALMER COUNTENANCE> I'm not surprised. Nappa always was reckless, and Priyep was no different from his father.
Cuber: Arguably worse; he turned on his own kind even though we were all targets for the Planet Trade Organization.
Vegeta: <CROSSING HIS ARMS> I would expect nothing less from Nappa's son.
Chaiva: So, how've you been, Prince? I hope living with these humans didn't soften you.
Vegeta: Please. They're weaklings, barely worth a thought.
Chaiva: Must have been hell to not have anyone strong enough to fight against. How were you ever able to get any stronger?
Vegeta: Hmph. How about I show you? I'll take on both of you at once.
Chaiva: Overconfident, aren't we?
Ledas: Oh, he's not kidding.
Cuber: After we're done eating, let's go.
Bulma: Make sure you do this far away from the city!
Vegeta: I'm not an idiot. <TO CUBER AND CHAIVA> You two better not disappoint me.
Chaiva: We could say the same to you.
<CUTS TO AN OPEN GRASSY PLAINS WITH CUBER AND CHAIVA STANDING SEVERAL DOZEN METERS ACROSS FROM VEGETA; VEGETA IS NOW WEARING HIS CAPSULE CORP ARMOR; OFF TO THE SIDE ARE LEDAS AND BAOCHOI, READY TO SPECTATE THE UPCOMING FIGHT LIKE PROPER DRAGON BALL SIDE CHARACTERS; ZOOMS IN ON CUBER AND CHAIVA, WHO POWER UP TO THE FIRST LEVEL OF SUPER SAIYAN; VEGETA REMAINS STOIC>
Chaiva: Well Prince? Your turn.
<WITHOUT SAYING A WORD, VEGETA DOES THE SAME, AND THEN ALL THREE FALL INTO FIGHTING STANCES>
Cuber: <TELEPATHICALLY, TO CHAIVA> This is far from his full power.
Chaiva: <TELEPATHICALLY, TO CUBER> Then that's on him.
Vegeta: What are you waiting for? Come at me!
<CUBER LEAPS UP AND FIRES A BURST OF STUN BOLTS AT VEGETA WHILE CHAIVA AIR-DASHES TOWARDS THE OPPONENT; VEGETA CHOPS CUBER'S FINGER BEAMS OUT OF THE WAY BEFORE CHAIVA REACHES HIM AND THROWS OUT TWO AERIAL KICKS – A RIGHT REVERSE ROUNDHOUSE FOLLOWED BY A LEFT ROUNDHOUSE (THE REACHING DOUBLE KICK) – BOTH OF WHICH VEGETA BLOCKS WITH HIS RIGHT FOREARM; CHAIVA BACKS AWAY AS CUBER DESCENDS ON VEGETA WITH A DRILL KICK, PROMPTING THE SAIYAN PRINCE TO RAISE HIS LEFT ARM TO BLOCK THE SPINNING HEEL; CUBER GLANCES OFF VEGETA'S FOREARM, LANDING NEXT TO HIM BEFORE ATTACKING WITH AN EXPLOSIVE SHINE; STILL IN GUARD STANCE, VEGETA SHRUGS OFF THE EXPLOSIVE WAVE AND THEN GLANCES BACK TO SEE CHAIVA READY TO THROW OUT A RIGHT FLYING REVERSE ROUNDHOUSE>
<CHAIVA'S LEG GOES RIGHT THROUGH AN AFTERIMAGE OF VEGETA THAT DISAPPEARS IMMEDIATELY AFTER, BUT WITHOUT HESITATING, SHE AND CUBER LOOK TO THE REAL VEGETA WHO IS ABOVE AND AWAY; CUBER IMMEDIATELY FIRES A STUN BOLT WHILE CHAIVA FLIES AFTER THE SAIYAN PRINCE; ONCE AGAIN, VEGETA SWATS CUBER'S ENERGY BEAM AWAY AND THEN LEANS BACK FROM CHAIVA'S INCOMING RIGHT BACK-FLIP KICK; THE MOMENT CHAIVA FINISHES HER FLIP, VEGETA LEFT-FLYING-SIDE-KICKS HER IN THE ABDOMEN, SENDING HER FLYING BACK; VEGETA PURSUES CHAIVA AND ENDS UP ABOVE HER, PREPARING A RIGHT ELBOW DROP, BUT A PAIR OF BLUE-WHITE ENERGY BEAMS KNOCK HIM AWAY>
<VEGETA TURNS HIS ATTENTION TO WHERE THE BEAMS CAME FROM ONLY TO SEE CUBER APPROACHING WITH A LEFT FLYING CURVED KNEE; VEGETA BLOCKS WITH HIS RIGHT FOREARM AND COUNTERATTACKS WITH A LEFT ROUNDHOUSE KICK ACROSS CUBER'S FACE; JUST AS HE DOES THIS, CHAIVA LANDS A SUCCESSFUL RIGHT BACK-FLIP KICK TO VEGETA'S BACKSIDE; BEFORE THE SAIYAN PRINCE CAN RECOVER, CUBER COMES DOWN WITH A DRILL KICK, SENDING VEGETA INTO THE GROUND; VEGETA DRASTICALLY SLOWS HIS MOMENTUM, LANDING IN A CROUCH AND ON A PALM, KEEPING THE DAMAGE TO THE LAND BENEATH HIM AT A MINIMUM>
Vegeta: <THINKING TO HIMSELF> I've never fought a pair of opponents with such synergy. I need to isolate them and get rid of each fighter individually.
<UNRELENTING, CUBER AND CHAIVA DESCEND TO MEET VEGETA, LANDING ON OPPOSITE SIDES OF HIM; CHAIVA REACHES OUT WITH HER RIGHT HAND FOR HIS THROAT, BUT HE DUCKS UNDER AND GUT-PUNCHES HER WITH HIS RIGHT FIST; HE FLIES FORWARD AS HE DOES THIS, DODGING CUBER'S DRILL KICK ATTEMPT FROM BEHIND; WHILE CHAIVA IS STILL FLYING BACK IN PAIN, VEGETA THROWS A RIGHT BACK-KICK AT CUBER, STRIKING HIM ONCE AGAIN ACROSS THE FACE; WITH BOTH OPPONENTS STUNNED, VEGETA PUNCHES CHAIVA IN THE FACE WITH HIS LEFT FIST AND THEN "TELEPORTS" TO END UP BEHIND AND UNDERNEATH HER; HE STRIKES HER WITH HIS SIGNATURE UPWARDS DROPKICK, LAUNCHING HER VERTICALLY, AND THEN "TELEPORTS" TO END UP ABOVE HER IN PREPARATION FOR A DOUBLE AXE HANDLE; ONCE AGAIN, A PAIR OF STUN BOLTS INTERRUPT VEGETA, ALLOWING CHAIVA TO ESCAPE>
Vegeta: <TO CUBER> Damn you!
<VEGETA ABANDONS HIS INITIAL PLAN TO ELIMINATE CHAIVA FIRST AND GOES AFTER CUBER, WHO FIRES YET ANOTHER STUN BOLT; VEGETA SWATS THIS ONE ASIDE AND THROWS A RIGHT SUPERMAN PUNCH AT CUBER, HITTING HIM IN THE CHEEK; VEGETA FOLLOWS UP WITH A STRAIGHT PUNCH FROM HIS LEFT FIST, BUT THIS TIME CUBER BACKS AWAY AND THEN COMES BACK WITH A DRILL KICK; AS VEGETA NARROWLY BLOCKS CUBER'S FOOT WITH HIS RIGHT FOREARM AND SLIDES BACK, CHAIVA DESCENDS FROM ABOVE WITH A DOUBLE-FOOT STOMP; VEGETA BLOCKS CHAIVA'S FEET WITH BOTH FOREARMS AND IS PUSHED INTO A CRATER; CHAIVA PROMPTLY LEAPS OFF VEGETA WHILE CUBER MEETS THE SAIYAN PRINCE AT THE BOTTOM OF THE PIT; ONCE FACE-TO-FACE, CUBER UNLEASHES AN EXPLOSIVE SHINE, WHICH FORCES VEGETA TO PUT UP HIS FOREARMS IN FRONT OF HIS FACE ONCE MORE; IMMEDIATELY AFTER, CUBER REACHES UNDERNEATH VEGETA'S GUARD WITH HIS RIGHT HAND AND GRASPS THE PRINCE BY THE THROAT; OUT OF REFLEX, VEGETA GRABS CUBER'S FOREARM WITH BOTH HANDS>
<FROM BEHIND, CHAIVA'S AURA FLARES OUTWARDS, HER LEFT ELBOW AIMED AT VEGETA WITH HER RIGHT PALM AGAINST HER LEFT FIST; WITH HER ENTIRE BODY GLOWING BLUE-WHITE, SHE THEN THRUSTS HER LEFT ELBOW INTO VEGETA'S BACK, SUPPORTED BY HER RIGHT PALM, CRACKING OPEN HIS ARMOR AT THE POINT OF CONTACT; CUBER IMMEDIATELY SIDESTEPS VEGETA, WHO IS SENT FLYING BY CHAIVA'S ELBOW STRIKE, WHICH UNLEASHES AN ORANGE-WHITE ENERGY WAVE; VEGETA IMPACTS A DISTANT MOUNTAIN, EXPLODING IT IN A SPECTACULAR FASHION>
<WHEN THE SMOKE CLEARS, HOWEVER, VEGETA HOVERS IN PLACE, NOW WITH SUPER SAIYAN 2 PLASMA ARCS CRACKLING AROUND HIS BODY>
Chaiva: Now that's more like it, Prince.
Vegeta: This has gone on for long enough. How will you two fare against the power of a Super Saiyan 2?
<VEGETA FIRES A BASKETBALL-SIZED BLUE-WHITE ENERGY SPHERE OUT OF HIS RIGHT PALM IN THE DIRECTION OF CUBER AND CHAIVA>
Baochoi: Mom! Dad!
Ledas: <ARMS FOLDED> Now we're talking.
<VEGETA'S BIG BANG ATTACK DETONATES WHERE BAOCHOI'S PARENTS STOOD, CREATING AN IMMENSE EXPLOSION THAT CAN BE SEEN FROM HUNDREDS OF KILOMETERS AWAY; BAOCHOI SHIELDS HIS FACE WITH HIS FOREARMS AS THE SHOCKWAVE OF THE BLAST PUSHES AGAINST HIM; LEDAS, HOWEVER, IS NOT AFFECTED AND ONLY HIS HAIR IS PUSHED BACK>
<ONCE THE HEAT AND SMOKE DISSIPATE, CUBER AND CHAIVA ARE SAFE WITHIN A PALE-BLUE ENERGY SHIELD AT THE BOTTOM OF A BURNING CRATER; CUBER'S FOREARMS ARE IN FRONT OF HIMSELF, HIS HAIR IS SPIKED MORE UPWARDS AND BACKWARDS, AND HE TOO, POSSESSES THE SAME BLUE-WHITE PLASMA ARCS THAT VEGETA DOES>
Cuber: <DEACTIVATING HIS SHIELD> That was close. Chaiva, I think you should–
Chaiva: Just hang back and support you when possible, I know.
<THE CAMERA CUTS TO VEGETA>
Vegeta: Not bad, Cuber. Let's see what you're really made of.
<THE CAMERA ZOOMS OUT AND FAR TO THE SIDE UNTIL THE ONLY THINGS VISIBLE OF THE COMBATANTS ARE THEIR AURAS; BOTH SUPER SAIYAN TWOS IMMEDIATELY FLY AT EACH OTHER, WITH CUBER FIRING OFF MORE STUN BOLTS AND VEGETA BATTING THEM AWAY AS HE HAD BEEN; THE CAMERA ZOOMS IN, BRINGING BOTH INTO VIEW; ONCE THEY APPROACH MELEE DISTANCE, CUBER PREPARES A LEFT FLYING SIDE KICK WHILE VEGETA PREPARES A RIGHT SUPERMAN PUNCH>
<SUDDENLY, GOKU APPEARS BETWEEN THEM, HIS RIGHT INDEX AND MIDDLE FINGERS PRESSED AGAINST HIS FOREHEAD; VEGETA AND CUBER BOTH STOP MID-SWING; VEGETA IS CLEARLY EXASPERATED>
Goku: Hi, Vegeta.
Vegeta: Kakarot, what are you doing here?!
Cuber: Kakarot?
Goku: I sensed you fighting some large powers, Vegeta, so I wanted to see for myself what was going on.
Vegeta: Now that you've had your look, get out of here.
Goku: <SUDDENLY TRANSFORMING INTO A SUPER SAIYAN 2> Cool it, Vegeta. I'd like to test myself against these two. You don't mind, do you?
<VEGETA SCOFFS; CUBER GLANCES BACK TO CHAIVA, AND THE TWO EXCHANGE A LOOK>
Cuber: Perhaps another time, Kakarot. We've used up much of our stamina against the Prince.
Goku: Heheh, that's no problem.
<HE USES INSTANT TRANSMISSION TO DISAPPEAR; A FEW MOMENTS LATER, HE REAPPEARS, THROWING EACH OF THEM A SMALL BEAN WITHOUT WARNING>
Goku: Eat these. Trust me, they'll make you feel as good as new.
<CUBER CATCHES HIS AND INGESTS IT; FOLLOWING HIM, CHAIVA DOES THE SAME, ALTHOUGH WITH SOMEWHAT MORE CAUTION; THEIR GOLDEN AURAS FLARE UP AFTER THEY CONSUME THE BEANS>
Cuber: You weren't kidding.
<SMIRKING, GOKU DESCENDS TO THE GROUND; CUBER AND CHAIVA FOLLOW HIM AFTER A FEW SECONDS; AS SOON AS GOKU FALLS INTO A FIGHTING STANCE, CUBER AND CHAIVA FALL INTO THEIR OWN STANCES AS WELL, STILL IN SUPER SAIYAN 2 AND SUPER SAIYAN, RESPECTIVELY>
Endnotes:
Hyper Zergling named this chapter. Not one of the stronger CV chapter names in my opinion.
I wrote for Bulma and Ledas in the early section, with HZ writing for his characters. Then when the fight started, he wrote for Vegeta too. However, once Goku appeared, I wrote that entire ending section sans Cuber's last line (I wrote Cuber's first line in that section).
It would have been overpowered and in my opinion lazy if the Mrovian technology could scan for the Dragon Balls.
Writing for Bulma in this chapter was challenging. I'm happy with how it turned out, though. For example, her line, "They're not here to conquer the Earth, are they?", is something I could hear Bulma's voice actress say, so that's always a good sign.
Cuber's reaction to Bulma was a bit oblivious. He has to know that his species has a reputation, even if he and Chaiva don't. It's not like Bulma knew who they were.
It's a pity there aren't any spices on Mrov to improve the taste of their local fauna. Maybe Chaiva and Cuber should have raided some PTO outposts for salt and pepper at the very least.
Ledas loves sushi, but I don't much care for it (at least in the one time I had it, it made me immediately throw up). This is one of the few areas in which Ledas diverges from me.
I really like HZ's idea to have Cuber and Vegeta talk about the past with Priyep's team and Zarbon. Ties this story to the Genocide Escape saga quite nicely. I personally am quite fond of these lore-rich callbacks.
Priyep was a right proper cunt. I am glad that Vegeta had some choice words for the traitor.
Chaiva assumes that Vegeta has no one to train against, but that's not true at all. Wildly assumptive from her. That was arrogant as fuck. Just because the planet is populated by weak humans doesn't mean they are the only species there. I guess Ledas didn't tell her about Goku, Gohan, and the others on their trip over.
"OFF TO THE SIDE ARE LEDAS AND BAOCHOI, READY TO SPECTATE THE UPCOMING FIGHT LIKE PROPER DRAGON BALL SIDE CHARACTERS" - this is true, but also I had nothing else to do at this point in the story, so why not have a little fun? I knew at this point that Ledas' plot was basically over, whereas the one for Cuber and Chaiva would go on for a while. Taking the back seat while HZ got to write out several fantasies in a row was not easy, I must say. That's why I pushed so hard for the Chaiva vs. Ledas fight scene in chapter 11, and why it bothered me that HZ initially put very little effort into it.
Even in this fight, Cuber is a massive spammer. Much more of a spammer than Chaiva.
It was not easy for me to write Goku, either. I would say that doing so was good experience, however. Having to mimic him (mainly his English personality) made me a better writer in my opinion.
My role in this chapter was challenging. I had to write for Bulma and Goku, and I also wrote a few lines for Vegeta and Ledas. It was difficult work for little payoff. I believe being forced into that role, instead of HZ writing for Goku at the end (writing for Bulma was whatever), made me unhappy and was one of the motivating factors into why I eventually ranted at HZ about what goes down in chapter 11's Chaiva vs Ledas fight scene.
Chapter 10: Gather the Dragon Balls

[

]
<IT IS EVENING ON A GRASSY FIELD SEVERAL HUNDRED KILOMETERS AWAY FROM CAPSULE CORP>
<WHILE APPROACHING, CUBER FIRES A PAIR OF STUN BOLTS AT GOKU, WHO SWATS AWAY BOTH BEAMS WITH ALTERNATING HANDS; CUBER INITIATES A DRILL KICK, WHICH GOKU BLOCKS, CAUSING THE FORMER'S FOOT TO SIMPLY GLANCE OFF THE LATTER'S FOREARMS, PUTTING CUBER BEHIND THE DEFENDING OPPONENT; GOKU BACKS TOWARDS CUBER WITH A LEFT ELBOW, BUT THE OTHER SAIYAN HAS ALREADY MOVED EVEN FURTHER AWAY; CUBER IMMEDIATELY TURNS BACK AROUND AND GRABS GOKU BY THE COLLAR WITH HIS RIGHT HAND BEFORE IMMEDIATELY HOOKING HIM AWAY WITH HIS LEFT FIST, RIPPING OFF A PIECE OF GOKU'S GI IN THE PROCESS>
<CHAIVA APPEARS BEHIND GOKU AND SENDS HIM BACK TO CUBER WITH A LEFT SPINNING BACKFIST; WITH A FLINCHING GOKU INCOMING, CUBER PREPARES A RIGHT FLYING BACK KICK, BUT THE OTHER SAIYAN PLACES HIS INDEX AND MIDDLE FINGERS TO HIS FOREHEAD AND VANISHES; AS CUBER'S KICK MISSES AND RELEASES AN ORANGE-WHITE ENERGY WAVE THAT TRAVELS INTO THE DISTANCE, GOKU REAPPEARS BEHIND HIM AND KICKS HIM AWAY WITH A RIGHT FLYING ROUNDHOUSE; GOKU DOES NOT PURSUE, HOWEVER, SO THE MOMENT CUBER IS ABLE TO ACT AGAIN, HE FIRES MULTIPLE STUN BOLTS AT THE OPPONENT; THIS TIME, GOKU INSTANT TRANSMISSIONS THROUGH ALL OF CUBER'S BEAMS; GOKU SMILES AS HE DOES THIS, CLEARLY ENJOYING HIMSELF>
Chaiva: <TELEPATHICALLY TO CUBER> Cocky bastard, stunting on us like this.
Cuber: <TELEPATHICALLY TO CHAIVA> As you said with Vegeta, his loss.
<CUBER TURNS AROUND AND THROWS OUT A DRILL KICK JUST AS GOKU REAPPEARS, NAILING THE OTHER SAIYAN IN THE CHEST AND KNOCKING HIM BACK>
Cuber: <THINKING TO HIMSELF> Come on, Kakarot, that was too obvious.
<AS GOKU'S BODY CREATES A BURNING VALLEY, CUBER FOLLOWS HIM WITH ANOTHER DRILL KICK, BURYING GOKU IN A MOLTEN CRATER; GOKU IMMEDIATELY BACK-HANDSPRINGS HIS WAY OUT OF THE BASIN, DODGING CUBER'S THIRD DRILL KICK>
<CHAIVA APPEARS BEHIND GOKU AND PUTS HIM IN A FULL NELSON AND BEFORE HE CAN BREAK FREE, CUBER COMES IN WITH A RIGHT FLYING REVERSE ROUNDHOUSE KICK; CUBER'S ENTIRE LEG GLOWS BLUE-WHITE AND A SMALL PITCH-BLACK SPHERE APPEARS AT THE POINT OF WHICH HIS HEEL MEETS WITH GOKU'S FOREHEAD; A MASSIVE ORANGE-WHITE ENERGY WAVE WASHES OVER BOTH GOKU AND CHAIVA, BUT WITH THE BODY OF A SUPER SAIYAN 2 IN FRONT OF HER, CHAIVA IS NOT INJURED MUCH IF AT ALL AND RELEASES HER GRIP AND DUCKS UNDER THE MOMENT SHE IS ABLE; WHEN CUBER'S ENERGY WAVE DISSIPATES, GOKU CAN BE SEEN RUBBING HIS BRUISED FOREHEAD>
Goku: Ow, that hurt! You two make one hell of a team. But I'm not done yet! <POSES FOR KAMEHAMEHA> Ka…
<CUBER FIRES A VOLLEY OF STUN BOLTS, ALL OF WHICH STRIKE GOKU, INTERRUPTING HIS CHARGING PROCESS>
Goku: Hey, that's not fair!
<CUBER ONLY RESPONDS BY FIRING MORE STUN BOLTS AS HE CLOSES THE DISTANCE BETWEEN HIMSELF AND GOKU, WITH CHAIVA FOLLOWING FROM BEHIND; GOKU DEFLECTS ALL OF THESE SUBSEQUENT BEAMS>
Goku: <GOES INTO SOLAR FLARE POSE> Solar Flare!
<BOTH CUBER AND CHAIVA ARE INEVITABLY BLINDED AND SHIELD THEIR EYES IN DISCOMFORT; WHEN THEIR SIGHT RETURN, GOKU UNLEASHES A SECOND KAMEHAMEHA; CUBER FLIES OVER THE ENERGY BEAM OUT OF REFLEX, BUT UNFORTUNATELY LEAVES CHAIVA EXPOSED TO IT; THE KAMEHAMEHA TAKES THE FORM OF AN ENERGY SPHERE AS IT PUSHES AGAINST CHAIVA, WHO STRUGGLES TO PREVENT IT FROM ENGULFING HER; WITHOUT WASTING ANY TIME, CUBER ASCENDS EVEN HIGHER AND FIRES A PAIR OF THICKER, BRIGHTER STUN BOLTS AT GOKU'S ENERGY SPHERE, PUSHING IT INTO THE GROUND AND OFF OF CHAIVA>
<CUBER RETURNS TO SHOOTING HIS STUN BOLTS AT GOKU ON APPROACH, WHILE GOKU BLOCKS CUBER'S ENERGY BEAMS AGAIN; MEANWHILE, CHAIVA FLIES AROUND TO END UP BEHIND GOKU, BUT DOES NOT GO UNNOTICED BY HIM; STILL, CUBER'S BARRAGE KEEPS GOKU IN A DEFENSIVE POSITION; CHAIVA THEN FLIES TOWARDS GOKU, WHO NOW USES ONLY HIS LEFT ARM TO BLOCK CUBER'S SHOTS AND TRIES TO INTERCEPT THE FEMALE SAIYAN WITH A RIGHT FLYING REVERSE ROUNDHOUSE KICK; ALREADY ANTICIPATING A RESPONSE FROM GOKU, CHAIVA BACKS OFF, CAUSING HIS ATTACK TO MISS; SHE IMMEDIATELY COMES BACK AND THRUSTS HER LEFT KNEE, WHICH IS SURROUNDED BY BLUE-WHITE PLASMA ARCS, INTO GOKU'S RIBS; AN ORANGE-WHITE ENERGY BEAM COMES OUT OF CHAIVA'S KNEE, BLASTING GOKU TOWARDS CUBER, WHO COMES DOWN ONTO THE OPPONENT'S HEAD WITH A DRILL KICK, SENDING HIM OVER THE EDGE OF A CLIFFSIDE AND CREATING AN INEVITABLE EXPLOSION BELOW>
<CUBER LANDS AT THE EDGE AND LOOKS DOWNWARDS TO WHERE HE SENT CUBER, AND CHAIVA SOON JOINS HIM; WITHIN A FEW SECONDS, GOKU RISES UP TO COME FACE-TO-FACE WITH CUBER, BRUISED AND GI TORN>
Chaiva: Are you finished messing around yet?
Goku: Heheheh, not bad for a warmup. <HE CRACKS HIS NECK AND THEN FALLS INTO HIS KI CHARGING STANCE, A GOLDEN AURA COMING UP AROUND HIM; PLAYFULLY> How about we take it to the next level? Are you sure you can keep up?
<GOKU BEGINS TO MOAN, WHICH TURNS INTO A LOW GROWLING, WHICH THEN RISES INTO AN ARDENT SCREAM; IN A BURST OF LIGHT, HIS POWER INCREASES MASSIVELY, CAUSING CUBER AND CHAIVA TO LOOK MORE CONCERNED; AS THIS IS HAPPENING, HIS HAIR LENGTHENS TO THAT OF SUPER SAIYAN 3, AND HIS EYEBROWS DISAPPEAR BECAUSE WHY NOT; GOKU'S SCREAMING DIES DOWN AND HIS AURA LESSENS ENOUGH FOR HIM TO BE SEEN PROPERLY; HE FROWNS AT THE TWO>
Goku: <IN A LOW VOICE> Alright, you asked for it.
<BOTH PARTIES ONCE AGAIN GO INTO FIGHTING STANCES>
Cuber: <TELEPATHICALLY, TO CHAIVA> This is Super Saiyan 3. According to Ledas, it puts a huge strain on stamina, which means all we can do is play a war of attrition until he's out.
Chaiva: <TELEPATHICALLY TO CUBER> And if he continues to not take us seriously, that shouldn't be a problem.
<CUBER AND CHAIVA IMMEDIATELY SPLIT OFF IN DIFFERENT DIRECTIONS; GOKU DECIDES TO FOLLOW CUBER, WHO TURNS AROUND AND SHOWERS HIS PURSUER WITH STUN BOLTS AS HE FLIES BACKWARDS; GOKU SIMPLY SHRUGS OFF CUBER'S ENERGY BEAMS AND STILL KEEPING A DISTANCE BEHIND, IT IS OBVIOUS THAT HE IS NOT GOING EVEN CLOSE TO HIS OWN FULL SPEED>
Goku: What's wrong? Are you afraid?
<CUBER DOES NOT ANSWER AND SIMPLY CONTINUES HIS STRATEGY>
Goku: Fine then.
<GOKU "TELEPORTS" TO CUBER AND PUNCHES HIM ACROSS THE FACE, SENDING HIM FAR AND AWAY; HE THEN INSTANT-TRANSMISSIONS TO THE DAZED CUBER AND CATCHES HIM BY THE ABDOMEN WITH HIS LEFT ARM; GOKU THEN EYEBALLS CHAIVA IN THE DISTANCE AND THROWS A BLUE-WHITE ENERGY SPHERE AT HER WITH HIS FREE HAND, BLASTING HER OUT OF THE SKY; LIKE WITH CUBER, HE INSTANT-TRANSMISSIONS TO CHAIVA AND CATCHES HER AS WELL>
Baochoi: <IN AWE> What just happened?
Vegeta: Kakarot started trying.
<ALL THREE SAIYANS REVERT TO THEIR BASE FORMS AS GOKU RELEASES THE OTHER TWO AND ALL THREE DESCEND AND LAND NEAR VEGETA, LEDAS, AND BAOCHOI, WHO HAVE BEEN WATCHING THIS FIGHT UNFOLD>
Goku: Whew, you guys are something else. We sure coulda used your help against Buu!
Cuber: Buu?
Goku: He was a powerful enemy who absorbed his foes to get stronger. He was still very strong even after we brought him down to his original form, but in the end, we were able to stop him. But boy, it wasn't a certain thing.
Vegeta: Enough of your blabbering, Kakarot. It's getting late; we should head back.
Goku: <SCRATCHING THE BACK OF HIS HEAD AND GIGGLING LIKE A CHILD> Oh yeah, I hardly noticed it getting dark. Chi-Chi's gonna kill me! Catch you guys later!
<GOKU INSTANT TRANSMISSIONS AWAY ALMOST AS SUDDENLY AS HE HAD APPEARED>
Chaiva: He's strange for a Saiyan.
Ledas: Vegeta, didn't you say he hit his head when he was a baby?
Vegeta: That's what Bulma told me. Honestly, it would explain a lot.
Ledas: Like why he's stronger than you?
Vegeta: <LOOKING AWAY; GRINDING HIS TEETH> Shut up…
<CUBER AND CHAIVA EXCHANGE A LOOK; THE GROUP OF SAIYANS TAKES OFF INTO THE AIR, FLYING BACK TO CAPSULE CORP; WHEN THEY TOUCH DOWN ON HER LAWN, BULMA AND TRUNKS COME OUT OF THE FRONT DOOR TO GREET THEM>
Bulma: <HANDS ON HER HIPS> It's about time you guys got back.
<THE FIVE OF THEM LAND>
Trunks: Hey mom, who're those people with dad?
Bulma: Some old acquaintances of your father. They're Saiyans.
<VEGETA AND THE REST APPROACH BULMA AND TRUNKS>
Cuber: Ledas mentioned a Dragon Radar.
Bulma: You must really be dying to make your wish. But it's really late now. You guys must be tired from all that sparring.
Vegeta: Not hardly. Kakarot gave them senzus.
Cuber: Yes, we're fine now.
Bulma: That's good to hear. You should get some rest, though. It's no good searching for Dragon Balls in the dark. In the morning, I can lend you the Dragon Radar. Until then, how about staying here for the night? That is, unless you have somewhere else to stay.
Chaiva: We can stay in our ships.
Cuber: <TO BULMA> But since we're already here, we'll take your offer.
Bulma: Okay, I'll have rooms prepared for you. I'm sure Trunks will be excited to have someone his age sleeping over.
Cuber: <TO BAOCHOI> You hear that, Baochoi? You'll finally have a non-Mrovian kid to talk to.
Trunks: <HE SUDDENLY SHOOTS THROUGH THE AIR, A WHITE AURA AROUND HIM, AS HE APPROACHES BAOCHOI> Hey. You must be Baochoi.
Baochoi: Yeah, what about me?
Trunks: You're a Saiyan too, aren't you? I betcha aren't nearly as strong as me!
Baochoi: I don't know about that.
Bulma: <SLIGHT NERVOUS LAUGHTER; TRYING TO CALM HER SON DOWN> Okay boys! You can test your strength against one another tomorrow. In the meantime, let's find you your rooms…
<BULMA LEADS THEM INSIDE; LEDAS LAGS BEHIND>
Ledas: Alright, well I'll see you guys later. <TO CUBER AND CHAIVA> Have fun. And good luck finding the Dragon Balls. Bulma's radar is a lifesaver.
Chaiva: Bye, Ledas.
Cuber: We'll see you around.
<LEDAS SHOOTS OFF INTO THE SKY, LEAVING THE REST OF THEM BEHIND>
<CUTS TO A DARK OFFICE ROOM; BEHIND A LARGE DESK IS A MAN WHOSE FACE IS OBSCURED BY SHADOWS, WEARING A SUIT AND TIE; THE CAMERA THEN CUTS TO BEHIND THIS MAN, WHO IS STARING AT AN OPEN SAFE BELOW HIS DESK, REVEALING A PAIR OF DRAGON BALLS WITHIN – THE THREE-STAR AND THE FIVE-STAR; WE WILL CALL THIS MAN YAMAGUCHI>
Yamaguchi: <THINKING TO HIMSELF> Only five more remain. If the legend is true, I will be able to wish for anything my heart desires. I will rid myself of King Furry and his lackeys and rule the world with an iron fist!
<WITHIN A FEW SECONDS, CUBER BURSTS THROUGH THE WALL FROM THE SIDE OF THE ROOM; THE SHEER IMPACT THROWS YAMAGUCHI AND HIS TWO BODYGUARDS ON THE OTHER SIDE OF THE ROOM AGAINST THE WALL OPPOSITE OF WHICH CUBER ENTERED; THE SAIYAN LIFTS THE RADAR AND THEN LOOKS TO THE SAFE BEFORE TEARING A HOLE THROUGH IT WITH HIS LEFT HAND AND RETRIEVING BOTH DRAGON BALLS AT ONCE; COMPLETELY IGNORING THE HUMANS, HE THEN LEAVES OUT THE SAME HOLE HE MADE>
Yamaguchi: <LIFTING HIS HEAD> Wha-what just happened? <LOOKS TO THE SAFE> No…
<YAMAGUCHI GETS UP AND FRANTICALLY MAKES HIS WAY TO THE SAFE; THE DRAGON BALLS ARE, OF COURSE, NO LONGER WHERE HE HAD LEFT THEM>
Yamaguchi: <MORE FORCEFULLY THAN BEFORE> No…!
<CUTS TO A DENSE RAINFOREST; SUDDENLY, CUBER DESCENDS RAPIDLY, CAUSING MANY LEAVES TO FALL FROM THE TREETOPS, AND STOPS LESS THAN A METER ABOVE THE GROUND; FOUR DRAGON BALLS ARE TELEKINETICALLY SUSPENDED AROUND HIM; HE LIFTS HIS RADAR, AND THEN LOOKS PAST IT TO SEE THE GLITTERING TWO-STAR DRAGON BALL ON THE FOREST FLOOR NO MORE THAN TWO DOZEN METERS AWAY; CUBER FLIES UP TO THE ORB, LANDS, AND PICKS IT UP OFF THE GROUND>
Cuber: <LOOKING AT THE RADAR> Alright, two more.
<CUTS TO CUBER BREACHING THE SURFACE OF THE OCEAN, DRAGON RADAR STILL IN-HAND; NOW SIX DRAGON BALLS HOVER BY HIM WHILE THE SEVENTH IS IN HIS LEFT HAND>
Cuber: Now to find a place to set them all down.
<CUTS TO CUBER ARRIVING AT AN EMPTY BEACH; HE TELEKINETICALLY SETS ALL SEVEN DRAGON BALLS DOWN IN THE SAND IN FRONT OF HIM>
Cuber: Alright, uh… Eternal Dragon, by your name I summon you forth: Shenron!
<THE DRAGON BALLS PROMPTLY GLOW AND SHENRON MATERIALIZES; THE SKIES DARKEN AS THEY NORMALLY DO WHENEVER AN ETERNAL DRAGON IS SUMMONED; STORMCLOUDS FORM OVERHEAD AS LIGHTNING CRACKS>
Shenron: I am Shenron. State your wishes and I shall grant them.
Endnotes:
Hyper Zergling named this chapter. Not one of the stronger CV chapter names in my opinion.
HZ wrote most of this chapter. I wrote for Bulma, Vegeta, and some of Goku's dialogue.
I added in the first line of this chapter, as HZ just went into the battle. Gotta set the scene a bit to make it less awkward.
The choreography of teamwork between Chaiva and Cuber against Goku was well-written in my opinion.
Probably could've had a bit more of SS3 Goku beating up on Cuber and Chaiva, but I understand that they probably didn't have the power levels to put up with such a beating.
The conversation about Buu was a good way to incorporate Chaiva and Cuber into the Z Fighters a little bit more. At best they will be allies, but it doesn't hurt to know a bit about those you are allied with, especially fellow Saiyans.
I don't think any of our fanon Saiyan respects Goku for his personality. Sure, he's a good fighter, but he's an oddball and fights in an inefficient way. Tactically, Vegeta is much better than him. Also nice burn by Ledas at Vegeta. Don't see that too often.
If the Saiyans had stayed in their ships, Bulma might've been offended and not given them the Dragon Radar, which would have been hilarious. I wonder what Cuber would have done in that scenario.
Whatever is the opposite of charisma, Baochoi oozes it.
The Yamaguchi scene reminds me of the scene with that guy in the forest collecting the Dragon Balls during the wait before the Cell Games. If I remember correctly, he had cyborg Tao as his bodyguard and was harrassing a girl named Lime, whom Gohan eventually saved. Good times. Yamaguchi is similarly in a tough place here, for dealing with someone of Cuber's caliber is just not a possibility.
In my universe, the Morizakura-gumi are yakuza allies of Cardinal and his New Red Ribbon Army. They become allies during Nineteen Assassins, and will be featured somewhat infrequently in Heart of the Dragon (mostly in the unposted West City Saga).
Chapter 11: The One-Day Earth Adventure

[

]
<IN A BAR AT THE BAR SEATS ARE TWO INDIVIDUALS SITTING NEXT TO EACH OTHER; ONE IS A LARGE, MUSCULAR MAN WITHOUT A SHIRT AND WITH DRAGON TATTOOS ALL OVER HIS TORSO AND ARMS; NEXT TO HIM IS A THIN WOMAN OF AVERAGE HEIGHT, WEARING A BIKINI TOP AND JEANS WHILE ALSO POSSESSING TATTOOES SIMILAR TO HER PARTNER'S>
Yamaguchi: <THROUGH THE PAIR'S EAR PIECES> Akagi! Yamato!
Yamato: <SHE IS THE FEMALE> What is it, boss?
Yamaguchi: <THROUGH COMMUNICATOR> Something has collected all of the Dragon Balls and summoned the Eternal Dragon only three kilometers west of your position. Retrieve them at once; use the wish for yourselves, and I will have your heads, do you understand me?
Yamato: We're on our way.
<YAMATO AND AKAGI STAND UP FROM THEIR SEATS>
Yamato: You ready to test out the enhancements, Kosaburo?
Akagi: Finally.
<CUTS TO CUBER, WHO IS STILL STANDING BEFORE SHENRON AT THE SAME BEACH FROM THE PREVIOUS CHAPTER>
Cuber: I wish for all of the Mrovians slain by Yuki to be brought back to life.
Shenron: That is not an easy wish… but I shall try my best. <SHENRON'S EYES GLOW BRIGHTER AND THEN FADE BACK TO NORMAL SOON AFTER> Your wish has been granted. However, there is now but a single wish remaining.
<CUBER LOOKS AROUND FOR THE MROVIANS AND SEES THAT HIS ENVIRONMENT IS UNCHANGED>
Cuber: <TELEPATHICALLY, THROUGH NEURAL IMPLANT> Admiral Saibron, are you there?
Saibron: <THROUGH COMMUNICATOR> Yes, Cuber. What just happened?
Cuber: <TELEPATHICALLY THROUGH COMMUNICATOR> I just revived you and the others using these artifacts from planet Earth called the Dragon Balls. Where are you?
Saibron: <THROUGH COMMUNICATOR> We are suspended in the vacuum of space where Typhon should exist. Worry not, however; our suits will sustain us far beyond the time it will take for us to be rescued.
Cuber: <TELEPATHICALLY THROUGH COMMUNICATOR> Understood. It's good to hear from you again, Admiral.
<CUBER STANDS FOR A FEW SECONDS, STARING AT THE DRAGON BALLS AND LOST IN THOUGHT>
Cuber: <THINKING TO HIMSELF> If the Mrovians on Typhon were revived at Typhon, then Kailon would be revived where he died… But I don't have two wishes to work with… <LOOKS FORWARD, TELEPATHICALLY THROUGH COMMUNICATOR> Master, I have a huge favor to ask.
Salhior: <THROUGH COMMUNICATOR> What is it, Cuber?
Cuber: <TELEPATHICALLY THROUGH COMMUNICATOR> With one more wish at my disposal, I wish to revive my brother, Kailon. As you know by now, when the Dragon Balls revive the deceased, they will end up where they died. So… can you and Aysuida go to where Nitro killed my brother?
Salhior: <THROUGH COMMUNICATOR> And you wish for Aysuida and myself to go should your brother have grown substantially more powerful and prove to be hostile to the sight of unknown entities.
Cuber: <TELEPATHICALLY THROUGH COMMUNICATOR> Yes… I know it's risky, but can you do this for me?
Salhior: <THROUGH COMMUNICATOR> We will retrieve your brother. When we are in place, I will notify you. Due to the distance of travel, however, you will need to wait for a short time.
Cuber: <TELEPATHICALLY THROUGH COMMUNICATOR> Thank you, master.
<CUTS TO ANOTHER PART OF THE BEACH, FURTHER INLAND; A SEDAN PARKS IN THE SAND, AND ITS DOORS OPEN; YAMATO AND AKAGI STEP OUT, THE LATTER FROM THE DRIVER'S SEAT; YAMATO THEN GOES TO THE BACK OF THE CAR AND OPENS THE TRUNK, REVEALING A ROCKET-PROPELLED GRENADE>
Akagi: Come on, Kasumi, we won't need that.
Yamato: <AS SHE LIFTS THE RPG OUT OF THE TRUNK> You can never be too careful.
<CUTS BACK TO CUBER; THE TWO GANG MEMBERS APPROACH HIM FROM BEHIND>
Akagi: Hey, you!
<CUBER GLANCES BACK AT THE PAIR>
Akagi: Yeah, I'm talkin' to you.
Yamato: <TO CUBER> The Dragon Balls – they belong to us. Hand 'em over, and things won't get messy.
<CUBER THEN LOOKS AWAY, BACK TO THE DRAGON BALLS IN FRONT OF HIM>
Akagi: Why you little–
Yamato: <TO AKAGI> He's got guts; I'll give him that.
Akagi: <TO YAMATO> We're wasting our time here. <WALKS TOWARDS CUBER> This'll be over quickly.
<AKAGI THEN GOES IN FULL SPRINT BEFORE LEAPING TOWARDS CUBER WITH HIS RIGHT HAND RAISED HIGH ABOVE HIS OWN HEAD; CUBER THEN TURNS AROUND A FULL 180 DEGREES AS AKAGI'S HAND COMES DOWN IN A CHOP JUST NEXT TO THE SAIYAN'S NECK; THE UNFAZED CUBER CAUSES AKAGI'S EYES TO WIDEN IN SHOCK AS SWEAT DROPS OF NERVOUSNESS ROLL UP HIS FACE, COMPLETELY DEFYING GRAVITY>
Akagi: <COLLAPSING TO HIS KNEES, LEFT HAND HOLDING RIGHT WRIST, HAVING JUST NOTICED THE PAIN> Ahhhh!
Yamato: Kosaburo!
Cuber: You trying to mug me?
<CUBER LIFTS HIS OWN RIGHT HAND HIGH ABOVE, AND THEN BRINGS IT DOWN IN A CHOP NOT UNLIKE AKAGI'S; ON IMPACT, HOWEVER, AKAGI EXPLODES; HIS REMAINS SCATTER IN ALL DIRECTIONS AND ALSO COVER CUBER IN BLOOD>
Cuber: Don't interfere with my wishing.
<WITHOUT A WORD, YAMATO AIMS HER RPG AT CUBER AND PULLS THE TRIGGER; THE ROCKET STOPS WITH CUBER'S RIGHT HAND AROUND THE PROJECTILE, HOLDING IT IN PLACE AS YAMATO'S EYES WIDEN IN FEAR; THE THRUSTERS EVENTUALLY SPUTTER AND DIE OUT>
Yamato: I wi–
<IN ONE SWIFT MOTION, CUBER LIGHTLY TOSSES THE WARHEAD UPWARDS, SPINNING IT 180 DEGREES BEFORE CATCHING IT, AND THEN HE THROWS THE ROCKET RIGHT BACK AT YAMATO LIKE A GRIDIRON FOOTBALL BEFORE SHE CAN FINISH HER WORD; SURE ENOUGH, THE PROJECTILE EXPLODES ON IMPACT, KILLING HER INSTANTLY>
Cuber: So that's what that was supposed to do.
<CUBER THEN COVERS HIS ENTIRE BODY IN BLUE-WHITE ENERGY FOR A FEW SECONDS; WHEN HE RETURNS TO NORMAL, THERE IS NO LONGER BLOOD ON HIM>
<CUTS TO CAPSULE CORP, INSIDE VEGETA'S GRAVITY TRAINING ROOM; LEDAS, CHAIVA, AND VEGETA ARE STANDING NEAR THE CENTER OF THE ROOM; OFF IN THE DISTANCE, TRUNKS AND BAOCHOI ARE SPARRING>
Ledas: Pretty cool, huh? Dr. Brief upgraded the gravity machine a couple months back, and now it can reach up to 600g. Vegeta and I have been training in that. Think you can keep up?
Chaiva: Cuber and I already train in 600g.
Vegeta: Oh really? Why don't you prove it?
Chaiva: <BECOMING SUPER SAIYAN> You'll see in a moment.
Ledas: <GRINNING; HE TURNS SUPER SAIYAN AS WELL> Oh, this is gonna be fun! I'll beat you for sure.
Vegeta: Trunks, Baochoi! Go spar outside for a while. We're going to crank up the gravity to 600.
Trunks: Aw, come on, dad!
Vegeta: <GLARING AT HIM> Now!
<WINCING WITH FRIGHT, TRUNKS MUTTERS SOMETHING TO THE OTHER SAIYAN, WHO SEEMS TO BE A LITTLE CONFUSED, BUT FOLLOWS HIM OUT NONETHELESS>
Vegeta: <GOING SUPER SAIYAN 2 WITHOUT SO MUCH AS A GRUNT> Computer, raise the gravity to six hundred times normal.
<THE LIGHTS DIM TO RED; THE THREE OF THEM ALL REACT TO THE HIGHER GRAVITY, THOUGH THEY ARE ABLE TO REMAIN STANDING>
Ledas: Looks like you weren't lying. I'm impressed.
Vegeta: <FOLDING HIS ARMS AND TAKING A STEP BACK> Show us what you can do.
<CUE ELYSIUM BY CHELSEA GRIN>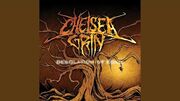 <CHAIVA GOES INTO HER FIGHTING STANCE; LEDAS GOES INTO HIS HAZUMI STANCE; CHAIVA ACTS FIRST, LEAPING AT LEDAS WITH A REACHING DOUBLE KICK; LEDAS DUCKS UNDER CHAIVA'S FOOT AND THEN STANDS BACK UP, BUT ONLY FOR CHAIVA'S NEXT ATTACK, THE SUBSEQUENT LEFT FLYING ROUNDHOUSE KICK, TO CONNECT WITH THE SIDE OF HIS HEAD; LEDAS THRUSTS HIS PALM OUT AT HER, SHOOTING A COLORLESS KIAI, KNOCKING HER BACK; WITHOUT WAITING, LEDAS LUNGES AT HER WITH A RIGHT FIST, FORCING CHAIVA TO PUT UP AN ENERGY SHIELD, BLOCKING THE BLOW; HE CONTINUES THE OFFENSIVE, THROWING OUT SEVERAL MORE PUNCHES FROM EACH FIST>
<THE FEMALE SAIYAN RETREATS AS SHE DEACTIVATES HER ENERGY SHIELD, PROMPTING LEDAS TO PURSUE; SHE JUMPS BEFORE PERFORMING A LEFT SPINNING BACKFIST, STRIKING LEDAS ACROSS THE JAW; THIS TIME, CHAIVA FOLLOWS AND HITS LEDAS THREE MORE TIMES IN QUICK SUCCESSION, A LEFT JAB, A RIGHT STRAIGHT PUNCH, AND A RIGHT KNEE, THE LAST OF WHICH SENDS HIM FURTHER BACK; CHAIVA THEN SURROUNDS HER LEFT FIST IN BLUE-WHITE KI AND GOES FORWARD; HER KI-CHARGED FIST RISES IN AN UPPERCUT (CALLED CHASING UPPERCUT), BUT FLIES RIGHT THROUGH LEDAS' AFTERIMAGE AND LANDS ON HER SIDE, DENTING THE FLOOR BENEATH AS SHE SLIDES ACROSS IT>
<SHE GLANCES BACK TO SEE LEDAS BEHIND HER, GETS BACK ONTO HER FEET, AND JUMPS IN PREPARATION FOR ANOTHER BACKFIST LIKE THE ONE BEFORE, BUT HER OPPONENT DROP-KICKS HER BEFORE SHE CAN GET HER ATTACK OUT; LEDAS IMMEDIATELY FOLLOWS UP WITH A LEFT PUNCH, RIGHT BACKHAND CHOP, ANOTHER LEFT PUNCH, A RIGHT PUNCH, ANOTHER KIAI FROM THE LEFT HAND, AND THEN A RIGHT GUT PUNCH>
<CHAIVA FLIES BACK FROM LEDAS' PUNCH; JUST BEFORE IMPACTING THE WALL OF THE GRAVITY CHAMBER, CHAIVA EXTENDS HER RIGHT HAND BEHIND HERSELF AND WITH IT AND BOTH OF HER FEET, SHE GREATLY SOFTENS THE COLLISION AGAINST THE SURFACE BEHIND HER; SHE THEN DROPS BACK TO THE GROUND ON HER FEET, WITH HER LEFT HAND OVER HER ABDOMEN WHERE LEDAS HAD JUST PUNCHED; BOTH SAIYANS GO BACK INTO FIGHTING STANCES BEFORE CHARGING AT EACH OTHER>
<THE WOMAN GOES IN WITH ANOTHER REACHING DOUBLE KICK; LEDAS BLOCKS IT WITH HIS RIGHT FOREARM, BUT THE SECOND KICK HITS HIM IN THE SIDE OF THE HEAD AGAIN, SENDING HIM FALLING TO THE LEFT; CHAIVA GRABS LEDAS BY THE THROAT AND THEN CHOKESLAMS HIM INTO THE FLOOR, DENTING IT; THE BOY RELEASES A BLUE EXPLOSIVE WAVE, KNOCKING HER OFF AND AWAY FROM HIM; HE JUMPS TO HIS FEET, SPINNING ON HIS HEELS, AND CHARGES AT HER WITH A LEFT SUPERMAN PUNCH; CHAIVA PUTS UP AN ENERGY SHIELD IN RESPONSE; AS LEDAS' FIST BOUNCES OFF THE SHIELD, CHAIVA DEACTIVATES IT AND REACHES OUT WITH HER RIGHT HAND TO GRAB HIM AGAIN, BUT HE JUMPS IN THE AIR BEFORE CRASHING DOWN ON HER WITH A RIGHT ELBOW; HE FOLLOWS THIS UP WITH A QUICK RIGHT JAB, LEFT JAB, THEN JUMPS IN THE AIR AND HITS HER TWICE WITH RIGHT KICKS, FOLLOWED UP BY A MORE POWERFUL SIDE KICK WITH THE SAME LEG, KNOCKING HER AWAY>
<CHAIVA ONCE AGAIN SOFTENS HER IMPACT AGAINST THE WALL WITH HER HAND AGAINST IT, AND WITH LEDAS WAITING FOR HER, SHE RUSHES TO HIM WITH YET ANOTHER REACHING DOUBLE KICK, THE FIRST OF WHICH LEDAS LEANS AWAY FROM, AND THE SECOND OF WHICH HE TELEPORT-DODGES; AS CHAIVA LANDS, LEDAS APPEARS BEHIND HER, COMING DOWN WITH HIS LEFT HEEL, BUT CHAIVA NOTICES HIM; SHE JUMPS AND INTERCEPTS LEDAS WITH A LEFT SPINNING BACKFIST, KNOCKING HIM SOME DISTANCE AWAY; AS LEDAS IS STILL IN PAIN, CHAIVA FLIES ABOVE HIM AND BICYCLE-KICKS HIM INTO THE GROUND WITH HER RIGHT FOOT, AND THEN IMMEDIATELY KICKS HIM OFF THE DENTED FLOOR WITH A LEFT SWEEPING ROUNDHOUSE KICK; CHAIVA THEN LEAPS OVER LEDAS AND DOUBLE-FOOT-STOMPS HIM BACK INTO THE GROUND>
<THE BOY ROLLS ASIDE AND SPRINGS UP TO HIS FEET, MOVING AWAY LOW IN THE AIR TO GAIN SOME DISTANCE FROM HIS OPPONENT; CHAIVA, BACK AT GROUND-LEVEL, GOES AFTER LEDAS WITH A CHASING UPPERCUT, THIS TIME HITTING HIM SUCCESSFULLY AND LAUNCHING HIM ABOVE HER BEFORE STRIKING HIM AWAY WITH A BACK-FLIP KICK FROM HER RIGHT LEG; WITH LEDAS STILL STUNNED, CHAIVA FLIES INTO HIM WITH HER LEFT KNEE, HER ENTIRE BODY COVERED IN BLUE-WHITE KI AND HER KNEE SURROUNDED BY PLASMA ARCS>
<TUMBLING THROUGH THE AIR, LEDAS CRASHES AGAINST THE FAR WALL, THOUGH BY THE TIME HE DOES, HE HAS SUFFICIENTLY SLOWED HIS MOMENTUM TO NOT DAMAGE IT; KICKING OFF FROM THE WALL, HE FRONT-FLIPS TO THE GROUND, WIPING THE SWEAT FROM HIS BROW AND LEANING FORWARD, HOLDING HIS ABDOMEN, WHERE HE HAD JUST TAKEN A BRUTAL HIT FROM CHAIVA'S ENDING KNEE; CHAIVA LOWERS HER GUARD>
Chaiva: Aren't you supposed to be stronger than Cuber?
Ledas: <BREATHING HARD, HE LOOKS UP AT HER AND CAN'T HELP BUT CHUCKLE> Do you really wanna find out?
Chaiva: <GOING BACK INTO HER FIGHTING STANCE> You'd better not disappoint.
Ledas: You better keep up!
<HIS AURA ERUPTS AROUND HIM, COATING HIS BODY, PARTICULARLY HIS FEET AND FISTS, IN GOLDEN KI; TAKING A DEEP BREATH, LEDAS FALLS INTO HIS HAZUMI STANCE AGAIN BEFORE SPRINGING HIMSELF AT HER WITH A FLYING LEFT KICK; CHAIVA PUTS UP AN ENERGY SHIELD; CRASHING INTO IT, LEDAS SHOOTS AWAY FROM HER, AND THEN DISAPPEARS, USING MUCH FASTER SPEED TO TELEPORT TO HER LEFT SIDE, ATTEMPTING TO SWEEP HER LEGS OUT FROM UNDERNEATH HER; CHAIVA DEACTIVATES HER SHIELD AND LEAPS UP ABOVE LEDAS BEFORE COMING BACK DOWN IN ANOTHER DOUBLE-FOOT STOMP; USING HIS HANDS TO PUSH OFF THE FLOOR, HE BACK-HANDSPRINGS AWAY JUST IN THE KNICK OF TIME; SUDDENLY THROWING HIMSELF AT HER AGAIN, HE ONCE MORE COMES DOWN ON HER WITH A RIGHT ELBOW, BUT SHE DASHES OUT OF THE WAY AND THEN THROWS OUT ANOTHER LEFT AERIAL SPINNING BACKFIST, WHICH HE NARROWLY AVOIDS BY TWISTING HIS BODY TO THE SIDE>
<IMMEDIATELY AFTER CHAIVA'S ATTACK, LEDAS THROWS HIMSELF AT HER AGAIN WITH ANOTHER SUPERMAN PUNCH; SHE BACKS AWAY FROM THE ATTACK, BUT HE PURSUES AGGRESSIVELY WITH A RIGHT CASTING PUNCH, WHICH HITS HER IN THE CHEEK; STUNNED, CHAIVA IS UNABLE TO DEFEND AGAINST HIS LEFT HOOK TO THE JAW, FOLLOWED UP BY A RIGHT LEOPARD PUNCH TO THE THROAT; AS CHAIVA STAGGERS BACK, HE THRUSTS HIS LEFT PALM IN HER FACE, THIRTEEN PINK BALLS OF KI FORMING IN A CIRCLE (WITH ONE OF THE BALLS BEING IN THE MIDDLE) IN FRONT OF HIS HAND; THE ENERGY BALLS SHOOT AT CHAIVA, EXPLODING ON CONTACT AND COVERING HER IN A CLOUD OF SMOKE; HE DOES NOT PURSUE, BUT FOLDS HIS ARMS, WAITING FOR HER TO TRY SOMETHING, HIS TAIL MOVING ABOUT SLIGHTLY>
<CHAIVA EMERGES FROM THE SMOKE, PREPARING THE FIRST KICK IN THE REACHING DOUBLE KICK; LEDAS LEANS TO THE RIGHT, DODGING HER ATTACK, AND HITS HER WITH A LEFT-FOOTED ROUNDHOUSE KICK OF HIS OWN, THE FORCE OF WHICH PUSHES HER BACK, ALLOWING HIM TO SHOOT A SLEW OF SMALL CYAN KI BLASTS AT HER STOMACH; BEFORE THE LAST BLAST EXPLODES, HE THROWS HIMSELF INTO THE AIR, HITTING HER WITH A FLYING SIDE KICK THAT SPINS HER AROUND; LEDAS FOLLOWS THAT UP WITH A RIGHT ELBOW THAT SENDS HER FLYING AWAY FROM HIM; HE TELEPORTS IN FRONT OF HER AND DROP-KICKS HER BACK TO WHERE SHE CAME FROM, THOUGH THE WOMAN IS ABLE TO STEADY HERSELF BEFORE HE REACHES HER AGAIN; AS THE BOY AIR DASHES UP TO HER, SHE ATTEMPTS ANOTHER FLYING BACKFIST, BUT HE PARRIES THAT ASIDE AND GOES FOR A LEFT-HANDED CHOP TO HER TEMPLE, FOLLOWED BY ANOTHER LEOPARD PUNCH; HOWEVER, THE LAST ATTACK WAS MERELY A FEINT, AND HIS FIST PASSES BY HER NECK; HE CATCHES THAT WITH HIS OTHER HAND, PULLING HIS ARMS AROUND HER NECK IN A CHOKEHOLD; AS THE YOUNGER SAIYAN SPINS HALFWAY AROUND HER UNTIL HE'S BEHIND HER, LEDAS PULLS CHAIVA TO THE GROUND, MAINTAINING THE HOLD AS SHE STRUGGLES TO BREAK FREE; AFTER A FEW SECONDS, HE RELEASES HER AND JUMPS BACK, FOLDING HIS ARMS AGAIN, HIS HAIR REVERTING TO BLACK; SHE GETS TO HER FEET AND REVERTS TO HER BASE FORM AS WELL>
Ledas: Not bad, Miss Chaiva. You're almost half as strong as your daughter. That was fun.
Chaiva: <PANTING> Heh, it's been too long since someone besides Cuber beat me one-on-one.
Ledas: Now whaddya say we get some breakfast?
Vegeta: <ANNOYED> We've already had it.
Ledas: We had one, yes, but what about second breakfast?
<VEGETA ROLLS HIS EYES AND SHAKES HIS HEAD>
Chaiva: I don't think he knows about second breakfast, Ledas.
<CUTS TO CUBER AND SHENRON SOME TIME LATER>
Salhior: <OVER COMMUNICATOR> We are ready.
Cuber: <TELEPATHICALLY OVER COMMUNICATOR> Alright, Kailon should appear soon. <HE TAKES A DEEP BREATH> Shenron, I wish for my brother Kailon to be brought back to life.
Shenron: A simple wish.
<SHENRON'S EYES GLOW BRIGHTER IN RESPONSE>
<CUTS TO SALHIOR AND AYSUIDA, THE FORMER OF WHOM HAS HIS MASK OVER HIS FACE AND THE LATTER OF WHOM WEARS THE STANDARD FULLY-SEALED NAVAL ARMOR AND IS RECOGNIZABLE BY HER KATCHIN GLAIVE AND SHIELD; BEHIND THEM IS THE LANCE OF MROV, WHICH ITSELF IS SURROUNDED BY OTHER MROVIAN SHIPS; A YELLOW-WHITE LIGHT APPEARS SEVERAL KILOMETERS IN FRONT OF THE MROVIANS>
<CUTS BACK TO CUBER AND SHENRON>
Shenron: Your wishes have been granted. Farewell.
<SHENRON SLOWLY DISINTEGRATES, AND THEN THE DRAGON BALLS SHOOT UP TOWARDS THE SKY IN A GOLDEN MASS OF LIGHT BEFORE SPLITTING OFF IN DIFFERENT DIRECTIONS>
Cuber: <TELEPATHICALLY OVER COMMUNICATOR> Master?
<SALHIOR DOES NOT RESPOND>
Cuber: <TELEPATHICALLY OVER COMMUNICATOR> Aysuida?
Aysuida <OVER COMMUNICATOR> My father is speaking to your brother.
Cuber: <TELEPATHICALLY OVER COMMUNICATOR> Kailon? He's there now?
Aysuida: <OVER COMMUNICATOR> Yes, and fully grown, no less. We are about to escort him to the Lance of Mrov. Return to Glaysia as soon as you are able.
Cuber: <TELEPATHICALLY OVER COMMUNICATOR> Thank you… both of you.
Salhior: <OVER COMMUNICATOR> Our pleasure. Make haste, Cuber, you do not wish to keep your brother waiting.
Cuber: <TELEPATHICALLY OVER COMMUNICATOR> Of course.
<CUTS TO LATER, WITH CUBER AND BULMA AT THE LATTER'S FRONT DOOR>
Cuber: <HANDING THE DRAGON BALL RADAR TO BULMA> Thanks for the radar, Bulma.
Bulma: You're welcome. Will you be staying over again?
Cuber: No, I will be heading home today.
Bulma: Your wife and son are still training with Vegeta and Trunks.
Cuber: I know. I'm about to let them know that I'm leaving.
Bulma: I'll come with you.
<CUTS TO JUST OUTSIDE THE GRAVITY CHAMBER; CUBER, BULMA, CHAIVA, LEDAS, BAOCHOI, VEGETA, AND TRUNKS ARE PRESENT>
Cuber: I'm about to leave Earth for Glaysia.
Chaiva: You got what you came for?
Cuber: Yes. The Mrovians have been revived and Kailon will be waiting at Glaysia. Are you and Baochoi coming with me?
Chaiva: I will be staying on Earth for a little longer. I'm taking a break from the Mrovians.
Cuber: You're not going to see Kailon?
Chaiva: I'll see him in good time. Enjoy your reunion. I'm sure you miss him as much as you missed me.
Cuber: What about you, Baochoi? Are you ready to meet uncle Kailon?
Baochoi: Uncle Kailon? Will he still be a kid or will he be grown up?
Cuber: He's an adult now, but I'm sure he's still cool.
Baochoi: Okay, dad. I'll go home with you. I've only known uncle Kailon from your stories about him, but I really want to see him for real.
Trunks: <TO BAOCHOI; SEEMS SOMEWHAT SAD BUT IS MASKING IT WITH ARROGANCE> Leaving already? Fine then, go. See if I care. <BULMA SMACKS HIM IN THE BACK OF THE HEAD FOR BEING SO RUDE> Ow, mom, stop it!
Bulma: <QUIETLY> Show some manners, Trunks!
Baochoi: <GRACEFULLY POLITE> It was fun, Trunks. I'll see you again next time.
Trunks: <HEAD BOWED; MORE OBVIOUSLY SAD> Yeah, see ya…
Ledas: Have fun you guys. <HE SIDEWAYS GLANCES AT CHAIVA> Sometime soon, I'll visit Mrov to see if this Kailon guy really was worth reviving. Maybe he'd be up for a sparring session?
Cuber: He's my brother, Ledas, and his birth Power Level was so high, my father sent him away so that King Vegeta wouldn't kill him out of jealousy. I wouldn't underestimate him, especially now.
Vegeta: Or maybe he was weak like the rest of the low-class trash.
Cuber: You'd like to think that, wouldn't you, Prince?
Chaiva: Yeah, he was no joke back then. And this is coming from someone who isn't even his sibling.
Vegeta: Hmph.
Ledas: Now now, Vegeta, even I remember that the king only sent low-class babies away like that. I mean, do I have to bring up Tarble? Kailon must have higher potential than Kakarot. With proper training, he might become the strongest amongst us.
Cuber: We'll see. Alright, Baochoi, you ready?
<BAOCHOI NODS>
Bulma: It was nice meeting you, Cuber, and you too Baochoi. <SHE SCRUNCHES UP HER FACE AND LEANS DOWN TO PAT BAOCHOI ON THE HEAD> Trunks could always use another sparring partner besides Goten, so come back any time!
Vegeta: <ARMS FOLDED, LOOKING AWAY> I'll have Ledas contact you if we ever need your help.
Cuber: Sure thing. Goodbye, everyone, and thanks for the warm welcome.
<CUTS TO GLAYSIAN ORBIT, WITH THE LANCE OF MROV IN VIEW; CUBER'S MROVIAN TRANSPORT APPROACHES IT, INITIALLY FROM BEHIND THE CAMERA>
<CUTS TO A PAIR OF AUTOMATIC DOORS WITHIN THE LANCE OF MROV; THEY OPEN, REVEALING BOTH CUBER AND BAOCHOI WHO STEP INSIDE>
Kailon: It's about damn time.
Endnotes:
This chapter was named by HZ. Decent chapter name in my opinion.
Hyper Zergling wrote most of this chapter. I only contributed to the scenes with Ledas and Chaiva, writing for all characters not named Chaiva there and also doing most of the fight choreography.
When Hyper Zergling wrote this, he also immediately wrote what became chapter 12, although that was part of this chapter at the time. That made this chapter significantly too long so there was a split made. Importantly, this was done before we decided to come back and write more for Ledas and Chaiva's fight, and it was because of how HZ wrote that fight that I wanted to redo Ledas and Chaiva's for reasons that will be mentioned in the endnotes for chapter 12.
Reviving Saibron's crew first was necessary to save Kailon from dying in the cold of space. Cuber didn't know that the revived people would spawn again where they died, not at Shenron's location, which is what he assumed. Also, they are only gathering the Dragon Balls to revive those Yuki killed, so it wouldn't make sense for him to revive Kailon in the first place, only if there was a leftover wish.
I'm sure Shenron was not too happy to have to wait for Salhior to find Kailon's location. Lucky for him that Mrovian transports are so quick.
I am somewhat surprised that Yamato didn't scream in anger/sorrow at Akagi's horrific death.
Poor Yamato and Akagi. They were just innocent gangsters, loyal to their master to the very end. A calamitous end for the lovebirds if I do say so myself.
I requested that HZ write a scene with Trunks and Baochoi sparring but he thought that was unnecessary.
Chaiva and Cuber already training in 600g was too convenient. I mean, of course they had already trained at that level (despite Chaiva being so much weaker than Ledas and Vegeta). Like, all Ledas was trying to do was have a little fun, and Chaiva had to just boast, unimpressed at what my character had said, yet again in perhaps the most unlikeable of ways. Where is the back and forth? Where is the chemistry between characters? Why would anyone bother wasting the time to talk to Cuber or Chaiva when all they do is stuff like that.
I don't have any opinion on the song being used in Ledas and Chaiva's fight.
HZ and I went back and forth on the fight scene, mostly writing for our characters, but writing a bit for each other's character when it was appropriate. We also discussed the choreography over discord in detail.
Ledas and Chaiva did not use too many ki attacks because they were inside Vegeta's gravity chamber and didn't want to damage it too much. That suited Hyper Zergling's style of writing fights in my opinion.
The re-written fight scene is really good in my opinion. No complaints from me.
The second breakfast comments were a reference to this scene from The Lord of the Rings: The Fellowship of the Ring.
Following the conversation about second breakfast, I didn't write anything else in the remaining scenes of Cold Vengeance until "Bedtime". I could have possibly written for Bulma after Cuber goes to talk to her, but the revision in our doc is messed up for that part of the writing so I don't know for certain.
It was nice to get Kailon back. Him growing up was perhaps a bit of convenience but whatever. We each get our one self-service moment (at least). Ledas' would be not aging.
Cuber was well-written when it came to him being excited and grateful for Kailon's revival.
Chapter 12: Brothers

[

]
<THE CAMERA SHOWS KAILON, WHO STANDS UP FROM HIS SEAT; HE IS NOW AN ADULT AND EASILY IDENTIFIABLE BY BOTH HIS HAIR, HIS EYES, AND HIS ARMOR, WHICH IS A FULLY-REPAIRED VERSION OF THE SAME SET HE WORE AS A TODDLER>
Cuber: Kailon! <WALKING TOWARDS KAILON, ARMS WIDE FOR A HUG> Come on.
<KAILON RESPONDS IN KIND AND THE BROTHERS HUG FOR A BRIEF MOMENT>
Cuber: So how've you been? It's been so damn long.
Kailon: Well, besides you putting me in space without warning, and then making me wait two hours for you to finally show up in person, I've been mostly fine. <LOOKS AT BAOCHOI> Hey, Baochoi.
Baochoi: How do you know my name?
Kailon: In the afterlife, I trained with this old guy who calls himself the Grand Kai, and he kept me up with current events by showing them live.
Cuber: The afterlife? Wait, did you get to see Dad? Mom?
Kailon: Yeah, the Grand Kai let me visit them a few times. He even let them watch you, brother. Each time, they tell me that their really proud of both of us.
Cuber: That's… awesome. <GESTURES TO THE SEATS KAILON WAS ORIGINALLY SITTING ON> Come on, sit. We've got a lot to talk about.
<ALL THREE SAIYANS SIT DOWN, WITH CUBER IN THE MIDDLE>
Cuber: So what happens in the afterlife?
Kailon: Well first, I had to wait in this super long line to see this big red guy with a huge desk of mahogany, and then he sent me to the Grand Kai. I've been training under him ever since, but he never really let me fight anyone other than himself. When I wasn't training, the Grand Kai would show me your fights.
Cuber: You saw all of those?
Kailon: Yeah, I also saw the times you got your ass kicked, including these most recent ones.
Cuber: I'm not even mad that you brought them up.
Kailon: So where's Chaiva?
Cuber: Wait, you don't know?
Kailon: I only watched your fights mostly. I stopped watching right after you and Ledas de-fused.
Cuber: She's still at Earth. She got into an argument with the Mrovian High Council, so she's taking a break from the Mrovians in general.
Kailon: I see. Well, it looks like I'm stuck with the Mrovians now.
Cuber: So, you were basically a Super Saiyan when you died, and now that you've been training, you've gotta be stupidly strong now.
Kailon: Maybe. I guess we'll find out soon.
Cuber: And I got the perfect place for that.
<CUTS TO THE BATTLE PLATFORM ON GLAYSIA, WITH CUBER AND KAILON FACING EACH OTHER, DOZENS OF METERS APART; GLAYSIA'S STORM RAGES AS IT ALWAYS DOES>
Cuber: Let's not mess around too much!
<CUE UNTITLED ROCK MUSIC>
<CUBER POWERS UP TO SUPER SAIYAN>
Kailon: Sure thing, brother!
<KAILON POWERS UP TO SUPER SAIYAN AND THEN ASCENDS BEFORE CHARGING AT CUBER; CUBER BACKS AWAY FROM KAILON'S INCOMING DROPKICK AND FIRES A STUN BOLT, WHICH KAILON DUCKS UNDER AS HE RUSHES FURTHER FORWARD; CUBER RELEASES AN EXPLOSIVE SHINE, BUT KAILON FLIES AROUND CUBER JUST OUT OF THE WAVE'S RANGE AND ENDS UP BEHIND HIS OLDER BROTHER; KAILON KICKS CUBER AWAY WITH A LEFT REVERSE ROUNDHOUSE AND THEN FOLLOWS HIM WITH A DOUBLE-FOOT DRILL KICK; HAVING LONG RECOVERED FROM KAILON'S PREVIOUS ATTACK, CUBER BACKS OUT OF THE WAY>
<KAILON PURSUES WITH A RIGHT FLYING SIDE KICK, BUT CUBER LEANS AWAY FROM THIS ATTACK AS WELL AND THEN FIRES A STUN BOLT; KAILON BLOCKS THE BEAM WITH A BLUE ENERGY SHIELD AS CUBER MOVES FORWARD TOWARDS HIS BROTHER; THE OLDER SAIYAN RELEASES ANOTHER EXPLOSIVE SHINE, BUT KAILON DODGES THIS ONE AS WELL, THIS TIME BY ROLLING AWAY; WHEN KAILON GETS BACK TO HIS FEET, HE ATTEMPTS TO RETREAT EVEN FURTHER AWAY; CUBER, HOWEVER, CHASES KAILON DOWN WITH A DRILL KICK WHICH IS FOLLOWED BY THE INEVITABLE EXPLOSIVE SHINE, LAUNCHING THE YOUNGER SAIYAN VERTICALLY; WITH KAILON HIGH ABOVE, CUBER FOLLOWS AND LANDS A LEFT CURVED KNEE>
<CUBER THROWS ANOTHER LEFT CURVED KNEE AT KAILON, BUT THE LATTER BLOCKS IT WITH AN ENERGY SHIELD AND THEN ATTEMPTS TO COUNTER WITH A RIGHT FLYING SIDE KICK; CUBER BACKS AWAY FROM KAILON'S FOOT AND THEN FIRES A STUN BOLT; KAILON DUCKS UNDER THE FINGER BEAM AND DESCENDS BELOW THE EDGE OF THE PLATFORM; CUBER BARRAGES THE AREA JUST ABOVE KAILON WITH STUN BOLTS AS HE CLOSES THE DISTANCE TO HIS BROTHER, BUT KAILON IS ABLE TO AVOID THEM AS HE FLIES BACK UP AND LANDS ON THE ROOF; THE YOUNGER BROTHER RIGHT-PALM-STRIKES THE LAST ENERGY BEAM RIGHT BACK TO CUBER, STUNNING HIM LONG ENOUGH FOR THE FORMER TO LAND A DOUBLE-FOOT DRILL KICK>
<KAILON TRIES TO FOLLOW UP WITH A DROPKICK, BUT CUBER IS ABLE TO RETREAT FROM HIS BROTHERS' FEET AND RETALIATE WITH A LEFT JAB FOLLOWED BY A LEFT FLYING CURVED KNEE, KNOCKING KAILON BACK; KAILON PLANTS BOTH HANDS ON THE GROUND AND THEN PUSHES OFF TO FLIP HIMSELF BACK ONTO HIS FEET; HE LOOKS FORWARD TO SEE CUBER APPROACHING, FIRING A STUN BOLT AND PUTS UP AN ENERGY SHIELD IN RESPONSE; KAILON DEACTIVATES HIS SHIELD AND JUMPS, BUT CUBER IMMEDIATELY INTERCEPTS HIM WITH A LEFT FLYING SIDE KICK, SENDING HIM PAST THE EDGE OF THE PLATFORM>
<CUBER FLIES ABOVE THE EDGE WHILE KAILON COMES IN HEADFIRST, ENTIRE BODY ENCASED IN BLUE-WHITE KI – THE SAIYAN BOLIDE – AND STRIKES CUBER IN THE FOREHEAD; CUBER, HOWEVER, QUICKLY RECOVERS AND DRILL-KICKS KAILON ONTO THE PLATFORM; HE TRIES TO FOLLOW UP WITH A LEFT FLYING SIDE KICK, BUT KAILON BACKS AWAY FROM THE KICK AND TO THE EDGE>
<CUBER SHOOTS A STUN BOLT, WHICH KAILON BLOCKS WITH AN ENERGY SHIELD, AND JUST AS THE LATTER DEACTIVATES HIS SHIELD, THE FORMER RELEASES AN EXPLOSIVE SHINE; IN TYPICAL CUBER FASHION, HE FLIES ABOVE THE AIRBORNE KAILON AND DRILL-KICKS HIM BACK DOWN ONTO THE ROOF, AND THEN FOLLOWS HIM BACK DOWN; UPON LANDING, CUBER THROWS OUT A RIGHT FLYING REVERSE ROUNDHOUSE KICK, WHICH KAILON ROLLS AWAY FROM>
<ONCE BACK ON HIS FEET, KAILON RUSHES FORWARD AND REACHES OUT WITH BOTH HANDS TO GRAB HIS OPPONENT; CUBER LEAPS OVER AND BEHIND KAILON, WHO THEN TRIES TO ATTACK WITH A DROPKICK; THE OLDER SAIYAN BACKS AWAY BEFORE FIRING ANOTHER STUN BOLT, WHICH KAILON FLIPS OVER, AND GOES FOR ANOTHER DROPKICK, THIS ONE SUCCESSFUL AND KNOCKING CUBER BACK>
<KAILON PURSUES CUBER AND STRIKES HIM WITH A CLOCKWISE SWEEP WITH BOTH LEGS, AND THEN HITS CUBER AWAY WITH A LEFT BACK-FLIP KICK; CUBER LANDS ON THE GROUND WITH BOTH HANDS AS KAILON COMES DOWN FROM ABOVE WITH A DOUBLE-FOOT DRILL KICK; THE OLDER SAIYAN IMMEDIATELY ROLLS OUT OF THE WAY, ALTHOUGH KAILON CONTINUES HIS PURSUIT; CUBER PUTS UP AN ENERGY SHIELD TO BLOCK THE INCOMING LEFT REVERSE ROUNDHOUSE, AND THEN PERFORMS A ONE-HANDED ROUNDOFF TO EVADE KAILON'S RIGHT DOWNWARDS CHOP; KAILON RELENTLESSLY THROWS A DROPKICK TOWARDS CUBER, WHO IS ABLE TO SIDESTEP, BUT THE FORMER IMMEDIATELY FOLLOWS UP WITH A DOUBLE-FOOT DRILL KICK, SCRAPING CUBER ACROSS THE GROUND AND CREATING A TRAIL OF MOLTEN METAL>
<KAILON FOLLOWS CUBER, WHO PUTS UP AN ENERGY SHIELD TO BLOCK A RIGHT HOOK, BUT THE YOUNGER SAIYAN REACHES THROUGH CUBER'S SHIELD WITH BOTH HANDS AND GRABS HIS OPPONENT BY THE NECK AND TOSSES HIM STRAIGHT UP INTO THE AIR; KAILON THEN TELEKINETICALLY PULLS CUBER TOWARDS HIMSELF, GRABBING HIM BY THE NECK ONCE MORE BEFORE REPEATING THE PREVIOUS THROW; WITH CUBER STILL STUNNED, KAILON ONCE AGAIN TELEKINETICALLY PULLS HIS BROTHER TOWARDS HIMSELF, THIS TIME WITH HIS LEFT FIST SURROUNDED BY BLUE-WHITE ENERGY>
<KAILON MOVES HIS FIST IN AN UPPERCUT INTO CUBER'S BACK AT WHERE THE ESOPHAGUS MEETS THE STOMACH, LAUNCHING HIS BROTHER STRAIGHT UP WITH THE SUPPORT OF AN ORANGE-WHITE ENERGY BEAM THAT TEARS A HUGE HOLE IN THE CLOUDS>
<A FEW SECONDS LATER, CUBER COMES BACK DOWN FROM ABOVE THE CLOUDS>
Cuber: I see you kept your signature move after all these years
Kailon: Old habits die hard.
Cuber: Let's get back to it then, shall we?
<CUBER FIRES A VOLLEY OF SEVERAL STUN BOLTS, ALL OF WHICH KAILON DODGES AS HE INCHES HIS WAY TOWARDS HIS BROTHER; ONCE UP-CLOSE, KAILON PUTS UP AN ENERGY SHIELD, BLOCKING THE LAST STUN BOLT BEFORE STOPPING CUBER'S BARRAGE BY GRABBING HIM BY THE NECK AS HE DID BEFORE; THIS TIME, KAILON SLAMS CUBER INTO THE GROUND, CREATING A SMALL CRATER, BUT CUBER QUICKLY RECOVERS FROM THE PAIN AND RELEASES AN EXPLOSIVE SHINE, SENDING HIS BROTHER STRAIGHT UP INTO THE SKY; WITH KAILON STUNNED, CUBER FOLLOWS FROM BELOW AND STRIKES HIS BROTHER WITH THE DOGOM FLIP, THE FORWARD-FLIPPING AXE KICK LAUNCHING KAILON AND TEARING A SECOND HOLE THROUGH THE CLOUDS>
<A FEW SECONDS LATER, KAILON RAPIDLY DESCENDS AND LANDS ON THE ROOF; CUBER COMES DOWN ONTO KAILON WITH A DRILL KICK THAT KAILON BLOCKS WITH AN ENERGY SHIELD; THE YOUNGER SAIYAN ROLLS AWAY FROM CUBER, WHO FIRES A STUN BOLT AS HE MOVES IN; KAILON BLOCKS THE STUN BOLT WITH ANOTHER ENERGY SHIELD, BUT JUST AS HE DEACTIVATES IT, CUBER HITS HIM WITH AN EXPLOSIVE SHINE; CUBER AGAIN FOLLOWS UP WITH A DRILL KICK FROM ABOVE TO SEND KAILON BACK INTO THE GROUND, AND THEN FLIES AROUND HIS BROTHER TO END UP BELOW HIM>
<CUBER THROWS OUT A RIGHT SCORPION KICK WHILE KAILON HIMSELF SIMULTANEOUSLY COMES DOWN WITH A DOWNWARD-ANGLED RIGHT FLYING SIDE KICK; CUBER HITS KAILON IN THE BACK, WHILE THE LATTER HITS THE FORMER IN THE HEAD; CUBER IS BURIED IN A SMALL CRATER WHILE KAILON IS KNOCKED UPWARDS; THE YOUNGER SAIYAN THEN COMES BACK DOWN WITH A DOWNWARD-ANGLED DROPKICK, BUT CUBER DUCKS OUT OF THE WAY AND COUNTERS WITH AN EXPLOSIVE SHINE; THIS TIME, HE IS LAUNCHED AWAY RATHER THAN UP, CAUSING CUBER'S EYES TO WIDEN IN SURPRISE>
Cuber: <THINKING TO HIMSELF> He's telekinetically changed his own trajectory, despite being in pain.
<CUBER FOLLOWS KAILON, WHO THROWS OUT A RIGHT FLYING SIDE KICK; CUBER STOPS SHORT OF KAILON'S FOOT, RETREATS, AND BARRAGES HIM WITH STUN BOLTS; KAILON DODGES MOST OF THE ENERGY BEAMS, BUT NOW TIRING, A FEW HIT HIM; CUBER MOVES IN AND JABS KAILON WITH HIS LEFT FIST, AND THEN GOES INTO THE GROUND IN A FRONT SPLIT, KICKING KAILON'S ANKLES WITH HIS LEFT FOOT AND KNOCKING HIM AWAY AND PAST THE EDGE>
<KAILON RECOVERS SHORTLY AFTER AND THROWS A RIGHT-HANDED BLUE-WHITE ENERGY SPHERE AT CUBER, WHO DUCKS UNDERNEATH; KAILON THEN RETREATS BELOW AND COMES BACK UP, BUT MEETS WITH CUBER'S EXPLOSIVE SHINE; KAILON FAILS TO CHANGE HIS OWN TRAJECTORY THIS TIME AND SO CUBER PROMPTLY FOLLOWS HIM; BEFORE CUBER CAN DRILL-KICK KAILON, THE LATTER SWIFTLY INTERCEPTS HIM WITH A RIGHT FLYING SIDE KICK, WHICH IS FOLLOWED BY A SUCCESSFUL CLOCKWISE DOUBLE-LEG SWEEP KICK>
<CUBER LANDS BACK ONTO THE BATTLE PLATFORM AS KAILON FOLLOWS HIM WITH ANOTHER RIGHT FLYING SIDE KICK; THIS TIME, CUBER BLOCKS WITH AN ENERGY SHIELD, CAUSING HIS BROTHER TO GLANCE OFF OF IT AND END UP BEHIND HIM; CUBER IMMEDIATELY COUNTERS WITH A RIGHT FLYING BACK KICK, SENDING KAILON TO THE OTHER SIDE OF THE ROOF; CUBER IMMEDIATELY PURSUES WITH A LEFT FLYING SIDE KICK, ALTHOUGH KAILON RECOVERS AND LEAPS OVER CUBER'S ATTACK>
<WITH KAILON ABOVE HIM, CUBER POWERS UP TO SUPER SAIYAN 2 AND THEN FLIES AT HIS BROTHER; IN RESPONSE, KAILON THROWS OUT A DRILL KICK, AND THEN A RIGHT FLYING SIDE KICK, BOTH OF WHICH CUBER DODGE>
Cuber: <THINKING TO HIMSELF> Time to end this.
<KAILON ATTACKS WITH A DROPKICK, BUT CUBER STOPS KAILON WITH A STUN BOLT AND THEN SENDS KAILON PAST THE PLATFORM'S EDGE WITH A FLYING LEFT CURVED KNEE; KAILON ONCE AGAIN DIPS BELOW THE ROOF, PROMPTING CUBER TO IMMEDIATELY RUSH TO THE EDGE AND PEER DOWNWARDS; AS KAILON RISES, CUBER DROPS DOWN, AND IN QUICK SUCCESSION, HE HITS KAILON WITH AN EXPLOSIVE SHINE AND IMMEDIATELY FOLLOWS WITH A RIGHT FLYING BACK KICK; THE FINAL MOVE HITS KAILON IN THE ABDOMEN, CREATING A TABLE-TENNIS-SIZED PITCH BLACK SPHERE AND THEN AN ORANGE-WHITE ENERGY BEAM THAT BLASTS THE YOUNGER SAIYAN FAR AWAY>
<CUBER, AT FULL SPEED, FOLLOWS KAILON AND CATCHES HIM BY THE ANKLE; KAILON HAS REGRESSED TO HIS BASE FORM BUT IS CONSCIOUS>
Kailon: I was wondering when you'd reveal that form.
Cuber: <REGRESSING TO BASE FORM> It wouldn't have been a fair fight.
Kailon: I guess not.
Cuber: Let's get you to the nearest medical bay. I hope I didn't break anything.
Kailon: I'm good. Can still fly on my own.
<CUBER AND KAILON FLY OFF INTO THE DISTANCE, PRESUMABLY TO THE MROVIAN FACILITY OF GLAYSIA>
Endnotes:
This chapter was named by HZ. Good chapter name in my opinion.
Hyper Zergling wrote this entire chapter by himself. I only made minor edits to fix typos/change awkward wordings.
Hyper Zergling originally wrote that Kailon trained against Chukberry and Nitro and several other dead TMT villains, but that seemed too out of character for Grand Kai to do something like that, as well as being against the rules of Other World, so that was deleted from the chapter.
I like the mahogany reference.
Cuber and Kailon's dynamics together are pretty well-written in my opinion.
HZ did better with this musical cue than the one with Cuber going SS2 by not tying any specific parts to specific parts of the song and letting it flow. The song was also perfectly fine for a fight like this, and was much better than the usual remix of a video game tune in my opinion.
If I had a nickle for every time Cuber fired a stun bolt... hell, for every fight he opened with firing a stun bolt...
I would say the main reason that Hyper Zergling's fight scenes don't really feel like Dragon Ball to me is because of how his combos work. It's always a punch, the opponent goes flying, and then a follow up punch or kick, followed by the same thing. There's never combos that feel like actual martial arts. Hell, I can't remember the last time one of his characters did a left punch and a right punch in a row. Everything is always a charge attack, going by Raging Blast 2 terminology, and there's never regular punches and kicks. I understand that it's deliberate, but it's a tactical weakness in all of his Saiyans' forms that could be exploited by any opponent who fights like a regular fighter.
In my opinion, Cuber and Kailon use too many energy bubbles to block in this fight scene, rather than dodging or blocking regularly.
Aside from the two aforementioned criticisms, this fight was choreographed well in my opinion and was overall pretty good, even if it basically is SSB fan fiction. I also want to say that just because my con bullet points can be longer, that doesn't mean I hate a certain scene. In this case, I think the fight is good and entertaining. It's overall very technically clean and well-written, it's just there's usually more to say when I have a problem about something than when I like it (in which case I usually just say "that was good", etc.).
HZ's writing of this fight scene with so much detail and so many words (the fight scene itself is the longest in all of Cold Vengeance) was what prompted me to become very sad and angry with him for how he treated Ledas and Chaiva's fight scene in the previous chapter. It was obvious in how he originally wrote it that he didn't care too much about that fight. Additionally, it was clear that he cared about Cuber and Kailon sparring more than Cubas vs Yuki, which depressed me. That fight scene was undeniably more important and he didn't write anything new for it if I remember correctly, just pasting the old version of the fight (with minor modifications), leading me to write the more modern combos by myself. I mean, I care about his characters, even Baochoi, but it didn't seem like that feeling was reciprocated much in how he wrote his scenes in the latter part of this story. I could be wrong, but that was the impression I got at the time.
I would have personally preferred if Cuber had beaten Kailon in SS1, but to each their own.
Chapter 13: Bedtime

[

]

<END DRAGON BALL: COLD VENGEANCE>
Endnotes:
Bedtime, I believe, was named by me. Pretty simple name, like the last chapter, but effective in what it's conveying I think.
Chiaki is in this mainly for Hyper Zergling's sake. I probably would have just had Ledas and Chaiva do it by themselves were it up to me, but this way isn't bad. In fact, HZ was probably right, as the poses they are able to get into are real nice.
Chiaki was originally Ryori in the previous draft of Cold Vengeance, but that was not accurate to his character and so he was replaced with another one of Ledas' friends here. Chiaki appears in the West City Saga of Heart of the Dragon but might not appear in any other sagas. I dunno yet.
Chiaki is a virgin before this scene takes place.
This scene is the first time Ledas has vaginal intercourse, which is why he goes SS during that moment.
Chaiva becomes pregnant with Chari and Olivien in this chapter. That is also why Chiaki doesn't get to have vaginal sex, as I'm not a cuck and the seeds will not be mixed, even with the minuscule threat that precum may provide.
The artist (https://www.hentai-foundry .com/user/vasili01/profile) did a really good job on this manga. Money well spent in my opinion. I hope Hyper Zergling feels the same way. I dunno how many times, if at all, he's fapped to it. Personally, I've been saving it for special circumstances, as I don't want to get too burned out on it yet, but yeah I may have had some fun, myself, with the "Bedtime" manga already.
Final thoughts
[
]
Overall, I really love this story and was happy to have re-written it with HZ's help. We did much better dialogue, fight scenes, and plotting than before. The expanded plotline after the destruction of Typhon, especially on Mrov, was my favorite part of this story. I had a few problems with it, mentioned above, but I think HZ and I have worked out our issues so that hopefully HOTD will be even better. This story was instructive for some things I want to keep in mind for HOTD, particularly the pacing of chapters, of fights (and some choreography pertaining to them as well), and some things with dialogue that are slightly messed up here. A good story to have written out before HOTD, nonetheless. This is one of my favorites.
<---- Part 12.1
Part 13 ---->