This article, Super Saiyan 9 (Xz), is the property of dark TRUNKS.
[[|right|300px]]
Super Saiyan 9 is the ninth form of Super Saiyan a Saiyan can take after Super Saiyan 8. When a Super Saiyan 8 goes out of control and continues to gain a lot of energy while angry, their anger will colapse on itself, causing the user to become completely emotionless despite being previously very angry. They gain even more powerful because they are more calm and calculated. They also move so fast that it is phsically impossible to even see them move. It is just from begining to end. No middle.
Physical Appearance
[
]
A Super Saiyan 9's hair is dark purplish blue. The runes and extra long hair is gone. So are the muscles. Instead they look like a super saiyan 3 except with the dark purplish blue hair. Lightning strikes the ground around them as they charge since they have no aura.
Users
[
]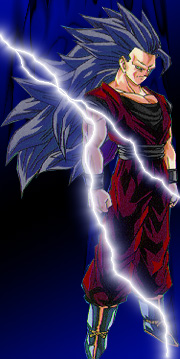 Goku was the first to obtain Super Saiyan 9. He did so while fighting dark DARK TRUNKS while going out of control with anger and power.