Jurassic World: Dominion Dominates Fandom Wikis - The Loop
Play Sound
This article, Super Saiyan 2 (Xz), is the property of dark TRUNKS.
Super Saiyan 2 is the second form of Super Saiyan. It is a form a Saiyan can take after mastering Super Saiyan and pushing themselves to their limit and then experiencing a massive emotional surge. After reaching it for the first time, a Saiyan can train themselves to become this form at will. It's power is about as strong as Perfect Cell in his own Super Saiyan 2 form (which he calls "Super Perfeect Cell").
Physical Appearance
[
]
A Super Saiyan 2's hair becomes sharper and they gain a blue electrical aura. Other than that, it's hard to tell the difference between a Super Saiyan and a Super Saiyan 2.
Users
[
]

This is the only form of Super Saiyan that Goku did not obtain, master, and perfect first. While he might have arguably mastered it first, he actually learned of it from Gohan instead of the other way around.

Vegeta was the third Saiyan to achieve Super Saiyan 2. He gained it sometime after learning of Super Saiyan after the Cell Games.

Gohan was the first Saiyan to become a Super Saiyan 2. He achieved this form after his friend Android 16 was killed by Cell.

Goten learned Super Saiyan 2 at some point in his life.

Bardock learned Super Saiyan 2 after watching his grandson use it during the Cell Games.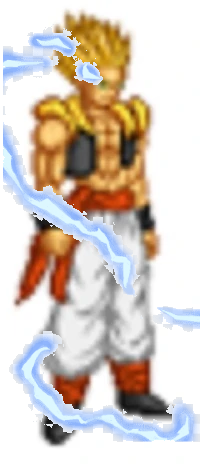 Since Gohan and Goten can Super Saiyan 2, so can Gohanten.

Trunks learned Super Saiyan 2 at some point in his life.