This article, Super Saiyan (Xz), is the property of dark TRUNKS.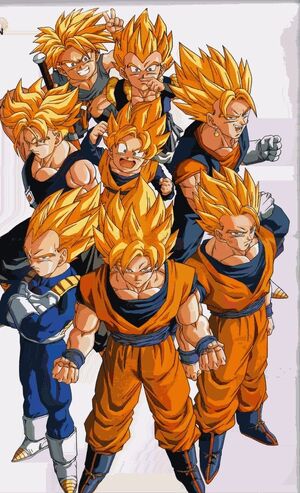 Super Saiyan is a form a Saiyan can take when their rage reaches a certain point. After reaching it for the first time, a Saiyan can train themselves to become this form at will. It's power is about as strong as Freeza in his 100% final form. There are many forms of Super Saiyan past the first form. This is the most basic of Super Saiyan forms.
Physical Appearance
[
]
A Super Saiyan's hair becomes gold as well as their aura while their eyes become green. Other than this, a Super Saiyan looks just like the Saiyan's base form. There are times when first unlocking the transformation where the user's muscles enlarge. This doesn't happen during additional uses.
Users
[
]

The original user of the Super Saiyan. He is the first to use it, the first to master it, and generally the first to obtain new forms of each stage of Super Saiyan. It is safe to say that Goku is the master of the Super Saiyan.

Vegeta was the second Saiyan to achieve Super Saiyan. He gained it through the rage of being unable to match up to Goku's skill. He has still yet to catch up with him, despite mastering Super Saiyan.

Gohan was the third Saiyan to become a Super Saiyan. He has long since mastered the form.

Learning to master the Super Saiyan form at the youngest age of all Saiyans, he is acceptionally skilled at this form.

Since both Goku and Vegeta have mastered Super Saiyan, Gogeta has access to it as well.

Since both Gohan and Goten have mastered Super Saiyan, Gohanten has access to it as well.

Bardock became a Super Saiyan after going back in time. He is actually the Original Super Saiyan of legend.