This article, Super Galick Gun x100 (Xz), is the property of dark TRUNKS.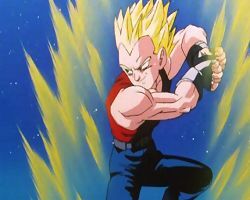 Super Galick Gun is an attack used by Vegeta in the series Dragonball Xz.
Overview
[
]
This is the x100 version of the Galick Gun when charging it with the golden energy of a Su[er Saiyan. It can only be used by someone who has achieved the higher levels of Super Saiyan. It is significall stronger because of this becaus it uses the user's Super Saiyan energy instead of their normal spiritual ki. This is the version of Su[per Galick Gun when the user powers it up to 100 times the power of a Super Galiuck Gun. It is made even stronger when increasing your level of Super Saiyan (ex. Super Saiyan's Super Galick Gun x100 is weaker than the same Super Saiyan 2's SUper Galick Gun x100. It can only be use when when the user has mastery over their current level of Super Saiyan. After mastering the move, it has limited usage without going Super Saiyan.