This page, Stomping Grounds Saga (The Forgotten), is property of KidVegeta.
This story, Stomping Grounds Saga (The Forgotten), is written with the intent to preserve and respect the official Dragon Ball canon, and to fit perfectly into the established Dragon Ball universe, per this policy.
Please Note: This story contains occasional swearing and graphically gruesome deaths.
| | |
| --- | --- |
| | This story, Dragon Ball Z: The Forgotten, received two 2010 Destructivedsk Awards for "Best Written Fan Fiction" and "Best Overall Fan Fiction". Amazing! |
| | |
| --- | --- |
| | This page, Dragon Ball Z: The Forgotten, was a recipient of the official 2014 Dragon Ball Fanon Wiki award for "Best Drama-format Stories". Incredible job! |

The Stomping Grounds Saga is the third saga in the series Dragon Ball Z: The Forgotten. It takes place after the Lauto Saga and before the Planet Earth Saga. This saga chronicles Ledas' frantic escape from the clutches of Cooler's High Council after being falsely accused of treason. After fleeing, he finds himself stranded on Cooler's Stomping Grounds - a planet filled with some of the tyrant's most ruthless warriors. Even worse, the boy is being plagued by the increasingly painful and dangerous side-effects of absorbing the huge cloud of energy in Lauto's cave. Yet all of this pales in comparison to when Cooler himself shows up to end the Saiyan's life.
Awards
[
]
Awards

These are the awards that The Forgotten has won so far:

2010 Destructivedisk Awards - Best Overall Fan Fiction:
2010 Destructivedisk Awards - Best Written Fan Fiction:

| | |
| --- | --- |
| | This story, Dragon Ball Z: The Forgotten, received two 2010 Destructivedsk Awards for "Best Written Fan Fiction" and "Best Overall Fan Fiction". Amazing! |




2010 Destructivedisk Awards (nominee) - Most Original Fan Fiction.
2011 ExtremeSSJ4 Awards - Best Two Fan Fics:

| | |
| --- | --- |
| | This story, Dragon Ball Z: The Forgotten, was one of the recipients of the 2011 Extreme Award for Best Two Fan Fictions. Cool! |




2012 Sponge Awards - Best Original Fanon:

| | |
| --- | --- |
| | This story, Dragon Ball Z: The Forgotten, received the 2012 Sponge Award for Most Original Fan Fiction. Wowzers! |




2012 Sponge Awards - Longest Story Ever:

| | |
| --- | --- |
| | This story, Dragon Ball Z: The Forgotten, received the 2012 Sponge Award for Longest Story Ever. Unbelievable! |




2014 Official Dragon Ball Fanon Wiki Awards - Best Drama-format Stories:

| | |
| --- | --- |
| | This page, Dragon Ball Z: The Forgotten, was a recipient of the official 2014 Dragon Ball Fanon Wiki award for "Best Drama-format Stories". Incredible job! |
Characters
[
]
For a complete list of characters in the Stomping Grounds Saga, please visit this page.
Theme Song
[
]
The theme song for this saga is Final Hour (X-Ray Dog)
Tagline
[
]
Complete Dialogue
[
]
Much like In Requiem,
this saga was inspired
by a single picture.
I find it weird that
I found both inspirational pictures
on gelbooru.
Considering what that site specializes in,
I was crazy lucky to come across them.
-KidVegeta
The Stomping Grounds

[

]
<THE STOMPING GROUNDS>
<745 AGE>
<COUNCIL CHAMBERS>
<SCREEN FADES IN; BANAS IS WALKING THROUGH A CORRIDOR THAT IS DIMLY LIT; HE IS WHISTLING; AS THE CAMERA PANS BACK, IT SHOWS LEDAS WALKING BEHIND BANAS; HIS HANDS ARE BOUND WITH YELLOW ENERGY; AS HE IS LAGGING, BANAS TURNS AROUND AND LOOKS AT HIM>
Banas: Hey kid, why don't we pick up the pace? We've got places to be. <LEDAS MUMBLES TO HIMSELF> I'll take that as a 'Yes, Captain Banas! Anything you want!'.
<HE LAUGHS TO HIMSELF; HOWEVER, HEARING NOTHING FROM LEDAS, HE THEN TURNS AROUND AGAIN AND SEES THE SAIYAN IS RUNNING OFF; BANAS GRUMBLES TO HIMSELF AND PURSUES HIM, TACKLING THE BOY TO THE GROUND WITHIN SECONDS>
Ledas: <FACE UP AGAINST THE FLOOR> Get off me!
Banas: No chance. <HE PICKS LEDAS UP BY THE HAIR AND PUSHES HIM FORWARD; LEDAS STUMBLES, THOUGH HE STARTS WALKING FORWARD> We've have somewhere to be, kid. No use fighting me. I'm not letting you get away.
Ledas: <AS HE IS WALKING; HE HAS HIS HEAD TURNED TO SPEAK TO THE ALIEN BEHIND HIM> Why'd you tie me up, anyway?! I didn't do anything!
Banas: You and me both. Come on.
<THEY REACH A HUGE DOOR; IN FRONT OF IT ARE SEVERAL GUARDS IN FULL ARMOR; WHEN THEY SEE BANAS AND LEDAS, THEY OPEN THE DOOR AND LET THE TWO IN; THE ROOM INSIDE IS FAR BRIGHTER THAN OUTSIDE>
<AS THE TWO COME IN, LEDAS IS DIRECTED TO A PLATFORM IN THE MIDDLE OF THE ROOM; BANAS MOVES OFF TO A CORNER, WHERE MORE GUARDS ARE; LEDAS LOOKS AROUND; IN A SEMI-CIRCLE IN FRONT OF HIM ARE ELEVATED, TIERED ROWS OF SEATS; ON THEM SIT NUMEROUS INDIVIDUALS; THE GRAND THRONE IN THE MIDDLE OF THE SEATS IS EMPTY; MANY OF THE ONLOOKERS ARE OF GUVA'S RACE; VERY FEW OF THEM ARE WEARING ARMOR, HOWEVER; ONE WHO IS IS TO LEDAS' RIGHT; HE IS A REPTILIAN-AVIAN TYPE ALIEN WITH FULL ARMOR; ALL ACROSS HIS ARMOR ARE DARK SPIKES; UPON SEEING LEDAS, HE FLEXES HIS ARMS, AND THIS CAUSES THE SPIKES TO MOVE>
<A LIGHT TURNS ON AND IS FOCUSED ON LEDAS' POSITION>
Councilor 1: <TO LEDAS> We will start now. <HE GLANCES TO THE EMPTY THRONE> Lord Cooler will be joining us shortly.
Ledas: <LOOKS TERRIFIED> Lo-lord Cooler?!
Councilor 1: <IGNORING LEDAS' OUTBURST> Now, we have gotten word from the governor of installation 92 that you had found a suspected spy for the pathetic rebellion that's going on right now.
Banas: <FROM THE CORNER; POINTING TO LEDAS> Yeah, he's right here.
Councilor 2: Captain Banas, is it? This report states that you were the one who knew about the rebels years ago.
Banas: <SHRUGGING THEIR WORDS OFF> Ah, that's Guva for ya! He's remarkably unspecific when he wants to be. <STEPS FORWARD> It's true the rebels approached someone on my team – and I'm the captain of that team – but I never talked to them. They were after this kid.
Ledas: <TUGGING ON HIS BINDS> That's not true! You're lying!
Councilor 3: <RAISING VOICE OVER LEDAS' YELLS> And why would they want a child for their ranks? Shouldn't they have tried to recruit stronger, older members?
Banas: <UNFAZED; REHEARSED SPEECH> Well, you see, this kid's a Saiyan. They were one of the strongest warrior races out there. And there's not many of them left. I mean, we all know what Frieza did to their planet. He's probably the only one in all of Cooler's territory. Properly trained, he could be the strongest out of any of us.
<THE ARMORED AVIAN ALIEN SCOFFS>
Councilor 1: Be that as it may, how were you made aware of his traitorous ways?
Banas: He sent a platoon of rebels to come kill us.
Ledas: What?! I didn't do that!
Councilor 2: Quiet. <HE CREATES A BIT OF PINK ENERGY AND PLACES IT OVER LEDAS' MOUTH TO PREVENT HIM FROM SCREAMING OUT> Captain, continue.
Banas: That's pretty much it. We realized at that point the kid had been feeding them information. Guva sent the letter right after the battle.
Councilor 3: But it says here that you were suspended, captain.
Banas: Yeah, that was a simple misunderstanding. It's worked out now. I'm just wondering why you guys are worried about this now… I mean, this happened two years ago.
Councilor 1: <GRAVELY> As you may or may not know, our war against these rebels is going poorly. We haven't found much, and no leaders have been captured. Yet still, they wreak havoc, even as we speak! Lord Cooler thinks it's prudent to interrogate every potential lead.
Councilor 3: <REMOVES THE PINK ENERGY OVER LEDAS' MOUTH> We will make this quick. You will give us all the information you have or face execution.
Ledas: Wh-what?! I don't know what you're talking about…!
Councilor 1: <NODS TO THE AVIAN ALIEN> General Digranite here will tell what happens to those who disobey us.
Digranite: <LEANS FORWARD IN HIS SEAT, GRIPPING THE RAILING IN FRONT OF HIM> Let's just say these teeth <HE POINTS TO HIS MOUTH> aren't for eating plants.
Ledas: <POSITIVELY SHAKING> I-I d-don't know a-a-anything! I swear it! <HE DROPS TO HIS KNEES>
<A SOLDIER NEAR THE COUNCILORS SPEAKS>
Soldier 1: Sir, Lord Cooler has landed. He'll be here soon.
Ledas: <NOTICES DROPS OF BLOOD HIT HIS HAND; THEY ARE COMING FROM HIS NOSE; TO HIMSELF> No…! It's just like in that cave!
Councilor 2: Do you hear that, Saiyan? Lord Cooler will be far less forgiving than our General. All you have to do is tell us what you know–
<LEDAS LOOKS UP; HIS EYES ARE GREEN; SUDDENLY, LEDAS CREATES TWO GALICK GUNS; HE FIRES THEM TO EACH SIDE; EACH BLAST TEARS A HOLE THROUGH THE BUILDING AND BLOWS APART THE SOLDIERS STANDING IN THE WAY; BEFORE ANYONE CAN REACT, HE SHOOTS A SECOND ENERGY BEAM TOWARDS THE COUNCILORS; THE ENTIRE AREA IS COVERED IN SMOKE; LEDAS TAKES THIS OPPORTUNITY TO RUN TO THE NEAREST HOLE AND JUMPS THROUGH IT; DIGRANITE AND BANAS BOTH RUN UP TO THE HOLE AND LOOK OUT; THE COUNCIL CHAMBERS ARE IN A HIGH BUILDING, OVERLOOKING THE REST OF THE PLANET; IN THE DISTANCE, THERE ARE MORE BUILDINGS AND TOWERS, BUT THERE ARE ALSO A GOOD DEAL OF PLAINS AND HILLS; IT IS EVENING OUT, WITH THE SUN BEGINNING TO SET>
<AT THIS TIME, COOLER ENTERS THE CHAMBERS>
Cooler: Report.
Councilor 3: <COUGHING> He escaped, sir!
<COOLER SNARLS AND SHOOTS A FINGER BEAM AT THE COUNCILOR; HE WALKS PAST THE SMOLDERING SEATS, TO DIGRANITE AND BANAS>
Digranite: Lord Cooler, he's not far. I can track him if you want. Bring him back to you, if you desire.
Cooler: No. I'll get him myself. He won't be able to hide. He doesn't know who he's dealing with. Unlike my brother, I won't put up with such defiance! <HE LOOKS AT DIGRANITE> While I'm gone, interrogate the rest of our prisoners. That will be all.
Digranite: Of course.
Cooler: <LOOKING OUT OF THE HOLE, PERCHED RIGHT ON THE EDGE> I will find this Saiyan spy and bring him back. He's more valuable to me alive than dead.
Banas: Lord Cooler, it's an honor to–
<WITH THAT, COOLER STEPS FORWARD AND JUMPS OUT OF THE HOLE; HE DIVES OUT OF THERE LIKE A PROFESSIONAL DIVER OR SOMETHING; HE SHOOTS OFF LIKE MEWTWO DURING THE BEGINNING OF THE CREDITS IN POKÉMON SEASON 1>
Banas: <WATCHING HIM GO> Well, there's nothing to worry about, then! I can go, right? <HE PATS DIGRANITE'S BACK IN A FRIENDLY MANNER; HOWEVER, HE HITS ONE OF THE SPIKES AND CUTS HIS HAND> Ouch! Man, what the hell?!
<DIGRANITE LOOKS AT BANAS FOR A MOMENT, THEN TURNS AROUND AND WALKS OUT; HIS CAPE BILLOWS BEHIND HIM>
Banas: <CALLING AFTER HIM> Hey! Can I go now?! Hey?! <THE OTHERS IGNORE HIM> Fine, I'll take that as a yes.
<THE SCREEN PANS BACK A BIT; COUNCILOR 3 IS DEAD, HANGING OVER THE RAILING; THE OTHER TWO MAIN COUNCILORS ARE LEAVING; SOME SOLDIERS ARE DEAD, THOUGH NOT ALL OF THEM; EVERYONE LEAVES THE ROOM, SAVE FOR BANAS; HE LOOKS OUT OF THE HOLE ONE LAST TIME AND SIGHS>
Banas: Well, kid. It was a helluva journey. But everything has to end.
<SCREEN FADES TO BLACK AS BANAS WALKS OUT>
Haunting Memory

[

]
<HIGH SHOT FROM ABOVE AN ENCAMPMENT; IT IS FILLED WITH COOLER'S SOLDIERS; THE SCREEN PANS OUT OVER THE PLAINS BEHIND>
<A LARGE CREATURE, SUSPENDED IN AIR, IS FLYING SLOWLY; ITS LONG ARMS AND WINGS DANGLING BELOW IT; WE GET TO SEE THE EDGE OF HAIR, NEAR POINT-OF-VIEW FROM THE PANEL>
<THE CREATURE JUST SEEMS LIKE IT'S A NATIVE ANIMAL; THE CAMERA TURNS AWAY FROM IT, BACK TO THE ENCAMPMENT>
<THE CAMERA SNEAKS AROUND THE GUARD TOWER, UP ONTO AN OVERLOOK>
<ON THAT OVERLOOK IS STANDING A BOY; WELL, HE'S LEDAS; HIS EYES ARE NO LONGER GREEN; ANYWAY, HE LOOKS DOWN INTO THE GROUP OF SOLDIERS BELOW; MOST OF THEM ARE PATROLLING, AND ASIDE FROM THE GUARD TOWER, NONE OF THEM ARE FACING HIS WAY>
Ledas: I've gotta get outta here. Maybe they have a ship.
<HE JUMPS OVER THE CLIFF, SKIDDING DOWN ITS SIDE; SPEEDING QUICKLY BY, HE MANAGES TO GET PAST THE SLEEPING GATE GUARD – WHO IS LOUNGING ON AN ELEVATED ANTI-GRAVITY TOWER – WITHOUT ALERTING ANYONE; LEDAS RUNS FORWARD, SEARCHING FOR ANY SORT OF SPACE POD TO GET HIM OFF THE PLANET>
<INSIDE A BUILDING HE FINDS SOLDIERS, NOT A POD; REALIZING HIS MISTAKE, LEDAS JUMPS; IN REFLEX, HE BLOWS THEM AWAY WITH ENERGY; HE GOES BACK OUTSIDE; HOWEVER, THE NOISE HAS CAUSED MORE SOLDIERS TO COME OUT>
<LEDAS SPOTS THEM FIRST; THERE ARE A FEW DOZEN; THE BATTLE IS SHORT LIVED; EACH SOLDIER IS BLOWN AWAY BY A SINGLE FINGER BEAM EACH; ONCE THEY FALL DEAD, THE OTHER SOLDIERS IN THE COMPLEX ARE ALERTED>
<A SIREN GOES OFF, AND THEY RUN OUT; ALL THAT HE CAN SEE ARE MERE GRUNTS>
Ledas: <IN HIS MIND> 1000. 2000. Nobody's a threat. <HE LOOKS OVER HIS SHOULDER> But I can feel someone much stronger coming. I gotta go fast!
<THE GROUPS LINE UP AROUND HIM, READYING THEIR BLASTERS ON HIS POSITION; LEDAS DOES NOT MOVE; ONCE THEY ARE ALL IN POSITION, A FAT ONE FLOATS OUT IN FRONT; HE IS PURPLE, COVERED IN TENTACLES, SHORT, AND STOUT; HE DOES NOT LOOK VERY MENACING, BUT HE WEARS THE ARMOR TOO>
Mullpy: Soldiers, wait! Who do we have here, hmm?
Ledas: <TALKING QUICKLY> I just want a space pod. I'll let you live if you give me one.
Mullpy: Oho! Let us live, will you?! Well, it looks like you're in for a shock, brat! <HE WAGS A TENTACLE> You're in no position to demand things from me! I'm a Captain! <TO HIS MEN; POSITIVELY SCREECHING> Now shoot him! Shoot the brat!
<LEDAS POSITIONS HIS RIGHT HAND OUTWARD, IN A HALF FIST, CAUSING THE TROOPS TO WAIT; HOWEVER, AS NO BLAST COMES, THEY FIRE; LEDAS IS ENVELOPED IN THEIR ATTACK; THE DUST CLEARS QUICKLY; HE IS UNMOVED, HIS ARMOR AND BODY UNDAMAGED>
<MULLPY WADDLES UP TO HIM, GRINNING; WHEN HE SEES THAT LEDAS IS ALIVE, HIS GRIN SUBSIDES SLIGHTLY>
Ledas: You shouldn't really be smiling.
<THE ENTIRE CITY EXPLODES; LEDAS HAD PREVIOUSLY USED A LIGHTNING STRIKE ATTACK, WHICH IS A HUGE INVISIBLE BLAST; NOW IT GOES OFF AND IT INCINERATES ALL AROUND HIM; THE BUILDINGS AND TROOPS ARE DESTROYED; FARTHER OFF, WHERE THE OUTPOST IS, THE SLEEPING SOLDIER IS KNOCKED AWAY TO THE GROUND; HE WAKES UP, SCOWLING>
<WHEN THE DUST CLEARS, THE CRATER AROUND LEDAS IS QUITE DEVOID OF LIFE; HE LOOKS AROUND, SCANNING FOR ANY SIGN OF A SPACE SHIP; NOT SEEING ANY, HE RISES INTO THE AIR>
<FROM BEHIND LEDAS, A SHOT IS FIRED; HE DODGES IT EASILY BUT SEVERAL MORE COME; HE DODGES THEM TOO, FALLING TO THE GROUND IN A ROLL; HE RAISES HIS HEAD LOOKING FOR THE SOURCE OF THE ATTACK, WHEN HE SEES MULLPY COME OUT OF THE RUBBLE TO HIS LEFT>
<MULLPY FIRES ANOTHER SHOT, WHICH LEDAS ROLLS RIGHT TO DODGE>
Mullpy: Ooh, ooh! He's a fast one, isn't he?! I can see how he killed all those soldiers!
Ledas: Stop shooting me! I'll let you live if you give me a pod.
Mullpy: Oh, a space pod? You want to run away? Aw, that's too bad!
Ledas: Why?
Mullpy: <GRINNING> Can't you see?! You blew up everything! <HE WAVES HIS TENTACLES AROUND MADLY> All the pods are gone now! You destroyed them, you little fool!
Ledas: <BACKSTEP> N-no…
Mullpy: Don't worry! I'll arrest you! Hahh!
<MULLPY JUMPS AT LEDAS, SWINGING HIS TENTACLES WILDLY AND LAUGHING, AS IF HE IS PLAYING A GAME; MULLPY IS VERY UNAWARE OF HIS POWER LEVEL COMPARED TO LEDAS'; SINCE HIS IS LOWER, LEDAS HAS LITTLE TROUBLE COUNTERING HIS ATTACK>
<MULLPY FLIES AROUND BEHIND LEDAS, STILL LAUGHING AND LATCHES ONTO THE BOY'S BACK WITH HIS TENTACLES; HE BEGINS SUCKING LEDAS' ENERGY OUT; LEDAS GRIMACES, AS THIS IS BASICALLY BURNING HIM, AND WEAKENING HIM; HE TRIES TO ROLL OFF, BUT MULLPY IS ABLE TO STAY LATCHED ON, AND HE IS STILL TAKING LEDAS' ENERGY>
<LEDAS SPINS, ELBOWING THE ALIEN IN THE FACE; MULLPY'S TENTACLES ARE SNAPPED OFF; HE FIRES A SMALL COLLECTION OF BLASTS, WHICH HIT LEDAS; THIS GIVES MULLPY THE OPPORTUNITY TO ATTACK AGAIN>
<MULLPY SLAPS LEDAS WITH HIS TENTACLE, BUT LEDAS GRABS AHOLD; RIPPING IT UPWARD WITH ONE HAND, LEDAS TAKES MULLPY FULLY INTO THE AIR; WITH HIS OTHER HAND, LEDAS CREATES A SMALL CUTTING BEAM TO SEVER THE TENTACLE>
<MULLPY RAGES HARD, KICKING AT LEDAS WITH ALL HIS MIGHT; HOWEVER, THIS DOES NOTHING; LEDAS SLAMS HIM TO THE GROUND, FOLLOWED UP BY A RAZOR BLAST, WHICH KILLS MULLPY>
<LEDAS LANDS>
Grif: <INDIFFERENCE> Yeah, yeah, you killed the army. I bet you think you're a big shot now.
<LEDAS WHEELS AROUND, FACING THIS NEW FOE; IT IS THE SLEEPING GUARD, THE ONE THAT LEDAS SNUCK PAST ABOUT THREE MINUTES PRIOR; HE IS STANDING IN A SLOUCH>
Ledas: Aren't you part of that army?
Grif: No, not me. I'm just a traveling paper salesman, who just so happened to, uh, be selling paper to lieutenant Mullpy and his guys.
Ledas: You're wearing the same armor as them.
Grif: Yeah, well, so are you. And I could tell when you destroyed the whole base that you weren't with them. I'm not either. That's why you shouldn't judge a paper salesman by his armor.
Ledas: You're just lying. You don't have any paper.
Grif: <MELODRAMA> Not any more, thanks to someone. <LEDAS FROWNS AGAIN> Look around us, you've blown it all up! <FAKE SADNESS> It's all gone! All, all gone…
Ledas: Um, look, do you know where I can find a space pod?
Grif: Yeeah, well the lieutenant used to keep them in that building right there… but you blew it up up. Great job, buddy.
Ledas: I thought he wasn't your lieutenant.
Grif: <FLUSTERED> You tricked me!
<HE RAISES HIS WRIST MOUNTED BLASTER AT LEDAS; LEDAS PRODUCES A SMALL BALL OF KI IN HIS HAND AS HIS COUNTER, BUT GRIF DECIDES THAT IT IS NOT A GOOD IDEA TO ACTUALLY ATTACK; GRIF RUNS AWAY>
<LEDAS, INTENT ON GETTING MORE INFORMATION OUT OF HIM, PURSUES; GRIF HECKLES HIM AS HE GOES>
Grif: <AS LEDAS REACHES HIM> Hey! You suck!
Ledas: That wasn't a very good one.
Grif: Your mom wasn't a very good one. Oh yeah! <GRIF LOOKS MIGHTY PLEASED>
Ledas: Look, take me to another base that has some pods, or I'm just going to kill you. <HE SHOWS THE BLAST TO GRIF>
Grif: That is a… pretty convincing argument.
Ledas: All right, so let's go. Show me the place.
Grif: <POINTS TO A TOWER IN THE DISTANCE> They've got some over there.
<AS LEDAS IS DISTRACTED WITH LOOKING AT THE TOWER, GRIF COMES UP TO LEDAS; HE STARTS MOANING; HE IS TRYING TO BE QUIET, BUT LEDAS HEARS HIM; HOWEVER, AS LEDAS TURNS, HE SEES THAT GRIF IS ACTUALLY MAKING ENERGY FORM; HE HAS AN AURA, AND HIS HANDS ARE OUT ON HIS SIDES; REALIZING THIS WAS CAREFULLY PLANNED TREACHERY, LEDAS GOES TO KILL GRIF; HOWEVER, AT THIS TIME SOMETHING HAPPENS>
<LEDAS' EYES ARE GREEN AGAIN; HE DROPS TO HIS KNEES; SUDDENLY, FLASHES OF MEMORY COME BACK TO HIM; OF LAUTO'S CAVE; OF THE BENEFACTOR, HIS HALLUCINATION IN THERE AND OTHERWISE; OF VEGETA, HIS FRIEND; THIS CAUSES A GREAT PAIN TO COME TO HIS HEAD, AND HE SCREAMS OUT, POUNDING AT THE DIRT AS IT HURTS HIM A LOT>
Grif: Wait, did I do that?!
<LEDAS' HAIR HAS TURNED WHITE; HE SHAKES IN PAIN>
Ledas: <IN HIS MIND> Nooo!! I can sense Cooler getting closer. I-I can't… move…
Grif: Hey, uh, kid, are you okay? You look terrible. Just terrible. <LEDAS LOOKS UP AT HIM, WHITE HAIR AND GREEN EYES> Eeaah!!
<LEDAS DOESN'T HEAR GRIF; HE IS HUDDLED OVER THE GROUND, COUGHING UP BLOOD>
Grif: Hey, bitch! Stop ignoring me! I'm not done owning you!
<GRIF WALKS RIGHT UP TO LEDAS, QUITE CONFIDENTLY; LEDAS, WHO ISN'T LOOKING AT THE FURRY ALIEN, SWINGS HIS FIST AND HITS GRIF IN THE CHEST; GRIF GOES FLYING INTO A NEARBY MOUNTAIN; LEDAS ATTEMPTS TO STAND UP, BUT HE STUMBLES; HE'S IN CLEAR PAIN>
<JUST AS HE'S TRYING TO STAND UP, HE HEARS A THUD BEHIND HIM; THE CAMERA PANS BACK AND SHOWS COOLER BEHIND THE SAIYAN BOY; LEDAS TURNS TO FACE HIM>
Cooler: <CALMLY, ELEGANTLY> So, Saiyan, we finally meet. <LEDAS ATTEMPTS TO RUN AWAY, BUT TRIPS OVER HIS FEET AND FALLS TO THE GROUND; COOLER WALKS RIGHT UP TO LEDAS> Did you really think you could get away from the strongest being in the universe?
<COOLER PICKS LEDAS UP BY THE NECK; CAMERA ZOOMS OUT>
<SCENE CHANGE>
<IN LAUTO'S CAVE, MUCH OF THE PLACE HAS BEEN DESTROYED; THE CAMERA MOVES ACROSS THE PATH, SHOWING MANY CRATERS, BURN STREAKS, AND QUITE A BIT OF BLOOD; FINALLY, THE CAMERA REACHES TWO BODIES; THEY ARE BOTH ON THE GROUND, THOUGH THEY ARE SEVERAL FEET APART; THE ONE FURTHER BACK FROM THE CAMERA IS ACTIVELY BLEEDING>
Lauto: <SITS UP, REVEALING HIMSELF TO BE THE FIGURE FURTHER BACK> Enough of this! <HE CRAWLS UP AGAINST THE ROCK WALL> We can both get out of here. <THE BENEFACTOR DOES NOT RESPOND> Listen to me… you will need me to get your energy back. Only I know the technique…
The Benefactor: <SUDDENLY SITS UP; FULL OF MALICE> I told you… what would happen… to you.
<HE LUNGES AT LAUTO, DIGGING HE CLAWS INTO THE KAI'S CHEST; LAUTO KICKS THE BENEFACTOR OFF OF HIM AND ROLLS FORWARD; HE STANDS UP AND DOES A FRONT FLIP KICK, LANDING DIRECTLY HIS FOE'S BACK; THE BENEFACTOR SHRUGS HIM OFF AND STANDS UP; HE RUSHES AT LAUTO AGAIN, BUT LAUTO PARRIES HIM AWAY; THE TWO TRADE BLOWS UNTIL THEY BOTH FALL TO THE GROUND AGAIN, EXHAUSTED>
The Benefactor: You'll die tonight. <HE TRIES TO STAND, BUT STUMBLES AND FALLS AGAIN>
Lauto: This is no use… with our energies gone. We'll die of exhaustion before we can kill one another. Look… we can get out of here. I'll show you!
<LAUTO STARTS CRAWLING AWAY; THE BENEFACTOR FOLLOWS HIM; AS THEY ROUND THE CORNER, THE BENEFACTOR'S SHIP IS SEEN PARKED IN THE CAVE; WHILE IT IS SLIGHTLY DAMAGED FROM THE CRASH LANDING, IT IS STILL OPERATIONAL>
Lauto: We can take that and find the kid who stole our energy. You will need my help…
The Benefactor: <HE GETS CLOSER, AND SITS UP AGAINST A ROCK> Why would I?
Lauto: Because I'm a Kai. I know this universe… inside and out. I can find him, and get back our energy. Then I'll find someone else to switch bodies with… not you. I give you my word! <THE BENEFACTOR SHAKES HIS HEAD> You can't leave me to die! No being would dare kill a god!
The Benefactor: <NOTICES HIS CLAWS ARE COVERED IN PURPLE BLOOD; IT IS LAUTO'S BLOOD> There's a first time for everything. <THE BENEFACTOR STARES AT THE BLOOD ON HIS HAND AND STARTS BREATHING RAPIDLY; HE LOOKS UP AT LAUTO; RESOLUTE, NO MORE PANTING> Your time is almost up. Your body decays as we speak. But I won't let you live long enough to double-cross me again.
<WITH HIS OTHER HAND, THE BENEFACTOR TAKES OUT A KNIFE; HE STARES INTO THE BLADE AS THE CAMERA FADES TO BLACK>
To Kill A God

[

]
<SCENE OPENS IN LAUTO'S CAVE; LAUTO AND THE BENEFACTOR ARE NEAR THE BENEFACTOR'S SHIP (WHICH IS A GARBAGE SHIP); LAUTO IS SITTING UP AGAINST THE WALL TO THE RIGHT OF THE SHIP; THE BENEFACTOR IS JUST IN FRONT OF HIM, SITTING ON HIS KNEES WITH HIS FACE BOWED>
Lauto: I was the ruler of this universe. Everything I did was for the betterment of the species living here. And now this is what I get? A rogue member of an otherwise extinct species trying to kill me? I won't have it. If you wish to kill me, you will be subjected to everything I have been!
<LAUTO SUDDENLY YELLS AND CREATES A PURPLE BEAM OF ENERGY WITH HIS LEFT HAND; HE FIRES IT AT THE SPACE SHIP; AT THIS, THE BENEFACTOR LOOKS UP; HE QUICKLY FIRES A GREEN ENERGY BLAST WITH HIS RIGHT HAND, INTERCEPTING LAUTO'S ATTACK, AND SENDING THEM BOTH INTO THE FAR WALL TO EXPLODE>
The Benefactor: Not happening, boss.
Lauto: <SCREAMING NOW; SPITTING VENOM> I was there when your species began! I allowed them to live! But had I known the genetic <DISGUST> mutation you possess existed, I surely would have killed you all!
The Benefactor: <STANDING UP, FLUIDLY> What are you talking about?
Lauto: You aren't like your species. The rest would expend energy to catch their prey. But you – you bottle that energy up inside you, like adrenaline. Only, it's power that doesn't go away. That's why you get stronger with each kill, with each dead body you see. And I should have seen it! I should have killed your species long ago!
<THE BENEFACTOR DOESN'T RESPOND; HE LOOKS DOWN AT HIS HANDS; ONE IS COVERED IN LAUTO'S BLOOD; THE OTHER IS HOLDING A KNIFE; THEN HE LOOKS UP AT LAUTO; LAUTO SEES THAT THE BENEFACTOR'S HAND IS COVERED IN BLOOD>
Lauto: <REALIZING THE BENEFACTOR IS BUILDING UP ENERGY AGAIN> No!
<HE ATTEMPTS TO SLIDE FURTHER AGAINST THE WALL, BUT THE BENEFACTOR RUNS AT HIM; AS THE CREATURE REACHES THE KAI, LAUTO KICKS HIM BACK WITH BOTH FEET; THE BENEFACTOR STUMBLES; THIS GIVES LAUTO TIME TO STAND UP AND LAUNCH HIMSELF AT THE BENEFACTOR; THE BENEFACTOR GOES ON THE DEFENSIVE, PARRYING AND DODGING THE BLOCKS; AS THE TWO MOVE, THEY ARE HITTING ROCKS IN THE WALLS AND FLOOR CAUSING A GREAT AMOUNT OF DEBRIS TO FLY UP AROUND THEM>
<THE BENEFACTOR DODGES AROUND A CORNER, LETTING LAUTO PUNCH INTO A WALL; AS LAUTO GOES AROUND THE CORNER TO SEE WHERE HE WENT, THE BENEFACTOR APPEARS BEHIND HIM, AND PUNCHES HIM FORWARD; LAUTO TRIPS TO THE FLOOR AND ROLLS OVER JUST IN TIME TO SEE THE BENEFACTOR JUMP ON TOP OF HIM; THE BENEFACTOR BEATS HIM, PUNCHING THE KAI'S HEAD DIRECTLY INTO THE ROCK BENEATH; AS THE CRATER GETS LARGER AND LAUTO MORE DELIRIOUS, THE BENEFACTOR SHOWS HIS KNIFE AND ATTEMPTS TO STAB LAUTO WITH IT>
<THE TWO STRUGGLE; LAUTO TRIES HIS HARDEST TO HOLD THE BLADE FROM HIS THROAT; HIS HAND IS CUT DURING THE STRUGGLE; AS THE BLADE GETS CLOSER AND CLOSER, LAUTO STARTS SCREAMING; THE TIP OF THE BLADE TOUCHES HIS NECK WHEN LAUTO FINALLY CREATES AN EXPLOSIVE WAVE, KNOCKING THE BENEFACTOR OFF OF HIM, AND SENDING THE KNIFE FLYING OFF INTO THE DARKNESS>
<LAUTO IS ALMOST COMPLETELY OUT OF ENERGY AT THIS POINT; WHAT LITTLE HE HAD LEFT WENT WITH THAT EXPLOSIVE WAVE; AT THIS POINT, HE JUST STAYS WHERE HE IS ON THE GROUND, BREATHING HEAVILY>
Lauto: It was my job… I protected the universe from species… which could harm it. I saved all of them… and this is my thanks…
<AROUND LAUTO ARE THE HALLUCINATIONS FROM HIS OWN MEMORY; HE APPEARS SO DELIRIOUS THAT HE CANNOT EVEN CONTROL HIS POWER TO VIEW OTHERS' MEMORIES; THE BENEFACTOR WATCHES AS THE HALLUCINATION GROUP OF KAIS HUDDLE AROUND LAUTO AND COVER HIM IN YELLOW ENERGY>
<LAUTO SCREAMS OUT AGAIN, POUNDING THE GROUND>
Lauto: Fools! I was their leader! They betrayed me! I was only eliminating the dangerous species! <LAUTO ATTEMPTS TO STAND UP; HE DOESN'T SEE THE BENEFACTOR; HE BALANCES HIMSELF AGAINST A ROCK, THOUGH HIS BALANCE IS SHAKY REGARDLESS; SPEAKING TO THE BENEFACTOR, WHO IS NOT SHOWN ON SCREEN; POINTING THE INDEX FINGER OF HIS RIGHT HAND ABOUT> And you! You are nothing! What have you done that compares to what–
<SUDDENLY, THE BENEFACTOR MATERIALIZES IN FRONT OF LAUTO; HE STABS LAUTO JUST BELOW THE COLLARBONE WITH HIS KNIFE; THIS CAUSES THE KAI TO LET HIS HAND FALL TO HIS SIDE AND HIS SPEECH STOP; HE HAS A LOOK OF HORROR UPON HIS FACE; THE BENEFACTOR RIPS THE BLADE OUT OF LAUTO'S BODY, CAUSING THE KAI TO LURCH FORWARD; BLOOD SPURTS OUT FROM HIS WOUND; THEN, THE BENEFACTOR SLICES THE BLADE ACROSS LAUTO'S THROAT; LAUTO FALLS TO THE GROUND; HE GRABS HIS BLEEDING NECK>
The Benefactor: <STANDING OVER THE KAI, WHO IS WRITHING IN QUIET PAIN> You had to bring her back. I told you I didn't want to remember her. <HE KICKS LAUTO; KNEELS DOWN TO LAUTO> How does that feel? <HE SLAPS LAUTO ACROSS THE FACE, CAUSING LAUTO TO COUGH UP BLOOD; HE WATCHES LAUTO STRUGGLE FOR A WHILE> You know, if you really were a god, you would save yourself.
<WITH THAT, THE BENEFACTOR GRABS LAUTO BY THE NECK, HOLDING HIM DOWN TO THE GROUND; WITH HIS FREE HAND, HE CREATES A GREEN ENERGY BLAST AND SHOOTS IT AT LAUTO'S FACE; HIS BLAST FILLS THE ENTIRE SCREEN; IN THE NEXT PANEL, THE BENEFACTOR LETS GO OF LAUTO'S LIMP BODY AND STANDS UP; LAUTO'S FACE CAN BE SEEN; FROM HIS CHIN UP TO JUST UNDER HIS EYES, HIS SKIN HAS BEEN COMPLETELY DISINTEGRATED, LEAVING ONLY BONES; HIS EYES REMAIN OPEN, STARING UPWARDS>
<WITHOUT SO MUCH AS LOOKING AT LAUTO AGAIN, THE BENEFACTOR POCKETS HIS KNIFE, AND WALKS AWAY>
<CUTS TO THE STOMPING GROUNDS>
<COOLER IS HOLDING LEDAS BY THE NECK; LEDAS IS FIGHTING HIM, TO NO AVAIL>
Cooler: What's that? Can't breathe? <HE LAUGHS>
<LEDAS, WHOSE EYES ARE GREEN AND HAIR IS WHITE, OPENS HIS MOUTH AND SENDS A MOUTH BEAM DIRECTLY TO COOLER'S FACE; THIS CAUSES COOLER TO DROP THE BOY; LEDAS LANDS ON HIS FEET AND BACKPEDALS A FEW METERS>
Ledas: <HOLDING HIS THROAT> Please sir… I'm not a rebel!
Cooler: <FEELING HIS FACE> Impressive energy. I actually felt that.
Ledas: Mr. Cooler, sir, you have to let me go! I haven't done anything!
Cooler: Why?
Ledas: Because I'm the one who killed the leader of the rebels on that rig.
Cooler: <DROPPING HIS HANDS> Ah, I remember that. The vanadium mining facility. I'm surprised you say that was you.
Ledas: <AGITATED> I killed the person in charge! How can I be a rebel?
Cooler: <SHAKING HIS HEAD> Would you play me as a fool, monkey? I know the team that performed that mission didn't have a Saiyan with them.
Ledas: What…?
Cooler: It was three members. The Plantains, I think. There was no Saiyan.
Ledas: <ANGER RISING> I'm on that team!
Cooler: I don't care for your lies, you filthy ape. Now, we're going back to have you interrogated. You can come nicely, or I can make you. But you aren't getting away. Nothing escapes my grasp!
Ledas: You aren't taking me anywhere!
<LEDAS' AURA FLARES UP AROUND HIM, AND HE CHARGES AT COOLER; COOLER BLOCKS LEDAS' ATTACK RATHER EASILY; LEDAS IS RELENTLESS, HOWEVER, ENDLESSLY PUNCHING, KICKING, AND TELEPORTING AROUND THE TYRANT; AFTER A FEW MOMENTS, LEDAS BREAKS AWAY AND CREATES A SLEW OF AFTERIMAGES; THEY ALL CHARGE COOLER>
<AS THE AFTERIMAGES GET TO COOLER, HE DOUBLE KICKS THE ONE TO HIS LEFT; THIS IS THE REAL LEDAS; LEDAS IS SENT CRASHING BACK TO THE TURF IN A MODERATE CRATER>
Ledas: <STANDING UP> What?! How did you see me?
Cooler: <CONFIDENTLY, BECKONING LEDAS TO ATTACK AGAIN> I can sense energy. It's a little trick I've picked up over the years.
Ledas: <OUTRAGED> No!!
<LEDAS STANDS UP AND SHOOTS A BARRAGE OF ENERGY AT COOLER; THEN, HE SHOOTS MULTIPLE GALICK GUNS AND FINGER BEAMS; FINALLY, HE FOLLOWS THIS UP WITH A FULL-POWERED KYORRA FLASH IN EACH HAND; THROUGHOUT HIS KI ASSAULT, COOLER HASN'T MOVED FROM PLACE; ONCE THE FINAL BLAST HITS COOLER, HE STEPS FORWARD FROM THE SMOKE>
Cooler: Your power is impressive for someone of your age. But you can't damage me. I'm not even at 1% power.
Ledas: <FATIGUED> No way! You hafta be lying!
Cooler: Am I? <HE LEANS FORWARD> Then let me show you.
<HIS AURA SHOOTS UP AROUND HIM, AND COOLER RUSHES AT LEDAS>
<SCENE CHANGES BACK TO LAUTO'S CAVE>
<WITHIN IT, THE BENEFACTOR HAS LINED UP THE DEAD SKELETAL BODIES OF FOUR SOLDIERS; THEY ARE ALL WEARING COOLER STYLE ARMOR; HE LOOKS OVER THEIR BODIES>
The Benefactor: Planets 54… 71… 76… 92… <HE STANDS BACK UP> Whoever stole my energy is from one of these. It won't take me long to find him, and when I do… he will pay for his crimes against me.
<THE BENEFACTOR WALKS OFF TO HIS SHIP AS THE SCREEN FADES TO BLACK>
A Blue Moon In His Eyes

[

]
<THE SCREEN ABRUPTLY OPENS WITH A SHOT OF LEDAS SLAMMING INTO THE GROUND; HE GROANS BEFORE STANDING UP; SHAKING HIS HEAD, HE LOOKS UP, FLARES HIS AURA AROUND HIM AND FLIES FORWARD; AHEAD OF HIM IS STANDING COOLER, WHO IS SIGNIFICANTLY LARGER THAN LEDAS; HIS AURA IS MASSIVE>
<LEDAS ATTACKS WITH A SINGLE FIST, YELLING AS HE PUNCHES AT COOLER; COOLER BLOCKS THIS EASILY AND KICKS LEDAS ACROSS THE FACE; THEN, COOLER TELEPORTS ABOVE LEDAS AND KICKS DOWN ONTO LEDAS' BACK WITH ONE FOOT; THIS SENDS THE SAIYAN BOY CRASHING INTO THE GROUND YET AGAIN>
<AS LEDAS STRUGGLES TO STAND UP, COOLER GRABS HIS TAIL AND PICKS HIM UP BY THAT; THEN, HE BEGINS PUNCHING LEDAS IN THE GUT; LEDAS RETALIATES BY SHOOTING A FLURRY OF KI BLASTS INTO COOLER'S STOMACH, THOUGH THIS DOESN'T DAMAGE HIM MUCH; COOLER SWINGS LEDAS UP OVER HIS HEAD, THEN SLAMS HIM DOWN INTO THE GROUND; THIS TIME, LEDAS IS LEFT IN THE CRATER>
Ledas: <IN HIS MIND> I… have to fight…
<HE SITS UP AND LOOKS AT COOLER; WITH ANOTHER YELL, HE CONJURES UP A RAZOR BLAST AND SHOOTS IT AT COOLER; COOLER SIMPLY BATS IT TO THE SIDE; SEEING THIS, LEDAS FALLS TO HIS HANDS AND KNEES AND BOWS HIS HEAD, BREATHING HARD>
Cooler: Are you ready to talk now, Saiyan?
Ledas: <STILL LOOKING DOWN> I already told you. I don't know anything.
<LEDAS LOOKS UP TO SEE COOLER RUSHING AT HIM AGAIN; BEFORE HE CAN REACT, COOLER KICKS HIM UNDER THE CHIN; THIS FLIPS LEDAS UP INTO THE AIR; AS HE ATTEMPTS TO REGAIN HIS BALANCE, HE NOTICES THAT COOLER IS GONE; RIGHTING HIMSELF IN MIDAIR, HE LOOKS AROUND, ONLY TO BE HIT, FROM BEHIND, BY A LARGE PURPLE BLAST; ONCE AGAIN, HE FALLS TO THE GROUND; MUCH OF HIS ARMOR IS DESTROYED FROM THIS AND HIS JUMPSUIT IS TORN; COOLER DESCENDS TO THE GROUND NEAR HIM>
Cooler: Tell me what you know… <HE PRESSES HIS FOOT OVER LEDAS' NECK, CAUSING THE SAIYAN TO GROAN IN PAIN> and the pain will stop. It's useless to continue resisting me.
<LEDAS ALLOWS COOLER TO PRESS DOWN ON HIS NECK FOR A MOMENT; AS COOLER PRESSES DOWN, THIS CAUSES THE GROUND BENEATH TO CRACK AND SPLIT; AS IT BREAKS APART, HE SLIPS OUT FROM COOLER'S GRASP, AND ROLLS TO THE SIDE; HE QUICKLY SHOOTS MORE KI INTO COOLER'S SIDE, THEN TELEPORTS BEHIND THE TYRANT AND CLUBS HIM OVER THE HEAD; COOLER STAGGERS FORWARD A BIT; LEDAS LANDS>
<LEDAS THEN FLARES UP HIS AURA TO ITS MAXIMUM; HE STARTS SCREAMING, AS HE CREATES A KI EXPLOSION; BEFORE THE BLAST CAN GO OFF, HOWEVER, COOLER REAPPEARS AND KNEES HIM EXTREMELY HARD IN THE RIBS; THIS CRACKS LEDAS' CHEST PIECE; THE BOY LOSES CONCENTRATION OF HIS ATTACK AND IN AN INSTANT, HIS AURA AND KI VANISH; HE STAGGERS BACK, HOLDING HIS CHEST; HE IS SLIGHTLY BENT OVER AND SPITTING UP BLOOD>
Cooler: <LOSING COMPOSURE> Tell me now!
Ledas: <BETWEEN SPITTING BLOOD> I don't have anything to say.
Cooler: Then you are no more use to me.
Ledas: <COUGHING IN PAIN> I don't care!
Cooler: I rule this universe! Everything is mine. Everyone is my slave. Your life belongs to me. And so does your obedience! <HE WALKS RIGHT UP TO LEDAS> I can destroy entire planets without any effort. <HE SUDDENLY CREATES A LARGE SUPERNOVA AT THE TIP OF HIS FINGER> Behold my power!
Ledas: <SEETHING BOTH IN PAIN AND FRUSTRATION> I told you I'm not a rebel!
Cooler: You lie!
Ledas: <FALLS TO HIS KNEES, THROWS HIS HEAD BACK AND CLOSES HIS EYES; HE SIGHS> Then kill me.
Cooler: <SURPRISED YET ANGRY> You dare defy me?! The strongest being in the universe? <HE BREATHES HARD AS ANGER COURSES THROUGH HIS VEINS; FINALLY, HE LOOKS AT HIS ATTACK, AND MAKES IT SIGNIFICANTLY SMALLER> Very well. At this size, the planet won't be in danger. But it's a pity. I have only a few soldiers stronger than you in my ranks. And now you have to die… such wasted potential.
<WITH THAT, COOLER THROWS THE BALL OF ENERGY AT LEDAS; AS THE RED AND YELLOW BALL OF ENERGY NEARS THE SAIYAN, HE SUDDENLY OPENS HIS EYES AND JUMPS BACK, ATTEMPTING TO DODGE IT; THE BALL SLAMS INTO THE GROUND, CREATING A MASSIVE EXPLOSION; LEDAS IS CAUGHT BY THE IMPACT EXPLOSION, MISCALCULATING HOW LARGE IT WOULD BE; THE BLAST FLINGS HIM BACK; MORE OF HIS ARMOR IS BURNED AWAY AS HE SLAMS INTO THE BOULDERS AT THE BASE OF THE MOUNTAIN THAT HE HIT GRIF INTO EARLIER>
<LEDAS LANDS ON TOP OF A BUNCH OF ROCKS, THOUGH HE ROLLS OFF OF THEM ALMOST IMMEDIATELY; HE FALLS TO THE GROUND ON HIS BACK; THERE ARE QUITE A FEW ROCKS BETWEEN HIM AND COOLER, SO THE TYRANT CANNOT ACTUALLY SEE HIM ANY MORE>
Ledas: <EYES CLOSED AGAIN, GRITTING HIS TEETH; HIS HANDS ARE IN FISTS AT HIS SIDES> Just gotta… lower my power level…
<LEDAS LETS OUT SHARP BREATHS AS HE DOES SO, AND UPON SATISFYING HIMSELF WITH HIS LOWERED POWER LEVEL, HE FLIPS TO HIS SIDE AND CRAWLS FORWARD; HE REACHES THE EDGE OF THE ROCKS AND PEERS AROUND THEM TO GET A LOOK AT COOLER; COOLER IS STANDING, LOOKING AT THE CARNAGE; AFTER A FEW MOMENTS, COOLER TURNS AND FLIES AWAY>
Ledas: <STILL IN PAIN> He's just like Lieme… doesn't know about lowering power levels… he can't sense me…
<LEDAS ROLLS BACK ONTO HIS BACK AND LAUGHS QUIETLY; HOWEVER, HE QUICKLY NOTICES HE'S NOT ALONE>
Grif: What are you laughing at, you little bitch?
Ledas: <INCREDULOUS, IF TIRED> How are you still alive?!
<SCENE CUTS TO A DISTANT WORLD>
<THE BENEFACTOR IS SITTING IN A TREE OVERLOOKING A PLANET TRADE ORGANIZATION OUTPOST; HE WATCHES SOLDIERS MOVE ABOUT; THEY ARE COMPLETELY UNAWARE OF HIS PRESENCE; A NEARBY BUILDING CAN BE SEEN WITH THE NUMBER 54 ON IT, IMPLYING THIS IS THE FIRST PLANET HE HAS SEARCHED>
The Benefactor: <IN HIS MIND> None of these are right. <HE LOOKS AWAY> I don't feel it anywhere. <HE RAISES HIS HAND, CREATING A BLAST, BUT THEN DISSIPATES THE BLAST> No, it will draw too much attention.
<THE BENEFACTOR ANGRILY PUNCHES THE TREE HE'S SITTING ON, BREAKING OFF THE TOP HALF OF IT; HE JUMPS OFF OF IT AND MOVES THROUGH THE JUNGLE; HE FINDS A NATIVE, FOUR-LEGGED BEAST AND POUNCES ON IT, TEARING IT TO SHREDS WITH HIS CLAWS; HE BEGINS EATING IT AS THE SCREEN SLOWLY PANS BACK AND DISSOLVES INTO THE NEXT SCENE>
<BACK WITH LEDAS AND GRIF, GRIF HAS MOVED CLOSER TO LEDAS; HE IS STANDING OVER THE SAIYAN; LEDAS IS ABSOLUTELY EXHAUSTED; HE HAS REVERTED BACK TO HIS BASE FORM; HIS ARMOR IS WRECKED, AND HE IS COVERED IN BRUISES AND CUTS; GRIF'S ARMOR IS DAMAGED AS WELL, BUT IT IS NOT AS BAD AS LEDAS'; THEY ARE BOTH RIGHT NEXT TO A LARGE MOUNTAIN, OF WHICH A SIGNIFICANT PORTION HAS COLLAPSED SINCE BOTH LEDAS AND GRIF WERE HURLED INTO IT>
Grif: You hit me into this mountain, jerk!
Ledas: <SHAKING HIS HEAD> You were charging up a sneak attack.
Grif: Well, uh, I was just getting revenge for my paper! That was a travesty. <HE LOOKS PROUD AT HIS DECLARATION>
Ledas: Really? That again?
Grif: <SO CLEARLY SARCASTIC> It was my life!
Ledas: Look, just tell me where the pods are. I don't want to have to listen to you talk anymore.
Grif: Oh yeah? Well, you're not the boss of me now! I'm a great warrior too! It's time Private Grif shows his worth. Aha! <HE THRUSTS HIS HANDS INTO LEDAS' FACE, CREATING PURPLE ENERGY> Take this, ape!
<LEDAS ATTEMPT TO CHARGE UP HIS KI AGAIN, BUT GRIF'S ATTACK COMES RATHER SUDDENLY; AS LEDAS IS IN MID-CHARGE, GRIF RELEASES HIS BLAST, AND IT COVERS LEDAS; IT COVERS HIS BODY ENTIRELY; THE ENERGY DOES NOT DISSIPATE OR EXPLODES UPON CONTACT; IT SIMPLY COVERS HIM IN PURPLE; IT IS A STASIS ATTACK, WHICH HAS NOT ONLY IMMOBILIZED LEDAS, BUT PUT HIM INTO AN INSTANT COMA>
<GRIF WALKS UP TO LEDAS' FROZEN FORM>
Grif: Oh yeah, you care to say that to my face…? Yeah didn't think so. Punk.
<GRIF PLACES HIS BLASTER TO LEDAS' FACE, SHOOTING IT SEVERAL TIMES; LEDAS IS LEFT DEFENSELESS AGAINST GRIF'S ATTACK; GRIF APPEARS QUITE GLEEFUL AT HIS VICTORY AND PRANCES ABOUT AS HE SHOOTS THE STASIS'D SAIYAN>
<GRIF STANDS RIGHT OVER LEDAS' BODY AND CHARGES UP ONE LARGE BLAST; HITTING LEDAS WITH THIS SENDS THE BOY'S BODY FLYING LIKE A RAGDOLL FURTHER INTO THE ROCKY DEBRIS; GRIF SHOUTS AND PUNCHES THE AIR; HIS TAIL GOES MENTAL>
<GRIF BACKS UP, OUT OF THE CRACK IN THE MOUNTAIN, AND SENDS ANOTHER HAIL OF BLASTS DOWN AT LEDAS; THE AREA EXPLODES>
<HE IS SUPREMELY SATISFIED WITH HIS DEEDS; GRIF TROTS AWAY HUMMING THE BLOOD GULCH THEME TO HIMSELF>
I'm So Devious

[

]
<CUE The Soul That Must Awaken>
<THE PLAINS, MOSTLY DESOLATE, BUT GREEN WITH GRASS, ARE SHOWN; THE MOUNTAIN WHERE COOLER AND LEDAS FOUGHT IS SHOWN; THE CRATERS, ESPECIALLY THE ONE FROM HIS SUPERNOVA ARE STILL EVIDENT, THOUGH THERE IS MUCH GRASS GROWING IN THEM; THE MOUNTAIN ITSELF IS PARTIALLY CAVED IN; NEARBY, THE FLOATING CREATURE SEEN IN THE BEGINNING OF CHAPTER 2 IS SEEN LAZILY MOVING ACROSS THE SCREEN>
<A BASE WITH THE TWO HIGH TOWERS IS BROUGHT INTO VIEW; IT IS SURROUNDED BY A LARGE AMOUNT OF SMALLER BUILDINGS, AND SMALL FIGURES OF SOLDIERS CAN BE SEEN MOVING ABOUT; AT THE TOPMOST TOWER, IN THE UPPERMOST ROOM, ARE TWO BEINGS; COOLER, AND ANOTHER; HE IS ARMORED; HIS SKIN BLACK, HIS FEATHERS RED; HE IS BIRDLIKE, WITH A VERY VICIOUS FACE; HIS ARMOR IS THAT OF THE OFFICERS, ONLY MORE ORNATE; HE DOES NOT HAVE EITHER SHOULDER PAD; THIS IS DIGRANITE>
<COOLER IS STANDING OVER A MONITOR; IDLY ROLLING HIS FINGERS>
<END OF The Soul That Must Awaken AT 50 SECONDS>
Cooler: These stomping grounds have been quiet. My men sit around doing nothing all day. They are wasting away.
Digranite: There aren't any new planets. We have no reason for a new governor.
Cooler: These grounds are not only for appointing governors, General. I want them re-opened. Put the regular troops back on practice. If they can't handle the training, so be it. Let them die.
Digranite: <GRINNING> Very well.
Cooler: Two weeks. I want everyone at 12,000 by then. These soldiers are supposed to be the best in my army. Make them so, General.
<COOLER HITS A BUTTON HALFWAY UP THE WALL, TURNING ON THE WALL COMPUTER; IT SHOWS THE MOONS OF THE STOMPING GROUNDS; ONE IS MAGNIFIED>
Digranite: They'll be ready. I will make sure of it.
Cooler: I will be convening with my governors on the moon if you need me.
<DIGRANITE NODS; COOLER IS VERY BORED; HE FLEXES HIS ARMS BEFORE WALKING OUT>
<CUTS TO NEXT SCENE; DIGRANITE OVERSEES, WITH HIS OTHER COMMANDERS, THE FOOT SOLDIERS' TRAINING>
<THERE ARE SEVERAL THOUSAND OF THEM ON THE PLANET; DIGRANITE HAS THEM RUNNING OBSTACLE COURSES, TRAINING IN GRAVITY UNITS, AND EVERYTHING; HE LOOKS MIGHTY PLEASED>
<DOWN ON A TRAINING MAT, IN THE FIRST ENCLOSURE OF TRAINING, GRIF AND ONE OTHER SOLDIER ARE SPARRING; THEY HAVE AN INSTRUCTOR OVERSEEING THEM; GRIF LOOKS OLDER; HE HAS A LONG WHITE BEARD COMING OUT OF HIS HELMET, AS IF HE HAS AGED QUITE A BIT SINCE THE LAST CHAPTER>
Instructor: <TO GRIF> You check in at 400. <TO THE OTHER> You are 1600. Grif, you are severely under the average level. Explain to me why.
Grif: <NOT CARING> Can't tell ya, man. I train just as hard as everybody!
Soldier: It's not true! He just lies around eating all day.
Grif: Hey, shut up. Nobody asked you.
Soldier: I swear I see him just lying around all day. He sleeps on duty, for crying out loud!
Grif: Oh yeah? How about I blow a hole through that ugly face of yours. Shut up.
Soldier: I'd like to see you try.
Grif: Jerk-off.
<BEFORE THE INSTRUCTOR CAN SAY ANYTHING, GRIF RAISES HIS BLASTER, FIRES IT, THEN LUNGES AT THE SOLDIER>
<THE SOLDIER SIDESTEPS GRIF; AS GRIF COMES FLYING BY, THE SOLDIER SHOOTS HIS BLASTER INTO GRIF'S BACK; GRIF TURNS AROUND, SWINGING A WILD PUNCH; THE SOLDIER JUMPS BACK, THEN HOPS FORWARD, SLAMMING HIS BLASTER INTO GRIF'S FACE>
<GRIF FALLS TO THE GROUND, BLOOD POOLING AROUND HIS HEAD; HE IS DEAD>
Soldier: <LOOKING DOWN> I… didn't think that would kill him… Damn. <HE LOOKS UP TO THE INSTRUCTOR>
Instructor: <HE VAPORIZES GRIF'S BODY> Don't say anything about this. He was weak and lazy; a disgrace to everyone else here. He won't be missed. Just get back to your training. Find a new partner.
<THE SOLDIER SCURRIES OFF; THE SCREEN FADES>
<THE SCENE CHANGES; THERE IS A DARK, UNDERGROUND HOLE; IT IS BEING LIT ONLY BY A FAINT PURPLE LIGHT; SUDDENLY, THE LIGHT GOES OUT AND ALL IS DARK; THEN A SECOND LIGHT COMES; THIS ONE IS CYAN IN COLOR; IT IS AN OBVIOUS ENERGY BEAM; IT TEARS UP THE DARK GROUND BEING SEEN, ALLOWING THE DAYLIGHT ABOVE TO COME IN>
<A SMALL CHILD, LEDAS, CAN BE SEEN CRAWLING OUT; HE IS BREATHING HARD, TREMBLING, AND HAVING A HARD TIME MOVING AT ALL; HE MANAGES TO GET OUT OF THE HOLE; HE LIES DOWN AS SOON AS HE GETS OUT; HE IS NEARBY A BUNCH OF LOOSE ROCKS>
<IT IS THE 765 AGE>
<THE SAIYAN BOY LIES THERE ALL DAY, UNTIL IT TURNS TO EVENING; WITH THE SUN SETTING, AND COLDNESS COMING DOWN ALL AROUND HIM; LEDAS STANDS UP, AND STAGGERS OUT; HE DOES NOT FLY, AS HE DOESN'T HAVE ENOUGH POWER TO; BEING IN STASIS FOR 21 YEARS HAS MADE IT INCREDIBLY PAINFUL FOR HIM TO POWER UP AT ALL; WHILE THE STASIS DID PREVENT ATROPHY, IT ALSO MADE IT VERY HARD FOR LEDAS TO RAISE HIS POWER LEVEL AGAIN>
<HE REACHES A NEARBY CITY IN NO TIME; IT IS NOT THE ONE WITH THE TWO TOWERS; THIS ONE HAS ONLY A SINGLE TOWER, AND SMALLER BUILDINGS>
<LEDAS RUNS INTO THE STREET, LOOKING AROUND FOR A PLACE TO STAY; HE FINDS A BARRACKS THAT IS EMPTY; HE GOES INSIDE>
<LEDAS SITS DOWN AGAINST A WALL; HE PUTS HIS ARMS OUT, TRYING TO POWER UP; THIS CAUSES HIM CONSIDERABLE PAIN; HE BITES HIS LIP TO PREVENT HIMSELF FROM SCREAMING OUT, CLOSING HIS EYES AND RAISING HIS HEAD BECAUSE IT HURTS SO MUCH; AS WE CAN SEE, HIS HAIR IS NOT WHITE, AND HIS EYES ARE NOT GREEN, SO HE IS NOT IN A SEMI SUPER SAIYAN STATE; HIS ARMOR AND CLOTHES ARE STILL QUITE DAMAGED>
<HE FALLS ASLEEP AGAINST THE WALL>
<IN THE EARLY MORNING, IT IS FOGGY OUT; HE WAKES UP TO FIND HIMSELF ALONE; CAREFUL TO NOT GET CAUGHT, HE LEAVES>
<AS HE WALKS OUTSIDE, HE NOTICES A PATROLLING GUARD; LEDAS DUCKS BEHIND AN ALLEY SO AS TO NOT BE SEEN>
<ONCE AGAIN, HE TESTS HIS POWER; IT PAINS HIM GREATLY, CAUSING HIM TO DROP TO ONE KNEE; HOWEVER, HE IS ABLE TO RAISE IT A BIT EVEN IN THIS PAIN>
<IT IS ENOUGH, HE THINKS, TO TAKE OUT THE GUARD>
<MAKING SURE THE GUARD STILL HAS HIS BACK TO LEDAS (BY STICKING HIS HEAD OUT), LEDAS RUNS OUT BEHIND HIM; WHEN HE GETS BEHIND THE GUARD, HE SHOOTS A FINGER BEAM THROUGH THE BACK OF HIS HEAD; THE GUARD FALLS, DEAD; LEDAS WINCES IN PAIN AT USING THIS ENERGY SO SUDDENLY>
<UP AHEAD, HE SEES ANOTHER GUARD WHO IS PACING BACK AND FORTH; ZIG ZAGGING BACK AND FORTH BETWEEN BUILDINGS, LEDAS MAKES HIS WAY TO THE GUARD; WHEN HE TURNS, LEDAS SHOOTS A FINGER BEAM FROM TWO BUILDINGS BACK AND TAKES HIM OUT; THEN, HE RUNS INTO THE BUILDING THE GUARD WAS, WELL, GUARDING>
<INSIDE, LEDAS WAS HOPING TO FIND A SPACE POD TO GET AWAY IN; HOWEVER, HE JUST FINDS A BUNCH OF SLEEPING SOLDIERS; CAREFULLY, HE GOES UP TO EACH AND KILLS THEM WITH A SILENT FINGER BEAM TO THE FACE; SURE THAT THEY ARE ALL DEAD, WITH NOBODY LEFT TO WARN COOLER HE WAS HERE, LEDAS MOVES OUT TO ANOTHER BUILDING>
<HE GOES THROUGH QUITE A FEW BUILDINGS, NOT FINDING PODS, BUT SOLDIERS; HE KILLS THEM ALL IN THEIR SLEEP; AFTER TAKING OUT ANOTHER PACING GUARD, LEDAS COMES TO A BUILDING AT THE CENTER; HE ENTERS, ONLY TO FIND ABOUT SIX OR SEVEN PEOPLE AWAKE AND VERY MUCH ALIVE>
<MOST OF THEM LOOK TO BE GRUNTS, BUT ONE WEARS THE SAME COLOR ARMOR AS BANAS; LEDAS KNOWS THIS TO MEAN IT IS AN OFFICER; HE CAN SENSE THE ALIEN HAS A PRETTY HIGH POWER LEVEL, TOO>
<NO ONE SEES HIM ENTER, SO HE GOES AROUND LEFT, HUGGING THE WALL; THE FIRST TWO GUARDS ARE AWAY FROM THE OTHERS, AND LEDAS TAKES THEM OUT EASILY; BY NOW, HIS POWERS ARE COMING BACK TO HIM LESS PAINFULLY>
<HE DODGES AROUND A PILLAR TO THE RIGHT, AND FINDS ANOTHER GUARD; HE GOES TO KILL IT, WHEN IT TURNS AROUND AND SEES HIM; IT LETS OUT A HOLLER; LEDAS IMMEDIATELY DIVES AT HIM, PUNCHING HIM>
<THE OTHER SOLDIERS NOTICE HIM AND RUN OVER; SURROUNDED, LEDAS CREATES A QUICK EXPLOSIVE WAVE, WHICH KILLS THEM>
<THE CAPTAIN, A TALL CREATURE WITH WHITE HAIR, A BLUE FACE, AND FOUR ARMS, DID NOT RUN WITH THE REST OF THE TROOPS; NOW HE COMES TO LEDAS, WHO IS ON THE FLOOR TRYING TO REGAIN ENOUGH STAMINA TO GET UP>
<THE CAPTAIN COMES UP TO LEDAS, BUT STOPS, FINDING A SOLDIER STILL ALIVE; HE BENDS DOWN, AS IT REACHES TOWARD HIM FOR SUPPORT; HE PRESSES HIS CLAW TO ITS NECK, DRAWING BLOOD AND KILLING IT; HE LOOKS UP TO LEDAS, SLOWLY>
Konatsu: You're a young one. What did you do? Run away from mommy to join the army?
Ledas: I didn't join anything. I'm not with you.
Konatsu: Oh, a rebel with stolen armor. In that case, I will kill you myself.
<KONATSU ROLLS TO LEDAS, AND HEADBUTTS HIM, SMACKING THE BOY WITH HIS HORN>
<LEDAS PUSHES HIM AWAY, GETS UP AND RUNS OUTSIDE; KONATSU PURSUES HIM; ONCE OUTSIDE, LEDAS TURNS; KONATSU CALLS HIS SOLDIERS, BUT GETS NO RESPONSE; LEDAS USES THIS TIME TO POWER UP, AS MUCH AS IT PAINS HIM>
Ledas: It won't work! I killed them all already!
Konatsu: That's devious. You killed them all before coming for me. Planning it all out. But you won't have me!
<KONATSU BLASTS LEDAS; LEDAS SHOOTS A PLAYFUL GALICK BACK; THEY TRADE BLASTS FOR A FEW MOMENTS; THEN, LEDAS GETS WEARY AGAIN FROM USING SO MUCH ENERGY; KONATSU USES THIS TIME TO ATTACK LEDAS HEAD ON; HE KICKS LEDAS' HEAD, THROWING HIM TO THE GROUND; KONATSU ROLLS LEDAS ONTO HIS STOMACH, THEN GRABS HIS ARMS, BRINGING THEM BEHIND HIS BACK; HE RAISES LEDAS' ARMS UP, WHILE PULLING DOWN WITH HIS LEG; BEFORE HE CAN RIP OFF THE SAIYAN'S ARM, LEDAS KICKS KONATSU IN THE STOMACH, THEN PUSHES OFF THE GROUND, DOING A FRONT FLIP AND KICKING KONATSU AGAIN>
<KONATSU IS WAITING, HOWEVER; HE PUNCHES LEDAS DEEP IN THE GUT, THEN GRABS HIM; HE THROWS THE BOY UP INTO THE AIR; KONATSU FOLLOWS THIS UP WITH AN AERIAL KICK, SENDING LEDAS FURTHER UPWARD; HE FIRES A BEAM TO FINISH OFF THE BOY; LEDAS LEVELS HIMSELF OFF BEFORE THE BLAST REACHES HIM; HE SLICES THE BLAST IN HALF, DOWN THE MIDDLE; THEN, HE AIR DASHES DOWN THAT SPACE THROUGH THE MIDDLE; KONATSU DOES NOT SEE HIM COMING, AND LEDAS SLAMS HIS FIST INTO THE ALIEN'S FACE; KONATSU FALLS BACK>
<LEDAS JUMPS ON HIS CHEST, AND QUICKLY JABS HIM SEVERAL TIMES, KNOCKING THE WIND OUT OF KONATSU; LEDAS THEN KICKS KONATSU ACROSS THE FACE WITH HIS BOOT; HOWEVER, LEDAS JUMPS OFF OF HIM AND TAKES A BREAK, RESTING TO REGAIN HIS ENERGY; AT THIS MOMENT, KONATSU CALLS FOR REINFORCEMENTS FROM THE NEAREST OUTPOST>
Konatsu: <PRESSES A BUTTON ON HIS WRIST-PAD> Heh… you're not bad. Guess I'll have to get some help. <TO THE RADIO> Anango! Get over here now. I need your assistance. This is very important.
Ledas: <STAGGERING IN PLACE> Wha… what?
Konatsu: Well kid, you may as well run away. You're dead here. Anango and I are unstoppable together.
Ledas: <TO HIMSELF, LOOKING AROUND> Dang it!
<SUDDENLY, A FLASH OF LIGHT COMES ACROSS THE SCREEN; IT GOES STRAIGHT THROUGH LEDAS; HOWEVER, LEDAS HAD EXPECTED THIS; THE FIGURE, STILL OBSCURED, ATTACKS NOTHING BUT AN IMAGE PROJECTION>
<LEDAS COMES FROM BEHIND, SIDE SWEEPS THE FIGURE AND KICKS HIM AWAY INTO A BUILDING; HOWEVER, THE CREATURE GETS UP REALLY QUICKLY; IT DOES NOT ATTACK AGAIN; IT GOES TO HELP KONATSU UP>
<ANANGO IS A YELLOW CREATURE, WITH TUSKS AND BACKWARDS KNEES, WHICH CAUSE HIM TO BOUNCE WHILE WALKING; LEDAS SENSES THAT HIS POWER LEVEL IS ONLY SLIGHTLY LOWER THAN KONATSU'S; NOW WITH KONATSU UP, BOTH OF THEM CLEARLY ARE MORE POWERFUL THAN HIM>
<LEDAS DECIDES TO NOT ATTACK ANY MORE>
Ledas: <TO KONATSU, IN ANSWER> I guess I'll start running now…
Agoraphobia

[

]
<LEDAS HAS FLOWN OFF>
<KONATSU AND ANANGO REACH AN OUTPOST; THIS IS THE LAST PLACE THEY HAD READ LEDAS' POWER LEVEL>
<EVERY SOLDIER IS OUT, BECAUSE THEY ARE TRAINING FOR DIGRANITE>
<KONATSU'S ARMOR IS CRACKED FROM THE PREVIOUS FIGHT>
<THE TWO SPLIT UP, EACH GOING DOWN A SEPARATE PATH; KONATSU TAKES THE LEFT, ANANGO TAKES THE RIGHT; THEY BOTH WEAR SCOUTERS AND FROM HERE ON OUT, THAT IS HOW THEY WILL COMMUNICATE WHEN THEY ARE NOT TOGETHER>
<KONATSU HAS A PICTURE OF LEDAS ON HIS SCOUTER, WHICH HE TOOK BEFORE WHEN THEY WERE FIGHTING; HE FORWARDS THE PICTURE TO DIGRANITE>
<DIGRANITE, IN HIS TOWER, RECEIVES THE MESSAGE>
Digranite: Impossible… that's the Saiyan boy Cooler killed years ago. I can't let Cooler know he's alive. <ON HIS SCOUTER TO KONATSU; HE PRESSES SOME BUTTONS ON A WALL MOUNTED COMPUTER> All soldiers have been alerted. You have the entire army at your command, Commander. I need him dead as soon as possible.
<CUTS TO LEDAS; HE IS ON THE OTHER SIDE OF THE CITY>
<HE HAS LOWERED HIS POWER LEVEL TO STALL THE TWO COMMANDERS FROM FINDING HIM; HE MAKES HIS WAY THROUGH THE CITY UNTIL HE COMES TO THE EDGE, WHICH HAS THE ARMIES TRAINING FOR COOLER>
<THE ENTIRE ARMY ON THIS PLANET CONSISTS OF TWELVE THOUSAND GRUNTS AND INSTRUCTORS, WITH ABOUT TEN OFFICERS OF POWER LEVELS ABOVE 2000; STANDING BEFORE LEDAS IS HALF OF THE ARMY; HE DOES NOT PAY THEM MUCH ATTENTION AS HE DOES NOT THINK THEY WILL ATTACK; THEY ARE TRAINING TOGETHER>
<A KEEN EYED SOLDIER SPOTS LEDAS; IT DOESN'T TAKE LONG FOR THE OTHERS TO COME OUT AND SEE HIM; THE COMMANDING OFFICER HALTS THEIR TRAINING AND ORDERS HIS SOLDIERS TO POUR OUT AND ATTACK; LEDAS OBVIOUSLY MATCHES ALL OF THEIR SCOUTERS; DIGRANITE HAD SENT A PICTURE OF LEDAS TO EVERY SOLDIER'S SCOUTER, TELLING THEM TO KILL HIM ON SIGHT; NOW THEY'VE SEEN HIM AND THEY FORM UP TO KILL HIM>
<KONATSU, IN ONE FRAME, BECOMES AWARE OF SOMETHING HAPPENING ON THE OTHER SIDE OF THE CITY; HE RACES TO IT>
<LEDAS LOOKS OVER AND SEES THE ARMY RACING TOWARD HIM; ASTONISHED BY THIS, HE QUICKLY POWERS UP TO HIS MAXIMUM; THE THOUSANDS OF SOLDIERS RUN AT HIM, FIRING THEIR BLASTERS OR NATURAL ENERGY ATTACKS; LEDAS SHRUGS IT OFF; HE ATTACKS THEM WITH AN UNRELENTING ENERGY BURST; IT MOWS DOWN HUNDREDS OF SOLDIERS; STILL, MANY MORE APPROACH HIM; HE FLIES THROUGH THEM, ATTACKING THEM WITH PUNCHES, KICKS, AND SMALL ENERGY BLASTS; UPON BLOWING THROUGH THE GROUP, HE LOOKS BACK AT THE SURVIVORS; THEY ARE IN UTTER CHAOS, AS MANY ARE DEAD, AND MANY MORE ARE WOUNDED; THE COMMANDERS ATTEMPT TO RESTORE ORDER AND GET EVERYONE LINED UP TO ATTACK LEDAS AGAIN; THIS GIVES THE SAIYAN A BRIEF MOMENT TO PAUSE; HE CHARGES UP A KYORRA FLASH IN THIS TIME>
<THE SOLDIERS REGROUP AND SHOOT AGAIN; LEDAS DUCKS, DROPPING TO HIS KNEES AS HE CHARGES THE ATTACK; BEFORE THEY REACH HIM, RAISES HIS ARMS, INTERLOCKED IN A TRIANGLE, AND RELEASES THE BEAM; IT CREATES A HUGE EXPLOSION, TAKING UP THE ENTIRE SCREEN; IT KILLS EVERY LAST ONE OF THE SOLDIERS AND OFFICERS PRESENT>
<LEDAS SPINS AROUND>
Ledas: That commander is coming. I can feel him… Better get out of here.
<LEDAS LOWERS HIS POWER LEVEL, THEN RUNS OFF>
<LEDAS TAKES TO THE AIR; AS HE IS FLYING, HE IS INTERCEPTED WITHIN THREE PANELS>
<A KICK TO THE BACK OF THE HEAD SENDS THE BOY FALLING DOWN; HE LANDS ON HIS BACK, BOUNCING PAINFULLY; WHEN HE LOOKS UP, HE FINDS ANANGO>
Anango: <TURNS ON HIS SCOUTER> Hey, Konatsu, I fou–
<LEDAS SHOOTS A FINGER BEAM, DESTROYING ANANGO'S SCOUTER; SEEING LEDAS HAS SOME FIGHT IN HIM, ANANGO QUICKLY ATTACKS, SCOOPING LEDAS UNDER HIS HOOF AND KICKING HIM INTO THE AIR; HE AIR DASHES UP TO LEDAS, PUNCHING HIM IN THE GUT; LEDAS KICKS HIM AWAY>
Anango: Command says you're a high priority target. And now, I get to bring your body in. Lord Cooler will be most pleased. There's a promotion in my future; I'm sure!
Ledas: You might've won with that other guy here, but I can beat you alone. I am much stronger than you.
Anango: I read your power level; you're only at 100,000 max. <STRAIGHTENS FINGERS> Mine is over 120,000.
<ANANGO DISAPPEARS, REAPPEARING BEHIND LEDAS; HE SMACKS THE BOY TO THE GROUND; HE FLIES DOWN AFTER LEDAS, SHOOTING AN ENERGY BARRAGE; ANANGO LANDS; HE WATCHES AND WAITS FOR THE SMOKE TO CLEAR; WHEN IT DOES, HE IS SURPRISED; LEDAS IS STANDING INSIDE A ROUND, PURPLE BARRIER; HE IS UNTOUCHED, STILL AT MAXIMUM POWER>
<ANANGO CREATES A BEAM IN HIS HAND; HE DRAGS IT, SO THAT IT CUTS THROUGH THE GROUND AS HE WALKS; WHEN HE REACHES LEDAS, HE RAISES IT, FOCUSING THE ENERGY ON THE BARRIER; THE BARRIER GETS LIGHTER AS MORE ENERGY IS PUT ON IT>
Anango: Nice attack. Too bad it only prolongs your death.
<LEDAS SAYS NOTHING; THE ENERGY OVERLOADS HIS BARRIER, WHICH EXPLODES; HOWEVER, UNLIKE MOST BARRIERS, THIS ONE DOES NOT SIMPLY GO OUT; WHEN IT BLOWS UP, IT CREATES AN ENERGY WAVE; ANANGO IS CAUGHT IN IT; IT DAMAGES HIM, SENDING HIM BACK>
<LEDAS JUMPS UP IN AN ARC; HE COMES DOWN ON ANANGO'S HEAD WITH HIS FOOT, PARTIALLY CRACKING THE ALIEN'S SKULL>
<ANANGO REACHES UP WITH BOTH ARMS TO GRAB LEDAS; LEDAS SHOOTS A SINGLE GALICK OUT OF EACH HAND, WHICH BLASTS ANANGO'S ARM DOWN; THE ALIEN COLLAPSES; LEDAS PUSHES OFF HIS HEAD AND LANDS>
Ledas: If you still had your scouter, you'd know you're no match for me.
<ANANGO STANDS UP; HE IS NOT MAD; HE GETS BACK INTO A FIGHTING STANCE>
Anango: I don't believe it. The numbers don't lie. You weren't above 100,000 against Konatsu.
<LEDAS ATTACKS AGAIN; HE PUNCHES ANANGO IN A FLURRY; ANANGO CANNOT DEFEND; HE IS PUMMELED INTO A BLOODY PULP; HE ATTEMPTS TO SHOOT A BLAST AT LEDAS, BUT THE SAIYAN SWIPES IT AWAY; HE PUNCHES ANANGO IN THE FACE, CAUSING THE ALIEN TO DROP TO ONE KNEE; LEDAS RISES INTO THE AIR AND SLAMS HIS LEG INTO ANANGO'S NECK FROM THE SIDE; ANANGO COUGHS UP BLOOD>
<ANANGO REACHES OUT, BUT LEDAS EASILY DODGES IT; HE KICKS ANANGO SQUARE IN THE CHEST; ANANGO STANDS UP FROM THE BLOW, BUT HE IS TOO SLOW FOR LEDAS>
Anango: You can't be… this powerful…
<ANANGO SENDS UP A SHARP BLAST TO THE SKY, TO TRY TO ALERT KONATSU TO HIS POSITION; HE COVERS THE AREA AROUND HIM IN A BURNING ATTACK SO THAT LEDAS CANNOT GET TO HIM AS HE WAITS; NEVERTHELESS, LEDAS JUMPS THROUGH THE RING OF FIRE AND RUSHES FORWARD; ANANGO IS ABLE TO SIDESTEP AND GRAB ONTO LEDAS' TAIL, KNOWING THAT THIS IS HOW TO DEFEAT A SAIYAN; HE PULLS LEDAS UP BY IT>
Anango: Your tails are your weakness. Now I have the advantage.
Ledas: <HANGING UPSIDE DOWN; GRINNING DEVIOUSLY> You idiot, I'm super elite. My tail isn't sensitive at all.
<LEDAS SHOOTS A SMALL KI BLAST INTO ANANGO'S FACE, MAKING HIM DROP LEDAS>
<LEDAS RUNS AROUND BEHIND ANANGO; HE SWEEPS ANANGO'S LEGS, CAUSING ANANGO TO FALL; LEDAS DISAPPEARS AND REAPPEARS IN FRONT OF HIM, PUTTING HIS LEG ON ANANGO'S CHEST, PINNING HIM TO THE GROUND; HE TAKES HIS HAND PLACES IT UNDER THE ALIEN'S CHIN, PALM OPEN; THIS IS FOLLOWED UP BY A QUICK ONE HANDED KYORRA BLAST; THIS DECAPITATES ANANGO IMMEDIATELY; HIS WOUND IS CAUTERIZED, SO NO BLOOD COMES OUT>
<LEDAS STANDS UP PROUDLY, HAVING DEFEATED YET ANOTHER DIFFICULT OPPONENT>
<CUTS TO KONATSU>
<KONATSU IS AT THE TRAINING AREA WITH ALL THE DEAD SOLDIERS; DIGRANITE CALLS HIM>
Digranite: <OVER THE SCOUTER> Status update. Now.
Konatsu: <SNEER> I've lost him, General. He took out the first garrison. Anango's disappeared, too. I can't find him on the scouter.
Digranite: Gather the second garrison and head to the Capitol. That'll bait him.
Konatsu: <IN A HISS> I'm going.
<CUTS BACK TO LEDAS; HE IS HOVERING IN THE AIR; HE LOOKS AROUND TRYING TO FIND ANOTHER CITY; HE SUDDENLY FEELS THE CONCENTRATED POWER LEVELS TO THE NORTH; HE TURNS TO IT; HE SEES THE CAPITOL, THE CITY WITH THE TWO INCREDIBLY HIGH TOWERS; HE MAKES HIS WAY TO THAT>
Ledas: I bet they'll have some ships.
<HE FLIES OVER TO OUTSKIRTS OF THE CITY; HE DROPS TO THE GROUND AND RUNS DOWN THE STREETS, CAREFULLY AVOIDING THE MAIN ROADS SO NO ONE SEES HIM>
<LEDAS DOES NOT FIND ANYTHING OR SEE ANYONE; HE COMES TO THE BASE OF THE TWO TOWERS; HE LOOKS UP BUT HE CANNOT EVEN SEE THE TOP>
Konatsu: There you are.
<KONATSU IS BEHIND LEDAS, ALONE; LEDAS TURNS AROUND TO FACE HIM; KONATSU SHOOTS A ONE HANDED BLAST AT LEDAS; HE DUCKS FROM IT AND TAKES OFF; KONATSU JUMPS AFTER HIM, CLIMBING OVER THE BUILDINGS TO FOLLOW HIM; SIX THOUSAND SOLDIERS, WHO WERE LYING IN WAIT, NOW COME OUT; THEY ARE IN THE BUILDINGS AND THE STREETS, SPREAD OUT THROUGH THE CITY; THEY TAKE SHOTS AT LEDAS>
<KONATSU JUMPS AND OVERTAKES LEDAS; HE LANDS ON THE BOY, CAUSING THEM TO FALL INTO A BUILDING; KONATSU LANDS ON TOP (OBVIOUSLY) AND GETS SEVERAL GOOD HARD PUNCHES ONTO LEDAS; LEDAS STARTS BLEEDING PROFUSELY; HIS NOSE IS BROKEN; KONATSU RAISES HIS LEG AND JABS IT AT LEDAS' CHEST, CUTTING THE ARMOR AND GETTING TO HIS STOMACH; THIS CUTS LEDAS REAL BAD; HE BLEEDS EVEN MORE>
Konatsu: <IN JEER; HIS FACE IS INCHES FROM LEDAS'> Look at all that blood. You aren't surviving much longer bleeding like that.
<LEDAS HEADBUTTS HIM, AND MANAGES TO GET FREE; HE RUNS AROUND A CORNER; KONATSU SHOOTS AFTER HIM, DESTROYING THE BUILDINGS AROUND, ELIMINATING HIS COVER; KONATSU HAS NO CARE FOR THE SOLDIERS IN THESE BUILDINGS>
<AS KONATSU KEEPS DESTROYING BUILDINGS; HIS SOLDIERS FLEE OUT AND FORM RANKS BEHIND HIM; HE CONTINUES TO ELIMINATE THE COVER>
<CUE You and Whose Army?>
<LEDAS IS BEHIND SOME RUBBLE SPITTING UP BLOOD; HIS INJURIES ARE MODERATE, MAKING HIS POWER LEVEL DROP TO RIGHT AROUND KONATSU'S; HE ALSO DOES NOT HAVE ENOUGH TIME TO RECOVER>
<KONATSU DESTROYS HIS COVER; LEDAS STANDS BEFORE THE ARMY AND ITS COMMANDER WITH HIS HEAD BENT AND SHOULDERS THROWN FORWARD; THE ALIENS LAUGH; KONATSU SMILES>
Konatsu: Perfect. He's given up.
Ledas: No… <TURNS HIS HEAD> Don't underestimate me.
<KONATSU AND THE OTHERS CREATE ENERGY TO KILL LEDAS, WHEN THE BOY SUDDENLY LOOKS UP; HE LETS OUT A DEAFENING SCREAM, MORE LIKE A HOWL; IT SHATTERS THE GLASS AND SCOUTERS ALL AROUND; KONATSU AND HIS TROOPS COVER THEIR EARS IN PAIN, WHICH STOPS THEM FROM ATTACKING>
<MOMENTARILY BOOSTED BY THIS HOWL, LEDAS HAS ENOUGH ENERGY TO QUICKLY RISE INTO THE AIR; HE GOES ABOUT HALF A MILE UP; NO ONE WAS ABLE TO SEE HIM DO THIS, AS THEY WERE IN TOO MUCH PAIN; BY THE TIME KONATSU RECOVERS, HE IS SCANNING THE HORIZON FOR LEDAS, NOT THE SPACE ABOVE HIM>
<LEDAS IS STILL BLEEDING; HE LOOKS DOWN AT KONATSU FOR SEVERAL SECONDS BEFORE CONTINUING>
<HE FREE FALLS DOWN OVER THE ARMY; AS HE DOES SO, HE THROWS HIS RIGHT HAND FORWARD AS IF CREATING A BLAST, BUT NOTHING APPEARS TO COME OUT; HE KEEPS HIS HAND OUT, KEEPING IT IN A HALF FIST; BEFORE HE TOUCHES DOWN, HE SLOWS HIMSELF SO THAT HE LANDS ON HIS FEET RIGHT BEHIND KONATSU>
<You and Whose Army? REACHES 1:48 NOW>
<A DROP OF BLOOD LANDS ON KONATSU'S SHOULDER; HE NOTICES IT AND TURNS, ONLY TO SEE LEDAS JUMPING AT HIM, AN ENERGY SLASH IN HIS HAND; BEFORE KONATSU CAN SO MUCH AS BLINK, LEDAS HAS JAMMED THE ENERGY THROUGH KONATSU'S SKULL, INSTANTLY KILLING HIM; KONATSU SLUMPS, FALLING OFF THE ENERGY SWORD; LEDAS DISSIPATES THE SWORD; THE OTHER SOLDIERS BEGIN TO REACT, RAISING THEIR WEAPONS; LEDAS DOES NOT MOVE>
<CLOSE SHOT OF LEDAS' FACE; HE LOOKS LEFT, TURNING HIS HEAD SLIGHTLY; A HUGE BLAST GOES OFF, KILLING ALL OF THE SOLDIERS; IT IS ANOTHER LIGHTNING STRIKE ATTACK; THE ENTIRE AREA IS FILLED WITH FIRE AND SMOKE; AFTER IT CLEARS, NOTHING REMAINS STANDING ASIDE FROM THE TWO LARGE TOWERS DIRECTLY BEHIND LEDAS; ALL SOLDIERS ARE DEAD>
<THE CAMERA IS STILL CLOSE TO LEDAS' FACE; HE HAS A SMALL SMILE ON HIS FACE>
Echo Tango

[

]
<LEDAS IS STANDING IN FRONT OF TWO LARGE TOWERS; AROUND HIM AND THE TOWERS IS NOTHING BUT A CRATER; HIS FACE IS BLANK>
<HE WALKS UP TO THE DOOR TO THE RIGHT TOWER; IT IS LOCKED; HE TRIES TO GET THROUGH IT, BUT TO NO AVAIL; HE STEPS BACK, PREPARING TO BLOW DOWN THE DOOR WHEN HE CATCHES SOMETHING OUT OF THE CORNER OF HIS EYE>
<THE LARGE BONY CREATURE, THE ONE THAT WAS VERY DULL COLORED AND SMOKEY LOOKING THAT LEDAS HAD SEEN BEFORE SIMPLY TRAVERSING THE PLAINS IS COMING HIS WAY>
<BEFORE, LEDAS HAD THOUGHT THIS CREATURE WAS A LOCAL SPECIES; HOWEVER, NOW WITH IT BEARING DOWN ON HIM, HE CAN READ ITS ENERGY>
Ledas: <IN HIS MIND> 400,000?! How can that thing be so powerful?
<SINCE ITS POWER LEVEL IS HIGHER THAN HIS CURRENT MAXIMUM, HE IS QUITE TERRIFIED; LEDAS DOES NOT HAVE THE STRENGTH TO POWER UP AT ALL; HE HOLDS HIS CHEST, WHERE HE STILL HAS AN OPEN WOUND>
<THE CREATURE IS TALL; OVER FORTY FEET; IT HAS LONG LEGS AND ARMS, BUT IT CANNOT BE DISCERNED HOW MANY IT HAS OF EACH; ITS BODY LOOKS SMOKEY, ALMOST AS IF IT IS A MIRAGE; IT HAS TWO BONY WINGS ON ITS BACK; ITS LONG HEAD IS DEVOID OF ANY LIFE, HAVING ONLY TWO BLACK DOTS FOR EYES AND A RATHER SHARP LINE FOR A MOUTH; IT IS SOMEWHAT HUMANOID IN APPEARANCE>
<THE CREATURE MOVES TO WITHIN 100 METERS OF LEDAS>
Ledas: <THROWS HIS HANDS UP IN THE AIR; SHOOTS A FEW CAUTIONARY ENERGY BLASTS AT IT> Get away from me! Go! Go away! <THE CREATURE CONTINUES FORWARD> Eeaah! I said get out of here!
<THE CREATURE DOES NOT ANSWER; IT DOES NOT EVEN MAKE A SOUND; IT FLIES FORWARD TO LEDAS; TWO ARMS EXTEND OUT, REACHING FOR HIM; SEVERAL OTHERS EXTEND OUT ABOVE AND TO THE CREATURE'S SIDES>
Ledas: N-no…!!
<BY NOW, LEDAS IS TOO DAMAGED FROM KONATSU'S PREVIOUS ATTACK TO MUSTER A POWER OF MORE THAN 200,000; STILL, HE LOCKS DOWN INTO A FIGHTING POSE TO ATTACK THE CREATURE; LET'S CALL THE CREATURE NEPAR>
<LEDAS JUMPS HIGH INTO THE AIR TO REACH NEPAR'S FACE; HE KICKS AT NEPAR'S FACE, BUT THE CREATURE GRABS HIM WITH HIS LONG FINGERS; THE LETHARGIC BEAST SUDDENLY COMES ALIVE AS HE THROWS LEDAS FORWARD AND VORACIOUSLY SWIPES AT HIM; NEPAR CATCHES LEDAS' LIMP BODY, AND PASSES IT DOWN THROUGH HIS OTHER HANDS, AS IF SENDING HIM THROUGH A SLICER; WHEN THE SAIYAN GETS TO THE BOTTOM, NEPAR TAKES ONE OF HIS LEGS, AND IMPALES LEDAS THROUGH HIS LOWER TORSO; LEDAS SCREAMS OUT IN PAIN>
<NEPAR RAISES LEDAS TO HIS FACE; HE OPENS HIS MOUTH, REVEALING NOTHING BUT BLACK, AND CREATES A LARGE BLACK MOUTH BEAM; LEDAS TRIES TO ATTACK BACK, BUT HIS ENERGY DOES VERY LITTLE; NEPAR FIRES HIS MOUTH BLAST AT LEDAS, CAUSING LEDAS TO BE BLOWN BACKWARD, UN-IMPALING HIM AND SLAMMING HIM INTO THE LEFT TOWER; HE FALLS IN A BLOODY MESS AND DOES NOT GET BACK UP>
<NEPAR TURNS AWAY FROM LEDAS, PUTTING HIS ARMS BACK INTO POSITION; HE FLIES BACK AND FORTH, SLOWLY, IN A PATROLLING LINE IN FRONT OF THE TOWERS, AS IF GUARDING THEM; LEDAS SEES THAT HE IS NOT GOING TO BE ATTACKED AGAIN, SO HE TRIES TO GET UP; ONLY HE CAN'T; THE IMPALEMENT HAS NOT ONLY CAUSED HIM TO BLEED AGAIN (OPENING HIS OLD WOUNDS TOO) BUT HAS ALSO MADE HIM UNABLE TO WALK; COMPLETELY DESPERATE, HE CRAWLS TO THE DOOR OF THE LEFT TOWER>
<IT OPENS, THANK KAMI; HE CRAWLS IN BEFORE NEPAR CAN SPOT HIM AGAIN; INSIDE, THERE IS NO ONE; IT IS A COMPUTER ROOM; HE CAN SEE REJUVENATION TANKS LINING THE WALLS>
Ledas: <IN HIS MIND> They had these back home… if I can just get to the computer…
<HE CRAWLS FORWARD, FINDING A WALL-MOUNTED COMPUTER; HOWEVER, IT'S TOO HIGH AND HE CANNOT STAND; HAVING NO OTHER OPTIONS, HE CREATES A SMALL BEAM TO PROPEL HIM UP TO IT; HE PUNCHES A BUTTON (NOT TOO HARD) BEFORE FALLING BACK TO THE GROUND; THE BUTTON HAD A SMALL CHARACTER ABOVE IT WHICH SAID "VOICE ACTIVATOR">
Ledas: <QUIVERING ON THE GROUND, HIS HEAD ON THE FLOOR> I-I… need me-medical help… r-r-right away… please…
<WITH THAT, LEDAS FALLS UNCONSCIOUS>
<TWO DAYS LATER>
<LEDAS WAKES UP; HE IS INSIDE A REJUVENATION TANK; MOST OF HIS WOUNDS ARE HEALED; HE LOOKS AROUND AT THE ROOM AND HIS BODY>
Ledas: <IN HIS MIND> The computer must've sent someone to put me here. But I don't see anyone around. Weird. <HE NOTICES THE MONITOR NEXT TO HIM SAYING HIS VITALS ARE AT 100%> No use staying in here.
<LEDAS BLASTS OUT OF THE TANK, HAVING NO OTHER WAY TO GET OUT; WHEN HE GETS OUT, HE FALLS OVER, NOT FROM SLIPPING ON THE LIQUID, BUT BECAUSE HE HAS NO TAIL; HE DOESN'T NOTICE THE ROBOTIC ARMS MOVING ABOUT – CLEARLY THE ARTIFICIAL INTELLIGENCE IN THE BUILDING USED THOSE TO PUT LEDAS INTO THE TANK>
Ledas: That thing must've cut off my tail. I didn't even feel it come off…
<HE LOOKS AWAY, PEERING OUTWARD; AS HE DOES SO, HE CREATES A POWER BALL IN HIS RIGHT HAND; IT IS A SMALL ONE AND HE KEEPS IN HIS HAND AS HE WALKS; HIS TAIL REGROWS AT ONCE>
<LEDAS WANDERS DOWN A CORRIDOR; HE FINDS NO ONE; AS HE MAKES HIS WAY THROUGH A DARK PASSAGE, HE IS HIT WITH A SUDDEN PAIN IN HIS HEAD; NO MEMORIES COME WITH IT, HOWEVER>
<LEDAS' HEAD HURTS REALLY BAD, CAUSING HIM TO FALL OVER BACKWARDS; HE DROPS THE POWER BALL, WHICH ROLLS AWAY; THE PAIN IS BLINDING, LITERALLY, AND HE HAS TO JUST SIT THERE AND WAIT IT OUT INSTEAD OF TRYING TO MOVE; HIS HAIR IS WHITE NOW AND HIS EYES ARE GREEN; HE IS LYING ON HIS BACK, ARMS AND LEGS SPREAD OUT>
<LEDAS SCREAMS; HIS AURA GROWS AROUND HIM; THE PAIN BECOMES SO UNBEARABLE THAT HE BEGINS POUNDING THE GROUND IN AGONY; NOT A MOMENT LATER, HE ACCIDENTALLY RELEASES A VERY POWERFUL EXPLOSIVE WAVE; SEEING HOW HE IS STILL BLIND, LEDAS DOES NOT KNOW EXACTLY WHAT IS GOING ON>
<AFTER RELEASING THE ENERGY WAVE, THE PAIN SUBSIDES; LEDAS' VISION COMES BACK, AND HE SITS UP ON HIS KNEES; HIS HAIR AND EYES HAVE RETURNED TO NORMAL; HE SUDDENLY HEARS A RASPY BREATHING NOISE COMING FROM DIRECTLY BEHIND HIM; HE SITS UP STRAIGHT, REALIZING, THROUGH SENSING THE ENERGY AROUND HIM, THAT IT IS NEPAR>
<NEPAR GRABS LEDAS, PULLING HIM OUT OF THE BUILDING; THE BUILDING IS SHOWN TO HAVE A LARGE HOLE FROM LEDAS' EXPLOSIVE WAVE; NEPAR WAS ALERTED TO THIS AND FOUND THE BOY STILL ALIVE>
<LEDAS BREAKS FREE OF HIS GRIP; HE FLIES OVER NEPAR'S HEAD, SHOOTING AN UNRELENTING ENERGY BURST; THE BLASTS CONNECT; BUT NEPAR USES HIS WING TO SWAT LEDAS DOWN, AS LEDAS FLIES DOWN THE CREATURE'S SPINE; LEDAS FALLS DOWN FROM NEPAR'S BACK AND GETS TANGLED IN HIS LEGS; HE CANNOT MAKE OUT ANYTHING; NEPAR SPINS HIM OVER, DISORIENTING THE SAIYAN IN THE MESS OF HANGING LEGS>
<LEDAS IS CUT BY THIS, BUT NOT BADLY; HE TRIES SEVERAL SEVERING BEAMS, AND THIS HELPS HIM CLEAR OUT SOME OF THE LEGS; STILL, HE CANNOT MOVE; AT ONCE, NEPAR SENDS OUT A SHOCK WAVE, RUNNING DOWN HIS ENTIRE BODY; IT GETS LEDAS PRETTY GOOD; THE CREATURE DROPS LEDAS, RISING IN THE AIR TO GAIN A VANTAGE POINT>
<LEDAS STANDS UP SLOWLY, CRANING HIS NECK TO FIND NEPAR AGAINST THE BRIGHT SUN IN THE SKY>
<SUDDENLY, NEPAR COMES ROARING DOWN, HIS SHARP LEGS EXTENDED TO SLICE LEDAS; LEDAS DUCKS, BARELY MISSING THE ATTACK; AS NEPAR FLIES PAST HIM, HE TAKES A FEW POT SHOTS AT THE CREATURE, THOUGH THEY HAVE LITTLE EFFECT>
<NEPAR COMES FOR ANOTHER ROUND; LEDAS ANTICIPATES IT, DUCKING, THEN ROLLING TO THE LEFT; HE GRABS ONTO NEPAR'S TORSO AS THE CREATURE COMES BY; AS HE GETS ON NEPAR, HE SHOOTS A COLLECTION OF FOCUSED FINGER BEAMS INTO NEPAR'S BACK, CAUSING A HOLE TO TEAR OPEN; HE STICKS HIS HAND INSIDE, CREATING A KYORRA FLASH; HOWEVER, NEPAR DOES A ROLL, FLINGING LEDAS OFF OF HIM; THE KYORRA FLASH SHOOTS WILDLY INTO THE AIR; LEDAS LANDS ON THE GROUND, ON HIS FEET; HE FINDS HIMSELF COVERED IN MANY CUTS AGAIN>
<FROM THE RECENT SHOCK WAVE AND OTHER ATTACKS, LEDAS IS DAMAGED AGAIN; HIS POWER LEVEL HAS LOWERED QUITE DRASTICALLY; HE DROPS TO ONE KNEE, BREATHING HARD; HE WATCHES AS NEPAR CIRCLES IN THE AIR; AT ONCE, HE NOTICES THE POWER BALL HE LEFT; IT HAS RISEN OUT OF THE DESTROYED BUILDING AND IS NOW HOVERING IN THE AIR>
Ledas: <SEEING THE POWER BALL> Perfect.
<WITHIN A FEW SECONDS, LEDAS BEGINS TRANSFORMING INTO A GREAT APE; NEPAR SEES THIS AND RAMS HIM, CAUSING LEDAS TO HOWL OUT IN PAIN; THE SAIYAN STILL TRANSFORMS, HOWEVER; ONCE HE'S FINISHED TRANSFORMING, HE TURNS TO FACE NEPAR AND RUSHES THE CREATURE HEAD ON>
<NEPAR CREATES ENERGY WITH HIS HANDS FOR THE FIRST TIME; HE SENDS A HAIL OF SMALL BLASTS AT LEDAS; LEDAS JUMPS OVER THEM; AS HE IS VULNERABLE DURING HIS JUMP, NEPAR CREATES A MOUTH BEAM AND SHOOTS IT AT LEDAS>
<LEDAS CREATES A BARRIER AT THE LAST SECOND, BUT IT IS NOT STRONG ENOUGH; THE MOUTH BEAM EXPLODES THROUGH IT AND HITS LEDAS; THIS CAUSES THE GREAT APE TO FALL TO THE GROUND>
<NEPAR CONTINUES HIS ASSAULT; LEDAS DEFENDS AGAINST THE BLASTS AS HE TRIES TO STAND BACK UP, BUT THEY DO HURT HIM; MANY OF THEM KNICK HIS ARMS AND LEGS AND FACE; LEDAS RETALIATES BY SHOOTING SEVERAL DOZEN RAZOR BLASTS AND TWO GALICKS; BOTH HIT NEPAR AND DO HIM ENOUGH DAMAGE TO MAKE HIM STOP HIS ATTACK>
<LEDAS RUNS UP TO NEPAR, THIS TIME GOING FOR HIS FACE; NEPAR PUTS HIS ARMS UP TO BLOCK, BUT LEDAS IS TOO FAST, HE SLAMS THROUGH, ELBOWING NEPAR IN THE NOSE AREA; NEPAR DOES NOT REACT; LEDAS ROARS AND SLAMS DOWN ON THE CREATURE WITH BOTH FISTS>
Ledas: <IN HIS BEAST VOICE> Is that thing even alive?! Come on! How come he didn't feel that?!
<NEPAR DOES NOT ANSWER; HE GRABS LEDAS WITH HIS TWO DOMINANT HANDS, SQUEEZING VERY HARD; NEPAR SENDS THE SHOCK WAVE AGAIN, ZAPPING LEDAS; LEDAS TRIES AN EXPLOSIVE WAVE; IT IS POWERFUL ENOUGH FOR HIM TO GET FREE OF NEPAR'S GRIP AND DESTROY MORE OF NEPAR'S ARMS; THIS CAUSES NEPAR TO FALTER, AND STAGGER IN MIDAIR>
<LEDAS RISES ABOVE THE ALIEN'S HEAD, CREATING A BALL OF ENERGY; HE THROWS IT INTO NEPAR'S FACE; AS IT EXPLODES, HE FOLLOWS UP WITH A SPAM OF FINGER BEAMS; THIS HURTS NEPAR, WHO FALTERS AGAIN, THOUGH HE MAKES NO NOISE>
<NEPAR USES A GREAT BIT OF ENERGY TO SHOOT ENERGY BEAMS OUT OF EVERY ARM AND LEG, AS WELL AS HIS MOUTH; LEDAS DODGES AND DEFLECTS THEM EASILY AND THEN JUMPS ONTO NEPAR; NEPAR, SHRUGS UNDER THE GREAT APE'S WEIGHT AND RISES IN THE AIR; HE PREPARES A MANEUVER TO MAKE LEDAS FALL OFF; HAVING NOT MUCH TIME, LEDAS GOES TO MAKE ANOTHER HOLE IN NEPAR WHEN HE NOTICES THE CREATURE'S WINGS; INSTEAD OF CONTINUING WITH HIS ORIGINAL PLAN, HE ATTACKS THE WINGS>
<LEDAS LOBS SEVERAL KI BALLS AT EACH WING AND CLAWS AT THEM; THEY ARE NOT LIKE THE REST OF THE BODY; THEY ARE MUCH SOFTER; AS THEY ARE HIT BY THE BLASTS, THEY BEGIN CRACKING; LEDAS LETS GO OF NEPAR; AS HE FALLS OFF, HE LETS OFF ONE BEAM IN EACH HAND; THEY CONNECT WITH THE WINGS, DESTROYING THEM; BLACK LIQUID SHOOTS OUT FROM THE HOLES CREATED>
<AS LEDAS LETS GO, NEPAR STOPS GOING UP; WHEN LEDAS RIGHTS HIMSELF, HE SEES NEPAR COME PLUMMETING DOWN; HE IS CAREFUL TO GET OUT OF THE WAY>
<NEPAR HITS THE GROUND AND DOES NOT GET UP; LEDAS SEES HIS ADVANTAGE; HE COVERS NEPAR'S BODY IN WAVE AFTER WAVE OF ENERGY BLASTS UNTIL HE IS SURE NEPAR IS DEAD; THEN HE DESCENDS TO THE GROUND, AT THE CREATURE'S HEAD>
<NEPAR IS NOT DEAD NOR DOES HE LOOK CRITICALLY WOUNDED (ONLY MODERATELY WOUNDED); HOWEVER, HE IS CONVULSING; NEPAR'S HEAD AND ARMS ARE BOBBING UP AND DOWN AS HE TRIES TO GET UP; HE SEES LEDAS AND SHOOTS A BEAM OF ENERGY OUT OF HIS MOUTH, BUT LEDAS HITS THAT AWAY>
<THE CREATURE USES HIS ARMS TO TRY TO STAND UP, BUT HE IS TOO WEAK; HE FALLS BACK ON HIS SIDE; HE CREATES ENERGY AND SHOOTS SEVERAL BLASTS FROM HIS MOUTH AND ARMS; THEN HE GOES QUIET, AND STOPS MOVING>
<AFTER TWO MORE PANELS, NEPAR GIVES ONE LAST FINAL CONVULSING MOVEMENT, HIS RASPY BREATHING HEIGHTENED TO ITS FULLEST; THEN, THE CREATURE FALLS OVER, GOES LIMP AND IS DEAD; LIKE A SHARK UNABLE TO SWIM, NEPAR WAS KILLED BY NOT FLYING – SUFFOCATING FROM NOT LETTING ITS BODY FLY>
<LEDAS TURNS FROM THE DEAD CREATURE TOWARD THE TOWERS; HE LOOKS AT THE POWER BALL AND SHOOTS AN ENERGY BLAST AT IT; THE POWER BALL QUICKLY BLOWS UP AND LEDAS REVERTS TO HIS BASE FORM; HE IS BREATHING HARD, AND SITS DOWN, LEANING UP AGAINST NEPAR'S BODY>
Ledas: The only energy I feel on the entire planet is coming from that tower. <HE LOOKS AT THE RIGHT ONE> They're the only ones left… and they are pretty strong. <LEDAS LOOKS ONCE AT NEPAR'S CORPSE> Not as bad as him. <LEDAS TURNS BACK TO THE TOWER> I bet Vegeta doesn't have it this hard if he's alive.
<LEDAS STANDS UP>
Ledas: There's no point in staying here. Those people up there <HE LOOKS TOWARDS THE TOP OF THE RIGHT TOWER> will have a way to get out of here. I just have to take what they have so I can find Vegeta myself. No more Frieza, no more Cooler, no more Guva. Just me and him. We'll become Super Saiyans and no one will touch us.
<LEDAS WALKS FORWARD; HE CREATES A SMALL ENERGY BLAST AND BLASTS DOWN THE DOOR TO THE RIGHT TOWER WITHOUT STOPPING>
<LEDAS ENTERS THE TOWER>
Final Run

[

]
<TWO DAYS PRIOR>
<FROM THE RIGHT TOWER'S POINT OF VIEW, THREE BEINGS ARE WATCHING A CAMERA FEED; AS IT IS, IT SHOWS THE SCENE OF LEDAS FIGHTING KONATSU'S FORCES>
<THE THREE BEINGS WATCH AS LEDAS DECIMATES THE FORCES; THE LIGHTNING STRIKE GOES OFF, DESTROYING EVERYTHING ASIDE FROM THEIR TOWERS; THEY BRACE AGAINST ITS IMPACT>
<THE MAN AT THEIR HELM IS DIGRANITE; THE CREATURE SHOWN BEFORE; HE IS WEARING HIS ORNATE SILVER/BLACK ARMOR; THE OTHER TWO ARE SKINNIER, BUT ABOUT AS TALL AS HIM; THEY ARE BLUE-SKINNED AND HAVE LARGE CRESCENT MASSES BEHIND THEIR SKULLS; THEY DO NOT WEAR THE CHEST ARMOR THAT ALL OTHER SHOULDERS WEAR, BUT THEY DO WEAR THE CROTCH AND SIDE GUARDS, AS WELL AS ANKLE AND WRIST GUARDS; THEY CAN BE SEEN TO BE FEMALE, AS THEY HAVE BARE BREASTS>
<THE THREE ARE STANDING ALONE IN A DIMLY LIT ROOM, LOOKING DOWN IN ON THE TABLE, WHICH HAS THE FEED ON IT; SEEING LEDAS' ATTACK TO BE OVER, DIGRANITE SWIFTLY TURNS AND STARTS WALKING OUT>
Digranite: Don't let him in. Call Nepar to guard the door if you two cannot handle it.
Sika: <FIRST BODYGUARD; RUNS UP TO HIM AND PULLS ON HIS SHOULDER SEDUCTIVELY> Where are you going, general?
Sarpack: <SECOND BODYGUARD; ATTEMPTING THE SAME SEDUCTION> Come on, stay a while. You're so busy… let's help you unwind.
Digranite: <BRUSHING THEM OFF> Lord Cooler is requesting my presence on the nearest moon, where he has convened the governors. Apparently something has happened to his brother that he wants to tell us. <GESTURES TO LEDAS> I expect this threat to be dealt with before I get back. <MORE SHARPLY> Now do what I said, and don't call me unless it's important.
<DIGRANITE EXITS FORCEFULLY>
Sika: <TO HER SISTER> I don't want to fight that kid.
Sarpack: Nepar will kill him. Or maybe he'll just wound him so badly that we can have our fun with him.
Sika: Ah, he's just a little baby. Nepar will tear him to pieces. We don't need to go down there.
Sarpack: Fine, we can just watch.
<IT IS BACK TO TWO DAYS LATER>
<THEY WATCH THE ENTIRE BATTLE OF GREAT APE LEDAS VERSUS NEPAR; THIS IS SHOWN IN QUICK TIME; AT FIRST THEY ARE CONTENT WITH NEPAR'S WINNING, BUT SOON THEY BECOME WORRIED AND THEN OUTRIGHT HORRIFIED AS NEPAR IS KILLED; WHEN THEY SEE HIS BODY GO LIMP, THEY LOCK DOWN EVERYTHING>
<SARPACK RUNS OVER TO THEIR COMMUNICATOR AND HASTILY PRESSES THE BUTTONS; SIKA IS SCREAMING AND PACING>
Sarpack: <INTO THE COMMUNICATOR> General, he's killed Nepar! You need to come back! He could kill us!
Digranite: <CUTS TO HIM SITTING IN A ROOM WITH A BUNCH OF OTHER ALIENS; COOLER IS DOWN IN THE CENTER, SPEAKING; HE IS LEANING BACK, WITH HIS ARMS CROSSED; HE SIGHS; HE IS SPEAKING THROUGH THE COMMUNICATOR ON HIS WRIST> I'll be there within the hour. <LESS CIVIL> I better not catch you two hiding when I get back. If he's just killed Nepar, he will be tired. Now is your best chance to strike. The both of you should be able to stall him, at the very least. Prevent more damage to the planet. If you can, though, capture him alive. It'll be easier to explain to Lord Cooler that way.
Sika: <CUTS BACK TO HER; SHE SPEAKS THROUGH THE COMMUNICATOR> We'll try, sir. Please, come back soon…
<THE CALL ENDS>
Sarpack: The general's right. The little brat must be tired. We shouldn't be in danger.
Sika: <SHE SHAKES HER HEAD AND WALKS THROUGH THE DOOR> He gave us our orders. Even if the kid's stronger, we have to go.
<CUTS TO LEDAS>
<HE IS CLIMBING THE TOWER BY MANY FLIGHTS OF STAIRS; HE FINDS NO ONE; THE PLACE IS DIMLY LIT AT BEST; HE GETS A SUDDEN POWER READING THAT SOMEONE IS NEAR HIM; HE STOPS RUNNING>
<LOOKING OVER HIS SHOULDER, LEDAS SPOTS A SHADOW; HE SPRING PUNCHES AT IT, BUT THERE IS NOTHING THERE; HE HEARS A LAUGH; LEDAS LOOKS UP, AND SEES A CREATURE HANGING FROM THE WALL; IT IS FEMALE, ONE OF DIGRANITE'S BODYGUARDS>
<LEDAS GREETS IT WITH A FACE FULL OF ENERGY BLASTS; IT DROPS DOWN, DIVING UNDER HIS BLASTS, AND LANDS A FEW STEPS ABOVE HIM; LEDAS RUNS UP TO HER AND PUNCHES, BUT IT GOES THROUGH; SHE WAS ONLY AN AFTERIMAGE; THE REAL BODYGUARD DROPS DOWN FROM THE CEILING, UNHURT FROM THE ENERGY, AND BICYCLE KICKS LEDAS; HE IS PUSHED UP INTO THE AIR; BUT HE FLIPS OVER; HE KICKS OFF FROM THE WALL, CHARGING INTO THE BODYGUARD; SHE CATCHES HIM, BUT HE SWIPES HER ARMS AWAY; AS HE GOES TO PUNCH HER, HE IS KICKED IN THE BACK OF THE HEAD; AS HE FALLS, THE SECOND BODYGUARD SHOWS HERSELF; SHE PURSUES HIS BODY AND CLOBBERS HIM EVEN FURTHER>
<LEDAS SPINS AWAY FROM THE TWO, SENDING ENERGY AFTER THEM; HE STOPS HIMSELF JUST IN TIME FOR THE TWO OF THEM TO CATCH UP TO HIM; THIS WAS A MISTAKE ON LEDAS' PART, AS HE IS UNABLE TO MATCH THEM WHEN THEY FIGHT TOGETHER; THEY POUND HIM IN THE FACE; SARPACK GRABS ONTO HIS LEGS AND PULLS HIM DOWN; SIKA CREATES A BURNING ATTACK, WHICH DOES A GOOD BIT OF DAMAGE TO LEDAS; HIS ARMOR IS NOW ALMOST COMPLETELY SHATTERED>
<THE TWO FEMALE BODYGUARDS COME TOGETHER ONE LAST TIME AND SIMULTANEOUSLY FLY INTO LEDAS, PUNCHING HIM AS THEY DO; THIS CAUSES LEDAS TO FALL>
<WHEN HE HITS THE GROUND, SIKA LANDS AND PLACES HER FOOT ON HIS HEAD; SHE CREATES ENERGY BINDS AROUND HIM; HER SISTER LANDS NEXT TO HER>
Sarpack: Looks like the general was right. <TO LEDAS> You must be so, so tired after that fight with Nepar. Is the poor the baby mad that he's lost the fight?
<LEDAS LOOKS UP AT THEM WITH A SNARL>
Sika: <TO LEDAS> You're lucky you're even alive. You're a lot more useful to us dead. But we have our orders.
Sarpack: Aw, I think he wants to be punched in the face.
<SARPACK DOES SO, THEN PLACES HER HAND OVER LEDAS' FACE, CREATING AN ENERGY BLAST; IT BURNS HIM GOOD ENOUGH TO MAKE HIM FALL UNCONSCIOUS, SLUMPING OVER AGAINST THE WALL>
Sika: <SMIRK> If you kill him, you're explaining it to Cooler, not me.
Sarpack: Oh, if he could kill Nepar, he can survive that. I have a lot more when he wakes up. He's too dangerous this healthy. But let's take him outside.
<THE TWO TAKE HIM DOWNSTAIRS AND GO OUTSIDE; THEY WAIT FOR A FEW HOURS UNTIL THEY NOTICE DIGRANITE'S SHIP DESCENDING FROM THE SKY>
<A SHIP, SMALLER THAN COOLER'S AND POINTED – NOT ROUND – IN APPEARANCE, LANDS; DIGRANITE EXITS; HE IS WEARING AN ORANGE SCOUTER; HE USES IT TO TRACK AROUND; THE ONLY READINGS ARE OF HIS TWO BODYGUARDS AND LEDAS, ALL AT THE BASE OF THE TOWER; HE IS NEITHER SURPRISED NOR MAD AT NEPAR'S DEATH AND LEDAS BREAKING INTO HIS BASE>
<DIGRANITE APPROACHES THE THREE; HE LOOKS ONLY AT THE UNCONSCIOUS BOY, NOT AT HIS GUARDS; HE IS CURT>
Digranite: Wake him.
<SIKA KICKS HIM IN THE BACK OF THE HEAD; LEDAS STIRS AWAKE>
Sika: Wake up. General Digranite wants to speak to you.
<LEDAS LOOKS UP AT HIM>
Digranite: Saiyan. <DIGRANITE PICKS LEDAS UP BY THE NECK> Now you're mine.
Ledas: Who're you?
Digranite: Me? I rule over this planet. <HE UNLEASHES SPIKES OUT OF HIS GAUNTLETS WHICH PIERCE LEDAS' SKIN> Which you disrespected. That creature you just killed <HE LOOKS AT NEPAR> was Cooler's loyal pet. The Emperor will be most displeased with you.
<LEDAS IS NOT LOOKING AT DIGRANITE; INSTEAD, HE NOTICES DIGRANITE'S SHIP; EVEN IN PAIN, THIS IS HIS FOCAL POINT>
Ledas: So?
Digranite: So… I've got you now. You will be dead soon, Saiyan.
Ledas: You didn't capture me. You haven't done anything.
Digranite: <HISSES> Is that right?
Ledas: <GLANCES TO DIGRANITE'S BODYGUARDS> I bet they're stronger than you…
<DIGRANITE THROWS LEDAS ONTO THE GROUND; HE UNDOES LEDAS' BINDS>
Digranite: You have made an incredible mistake goading me. <HE PUTS HIS HANDS OUT, CHARGING UP HIS KI>
Ledas: Not this time.
<LEDAS ROLLS FORWARD; HE SCREAMS AT THE TOP OF HIS LUNGS, CREATING ANOTHER DIRE HOWL; DIGRANITE AND HIS GUARDS ARE DROPPED TO THEIR KNEES, THE PAIN BEING SO UNBEARABLE; LEDAS CREATES A BUNCH OF AFTERIMAGES TO DISTRACT THEM; HE RUNS TO THE SHIP>
<DIGRANITE IS THE FIRST TO GET UP; HE WALKS THROUGH THE AFTERIMAGES, NOT IMPRESSED BY THEM; WITH ONE HAND, HE SENDS A TRACKING BLAST TO LEDAS, THE REAL LEDAS; THE BOY TRIPS UP, BUT MANAGES TO STUMBLE INTO THE SHIP; LEDAS RUNS TO THE FRONT AND PUNCHES ITS TAKEOFF BUTTON; THE DOORS CLOSE AND IT TAKES OFF>
<LEDAS LOOKS OUT THE WINDOW WHEN HE IS KICKED RIGHT INTO THE CONTROL SETUP; DIGRANITE IS BEHIND HIM>
Digranite: There's nowhere to go. I've told Cooler what you have done. He's watching us from up in space. He'll have your head if I don't first!
<HE AND LEDAS INTERLOCK HANDS AS THEY FIGHT FOR CONTROL; DIGRANITE SNAPS LEDAS BACK; HE BACKHANDS LEDAS WITH HIS SPIKES; THAT CUTS THE BOY; LEDAS FALLS TO HIS KNEES AND JUMPS BETWEEN DIGRANITE'S LEGS; NOW BEHIND HIM, LEDAS CREATES A POINT-BLANK ENERGY BEAM; BUT IT DOES NOTHING; DIGRANITE MOVES BACKWARD, PINNING LEDAS BETWEEN HIM AND THE WALL>
<LEDAS SPRINGS HIS LEGS UP AND BOUNCES OFF OF DIGRANITE'S BACK; DIGRANITE DOES NOT ATTACK; HE SEES THAT THEY ARE GAINING ALTITUDE FAST, AND SOON THEY WILL BE IN SPACE>
<DIGRANITE CREATES TWO BLASTS AROUND HIM THAT DESTROYS THE VEHICLE; LEDAS LUNGES AT HIM AND KICKS, BUT IT DOES NOTHING; DIGRANITE, IN ONE MOVEMENT, GRABS THE BACK OF LEDAS' HEAD WITH HIS LEFT HAND SWINGS IT FORWARD INTO HIS RIGHT FIST; HE LOWERS HIS FIST AND PUNCHES LEDAS IN THE GUT; THE SHIP IS TEARING APART NOW; DIGRANITE KICKS LEDAS OUT OF IT AND JUMPS AFTER HIM>
<IN FREEFALL, THE TWO TRADE BLOWS AND BLASTS; DIGRANITE SPINS OVER ON TOP OF LEDAS; HE PUNCHES HIM RELENTLESSLY UNTIL THEY BREAK OFF; LEDAS SPINS AROUND, WRAPPING HIS LEGS AROUND DIGRANITE'S HEAD, TRYING TO CHOKE HIM; DIGRANITE ELBOWS HIM OFF; THE TWO FIRE BEAMS AT EACH OTHER; THEY EXPLODE, THE SHOCK WAVE SENDING THE TWO FAR APART; THEY LAND, BOTH ON THEIR FEET>
<THEY BEGIN FIGHTING IMMEDIATELY; DIGRANITE, WHO IS MUCH STRONGER, IS OUTCLASSING LEDAS IN EVERY AREA; HIS SPEED IS INCREDIBLE; LEDAS CANNOT BLOCK ANYTHING; AS WELL, LEDAS CANNOT GET TOO CLOSE OR HE WILL BE CUT BY DIGRANITE'S BLADES>
<DIGRANITE SPREADS HIS KNEES; FROM HIS GAUNTLETS, KNEES, AND BACK, SPIKES COME OUT>
Digranite: Don't run now.
<HE ROLLS AT LEDAS, HIS SPIKES ELONGATED OUTWARD; LEDAS SIDESTEPS, BUT HIS ENERGY BLASTS ARE DOING NOTHING; DIGRANITE'S ARMOR IS TOO STRONG; DIGRANITE JUMPS UP AND IS ABLE TO KNEE LEDAS IN THE GUT; LEDAS THROWS HIM OFF>
<LEDAS BACKS OFF, THINKING UP WHAT TO DO WHEN IT HITS HIM; ANOTHER HEADACHE, ONLY THIS TIME IT IS MUCH WORSE; HE FALLS, SCREAMING OUT IN PAIN>
Ledas: No!! Not now!!
<HIS HAIR IS WHITE, HIS EYES GREEN; DIGRANITE STOPS, PUZZLED>
Digranite: Transformation? <HE CLICKS HIS SCOUTER> No power increase? What's happening?
<LEDAS LOOKS UP AT HIM, HIS EYES ARE BLEEDING; HE THROWS A BALL OF ENERGY, BUT DIGRANITE SWATS IT AWAY; HE BRINGS OUT HIS SPIKES AGAIN AND WALKS UP TO LEDAS; HE PICKS UP THE BOY, SLOWLY AND SILHOUETTED, AND BRINGS HIM DOWN ONTO THEIR SHARP HEADS>
<BACK DOWN ON THE GROUND, SIKA AND SARPACK ARE STANDING WATCHING>
Sarpack: Aw, General's having all the fun! I wanted to make him bleed!
Sika: Just be glad we got the kid when he wasn't at full power. You wouldn't even be here if he had been.
Sarpack: <LOOKS AT HER SISTER, ANGRILY> You don't have to be such a bitch all the time. Can't we just enjoy this?
<THE TWO GROWL AT ONE ANOTHER AND CREATE ENERGY, POINTING IT AT ONE ANOTHER; HOWEVER, THEY STOP WHEN THEY HEAR A SUDDEN VOICE SPEAK FROM BEHIND THEM>
Voice: He's alive?
Sika: Yeah, we just– <SHE TURNS HER HEAD AND SEES WHO IT IS>
Sarpack: What are you doing here?!
<THE TWO POINT THEIR ENERGY AT THE BEING OFF-SCREEN, BUT IT IS TOO LATE>
<A FLASH OF PURPLE LIGHT TAKES OVER THE SCREEN; THE TWO BODYGUARDS HAVE BEEN INCINERATED BY A QUICK ENERGY BEAM>
That Makes Him The Guv'nor

[

]
<ABOVE THE STOMPING GROUNDS IS COOLER; HE IS IN SPACE; HIS SPACE SHIP IS IN THE BACKGROUND; COOLER HAS HIS ARMS FOLDED AND HIS SCOUTER ON (FOR COMMUNICATION); HIS IS PURPLE>
Cooler: I have had enough of this. <HE CREATES A SUDDEN SUPERNOVA; HE CLICKS HIS SCOUTER> Digranite. Get off the planet. I've sent someone to pick you up, if you have no way of getting off. <TO HIMSELF> This Saiyan's power is impressive. I will have to use thirty percent of my power. If he's the one I fought so many years ago, then he's too dangerous to let live. I'll make sure he doesn't get away again.
<HIS POWER BALL GROWS TREMENDOUSLY; HE HOLDS IT WITH TWO FINGERS>
<CUTS BACK TO LEDAS AND DIGRANITE; DIGRANITE IS CUTTING HIM WITH HIS RAZOR SPINES; HIS SCOUTER, HOWEVER, IS ON THE GROUND, SEVERAL FEET AWAY; IT WAS KNOCKED OFF OF HIM IN THEIR SCUFFLE; HE DOES NOT HEAR COOLER'S WARNING>
<AS DIGRANITE LOWERS LEDAS FARTHER DOWN ONTO HIS SPIKES, LEDAS SCREAMS OUT MORE; HE CREATES AN ENERGY WAVE, BUT DIGRANITE IS UNHARMED; LEDAS IS STILL TRANSFORMING INTO HIS SEMI SUPER SAIYAN FORM; HOWEVER, SINCE HE IS STILL TRANSFORMING, HE HAS NOT HAD A STRENGTH INCREASE QUITE YET>
<JUST AT THIS TIME, A PURPLE BALL OF KI SLAMS INTO DIGRANITE, CAUSING HIM TO ALMOST FALL OVER, DROPPING LEDAS; HE TURNS AROUND FURIOUSLY, READYING A BLAST, WHEN HE SEES WHO IT IS; HE STAYS HIS BLAST>
Digranite: <HISS-STATEMENT> Military Governor Guva.
<SCREEN PANS AROUND, SHOWING GUVA IN HIS BEST ARMOR; IT IS PURPLE AND SHOULDER-LESS; GUVA DOES NOT LOOK MUCH OLDER, BUT HIS WHITE HAIR IS MORE PRONOUNCED THAN IT WAS 21 YEARS AGO>
Guva: Supreme General Digranite.
Digranite: I haven't seen you since you won your planet.
Guva: <EYES LOCKED> No doubt.
Digranite: Why are you here?
Guva: Cooler's sent me to retrieve you.
Digranite: Why? Where is he? I want to speak to him!
Guva: <NONCHALANT> In space. As far as I know, he's preparing to blow up the planet as we speak.
Digranite: What?! This is my planet! He cannot–
Guva: He was quite mad at your failings. Really, losing an entire garrison of the most elite troops… But that's between you and him.
Digranite: <ANGER EVIDENT> I ask again, Governor. Let me speak to him!
Guva: I don't think so. I'm not here for you.
Digranite: <ANGER SWELLING> Then why are you here?
Guva: The boy, he's mine. I'm leaving with him. I volunteered to come rescue you, but really, I was only here for Ledas.
Digranite: But… Cooler…
Guva: He will not know.
Digranite: No. <QUIETLY> You will not take him. I assure you. You know, Military Governor, that I am your superior.
<HE FLEXES HIS SPIKED GAUNTLETS>
Guva: I am aware of your strength. Do you think I would be so foolish to challenge you alone? <TO LEDAS> Ledas, get up. You want out? You want to live? Help me kill Digranite. Come now, I know our strengths together eclipse his by a good deal.
Digranite: <WHISPER> Treason! Lord Cooler will–
Guva: <STEPS ON DIGRANITE'S SCOUTER, WHICH WAS ON THE GROUND; THEN, HE TAKES OFF HIS OWN SCOUTER AND CRUSHES IT> Never know.
<DIGRANITE YELLS OUT AND ATTACKS GUVA; AS THEY ARE BOTH POWERED UP TO THEIR FULLEST, DIGRANITE IS SUPERIOR; GUVA IS ABLE TO BLOCK BETTER THAN LEDAS WAS, BUT HE IS STILL LOSING>
<DIGRANITE KICKS GUVA TO ONE KNEE THEN CREATES A BEAM OF ENERGY; IT IS NEARLY POINT-BLANK; GUVA CREATES AN ELEGANT FINISHER TO STALL IT; THE BEAM STRUGGLE DOES NOT LAST, HOWEVER; THE TWO ARE TOO CLOSE AND THE ENERGY EXPLODE INSTANTLY, SENDING BOTH ALIENS FLYING>
<LEDAS SITS UP; HE IS IN COMPLETE DISBELIEF AT GUVA BEING HERE; HIS HEADACHE HAS MOSTLY GONE AWAY, AND HE IS ABLE TO STAND; HE CHARGES UP HIS KI AS MUCH AS HE CAN WITHOUT SPLITTING HIS HEAD AND RUNS TO DIGRANITE>
<DIGRANITE FLIPS UP FROM THE GROUND, KICKING LEDAS; BUT LEDAS IS ABLE TO CATCH HIS FEET; HE SLAMS DIGRANITE BACK DOWN ON THE GROUND; DIGRANITE PUNCHES HIM HARD IN THE SIDE OF THE LEG; HOWEVER, BEFORE HE CAN FINISH LEDAS, GUVA COMES BACK; HE LANDS WITH HIS TOE ON DIGRANITE'S FACE, PUSHING HIS RED FEATHERS INTO THE GROUND>
<DIGRANITE MAKES AN EXPLOSIVE WAVE; IN THE DUST, HE COMES ROLLING OUT, HIS SPIKES FLYING; GUVA PUTS UP HIS HANDS IN AN "X" POSITION TO BLOCK, BUT HE IS CUT BY THEM; LEDAS JUMPS OUT OF THE WAY; DIGRANITE HEADBUTTS GUVA; GUVA FLIES BACK AND SENDS A LARGE ARCING BLAST AT DIGRANITE, BUT DIGRANITE TELEPORTS THROUGH IT; GUVA STOPS HIMSELF FROM FALLING; HE CREATES AN IMAGE SLASH AND RUSHES FORWARD, SLAMMING HIS ENERGY SWORD RIGHT INTO DIGRANITE'S CHEST; DIGRANITE'S ARMOR IS TOO POWERFUL AND IT SHATTERS THE BLAST>
<AT THIS TIME, COOLER SENDS DOWN HIS BLAST, HAVING NOT HEARD FROM DIGRANITE; DIGRANITE HAD HIS HANDS ON GUVA'S HEAD, AS GUVA HAD LAIN, AND WAS SQUEEZING HIS HEAD PAINFULLY; HOWEVER, WHEN COOLER'S BALL HITS THE PLANET, EVERYTHING SHAKES SO SEVERELY THAT DIGRANITE IS THROWN OFF>
<GUVA STANDS UP AND ENGAGES HIM IN HAND TO HAND COMBAT; THE TWO ARE RELATIVELY EVEN NOW, AS DIGRANITE HAS BEEN WORN DOWN; GUVA SIDE-CHOPS DIGRANITE ACROSS THE FACE; DIGRANITE HISSES AND TRIES AN EYE BEAM; GUVA PUTS HIS HANDS UP TO STOP IT, AND DIGRANITE PUNCHES HIM REALLY HARD IN THE GUT; GUVA FALLS OVER, AND DIGRANITE KICKS HIM AWAY>
<HE TURNS AROUND TO SEE LEDAS STANDING THERE, WHITE HAIR AND ALL; LEDAS IS LOOKING AT GUVA, NOT DIGRANITE>
Ledas: We have to go now.
Guva: Kill him first! <DIGRANITE LOOKS BACK AND FORTH BETWEEN THEM> Help me!
Ledas: He destroyed his own ship. We just have to stall him long enough to get away.
Digranite: <INTERRUPTING> Great story. Too bad it won't work!
<HE LUNGES AT LEDAS AND PUNCHES HIM ACROSS THE FACE; LEDAS STUMBLES BACK, BUT GRABS ONTO DIGRANITE'S ARM; HE BENDS IT BACK, SO THAT THE SPIKES PUNCTURE IN ON DIGRANITE'S SKIN>
Ledas: I know why it hurt so much before.
<DIGRANITE UNSNAPS HIS ARM AND JUMPS BACK>
Ledas: That thing in the cave gave me all this power and my body couldn't handle it… that's why I kept getting headaches when this happened. <HE LOOKS STRAIGHT INTO DIGRANITE'S EYES> But now… I guess I've been in it long enough or my power's gone up enough that it doesn't hurt any more. And I can sense your power compared to mine. You can't win.
Digranite: I don't have to win. Even if you are stronger than me now, I can hold you until the planet goes. Lord Cooler was right. I failed him. But I can regain my honor.
<HE SENDS A SWEEPING GROUP OF ENERGY BLASTS AROUND LEDAS; LEDAS RUNS RIGHT THROUGH THEM INTO DIGRANITE; WITH THIS BOOSTED POWER, HE IS STRONGER THAN DIGRANITE, BUT NOT MORE EXPERIENCED; DIGRANITE IS ABLE TO SIDESTEP HIM AND TAKE TO THE SKY; HE SENDS A BUNCH OF ENERGY DOWN; LEDAS PURSUES HIM, BUT DIGRANITE TELEPORTS BEHIND HIM, HE GETS LEDAS INTO AN ARM LOCK AND BRINGS HIM TO THE GROUND; HE PREPARES AN ENERGY BLAST, WHEN GUVA COMES AGAIN>
<GUVA INTERLOCKS HIS HANDS AND SWINGS THEM INTO DIGRANITE'S SIDE; DIGRANITE LETS GO OF LEDAS AND FALLS OVER>
<LEDAS TURNS AROUND, PUTS HIS BOOT ON DIGRANITE'S NECK AND THEN FIRES A KYORRA FLASH; DIGRANITE MAKES NO SOUND TO EITHER OF THESE BUT HE DOES NOT MOVE AFTER THAT BLAST; SEEING HIS OPPORTUNITY, LEDAS LOOKS AT GUVA>
Ledas: Get the ship.
Guva: <STANDING OVER DIGRANITE WITH HIS SHOULDERS RAISED; GRUFFLY> Very well. Follow me, Ledas.
<CUE Final Hour>
<GUVA TAKES TO THE AIR; LEDAS FOLLOWS HIM; IT DOES NOT TAKE LONG FOR THEM TO REACH GUVA'S SHIP; IT IS LIKE DIGRANITE'S IN THAT IT IS NOT A POD AND CAN HOLD MORE THAN ONE PERSON; THEY ENTER IT; THE PLANET IS ABOUT TO BLOW UP NOW; IT HAS BEEN THREE MINUTES (IN REAL TIME) SINCE COOLER SENT OFF HIS BLAST>
<AS LEDAS IS RUNNING UP THE RAMP, HE GETS A SUDDEN PING IN ENERGY; OF COURSE IT IS DIGRANITE COMING AFTER HIM; HE SEES THE FEATHERY, SPIKED, ARMORED CREATURE COMING TO HIM; LEDAS GATHERS UP HIS ENERGY AS FAST AS HE CAN>
Ledas: <CRANES HIS NECK BACK TO GUVA> Just get it started, I'll hold him off.
<DIGRANITE IS ALSO CHARGING UP ENERGY AS HE FLIES; LEDAS BUYS AS MUCH TIME AS HE CAN, BUT WHEN DIGRANITE GETS TOO CLOSE, HE RELEASES HIS BLAST; IT IS A SPHERE, AN ICE CANNON; DIGRANITE SENDS OUT HIS BLAST AS WELL; IT IS A LONG CRIMSON ENERGY BEAM; THE TWO CONNECT; NATURALLY, THIS IS WHEN A BEAM STRUGGLE OCCURS>
<GUVA TAKES OFF, LEAVING THE BACK RAMP OPEN; LEDAS STANDS ON IT AND DIGRANITE FLIES UP WITH THEM; THE TWO ARE LOCKED IN A BEAM STRUGGLE OF THE UTMOST IMPORTANCE>
<THE BEAM IS CLOSER TO DIGRANITE, OF COURSE; HE SCREAMS OUT TO LEDAS>
Digranite: Your annihilation is inevitable; my victory guaranteed! You will not get away this time!
<LEDAS SAVES HIS BREATH AND PUTS ALL OF HIS ENERGY INTO THE BLAST>
Ledas: <IN HIS MIND> I can feel my power dropping fast… this form uses up so much energy. I can't hold it much longer.
Digranite: Come on. Come on! A Saiyan is not stronger than me! I am Cooler's right hand man! No one is above me! No one!
<THE SHIP REACHES THE UPPER ATMOSPHERE; THE COLD WIND COMES INTO PLAY IMMEDIATELY; IT HITS DIGRANITE AND HIS ARMOR, ALL OF WHICH IS MADE OF HEAVY METAL; NOT ONLY DOES THE METAL FREEZE UP, BUT IT BECOMES UNBEARABLY UNMOVABLE; DIGRANITE'S ARM FREEZES; HE TUGS AGAINST IT, AS SURELY HIS OWN POWER COULD FORCE THE METAL TO HIS WILL; HOWEVER, AS HE DOES, HE EXPENDS TOO MUCH ENERGY; HE LOSES CONTROL OF HIS BEAM AND LEDAS' ICE CANNON OVERTAKES HIM; HE PUTS UP HIS ARMS IN DEFENSE, BUT IT IS TOO LATE; THE ICE CANNON OVERTAKES HIM>
<DIGRANITE FALLS BACKWARD, BACK TO THE PLANET; THE BLAST ITSELF PREVENTS HIM FROM TAKING ANY MORE SHOTS AT THEIR SHIP>
Digranite: You are no better than me!
<END OF Final Hour>
<LEDAS WATCHES AS DIGRANITE FALLS OUT OF SIGHT, THEN IS JARRED OUT OF THOUGHT WHEN GUVA SPEAKS>
Guva: <FROM THE COMMAND> Shut that back door! Unlike you, I cannot breathe in space. And lower your power level. Cooler can't know you're here.
<LEDAS PUNCHES THE CLOSE BUTTON AND THE TWO ENTER INTO SPACE; IT IS NOT MORE THAN THREE SECONDS LATER THAT THE PLANET EXPLODES; THE TWO FEEL THE SHOCK WAVE AND IT BUMPS THEM AROUND FOR A GOOD DEAL; IT STOPS, AFTER SOME TIME; LEDAS GOES TO SPEAK, BUT GUVA SILENCES HIM>
Guva: We've been hailed by Cooler. I must go speak to him. Hide back here. Keep your power level as low as possible. I know you can do it; Lieme told me.
Ledas: <LOOKING AT GUVA AS AN EQUAL, EVEN AS HE BREATHES HARD> Okay.
<GUVA STANDS UP AND OPENS A SMALL CONTAINER; OF COURSE LEDAS CAN FIT IN IT; HE CLOSES IT AND LEDAS LOOKS OUT FROM THE GRATE WALL>
<GUVA AND COOLER'S SHIPS COME TOGETHER AFTER A FEW MINUTES; COOLER, ALONE, BOARDS GUVA'S SHIP>
Cooler: You did not find him.
Guva: N-no, milord. I looked all over, but he was gone.
Cooler: You look like you've been in a battle, governor. Were you?
Guva: No, no, milord. I was careless after you shot your supernova. But these are just scratches; they'll be gone soon.
Cooler: Very well. I assume Digranite stayed behind to keep the boy. But I cannot imagine the boy being near his level.
Guva: Maybe he was already dead, milord.
Cooler: It does not matter. I've done a power sweep of the system. No power levels other than yours came out of that planet.
Guva: <FAKE SURPRISE> Of course, milord.
Cooler: <MOVING ON, PACING AROUND A BIT; HE LOOKS OVER AT LEDAS' CONTAINER FOR A SECOND AS HE SCANS THE ROOM> I've allowed the rest of the governors to return to their planets. You are free to do so as well. But you will have no reason to tell anyone about what happened here today. Do I make myself clear?
Guva: Thank you, sir. <HE KNEELS> I won't say anything about this.
Cooler: <TURNS AWAY FROM GUVA> I will set course for Earth now. This Goku… this rat who killed my brother and disgraced my family's name… he must be dealt with. I won't have another rebellion on my hands. <GUVA NODS, AND COOLER BEGINS TO LEAVE> Continue to run your planet until I get back. I don't expect any complications while I'm gone.
Guva: I'll keep everything in order. You have nothing to worry about, milord.
Cooler: Then we have nothing more to discuss.
Guva: Very well, Lord Cooler.
<FADES TO BLACK>
<RE-FADES TO WHITE>
<LEDAS AND GUVA LAND ON PLANET COOLER 92. THEY EXIT>
Guva: Is it like you remember it?
Ledas: It looks the same. Wewll, is everyone still here?
Guva: Everyone. <HE STOPS LEDAS, AND LOWERS HIS VOICE> Now, Ledas. I know for a fact that if you can take on Digranite, a General even stronger than me, you can kill Banas.
Ledas: I can also kill you.
Guva: Have I not saved you? Have I not promised you answers about your race, if but for the simple request of killing one captain? The injustice of my position is positively aggravating.
Ledas: But I heard Cooler say that Frieza was dead? Is that true?
Guva: Yes. He was killed by someone named Goku. That's all I know about that.
Ledas: Well, where's Vegeta, then? He was working with Frieza!
Guva: Don't worry, Ledas. <PATS LEDAS' SHOULDER> I have a good idea of where he is. All you have to do is kill Banas and any troops who try to avenge his honor. Then I'll tell you.
Ledas: <SLUMPS HIS SHOULDERS AND SIGHS> Fine, I'll do it. <INNOCENT> But, um, can I do it tomorrow? I'm pretty tired right now.
<GUVA NODS AND LEDAS WALKS BACK TO THE BARRACKS; NONE OF THE PLANTAINS ARE THERE, BUT APRIDO IS; APRIDO WAS SITTING ON HIS BED WHEN HE SEES LEDAS; STRICKEN AND HORRIFIED THAT LEDAS IS ALIVE AND IN HIS VICINITY, HE DOES NOT MOVE; LEDAS DOES NOT NOTICE HIM AND GOES TO LIE ON THE TOP BUNK>
<HE FINDS IT OCCUPIED BY AN ALIEN, AND AFTER A HASTY APOLOGY, LEDAS LEAVES AND GOES OUT TO THE AREA NEAR THE FOREST; HE FINDS A NICE HILL AND LIES DOWN ON IT; SOON HE IS FAST ASLEEP>
<APRIDO IS SEETHING, LOOKING INCREDIBLY MAD; HE FINDS HIS LEGS AND GETS UP, RUNNING AFTER LEDAS>
Finding Aprido

[

]
<CUTS TO THE OUTPOST; IT IS LATE AT NIGHT ON THE SAME DAY THAT LEDAS RETURNED TO PLANET COOLER 92>
Aprido: <WALKING DOWN THE CENTRAL ROAD AREA OF THE OUTPOST; IT IS QUIET, WITH NO ONE ELSE AROUND> Now where did that monkey go? <APRIDO SEES A BUILDING UP AHEAD WITH LIGHTS ON>
<APRIDO MOVES TO THE FACILITY, WHICH IS A GRAVITY ROOM; HE NOTICES LEDAS INSIDE THE ROOM; HE IS IN FULL ARMOR>
Aprido: What is he doing?
<LEDAS IS SITTING INSIDE WITH HIS HEAD ON HIS KNEES; HE IS TAKING A BREAK FROM HIS TRAINING>
<APRIDO NOTICES THAT THE GRAVITY IS UP TO (earth equivalent) 180G; APRIDO CAN'T MOVE IN THAT, SO HE CAREFULLY SNEAKS AROUND THE BACK OF THE BUILDING, TO THE CONTROL ROOM (WHERE THERE IS NO EXTRA GRAVITY) AND ENTERS IT; SUDDENLY LEDAS JUMPS UP AND STARTS TO VIGOROUSLY TRAIN>
Aprido: <IN SHOCK> How can he even move in that?! <QUICKLY BECOMES VENGEFUL> He's trying to show off! Well, that little brat isn't better than me! He's been gone for years! It's my turn to be a Plantain!
<LEDAS CONTINUES TO TRAIN, FORCEFULLY JUMPING AROUND THE ENTIRE FACILITY>
Aprido: I'll show him who he's dealing with!
<APRIDO REACHES FOR THE GRAVITY CONTROL PANEL; HE INCREASES THE GRAVITY TO 300G; LEDAS, WHO IS IN MIDAIR, FALLS TO THE GROUND, HARD, BOUNCING SLIGHTLY, HE CANNOT GET UP; APRIDO, GLEEFULLY MOVES BACK OUT OF SIGHT, PEEKING AROUND THROUGH THE WINDOW; THE GRAVITY HAS OTHER EFFECTS ON THE ROOM AS WELL, SOME WEIGHTS FALL OFF THEIR STANDS, AND START ROLLING TOWARD LEDAS>
<LEDAS ROLLS OVER AND SEES THE WEIGHTS ROLLING RIGHT AT HIM, HIS EYES WIDEN, AND WHEN THE CAMERA ZOOMS IN ON THEM, THEY ARE GREEN; HIS HAIR PULSATES, TURNING STARK WHITE, THEN BACK TO BLACK; LEDAS NOW IN A SEMI SUPER SAIYAN STATE, IS EASILY ABLE TO DODGE OUT OF THE WAY OF THE INCOMING WEIGHTS; APRIDO SEES HIS POWER LEVEL IS GOING UP EXPONENTIALLY>
Aprido: 50,000… 100,000… 300,000… 500,000…! <HIS SCOUTER BREAKS AND HIS EYES WIDEN IN HORROR> This is ridiculous, I'm getting outta here! <APRIDO TURNS OFF THE GRAVITY AND RUNS OUT; LEDAS DROPS TO THE FLOOR STILL AS A SEMI SUPER SAIYAN; IN A BIT OF A DAZE, HE STUMBLES OUT OF THE FACILITY TO THE OUTSIDE, THIS FORM IS STARTING TO WEAR ON HIM PHYSICALLY>
<AFTER A FEW MOMENTS, HE USES UP ALL HIS ENERGY, REVERTS TO HIS NORMAL STATE, AND COLLAPSES ON THE GROUND, ASLEEP>
<APRIDO WAS RUNNING OUT, BUT HE SEES LEDAS FALL DOWN; HE TURNS BACK AND CREEPS UP TO THE SLEEPING SAIYAN>
Aprido: Huh? What's he doing? <HE THROWS A ROCK AT LEDAS, THOUGH THE BOY DOESN'T MOVE> Did he fall asleep? <HE RUNS UP TO THE BOY AND KICKS HIM IN THE HEAD, SOFTLY; LEDAS DOES NOT WAKE> Aeheh? Just sleeping! I'll have a little fun with him now!
<CUTS TO THE NEXT DAY>
<IT IS MORNING, AND MISTY; LEDAS IS LYING FACE DOWN AT THE FOREST'S EDGE, ON THE BEACH OF A LARGE OCEAN; HE IS QUITE NEAR A NATIVE CAMP; SOME OF THEM ARE ABOUT BUT NONE OF THEM GET NEAR HIM>
Ledas: <STANDS UP; SLOWLY> Where am I? <HE STEPS FORWARD, AND THE NATIVES STEP BACK; OBVIOUSLY THEY ARE AFRAID OF HIM; HE COCKS HIS HEAD TO ONE SIDE> O-oh… how'd I get here? <HE STARTS TO MOVE FORWARD, BUT THE NATIVES BACK AWAY> Slaves, just like me. I feel sorry for them. <WHEN THEY DON'T RESPOND, LEDAS BEGINS TO GET IMPATIENT; HE WAITS A FEW MINUTES, BUT WHEN NOTHING CHANGES, HE SIGHS AND WALKS OFF> Whatever.
Aprido: <FROM OFF-SCREEN> Aaack!
Ledas: <UPON HEARING APRIDO, HE TURNS AROUND> What was that?
Aprido: <HE COMES INTO VIEW; HE IS LYING ON THE BEACH RIGHT NEXT TO LEDAS; HE IS DIRTY AND BRUISED; HIS ARMOR IS DAMAGED> You stupid monkey! Look what you did to me!
Ledas: <NOT UNDERSTANDING> Why are you out here too?
Aprido: <SEETHING> You attacked me in your sleep! Look at my armor!
Ledas: I still don't get why we're out here.
Aprido: I… you idiot! Stop changing the subject! You'll pay for doing this to me! I'm telling the governor! <APRIDO GETS UP AND STARTS WALKING OFF>
Ledas: <EYES NARROW; HE LOOKS AT THE OCEAN TO HIS LEFT; HE NOTICES ONLY ONE SET OF FOOTPRINTS IN THE SAND; THEY ARE CLEARLY NOT HIS> Hey! You carried me out here!
Aprido: <PUSHING HIS WAY THROUGH THE NATIVES> Yeah, and you punched me in your sleep!
Ledas: <NOW QUITE ANGRY, REALIZING WHAT APRIDO DID TO HIM> If I was awake, you wouldn't have lived. <APRIDO STOPS IN HIS TRACKS AND STARES AT LEDAS> You were trying to drown me, weren't you? <APRIDO IS SILENT, BUT HIS FACE IS STILL BURNING WITH HATRED> What did I ever do to you?!
Aprido: <SHOUTS, PUSHING NATIVES AWAY> You were supposed to be dead! It's my time now! I'm going to be the new Plantain!
Ledas: That's what you're on about? <PERPLEXED> Listen, I'm not even staying here for very long… I don't care if you join–
Aprido: Go! Get away from me you disgusting animals! <SPITS AT THE NATIVES, BUT THEY DO NOT UNDERSTAND; SCREAMING> Help! Captain! Somebody help me!
<APRIDO YELLS AND STARTS SHOOTING ALL OF THE NATIVES AROUND HIM WITH HIS BLASTER; NONE WERE TOUCHING HIM, BUT HE SEEMS VERY TRIGGER-HAPPY; HE ANNIHILATES SCORES OF THEM>
Ledas: Hey, stop it. <HE STEPS FORWARD TO APRIDO> You don't have to kill them. They're just like me and you. We're all slaves here.
Aprido: So?! There's nothing they can do about it!
Ledas: I'm tired of people saying that.
<APRIDO SHOOTS MORE OF THEM; LEDAS SEEMS ANGRY NOW; APRIDO SEES THIS, GETS TERRIFIED AND BOLTS; BEFORE LEDAS CAN SAY ANYTHING ELSE, APRIDO HAS RUN OFF INTO THE FOREST>
<A QUICK SCENE IS SHOWN OF GUVA, MELOON, PAYAR, AND LIEME ALL ENJOYING THEMSELVES AROUND CAMP; BANAS, HOWEVER IS NOT WITH THEM; THE SCENE CUTS TO THE EDGE OF THE FOREST, WHERE BANAS IS STANDING, ARMS CROSSED, LOOKING OFF INTO IT; THE LOOK ON HIS FACE IS OF SLIGHT ANXIETY; BANAS LOOKS OLDER THAN HE HAD BEFORE; HE IS OBVIOUS WRINKLES NOW, AND SEEMS TO HAVE HEAVY GRAVITY AROUND HIM; HE HAS HIS ARMOR BACK, IMPLYING HE IS NOW OFF OF SUSPENSION>
<GUVA AND PAYAR WALK OVER THE DEAD BODIES OF ALL THE ALIENS AND SOLDIERS KILLED DURING THE GLADIATOR MATCHES OF THE NIGHT BEFORE; WHILE THIS MATCH WAS NOT SHOWN, IT IS IMPLIED THAT THESE HAD BEEN GOING ON REGULARLY IN LEDAS' ABSENCE>
Guva: <STEPPING OVER SOME BODIES> So many of them. You had a good haul yesterday, Payar. They put up quite a fight.
Payar: <PICKING UP A SCOUTER FROM A DEAD SOLDIER> Yeah, in big numbers, they can be quite… destructive. Moreso than I thought was possible. Sir, what are we going to do with them? Kill them all?
Guva: No, not all of them. Not unless you want to mine this planet's resources yourself.
<A FEW NATIVES ARE STILL ALIVE AND THEY COME RUSHING OUT FROM UNDER SOME BODIES; THEY RUN AT PAYAR, WHO EASILY KILLS THEM>
Payar: And what do you plan on doing with them? The fun's running out… we need something new to do with them.
Guva: Long have I thought of this. What to do with the natives? But then, it came to me. I realized I alone have the fortitude, the unyielding will to bring our high culture to these worthless beings. To show them how to act, how not to rebel. And when they comprehend it, they will love me for it.
Payar: <GRINS> That won't stop me.
Guva: I don't plan on stopping you. Fear is a powerful motivator. It has, thus far, kept them in check. There has not been a single, major insurrection under my rule.
Payar: I'll keep it that way, guv'nor.
Guva: Good. I think your captain could stand to use the same mindset, Payar.
<CUTS TO BANAS, WHO IS SITTING ON A ROCK; AS THE CAMERA PANS BACK, IT IS SHOWN TO BE NEAR THE NATIVES' WORKING AREA, THE SUN IS SHINING BRIGHT, OFF HIS ARMOR>
<IN THE DISTANCE, A BIRD TAKES OFF, BANAS SHOOTS IT WITH A KI BLAST>
Ledas: <LEDAS IS WALKING UP TO APRIDO, WHO HAS RETREATED FARTHER INTO THE FOREST; AS HE'S WALKING, A SMOKING BIRD FALLS RIGHT IN FRONT OF HIM; IT SPOOKS LEDAS> Whoa… what was that? <HE BEGINS TO INVESTIGATE IT, BUT THEN HEARS A SCREAM UP AHEAD> What's wrong with him? <HE STARTS RUNNING THROUGH THE TREES TO APRIDO'S VOICE>
Aprido: <APRIDO IS STANDING, AGITATED; THE FEW NATIVES MILLING AROUND HAVE LOST INTEREST, ONLY ONE OR TWO OF THEM REMAIN IN TOWN> Help! Captain! The Saiyan's trying to kill me! Help!
<LEDAS COMES SKIDDING INTO VIEW, RIGHT INTO THE LINE OF SIGHT OF APRIDO, THE TWO LOCK EYES>
Ledas: Stop running from me! What's wrong with you?
Aprido: <TURNING BACK TO LEDAS, SATISFIED> You can't tell me what to do! <HE SHOOTS THE REMAINING NATIVES>
Ledas: <ANGRY YELL> Idiot! <LEDAS SHOOTS A BLAST AT APRIDO, WHO SCREAMS AND IS THROWN; THE EXPLOSION CAUSES A HUGE AMOUNT OF SMOKE; BANAS SEES THIS AND GETS UP QUICK, THEN TAKES OFF TO THE SMOKE> You tried to kill me – just like you think you can kill all of the natives. You think you can get away with this?
Aprido: No, I'm going to blame all of this on you! You killed them! You attacked me!
Ledas: <STEPS FORWARD> That's it. You're dead.
Banas: <LANDS BEHIND LEDAS> Saiyan! Stop that, <WITH AUTHORITY> now!
Ledas: <EXTINGUISHES HIS BLAST, AND TURNS HIS HEAD TO FACE BANAS; DURING THIS, APRIDO, FEARFUL, SLIDES DOWN THE HILL HE IS STANDING ON AND RUNS OFF> Why?
Banas: That's one of my soldiers you're going to kill. You know I don't take kindly to someone who kills my soldiers. Especially when they are one of my own elites. Guva may have brought you back here on a shining pedestal, but I'm still your captain. You owe me your loyalty. It seems you've forgotten to respect me!
Ledas: Maybe you forgot about lying to the council about me being a rebel!
Banas: <IGNORING LEDAS> Let's go.
<LEDAS SHAKES HIS HEAD, THEN TAKES OFF TO PURSUE APRIDO>
Banas: <IN HYSTERIA, SPITTING> Fool! <HE TAKES OFF AFTER LEDAS>
<CUTS TO LIEME AND MELOON, WHO ARE TRAINING>
Lieme: <DODGING A PUNCH BY MELOON, EASILY> No, you must anticipate where I go. You won't be able to see me, anyway.
Meloon: Well come at me again, eh? I'll get ya this time!
Lieme: <CHARGES AT MELOON, THE TWO CONTINUE TO SPAR, LIEME IS SLIGHTLY BETTER, BUT HE IS NOT PUTTING FORTH AS MUCH EFFORT AS MELOON; THEY BOTH GET HIT A FEW TIMES, BUT THEN LIEME STOPS, CAUSING MELOON TO HIT HIM, ALMOST TO THE SURPRISE OF BOTH; GETTING UP> Did you feel that?
Meloon: Feel what? My fist on your face? Har har. O' course I did!!
Lieme: No, you fool. But of course, you wouldn't sense that. You can hardly keep track of me.
Meloon: Well, what was it?
Lieme: It's the Captain. He's raised his power level to battle ready. He must be fighting someone. <RAISES INTO THE AIR, AND SHOOTS OFF> Come on!
<CUTS TO BANAS, WHO IS PURSUING LEDAS IN MIDAIR>
Banas: Don't you dare kill him, Saiyan!
Ledas: <REMAINS SILENT, THEN SHOOTS A BLAST AT APRIDO> Ahhhh!
Banas: Stop! <SHOOTS A CLUSTER OF RAZOR BLASTS AT LEDAS, SOME HIT HIM AND CUT HIM>
<LEDAS, IN PAIN AND ANGER, SHOOTS ANOTHER BLAST BEHIND HIM AT BANAS, BUT THE CAPTAIN DODGES IT>
<APRIDO COMES TO A CLEARING, LEDAS GETS A CLEAN SHOT ON HIM, CAUSING THE APPULE TO FALL TO THE GROUND; LEDAS ABRUPTLY STOPS TO STAY WITH APRIDO; BANAS, UNABLE TO STOP IN TIME, OVERSHOOTS THEM BOTH; LEDAS DESCENDS TO THE GROUND, AND APPROACHES APRIDO; APRIDO CRAWLS AWAY IN PANIC>
Ledas: Get back here, coward.
Aprido: Okay man!! Okay! Just don't kill me! <RAISES HIS HANDS TO SHIELD HIS FACE; BUT LEDAS BATS THEM AWAY, HE GRABS APRIDO'S NECK, WITH HIS LEFT HAND, AND READIES AN ENERGY BLAST WITH HIS RIGHT; BEFORE HE CAN KILL APRIDO, BANAS LANDS>
Banas: Put him down!
Ledas: Hmph… this place is better off without any of you.
<LEDAS FIRES HIS ENERGY BLAST, COMPLETELY INCINERATING THE APPULE>
Banas: <QUIET RAGE> Oh, you little fucker.
<CUTS BACK TO GUVA AND PAYAR WALKING; THEY HAVE REACHED THE FOREST'S EDGE>
Guva: <WALKING WITH PAYAR, LOOKING UP AT THE SKY> My my, it's such a lovely day. So calm, so… <OUT OF THE JUNGLE COMES BANAS, CHASING LEDAS; BOTH STOP IN SIGHT OF GUVA> peaceful… thank you, gentlemen.
Banas: <SHOOTS AN ENERGY BLAST AT LEDAS; IT CAUSES AN UPROAR OF SAND AND DIRT AT GUVA'S FEET> Get back here!
<LIEME AND MELOON ARRIVE>
Lieme: Governor, boss… <PAYAR NODS TO LIEME AND MELOON; WHO RETURN THE GESTURE>
Banas: <IGNORING ALL> Get back here, Saiyan! <SHOOTS ANOTHER BLAST>
Ledas: Shut up! <SHOOTS A BLAST BACK AT BANAS>
Guva: Both of you, calm down! Now, what happened?
Banas: <DRAWING HIMSELF UP> The kid disobeyed me.
Guva: <TO LEDAS> Is that true?
Ledas: <LOOKS UP TO GUVA; BREATHING HARD> I'm tired, sir. I need more time.
Banas: What was that, kid?
<LEDAS RUNS BACK INTO THE FOREST; BANAS GOES TO PURSUE, BUT GUVA STOPS HIM>
Guva: <UNDERSTANDING WHAT LEDAS MEANT; HE THROWS OUT HIS ARM> Wait.
Banas: He killed one of my men. One of my better soldiers.
Guva: And now what do you want, Captain?
Banas: I want to kill him. <MELOON'S EYES WIDEN IN EXCITEMENT; LIEME LOOKS CURIOUS>
Guva: <WIDE, ALMOST UNCHARACTERISTICALLY WIDE, SMILE> Oh? Well I see no problem in that, Banas. I'm sure Ledas will be an easy kill. He's just a kid, after all.
Banas: <TAKEN ABACK> Really?
Guva: Lieme, wait a few hours, then go get the boy. I want the rest of you on standby. Meloon, prepare the coliseum for the captain's fight.
<LIEME AND MELOON NOD AND WALK OFF; PAYAR AND BANAS REMAIN>
Banas: <A BIT OF IMPATIENT ANGER> Why are we waiting so long? I want to kill him now!
Guva: Captain, I'm giving you this opportunity. This singular opportunity. Take it or leave it. But do not whine to me about your impatience.
Banas: Yeah, whatever. I just don't see why you'd give him a few hours.
Guva: It's for your own benefit, Banas. You're too angry. It'll affect your ability to fight properly. <BANAS ROLLS HIS EYES> I'm watching out for you, Captain.
<THE TWO PREPARE TO RETURN TO CAMP; GUVA BOWS, SHOWING THAT HE IS BREAKING OFF; PAYAR REMAINS ON THE EDGE OF THE FOREST, WATCHING THEM>
Guva: Banas.
Banas: <NOT FRIENDLY> Guvvy.
Guva: <WALKS BY, CHUCKLES> Give us a good fight when he comes back. <PAUSES AND STOPS> Strength and honor, Captain. <WALKS OFF>
Banas: <ANGRY> Yeah… to hell with you too.
<PAYAR WATCHES BANAS LEAVE; HE IS MESSING WITH SOMETHING IN HIS HANDS THAT CANNOT BE SEEN; AFTER A FEW MOMENTS, HE ENTERS THE FOREST>
Ascendancy (season finale part 1)

[

]
<LEDAS RUNS BACK TO WHERE HE FOUND APRIDO WITH THE NATIVES; HE REALLY HAS NOWHERE ELSE TO GO; THE PLACE IS MOSTLY DESTROYED; THERE ARE SMALL FIRES AROUND AND DEAD NATIVES EVERYWHERE; LEDAS LOOKS AT THE LARGE OCEAN AHEAD>
Ledas: <STOMACH RUMBLES> Dang, I'm hungry… <HE LOOKS AROUND AND SPOTS A NEARBY TREE COVERED IN FRUIT> I've got to eat something and rest a little. What does Guva expect… that I'm going to kill all four of them?! <HE REACHES THE TREE AND SHOOTS DOWN A FRUIT WITH A KI BLAST; THE FRUIT LOOKS LIKE A SPIKED BALL> I've seen the captain eat these before… hopefully it tastes all right.
<LEDAS LOOKS AT THE SPIKED BALL THEN RIPS IT OPEN AND EATS THE PINK FRUIT INSIDE THEN DRINKS THE JUICE FROM IT; AT THIS TIME, A FEW CAUTIOUS NATIVES PEER OUT AROUND BURNING HUTS AND TREES; THEY WATCH LEDAS INTENTLY, THOUGH HE DOES NOT NOTICE THEM>
Ledas: Whoa… <A GRIN COMES TO HIS FACE; HE LOSES HIS BALANCE, AND FALLS INTO SOME BUSHES; HE BURSTS OUT INTO LAUGHTER; A FEW OF THE NATIVES LAUGH, HESITANTLY; LEDAS REEMERGES QUICKLY AND UNEXPECTEDLY; HE LOOKS AT HIS FINGERTIPS AND TRIES HARD TO STAY STANDING> Issawl tingly!
<MORE NATIVES COME OUT AND WATCH HIM; THEY ARE NOT AS FRIGHTENED OF HIM AS THEY WERE OF APRIDO>
Ledas: <SLURRED SPEECH> Wwhhasss indis stuff nenywaaay… <WALKING FORWARD, NEARLY LOSING HIS BALANCE; THE NATIVES TAKE A COLLECTIVE STEP BACKWARD, BUT IT IS NOT AS BIG AS BEFORE, THEY SEEM TO HAVE LESSENED THEIR FEAR; LEDAS ENTERS INTO THE CAMP AND WALKS ALL THE WAY TO THE TOWN CENTER> Heeeey guys… y'know… youuuguysarr great… <SINCE HE'S GOTTEN SO CLOSE, MOST OF THEM REMAIN HIDING BEHIND TREES OR BUILDINGS> Issok… I'm good. <HE LAUGHS ONE MORE TIME, AND THEN FALLS, FACE FIRST ONTO THE GROUND, ASLEEP AS THE CAMERA FADES TO BLACK>
<THE SCREEN RE-FADES FROM BLACK; IT IS SEVERAL HOURS LATER; FROM A NEARBY TREE, LIEME CAN BE SEEN CROUCHING AND WATCHING>
Lieme: Boss… <LONG PAUSE, WHERE THE CAMERA MOVES AROUND HIM, SHOWING HIS LOCATION IN GREATER DETAIL> I'm in place.
Banas: <OVER THE SCOUTER> Bring him to me. I want to end this right now.
Lieme: I'll be there soon, captain. Over and out.
<LIEME JUMPS OFF THE TREE AND FLIES OVER TO THE UNCONSCIOUS LEDAS>
<CUTS TO PAYAR; HE IS GATHERING UP NATIVES IN ANOTHER AREA; HE LINES THEM UP MUCH LIKE LEDAS HAD DONE WITH HIM SO LONG AGO (SANS THE ENERGY BINDING) AND MARCHES THEM AWAY>
<JUMP CUT TO LEDAS BEING HELD UPSIDE DOWN BY HIS TAIL; HE IS PUNCHED IN THE GUT BY LIEME; THIS WAKES THE BOY>
Ledas: Uaaaahhh…! <HE THRASHES ABOUT, CAUSING LIEME TO DROP HIM; HE YAWNS AND SITS UP; HE LAUGHS AGAIN> Whas inat stuff…? Issat sominkinpoisssin?! <HE PICKS UP THE MOSTLY EATEN FRUIT AND WAVES IT AROUND; WHILE DOING THIS, HE ACCIDENTALLY SENDS A HUGE KI BLAST TO THE SKY> Ha ha… oops! <LEDAS LOOKS UP INTO THE SKY, AND SEES LIEME> Oh… crap! <HIS EYES WIDEN IN HORROR>
<LIEME DESCENDS TO THE GROUND, A FEW DOZEN FEET AWAY; HIS ARMS ARE CROSSED AND HE IS LAUGHING; AT THE SIGHT OF LIEME, THE NATIVES THAT WERE CURIOUSLY PEERING OUT AT LEDAS RUN BACK INTO THEIR HOUSES; LEDAS GETS UP TO FACE THE ELITE>
Ledas: Whaddyou want?
Lieme: Before I take you to the captain, I would like you to answer me something I've been pondering: why haven't you aged these past twenty-one years? It doesn't make much sense to me.
Ledas: Twenty-one years? What are you talking about?
Lieme: You left with the captain twenty-one years ago. And now Guva's brought you back – and you're exactly the same.
Ledas: What?! What are you talking about? <HE LOOKS AROUND IN DISBELIEF> No, you're lying!
Lieme: Whatever. Then I'm taking you to the captain now. He's going to kill you, I think.
Ledas: <SAID CLEARLY AND WITH PURPOSE> I'll kill you first.
Lieme: Do you know who I am, kid? Do you know what I can do?
Ledas: <WOBBLES> I-I-I-I've surpasssssed you-ou-ou…
Lieme: You're tired, drunk off your ass, and extremely cocky. I say I like my chances…
<LIEME MOVES FORWARD, GIVING OFF A DIZZYING DISPLAY OF AFTERIMAGES; LEDAS, WHO IS STILL INTOXICATED, CANNOT COMPREHEND LIEME'S ATTACK; HE IS HIT STRAIGHT INTO THE GROUND>
<LIEME HITS LEDAS THROUGH SEVERAL TREES, AND GOES FOR ANOTHER PUNCH, BUT ONLY HITS AN AFTERIMAGE; SEEING HIS OPPORTUNITY, LEDAS KICKS LIEME AWAY AND QUICKLY POWERS UP; THEY BOTH KNOW WHO IS STRONGER NOW>
<LIEME, IN VAIN, SHOOTS OFF A VOLLEY OF ENERGY, LEDAS SHOOTS A VOLLEY BACK; IN THE EXPLOSION AND SMOKE, LIEME IS BRIEFLY CONFUSED; LEDAS COMES OUT OF NOWHERE AND HITS HIM TO THE GROUND>
Lieme: <GETTING UP, IN PAIN> W-what are you doing? Why can't I sense you?!
Ledas: <COMES DOWN ON LIEME AND KNEES HIM IN THE GUT; HE IS STILL HAVING A HARD TIME WITH HIS BALANCE> I have better control over my power than you do! <HE HICCUPS>
Lieme: <COUGHING AND BLOCKING, HE STUMBLES BACK A FEW STEPS> You can lower your power level to nothing? <SUDDENLY LAUGHS> Don't fool yourself, kid, I can do that.
Ledas: <LAUGHING AS WELL> I can do it so fast you can't sense me.
Lieme: <EYES WIDEN> No… <LEDAS RUNS FORWARD AND HITS HIM; LIEME, SEEING HE HAS LOST, RETREATS; LEDAS, TOO INCAPACITATED HIMSELF, DOES NOT PURSUE; HE COLLAPSES AND QUICKLY FALLS ASLEEP>
<SCREEN RE-FADES INTO GUVA'S OFFICE; HE AND BANAS ARE TALKING; BANAS LOOKS LIKE HE IS FORCED TO BE THERE AND THAT HE DOES NOT WANT TO BE THERE>
Guva: Why yes, I did. Four times, actually. Try to beat that. <HE TAKES ANOTHER DRINK FROM THE SAME SPIKED FRUIT THAT LEDAS TRIED EARLIER; HE IS DRINKING FROM ITS CONTENTS WITH A STRAW>
Banas: <GETS A CALL ON HIS SCOUTER, PUTS ONE FINGER TO HIS OTHER EAR> This is Banas… Oh… Oh really? Yeah. Yeah, I'll do that. Hold on, I'll be there in a few. <CUTS OFF THE CONVERSATION> Sorry I can't stay, governor. I've got business to attend to. <HE GETS UP AND WALKS ALL THE WAY TO THE DOOR, HE OPENS THE DOOR>
Guva: It didn't work, did it?
Banas: You say something, governor?
Guva: Lieme didn't get the boy.
Banas: <STOPS, OPENS HIS MOUTH TO SAY SOMETHING, BUT NO WORDS COME OUT> Well…
Guva: That's okay, Banas. You'll get him next time.
Banas: <SIGHS AND LOOKS AT HIS CLOTHES; HE IS NOT IN ARMOR> I'll go get him myself… after I armor up. Sometimes you just gotta do things yourself. You know?
<GUVA NODS AND BANAS EXITS>
<CUTS BACK TO LEDAS>
<IN THE DISTANCE, A LONG, HIGH PITCHED SCREAM IS HEARD; CHILLINGLY, IT GOES UNINTERRUPTED FOR SEVERAL SECONDS, AND THEN IT CUTS OFF, SHARPLY>
<LEDAS WAKES UP; HE LOOKS AROUND; THE NATIVES ARE RUNNING ABOUT IN A PANIC; THERE IS PANDEMONIUM EVERYWHERE; IN THE DISTANCE, SOME SMOKE RISES; IT IS SURELY AN ATTACK>
Ledas: <TO HIMSELF> They're being attacked again… <TO THE NATIVES, THOUGH THEY COMPREHEND HIM NOT> I've had it! I'm no different from the natives. Guva and Payar and the others just use and hurt us and do terrible things… Well, not any more! I'm not putting up with this again!
<LEDAS RISES INTO THE AIR, ENVELOPING HIS KI AROUND HIM, AND FLIES TO THE SMOKE; IT DOESN'T TAKE LONG FOR LEDAS TO FIND IT; BODIES STREWN EVERYWHERE, BLOOD EVERYWHERE; AND UP AHEAD, PAYAR, WITH THE FEW REMAINING NATIVES LINED IN A ROW; PAYAR HAS A FEW REGULAR SOLDIERS WITH HIM>
Payar: <TURNS, WITH A NATIVE IN HIS HAND; WHEN HE SEES LEDAS, HE GRINS AND SNAPS ITS NECK; LEDAS' ANGER IS NOTICEABLE> So kid… what took ya so long?
Ledas: Don't you touch another one! <HE READIES AN ENERGY BLAST AT PAYAR>
Payar: Go ahead, do it. But you'll be killing them too. <SMILES AGAIN, AND TAKES ANOTHER NATIVE; HE SNAPS ITS NECK, BRUTALLY> Oh? Did I do that?
Ledas: I told you! Stop it!
<PAYAR KILLS ANOTHER ONE>
Ledas: Enough! <WITH BLINDING RAGE, HE CHARGES PAYAR; PAYAR EASILY KICKS HIM OUT OF THE WAY WITHOUT EVEN MOVING; HE KILLS ANOTHER NATIVE, AS IF PUSHING LEDAS' ANGER>
Payar: Doesn't matter how strong you are kid. If you act stupid, I'll still kick ya.
Ledas: <ROLLS OVER IN ANGER> I'll kill you!
<PAYAR TAKES SOMETHING OUT OF HIS CARRY POUCH, IT IS A FLARE; HE SHOOTS IT UP, INTO THE SKY>
Payar: Maybe. How'd you like to take us all on?
Ledas: No!
<PAYAR LAUGHS AND KICKS LEDAS IN THE FACE>
<CUTS TO GUVA'S OFFICE; HE SEES THE FLARE>
Guva: Captain, it's begun.
Banas: <CRACKLING OVER THE SPEAKERS> I'm not blind Guva. I saw the flare. I'm about to–
Guva: No, stay put. Gather the Plantains, but do nothing else. Wait until I call you again.
Banas: Yeah, yeah. I know. <CHANGE IN TONE TO THAT OF NOSTALGIA> Say, governor… when was the last time you and I fought together? Side by side?
Guva: I'm sure you remember it as well as I do, Captain. It was the day I became governor.
Banas: I try not to remember stuff like that…
Guva: That's a good choice. We wouldn't want you so upset on the eve of your glory.
Banas: Ha ha. Of course not. I'm ready to get this kid out of our lives once and for all.
Guva: Then stay put. With my next signal to you, it will be time.
<CUTS BACK TO LEDAS AND PAYAR>
Payar: Oh, bummer. Only one left. Too bad, I hate it when a good thing is over.
Ledas: <STILL ON THE GROUND> No… don't.
Payar: What are you gonna do about it? <SNAPS THE NATIVE'S NECK> Huh?
<LEDAS DROPS HIS HEAD TO THE GROUND, EXTREMELY UPSET>
Payar: What are you so sad about? Huh?! Where did this love of the natives come from?
Ledas: <LOOKS UP> Please… stop. They're alive. They aren't something for you to play with!
Payar: And how many billions of people have you killed? I bet it's a lot. Why don't you give a fuck about what you have done? I'm not the one you should be angry at.
Ledas: I was forced to do it… but look at them, Payar. What if you were one of them?
Payar: Oh, I get it. You think you're just like them. <HE LAUGHS> That's great. But this is survival of the fittest. We'll always be a slave to Planet Trade; it's just how it works. There's always someone stronger out there and if you want to stay alive, you better stop caring about others.
Ledas: <GETTING EMOTIONAL> I just want to be free. We all do. <HE POINTS TO THE DEAD NATIVES> None of us wanted this! Especially not them!
Payar: I don't want to be free. I want to be entertained. <HE LOOKS AT HIS OTHER SOLDIERS AND NODS FOR THEM TO LEAVE; HE STARTS TO LEAVE AS WELL> And I know what you're going to do. Guva brought you back to kill Banas. I don't want any part of that. Just go do your thing, and I'll do mine.
<PAYAR IS MESSING AROUND WITH SOMETHING IN HIS HANDS AGAIN AS HE LEAVES>
<LEDAS LOOKS UP, RIGHT INTO THE LIFELESS EYES OF THE NATIVE IN FRONT OF HIM>
<A FLURRY OF MEMORIES ARE BROUGHT BACK TO LEDAS; SCENES OF HIM AND VEGETA, HIM AND HIS DAD; TEARS COME TO HIS EYES, AND HE POUNDS THE GROUND WITH HIS FISTS>
Ledas: <STANDS UP, QUIVERING WITH FEAR> None… none of you deserved this! I'll make him pay.
The Benefactor: <VISION, WALKS UP TO LEDAS> There are… so many who deserve to die.
Ledas: <IN TEARFUL ANGER> How come I keep seeing you? I don't want to! Just leave me alone!
The Benefactor: How can you sit idly and let them continue their path? It's easy to pretend nothing is happening. But you are only fooling yourself.
Ledas: They didn't deserve this! I didn't deserve this! <SCREAMING, CRYING> Everyone I know is dead because of Frieza. And everyone here has wanted to kill me since the beginning! I've just been their slave the whole time! I'm sick of it! My life isn't something for them to mess around with! I need to get out of here!
The Benefactor: Were it so easy.
Ledas: NNNOOOOOOOOOO!!!!!!!!!
<THE VISION OF THE BENEFACTOR SHATTERS IN A BRILLIANT FLASH OF LIGHT; LEDAS IS ENGULFED; HE LETS OUT ANOTHER SCREAM, SENDING BIRDS FLYING OUT OF THE TREES; THE CAMERA FOLLOWS THE BIRDS TO THE SKY, AND THEN DROPS BACK DOWN, THROUGH THE TREES INTO THE CLEARING, LEDAS' HAIR IS NOW GOLDEN; HIS ENTIRE AURA IS BLINDING; HE STEPS FORWARD WITH A SCOWL ON HIS FACE>
<CUTS BACK TO REAL TIME; GUVA IS STANDING WITH TWO HELPERS; THE ROOM IS ALL MARBLE, BUT OPEN; THERE IS NO FURNITURE; THERE IS SLIGHT DUST IN THE AIR; THE TONE IS VERY GRAVE; THIS ENTIRE SEGMENT IS DONE IN PARTIAL SLOW MOTION>
Guva: <SLOWLY> Banas, his entire team? Is there word yet?
Soldier 1: Uhh… no sir. <SWIFTLY CLAMPS ON GUVA'S LEFT WRIST GUARD>
Guva: <TO HIMSELF, DISTANT> No word… <THE SOLDIER PUTS ON GUVA'S OTHER WRIST GUARD>
Guva: I will go. I must see it… Banas and the child. <HE EXTENDS HIS ARMS, TO MAKE A "T" POSITION OF HIS BODY, HE PUTS HIS HEAD BACK; THE TWO SOLDIERS SLIP HIS CHEST ARMOR OVER HIS HEAD, FITTING AND ADJUSTING IT ONTO HIS BODY>
<THE SOLDIERS MOVE AROUND AND CLAMP KNEE ARMOR TO GUVA'S BOOTS>
<THEY GET UP, AND BRING OUT GUVA'S CAPE, IT IS A DEEP RED; THEY UNFOLD IT AND PLACE IT ONTO HIS CEREMONIAL ARMOR, PATTING IT INTO PLACE; ONE SOLDIER COMES AROUND FRONT TO FACE GUVA, STILL PATTING DOWN THE ARMOR; HE NODS TO GUVA, AND THE DOOR IN FRONT OPENS; LIGHT EXPLODES ONTO GUVA'S FACE, COMING FROM THE DOORS AHEAD; GUVA'S HEAD RECOILS SLIGHTLY, AND HE SQUINTS, UNTIL HIS EYES ADJUST; HE WALKS OUTSIDE, AND LOOKS TO THE SKY>
Guva: It will happen today. I'll be set free.
<END SLOW MOTION>
<GUVA MAKES HIS WAY TO THE EDGE OF THE OUTPOST; HE IS WALKING TO THE COLISEUM; PAYAR WALKS OUT OF THE FOREST, ARMS EXTENDED IN RELAXED CONFIDENCE; HIS THREE SOLDIERS ARE RIGHT BEHIND HIM>
Payar: Hey, guv'nor… How's it going–
<OUT OF NOWHERE, LEDAS COMES FLYING OUT OF THE FOREST IN A HIGH JUMP; PAYAR DOESN'T EVEN SEE HIM, BUT GUVA DOES; GUVA, IN SHOCK, EYES WIDE AND MOUTH OPEN, TAKES A STEP BACK; LEDAS, AS HE COMES DOWN TO THE GROUND, HITS PAYAR IN THE HEAD, SENDING THE ELITE FLYING SEVERAL FEET AHEAD, INTO THE MUD; LEDAS LANDS ON ONE KNEE; BLOOD IS POOLING AROUND PAYAR'S HEAD, BY THE TIME LEDAS GETS UP TO FACE GUVA; THE SAIYAN BOY QUICKLY INCINERATES THE THREE SOLDIERS WITH QUICK KI BLASTS>
Ledas: <SUPER SAIYAN> Where is he? Where's Banas?
<GUVA FALTERS, UNABLE TO SPEAK; HIS MOUTH IS AGAPE>
To Each, According To His Sins (season finale part 2)

[

]
<THE CAMERA MOVES AROUND THE OUTPOST; IT IS EMPTY, BARREN; A SLIGHT WIND BLOWS THROUGH; RATTLING THE SILENCE, GUVA SPEAKS; THE CAMERA TAKES ITS TIME TO COME AROUND AND FOCUS ONTO HIM>
Guva: <TO LEDAS> Follow me.
<THEY LEAVE PAYAR AND WALK TO THE COLISEUM; ONCE INSIDE, GUVA PRESSES A BUTTON ON HIS WRIST TO CALL BANAS; QUICKLY BANAS AND HIS TEAM ARRIVE>
Guva: <TO LEDAS> I've already called Banas here.
<LEDAS LOOKS AROUND, HIS AURA OVERFLOWING IN ITS BRIGHTNESS; IT TAKES NO MORE THAN A MOMENT FOR THE THREE PLANTAINS TO REACH GUVA AND THE BOY>
Banas: Ah, look who it is. <CONFIDENTLY WALKS UP TO GUVA> Can't deal with him yourself?
Guva: Captain, I think you misunderstand. This is your fight. I'm just here to watch.
Banas: Oh, of course. <HE PATS GUVA ON THE SHOULDER AND WALKS FORWARD>
Guva: The kid wants to kill you. A most ridiculous request, yes. But, nevertheless, I think you should give him a fair fight. No help from your lackeys.
Banas: Where's Payar?
Guva: <WITHOUT HESITATION> Incapacitated. I can give you more details once you've killed the boy.
Banas: <TO GUVA> So, you really don't want to fight him? What happened, did you read his power? <LAUGHS>
Guva: Not at all. I'm fine watching.
Banas: Well, unlike you, I plan on fighting today. And I will.
Ledas: Enough talking!
Banas: <TO LEDAS> Nice hair, kid. You look better in yellow. <TO HIS TEAM> Now let's go!
<LEDAS JUMPS AT BANAS BUT THE TWO PLANTAINS GET IN HIS WAY; THEY PREVENT HIM FROM GETTING AT BANAS>
Meloon: You're not beatin' us.
Ledas: Guva! You didn't say I had to kill them too!
Guva: Meloon, Lieme, stand down!
Lieme: Not a chance, governor.
<LEDAS RUNS AT ALL THREE OF THEM; HE EASILY TAKES THEM ALL ON; GUVA WATCHES>
<ALL THREE PLANTAINS ARE ABOUT EVEN WITH LEDAS; BUT LEDAS ISN'T TRYING; HE IS WEARING THEM DOWN, FROM LANDING CRITICAL HITS, TIME AND TIME AGAIN, NONE OF THEM CAN DAMAGE HIM; HE ISN'T ABLE TO ATTACK BANAS MUCH, HOWEVER, AS THE CAPTAIN IS STAYING BACK>
Ledas: I'm going to have to kill them, Guva! They won't get out of my way!
Banas: <STOPS FIGHTING> What?! <HE LOOKS AT GUVA WITH WIDE EYES> You and the boy are working together? That must be why you've kept him alive! Why you went out to go rescue him… you wanted him to kill me!
Guva: <PUNCHES BANAS IN THE FACE, SENDS HIM FLYING, GUVA CASUALLY WALKS UP TO BANAS, WHERE HE LIES> I've grown bored of it all. The planet, the outpost, the constant, insanity inducing monotony. But, most of all Captain, <GUVA CREATES AN ENERGY BALL, PALM UP; QUIETS TO A WHISPER> I've grown bored of you. There's no point in hiding from that any longer.
<AT THIS TIME, PAYAR STAGGERS INTO THE COLISEUM>
Payar: Uuuhhh… cap'n. I'm here. <HE GETS UP, ONTO HIS OWN FEET, PANTING, BUT STILL A THREAT>
<HIS FACE IS COVERED IN BLOOD FROM LEDAS' EARLIER ATTACK; STILL, HE RUSHES AT THE BOY AND STARTS FIGHTING HIM>
<GUVA THROWS HIS BLAST; IN THE LIGHT OF THE EXPLOSION, LEDAS CONTINUES FIGHTING ALL THREE PLANTAINS BEHIND>
Banas: <RISES; SARCASTICALLY> My dear governor, I didn't think you still had it in you. You almost chipped my armor.
Guva: Imagine that.
<BOTH GUVA AND BANAS POWER UP; THEY ARE THE SAME STRENGTH>
Guva: <SMILING> You see, captain, I've indeed still got it.
Banas: <ENRAGED; TO HIS TEAM> Kill that monkey, then help me with Guva.
Guva: I am just here to hold you off. The kid's going to kill you. <SLOWLY WALKS TOWARDS BANAS, THEN DISAPPEARS, AND REAPPEARS BEHIND BANAS AND KICKS HIM> Surely you can do better? <BANAS JUMPS UP AND PUNCHES GUVA IN THE GUT, THEN SHOOTS AN ENERGY BLAST INTO HIS FACE>
Banas: You maggot!
<GUVA PUNCHES BANAS IN THE FACE; BOTH ARE AT FULL POWER, AND THE ENTIRE OUTPOST IS SHAKING FROM THEIR BATTLE>
<GUVA'S STYLE OF REFINED AND DETERMINED PUNCHES VERSUS BANAS' STYLE OF RANDOM, UNDETERMINED ATTACKS ARE IN SHARP CONTRAST HERE; NEITHER CAN GAIN AN EDGE>
<GUVA AND BANAS' FIGHT IS HEATING UP, GETTING INCREDIBLY FAST, BEYOND WHAT ANYONE, EVEN LIEME CAN SEE; REGULAR SOLDIERS COME OUT OF THE BARRACKS TO WATCH; BUT THEY DARE NOT GET INVOLVED>
<BANAS HITS GUVA THROUGH A TREE; THEN THE GOVERNOR SWIFTLY ROLLS OUT OF THE WAY OF A SHATTERING KICK; HE GETS UP AND THROWS A BLAST AT BANAS' FACE TO STALL HIM; IT WORKS, AND GUVA RISES INTO THE AIR AGAIN, WITH THE HIGH GROUND; HE SPREADS HIS ARMS IN VICTORY>
<LEDAS HITS LIEME OUT OF THE WAY, AND RIGHT WHEN THE ELITE IS ABOUT TO GET UP, PAYAR IS SENT FLYING RIGHT INTO HIM; THAT LEAVES LEDAS AND MELOON ALONE; IT IS NO CONTEST, MELOON IS BEATEN THE GROUND, CRITICALLY WOUNDED, QUICKLY>
Ledas: <DESCENDS TO THE GROUND, OVER MELOON'S BODY> I never got to finish what I started when we first met. This time I won't let anyone save you.
Meloon: Oh yeah? I'll kill you first!
<LEDAS PUNCHES HIM SQUARE IN THE FACE, WITHOUT TRYING OR MOVING>
Meloon: <GRABS HIS FACE, TAKES A FEW STEPS BACK> Ow!
Ledas: That's for my father.
Meloon: So, <WITH MUCH RAGE> you wanna play?! <MELOON PUNCHES AT LEDAS, BUT HE MISSES>
Ledas: <PUNCHES MELOON IN THE GUT, VOICE RISING TO A SCREAM> That's for my planet!
<MELOON DOUBLES OVER AND SPITS OUT SOME BLOOD; HE LOOKS UP AND RUSHES AT LEDAS, WHO SIDESTEPS AND GRABS HIS ARM, HE PULLS IT AROUND, BEHIND THE FAT SOLDIER, AND BREAKS IT; LEDAS READIES A GREAT ENERGY BEAM>
Ledas: And this… this is for Vegeta! <HE SHOOTS THE GALICK BEAM AT MELOON, KILLING THE ELITE>
Lieme: You'll pay for that!
<LIEME GETS UP AND RUSHES, SENDING OUT ALL HIS TRICKS, OF AFTERIMAGES AND WHATNOT; LEDAS CAN SENSE THROUGH, THOUGH AND FIND THE REAL LIEME; HE, IN A BRIEF, BUT VICIOUS FIGHT, DISARMS LIEME, AND SENDS HIM FLYING AGAIN; JUST AS LIEME IS GETTING UP, WITH BLOOD DRIPPING FROM HIS FOREHEAD AND ON HIS KNEES, LEDAS SENDS OUT A QUICK FINGER BEAM, HITTING LIEME IN THE JUGULAR; LIEME FALLS, GASPING AND BLEEDING OUT – A SLOW AND IRONIC DEATH FOR SOMEONE WHO FOCUSED ON THE QUICK KILL FOR SO MUCH IN HIS LIFE>
<PAYAR, GROGGILY, GETS UP AND STUMBLES OVER TO LEDAS>
Payar: So kid… <PANTING, BECOMING DELIRIOUS> ya beat us. Bravo…
<LIEME IS STILL FLOPPING AROUND IN THE CORNER OF THE SCREEN; HE GOES LIMP AS PAYAR CONTINUES TO TALK>
Payar: But the guv'nor… the cap'n… <STILL PANTING> they'll get you. And it'll probably be in a way you never thought… <PAYAR COLLAPSES IN AGONY; LEDAS APPROACHES HIM, HITTING THE ALIEN WITH SEVERAL CRITICAL PUNCHES; PAYAR IS NOW CRITICALLY WOUNDED, AND HE KNOWS IT> H-h-hey… kid… <COUGHS UP BLOOD> just give me a good death… a warrior's death.
Ledas: <NOT SMILING> Goodbye, Payar.
Payar: <NOT UNDERSTANDING, HE HAS ONE EYE CLOSED IN PAIN> Wai… wha…?
<LEDAS PICKS UP PAYAR, WITH ONE HAND, AND THROWS HIM PRECISELY INTO THE FOREST; PAYAR FLIES AND LANDS IN THE CENTER OF A NATIVE TOWN>
Payar: <IN SLOW PAIN> Aaaauuuhhhh… whadda hell? Where the hell am I?
<SEVERAL NATIVES CROWD AROUND HIM, BUT HE TRIES TO PUSH THEM AWAY>
Payar: <IN PAIN, SAID SLOWLY> Go on. Get away! <HE COUGHS UP BLOOD>
<PAYAR LOOKS UP, OVER HIM ARE STANDING SEVERAL MORE NATIVES, NOW SOME ARE ARMED WITH BLUNT KNIVES AND ROCKS>
Payar: <PAYAR TAKES WHAT HE HAD FIDDLING AROUND WITH HIS HANDS FOR THE PAST TWO SAGAS AND SHOWS IT TO THE NATIVES; IT IS A SMALL NECKLACE OF SORTS, WITH A LONG LINE OF TEETH ON IT> Ya see that? <COUGHS> Ah… I'll add all your… all of you to my trophy–
<A NATIVE STEPS ON PAYAR'S ARM, SHATTERING IT, BUT ALSO DESTROYING THE GRISLY NECKLACE; PAYAR TRIES TO RAISE HIS HAND, BUT CAN'T; HE SEES WHAT IS ABOUT TO HAPPEN>
Payar: <THE NATIVES RAISE THEIR WEAPONS; PAYAR LETS HIS HEAD FALL BACK AGAINST THE EARTH; HE SIGHS> Aw, fuck.
<THE CAMERA PANS BACKWARD, BACK THROUGH THE TREES AS PAYAR'S SCREAMS FADE INTO BANAS AND GUVA'S FIGHT>
<THEY CONTINUE THEIR FIGHT FOR A SHORT WHILE; THEN BANAS AND GUVA STOP, BOTH JUST FEET AWAY FROM EACH OTHER>
Banas: Give it up, Guva! You can't beat me!
Guva: Just like old times, huh?
<HE WALKS RIGHT UP TO BANAS, AND WITHOUT BEING CHALLENGED, RAISES HIS HAND TO RIGHT IN FRONT OF BANAS' FACE; HE PREPARES ENERGY; BANAS, QUICKLY REACTING TO THIS, PUTS HIS OWN HAND UP, MERE INCHES FROM GUVA'S; WHAT BEGINS IS PERHAPS THE SMALLEST BEAM STRUGGLE EVER, WITH THE TWO STANDING, LOOKING IN EACH OTHER'S EYES; BUT AS THE POWER PUT INTO THE STRUGGLE GETS LARGER, SO DO THEIR BEAMS, AND THE MOVE APART; BY THE TIME LEDAS HAS KILLED THE PLANTAINS, THEY ARE WORKING UP A STORM BEHIND HIM>
<LEDAS IS SIMPLY SITTING ON HIS KNEES LOOKING ABOUT>
Ledas: They died so easily… I-I can't believe it… <HE LOOKS AT HIS HAND AND NOTICES THE AURA> This is unreal. I must be a Super Saiyan…! <HE LOOKS UP WITH A GLINT IN HIS EYES> I'm invincible! <HE STANDS UP AND HOWLS WITH DELIGHT>
<LEDAS MOVES TOWARD THE TWO; HE WALKS SLOWLY, ALL THE WAY UP TO THE MIDDLE OF THE STRUGGLE>
Guva: Kill him, Ledas! Kill him now!
Banas: <SHOUTING BACK> Governor, you shouldn't have. I'm blushing now.
<GUVA PUTS ALL HIS ENERGY INTO THE STRUGGLE; BANAS DOES THE SAME; UNDERSTANDABLY, NEITHER OF THEM CAN WIN LIKE THIS>
Ledas: <CALMLY, WITH CONFIDENCE HE HAS NEVER HAD BEFORE> Neither of you will win.
Guva: What?! Ledas?!
Ledas: Heh…
<HE CREATES A SMALL BALL OF ENERGY, VERY SMALL; AND AFTER A FEW LOOKS TO EACH OF HIS VICTIMS, HE THROWS IT INTO THE MIDDLE OF THE BEAM STRUGGLE, CAUSING THE WHOLE THING TO DETONATE>
<BOTH BANAS AND GUVA ARE THROWN FAR AWAY FROM EACH OTHER; BOTH ARE SEVERELY WOUNDED, BUT BOTH ARE STILL ALIVE>
<LEDAS WALKS OVER TO BANAS, IN ORDER TO DISPOSE OF HIM>
Guva: <IN PAIN> Now! Do it!
<LEDAS CONTINUES WALKING, IGNORING HIM>
Banas: Go ahead, do it. But you will have a hard time explaining this to Cooler.
Ledas: I don't care about Cooler. He means nothing to me.
Banas: <LETS HIS HEAD FALL ONTO THE GROUND; LAUGHS> Foolish words from someone who has no idea what he's talking about. <IN PAIN, BUT STILL TALKATIVE, HIS PAIN IS NOT EFFECTING HIS SPEECH> You may be strong, kid, but you're nothing to him.
<LEDAS DOES NOT RESPOND>
Banas: <TURNS TO GUVA, WHO HAS REACHED THEM BY MEANS OF CRAWLING> Kind of you to join us, governor. As for you, you better hope you die tonight. Facing Cooler will be much worse than this. He'll find out what happened here, and know that you can't govern for shit. You'll be gone before they can get a me a body bag. <LAUGHS, COUGHING UP BLOOD>
<LEDAS STANDS BANAS UP; BANAS IS HOLDING ONTO HIS SHOULDERS AND IS SITTING ON ONE KNEE; LEDAS PUTS OUT HIS HAND, THEN CREATES A KYORRA FLASH; BANAS DOES NOT DEFEND; LEDAS SHOOTS THE BLAST>
<WHEN THE BLAST CLEARS, BANAS IS NOWHERE TO BE SEEN; GUVA LOOKS SATISFIED; HE FALLS TO THE GROUND, SIGHING HEAVILY>
Guva: Finally…
<LEDAS JUMPS ON TOP OF GUVA>
Ledas: Now tell me.
Guva: <BREATHING HARD; EYES CLOSED> As you wish.
<VOICE-OVER>
Guva: It surprised me later just how lucky the kid was. <THE SCENE HAS NOT CHANGED, IT IS STILL WITH GUVA AND LEDAS; SHOWS LEDAS CONTINUING TO PUSH GUVA FOR INFORMATION>
Guva: Especially when he heard where his one friend in the universe was. Of course, I didn't tell the kid that Vegeta was living on the same planet Cooler was headed to at this very moment. <GUVA, A BLOODY MESS, CRACKS A SMILE AS HE TELLS LEDAS OF VEGETA'S LOCATION>
<GUVA STANDS UP WITH LEDAS, HE HANDS LEDAS HIS LEFT WRIST GUARD AS SOMETHING TO REMEMBER HIM BY, AND THEN WALKS OFF; LEDAS IS SHOWN PUTTING HIS THINGS INTO HIS POD; HE PACKS UP MUCH OF HIS OLD ARMOR; STANDING OVER THE POD FOR A SECOND, HE TAKES OUT A SMALL BROWN POUCH; HE LOOKS IT OVER BEFORE JUMPING IN HIS POD AND LEAVING PLANET COOLER 92 FOR THE FIRST TIME AS A FREE SAIYAN; THOUGH HE HAS NOTICEABLY LEFT THE NATIVES IN GUVA'S HANDS AS SLAVES>
Guva: <CUTS BACK TO GUVA'S ROOM, HE IS STARING OUT THE WINDOW; THE SKY IS A LIGHT YELLOW> It's amazing how certain events change a person. How someone else's death can make you whole… and at the same time empty.
Guva: <TAKES OUT A DRINK, AND POURS IT> It's the 765 age. Frieza died not too long ago and the entire galaxy is spinning out control. Cooler will naturally try some damage control… but even if he kills the person – that other Saiyan who bested Frieza – I fear the damage is already done. Just as here, on 92, it's hard to hide a successful revolt. The soldiers know their captain is gone. They know three of their betters are killed. Will these revelations bring about a greater boldness in them? Will it amplify their fears? And what of my pet project? The natives of 92.
<SCREEN CUTS TO THE NATIVES, WHO ARE STILL WORKING FOR GUVA BUT ARE MUCH HAPPIER>
Guva: The murder of Payar will give them confidence. It will also give them rebellious thoughts, the likes of which I fear we have not yet witnessed. And without my captain, without my team… who will stop them? And should I kill them, who will I have left to rule over?
Guva: <STANDS, DRINKING FROM A SPIKED FRUIT IN FRONT OF A WINDOW THAT COVERS AN ENTIRE WALL; IT IS EVENING> And the kid. He's gone. Chasing ghosts, just like Cooler. Both off to that pathetic planet, Earth. Why it's so special, I'll never know. And who knows, maybe they'll meet up and kill each other. Wishful thinking… but at least I don't have to deal with either of them right now.
Guva:<SCREEN SHOWS THE NATIVES AGAIN> But as for me, I'm happy enough. Banas is gone and I can live comfortably. By my firm hand will this planet's natives remain loyal. I will make them civilized; I will make them respectable. And they will thank me for it. After all <CAMERA PANS AROUND, TO FACE GUVA> a true leader, a successful leader will keep the order. He will be the one truly in charge. And I am the true leader here. The storms, they will all pass in time. They will become but a distant memory for those who remain. But <CUTS TO SPACE, IT IS LEDAS' SPACE POD; INSIDE HE IS SLEEPING, DREAMING HAPPILY, HEADED OFF TO EARTH> it is foolish to let any one of your enemies live… because, who knows? Maybe I'll just decide to dro–
<GUVA'S GLASS SHATTERS AND HE FALLS BACK, SPILLING HIS DRINK; AS HE SITS UP AND LOOKS AROUND, A FIGURE, SILHOUETTED BY THE SETTING SUN BEHIND, IS STANDING OVER HIM>
Banas: <PUTS OUT HIS HAND, FOR GUVA TO GRASP> Governor, <NODS> how've you been?
<END STOMPING GROUNDS SAGA>
Cue Great Spirits. Credits roll during this time.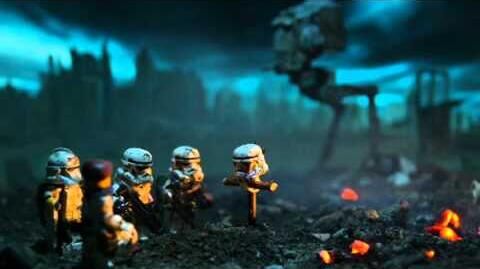 Trivia
[
]
Despite being able to sense energy, Cooler uses a scouter due to the device being a great way to communicate with his lackeys. He doesn't actually use his scouter for reading power levels.
Chapter seven features the least amount of characters in any chapter of TF, with only 2.
The saga spans over the most amount of time in TF, at over twenty-one years.
This saga features, by far, the largest amount of named characters' deaths, at thirteen.
This saga is tied with the Lauto Saga and the Reunion Saga for the largest number of main villains, with four.
This is the only saga in The Forgotten to have its theme song played during a specific section of the story.
This saga features the following swear words: "fuck", three times; "shit", one time; "bitch", three times; "damn", one time.