This page, Reunion Saga (The Forgotten), is property of KidVegeta.
This story, Reunion Saga (The Forgotten), is written with the intent to preserve and respect the official Dragon Ball canon, and to fit perfectly into the established Dragon Ball universe, per this policy.
Please Note: This story contains occasional swearing and graphically gruesome deaths.
| | |
| --- | --- |
| | This story, Dragon Ball Z: The Forgotten, received two 2010 Destructivedsk Awards for "Best Written Fan Fiction" and "Best Overall Fan Fiction". Amazing! |
| | |
| --- | --- |
| | This page, Dragon Ball Z: The Forgotten, was a recipient of the official 2014 Dragon Ball Fanon Wiki award for "Best Drama-format Stories". Incredible job! |

The Reunion Saga is the fifth saga of Dragon Ball Z: The Forgotten. It takes place after the Planet Earth Saga and before the Fulfillment Saga. This saga chronicles the aftermath of the previous saga, wherein it is revealed that Guva has come to Earth to challenge his once loyal Saiyan soldier Ledas.
Awards

These are the awards that The Forgotten has won so far:

2010 Destructivedisk Awards - Best Overall Fan Fiction:
2010 Destructivedisk Awards - Best Written Fan Fiction:

| | |
| --- | --- |
| | This story, Dragon Ball Z: The Forgotten, received two 2010 Destructivedsk Awards for "Best Written Fan Fiction" and "Best Overall Fan Fiction". Amazing! |




2010 Destructivedisk Awards (nominee) - Most Original Fan Fiction.
2011 ExtremeSSJ4 Awards - Best Two Fan Fics:

| | |
| --- | --- |
| | This story, Dragon Ball Z: The Forgotten, was one of the recipients of the 2011 Extreme Award for Best Two Fan Fictions. Cool! |




2012 Sponge Awards - Best Original Fanon:

| | |
| --- | --- |
| | This story, Dragon Ball Z: The Forgotten, received the 2012 Sponge Award for Most Original Fan Fiction. Wowzers! |




2012 Sponge Awards - Longest Story Ever:

| | |
| --- | --- |
| | This story, Dragon Ball Z: The Forgotten, received the 2012 Sponge Award for Longest Story Ever. Unbelievable! |




2014 Official Dragon Ball Fanon Wiki Awards - Best Drama-format Stories:

| | |
| --- | --- |
| | This page, Dragon Ball Z: The Forgotten, was a recipient of the official 2014 Dragon Ball Fanon Wiki award for "Best Drama-format Stories". Incredible job! |
For a complete list of characters in the Reunion Saga, please visit this page.
The theme song for this saga is The Stars Are Projectors (Modest Mouse).
I don't remember where
the name for this story came from.
I think it was always
The Forgotten,
in my head.
I can't see it as anything else.
-KidVegeta
<ON PLANET>
<772 AGE>
<NORTH QUADRANT>
<CAMERA FADES FROM WHITE>
<CUE Hurt>
<THE AREA IS QUIET; ONLY THE WIND IS BLOWING; THE CAMERA MOVES UP THROUGH THE FOLIAGE AND TREES; AT LONG LAST, IT COMES TO A CLEARING; THE CAMERA SHOWS THE OUTPOST OF PLANET COOLER 92>
<JUST AS THIS OCCURS, A POD, WORN AND DIRTY, SLAMS INTO THE GROUND TO THE FAR LEFT, BREAKING THE STILLNESS>
<THE OUTPOST ITSELF IS IN SHAMBLES; GUVA'S MAIN OFFICE IS MOSTLY OBLITERATED ON ONE SIDE; THE ENTIRE THIRD FLOOR IS DESTROYED AS IS MUCH OF THE SECOND; THE BARRACKS AND HOUSING AREAS ARE ALSO BROKEN AND ASHEN AS IF PREVIOUSLY ON FIRE; THE BODIES OF MANY SOLDIERS AND NATIVES LITTER THE GROUND; SOME BODIES ARE HANGING THROUGH WINDOWS; QUITE A FEW OF THE BODIES ARE DECOMPOSED QUITE A BIT, SHOWING THAT THEY HAVE BEEN DEAD FOR A LONG TIME; OTHERS ARE IMPALED ON VARIOUS THINGS; THERE IS NOT A SINGLE LIVING BEING AROUND>
<GUVA STEPS OUT OF HIS POD, IN HIS ROBUSTLY ELEGANT ARMOR; HOWEVER, IT IS CHIPPED AND CRACKED FROM HIS FIGHT WITH BANAS LAST SAGA; HE LOOKS AROUND AND SEES HIS PLANET IN RUIN>
Guva: <PRESSING A BUTTON ON THE COMPUTER PAD ON HIS LEFT GAUNTLET> Is anyone alive? Anyone? Respond! <THE COMM REMAINS SILENT; GUVA REALIZES THAT ALL HIS SOLDIERS ARE DEAD; HE KICKS THE DIRT WITH HIS BOOT> Damnit.
<HE WALKS QUIETLY TO HIS OFFICE; HE CREATES AN IMAGE SLASH SWORD, CAUTIOUSLY HOLDING IT AS HE ENTERS; HE ENTERS INTO THE COMPLEX AND FINDS THE LIGHTS TO BE OFF; HE HOLDS THE ENERGY SWORD OVER HIS HEAD AND USES ITS LIGHT TO NAVIGATE THE RUINED BUILDING; HE WALKS THROUGH, NOT FINDING ANYBODY, AND MOVES UP TO A COMPUTER TERMINAL; HE CALLS UP LORD COOLER'S INSTALLATION; HE GETS NO RESPONSE>
<FOR SEVERAL MOMENTS, GUVA STANDS THERE, SPARKS AND DUST FALLING FROM THE ROOFTOP, THE DOOR TO THE OUTSIDE OPEN BEHIND HIM; BUT AS HE GETS NO RESPONSE, HE TURNS BACK AROUND AND WALKS INTO HIS OFFICE; THERE, HE OPENS A CLOSET AND LOOKS ON A NEW SET OF ARMOR; HE GOES TO PUT IT ON>
<THE CAMERA CUTS TO BACK OUTSIDE>
<GUVA WALKS OUT IN UNDAMAGED ARMOR AND SURVEYS THE INSTALLATION; HE NOTICES SEVERAL NATIVES MOVING ABOUT TO HIS LEFT; THEY DO NOT NOTICE HIM, AS THEY ARE JUST SCAVENGING; GUVA WALKS OVER TO THEM>
Guva: <ARMS SPREAD, QUIET ANGER> So, I leave my post for one day and this is how you repay me? I, your governor, let each and every one of you filthy animals live in peace on my planet. I fed you. I gave you shelter and protection. <POINTS TO HIS CHEST> I alone saved you from certain annihilation. And this… this is the thanks I get? All of my soldiers dead and my city in shambles?!
<THE CREATURES STARE BACK WITH FRIGHT BUT DO NOT RUN; THIS ANGERS GUVA GREATLY; HE RUSHES THEM; BEFORE THEY CAN REACT, HE GRABS THE NEAREST ONE AND RIPS IT IN HALF; HE ELBOWS ANOTHER IN THE SKULL, CAVING IN ITS HEAD; TWO OTHERS TRY TO FLEE, BUT HE GRABS THEM BY THEIR SHOULDERS AND THROWS THEM TO THE GROUND BEFORE STOMPING ON THEIR NECKS; HE SEES THE LAST ONE RUNNING AWAY AND DOES A JUMP-KICK TOWARDS IT, KNOCKING IT OVER; HE ROLLS IT OVER AND PUNCHES THE ALIEN MERCILESSLY, YELLING WITH EACH BOW; LONG AFTER IT IS DEAD, HE CONTINUES PUNCHING, AND HE GETS MUCH BLOOD ON HIS NEW ARMOR; BUT GUVA DOESN'T CARE>
<BREATHING HARD WITH ANGER, GUVA JUMPS TO THE SKY; HE EXTENDS HIS PALM AND CREATES A BALL OF ENERGY; AT GREAT LAST, HE THROWS IT ABOVE HIM, BUT ON A CURVED TRAJECTORY, TO THE FOREST>
<AS THE BALL REACHES THE AREA ABOVE THE TREETOPS, IT EXPLODES AND SENDS OFF THOUSANDS AND THEN MILLIONS OF SKINNY, ELONGATED BLASTS OF ENERGY; THEY SHOOT ABOUT, ALMOST RANDOMLY DOWN TO THE GROUND BELOW; GUVA WAITS FOR SEVERAL MOMENTS>
<AFTER DOING SO, HE DESCENDS BACK TO THE GROUND AND FINDS A DEAD SOLDIER; RIPPING THE YELLOW SCOUTER FROM ITS DEAD BODY (WHICH IS STILL SPARKING SLIGHTLY), HE SURVEYS THE PLANET FOR ANY NOTICEABLE POWER LEVELS; AFTER A GOOD SEARCH, HE IS CONFIDENT THAT HE KILLED ALL OF THE NATIVES>
<GUVA RETURNS TO HIS POD AND SITS DOWN IN IT; THE DOOR REMAINS OPEN>
<WITH A SIGH, GUVA BEGINS TO SCROLL THROUGH A COMPUTER SCREEN ON THE LEFT; HE DOES SO SOMEWHAT CARELESSLY AND WITH ONLY ONE FINGER; HE IS LOOKING FOR VARIOUS DESTINATIONS>
<SUDDENLY HE PAUSES AND RECHECKS HIS SCREEN; UPON IT IS EARTH; HE STARES AT IT FOR SEVERAL SECONDS, REMEMBERING THAT THAT WAS WHERE BOTH COOLER AND LEDAS WENT; HAVING NO OTHER THING TO DO; GUVA SHIFTS HIS JAW AND BRINGS HIS FINGER BACK INTO HIS HAND IN A SORT OF FIST; HE CLOSES HIS POD DOOR AND SETS COURSE FOR EARTH>
<AS HE SETS OFF, THE BLACKNESS HE HAD BEEN ENVELOPED IN, IN LAUTO'S CAVE, IS SEEN FORMING AROUND A NEARBY ROCKY OVERLOOK, AS IF WATCHING HIM>
<END OF Hurt>
<CUTS TO NEXT SCENE; IN SPACE; IT IS MAY 8TH, IN THE 774 AGE>
<NEAR PLANET EARTH; VERY SUDDEN PULL UP>
Kindler: You know kid, you really look like a Gary. Has anyone ever told you that?
<LEDAS, WHO IS ONLY HALF CONSCIOUS, JUST LOOKS UP AT HIM WITH ONE EYE; HE DOES NOT RESPOND>
<THE SCREEN RE-FADES IN, STILL OUT OF FOCUS TO THE INSIDE OF LEDAS' GRAVITY ROOM; SINCE IT IS ALSO A SPACESHIP, THIS IS THE DEVICE THAT CARDINAL AND HIS CREW TOOK AT THE END OF THE LAST SAGA TO ESCAPE BUU; RYORI AND LEDAS ARE BOTH LYING AT KINDLER'S FEET; THE FORMER IS STILL UNCONSCIOUS; AROUND THEM ARE PACKED ALL THAT REMAINS OF THE NEW RED RIBBON ARMY; 80 SOLDIERS AND 10 SCIENTISTS, NOT TO MENTION GENERAL SILVER AND CAPTAIN GREEN>
<KINDLER HIMSELF IS WELL DRESSED; STILL, HIS EYES LOOK A BIT MORE SULLEN, AS IF HE HASN'T GOTTEN MUCH SLEEP; IN HIS HANDS IS A PIECE OF ROPE>
<DEWBERRY IS SITTING ACROSS FROM HIM, FACING THE CONTROLS OF THE SHIP, AND SITTING IN A CHAIR; IT IS ASSUMED HE IS PILOTING IT; THERE IS NO SIGN OF CARDINAL AT FIRST>
Kindler: Hey, Dewberry! What do you think? Doesn't he look like a Gary?
Dewberry: <LOOKS OVER> The kid? Naw way, man. That little alien looks just like this guy Trey I knew in high school… we would always–
<CARDINAL ENTERS WITH SILVER THROUGH A DOOR ON THE RIGHT; KINDLER AND DEWBERRY IMMEDIATELY TURN THEIR ATTENTION TO HIM>
Cardinal: <STERNLY WALKS OVER TO DEWBERRY> Is there any update on our situation?
Dewberry: <AT HIS STATION> Naw, Mr. Cardinal. It's still gone. It was the same an hour ago.
Cardinal: <TURNS TO HIMSELF> Perhaps this is only a prolonging of the inevitable. <BACK TO KINDLER> Kindler, how are our supplies?
Kindler: Boss, we've got enough for another month or so, if we ration properly, but with Earth being gone and all… <NODS TO THE GLASS WALL AHEAD; CLEARLY THERE IS NO PLANET IN THE VIEW> I don't think it much matters either way.
Cardinal: Be that as it may, we've only been up here for 20 hours. And–
Kindler: And you think the Earth is gonna come back? No offense sir, but that don't make sense.
Cardinal: But what are our alternatives? Honestly, with everything we've witnessed these past few days, I can't say I know what's possible anymore.
Kindler: It's a fool's hope, sir. That's all I can say. <BOWS HIS HEAD AGAIN, WATCHING THE SLIGHTLY CONSCIOUS LEDAS> But I'm always right. We're dead out here. And there's not a thing I can do about it.
Ryori: <ONLY PARTIALLY AWAKE; HIS HEAD IS COVERED IN DRY BLOOD ON ONE SIDE> Le-Ledas? W-where are we?
Cardinal: <WALKS OVER; SEES THAT THE BOYS HAVE WAKEN> Ah, awakened at last! I had thought my concoction of M99 was too strong for both of you.
<IN THE BACKGROUND, SUPREME GENERAL SILVER CAN BE SEEN STICKING A SYRINGE INTO HIS ARM>
Ledas: <TURNS TO CARDINAL; TALKING SLOWLY, FOR HE HAS JUST WOKEN UP> Who are you? What did you do to me?
Cardinal: <TO LEDAS> My name is Cardinal. And I am many things, my boy. But in this instance, I am only here to keep you from doing any more harm.
Ledas: <NOT UNDERSTANDING> Me?
Cardinal: You are the alien. The menace to my society. It was my duty to remove you before something… catastrophic occurred. As it were, something catastrophic occurred anyway. <GESTURES TO THE WINDOW AGAIN>
Silver: Are we killing them yet? The kids are dead weight. And if Earth is really gone, they'll just eat up our resources.
Cardinal: <BURIES HIS FACE IN HIS HANDS> No. We can't risk anything happening up here. We could all die if some–
Ledas: Aah!!
<LEDAS SUDDENLY STANDS UP; HIS BODY AURA IS SHOWN TO BE BLACK; HE STUMBLES FORWARD, TRYING TO GET TO CARDINAL; HE THROWS HIS FISTS FORWARD, BUT THE DEVICE ON HIS HEAD KEEPS HIS POWER LEVEL DOWN AND THE TRANQUILIZER IN HIS BLOOD PREVENTS HIM FROM MOVING QUICKLY; TWO SOLDIERS CATCH HIM IMMEDIATELY, AND HIS FISTS POUND USELESSLY AGAINST THEIR ARMOR; FROM BEHIND LEDAS, SILVER APPEARS; HE TAKES OUT A LONG SYRINGE HE WAS KEEPING IN HIS POCKET AND STICKS IT INTO LEDAS' NECK; LEDAS RESISTS FOR ABOUT A SECOND BEFORE FALLING ASLEEP>
Silver: We're going to have to deal with him sooner or later.
Cardinal: <SHAKES HIS HEAD> Not yet. Not until we need to. I can't risk damaging this ship.
Dewberry: Uh… Mr. Cardinal! I got a reading! There's a ship comin' right at us! <BEFORE CARDINAL CAN ANSWER, EVERYONE FEELS A JOLT AND THE GRAVITY TRAINING UNIT ROCKS VIOLENTLY; CARDINAL IS AN OLD MAN AND THEREFORE ALMOST FALLS OVER> Uhhmm… they've docked wit' us.
Cardinal: <WITH MUCH AUTHORITY> Mr. Kindler, would you kindly take our passengers into the other room? General, line the soldiers up here. Dewberry, open the hatch. Welcome our new guest for me. <HE SMILES, VERY MUCH FAKING IT> If he's violent, just call us. But I don't want to use any weaponry unless absolutely needed. It could damage this ship, after all.
<WITH THAT, KINDLER TAKES RYORI AND LEDAS AND MOVES THEM INTO A ROOM IN THE BACK; HE TAKES ONLY A FEW GUARDS WITH HIM, AS WELL AS ALL OF THE SCIENTISTS; SILVER AND GREEN LINE UP THE REMAINING SOLDIERS IN FRONT OF CARDINAL; THEY ARE ALL AROUND A CORNER, SO WHOEVER IS IN THE OTHER SHIP WON'T SEE THEM>
<DEWBERRY GETS UP, COCKS HIS PISTOL, AND MOVES FORWARD TO OPEN THE DOCKING DOOR; THE CAMERA PANS BACK AND SHOWS HE IS ALONE ON THE LEFT SIDE OF THE SHIP>
The Cruelest Of Atrocities

[

edit

|

edit source

]
<A LATCH OPENS; THE CAMERA COMES AROUND THE CORNER FROM THE OUTSIDE INTO CARDINAL'S SHIP; IT FOLLOWS GUVA, WHO IS IN HIS ARMOR, DOWN A SHORT HALLWAY TO THE DOOR>
<AS HE REACHES THE INNER DOOR, IT OPENS FOR HIM; REVEALING ONLY DEWBERRY BEHIND IT; DEWBERRY ISN'T EXACTLY FRIGHTENED, ESPECIALLY AFTER HE SEES GUVA; HE IS STRANGELY UNCHANGED>
Dewberry: <WITH A GOOD OL' ACCENT> Oh, hey.
<GUVA IS SLIGHTLY WARY AT THIS NONCHALANT GREETING AND HE ENTERS WITH SLIGHT CAUTION; AND HIS EYES SQUINTING>
Dewberry: So uh… whatcha doin' here, man? Are ya lost?
Guva: <PEERING ABOUT THE MAIN ROOM; IT IS MOSTLY BARREN ASIDE FROM A FEW CRATES AND TRAINING WEIGHTS IN THE CORNER> Do you even know who I am?
Dewberry: Oh yeah totally man. You're one of those space aliens.
Guva: <SLOWLY> Space… aliens…?
Dewberry: Oh yeah.
Guva: Are you fully conscious?
<THERE IS AN AWKWARD SILENCE FOR A WHILE>
Dewberry: Of course! Why'd you come to visit me?
Guva: <SUDDENLY BUSINESS-LIKE> I am looking for a planet called Earth. My directions seemed to be faulty; it's not where I thought it was. You wouldn't happen to know of its location, would you?
Dewberry: Ohhh I get it. You're going to Earth to harvest some of us up for experiments. <PUSHES GLASSES BACK UP>
Guva: I-I'm what?
Dewberry: I saw it on Syfy, what yar gonna do with us. It's cool man, I won't tell anybody. <STANDS UP AND GETS REAL CLOSE TO GUVA'S FACE> I'm on your side!
Guva: <A BIT ANNOYED> You must be one of the intellectuals of your race. But Earth. Do you know of its location? Or am I wasting my time? <HE PULLS DOWN HIS HAND AND SHAKES IT; SPARKS SHOW UP, BUT HE DOES NOT FULLY FORM AN ENERGY BLAST> I don't appreciate wasted time.
<GUVA GETS ANNOYED AND KICKS DEWBERRY BACK INTO HIS CHAIR; THE HUMAN ROLLS ACROSS THE VAST METAL FLOOR TO A WINDOW, FEET IN AIR; HE SLAMS INTO THE WALL, HARD; HE MOANS>
Dewberry: Oh please don't kill me! You can take me on board your beautiful ship! Please just don't harvest my brain–
Guva: <STARING OUT THE WINDOW, TRANSFIXED UPON SOMETHING JUST OUT OF SIGHT> Shut up, you useless ingrate. <HE POINTS OUT THE WINDOW> There! There it is! Why did I not see it on my scanners?
<DEWBERRY SITS UP AND LOOKS OUT OF THE WINDOW; SURE ENOUGH, THE CAMERA SHOWS EARTH OUTSIDE IN SPACE; HE IS IN AWE>
Dewberry: Whoa… when did that happen?
Guva: Out of my way. <HE KICKS DEWBERRY OUT OF THE WAY> I have business on that planet. And if I see you there, you will end up like my quarry.
Dewberry: <EXTREMELY LOUD SCREAM; FROM THE FLOOR> Wait! How many are ya takin'?
Guva: <TURNS TO DEWBERRY> What?
Dewberry: How many are ya gonna take for your 'speriments?
Guva: <GATHERS UP HIS CAPE AND WALKS OUT> Only one.
<GUVA THEN DEPARTS; AFTER A FEW MOMENTS HIS POD RACES BY IN FRONT OF THE WINDOW>
<AT THIS TIME CARDINAL COMES OUT, WITH KINDLER; KINDLER IS HOLDING LEDAS AND RYORI IN EACH HAND; THEY ARE GROGGY>
Cardinal: <TO DEWBERRY> It all went smoothly?
Dewberry: Oh yeah. <RUBBING HIS SORE STOMACH> The alien guy didn't wan' anything. <DEWBERRY POINTS BACK TO THE WINDOW WITH GLEE> And look, sir, the Earth is back!
Cardinal: What? How?
Kindler: Impossible!
Dewberry: Aw, don't question it, Kindy. There's lotsa things goin' on we don't know about.
Cardinal: There shouldn't be.
Kindler: <DEFEATIST> He's right, sir. No use questioning it. We don't know what the hell's going on.
Cardinal: I cannot be so complacent! I must know what is happening! <REGAINS HIS COMPOSURE> But regardless, Dewberry, set us a course back home. I need to make a call.
Silver: <LOOKING SINISTER; GRUFFLY> And once we're on the ground?
Cardinal: <QUICKLY> Kindler will deal with our guests.
<SILVER NODS, SATISFIED; HE INJECTS HIMSELF WITH ANOTHER SYRINGE; KINDLER LOOKS TROUBLED AT THE RESPONSIBILITY>
<THE SHIP FLIES BACK TO EARTH AND LANDS IN A ROCKY AREA WITHOUT ANY FOLIAGE; IT IS HIGH ON A MOUNTAIN; THERE IS NO SIGN OF LIFE AROUND>
<WHEN THEY LAND, CARDINAL IMMEDIATELY OPENS THE FRONT HATCH AND STANDS AT ITS ENTRANCE, STARING OUT>
Cardinal: So nice to be back. But there is much to be done.
Kindler: <MOVES FORWARD; HE IS TIRED FROM HIS LACK OF SLEEP, BUT IS HIDING THAT> Mr. Cardinal… now what will we do with them?
Cardinal: Dispose of them, Kindler. I don't want to see either of them again.
Kindler: <INCREDULOUSLY> Kill them?! They're just children, sir.
Cardinal: Children who have seen too much. <HE TAKES SOMETHING OUT OF HIS SUIT INNER POCKET; IT IS A CAPSULE AND HE THROWS IT ONTO THE GROUND> Even so, we were called in to eliminate the alien. There he is <CARDINAL GESTURES TO LEDAS> Mr. Kindler. Do your job. Eliminate him.
Kindler: But si–
<THE CAPSULE TURNS INTO A LARGE MILITARY-STYLE BUS; CARDINAL MOTIONS TO SILVER AND CAPTAIN GREEN TO GET ON BOARD; ABOUT 30 OF THE 80 SOLDIERS GET ON AS WELL, AND ALL 10 SCIENTISTS ALSO DO; CARDINAL GETS IN THE PASSENGER SEAT OF THE VEHICLE AND LOOKS BACK TO KINDLER>
Cardinal: After you are done, go find Mr. Shoekki's body. It should be where we left the planet from. I'll leave you plenty of security to get it done, in case the police get involved. I put my full trust in you, Kindler. Clean up these messes and return to me when you are done. That'll be all.
<WITH THAT, CARDINAL WAVES HIM OFF AND THE BUS LEAVES; KINDLER IS LEFT WITH DEWBERRY, ABOUT 50 SOLDIERS, AND TWO CHILDREN; HE RETURNS INSIDE; HE TAKES THE GUN OUT OF THE BACK OF HIS BELT AND LOOKS AT IT; HE SEEMS TROUBLED BY IT>
<NONETHELESS, HE FINDS LEDAS AND DRAGS THE BOY WITH ONE HAND INTO THE BACK ROOM; HE IS STILL HOLDING THE PISTOL IN HIS OTHER HAND AS HE DOES SO>
Kindler: I don't know… I can't do this! I can't kill a kid, even if he is an alien. I don't know, man! I-I…
<AS HE IS WALKING; KINDLER TRIPS SLIGHTLY AND THE GUN IN HIS RIGHT HAND GOES OFF; HE GASPS AS HE SEES IT ALL UNFOLD; IT IS A CHIEFLY UNWANTED ACCIDENT>
<THE BULLET HITS LEDAS IN THE HEAD, CAUSING KINDLER TO DROP HIM>
<KINDLER STEPS BACK, WITH A STOIC FACE; HE LOOKS UPON LEDAS' STILL BODY; BLOOD IS RAPIDLY POOLING AROUND THE CHILD'S HEAD; LEDAS DOES NOT MAKE A SOUND, BUT FALLS SILENTLY>
<LEDAS' EYES ARE CLOSED AND HIS BODY IS MOTIONLESS>
<WITHOUT ANOTHER LOOK, DESPITE IT BEING AN ACCIDENT, KINDLER TURNS SWIFTLY AROUND AND EXITS; HE IS SHAKING, SWEATING, AND IS GHOSTLY WHITE; HE LOOKS LIKE HE REALLY WANTS TO GET OUT OF THERE>
<CUTS TO ANOTHER PLACE ON EARTH>
<IT IS VERY EARLY IN THE MORNING; THERE IS A GREAT MIST AROUND THE ROLLING HILLS; THERE ARE FEW TREES BUT THE GRASS IS VERY GREEN AND LIVELY>
<VEGETA IS PRACTICING IN THIS WEATHER; HIS POWER LEVEL IS ONLY ABOUT 300,000 OR SO AND HE IS NOT IN SUPER SAIYAN>
<A FIGURE, CLAD IN HEAVY PURPLED AND BLUED ARMOR, AND A DARK CAPE BILLOWING ABOUT HIM, LANDS WITH A THUD INTO THE GROUND BEHIND VEGETA>
Vegeta: <NOT LOOKING AROUND> Who's there?
<THE CREATURE LANDS AND FEELS HIS HAIR, RUNNING HIS HANDS THROUGH THE STARK WHITE STRANDS OF IT; BUT HIS FACE IS STILL YOUTHFUL AND HIS BODY SPRY>
Unknown: A Saiyan? It seems Lord Cooler wasn't lying when he said the some of the rats had escaped that sinking ship.
<HE TURNS TO FACE VEGETA; HIS FACE IS CLEARLY SHOWN NOW TO BE GUVA'S>
Vegeta: Saiyan? <INDIGNATION> How do you know who I am?
Guva: <CHUCKLES TO HIMSELF AS HE KNEELS AND FEELS THE WET GRASS UNDER THEIR FEET> I've seen that type of hair before, believe me. <HE EXHALES AND CLOSES HIS EYES, STANDING BACK UP AND POINTING HIS FACE TO THE SKY> It's been a while since I've been able to enjoy the relaxing scenery of such a temperate planet.
<GUVA SUDDENLY OPENS HIS EYES AND FORMS A SMALL BALL OF ENERGY, HE THROWS IT INTO THE AIR WITH SURPRISING QUICKNESS; AS THE SCATTERSHOT BALL REACHES A CERTAIN ALTITUDE, IT DETONATES AND SENDS SEVERAL SMALL, ELONGATED BEAMS FLYING IN ALL DIRECTIONS>
<THEY DETONATE AROUND, ON THE COUNTRYSIDE; SMOKE WEAKLY POURS OUT FROM EACH OF THE BLAST'S HOLES; VEGETA STANDS WITH HIS FACE TOWARD GUVA, ARMS CROSSED; HE IS NOT IMPRESSED>
Vegeta: Done playing around, old man?
Guva: <STRETCHES OUT HIS ARMS AND LEGS; STRAINED IN SPEECH A BIT BECAUSE OF THIS> I am not fooling around. I'm on a mission. Tracking down a rogue soldier; a deserter of my installation. He is a Saiyan, much like you. But the Saiyan I'm searching for is just a child… or something like that. I'm not quite sure, actually.
Vegeta: <BAITED WHISPER> Oh yeah? What's his name?
Guva: Maybe you know him? The little devil went by Ledas. Does that name strike a chord? <VEGETA'S EYES WIDEN; HE STEPS BACK> What, you're scared of me now?
Vegeta: <CALMING HIMSELF READILY; BREATHING HARD> No chance.
Guva: Good. You are not the one I wish to fight anyway.
Vegeta: Hmph. I wouldn't waste my energy on you.
Guva: <SCANS VEGETA'S POWER, WITH HIS SCOUTER; IT'S ONLY IN THE LOW HUNDRED THOUSANDS> Oh, naturally. You can't actually run from a fight if you never do fight after all.
Vegeta: Yeah right.
Guva: I've raised my power level high enough. If he is here, he will come to me. Well, go on then. <HE GESTURES FOR VEGETA TO LEAVE WHEN HE HEARS A SHARP BUZZING SOUND THAT NEARLY BRINGS HIM TO HIS KNEES; VEGETA DOESN'T NOTICE; NOW HE IS THE ONE BREATHING HARD> Actually… stay. Yes… I have a proposition for you… once he arrives.
<VEGETA IGNORES GUVA, SIMPLY GOING BACK TO HIS TRAINING; GUVA SMILES>
<KINDLER WALKS DOWN THE HALL BACK TO THE MAIN ROOM; IN IT, DEWBERRY AND RYORI ARE TALKING>
Kindler: <AS HE IS WALKING, VERY QUIETLY> Darn diddly do dat…
<KINDLER PAUSES FOR A MOMENT AND THROWS HIS PISTOL INTO A SIDE CLOSET; HE CONTINUES WALKING, NOW WHISTLING… OR TRYING TO; HE CAN'T ACTUALLY DO IT YET>
<HE ROUNDS THE CORNER TO DEWBERRY; DEWBERRY HAS RYORI STANDING NEAR HIM AND THEY ARE IN THE MIDDLE OF A CONVERSATION; AHEAD OF THEM, THE 50 RED RIBBON SOLDIERS ARE SLOWLY WALKING OUT OF THE SHIP, CARRYING CRATES OF THEIR SUPPLIES WITH THEM; JUST AS KINDLER SEES THEM, DEWBERRY PREPARES TO WALK DOWN THE RAMP WITH THE LAST FEW SOLDIERS>
Dewberry: Yeah, he's cool. <SIGHS> If Kindler was a girl, I would so date him.
Ryori: <GROGGILY STILL> That's a weird thing to say.
Dewberry: Hey, shut up!
Ryori: You brought it up.
Kindler: <ENTERS; WALKS UP TO THE KID; HE DOES NOT HAVE THE PISTOL WITH HIM> Dewberry, the kid.
Dewberry: What? You gonna kill him?
Kindler: Just give him to me.
Dewberry: <WHINE> Tell me, Kindy. I wanna know!
Kindler: <STRAINED, PERSONALLY> Dewberry, you're just another one of Cardinal's underlings. It's not my place to reveal to you every little aspect of our plans.
Dewberry: <GRUMBLES> Whatever…
<DEWBERRY BEGRUDGINGLY PUSHES RYORI, WHO IS STILL TIED UP, ACROSS THE FLOOR>
<KINDLER TURNS RYORI, WHO IS KNEELING, AROUND AND TAKES HIS HAND TO THE BACK OF RYORI'S HEAD>
<BEYOND IN THE BACK ROOM, LEDAS STIRS>
<AS IS EVIDENT NOW, WHEN THE BULLET ENTERED INTO HIS HEAD IT DESTROYED THE KI SUPPRESSOR THAT WAS KEEPING HIM FROM KILLING EVERYBODY BEFORE>
<IN ADDITION, LANDING AS HARD AS HE DID ON THE METAL FLOOR CRACKED THE SUPPRESSOR AND CAUSED IT TO FALL OFF HIS HEAD>
<AT THIS, LEDAS LOOKS UP, EYES GLAZED OVER; ABOVE HIM IS STANDING A HALLUCINATION OF HIS FATHER>
Layeeck: <HE IS LEANING DOWN OVER LEDAS, HIS FACE INCHES AWAY FROM HIS SON'S; HIS VOICE IS SHAKING> There is no honor in death.
<LEDAS TURNS OVER WITH MUCH PAIN; HE WINCES>
<HIS FACE IS ABSOLUTELY COVERED IN BLOOD, SOME OF IT DRIED; THE SIDE OF HIS HEAD HAS A SMALL BULLET HOLE IN IT>
<HE DOES NOT ANSWER HIS FATHER>
Layeeck: Everything you need is right before your eyes!
<LEDAS BREATHES HARD OUT OF HIS NOSE, HE CRAWLS A BIT MORE AND SLIPS ON HIS BLOOD, WHICH IS NOW IN A HUGE POOL ON THE METAL FLOOR>
<HE STOPS MOVING AND ROLLS OVER, BREATHING HARD, EYES AFLUTTER; HE IS CONVULSING SLIGHTLY>
Layeeck: Think! What do you have, Ledas?! What can you use to save yourself?
<LEDAS RAISES HIS HAND AND MOVES HIS FINGERS IN FRONT OF HIS FACE; AFTER A SECOND, HE LOWERS IT AGAIN>
Layeeck: Do not let yourself be killed by these creatures. Fight! Be a Saiyan!
<LEDAS GASPS AND A FLURRY OF MEMORIES OF KORIN TOWER RETURN TO HIM; THE SMALL WHITE CAT EXPLAINING TO HIM THE VARIOUS MAGICS OF HIS PLACE AND THEN GIVING HIM THE POUCH; THE POUCH TO USE IN CASE OF INJURY>
<WITH THAT, LEDAS SLOWLY REACHES INSIDE HIS SHIRT AND PULLS OUT THE POUCH; HE AGAIN SLOWLY TAKES OUT A SINGLE BEAN AND EATS IT>
<HE LAYS THERE FOR A SECOND, CHEWING AND THEN SWALLOWING>
<NOTHING HAPPENS FOR SEVERAL MOMENTS, THEN LEDAS LETS OUT A LOW, HOARSE SCREAM AND CLUTCHES AT HIS HEAD; HE SCREAMS AGAIN; OBVIOUSLY THE PAIN HAS NOT GONE FROM THE SINGLE BEAN>
<LEDAS TAKES ANOTHER BEAN, THIS TIME ALMOST CONVULSING AS HE DOES SO>
<HE EATS IT AND STOPS SCREAMING ALMOST IMMEDIATELY>
<LEDAS STANDS UP, WIPING THE BLOOD FROM HIS FACE; HE LOOKS AROUND; THE VISIONS OF HIS FATHER ARE GONE NOW; HE IS BREATHING HEAVILY>
Ledas: Dad? <MORE ANXIOUS> Dad?!
<HE LOOKS AROUND AND THERE IS NOTHING THERE>
<LEDAS GOES TO ASK AGAIN, BUT THEN HE HEARS HURRIED TALKING COMING FROM UP AHEAD; HE REALIZES THAT KINDLER IS STILL ALIVE AND THAT RYORI IS IN THE OTHER ROOM>
Ledas: Those humans are still alive!
<WITH A SUDDEN JOLT, LEDAS JUMPS OUT AND DOWN THE CORNER>
<BACK UP AHEAD, KINDLER HAS RYORI IN AN EXECUTION POSE FROM LEDAS' VANTAGE>
Kindler: <TO DEWBERRY> I took care of the other one. But this kid's no harm to us or Mr. Cardinal. I think we can…
<AT THIS MOMENT, LEDAS SKIDS INTO VIEW; KINDLER TURNS TO FACE HIM>
<IN A SUDDEN MOVE, LEDAS SHOOTS A KI BLAST AT KINDLER; IT STRIKES HIM IN THE SIDE OF THE FACE, SPLURGING OUT BLOOD AND FLESH; HALF OF HIS NECK IS RIPPED OFF, ALMOST ENOUGH TO SNAP THE ACTUAL BONE FROM THE FLESH>
<KINDLER FALLS SLOWLY; HE IS DEAD>
<DEWBERRY FALLS BACKWARDS, OUT OF THE SHIP AND ONTO THE RAMP; HE TAKES OUT HIS PISTOL AND SCREAMS FOR THE SOLDIERS; HE POINTS HIS GUN AT RYORI (WHO IS JUST AT THE ENTRANCE OF THE SHIP) HOLDING HIM ONCE AGAIN AS A SORT OF HOSTAGE; AS SOON AS THEY HEAR HIM SCREAM, THE SOLDIERS DROP WHAT THEY ARE CARRYING AND TURN BACK TO LOOK AT DEWBERRY>
Dewberry: <AGITATED AS HE HAS NEVER BEEN SEEN BEFORE> Get back or I'll shoot! <LOOKS OVER HIS SHOULDER> Men, get over here! Kindler's down! Help me!
<DEWBERRY CRAWLS TOWARD RYORI AND GRABS HIM AROUND THE BACK OF THE NECK, PULLING THE PISTOL UP TO HIS HEAD>
<LEDAS COCKS HIS HEAD AND UNWINDS HIS BODY; ONCE AGAIN, HIS AURA IS BLACK, INSTEAD OF ITS USUAL CYAN>
Ledas: You're next. <WITHOUT A WORD OR SOUND OR CHANGE OF HIS BODY, LEDAS GOES SUPER SAIYAN> Don't blink.
<DEWBERRY DOESN'T FLINCH BECAUSE HE DID NOT SEE THE TRANSFORMATION TAKE PLACE; HE KEEPS THE GUN ON RYORI; BEHIND HIM, THE LINES OF SOLDIERS HAVE FORMED, AND THEY LIKEWISE AIM THEIR WEAPONRY AT LEDAS>
<LEDAS SMIRKS AND CREATES AN AFTERIMAGES WHICH STAYS IN HIS PREVIOUS PLACE; HIS REAL FORM MOVES AROUND BEHIND DEWBERRY, TOO QUICKLY FOR THE LATTER TO SEE>
<LEDAS PUNCHES HIM, CAUSING THE PISTOL TO BE THROWN AWAY>
<DEWBERRY FALLS OVER DEAD; HIS SKULL CAVED IN>
<THE SOLDIERS IMMEDIATELY FIRE ON THE SAIYAN BOY; HE ELBOWS RYORI OUT OF THE WAY AND TURNS TO FACE THE SOLDIERS; THE BULLETS JUST BOUNCE OFF OF HIM; NO LONGER SMIRKING, LEDAS WALKS DOWN THE REST OF THE RAMP AND STOPS JUST IN FRONT OF THE SOLDIERS; THEY STOP FIRING AS THEY CANNOT BELIEVE THE BULLETS ARE JUST BOUNCING OFF OF HIM; LEDAS KNEELS DOWN AND SNEERS, HIS SHARP TEETH SHOWING; HE CREATES A RED ICE CANNON IN EITHER HAND AND SHOOTS THEM AT THE SOLDIERS; THE BLASTS CONNECT AND DISINTEGRATE EVERY ONE OF THEM>
<LEDAS RETURNS TO RYORI AND UNTIES HIM; RYORI IS IN WONDER AT LEDAS' SHOW OF POWER; UP TO THIS POINT HE DID NOT KNOW LEDAS WAS AN ALIEN>
Ryori: <ALMOST WITH A BIT OF CAUTION> Ledas… what are you?
Ledas: <REGRESSES TO HIS NORMAL STATE; HIS FACE IS STILL SERIOUS> I'm a Saiyan, like my father before me. I guess I never told you, huh?
Ryori: A Saiyan? What's that?
Ledas: Well, it's my species. Y'know, I look just like you, but I have a tail and stuff. <HE SHOWS RYORI HIS TAIL> See?
Ryori: Whoa, a tail. I-I didn't know! That's awesome… but what else can you do?
<LEDAS GOES TO ANSWER, BUT SUDDENLY SNAPS HIS NECK AROUND, FEELING GUVA'S SHOW OF POWER; THIS IS NOT SO MUCH BECAUSE OF HOW POWERFUL GUVA IS, BUT BECAUSE LEDAS CAN FEEL HIM AT ALL>
Ryori: Ledas?! What is it?
Ledas: <STANDS UP> I-I've gotta go, Ryori. There's something I have to fix.
Ryori: But what is it?
Ledas: There's a someone out there I've got to deal with. You can't help, I swear…
Ryori: <STARES AFTER HIM> Are you gonna kill him too?
Ledas: If I need to. <STILL GRAVE; LOOKS AT THE BODIES OF KINDLER AND DEWBERRY; HE SOMEWHAT REALIZES THAT SEEING PEOPLE DIE IS NOT SOMETHING RYORI IS USED TO> Just like these people. They were gonna… I mean he was gonna shoot you!
Ryori: <DROPS TO HIS KNEES> It's okay, I guess. My brother would have done the same thing. <LOOKS UP> I guess I'll just go home and see what he's up to.
Ledas: Oh. <UNCOMFORTABLY; AFTER A PAUSE> Ryori… I think he's gone… like those two. <GESTURES AGAIN TO THE DEAD> I think one of these guys did it.
Ryori: <TEARY> What?!
Ledas: <STEPS BACK, STILL UNCOMFORTABLY> I-I… I gotta go…
Ryori: <SINKS BACK DOWN, TEARS WELLING AGAIN; TO HIMSELF> He's dead?! He… <VOICE BREAKS> can't be.
<WITH THAT, LEDAS RUNS FORWARD ON THE DIRT PATH FOR A LITTLE WHILE, THEN HE KICKS OFF FROM THE GROUND; AS SOON AS HE ENTERS THE AIR, HIS AURA FLARES UP AROUND HIM; HE SHOOTS OFF ACROSS THE SKY; THE SUN IS JUST BEGINNING TO BUD UP OVER THE MOUNTAINTOP IN THE EARLY MORNING>
<RYORI SLINKS TO THE FLOOR, AND REACHES OUT FOR DEWBERRY'S PISTOL; HE GRABS IT AND IN ONE FELL SWOOP BRINGS IT UP, IN HUGGING NATURE, TO HIS CHEST>
<FAR AWAY, BETWEEN ROLLING HILLS, GUVA AND VEGETA ARE STANDING NEAR EACH OTHER; VEGETA IS STEADILY POWERING UP MORE AS HE IS TRAINING; HIS POWER LEVEL IS NOW AT ABOUT ONE MILLION; HE IS STILL IGNORING GUVA>
<WITH GREAT HASTE, GUVA RISES INTO THE AIR, LOOKING OVER THE TOWN WHICH IS CLOSEST BY; IT IS, OF COURSE, WEST CITY, WHERE CAPSULE CORP. IS>
Guva: <TO HIMSELF; HEAD THROWN BACK IN SLIGHT AMUSEMENT> Come out, Ledas, before I torch the entire countryside.
<THE SCREEN FADES FROM GREEN>
<THE CAMERA ZOOMS OUT, SLOWLY, FOCUSED ON A SINGLE BLADE OF GRASS; AFTER A FEW MOMENTS OF THIS, THE GRASS IS COVERED BY A DARK SHAPE>
<THE CAMERA PICKS UP ITS ZOOM OUT AND THE SCREEN SHOWS GUVA, NOW BACK ON THE GROUND; HE HAS HIS BACK TO VEGETA, AS HE IS SURVEYING THE SMOKE FROM HIS RUINOUS AFFAIR A FEW MOMENTS AGO>
<AS HE SURVEYS, SEVERAL LOUD THUDS BREAK THE SILENCE BETWEEN THE TWO>
<GUVA LOOKS OVER HIS SHOULDER, AT LONG LAST; AS HE TURNS TO FACE THE NEW SOUNDS, THE THUDS CONTINUE>
<LANDING AROUND THEM ARE THE Z FIGHTERS; NAMELY, GOKU, GOTEN, TRUNKS, PICCOLO, KRILLIN, AND ANDROID 18>
<GUVA TURNS WITH A WIDE SMILE AND WITH A BROAD GESTURE; AS HE DOES SO, MORE Z FIGHTERS CONTINUE LANDING AROUND THEM>
<TIEN, CLAD IN HIS HEAVY CLOTHES FROM THE BUU SAGA, LANDS; CHIAOTZU LANDS WITH HIM; GOHAN LANDS TOO; HE IS WEARING A SUIT, WHITE ON BLACK>
Goku: <TO VEGETA, WHO HAS HIS OWN BACK TO GOKU, ARMS FOLDED> Hey Vegeta… who is this guy?
Guva: <PUSHES FORWARD, TO GOKU> Who am I? I think the more important question is who you are. And why you all have landed here, disturbing my peace. <HE THROWS HIS HEAD BACK AGAIN, HIS HAIR SLIGHTLY WET>
Goku: My name is Goku.
Guva: <SEEING THAT GOKU IS WAITING FOR HIM TO RESPOND> And?
Goku: My friends and I protect this planet. It's our job to deal with people like you… who hurt the innocent.
Guva: Oh I see. That's so cheesy. But carry on if you have more.
Goten: <OUTBURSTING> Hey mister… are you a bad guy?
Gohan: <STEPS TO GOTEN> Quiet, Goten.
Piccolo: <EVER COOL> Hmph. <AT GUVA> So what do you want with us?
Guva: With you? Nothing. As I've already explained to this <GESTURES TO VEGETA> Saiyan, my business is with someone else. Someone… <HE SCANS THE SKIES> who is mysteriously hiding. Maybe that's one of your doings.
Tien: What's this guy talking about?
Guva: I have no qualms with you; I merely seek to bring enough attention to myself to allow him the awareness of my presence. <SCANS ALL OF THEIR POWER LEVELS, FINDING THEM TO BE DISMALLY LOW> Perhaps he'll come out on his own. Until then, how about a friendly sparring match? That is of course if any of you are up to it… I am in no hurry. <TO HIMSELF> Keep them all in one place, right.
<SUDDENLY ANOTHER THUD, MUCH LOUDER THAN ALL THE OTHERS BEFORE, SOUNDS OFF BEHIND GUVA; HE TURNS ALONG WITH ALL THE Z FIGHTERS TO SEE A FIGURE, SILHOUETTED BY SMOKE>
<THE SMOKE SLOWLY CLEARS AND IT REVEALS YAMCHA, HEAD DOWN, TURNED; HE IS WEARING A SHIRT, PROBABLY TOO TIGHT, TO SHOW OFF HIS MUSCLES; EVER THE BADASS, YAMCHA ALSO HAS A BASEBALL CAP ON HIS HEAD, BACKWARDS OF COURSE; HE LOOKS UP AND SMILES, SHOWING OFF HIS PEARLY WHITES>
Yamcha: Sure, I'll fight ya. <HE LAUGHS AND JUMPS FORWARD AT GUVA> Whaddya say?
Guva: <WATCHES THIS> Confident, eh? Very well. <HE TURNS BACK TO GOKU> I hope you have at least a class three medical tank for your friend over here. He seems rather oblivious to what I'm about to do to him.
Piccolo: <TO GOKU AS WELL> Hey Goku, maybe you should pick up some senzu beans before we start. There's no telling what this one has in store.
Goku: Oh yeah, that's a great idea, Piccolo!
<HE PUTS HIS FINGER TO HIS HEAD, ABOUT TO INSTANT TRANSMISSION AWAY, BUT BEFORE HE CAN, GUVA STEPS FORWARD>
Guva: Now what is this? I don't want any funny business. Wherever you're going, I'm sure you can take me along. After all, what do you have to hide?
Goku: Well… I don't know…
Guva: <GRABS ONTO GOKU> I know that technique. Lord Cooler has used it before. So wherever you're going, I know you can take me along with you.
Goku: Cooler, huh? You knew him? <SPLIT PANELS; SIGHS> Alright, fine.
<GOKU AND GUVA INSTANT TRANSMISSION AWAY>
Yamcha: <WALKS OVER TO THE OTHER Z FIGHTERS, GREETS THEM; HE ENDS UP FACE TO FACE WITH VEGETA> Hey Vegeta, if I were you, I wouldn't let Bulma see me fight today. <HE FLEXES HIS MUSCLES, ALMOST RIPPING HIS SHIRT> Yeah, she had a thing for me back in the day… and now that I'm as ripped <FLEXES AGAIN> as ever, you better watch out. <HE LAUGHS>
Vegeta: <STONY FACE THEN SUDDENLY ERUPTION INTO LAUGHTER> Oh, is that right, little man? <HE OPENS HIS MOUTH AGAIN TO TALK BUT PICCOLO STEPS IN>
Piccolo: <STERNLY> Enough, you two.
<CAMERA SWITCHES TO KORIN TOWER; GOKU AND GUVA SUDDENLY COME INTO VIEW, HAVING INSTANT TRANSMISSION'D TO THE MAIN FLOOR>
<AS SOON AS THIS HAPPENS, GOKU LETS GO OF GUVA AND STARTS WANDERING AROUND CALLING FOR THE KITTY KITTY>
<AT THIS TIME, GUVA MOVES UP TO A LONG WOODEN TABLE UP AGAINST ONE OF THE RAILINGS; THERE ARE VARIOUS, WEIRD CONTRIVANCES LITTERED ACROSS IT>
<BEHIND, KORIN COMES INTO VIEW>
Korin: What's that, senzu beans? You need some, Goku?
Goku: <CHIPPER> Yeah, just a few if you can spare them. That would be awesome.
Korin: <JUMPS UP ONTO THE FAR RAILING> Well that's nice. But I don't have any beans for you. Somebody <HE EMPHASIZES THAT WORD AND TURNS TO YAJIROBE> had to go and eat them all!
Yajirobe: <IN THE CORNER, SITTING IN THE SHADOWS> Hey! I was hungry! Stupid old cat…
Goku: What?! You don't have any?
Korin: <STRAIGHT> Doesn't look like it, champ.
<BEHIND THEIR CONVERSATION, GUVA PICKS UP A STRANGE DEVICE; IT IS LIKE A PYRAMID, COVERED IN STRANGE LETTERINGS AND WHATNOT; HE MESSES AROUND WITH IT>
<SEEING THIS, KORIN, WITH SUDDEN AGILITY, JUMPS UP TO GUVA AND SWATS THE DEVICE AWAY; IT LANDS ON THE FLOOR AND OPENS>
<WHILE IT IS NOT POINTING AT ANYONE, THE TOP OF THE DEVICE OPENS AND STARTS SETTING OFF A HIGH WIND, SUCKING THE AIR IN; SEVERAL NEARBY TRINKETS ARE SUCKED INTO IT>
<KORIN, WITH INDIGNATION, PICKS UP HIS STICK AND WALKS AROUND BEHIND THE DEVICE, POKING AT THE BACK OF IT; IT IMMEDIATELY CLOSES; HE PICKS IT UP AND GINGERLY SETS IT BACK DOWN ON THE TABLE; HE TURNS TO GUVA>
Korin: <WRYLY> Any of my other priceless artifacts you want to play with? This isn't a museum, your highness.
Guva: Very well. <WALKS BACK UP TO GOKU AND TAKES HIS ARM, AS IF WANTING TO TAKE A NICE EVENING STROLL IN THE PARK> If that's all, take me back.
Goku: Oh… right, yeah. Well I'll see you around, Korin! <HE INSTANT TRANSMISSIONS BACK TO THE AREA WITH THE OTHER Z FIGHTERS>
<GUVA WALKS BACK AWAY, AND YAMCHA MOVES FORWARD INTO A FIGHTING STANCE>
Guva: <CIRCLING; HIS SCOUTER IS FLASHING> I've known plants with higher power levels than you.
Yamcha: <UNWINDS HIS SHOULDERS> Don't underestimate me; I can bite hard. Yeah, you don't know who you're up against.
Piccolo: <WATCHING> Looks like Yamcha is stronger…
Gohan: Are you sure, Piccolo? Couldn't the new guy be concealing his power level?
Piccolo: <GRUFFLY> If he is, then we're in trouble.
<GUVA DOESN'T EVEN POWER UP; HE STRIDES FORWARD TO YAMCHA>
<YAMCHA DODGES HIM, AFTERIMAGES, AND SHOOTS UP INTO THE AIR, VERY HIGH AND FAST; GUVA LOOKS UP, SURPRISED, AND DOES THE SAME>
Vegeta: <LOOKS AWAY AND WALKS OFF TO SIT DOWN ON THE GRASS BEHIND> Hmph… show off.
<THE TWO SHOOT UP INTO THE CLOUDS; AS SOON AS GUVA STOPS, YAMCHA LAUNCHES HIMSELF FROM A CLOUD COVERING FROM BEHIND AND HITS GUVA; GUVA TURNS AROUND, TRYING TO PARRY BUT IT'S NOT THAT MUCH USE>
<YAMCHA BACKFLIPS, KICKING GUVA IN FACE AS HE DOES; HE JUMPS BACK AND THEN SUDDENLY PUSHES FORWARD; AGAIN, GUVA DOES NOT ANTICIPATE THIS AND IS HIT IN THE FACE; HIS LONG TRUSTED SCOUTER FALLS OFF, BROKEN>
<GUVA GROWLS; HE LOOKS AROUND AND CANNOT FIND YAMCHA ANYWHERE; THE CLOUDS ARE TOO MISTY AND HE CANNOT SENSE POWER WITHOUT HIS SCOUTER>
<AS HE MOVES FORWARD, QUIETLY, A DARK FLASH JUMPS AND SKIDS ACROSS BEHIND HIM; GUVA PICKS UP ON IT AND TURNS; HE SHOOTS A FEW SMALL BLASTS IN A SEMI-CIRCLE IN THAT DIRECTION; HE TURNS AROUND JUST IN TIME TO BE HIT IN THE CHEST BY BOTH OF YAMCHA'S FEET>
<YAMCHA HITS GUVA SIDEWAYS, LIKE IN A "T" SHAPE; AS GUVA HUNCHES OVER IN PAIN, YAMCHA RIGHTS HIMSELF BACK UP AND GATHERS HIS ENERGY>
<AFTER A COUPLE SECONDS OR SO, YAMCHA SHOWS HIS ENERGY, A HUGE SPIRIT BALL, AND THROWS IT RIGHT INTO GUVA'S WIDE EYES>
<IT CONNECTS AND EXPLODES; BEFORE THE DUST CAN CLEAR, YAMCHA APPROACHES AND SENSES GUVA'S PRESENCE; HE LAUNCHES HIS INTERLOCKED HANDS DOWN UPON THE GOVERNOR'S HEAD, CRACKING IT AND SENDING THE LATTER SHOOTING DOWNWARDS; GUVA HITS THE GROUND HARD>
<YAMCHA DESCENDS TO THE GROUND, GRINNING AND CONFIDENT; AT LONG LAST, GUVA STIRS, STUMBLING OUT FROM HIS CRATER>
<HIS ARMOR IS ALL CRACKED AND HIS CAPE IS TORN AND HAS HOLES IN IT; HIS BODY IS SLIGHTLY DIRTIED AND BLOODIED; HE IS A GREAT SHINER UPON THE TOP OF HIS HEAD>
Guva: Impressive. Very much so, my friend. I did not expect you to be able to damage me so easily. But that's enough from you. <HE RIPS OFF HIS CAPE AND THROWS IT BACKWARD, WITH THE WIND>
<AT THIS MOMENT, YAMCHA LAUGHS AGAIN AND SPRINTS FORWARD, ARMS OUTSTRETCHED YELLING "WOLF FANG FIST" TO NOBODY IN PARTICULAR; HE HITS GUVA, WHO IS CHARGING UP; YAMCHA'S WOLF FANG FIST IS SUCCESSFUL, AND IT KNOCKS THE WIND OUT OF GUVA>
<GUVA, IN INDIGNATION, RISES AFTER A FEW BATED BREATHS AND BACK-KICKS YAMCHA AWAY>
Guva: <WIPES DUST OFF OF HIS FACE; THEN BEGINS TO CHARGE UP> Gah! What was that?
Yamcha: Heh heh, it's not my fault you let your guard down.
Guva: It's just common courtesy… I let you charge up and you let me. Now, let's go!
<GUVA CHARGES TO HIS FULL POWER AND PUMPS UP HIS MUSCLES; THE Z FIGHTERS WATCHING ARE ONLY SLIGHTLY IMPRESSED AS HIS LEVEL IS STILL FAR, FAR BELOW THEIRS>
Piccolo: Hmm… this may be trouble.
Gohan: <TURNS TO PICCOLO> What do you mean, Piccolo?
Piccolo: <ALWAYS COOL> That alien is now far stronger than Yamcha. Even when they were even, Yamcha couldn't hurt him too much. Now if he's not careful… he could get himself killed. One of us may need to step in.
<THE LAMER Z FIGHTERS ALL GASP AT THIS>
<AT THIS MOMENT, GUVA TURNS BACK TO YAMCHA, SMILING>
Guva: Are you up for round two?
Yamcha: <BARK> You know it!
<YAMCHA AGAIN RUNS AT GUVA IN WOLF FANG FIST FASHION, BUT THIS TIME GUVA SIDESTEPS HIM AND SWIPES AT THE BACK OF YAMCHA'S HEAD, PARALYZING HIM>
<GUVA TAKES THE WARRIOR BY THE BACK WITH HIS LEFT HAND, AND WITH HIS RIGHT HE READIES HIS BLAST; THE Z FIGHTERS CAN ONLY LOOK ON IN HORROR AT THIS SUDDEN CHANGE OF EVENTS>
<THE CAMERA SLOWLY ZOOMS OUT BACK PAST THE FIGHT AND UP INTO THE SKY>
<STREAKING ACROSS THE DEEP BLUE IS THE SMALL FIGURE OF A CHILD, TRYING HIS BEST TO GET TO GUVA'S POWER OFFPUT BELOW; AT THIS POINT, HE HAS ABANDONED CONCEALING HIS POWER LEVEL>
<THE SCENE CHANGES BACK TO THE MOUNTAIN LEDAS LEFT; THE BODY OF DEWBERRY IS AT THE BASE OF THE SHIP, WHICH IS STILL SITTING IN THE SAME SPACE; RYORI IS NOWHERE TO BE SEEN; HOWEVER, THE CAMERA FOCUSES IN TOWARDS THE CRATER, WHERE THE 50 SOLDIERS ONCE FOUGHT LEDAS; THERE NOW IS BUT A SINGLE SOLDIER, BADLY WOUNDED, CRAWLING ACROSS THE GROUND; AS HE GOES, HE PRESSES A BUTTON ON HIS CHESTPIECE>
Soldier 1: G-g-general… S-silver…
Silver: <OVER THE COMM> What is it, Sergeant?
Soldier 1: The alien… he g-g-ot aw-way… no… survivors… I-I'm sorry, s-sir…
<WITH THAT, THE CONNECTION GOES DEAD>
<THE SCREEN CHANGES TO SILVER'S PERSPECTIVE; HE IS INSIDE A DARK ROOM, WITH A FEW GUARDS AROUND HIM; CARDINAL IS UP AHEAD WITH HIS REMAINING SCIENTISTS; SILVER LOOKS AT HIS FATHER AND SIGHS>
Silver: Father! <CARDINAL TURNS AROUND AND LOOKS AT HIM> We've got a problem.
<THE SCREEN COMES UP SUDDENLY, AS A GASP CAN BE HEARD>
<YAMCHA HAS CHARGED AT GUVA, BUT THE LATTER HAS EASILY BRUSHED HIM ASIDE, TAKING OVER DOMINANCE>
<GUVA TAKES HIS LEFT ARM AND PUTS IT AROUND YAMCHA'S NECK AND ALMOST CASUALLY DROPS TO HIS OWN KNEES AS HE STARTS TO SUFFOCATE THE Z FIGHTER>
<THE GOVERNOR TURNS HIS HEAD TO FACE THE OTHERS; HE MOCKINGLY SMILES TO THEM>
Chiaotzu: <IMMEDIATELY> Let him go!
Yamcha: <CHOKING; CLENCHED TEETH; TO CHIAOTZU IN PARTICULAR> I… don't need any… help…
<YAMCHA STRUGGLES, BUT CANNOT BREAK FREE OF GUVA'S GRIP; MANY OF THE Z FIGHTERS ARE QUIVERING WITH ANGER, MOST NOTABLY TIEN AND CHIAOTZU; AFTER A FEW MOMENTS OF THIS, CHIAOTZU IGNORES YAMCHA'S REQUEST, GETS UP, AND SHOOTS FORWARD>
Chiaotzu: <JUMPING FORWARD TO CHALLENGE GUVA> Stop that, you big meanie!
Tien: <MOVES FORWARD TO BRING HIM BACK> Chiaotzu! No!
Piccolo: <HOLDS OUT HIS ARM TO STOP TIEN> No Tien. If he wants to fight, let him.
Tien: But… he's not strong enough! He'll just get beaten.
Piccolo: <GRUFFLY> Maybe. But he's stronger than before. They may be able to pull it off, especially if Yamcha is still able to fight. If he can't, then I'll step in and put a stop to this.
<AT THIS, TIEN SETTLES DOWN A BIT AND MOVES BACK; HE AND THE REST OF THE Z FIGHTERS CONTINUE TO STAND STILL AND WATCH THE FIGHT>
Guva: <TO CHIAOTZU> What's this? Another one here challenge me? Why, I haven't finished this one off yet! <HE TIGHTENS HIS STRANGLEHOLD ON YAMCHA; YAMCHA SPUTTERS AT THIS>
<WITH A YELL, NOT WAITING FOR ANYTHING, CHIAOTZU FLIES FORWARD AND KICKS GUVA ACROSS THE FACE; GUVA DROPS YAMCHA AND STANDS UP; HE IS STILL IS CALM>
Yamcha: <COUGHING; HOARSELY; TO CHIAOTZU> I-I told you not to help me!
Chiaotzu: You weren't going to make it without some help, Yamcha! I couldn't stand watching him do that to you. Come on, let's get rid of this bad guy!
<YAMCHA SIGHS>
Guva: So… you both want to fight me… at the same time?! Do you have no honor, no sense of the perfect tranquility of this duel? I only fight one at a time. That is the ultimate skill.
Yamcha: <COUGHING; HOARSELY> May'e… may'e you're just scared, huh? You don't want to lose. <STANDS UP> Well let me tell you something, buddy, if you can't take on me and him together, there's no way you'd stand a chance against Goku or Vegeta. They're way stronger than us.
Guva: <GROWLS> Uuaah… <HE RIGHTS HIMSELF BACK UP> Silence!
<GUVA SENDS OUT A BLINDING DISPLAY OF KI, WHICH SENDS HIS TWO OPPONENTS BACKWARDS>
<GUVA SENDS OUT SEVERAL KI BLASTS, BUT YAMCHA AND CHIAOTZU DODGE THEM; THE TWO SPLIT OFF AND GO IN OPPOSITE DIRECTIONS; THIS GREATLY CONFUSES GUVA WHO HAS TO STOP SHOOTING OFF KI BLASTS AND LOOK FOR THEM; AS HE DOES SO, HE DOESN'T THINK TO PUT UP HIS GUARD; BOTH YAMCHA AND CHIAOTZU HIT HIM, CRACKING HIS ARMOR EVEN MORE>
<GUVA DROPS TO A KNEE, IN PAIN, AND SHOOTS AWAY YAMCHA>
<GUVA AND CHIAOTZU BEGIN DUELING AGAIN AND GUVA QUICKLY REGAINS HIS ADVANTAGE; HIS STYLE OF PUNCHES AND KICKS ARE HIGHLY ORNATE AND SOPHISTICATED AND DESPITE CHIAOTZU'S SMALL SIZE, MOST ARE LANDING>
<YAMCHA RECOVERS AND SHOOTS INTO THE AIR, LANDING, WITH A PUNCH, ON GUVA'S BACKSIDE; GUVA DID NOT SEE, HEAR, NOR EVEN ANTICIPATE SUCH A MOVE AND AS SUCH IS HIT HEAD ON; HE FALLS FACE FIRST INTO THE GRASS, SPITTING UP BLOOD>
<ONCE AGAIN, THE TWO ATTACK GUVA; HE CAN BARELY HOLD THEM AND HE IS BATTED AROUND; HE SOMEWHAT LOSES CONSCIOUSNESS>
<AT THIS TIME, YAMCHA TAKES TO THE AIR AND CHIAOTZU TURNS GUVA AROUND; HE HIMSELF CONTINUES TO PUNCH AT THE GOVERNOR; ABOVE, YAMCHA READIES HIS EXTRA LARGE SPIRIT BALL>
<GUVA QUICKLY REALIZES THIS FATAL MISTAKE AND TAKES CHIAOTZU OUT WITH A SINGLE KICK; HE THEN SHOOTS INTO THE SKY AGAIN, BUT THIS TIME FAR HIGHER THAN YAMCHA IS POSITIONED>
<HE CONTINUES FLYING UPWARD, BUT AS HE DOES, HE SENDS ONE SMALL BALL OF SCATTERSHOT DOWN TO YAMCHA; THIS CAUSES YAMCHA TO GET HIT BY THE KI BLASTS AND DISSIPATE HIS SPIRIT BALL>
<BUT ONCE AGAIN, GUVA DOES NOT ANTICIPATE A SECOND FIGHTER AS HE COMES TO A STOP; BEING AS HE CAN ALSO NOT SENSE KI, GUVA DOES NOT SEE THAT CHIAOTZU HAS TAILED HIM THE WHOLE WAY UP, RIGHT BEHIND THE GOVERNOR>
<CHIAOTZU SENDS OFF AN ENERGY TELEKINESIS SHOT AND IT HITS GUVA, PARALYZING HIM>
<HE COMES AROUND TO FACE GUVA AND SHOOTS A DODON RAY AT THE GOVERNOR; WHILE IT'S NOT SUPER ACCURATE, IT SILL HITS GUVA IN THE FACE AND RIPS APART HIS RIGHT CHEEK; BLOOD POURS OUT AND HE SCREAMS; BEING PARALYZED, GUVA CAN DO NOTHING ABOUT IT>
Guva: I-is… that the best you've got? <IN HIS MIND> The little clown thing is weak; much weaker than me. If I can only get him alone for a few moments… <HE GLANCES DOWNWARD, SEEING YAMCHA SHOOTING UP AT THEM> damnit! Don't they ever stay down?! Individually I could so easily kill them. But together, they're unbeatable. <BACK TO CHIAOTZU> You! Clown… thingy… uh… if that's your most powerful attack, you may as well give up!
Chiaotzu: What?
<AT THIS, CHIAOTZU LOSES CONCENTRATION FOR A MOMENT AND GUVA BREAKS FREE OF HIS PARALYSIS>
<HE SHOOTS STRAIGHT AT CHIAOTZU AND HITS HIM AWAY; AT THE SAME TIME, YAMCHA REACHES THEM AND GRABS ONTO GUVA'S LEG; HE RIPS THE GOVERNOR DOWN AND THROWS HIM BELOW; BUT GUVA TELEPORTS BEHIND YAMCHA>
<HE HITS YAMCHA AWAY, BLOWING OFF HIS SHIRT AND SENDING HIM INTO THE GROUND; INSTEAD OF PURSUING YAMCHA HOWEVER, GUVA INSTEAD TURNS BACK TO CHIAOTZU>
<WITH ONE SWIPE, GUVA HITS CHIAOTZU AWAY INTO THE HILLS>
<HE DESCENDS AND JUMPS ONTO YAMCHA'S LYING BODY>
<GUVA TURNS YAMCHA OVER AND HITS HIM, OPEN PALMED IN THE MOUTH; YAMCHA SCREAMS AND SPITS UP BLOOD; GUVA THEN ELBOWS HIM IN THE CHEST AND BREAKS HIS RIB CAGE; WITH THAT, YAMCHA IS DEFEATED>
Tien: Chiaotzu!! <HIS ANGER SURGES; HE JUMPS FORWARD> I'll avenge you, my friend. <HE GIVES A DIRTY LOOK TO PICCOLO> I told you this would happen, Piccolo! <TO GUVA> You're facing me now.
Guva: <PANTING; FIGURE IN SHAMBLES; HE WIPES AWAY BLOOD FROM HIS TORN CHEEK> I'm not here to play games with every little maggot that crawls out of the ground. My quarry is a Saiyan, not a freak with three eyes! You want to die, that's your problem. Leave me out of it…
Tien: <CALMLY, AS HE TALKS HE TAKES OFF HIS HEAVY CLOTHING; WELL HE TAKES OFF HIS SHIRT CLOTHING> I'm not a freak. But you just hurt my friend, Chiaotzu. That's unforgivable. <AT THIS, HE READIES A WHITE, LIGHTNING-ISH BLAST IN EACH HAND AND THROWS THEM AT GUVA>
<GUVA HOWEVER HAS ALREADY FALLEN TO HIS KNEES, HIS HANDS CLASPED AROUND HIS ARMS; HE DOESN'T SEEM TO NOTICE WHEN THE BLASTS HIT HIM, NOR WHEN HE FALLS BACK SEVERAL DOZEN FEET FROM THE FORCE OF THEM>
<GUVA'S EYES ARE WIDE AND HIS LIP IS TREMBLING; ABOUT HIM, SOMETHING WHICH NO ONE ELSE CAN HEAR, IS A FLURRY OF QUIET WHISPERING, CONSUMING HIS THOUGHTS>
<AT JUST THIS TIME, ABOVE THE Z FIGHTERS, LEDAS COMES COMES INTO VIEW; HE STOPS JUST ABOVE THEM, EVAPORATING HIS KI AS HE STARES DOWN AT WHAT HAS HAPPENED; THE Z FIGHTERS SENSE HIM AND LOOK UP AT THE FIGURE IN THE SKY; MANY ARE POINTING AT HIM>
Trunks: Hey, look! There's someone up there!
Goten: I see him! I see him!
<LEDAS NOTICES THAT EVERYONE SEES HIM, SO HE DESCENDS TO THE GROUND; HE LANDS CLOSER TO GUVA THAN THE Z FIGHTERS>
Piccolo: <NOTICING WHO IT IS; WITH FURY> No way! I knew that wasn't Trunks or Goten!
Ledas: <TURNS HIS FOCUS TO GUVA> What are you doing here? <GUVA DOES NOT RESPOND; HE IS COVERING HIS EARS> Answer me, Guva!
<LEDAS RAISES HIS ARM, FORMING ENOUGH KI TO KILL THE WRETCHED GOVERNOR WHEN TIEN COMES RUSHING IN AND PUSHES LEDAS ASIDE>
Tien: No, he's mine!
Ledas: What?
Tien: He hurt my friend. I'll make him pay!
<TIEN GRABS GUVA AND STARTS ATTACKING HIM; LEDAS WATCHES THIS WITH HIS MOUTH SLIGHTLY AGAPE; HE BACKPEDALS AWAY FROM THE SCENE AND TURNS TO FACE THE Z FIGHTERS, WHO ARE ALL LOOKING AT HIM; HE LOOKS THEM OVER WITHOUT TALKING UNTIL HE LANDS ON VEGETA; VEGETA IS STARING BACK AT HIM; AND WHILE THERE IS DRIED BLOOD ACROSS HIS FACE AND HE HAS AGED SOMEWHAT SINCE THEIR LAST MEETING, VEGETA RECOGNIZES HIM; THEY MEET EACH OTHERS' EYES>
Ledas: Hi… Vegeta.
Vegeta: <BORED> Who are you?
Ledas: <BREATHLESS, NERVOUS> Ve-vegeta…? That's you, right?
Vegeta: <IRRITATED> What do you want?
Ledas: <TREMBLING STILL> Vegeta? <HE WALKS UP CLOSER> It's… it's me, Ledas.
Vegeta: <YAWNS> Who?
Ledas: <A BIT LOUDER; A MIXTURE OF DISTRESS AND ANGER IS IN HIS VOICE> Don't you remember me?!?!
Vegeta: Hmph. <TILTS HIS HEAD AWAY>
Goku: <DESPITE THE ACTION AROUND, HE WALKS OVER TO VEGETA AND LEDAS; GOHAN, GOTEN, AND TRUNKS COME WITH HIM> Whoa Vegeta… who's this guy?
Vegeta: <STILL SOMEWHAT IRRITATED> Bah… <HE OBVIOUSLY DOESN'T WANT TO TALK ABOUT IT AND LIES DOWN ON THE GRASS, ARMS BEHIND HIS HEAD; HE CLOSES HIS EYES AND PRETENDS TO SLEEP>
Ledas: <STANDING OVER VEGETA; BLACK AURA FLARING UP AROUND HIM; HIS EYES ARE SHINING> Come on! Look at me! Remember!
<THE CAMERA CUTS TO A TOWN; IT IS BRIGHT, SPARKLING SOMEWHAT, NEAR THE SEA; AS THE CAMERA PANS BACK A BIT IT SHOWS OFF RYORI, SULLEN AND DIRTY; HIS HANDS ARE FREE BUT HE IS STUMBLING DOWN THE ROAD>
<AS HE WALKS BY HIS COAT BILLOWS AND IT CAN BE SEEN THAT HE HAS A PISTOL IN IT; IN RYORI'S HAND HOWEVER IS A SMALL PIECE OF RED CLOTH WITH THE NEW RED RIBBON ARMY INSIGNIA; HE GOT THIS OFF OF DEWBERRY>
<AFTER SOME TIME, BREATHING HARD AND IN SOME KIND OF ANGUISH, RYORI STEPS INTO A SIDE BUILDING; THE PLACE IS A FANCY ONE, WITH ELEGANTLY CARPETTED FLOORS AND WALLS, THERE IS EXPENSIVE (OR AT LEAST WHAT LOOKS LIKE EXPENSIVE) ARCHITECTURE AND FURNITURE ADORNING THE PLACE; THE MAIN WALKWAY TO THE DESK IS CLEAR OF ANYTHING, INCLUDING PEOPLE; HE TAKES OUT THE PISTOL AND MOVES FORWARD; HIS FACE IS TEAR-DRENCHED AND PALE>
<THE CAMERA RETREATS BACK OUT THE DOOR AND SHOWS THE BUILDING; OVER THE ENTRANCE IS A SIGN THAT READS "NEW RED RIBBON ARMY LOCAL HEADQUARTERS" WITH ITS INSIGNIA JUST BELOW IT>
<THE CAMERA CUTS BACK TO GUVA AND TIEN>
<GUVA HAS SLIGHTLY RECOVERED FROM HIS WEIRD FIT EARLIER AND NO WHISPERING CAN BE HEARD>
<TIEN, WHO IS OBVIOUSLY ANGRY, RUNS AT GUVA AND ELBOWS HIM; AS GUVA DOUBLES OVER, TIEN SWIPES HIS LEGS FROM BEHIND, CAUSING THE GOVERNOR TO FALL UP; THEN, TIEN CHOPS HIM IN THE CHEST AND SENDS GUVA FLYING AWAY>
<HE PURSUES AND BEGINS TO BEAT UP ON GUVA>
<BUT AS THIS IS HAPPENING, THE CAMERA MOVES LEFT AND BACK TO THE Z FIGHTERS>
Ledas: Aw, Vegeta, don't you remember me? We used to play together all the time… like remember that time in the snow? <VEGETA DOESN'T ANSWER; LEDAS GETS ANGRY AND SCREAMS AS HIS AURA GETS LARGER; HIS TEETH ARE SHOWN TO BE QUITE SHARP> I grew up with you!! Look at me!
Goku: <TO LEDAS; HE NOTICES LEDAS' TAIL; ENTHUSIASTICALLY> Whoa, are you a Saiyan too?
Ledas: <BACK TO GOKU, SCRATCHES THE BACK OF HIS HEAD; AURA DIES DOWN> Oh, yeah… you must've seen my tail… <HE HIMSELF TURNS AROUND TO LOOK AT IT> It's always falling off <LAUGHS> but I can always grow a new one! <LOOKS AT VEGETA AND GOKU> Hey… where are your tails?
Goku: <MATTER O' FACT; A LITTLE PROUDLY> I had mine removed a long time ago.
Ledas: That's stupid. You're not a true Saiyan without a tail.
Goku: <IN HIS GOKU VOICE; LIKE WHEN AROUND RADITZ> From what I've seen, the Saiyans aren't very nice people. They just go around hurting and killing and–
<GOKU IS INTERRUPTED BY GUVA BEING SLAMMED INTO THE GROUND NEARBY; GUVA IS EXTREMELY WEARY FROM HIS LAST BATTLE WITH YAMCHA AND CHIAOTZU; REGARDLESS, TIEN IS FAR STRONGER THAN HIM AND THIS FIGHT IS NOT EVEN AT ALL>
<GUVA DODGES OUT OF THE WAY, ON THE GROUND, AS TIEN TRIES TO LAND A MOVE ON HIS LYING BODY; GUVA ROLLS AWAY AND FIRES A SCATTERSHOT, BUT IT IS NO USE AS TIEN IS EASILY ABLE TO BRUSH IT ASIDE>
<TIEN RUSHES AT GUVA AND SENDS OFF A SOLAR FLARE; OBVIOUSLY THIS BLINDS GUVA FOR A MOMENT>
<TIEN USES THIS FREE TIME TO GRAB GUVA'S SHOULDERS AND THROW HIM INTO THE AIR; ONCE IN THE AIR, HE HIMSELF SENDS OFF A DODON HAIL, WHICH PIERCES GUVA MANY TIMES, BLOODYING HIM EVEN MORE>
<WHEN GUVA LANDS HARD INTO THE EARTH, HE DOES NOT GET UP>
<TIEN WALKS FORWARD SLOWLY AND SHOOTS A ONE HANDED KI CANNON AT GUVA; WHEN THE DUST CLEARS, GUVA IS CRITICALLY INJURED, NOW ONLY BARELY ALIVE>
<TIEN PICKS HIM UP WITH HIS RIGHT HAND AND HOLDS THE FORMER GOVERNOR BY HIS NECK; BLOOD IS NOW POURING FROM GUVA'S BODY; THE CAMERA SPINS AROUND FOR A SECOND AND HIS BLOOD CAN BE SEEN DRIPPING FROM HIS FEET, WHICH ARE ONLY HOVERING A FEW INCHES OFF THE GROUND>
Tien: Get ready to die!! <HE LIFTS UP HIS LEFT HAND AND BEGINS TO FORM ENERGY FOR A SINGLE-HANDED KI CANNON>
Guva: Let's… let's just talk, like gentlemen! <TO HIMSELF; HEARING THE WHISPERING AGAIN; PANICKED> I… I need a few more seconds!
Tien: You hurt Chiaotzu! I can't feel him at all! <TRAILING OFF; LOOKING AT SOMETHING FAR OFF> He was my good friend…
<GUVA LEANS HIS HEAD BACK AND SPURTS UP SOME MORE BLOOD, HE CROAKS OUT A LAUGH>
Guva: Honestly, I…
<SUDDENLY TIEN DROPS GUVA AND RUNS PAST HIM>
Guva: <IN A PAINED WHISPER> Wh-what… are… what are you doing?
<HE TURNS AROUND TO SEE WHAT TIEN IS WANDERING OFF FOR; FROM THE RUBBLE BEHIND, CHIAOTZU STAGGERS FORWARD>
<TIEN SMILES AND LAUGHS, LONG AND HARD, HE KNEELS DOWN TO TALK TO CHIAOTZU AND INSPECT THE SERIOUSNESS OF HIS WOUNDS; INDEED, CHIAOTZU LOOKS TO BE CRITICALLY HURT>
<GUVA, BEHIND THEM, GETS SUPER ANGRY; HE HEARS THE WHISPERING START AGAIN AND HE FREAKS OUT>
Guva: No!! I can hear it again! <HE PULLS AT HIS EARS AND YELLS; HE TURNS TO TIEN> Bastard! Get back here! Finish me now! <HE THROWS A SMALL OVAL SHAPED BLAST AT TIEN> Screw the plan! I can't take it anymore!
<TIEN IS KNOCKED OVER FROM THIS, BUT WHEN HE GETS UP AND TURNS AROUND, HE SEES THAT GUVA HAS ONCE AGAIN FALLEN TO HIS FEET, NOW AUDIBLY SCREAMING; HIS EYES ARE WILD AND BASICALLY POPPING IN THEIR WIDE GAZE>
<TIEN IS NOT MOVED BY THIS DISPLAY OF EMOTION AND SWIFTLY GRABS GUVA AGAIN; THIS QUIETS THE GOVERNOR DOWN>
<TIEN TAKES HIS BLAST AND BRINGS IT TO GUVA'S FACE, BUT HE HOLDS BACK FOR A SECOND, UNWILLING TO GO THROUGH WITH IT>
<LEDAS LOOKS THROUGH THE GROUP OF Z FIGHTERS AND SEES GUVA BEING HELD BY TIEN>
Ledas: Guva! <BUT GUVA DOES NOT HEAR HIM>
Guva: <LAUGHS AGAIN> Hahahahahaha. Do it. <NOW HOARSELY AND SPITTING> Come on, you spineless coward! Do it. <GUVA THROWS HIS HEAD BACK AGAIN, AND THIS TIME HE SEES LEDAS STANDING FAR OFF; HIS EYES WIDEN AND TEAR UP; HE STARES AT LEDAS AS HE SPEAKS HIS LAST SENTENCE> DO IT!! DO I–
<GUVA GOES RIDGED, MIDSENTENCE; TIEN DROPS HIM; AFTER A COUGH, HE FALLS DEAD ONTO THE GROUND; TIEN MOVES BACK, STEPPING AWAY FROM THE CORPSE; HE APPEARS SHOCKED BECAUSE HE DID NOT KILL GUVA; HE DISSIPATES THE BLAST IN HIS HAND>
<STICKING OUT FROM THE BACK OF GUVA'S CRACKED AND BLOODIED ARMOR IS A KNIFE>
<CROUCHING OVER THIS ALL IS NOW A FIGURE, DARKLY HOODED, CALMLY WATCHING>
<THE FIGHTERS HADN'T NOTICED HIM UP TO THIS POINT, AND WHEN GUVA'S BODY FALLS, THEY ALL LET OUT A GASP>
The Benefactor: <PULLS KNIFE OUT OF THE NOW LIFELESS CORPSE; HE LOOKS UP TO THE GROUP WATCHING> Did ya… miss me?
<ABRUPT TO BLACK>
<FLASHBACK>
<THE CAMERA COMES INTO A LARGE ROOM, WHICH IS VERY TALL; IT IS PANELED WITH VARIOUS STONE TILES, COVERING THE VAST GROUND; THERE IS OF COURSE A ROOF TOO, BUT IT IS VERY HIGH UP, MAYBE 100-150 FEET; THE SIZE OF THE HUGE ENCLOSURE IS ABOUT THAT OF A NORMAL STADIUM>
<IN THE ENCLOSURE ARE 4 BEINGS; TWO ARE HUGE, LIKE GREAT MONKEYS; THEY ARE NOT WEARING ARMOR, BUT ONLY TRAINING PANTS>
<THE OTHER TWO ARE FLYING ABOUT FRANTICALLY; THEY ARE BOTH SAIYANS, IN FULL ARMOR; IN FACT THEY ARE WEARING MORE THAN THE REGULAR SAIYAN ARMOR, THEY ARE WEARING FULL BODY SUITS COVERING EVEN THEIR FACES AND TAILS>
<AS CAN BE ASSUMED, THIS IS BECAUSE THERE IS A POWER BALL AT THE CENTER OF THE ENCLOSURE, AND THE TWO UN-TRANSFORMED SAIYANS DON'T WANT TO TRANSFORM THEMSELVES; THEY SEEM TO BE TEACHING>
<THE TWO GREAT APES LUNGE AT EACH OTHER, CLEARLY NEITHER IS SENTIENT; THEY ROLL AROUND, FIGHTING AND HACKING AT ONE ANOTHER; IN ADDITION BOTH SEEM TO BE RANDOMLY SHOOTING OFF ENERGY BLASTS IN ALL DIRECTIONS AS IF THEY CANNOT CONTROL THEIR POWER>
<THE TWO ADULT SAIYANS ARE ONLY WATCHING AS OF NOW, BUT ARE STILL WEAVING THIS WAY AND THAT, DODGING THE TWO'S ENERGY>
<THE TWO SAIYANS STOP AND SHOOT UP HIGHER INTO THE AIR TO LET THE GREAT APES COOL DOWN FOR A MOMENT>
Layeeck: <SHOUTING OVER THE COMMOTION> I don't think it's going to happen today. They're still far too wild.
<THE OTHER SAIYAN IS FAR OLDER THAN LAYEECK; HE HAS A BEARD AND HIS HAIR IS A SILVERY BLACK>
Lascon: You're too impatient, Layeeck. Give them some time to get used to the new form. They're only children after all! <HE LAUGHS, HEARTILY> Do you remember how long it took you to master that form?
Layeeck: That was a long time ago.
Lascon: You were almost 11 years old, if I remember.
Layeeck: Those were different times. Besides, my son is far stronger than I was at his age.
Lascon: <LEANS FORWARD, PEERING DOWN> And that makes it so much harder… look, they've tired out. This is our best chance.
<BOTH SHOOT BACK DOWN TO THE FLOOR; THE TWO GREAT APES ARE STILL TRANSFORMED, BUT ARE SPLAYED ACROSS THE GROUND ASLEEP>
<LAYEECK DESCENDS AND WALKS TO THE SAIYAN NEAREST HIM; LASCON GOES TO THE SAIYAN IN THE FAR CORNER>
Layeeck: <INTO THE EAR OF THE UNCONSCIOUS BEAST> Ledas! Ledas, wake up! <IN MORE OF A WHISPER> Ledas?!
<AT THAT, THE GREAT BEAST'S ARM RUMBLES AND GRABS LAYEECK; WITH A LAZY AND TIRED THROW, IT PUSHES LAYEECK INTO THE GROUND, HARD>
<LAYEECK LETS OUT A MUFFLED SCREAM; THE BEAST IS STILL ASLEEP>
<HE GETS UP, LIMPING FROM HIS FRACTURED KNEE, AND CAUTIOUSLY RE-APPROACHES LEDAS>
Layeeck: <ONCE AGAIN INTO LEDAS' EAR; WHISPERING> Ledas?! It's your father, Ledas! Wake up, we're…
<LEDAS OPENS ONE EYE, LOOKING AROUND; HE SPOTS LAYEECK; AT THIS, LEDAS SITS UP WITH SUDDEN HASTE, THE MOTION OF IT KNOCKING LAYEECK BACK DOWN; STILL SITTING UP, HE TURNS HIS BODY TO FACE LAYEECK; LAYEECK IS EASILY DWARFED BY LEDAS' PRESENCE; LAYEECK HOLDS HIS GROUND>
Layeeck: My son. Ledas…
<LEDAS PICKS HIM UP WITH HIS HAND, CLUTCHING TIGHTLY AROUND LAYEECK'S BODY; HE GROWLS, SHOWING HIS TEETH; HE SLAMS LAYEECK ONTO THE GROUND; LAYEECK KEEPS AS QUIET AS POSSIBLE; LEDAS KEEPS HIS FATHER WRAPPED IN HIS HAND AS HE DOES THIS>
<LEDAS SNARLS AGAIN>
Layeeck: You remember me. Look at my face! Look at me! I am your father, Ledas. Your father! Look at me! <LEDAS DOESN'T MOVE; HE IS ROARING, AND NOT LOOKING AT LAYEECK> I said look at me!
<LAYEECK SENDS A SHOCK BLAST DOWN THROUGH LEDAS' BODY, JARRING HIM BACK TO REALITY; LEDAS GROWLS IN PAIN AND LIFTS HIS FATHER UP, CLOSER TO HIS FACE; HE INSPECTS LAYEECK ALL OVER; AS LAYEECK CONTINUES TO STARE INTO HIS SON'S EYES, LEDAS STARES BACK AT HIM; HIS STANCE LESSENS; HIS EYES GLAZE OVER AND HE SHAKES HIS HEAD; WHEN HE LOOKS BACK AT HIS FATHER, HE HAS MORE PURPOSE IN HIS LOOK>
Ledas: <IN GREAT APE VOICE> I am.
Layeeck: <RECOVERS> Ledas?! <LETS OUT A BREATH OF AIR> My son… is that you?
Ledas: <CHEERFUL> Yeah! <HE HOLDS OUT HIS HAND AND NOTICES IT'S ALL HAIRY AND WHATNOT> Whoa, what's this?
<LEDAS SETS DOWN HIS FATHER AND STANDS UP; HE ADMIRES HIS BODY; HE JUMPS AROUND, TESTING IT OUT>
<LAYEECK LOOKS BACK OVER TO WHERE LASCON WENT; THE SAIYAN ADULT IS HOVERING ABOUT 20 FEET IN THE AIR, WITH HIS ARMS CROSSED; BEHIND HIM IS AN AWAKE, YET UNMOVING GREAT APE; LASCON SEEMS UNTOUCHED AND HIS WHOLE "SENTIENCE" MISSION HAS GONE WITHOUT INCIDENT>
<LEDAS NOTICES THE OTHER GREAT APE; HE TURNS TO FACE IT IN A BATTLE STANCE>
Ledas: Awright! We can fight for real now!
<THE OTHER APE LAUGHS HIMSELF, BUT DOES NOT SPEAK>
<LEDAS JUMPS AND LUNGES AT THE OTHER APE, WHO HAS TAKEN A DEFENSIVE STANCE>
<RIGHT BEFORE THE TWO CONNECT, LASCON TURNS SUDDENLY AND SHOOTS A KI BLAST AT THE POWER BALL, DESTROYING IT>
<LEDAS REVERTS IN MID-LUNGE, AS DOES THE OTHER AND THEY TUMBLE INTO EACH OTHER AS THEY REGRESS>
<LASCON AND LAYEECK WALK UP TO THE TWO, LEDAS AND VEGETA, AND THROW THEM TOWELS>
Lascon: <AUTHORITATIVE> Now that's enough, boys. Your training for today is done.
Ledas: <UPSIDE DOWN, A TOWEL AROUND HIS NECK> You mean we get the rest of the day off, grandpa?!
Lascon: I don't see why not. It would be quite mean of me to keep you boys locked up in here all day… when it's snowing outside.
Ledas: <IN AWE> Snowing? What's that?
Lascon: A rare occurrence on Planet Vegeta. I suggest you make the most of it. <HE SMILES, WARMLY>
<LEDAS GETS UP, EXCITED; VEGETA GETS UP TOO, BUT HIDES ANY EXCITEMENT HE MAY OR MAY NOT HAVE>
Ledas: Thanks, grandpa! <HE WAVES THE ADULTS OFF AND RUNS TO THE DOOR; VEGETA WALKS, SLOWLY BEHIND>
<LASCON AND LAYEECK STAY BEHIND A BIT TO CLEAN UP>
Lascon: Today was quite an interesting day, wasn't it Layeeck?
Layeeck: Yeah, it was unbelievable. I mean… they just got right up and ran out after all those hours of being in that form. I don't even think I could do that! <LASCON LAUGHS> Or you, for that matter.
Lascon: It's you, not me, who promised young Ledas a father-son trip off planet. So I don't need to keep pace with him. But I sure hope you didn't lie to him about going.
Layeeck: <SIGHS> No, I'll get around to it eventually. I'm just not looking forward to it, I guess. Kind of unnerving when you're not in control any more.
Lascon: <LAUGHS> When have you ever been, son?
<THE CAMERA CUTS TO A BIT LATER IN THE DAY, OUTSIDE; THE ENTIRE AREA, WHICH IS SLIGHTLY WOODED, IS BLANKETED IN SNOW>
<VEGETA AND LEDAS ARE BOTH STANDING IN IT; LEDAS PLAYING AND JUMPING AROUND IN IT, AND VEGETA MERELY STANDING, HAUGHTILY OBSERVING>
Prince Vegeta: <SHOOTS A SMALL BEAM OF ENERGY, WHICH DOES NOT DISSIPATE AS HE TALKS, INTO THE SNOW; HE MELTS A CIRCLE AROUND HIMSELF> So what? It's just frozen water…
Ledas: Yeah, but it's fun Vegeta! Come on!
<LEDAS DIVES HEAD FIRST INTO THE SNOW; AFTER A SECOND HE RESURFACES A BIT TO THE RIGHT; HIS HAIR AND FACE ARE BOTH COVERED IN SNOW; HE SMILES>
Prince Vegeta: Hmph. I don't get the big deal.
Ledas: <LAUGHS> Aw Vegeta, just try it!
<LEDAS THROWS SOME SNOW AT VEGETA, IN A BALL; YES REALLY>
<IT HITS VEGETA IN THE FACE AND HE BRUSHES IT ASIDE>
Prince Vegeta: <ANNOYED> Stop it! <HE TURNS, SWIFTLY WITH HIS CAPE>
<AT THIS, LEDAS JUMPS, LAUGHING AND TOPPLES ONTO VEGETA, CAUSING THEM TO BOTH FALL INTO THE SNOW; VEGETA IS NOT HAPPY>
<LEDAS JUMPS BACK AND READIES MORES SNOWBALLS; HE THROWS SEVERAL AT VEGETA>
Ledas: <GIDDY> Betcha can't hit me!
<VEGETA STANDS UP AND IS ABOUT TO RESPOND, BUT HE IS HIT IN THE FACE AGAIN WITH A SNOWBALL>
<VEGETA, WITH SOME RESTRAINT, PICKS UP SOME SNOW AND FORMS IT INTO A BALL HIMSELF; HE SHOOTS UP INTO THE AIR AND THROWS IT AS HARD AS HE CAN AT LEDAS>
<THE TWO JUMP AROUND, DODGING EACH OTHER'S SNOW BALLS AND HAVING A GOOD TIME>
<THE CAMERA CUTS BACK TO A HOUSE, WHICH IS QUITE SIMPLE AND PLAIN; IT IS NOT IN A VERY POPULATED PLACE; NO OTHER HOUSES ARE AROUND; THE SUN IS SOMEWHAT SETTING BEHIND IT, AND IT IS ON A HILL WITH A SINGLE TREE TO THE LEFT>
<JUST OUTSIDE WALKS LASCON, WHO IS STILL IN HIS FULL ARMOR; WITH A SIGH OF HIS OWN, HE TAKES OFF HIS ARMOR AND HANGS IT ON A SNOW-COVERED RACK AGAINST HIS HOUSE'S WALL; HE WALKS FOR A FEW FEET THROUGH THE SNOW AND THEN WINCES, FALLING OVER AND CLUTCHING AT HIS SIDE; HE BREATHS HARD FOR A FEW MOMENTS THEN GETS UP AGAIN>
<NOW SOMEWHAT TREMBLING, HE WALKS FORWARD THREE STEPS; SUDDENLY HIS HEAD SHOOTS UP AND HE TURNS AROUND>
<THE CAMERA IS FACING LASCON FROM THE PERSPECTIVE OF AN ONLOOKER, JUST A BIT BEHIND HIS LEFT SHOULDER; HE IS SITTING IN THE SINGLE TREE, WATCHING LASCON>
<THE INTRUDER IS DRAPED ALL IN BLACK; HIS FACE CANNOT BE SEEN; HE SITS ABSOLUTELY STILL IN HIS SILENCE>
Lascon: I recognize you! I saw you watching me and my grandson fighting the other day. I bet you have been watching us for some time. So what is it?! What do you want with us?! Who are you?!
<THE FIGURE DOES NOT ANSWER; INSTEAD, IT JUMPS OFF OF THE TREE AND APPROACHING LASCON>
Lascon: I'm warning you. Get back! I won't put up with you any longer! My grandson's training is none of your concern! <HE STEPS BACK AND SHOOTS A SMALL ONE HANDED ENERGY BLAST AT THE CREATURE; AT THE SAME TIME HOWEVER HE FALLS OVER, TRIPPING BACKWARDS INTO THE SNOW>
The Benefactor: You have done enough; you have seen enough. Lord Frieza doesn't want my presence known to anyone.
Lascon: Lord Frieza?! What do you mean?
The Benefactor: He wants me to deal with this problem.
Lascon: No! He would never…!
The Benefactor: <QUIVERING> Your grandson and the Prince. Lord Frieza wants them both. You will only get in the way of his goals.
Lascon: You can't do this! I'll kill you first!
<THE CREATURE GOES BACK TO BEING QUIET; IT CLAWS THE FACE OF LASCON, MAKING HIM FALL BACKWARD; LASCON FALLS INTO THE DOORWAY OF HIS HOUSE AND RETREATS A BIT FURTHER IN UNTIL THE BENEFACTOR JUMPS ON HIM AND PINS UP AGAINST A WALL; LASCON BOWS HIS HEAD, AND THEN WHEN HE LOOKS BACK UP, HE SENDS OUT AN EYE BEAM AT THE CREATURE; IT HAS NO EFFECT; WITH A GRIM LOOK, HE SLUMPS HIS SHOULDERS IN DEFEAT>
<THE CAMERA TURNS AGAIN TO BEHIND THE CREATURE, AND AS THE ALIEN MOVES FORWARD, IT COVERS THE ENTIRE SCREEN>
<THE CAMERA CUTS BACK TO LEDAS AND VEGETA>
<THE TWO OF THEM ARE STILL PLAYING IN THE SNOW; VEGETA SEEMS TO HAVE WARMED UP TO THE IDEA OF IT>
<THEY TUMBLE DOWN THROUGH SOME TREES INTO A SMALL VALLEY; THERE IS A STREAM RUNNING THROUGH THE MIDDLE OF IT; AT THE NEAR END, THERE IS A FALLEN TREE THAT IS SPANNING ACROSS IT LIKE A BRIDGE>
<VEGETA AND LEDAS JUMP ONTO IT AND CAREFULLY START TIP-TOEING ON IT>
<VEGETA, WHO IS IN FRONT, TURNS AROUND AND, WITH A GRIN ON HIS FACE, GETS IN A BATTLE STANCE; LEDAS INTERPRETS THIS CORRECTLY AND ATTACKS; THE TWO START FIGHTING, IN CLOSE COMBAT; PUNCHES AND KICKS FLY FOR SEVERAL MOMENTS; NEITHER HAS THE EDGE>
<THE TWO GET INTO A BLOW EXCHANGE ON THE TREE AND SEND FLURRIES OF PUNCHES AT ONE ANOTHER>
<AT LONG LAST, BOTH OF THEM FALL OFF AND LAND ON THE ICE; IT CRACKS AND THEY FALL IN>
<THE TWO BOYS ARE SWEPT UNDERWATER, AND WHEN THEY TRY TO RESURFACE, THE ICE IS THICK ABOVE THEIR HEADS>
<BOTH ARE TOO COLD AND WEARY TO BREAK THROUGH IT, POUNDING ON IT WITH THEIR FISTS>
<AT LONG LAST, NEARLY RUNNING OUT OF AIR UNDER THE WATER, LEDAS AND VEGETA GRASP HANDS TOGETHER AND COMBINE A GALICK GUN BLAST, TO SHOOT THROUGH THE ICE>
<IT WORKS AND BOTH COME FLYING UP AND BACK ONTO THE SNOWY TURF; BOTH COLLAPSE, EXHAUSTED; LEDAS IS SHIVERING FROM THE COLD>
<ALMOST IMMEDIATELY, LEDAS' SCOUTER GOES OFF>
<HE WEARILY GRASPS AT IT FROM THE SNOW AND PICKS IT UP; IT IS LAYEECK CALLING>
Layeeck: Ledas, are you there?
Ledas: <TIRED> Whaddizit?
Layeeck: Ledas, I need you to come meet me at your grandfather's house, immediately.
Ledas: Bu–
Layeeck: <PRESSED> Immediately.
<LEDAS PICKS UP ON HIS FATHER'S IMPORTANT TONE AND JUMPS INTO AIR; HE DASHES OFF, SPRINTING IN THE AIR>
Prince Vegeta: <WATCHES HIM GO, STILL PANTING> Bye, I guess… <HE LAYS HIS HEAD BACK DOWN AGAINST THE SNOW AND CLOSES HIS EYES, HIS ARMS BEHIND HIS HEAD, ALMOST LIKE HIS ADULT FORM WAS IN THE PREVIOUS CHAPTER>
<LEDAS SHOOTS TO HIS GRANDFATHER'S HOUSE WITH MUCH HASTE; HE LANDS, FACING HIS FATHER AT THE DOOR>
Ledas: What is it, dad?
Layeeck: <SAID MONOTONE, WITHOUT EMOTION> Your grandfather is dead. But do not lower yourself to tears. There is no place to be soft here.
<LEDAS TEARS UP, BUT DOES NOT LET LAYEECK SEE IT; BEFORE HE CAN SPEAK, LAYEECK TURNS BACK TO THE HOME>
Layeeck: The traditional Saiyan burial isn't possible here.
Ledas: <IN TEARS> But why?
Layeeck: <STILL> There's not much of him left. I can't get what's left of him out of the house… So! <BRISKLY> We will do it as we can. Stand back, Ledas. Help me give him the proper respect. And then we'll find the monster who did this to him.
<LAYEECK GATHERS HIS ENERGY AND SHOOTS OFF A HUGE BALL INTO THE HOUSE, EXPLODING IT AND CAUSING IT TO GO UP IN FLAMES>
<AT THIS TIME, LEDAS HAD SUNK TO HIS KNEES, BUT HIS FATHER RIGHTS HIM BACK UP; HE HELPS LEDAS PUT HIS OWN ARM OUT>
<LEDAS, UNDERSTANDING, LETS OFF A SMALL BLAST OF HIS OWN TO ADD TO THE FIRE; LAYEECK HELPS HIM KEEP HIS HAND STEADY; THE FIRE BURNS BRIGHTLY FOR SOME TIME AND THE TWO STAND IN SILENCE, WATCHING; NEITHER SPEAKS A WORD>
<THE SCREEN PANS BACK TO THE SINGLE TREE ON THE LEFT OVERLOOKING THE LONELY HOUSE>
<PERCHED ATOP IT, WITHIN THE SNOW ITSELF IS A BEING, DARKLY DRAPED, HIS FACE UNSEEN; AS HE WATCHES FOR SOME TIME, THE HOUSE COLLAPSES IN ON ITSELF; AS THE FIRES COOL AND ALL TURNS TO ASH BELOW, LAYEECK AND LEDAS FLY OFF>
<SEEING THIS, THE FIGURE, THE BENEFACTOR, JUMPS OFF FROM HIS TREE AND WALKS AWAY; AS HE TRUDGES THROUGH THE SNOW, HE CALLS UP HIS BOSS>
The Benefactor: <INTO HIS SCOUTER> Lord Frieza, it is done. If we take the prince and his friend now, we can eliminate the rest of the Saiyans without any suspicion.
<THE SCREEN PANS BACK TO SPACE AND SHOWS THAT MUCH OF THE ENTIRE PLANET IS COVERED IN SNOW; THE SCREEN PANS BACK FURTHER AND SHOWS FRIEZA'S SHIP HOVERING OVER THE PLANET>
<END FLASHBACK>
<FLASHBACK>
<THE CAMERA IS ON FRIEZA'S SHIP, WHICH IS HOVERING OVER PLANET VEGETA; THE PLANET IS SHOWN TO BE COVERED IN WHITE>
<INSIDE, THE HALLS ARE ABANDONED AND VERY QUIET>
<THE CAMERA MOVES DOWN THE MAIN CORRIDOR, WHICH CIRCLES AROUND INTO A ROOM, WHICH IS BARELY LIT; THE ONLY LIGHT IS A BIT SEEPING IN FROM THE HALLWAY OUTSIDE THE OPEN DOOR; ONLY FRIEZA IS IN IT; HE IS STANDING, FACING THE WINDOW, STARING DOWN AT PLANET VEGETA>
<QUIETLY, A NEW BEING ENTERS; IT IS THE BENEFACTOR; HE IS STILL CLOTHED COMPLETELY IN BLACK>
Frieza: Ah, Captain.
The Benefactor: <WALKS UP TO BEHIND FRIEZA; HE KEEPS ABOUT A 3 FOOT DISTANCE BETWEEN HIM AND HIS LORD> You called, Lord Frieza?
Frieza: Have you prepared everything?
The Benefactor: I have found quarters for the prince and his partner. Everything is ready.
Frieza: <BREATHES SLOWLY> Good. I trust the monkeys down there <HE SCOWLS AT THE PLANET> didn't give you any trouble.
The Benefactor: Only the other's grandfather suspected anything. I eliminated him. He's not a threat anymore.
Frieza: A threat? He was just a monkey, Benefactor.
The Benefactor: <UNRESTRAINED> A monkey who could have alerted the king and his entire army.
Frieza: Be that as it may, I am not ready to kill them all. I must consult with Zarbon and Dodoria first.
The Benefactor: <TURNS TO LEAVE> Very well, Lord Frieza.
Frieza: <RAISES HIS HEAD; PAUSES FOR SEVERAL SECONDS BEFORE CONTINUING> Wait. The day Zarbon and I found you, we found all but a small group of your species had been exterminated. This was before my team had even touched down. Someone on the planet had done us a great favor. We had been spared the most laborious work. <HE STARES AT THE BENEFACTOR> And I never thanked you. But Benefactor, know this: I saw potential in you that day we found you. I spared your life. <LEANS HIS HEAD BACK> Don't you see? I chose to give you a place on my ship because of your power.
The Benefactor: I don't see a question here.
Frieza: <NOW FULLY TURNS TO THE BENEFACTOR AND WALKS FORWARD TO TALK TO HIM FACE TO FACE> You and the Saiyan boys are not so different. Only it will be me, not them, who exterminates their race. Perhaps that is where you hold the edge. I do not want to see them killed, however. They are as important to me as you are. Should you do anything to them–
The Benefactor: Trying to scare me, my lord? <RAISES HIS HEAD SLOWLY, REVEALING HIS EYES> I can't feel anything.
Frieza: Can't? Or won't, Captain? <THE BENEFACTOR IS SILENT> Then you will heed my orders. One day, the boys may be as strong as you. Until then, play nice.
<CUTS TO A DIFFERENT FLASHBACK>
<TWO PODS ARE SHOWN ON THE SURFACE OF LAUTO'S PLANET; BOTH DOORS ARE OPENED; SUDDENLY ANOTHER POD LANDS; IT HAS THE NUMBER 54 ON ITS SIDE; OUT FROM IT COMES THE BENEFACTOR; HE SURVEYS THE AREA AND THE STEPS FORWARD>
<THE SCENE CUTS TO INSIDE THE CAVE; THE BENEFACTOR WATCHES A MASSIVE FIGHT – THOUGH NEITHER FIGHTER CAN BE SEEN, THEIR VARIOUS KI BLASTS CAN BE; HE IS UP ON A LEDGE ABOUT TWO STORIES ABOVE THE GROUND; HE WATCHES QUIETLY, FIXATED ON THE BATTLE BENEATH HIM>
<HE JUMPS OUT OF HIS TRANCE AS THE FIGHTING STOPS BELOW, AND HE HEARS THE VOICES OF BANAS AND GUVA SPEAKING; HE WATCHES IT ALL UNTIL GUVA KILLS BANAS>
<THEN AT GUVA'S SLUMPING UP AGAINST A WALL, THE BENEFACTOR OUTSTRETCHES HIS HANDS AND CLOSES HIS EYES; GUVA BELOW, SOMEHOW HEARS SOMETHING THAT SPOOKS HIM; EVEN IN PAIN, HE RIGHTS HIMSELF UP, IN A SLUMPED POSTURE, PEERING AROUND>
<THE BENEFACTOR INTENSIFIES HIS POWER OUTPUT, AND GUVA IS DISTURBED BY THIS; THE BENEFACTOR LOWERS HIS ARMS AND JUMPS OFF THE ROCK HE IS PERCHED ON; HE LOWERS HIMSELF TO THE GROUND AND BRINGS THE DIRT INTO HIS HANDS, FEELING IT FOR SEVERAL MOMENTS BEFORE LETTING IT ALL SLIP AWAY>
<HE STANDS UP AGAIN, IN FULLEST OF POSTURE>
The Benefactor: <ECHOING IN THE CAVE; MOUTH WIDE, WITH TEETH OUT> What are you doing here?
Guva: <TIRED> Who… who are you?!
The Benefactor: <MOVES UP TO GUVA AND PINS HIM AGAINST THE ROCK WITH A CLAWED FOOT> I will ask the questions.
<GUVA RESISTS, CREATING AN IMAGE SLASH AND SWINGING IT WILDLY AT THE BENEFACTOR; THE BENEFACTOR CATCHES IT IN HIS HANDS AND BREAKS IT, EASILY; GUVA'S EYES WIDEN IN HORROR; HE REALIZES THAT HE IS NOT STRONG ENOUGH TO STAND UP TO THE BENEFACTOR; HE SIGHS AND BOWS HIS HEAD>
Guva: I d-don't want any trouble!
The Benefactor: <QUIETLY AND DELIBERATE> Tell me your purpose.
Guva: I came here to take part in a duel.
The Benefactor: <SWIFTLY> Why here?
Guva: I-I…
The Benefactor: Speak or I slit your throat.
<GUVA APPEARS TROUBLED AND DOES NOT SPEAK FOR A MOMENT AS HE COLLECTS HIS THOUGHTS>
Guva: Very well. I am the governor of Planet Cooler 92. I authorized an expedition to this planet many years ago. A soldier of mine – a Saiyan boy – came back from here a good deal stronger. He stopped aging, too. My captain wanted me to tell him what happened… if he beat me in a duel. The truth is, I don't know what happened here.
The Benefactor: <QUIVERING> What Saiyan?
Guva: Ah, his name was Ledas. But he's gone now. I couldn't keep him on my leash.
The Benefactor: Gone where?
Guva: I…
The Benefactor: <STARTS TO CHOKE GUVA AROUND THE NECK, READYING AN ENERGY BLAST IN HIS FREE HAND> I will not make this painless if you continue to waste my time.
Guva: <WITH A CROAK> E-earth!
<THE BENEFACTOR PICKS UP GUVA AND THEN THROWS HIM AWAY INTO THE DIRT, CREATING A SMALL CRATER; GUVA IS BLOODIED AND TIRED>
The Benefactor: Clean yourself up. After you are healed, you will take me to Earth. And if you want to live, you will do this quickly.
Guva: <PANTING> Why do you want him? What use could he be to you?
The Benefactor: <SNARLS> If you want to keep your tongue, then keep it in check.
<WITH THAT, THE BENEFACTOR WALKS OUT OF SIGHT, BACK INTO THE DARKNESS; AS HE GOES, HE DROPS A SMALL COIN-SHAPED BLACK ENERGY BLAST ON THE GROUND; IT LANDS WITH A HEAVY THUD AND DOES NOT EXPLODE; GUVA SINKS BACK TO THE GROUND, STILL PANTING>
<CUTS TO A DIFFERENT FLASHBACK>
<GUVA AND THE BENEFACTOR ARE ON EARTH; IT IS EARLY IN THE MORNING; GUVA IS HEALED AND IN SPLENDID SHINING ARMOR>
The Benefactor: There are many powerful beings here. Draw them to you and stall them for as long as possible.
Guva: <SIGHS> Very well. But I don't know that I can beat them.
The Benefactor: You aren't supposed to.
<THE BENEFACTOR IS CROUCHING IN THE GRASS, LOOKING AHEAD; THIS SCENE DISSOLVES INTO THE NEXT, WHERE THE BENEFACTOR IS SITTING IN THE EXACT SAME POSITION IN THE GRASS; ONLY, THIS TIME, HE IS SITTING OVER THE DEAD BODY OF GUVA; HE IS STARING AT VEGETA AND LEDAS>
<CHIAOTZU AND TIEN ARE IN FRONT OF HIM, AND THE REST OF THE Z FIGHTERS, SANS THE DEFEATED YAMCHA IN THE CORNER, ARE BEHIND THEM>
<THE BENEFACTOR'S NEW PRESENCE HAS EVEN DRAWN THE ATTENTION OF VEGETA AND LEDAS, WHO ARE BOTH STARING JUST AS FASCINATINGLY AS THE OTHERS>
The Benefactor: <TO HIMSELF, QUIETLY> Well, we're all back. Frieza would be so proud.
Piccolo: <SUDDENLY> Who are you?
The Benefactor: <STANDS UP, WALKING FORWARD> I am here for him.
<HE POINTS TO LEDAS, CAUSING EVERYONE TO TURN THEIR HEADS TOWARDS HIM>
Ledas: <CLENCHES HIS TEETH, HIS BLACK AURA VISIBLE> You're not taking me anywhere!
Gohan: What did he do to you?
The Benefactor: <QUIETLY> He stole my energy. And I'm taking it back, even if I have to rip it from his lifeless corpse.
Ledas: <SHOUTS; GOES SUPER SAIYAN> No! I didn't take anything from you!
The Benefactor: <SO VERY ANGRY> You were there in the cave. You stepped into the light. You saw the visions. And you took all the energy without thinking about who it came from, who it belonged to. <STOPS WALKING> I know this. Your old governor sold you out.
Ledas: <REALIZING THE EVENT THE BENEFACTOR IS DESCRIBING; HE IS STILL IN SUPER SAIYAN> Oh, god! That was you?!
The Benefactor: Now you will return to me what is rightfully mine.
Ledas: <ANGER SURGING AS WELL> If you couldn't hold onto your energy, then you don't deserve it! It's not yours anymore!
The Benefactor: <IGNORES LEDAS; TO THE Z FIGHTERS> Just step aside and let me take him.
Ledas: <MORE TO HIMSELF THAN TO THE BENEFACTOR; LOOKING DOWN WITH HIS FISTS CLENCHED> I'm not going anywhere.
Tien: <FROM BEHIND> Wait! <EVERYONE TURNS AROUND TO LOOK AT HIM> Then who is that? <TIEN POINTS TO GUVA'S CORPSE>
The Benefactor: <CHUCKLES> A pawn in this game. He drew the boy to me, and now–
Tien: He hurt Chiaotzu!
Krillin: <ANGRY AS WELL> And Yamcha too! What do you have to say about that?
The Benefactor: Get out of the way and you won't end up like them.
<MOST OF THE Z FIGHTERS FLARE THEIR AURAS AT THIS, REALIZING THE BENEFACTOR IS THEIR FOE>
<TIEN GOES TO SPEAK, BUT THE BENEFACTOR SHOOTS A FINGER BEAM AT HIM, KNOCKING HIM TO THE GROUND; IT DAMAGES HIM SLIGHTLY, BUT NOT TOO MUCH>
The Benefactor: I've heard enough talk. Step aside or die like your opponent did. <THE CAMERA PANS TO GUVA'S BODY YET AGAIN>
<TIEN STANDS BACK UP LAUNCHES HIMSELF AT THE BENEFACTOR; HE YELLS WITH RIGHTEOUS ANGER; THE ALIEN LOCKS HIMSELF INTO A DEFENSIVE POSITION, READY TO TACKLE THE ENRAGED Z FIGHTER>
<WIDE ZOOM IN>
<KRILLIN JUMPS FORWARD FROM THE Z FIGHTERS' GROUP; CLEARLY, A DARK FOG CAN BE SEEN AT THEIR FEET, THOUGH NO ONE TAKES NOTICE OF IT; WHILE IT APPEARED THAT HE WAS GOING TO ATTACK THE BENEFACTOR, THIS IS NOT ACTUALLY TRUE; TIEN, HOWEVER, IS RUSHING TOWARDS THE BENEFACTOR IN THE BACKGROUND; THE CAMERA FOLLOWS KRILLIN AS HE GOES; HE LANDS BY YAMCHA'S CRUMPLED BODY; BY THIS TIME, YAMCHA IS ON HIS SIDE, FACING AWAY FROM KRILLIN; HE IS NOT MOVING, YET HE IS STILL BLEEDING; HE IS COVERED IN BLOOD>
Krillin: <KNEELS DOWN TO YAMCHA> Hey, Yamcha! Yamcha? Hey, are you there, buddy? Yamcha?!
<YAMCHA DOES NOT ANSWER>
Krillin: <TURNS BACK TO THE OTHER Z FIGHTERS, GRIMLY> He's hurt pretty bad, guys. Are you sure there aren't any senzu beans for him?
Goku: <SHAKES HIS HEAD, CONCERNED; BUT FOR SOME ODD REASON HE IS STILL MOTIONLESS> Nuh-uh. I don't have any.
Krillin: <TURNS BACK TO YAMCHA, PICKS HIM UP> Then I'll have to take him to Dende myself.
<TO HIS FAR LEFT ARE GOKU, VEGETA, AND LEDAS; LEDAS PARTICULARLY IS STARING AT THE BENEFACTOR; THE BENEFACTOR IS NOT LOOKING AT HIM; INSTEAD, HE'S FOCUSED ON TIEN; TIEN REACHES THE BENEFACTOR, AND THE BENEFACTOR STARTS BLOCKING HIS ASSAULT>
<JUST AS KRILLIN STARTS TO LEAVE, THE BENEFACTOR STUNS TIEN, AND TURNS TO FACE THE BALD MAN; THE ALIEN THROWS UP HIS HAND, FINGERS SPREAD, STOPPING KRILLIN IN MIDAIR; WITH A SMALL PUSH OF HIS HAND, KRILLIN IS BATTED DOWNWARD BY SOME UNSEEN THING AND YAMCHA IS THROWN AWAY>
<KRILLIN GETS UP AND RUNS AGAIN TO YAMCHA'S BODY, BUT HE IS STOPPED AND BROUGHT UP INTO THE AIR, ABOUT A FOOT>
<THE BENEFACTOR IS NOW FACING HIM, BOTH ARMS OUTSTRETCHED; HE HAS KRILLIN IN STASIS>
Krillin: <AGITATED> What are you doing? Can't you see my friend over there is hurt?!? I need to get him help!
The Benefactor: <TO KRILLIN> No one is leaving here.
<THE BENEFACTOR MOVES HIS HAND SWIFTLY ABOUT, IN AN ARC; IT BLOWS KRILLIN BACK INTO ROCKS BEHIND HIM; HE IS COVERED IN RUBBLE; KRILLIN DOES NOT SURFACE; AS IS USUAL ALL THE Z FIGHTERS DO THAT THING WHERE THEY MOAN IN AWE FOR LIKE 10 MINUTES>
<TIEN SUDDENLY COMES INTO VIEW, SLAMMING HIS BOOT INTO THE BENEFACTOR'S BACK; THE BENEFACTOR SHOOTS FORWARD, BUT STEADIES HIMSELF; HE RETURNS TO TIEN AND STARTS BEATING HIM, SWIFTLY AND VICIOUSLY; THE Z FIGHTERS WATCH THIS, REMAINING ON GUARD; PICCOLO AND GOHAN ARE SEETHING; THEY LOOK LIKE THEY ARE JUST ABOUT TO STEP IN AND HELP TIEN>
<THE CAMERA FOCUSES IN ON LEDAS AND VEGETA>
Ledas: It's him! He was on Frieza's ship! You have to remember. He gave us our first mission. Vegeta?
<VEGETA WATCHES LEDAS AS HE TALKS; WHEN LEDAS FINISHES, HE CLOSES HIS EYES AGAIN>
<AFTER A FEW SECONDS OF THIS, WHERE THE AIR IS STILL AND EVERYONE (SANS OUR PROTAGONIST) IS WATCHING THE BENEFACTOR, LEDAS' EYES DART UP AND NARROW; HE SUDDENLY LAUNCHES HIMSELF AT VEGETA>
Ledas: Don't you ignore me!
<VEGETA IS STILL SITTING ON THE GRASS BEHIND IN BOREDOM, HIS ARM IS ON HIS KNEE; HE IS COMPLETELY UNPREPARED BY LEDAS' SUDDEN ATTACK>
<LEDAS BARRELS INTO HIM, AND THEY BOTH TUMBLE DOWN INTO THE GRASS, LEDAS PUNCHING, VEGETA IN A DAZE OF CONFUSION; HE IS ONLY BLOCKING>
<LEDAS LANDS ON TOP OF HIM AND BATTERS VEGETA'S DEFENSE BACK AND BEGINS TO WAIL ON HIS FACE, PUNCHING AT HIM RELENTLESSLY; HIS BLACK AURA IS COVERING HIS BODY>
<WHILE MOST OF THE Z FIGHTERS ARE NOW WATCHING THE BENEFACTOR FIGHT TIEN, GOKU IS WATCHING LEDAS ATTACK VEGETA; HE QUICKLY RUNS UP TO LEDAS AND PREPARES TO DEFEND THE PRINCE>
<CUTS TO RYORI, WHO IS IN THE NEW RED RIBBON ARMY HEADQUARTERS; HE SEES A DOOR OPEN AND DUCKS BEHIND A COUCH, PISTOL DRAWN; HE PEERS AROUND THE SIDE OF IT AND SEES THE SOLDIERS, CARDINAL, GENERAL SILVER, AND CAPTAIN GREEN ENTER>
Cardinal: Here, general. <HE HANDS SILVER A BOX FULL OF SMALL CAPSULES> These should get rid of that child.
Silver: <TAKING ONE OF THE CAPSULES OUT AND EXAMINING IT CLOSELY; IT IS A BULLET> How many did your men make?
Cardinal: Oh, there's enough poison in these any one of these bullets to kill half of our population. I'm sure they will suffice.
Captain Green: Aren't you coming with us, sir?
Cardinal: <SIGHS> No, I'm not. I must go see an old friend. He's the only one who can explain why there are aliens here on Earth. <SHAKES HIS HEAD> But anyway, I expect both children to be dealt with by the time I get back. We have a duty to humanity and we must see it through. Do you understand?
Captain Green: Yes sir!
Cardinal: Excellent.
<SUPREME GENERAL SILVER HAS ALREADY POCKETED THE BULLETS AND BEGUN WALKING OFF; CARDINAL NODS TO HIM AND EXITS THROUGH A SIDE DOOR OUT OF THE CRIMSON ROOM; THE REMAINING 30 RED RIBBON ARMY SOLDIERS COME UP BEHIND CAPTAIN GREEN AND THEY ALL TROOP OUT OF THE FRONT DOOR; ONCE THE LAST OF THEM IS GONE, RYORI FOLLOWS THEM>
<RYORI SEES THE SOLDIERS LINED UP OUTSIDE; CAPTAIN GREEN WALKS DOWN THE ROAD IN FRONT OF HIS SOLDIERS AND INSPECTS THEM AS THEY LINE UP; RYORI SEES THEIR COMBAT BUS BEHIND THEM AND SNEAKS AROUND IT; HE HEARS THE SOLDIERS SPEAKING AND THEN HEARS THEIR FOOTSTEPS GETTING CLOSER; PANICKING, HE JUMPS IN THE BACK OF THE BUS, BETWEEN SOME CRATES WHERE NO ONE CAN SEE HIM; HE PEEKS OUT OF THE BACK OF IT AND WATCHES WHAT HAPPENS>
<CAPTAIN GREEN IS LEADING THE SOLDIERS RIGHT TO THE BUS IN A RIGID LINE; THEY PILE IN AROUND RYORI WITHOUT NOTICING HIM; HOWEVER, THERE IS ONE WHO DOES NOT; RYORI NOTICES THAT SILVER HAS NOT GOTTEN IN THE BUS WITH THE REST; HE HAS A MOTORCYCLE AND A SINGLE SOLDIER JUMPS ON TO DRIVE HIM>
Silver: All right, Private Wisconsin. Drive fast and smooth. I don't want to get flipped in a pothole today. My shoulder is still sore from last time.
Private Wisconsin: No worries, sir! I'll get you to the alien as quickly as possible. You can count on it.
Silver: Good. I want to kill him myself.
<THE MOTORCYCLE SPEEDS OFF WITH WISCONSIN DRIVING; THE BUS THEN FOLLOWS BEHIND, LAGGING QUITE A BIT; IN THE FAR DISTANCE, SMOKE CAN BE SEEN RISING FROM THE COUNTRYSIDE>
<CUTS BACK TO LEDAS AND VEGETA; LEDAS CONTINUES TO HIT AND PUNCH VEGETA'S FACE, WHO IS NOW PARRYING AND FIGHTING BACK; BUT CLEARY HE IS NOT POWERED UP, NOR WAS READY TO FIGHT; AND HIS STRENGTH IS, THEREFORE, MUCH LOWER THAN LEDAS'>
<LEDAS READIES A PLAYFUL GALICK, PERHAPS IN IRONY; HE RAISES BOTH HIS HANDS ABOVE HIS HEAD AND BEGINS TO FORM THE CYAN ENERGY BLAST; VEGETA LOWERS BACK HIS HEAD AND COUGHS UP BLOOD, PREPARING TO BLOCK THE ATTACK>
<RIGHT BEFORE LEDAS LOWERS AND FIRES THE BLAST INTO VEGETA'S FACE, IN CLASSIC DBZ QUASI-DRAMA, GOKU JUMPS FORWARD TO STOP HIM>
Goku: Hey! Stop, you two! This is no time to be fighting!
<LEDAS LOOKS UP, KINDA LIKE A PERSON'S CAT WOULD UPON RIPPING APART SOME VALUABLE POSSESSION, LIKE AN "OH DID I DO THAT" KINDA THING; THEN HIS FACE CONTORTS INTO A SNARL AND HE SHOOTS HIS BLAST AT GOKU; GOKU WAS UNPREPARED FOR THIS AND IS THROWN BACK; IN AN INSTANT, HE JUMPS UP, GOING SUPER SAIYAN AND JUMPS AT LEDAS>
<LEDAS KICKS HIMSELF OFF OF VEGETA AND MOVES BACK TO GOKU; HE LOOKS VERY ANIMALISTIC RIGHT NOW, WITH HIS TEETH BARED AND HIS FACE SNARLING; HIS BLACK AURA IS ALL AROUND HIM; HE PUNCHES GOKU, THOUGH THE TALLER SAIYAN DODGES HIS ATTACK; THEN GOKU TELEPORT-PUNCHES AT LEDAS; LEDAS IS HIT STRAIGHT IN THE CHEST AND FALLS BACK, PREPARING ANOTHER ENERGY BLAST; BUT GOKU IS ON HIM INSTANTLY>
<GOKU PUSHES LEDAS TO THE GROUND, PINNING HIM AND CAUSING HIM TO DISSIPATE HIS BLAST; LEDAS KICKS AT HIM, SCREAMING AND RESISTING AS BEST HE CAN; AT LAST, HE PUSHES GOKU OFF OF HIM; GOKU FALLS BACK WITH MORE FORCE THAN HE SHOULD; HE IS PANTING HEAVILY>
Goku: Wh-what's wrong? Why am I so tired?
<HE LOOKS AROUND BUT DOESN'T SEE ANYTHING; THE BLACK MIST THAT IS JUST RISING OFF THE GROUND IS PULLING AT HIS BODY, BUT IT'S SO FAINT HE DOESN'T NOTICE IT; SEEING GOKU DEFEATED, LEDAS SHOOTS AN ICE CANNON AT HIM, CAUSING HIM TO FALL INTO THE GRASS; LEDAS TURNS BACK TO VEGETA>
Ledas: Vegeta, stop acting like this! This is serious!
Goku: <FROM BEHIND, NOT GIVING UP, TIRED AS HE IS> Look, if you two have something to settle, you can do it later… right now we gotta deal with that other guy… Come on, we have to focus on this!
<HE GESTURES TO THE BENEFACTOR WHO IS FIGHTING TIEN>
Ledas: I don't want to fight him. You can do it.
Vegeta: Enough of this! <HE STANDS UP AND LOOKS AT LEDAS, SEETHING THROUGH HIS TEETH> I know you aren't real. You're a trick… something that thing <HE NODS TO THE BENEFACTOR> made up to try and fool me. Well it won't work. I know you're fake.
<LEDAS' EYES WIDEN; HE DROPS TO THE GROUND, HIS LIP TREMBLING; HIS EYES GLOSS OVER HE REVERTS TO HIS BASE FORM; IN HIS FACE IS THE LOOK OF DEFEAT; HE CAN'T BELIEVE WHAT HIS CHILDHOOD FRIEND JUST SAID; HE LOOKS DOWN AT HIS HANDS, SEEING THE BLACK AURA>
Ledas: What is this? What's happening to me? <HE LOOKS BACK UP TO VEGETA> I-I didn't mean to attack you, Vegeta… I-I don't know what's going on! There's something inside me I can't control.
Vegeta: Bah, save the talk. You're just a vision. But I am Vegeta! I am a mighty warrior! And I won't be fooled so easily!
<EVEN AS LEDAS SITS THERE, TRYING TO CONTROL HIMSELF, HIS BLACK AURA IS ONCE AGAIN OVERCOMING HIS BODY AND HIS EYES ARE SHINING GREY; HE SHAKES HIS HEAD LIKE A RABID DOG, TRYING TO STOP IT, BUT IT IS NO USE; FINALLY, LEDAS STANDS BACK UP, HIS HEAD BOWED>
Ledas: <CALM VOICE AGAIN> You think I'm not real? You think I'm not me? Then let me show you what I've got… Prince of all Saiyans. I'll show you what a real warrior is.
<THE SCREEN MOVES BEHIND HIM, TO TIEN; TIEN LOOKS LIKE HE IS ABOUT TO BE DEFEATED; PICCOLO AND GOHAN ARE NOW RACING TOWARDS HIM; GOTEN AND TRUNKS ARE AS WELL; ANDROID 18 HAS RUN TO WHERE KRILLIN LANDED; GOKU IS STRUGGLING TO GET UP AFTER BEING ATTACKED AND HE LOOKS OVER AT THE BENEFACTOR; HE DROPS BACK TO ONE KNEE, BREATHING HARD>
<SCREEN FADES IN SUDDENLY>
Tien: Let's go!
<TIEN PUNCHES AT THE BENEFACTOR AGAIN; HE IS BLOODY FROM THE POUNDING HE TOOK IN THE LAST CHAPTER, BUT UNWAVERING>
<TIEN SCREAMS AND LAUNCHES HIMSELF AT THE BENEFACTOR, WHO PLAYFULLY AND COYLY LEAPS BACKWARDS, ARMS FOLDED; CHIAOTZU ALSO LUNGES FORWARD AND BEGINS TO ATTACK AT THE BENEFACTOR, EVEN THOUGH HE IS SO WOUNDED; HE CANNOT STAND SEEING HIS FRIEND BEING HURT>
Chiaotzu: No, Tien! I won't let him hurt you!
Tien: <IN HIS MIND; AS HE IS FIGHTING> Chiaotzu?! What's he doing attacking this thing?! He'll get himself killed!
<THE THREE CONTINUE FIGHTING; THE BENEFACTOR IS NOT REALLY DOING ANYTHING BESIDES LAZILY DODGING AROUND>
<AFTER A FEW MOMENTS; THE BENEFACTOR DODGES LEFT AND SENDS OUT AN INVISIBLE PULSE INTO CHIAOTZU'S FACE; IT HITS THE LITTLE CLOWN THING FULL ON AND KNOCKS HIM BACK, BLEEDING AS HE GOES, INTO THE GRASS BEYOND>
<CHIAOTZU IS DONE>
<THE BENEFACTOR LANDS AND TIEN DOES AS WELL>
<TIEN BEGINS TO RUN FORWARD TO CHECK ON CHIAOTZU'S BODY, BUT THE BENEFACTOR USES HIS TELEKINESIS TO PICK UP CHIAOTZU FIRST AND THROW HIM INTO THE PILE OF RUBBLE WHERE YAMCHA AND KRILLIN LIE; HE THROWS HIS ARM BEHIND HIM WHEN HE DOES THIS, BUT DOES NOT MOVE HIS BODY WHILE DOING SO>
<TIEN BEGINS TO OPEN HIS MOUTH, BUT THE BENEFACTOR STOPS HIM; CLEARLY, LIKE ALL OF US, HE'S TIRED OF THIS PANIC OVER CHIAOTZU>
The Benefactor: Your turn.
Tien: I'll make you pay!
<THE BENEFACTOR LATCHES ONTO TIEN'S CHEST AND SCRAPES IT BADLY; TIEN SCREAMS AND TRIES TO PUSH HIM OFF; THE BENEFACTOR GLADLY LAUNCHES HIMSELF OFF WITH SOME ENERGY; TIEN CONTINUES TO PUNCH AND KICK AND THROW ENERGY BLASTS AROUND, BUT NONE HIT>
The Benefactor: <SPREADS OUT HIS ARMS> One, two, three. Look at me.
<THE BENEFACTOR DODGES MORE BLOWS; AND TIEN JUMPS BACK, EVEN MORE TIRED NOW; HE SHOOTS OFF A ONE HANDED DODON CLUSTER BEFORE FALLING TO ONE KNEE, PANTING AND DRIPPING WITH SWEAT; OBVIOUSLY, THE BENEFACTOR IS NOT HARMED BY HIS ATTACK>
The Benefactor: <DODGING BLOWS> Can't you see me? I would think with your special advantage… <HE LAUGHS; A RARE SIGN FROM HIM; IT SOUNDS HOLLOW, ALMOST EMPTY>
<TIEN DOES NOT MOVE; HE CONTINUES PANTING HEAVILY>
<THE BENEFACTOR OPENS HIS MOUTH AGAIN TO TALK, BUT TIEN SUDDENLY UPRIGHTS HIMSELF AND LETS OFF A YELL, FORMING A NEO TRI-BEAM IN FRONT OF HIS HANDS; HE SHOOTS IT AT THE BENEFACTOR>
<THE BENEFACTOR GOES TO BLOCK AGAIN, BUT THIS TIME THE ATTACK ACTUALLY TEARS INTO HIM, PUSHING HIM BACK>
<TIEN SENDS OFF CONTINUOUS BLASTS OF THIS FOR SEVERAL SECONDS, BUT IT DOES NOT LAST; THE BENEFACTOR REGAINS HIMSELF, READYING HIS OWN BLAST; IT IS AN UNDERHANDED SPIKE OF ENERGY; HE BRINGS IT UP OVER HIS HEAD AND THROWS IT AT TIEN>
<THE STRIKE HITS TIEN, LIKE A SPEAR, AND GOES THROUGH HIS UPPER CHEST CAVITY; THE BLAST DOES NOT DISSOLVE, BUT STAYS STUCK IN HIM; BLOOD SUDDENLY BURSTS AND RUNS OUT AROUND THE WOUND; TO THIS, TIEN SEEMS TO TAKE NO NOTICE>
<THE TWO LEAP AGAIN AT EACH OTHER AND THE BENEFACTOR DODGES AROUND BEHIND TIEN, UNDER HIM AND TO HIS BACK; HE HITS TIEN WITH A BACKHAND ON THE BACK OF HIS HEAD; THE BENEFACTOR THEN FOLLOWS IT UP WITH A TELEPORTATION TO TIEN'S FRONT-SIDE, KNEEING THE Z FIGHTER IN THE CHEST; HE THEN CLUBS DOWN ON TIEN'S BOWED HEAD AND HITS HIM INTO THE DIRT>
<TIEN IS KNOCKED UNCONSCIOUS AND UNABLE TO FIGHT ANYMORE; HE IS DONE>
<AT THIS TIME, PICCOLO AND GOHAN REACH THE BENEFACTOR; THEY LUNGE AT HIM, PUSHING HIM AWAY FROM TIEN; IN UNISON, THE TWO KNOCK HIM BACK AND SHOOT A COMBINED ENERGY BLAST AT HIM TO PREVENT HIM FROM RISING AGAIN; UNLIKE TIEN OR THE OTHERS, THESE TWO ARE ABLE TO DAMAGE THE BENEFACTOR>
Gohan: <TO THE BENEFACTOR> What's your problem? Can't you just leave us alone?
The Benefactor: <SITTING UP> None of you have any meaning to me. That one <POINTING TO LEDAS> is my only prey, Whom I hunted long… and far…
Gohan: You've hurt our friends… <GESTURES TO TIEN, YAMCHA, AND CHIAOTZU WHO ARE ALL LYING UNCONSCIOUS; KRILLIN IS PROBABLY THERE TOO, BUT HE'S HIDDEN BENEATH THE RUBBLE; OUT OF THEM, YAMCHA IS THE ONLY ONE WHO IS SERIOUSLY INJURED> We won't let you just get away with that!
<THE BENEFACTOR DOES NOT ANSWER THAT, BUT MOVES FORWARD TO FACE LEDAS; LEDAS STILL STANDS BEHIND GOKU, FACING VEGETA; HE IS MORE FOCUSED ON VEGETA THAN THE BENEFACTOR>
<BUT INTO THE BENEFACTOR'S WAY MOVES GOHAN; HE TAKES HIS BUSINESS SUIT OFF, THROWING IT AWAY SO THAT HE HAS ONLY A WHITE UNDERSHIRT ON; HE IS SCOWLING AT HIS FOE>
Gohan: I said you weren't going anywhere, creep. I'll fight you if I have to.
The Benefactor: <UNAFRAID> Try it.
<HE QUICKLY GOES SUPER SAIYAN 2; BUT SINCE HE HAS HAD HIS POWER UNLOCKED BY ELDER KAI (ULTIMATE GOHAN), HIS HAIR DOES NOT CHANGE COLOR; STILL HE IS AT HIS MAXIMUM POWER>
<PICCOLO LIKEWISE CHARGES UP, THROWING OFF HIS WEIGHTED CLOTHES AND GETS INTO A BATTLE STANCE>
<THE TWO LOOK AT EACH OTHER, NOD, AND THEN JUMP AT THE BENEFACTOR; THEY START ATTACKING HIM IN A HIGHLY COORDINATED WAY; THE BENEFACTOR IS THROWN ABOUT LIKE A RAGDOLL AS THE TWO KICK HIM INTO THE DIRT; HOWEVER, THE FOG IS GETTING LARGER, AND IT IS STARTING TO OVERTAKE THE AREA>
<GOHAN ELBOWS THE BENEFACTOR IN THE HEAD AND PICCOLO GRABS THE ALIEN'S ARMS, PULLING THEM BACK; GOHAN THEN DOUBLE-KICKS THE BENEFACTOR AND PICCOLO SHOVES HIM TO THE GROUND; IT LOOKS LIKE THEY HAVE BEATEN HIM>
<HOWEVER, AT THIS TIME, GOHAN FALLS TO ONE KNEE, BREATHING HARD; THE FOG IS NOW CLEARLY ENVELOPING>
Gohan: What's happening? I'm out of energy…
Piccolo: <HE IS PANTING HARD, STARING AT HIS HANDS> No way… we barely attacked him…
The Benefactor: Is that all? Then it's my turn.
<THE BENEFACTOR HOWLS AND JUMPS UP; HE KICKS PICCOLO IN THE HEAD, SENDING HIM FLYING INTO THE DUST; HE FOCUSES ON GOHAN, ATTACKING HIM WITH A DAMAGING FLURRY ATTACK WITH HIS CLAWS; GOHAN CRIES OUT IN PAIN AS HE TRIES TO BLOCK; IN SO DOING, GOHAN GETS HIS SKIN TORN APART; THE BENEFACTOR GRABS HIM BY THE HAIR AND YANKS HIS FACE DOWN INTO A BLAST HE PREPARED IN HIS OTHER HAND; AS GOHAN IS BLASTED BACK, THE BENEFACTOR GRABS HIS LEGS AND SLAMS HIM INTO THE GROUND; HE THEN STANDS OVER GOHAN AND BEGINS CHOKING HIM; AS HE DOES SO, PICCOLO RETURNS AND STARTS BLASTING THE ALIEN WITH WHAT LITTLE ENERGY HE HAS LEFT>
<THE BENEFACTOR STOMPS ON GOHAN AS HE STANDS UP; HE RUSHES AT PICCOLO, ELBOWING HIM IN THE STOMACH; HE TELEPORTS BEHIND THE NAMEKIAN AND KICKS HIM UPWARDS AND THEN SHOOTS AN ENERGY BLAST AFTER HIM; PICCOLO RECOVERS IN THE AIR AND TRIES TO STRETCH HIS ARM AT THE BENEFACTOR IN ORDER TO GRAB HIM, BUT THE BENEFACTOR GRABS ONTO HIS ARM AND CUTS IT OFF WITH HIS KNIFE; PICCOLO CRIES OUT; THE BENEFACTOR DASHES UP AT HIM AND KICKS HIM DEEP IN THE CHEST; PICCOLO COUGHS UP BLOOD AS THE BENEFACTOR WRAPS HIS CLAWED HAND AROUND HIS HEAD AND THEN THROWS HIM DOWN TO THE GROUND; THERE PICCOLO STUMBLES OUT OF A CRATER AND INSTANTLY COLLAPSES, DEFEATED>
<GOHAN HAS RECOVERED SLIGHTLY; BEHIND HIM ARE GOTEN AND TRUNKS; GOKU HAS RUN UP TO THEM AS WELL; BUT VEGETA AND LEDAS ARE STILL STARING DOWN ONE ANOTHER; HE CAN SEE ANDROID 18 OVER BY THE PILE OF RUBBLE WHERE TIEN, YAMCHA, AND CHIAOTZU ARE, LOOKING FOR KRILLIN; AS HE WATCHES, HE SEES GOTEN AND TRUNKS FUSE TOGETHER TO CREATE GOTENKS>
The Benefactor: Enough of this!
<HE SHOOTS ANOTHER IMPALING BEAM AT ANDROID 18; SHE DOESN'T EVEN NOTICE HIS ATTACK; IT PIERCES HER THROUGH THE LEG; SHE SCREAMS OUT FOR HALF A SECOND BEFORE HE LANDS ON HER, PUNCHING HER INTO THE DIRT; HE PINS HER TO THE GROUND, RELENTLESSLY PUNCHING HER FACE UNTIL SHE STOPS MOVING; HE THEN LOOKS UP AND IS HIT BY GOTENKS>
<GOTENKS IS ALMOST EXHAUSTED BY THE TIME THE BENEFACTOR LOOKS UP AGAIN; HE READIES SOME KIND OF ENERGY BLAST, BUT THE BENEFACTOR SWIPES IT AWAY WITH HIS TAIL; HE GRABS GOTENKS BY THE SHOULDERS AND HEADBUTTS HIM; THEN, THE BENEFACTOR SHOOTS AN ENERGY BLAST FROM EITHER HAND POINT-BLANK INTO GOTENKS' FIGURE; AT ONCE, GOTENKS THROWN TO THE GROUND; THE BENEFACTOR BRINGS BOTH ELBOWS DOWN ON HIS NECK AND THROWS HIM UP INTO THE SKY; INSTANTLY, THE BENEFACTOR TELEPORTS ABOVE GOTENKS AND KICKS HIM BACK DOWN; JUST BEFORE GOTENKS HITS THE GROUND, THE BENEFACTOR TELEPORTS AGAIN AND GRABS HIM BY THE HAIR, THEN THROWS HIM RIGHT INTO GOHAN; AS THEY TUMBLE TOGETHER, THE BENEFACTOR CREATES A LARGE BLACK ENERGY BEAM AND SHOOTS IT AT ALL OF THEM; GOTENKS INSTANTLY SEPARATES, AND AN UNCONSCIOUS GOTEN AND TRUNKS ARE THROWN TO THE DIRT; GOHAN STAGGERS UP, BARELY ABLE TO KEEP HIS EYES OPEN; HE TRIES TO FORM A KAMEHAMEHA BUT THEN COLLAPSES ON THE GROUND>
<THE BENEFACTOR KICKS HIM WHILE HE'S DOWN THEN GRABS HIM BY THE THROAT, PICKING HIM UP; AS HE HOLDS THE Z FIGHTER, THE BENEFACTOR SHOOTS A BURST OF ENERGY INTO HIS BODY WITH HIS FREE HAND; GOHAN IS NOW UNCONSCIOUS SO THE BENEFACTOR THROWS HIM TO THE SIDE>
<STANDING BEFORE THE BENEFACTOR IS GOKU, THE LAST OF THE Z FIGHTERS STILL ABLE TO FIGHT; HE IS PANTING TOO, BUT HE LOOKS AT THE BENEFACTOR WITH A FROWN>
The Benefactor: <HE WALKS PAST THOSE HE HAS DEFEATED TO GOKU> You would be wise to run.
Goku: I'm not letting a monster like you get away. I'm here to avenge my friends!
<THE BENEFACTOR PUNCHES GOKU; GOKU BLOCKS IT AND STEPS BACK; GOKU HAS SETTLED DOWN INTO BEING FOCUSED; HE SAW THAT, PERPLEXINGLY, HIS SONS AND PICCOLO WERE UNABLE TO POWER UP; HE POWERS STRAIGHT TO SUPER SAIYAN 3, BYPASSING THE FIRST TWO TRANSFORMATIONS; HIS AURA COMES UP BRIGHTLY AND PUSHES BACK THE BENEFACTOR; THE FOG IS DISINTEGRATED AROUND HIM; HE FACES THE BENEFACTOR, ALL SERIOUS-LIKE>
Goku: <IN THAT DEEP SS3 VOICE> So, how do you like this?
<THE BENEFACTOR DOES NOT ANSWER>
<CUTS BACK TO VEGETA AND LEDAS; LEDAS IS ADVANCING TOWARDS VEGETA>
Ledas: <ANGRIER THAN HE HAS EVER BEEN> What do I have to do to make you see I'm me?! I'm Ledas, Vegeta! Are you blind?
Vegeta: <UNCARING> I knew a Saiyan by that name years ago. He died with the rest of my race.
Ledas: <SPITTING; ENERGY FORMING IN HIS HANDS> I survived! Look at me! I've been spending my entire life trying to find you!
Vegeta: Pssh, you're a kid. A trick. The boy I knew would be an adult by now. So save your breath, fool.
Ledas: <ANGER BUILDING EVEN HIGHER> If you don't believe it's me… then I'll pound it into your stupid skull! <HE SCREAMS AND RETURNS TO SUPER SAIYAN> We've sparred so many times, Vegeta. You'll have to know it's me! <HE LOOKS AROUND, SERIOUSLY> And if you don't… I'll destroy this stupid planet myself.
<WITH THAT, LEDAS ATTACKS VEGETA ONCE AGAIN, IN DESPERATION AS MUCH AS ANGER>
Testament (season finale part 1)

[

edit

|

edit source

]
<WIDE BACK DROP OF THE MOUNTAINSIDE; IT PANS DOWN ONTO THE GRASS>
<FOR REFERENCE, THOSE DEFEATED EITHER BY GUVA OR THE BENEFACTOR ARE: GOHAN, GOTEN, TRUNKS, PICCOLO, ANDROID 18, KRILLIN, YAMCHA, TIEN, AND CHIAOTZU (THOUGH NONE ARE DEAD); THOSE WHO ARE STILL ABLE-BODIED ARE: VEGETA, GOKU, LEDAS, AND THE BENEFACTOR; GUVA IS DEAD>
<AT AROUND THIS TIME, KRILLIN FINALLY JUMPS UP FROM THE RUBBLE AND STUMBLES INTO VIEW>
Krillin: <IN A SLIGHTLY BROKEN VOICE AND WITH A STUMBLE> Hey… guys… I'm… I'm all right! <HE SCANS AROUND NOT SEEING THE Z FIGHTERS; HE IS PUZZLED> Hey guys? Where is everyone?
<THE CAMERA MOVES FORWARD UNTIL IT FOCUSES IN ON THE BENEFACTOR AND GOKU; THEY ARE STANDING CLOSE TO ONE ANOTHER, STARING EACH OTHER DOWN; AROUND GOKU, THE FOG HAS DISSIPATED, BUT ELSEWHERE IT STILL REMAINS; THE BENEFACTOR HEIGHTENS HIS SHOULDERS, PERCEIVING KRILLIN; HE SHOOTS A KI BLAST BEHIND HIM, TOWARDS KRILLIN, HITTING HIM; KRILLIN GOES FLYING BACK, ACROSS THE GROUND, OUT OF THE FOG>
<SATISFIED, HE SLINKS UP TO GOKU AND PUNCHES; GOKU BLOCKS; GOKU'S POWER HAS DRAINED SLIGHTLY BUT NOW THAT THE FOG IS GONE, HE APPEARS TO BE LESS TIRED; HE KICKS THE BENEFACTOR TWICE, FLIPPING THE ALIEN AROUND ON THE SECOND ONE; HE FOLLOWS THAT UP WITH A BARRAGE OF PUNCHES TO THE BENEFACTOR'S BACK>
<THE BENEFACTOR ATTEMPTS A COUNTER, BUT GOKU CATCHES HIS HAND; HE SNAPS IT BACK, FLIPPING THE ALIEN OVER; GOKU ELBOWS THE ALIEN IN THE RIBS AND THEN THROWS HIM ONTO THE GROUND; HE FOLLOWS THIS UP WITH AN ATTEMPTED KAMEHAMEHA; HOWEVER, WHEN HE TRIES THIS, IT DOESN'T WORK; THE BLUE BEAM FLICKERS FOR A SECOND BEFORE EXTINGUISHING; GOKU FALLS TO HIS KNEES, ONE HAND ON HIS SHOULDER>
<THE BENEFACTOR CHARGES AT HIM, CLAWS AHEAD, AND LASHES INTO THE SAIYAN; GOKU BLOCKS SOME OF HIS ATTACKS, BUT HE IS STILL THROWN TO THE GROUND; AS HE GOES, THE BENEFACTOR ROLLS FORWARD AND SLAPS HIM ACROSS THE FACE WITH HIS TAIL; THE BENEFACTOR PINS GOKU TO THE GROUND AND RAISES A CLAW WITH BLACK ENERGY IN IT; GOKU SUDDENLY GRABS THE BENEFACTOR'S HAND WITH HIS LEFT HAND AND THE BENEFACTOR'S THROAT WITH HIS RIGHT HAND; HOLDING THE ENERGY AT BAY, HE SQUEEZES THE VIRIDIAN THROAT WITH ALL HIS MIGHT, CHOKING THE ALIEN AND CAUSING HIM TO FALL OFF OF GOKU; GOKU STANDS BACK UP AND ATTEMPTS TO SHOOT ANOTHER ENERGY BLAST, BUT IT IMMEDIATELY EVAPORATES>
<GOKU SHAKES HIS HEAD AND TELEPORTS FORWARD AS THE BENEFACTOR CLUTCHES AT HIS THROAT; HE BRINGS HIS FOOT DOWN ON THE BENEFACTOR'S CHEST, PINNING THE CREATURE INTO A CRATER; HE LANDS NEXT TO THE HOLE IN THE GROUND LOOKING UNIMPRESSED>
Goku: Get up. Don't act like you can't.
The Benefactor: <WHEEZING> Come and get me.
<GOKU FROWNS AND PUNCHES AT THE BENEFACTOR; THE BENEFACTOR SUDDENLY SHOOTS UP AS HE DOES AND DOES A FLIP-KICK IN MID-AIR, KNOCKING GOKU INTO THE CRATER; BY THE TIME GOKU TURNS AROUND, THE BENEFACTOR IS ON HIM; THE TWO ENGAGE IN A BRIEF DUEL, WHEREIN BOTH THROW PUNCHES WITH INCREDIBLE SPEED; SHOCK WAVES GO OFF AS THEIR FISTS CONNECT, BLOWING APART THE LANDSCAPE; AFTER A MOMENT, THE FIGHTING STOPS AND THE DUST CLEARS; GOKU IS DAMAGED, WITH A BLOODY LIP AND A TORN GI; HE APPEARS VERY EXHAUSTED NOW; HE ATTEMPTS TO PUNCH AT THE BENEFACTOR AGAIN, BUT THE BENEFACTOR BLOCKS HIS PUNCH, CATCHING HIS FIST, AND TWISTS IT BACK UNTIL THE BONE BREAKS; GOKU SCREAMS AND REVERTS TO HIS BASE FORM>
<THE BENEFACTOR THROWS HIM TO THE DIRT AND HITS HIM WITH A QUICK RED ENERGY BLAST; GOKU FALLS UNCONSCIOUS; SATISFIED WITH HIS VICTORY, THE BENEFACTOR RAISES HIS HANDS TO THE AIR AND THE BLACK MIST STARTS FLYING BACK TOWARDS ITS MASTER, LADEN WITH MUCH NEW ENERGY>
<CUTS TO THE NEW RED RIBBON ARMY>
<THE BUS OF SOLDIERS AND SILVER ARE LINED UP ON A HILL OVERLOOKING WHERE THE BENEFACTOR AND THE OTHERS ARE; THEY ARE LOOKING DOWN ON IT AS THEY SET UP A FORTIFIED POSITION; RYORI SIMPLY WATCHES, HIDING UNDER SOME EQUIPMENT IN THE BUS>
<SUPREME GENERAL SILVER SIMPLY STANDS AND WATCHES THE BATTLES UNFOLDING BELOW AS THE REST OF HIS TEAM GET SET UP; WISCONSIN IS AT HIS SIDE, NEAR THE MOTORCYCLE>
Private Wisconsin: Sir?
Silver: <COLDLY> Look at how many of them there are. And we thought the boy was the only problem.
Private Wisconsin: He's still our priority, sir. If–
Silver: You don't understand anything, Private. Today begins the resurgence of the Red Ribbon Army. Today, all of humanity will know our names. We are going to kill all of those aliens. We are going to save the world. King Furry will have no choice but to recognize us as heroes. Killing that kid will just be the start. <SILVER WALKS BACK TO THE REST OF THE SOLDIERS; WISCONSIN FOLLOWS HIM LOYALLY; TO CAPTAIN GREEN> Captain, is everyone ready?
Captain Green: Aye, sir. We've lined them all up like you wanted.
Silver: Scratch that. I want men aimed at every being down there. We're taking them all out.
Captain Green: <TAKEN ABACK> Uh, are you sure? I-I don't know if we have the men for it.
Silver: Then pick up a rifle, yourself. Wisconsin and I will take out the kid. You will decide who to divide up for the rest.
Captain Green: As you wish, sir!
<THE SOLDIERS BREAK OFF OF THEIR LINES AND GROUP TOGETHER IN SEPARATE SIDES OF THE HILL; SOME ARE AIMING AT THE BENEFACTOR, SOME AT VEGETA; SOME AT THE UNCONSCIOUS Z FIGHTERS; AS THEY GET INTO POSITION, SILVER WALKS DOWN THEIR LINES AND HANDS EACH SOLDIER SOME OF THE POISONED BULLETS; HE EVENTUALLY REACHES THE END OF THE LINE, WHERE WISCONSIN IS; WISCONSIN HANDS HIM HIS SNIPER RIFLE; SILVER GLADLY TAKES IT AND LOADS THE BULLET INTO IT>
<CUTS TO A LARGE PALACE>
<THE CAMERA PANS ABOUT IT, SHOWING NUMEROUS GUARDS PATROLLING IT; AS THE CAMERA FOLLOWS THE CARPETED ROAD UP THE STAIRS TO A DOOR, YELLING CAN BE HEARD; THERE ARE GUARDS OUTSIDE OF THE DOOR, BUT THEY APPEAR UNCONCERNED>
Cardinal: <FROM INSIDE> You knew about this all along?! And you did not tell me?!
<THE CAMERA ENTERS THE ROOM, SHOWING KING FURRY SEATED BEHIND A DESK; STANDING IN FRONT OF HIM, HIS ARMS ON THE DESK, IS A LIVID CARDINAL>
King Furry: <QUIETLY> Who did you think killed Cell and Majin Buu? Hercule Satan? Please don't tell me you are that naïve, old friend. Goku and his friends have been protecting this good planet for years. They are not evil. There is nothing to fear from them.
Cardinal: I was called in to deal with one of them! He's just a boy, but I could have been killed! My son could have been killed! How could you not tell me about this?
King Furry: I don't know about that. Whoever authorized you to take out that one didn't tell me about it. It was a child, you said? <CARDINAL NODS GRAVELY> Perhaps it was one of Goku's sons, but I cannot say for certain. Best let these things run their own course. I don't want you involved any further, Cardinal.
Cardinal: I've already sent my men to go kill him. They have poisoned bullets–
King Furry: <LOUDER> Well, I would ask you take your leave then. Get in contact with your son and call it off. That is if you still want a son. <LOOKS CARDINAL IN THE EYES WITH MUCH SERIOUSNESS> There are things in this world we cannot control. Not even you or me. You have to be resigned to that fact, my friend. You have to let it go.
Cardinal: <THROUGH HIS TEETH> He killed my men.
King Furry: <SUSPICIOUSLY> But was that unprovoked? <CARDINAL DOES NOT ANSWER> Then walk away while you still can. Goku protects this planet, and he's sacrificed unimaginable things for us. The least we could do is respect him and stay out of his way. The same goes for his fellow warriors. <CARDINAL WATCHES KING FURRY WITH A DAZE; HE IS BREATHING HARD; THEN, SUDDENLY, HE TURNS AROUND TO WALK OUT> Oh, Cardinal. <CARDINAL TURNS BACK> If I were you, I'd take this as a sign to stay away from children with tails. One has already destroyed the Red Ribbon Army once, and if you aren't careful, another will do it again. This time you are in charge; you have the option to take the right move. Do so, my friend. I implore you.
<CARDINAL WALKS OUT; HE FINDS AN ISOLATED SPOT IN THE PALACE, THEN TAKES OUT HIS COMMUNICATOR>
Cardinal: Silver? Call it off. Get out of there. Do you hear me? I said leave the boy alone. You will end up dead if you pursue him further. Silver? Son?!
<THE ONLY RESPONSE HE HEARS IS STATIC>
<CUTS TO VEGETA AND LEDAS>
<LEDAS PUNCHES VEGETA ACROSS THE FACE; AS VEGETA RECOVERS, LEDAS IS ALREADY LUNGING AT HIM AGAIN; VEGETA PUSHES HIM OFF AND GOES SUPER SAIYAN; HE BLOCKS LEDAS' NEXT ATTACK, PUSHING THE BOY TO THE GROUND; INSTANTLY, LEDAS JUMPS UP AGAIN AND LUNGES AT VEGETA; VEGETA SWINGS AT HIM, BUT IT IS JUST AN AFTERIMAGE; LEDAS REAPPEARS BEHIND THE PRINCE AND FIRES A PLAYFUL GALICK INTO HIS BACK; VEGETA ROARS IN DISAPPROVAL>
<LEDAS RISES HIGHER IN THE SKY AND RAINS ENERGY DOWN ON VEGETA, TORCHING THE LANDSCAPE AND MAKING THE ADULT SAIYAN RUN FOR COVER; VEGETA LAUNCHES AN ENERGY BLAST AT LEDAS TOO, BUT THE SAVAGE BOY JUST KICKS IT ASIDE; HE THROWS A RAZOR BLAST AT VEGETA; VEGETA TRIES TO BLOCK IT, BUT IT JUST CUTS HIM, CAUSING HIS BLOCK TO FALTER; LEDAS TELEPORTS UP TO HIM AND KICKS HIM UNDER THE CHIN, SENDING THE PRINCE FLYING UP IN THE AIR; LEDAS PURSUES HIM INSTANTLY AND ELBOWS HIM DOWNWARD, FOLLOWING IT UP WITH A QUICK ONE-HANDED ICE CANNON>
<VEGETA STANDS BACK UP, LOOKING TO THE SKY FOR A HINT OF LEDAS; AS HE LOOKS, HE'S MET WITH A SHOE TO THE FACE; VEGETA TUMBLES BACKWARDS AND WILDLY GRABS FOR HIS OPPONENT; HE FINDS LEDAS' LEG, AND PULLS IT DOWN WITH HIM; AS THEY BOTH HIT THE GROUND, VEGETA ROLLS OVER ON TOP OF LEDAS; HE PINS THE BOY'S HANDS TO THE GROUND EVEN AS LEDAS STRUGGLES WITH ALL OF HIS POWER; AT THIS TIME, VEGETA GOES SUPER SAIYAN 2; SUDDENLY, VEGETA TURNS HIS ATTENTION TO HIS RIGHT SIDE; HE PEERS OFF INTO THE DISTANCE>
Vegeta: <PEERING AROUND A TREE> Kakarot's power just disappeared. How could that happen?
<LEDAS SCREAMS AND CREATES AN EXPLOSIVE WAVE, THROWING THE PRINCE OFF OF HIM; THE TWO ENGAGE IN A BLOW EXCHANGE UNTIL LEDAS BLOCKS ONE OF VEGETA'S ATTACKS, TELEPORTS BEHIND HIM, AND KICKS HIM AWAY; VEGETA STUMBLES, BUT CATCHES HIS BALANCE INSTANTLY AND PUNCHES LEDAS DEEP IN THE GUT; THEN, HE GRABS LEDAS BY THE HAIR AND THROWS THE BOY; AS LEDAS IS THROWN AWAY, VEGETA PREPARES A BIG BANG ATTACK; LEDAS SEES IT COMING, SO HE THROWS A SMALL ENERGY BLAST AT THE GROUND, WHICH PROPELS HIM UPWARDS, CAUSING HIM TO BARELY MISS THE ATTACK; HE DASHES BACK DOWN TO VEGETA, PUNCHING HIM IN THE NOSE; THE SAIYAN PRINCE STAGGERS BACKWARDS AS LEDAS CONTINUES TO PUMMEL HIM; THEN, VEGETA SEES AN OPENING AND GRABS LEDAS' ARM; HE PULLS LEDAS CLOSER TO HIM AND ELBOWS HIM IN THE CHEST>
<LEDAS GETS THE WIND KNOCKED OUT OF HIM AND COUGHS; VEGETA GRABS HIM AND PICKS HIM UP, HOLDING HIM BY THE FRONT OF HIS SHIRT; IN VEGETA'S FREE ARM IS A FORMING BALL OF ENERGY; LEDAS WATCHES HIM WITH A SCOWL; HE FORMS ENERGY IN HIS LEFT HAND>
Ledas: Don't do it, Vegeta! <HE LOOKS DOWN AT THE KYORRA FLASH HE HAS JUST FORMED> I'll blow up the planet if you try!
<TRUE TO HIS WORD, LEDAS AIMS HIS ATTACK NOT AT VEGETA, BUT AT THE GROUND>
Vegeta: What game are you playing? That would kill you too.
Ledas: <GRITTED TEETH> If this is how you're going to treat me, then why bother? We were friends, Vegeta! We grew up together! I thought that would mean something to you. But if it doesn't… then it's all over! I'm done with this!
Vegeta: I don't know what you are, but it's a trick either way. You're just a kid. Anybody I grew up with would be older. Stop trying to fool me.
Ledas: <LOUDER> I don't know why I'm not grown up! But that doesn't change that I'm me! I'm Ledas! And you care more about these stupid Earthlings than me! You're not a real Saiyan! You're soft! The Vegeta I knew is dead!
Vegeta: I am the Prince of all Saiyans! How dare you–
Ledas: <HIS BLACK AURA FLARES UP AND HIS EYES BECOME DARKER; HE LOOKS BACK TO THE GROUND; THEN, HIS AURA EVAPORATES AND HIS WILD FACE GIVES WAY TO HIS MORE NORMAL CALM ONE; HIS EYES ARE WIDE> I spent my entire life since we were separated trying to find you. It looks like it's all been a big waste of time. <HE LOOKS BACK UP TO VEGETA WITH TEARS IN HIS EYES> I didn't think it would end like this.
<AS LEDAS GOES TO RELEASE HIS BLAST AND DESTROY THE EARTH, A THUD SOUNDS BEHIND HIM; IT IS THE BENEFACTOR>
The Benefactor: Prince of all Saiyans.
Vegeta: <SPINS AROUND> Wha–
<CUE Solitude>
<VEGETA SUDDENLY DROPS LEDAS; THE BOY'S VISION GOES RED AND HE FALLS ONTO ALL FOURS; HIS KYORRA FLASH DISSIPATES; LEDAS SHAKES HIS HEAD TO GET RID OF THE REDNESS, BUT THIS IS NO IMAGE; HIS EYESIGHT STILL RED, HE SEES THE FIGURES APPROACH HIM; THE UNCONTROLLABLE FEAR HE HAD FIRST FELT AROUND THE BENEFACTOR IS AROUND HIM NOW, AND HE CANNOT SO MUCH AS LIFT AN ARM TO DEFEND HIMSELF>
<UP AHEAD, HE SEES VEGETA WITH AN ENERGY BLAST IN HIS HAND; HE IS FACING THE BENEFACTOR, PREPARING TO FIGHT; THE BENEFACTOR GRABS THE PRINCE'S SHOULDERS WITH ONE HAND, AND WITH THE OTHER TAKES HIS KNIFE AND STABS VEGETA, UNDER HIS LOWER JAW, UP INTO HIS MOUTH>
<LEDAS WATCHES FOR A SECOND, HIS MOUTH TREMBLING; THEN, HE SCREAMS, BUT HE CANNOT HEAR HIS OWN VOICE; DESPITE HIS EARLIER DISDAINFUL WORDS TO VEGETA, HE CAN'T HELP BUT GET EMOTIONAL SEEING HIM HURT; VEGETA STAGGERS BACK, DROPPING HIS BLAST TO THE GROUND AND CREATING A HUGE EXPLOSION FROM IT>
<THE BENEFACTOR TWISTS HIS KNIFE, RAMMING IT WELL ENOUGH; BLOOD POURS OUT; HE PULLS THE KNIFE OUT OF VEGETA AND LETS THE SAIYAN FALL; HE TURNS AND LOOKS AT LEDAS, THE SMALL BOY, HELPLESS ON THE GROUND, NOW WITHOUT HIS GREATEST FRIEND TO STOP THIS MONSTER; HE LOOKS DOWN AT HIS HANDS, AS IF HE DOES NOT UNDERSTAND WHAT MADE HIM ACT THE WAY HE DID BEFORE>
<LEDAS ATTEMPT TO STAND UP, BUT AS HE DOES, HE FEELS SOMETHING HIT HIM IN THE NECK; HE FALLS BACK AND REACHES TOWARDS HIS NECK, PULLING AWAY THE WRECKAGE OF A BULLET; WHILE IT DID NOT PIERCE HIS SKIN (HE'S A SAIYAN, YO), THE BULLET EXPLODED, RELEASING SOME KIND OF LIQUID ON HIS NECK; LEDAS' VISION BECOMES DARK AND HE STARES UP AT THE SKY, BREATHING HEAVILY; ALL HE CAN HEAR IS HIS BREATHING; THEN, THE FIGURE OF THE BENEFACTOR STEPS INTO HIS VISION AND IT ALL GOES DARK>
<END OF Solitude>
Make Me (season finale part 2)

[

edit

|

edit source

]
<THE CAMERA FOCUSES ON THE PLACE WHERE THE Z FIGHTERS HAVE FALLEN; OUT OF THE DUST COMES KRILLIN, STAGGERING AND BRUISED; HE LOOKS AROUND WITH WINCING EYES UNTIL HE SPOTS HIS WIFE, ANDROID 18, IN THE DIRT JUST AHEAD OF HIM; SHE IS UNCONSCIOUS AND WOUNDED>
Krillin: 18! <HE RUSHES OVER TO HER> S-she's breathing, that's good. <HE LOOKS UP> Goku? Gohan? Piccolo? W-what happened to you guys?! <HE RUNS UP TO THEM, ONLY TO FIND THEM IN THE SAME STATE AS 18> Senzu beans… I have to get everyone senzu beans. Wait, Goku said there weren't any. <A MILLION IDEAS FLY THROUGH HIS EYES> Dende! I'll go get Dende. <HE RUNS BACK TO 18, KNEELING DOWN TO HER> Stay right here, 18. I'm going to get help. I'll be right back, I promise. D-don't worry about anything.
<WITH THAT, KRILLIN TAKES OFF TO THE LOOKOUT>
<CAMERA MOVES TO KORIN TOWER; IT IS ALMOST SUNSET>
Korin: Hey! Princess! Wake up!
Yajirobe: <SLEEPING SOME FEET AWAY FROM KORIN; HE MUMBLES SOMETHING INCOHERENT> I was sleeping, you stupid cat!
Korin: <IGNORING HIM; THROWS A SMALL POUCH AT YAJIROBE, MUCH LIKE THE ONE HE THREW TO LEDAS IN THE PREVIOUS SAGA> Take these senzu beans to Goku. They just sprouted a few minutes ago. Knowing Goku, he'll probably need a couple by now.
Yajirobe: <GRUMPILY BRUSHES IT AWAY> No way man. Do it yourself!
<KORIN LUNGES AT YAJIROBE; HE HITS THE SAMURAI ACROSS THE HEAD WITH HIS STICK>
Yajirobe: Ow!! What was that for?!?!
Korin: <QUICKLY> Don't be disrespectful.
<YAJIROBE ROLLS BACK OVER, TRYING TO GO BACK TO SLEEP>
Yajirobe: Hey, if Goku wants to get himself killed, that's his problem. It's not my fault he gets all hurt every time he fights. I mean, come on. He's the greatest fighter in the universe. He shouldn't get any help. I'm not saving him!
<WITH THAT, YAJIROBE CLOSES HIS EYES AND TRIES TO SLEEP>
Korin: <KIND OF A LONG PAUSE BEFORE HE SPEAKS> That's nice.
Yajirobe: <OPENS ONE EYE; IN RAGE, HE THROWS HIS PILLOW AT KORIN, WHO LOFTILY JUMPS OVER IT> Shut up!
Korin: <WITH AN AIR OF CONTEMPT; SUBTLE SARCASM> Well if you aren't gonna give them the beans, you may as well go help them fight.
Yajirobe: <SITS UP> Whatever. I could beat up any of those guys Goku fights. <HE CROSSES HIS ARMS, TURNS HIS HEAD LEFT, AWAY FROM KORIN> I just choose not to.
Korin: <NOW WITH MORE CONTEMPT> You must be big and strong from all that hard training of yours, right?
Yajirobe: Bah!
<YAJIROBE GETS UP, SCRATCHING HIS HEAD, STILL TIRED; HE WALKS TO THEIR REFRIGERATOR AND OPENS THE DOOR, PEEKING IN>
Yajirobe: <SUDDENLY, WITH ENERGY> Where's all my food?!
Korin: <JUMPS BACK UP ON THE RAILING OF THE TOWER; HE IS FACING YAJIROBE> Hehehehehehe.
Yajirobe: <IN A GROWL> You stupid cat! You ate all my food! <THROWS SOMETHING> You don't even have to eat!
Korin: <PLAINLY> Get yourself some food after you give Goku those senzu beans. <IN SARCASM> The faster you go, the faster you can fill your belly!
<YAJIROBE MUMBLES AGAIN, IN A CHORUS OF "STUPID CATS" AND OTHER UNMENTIONABLE THINGS; HE PICKS UP THE POUCH OF SENZU BEANS AND TAKES OUT A CAPSULE; HE THROWS IT AND IT FORMS INTO A CAR>
<TO CLARIFY, THIS CAR IS BLUE, AND IS DIFFERENT FROM THE ONE THAT LEDAS DESTROYED THE SAGA BEFORE; INDEED, YAJIROBE (OR KORIN, DEPENDING ON HOW YOU SEE IT) DOES HAVE SEVERAL CARS; SHOCKER, I KNOW>
<AT THIS TIME, KORIN MOVES SUPER FAST AND THROWS SOMETHING INTO THE CAR; THE CAMERA IS NOT FAST ENOUGH TO SEE WHAT IT IS, AND YAJIROBE ISN'T AWAKE ENOUGH TO NOTICE IT>
<KORIN RETURNS TO HIS PERCH AS IF NOTHING HAS HAPPENED, HOWEVER NOW HE HAS A VAST GRIN ON HIS FACE>
<YAJIROBE JUMPS INTO IT AND SPEEDS AWAY>
<CUTS TO LEDAS>
<HE IS BEING HELD BY THE BENEFACTOR; HE STARTS TO STRUGGLE AGAINST THE CREATURE; AS HIS VISION RETURNS TO HIM MORE – EVEN AS IT REMAINS SLIGHTLY RED – HE SEES THE BENEFACTOR IS HOLDING HIM BY THE NECK; INSTINCTIVELY, LEDAS CREATES AN ENERGY BLAST IN EITHER HAND; A KYORRA FLASH IN HIS LEFT AND AN ICE CANNON IN HIS RIGHT; HE SHOOTS THEM AT THE BENEFACTOR'S HEAD, CAUSING THE CREATURE TO DROP HIM>
<HE SITS ON THE GROUND FOR A MOMENT, SIMPLY WATCHING THE BENEFACTOR ON THE GROUND, ROLLING IN PAIN WHEN HE FEELS ANOTHER STING ON HIS NECK; HE REACHES DOWN AND FEELS THE CRUMBLED METAL OF A BULLET; HE FEELS HIS NECK AND NOTICES THAT THERE'S SOME LIQUID ON IT; WHEN HE PULLS HIS HAND AWAY, HE SEES SOMETHING GREEN DRIPPING FROM IT; IN AN INSTANT, THE PAIN THAT THE POISON BRINGS COMES TO LEDAS AND HE HOWLS OUT IN PAIN, DROPPING HIS HEAD TO THE TURF AND POUNDING HIS HANDS AGAINST THE GROUND; A RASH FORMS ON THE SKIN WHERE THE POISON HAS TOUCHED HIM, AND IT BURNS>
<HE TURNS HIS HEAD TO WHERE THE BULLETS CAME FROM, AND ON THE FAR HILL HE CAN SENSE A GROUP OF HUMANS; ANGRILY, HE THROWS HIS HAND OUT TOWARDS THEM, SENDING AN INVISIBLE BLAST THEIR WAY; THEN, LEDAS ROLLS ONTO HIS STOMACH AND PULLS OUT THE POUCH OF SENZU BEANS; HE DUMPS THEIR CONTENTS ONTO HIS OUTSTRETCHED PALM ONLY TO WATCH A SINGLE BEAN FALL OUT; JUST AS HE'S ABOUT TO EAT IT, HE SEES THE FIGURE OF VEGETA JUST AHEAD OF HIM; THE SAIYAN PRINCE IS LYING IN A POOL OF HIS OWN BLOOD, THOUGH HIS CHEST IS STILL HEAVING>
<LEDAS CRAWLS OVER TO HIM, CRYING OUT IN PAIN AS HE GOES; UPON REACHING VEGETA, HE SEES THE SAIYAN PRINCE HOLDING HIS WOUND AND TRYING TO BREATHE – ALTHOUGH HE'S NOT TOO SUCCESSFUL ON THAT VENTURE; VEGETA'S EYES STARE UP AT LEDAS, HOPELESS AND SEEING DEATH; LEDAS SITS THERE FOR A MOMENT AS HE WINCES MORE AND MORE; FINALLY, MUSTERING UP ALL OF HIS QUICKLY SAPPED STRENGTH, LEDAS BREAKS THE BEAN IN TWO AND SHOVES VEGETA'S HALF DOWN THE PRINCE'S BLOOD-COATED THROAT; THEN, HE EATS HIS OWN HALF>
<BEHIND THEM, THE COUNTRYSIDE EXPLODES AND THE NEW RED RIBBON ARMY IS DECIMATED>
Ledas: <WINCING, AS HALF A BEAN ONLY HEALS HIM PARTIALLY> V-vegeta…
Vegeta: <SITS UP, LOOKING AT LEDAS CAUTIOUSLY> You could have killed me there.
Ledas: I'm not with that other guy. And I'm not a trick. I'm just… me. <HE LOOKS DOWN AT HIS HANDS; THE BLACK AURA IS FAINTLY AROUND HIM> I don't know what's going on with me, but I can't control it. But deep down inside, I couldn't let you die. Even with all I'm feeling. <HE LOOKS BACK AND SEES THE BENEFACTOR IS GETTING UP; HE STANDS UP; LEDAS POINTS TO HIM> He's responsible for all of this! He's the one who's doing this to me. And he wants to kill me, Vegeta. But I'm not gonna let him. <LEDAS TURNS TO FACE THE BENEFACTOR; TO HIMSELF, THOUGH VEGETA HEARS HIM> Saiyans don't run from fights. <TO THE BENEFACTOR> Well come on then.
The Benefactor: <COOLLY; ON APPROACH> You will give me back that energy you stole.
Ledas: <DEFIANTLY> Make me. <HE LOCKS DOWN INTO A DEFENSIVE STANCE> It's my energy now. You were weak to let it go.
The Benefactor: Why do you resist? That energy is damaging your mental stability. Mere moments ago, I watched as you fought that old prince and swore you would destroy the planet. You hated him. And then you saved him. <PAUSES> You think he's soft for living with the Earthlings, but have you not done so as well? It seems you don't know what you are. But you are a fool to keep with this madness.
Ledas: Shut up and die! <LEDAS CHARGES UP TO THE MAXIMUM LEVEL HE CAN MUSTER> You're the problem, not me!
The Benefactor: Being so close to its master, my energy inside you has come alive, dominating your every thought, corrupting your every action. And though you try to resist, it will overcome you eventually. Why not give it back? Allow yourself to return to your own ways? Let this quarrel end now.
Ledas: You would kill me if I did. I won't let you!
The Benefactor: All I require is what is mine. I will take it and leave, and you may continue your life. As long as I am near, the energy which is inside you will betray you.
Ledas: Then I'll kill you first. That will solve everything.
The Benefactor: So be it.
<THE BENEFACTOR SHOOTS A BLACK ENERGY BLAST AT LEDAS; LEDAS SHOOTS HIS OWN PLAYFUL GALICK BACK AT IT, STAVING THE BEAM OFF FOR A SECOND; THE BENEFACTOR'S ATTACK QUICKLY DOMINATES LEDAS' AND LEDAS HAS TO JUMP OUT OF THE WAY JUST BEFORE HE LOSES THE STRUGGLE; HE JUMPS IN THE AIR AND BRINGS HIS FOOT DOWN ON THE BENEFACTOR'S HEAD; THE BENEFACTOR PUSHES HIM AWAY AND SHOOTS A STREAM OF RED ENERGY AFTER HIM, WHICH CUTS HIS BODY; LEDAS' CRIES ARE MUFFLED BY THE BENEFACTOR'S SWIFT BACK SLAP ACROSS THE SAIYAN'S FACE; LEDAS RECOVERS AND SHOOTS AN UNRELENTING ENERGY BURST AT HIS FOE; THE BENEFACTOR RETREATS AT THIS, ALLOWING LEDAS A MOMENT TO BREATHE>
<THE SAIYAN BOY CHARGES AT THE BENEFACTOR; JUST BEFORE HE REACHES THE ALIEN, HE SPLITS INTO SEVEN FORMS, ALL OF WHICH READY AN IMAGE SLASH IN THEIR RIGHT HANDS; THE BENEFACTOR GOES TO DODGE A PARTICULAR ONE WHEN ALL SEVEN BLADES COME DOWN; HE GUESSES INCORRECTLY AND SIX OF THE BLADES HIT HIM, CUTTING DEEP THROUGH HIS CLOAK INTO HIS SKIN; HE HISSES AND RELEASES A PULSE OF ENERGY TO DESTROY THE FAKE SAIYANS AROUND HIM; THE REAL LEDAS GOES TUMBLING BACK, ALLOWING FOR THE BENEFACTOR TO JUMP AT HIM, BUT AGAIN THIS IS ONLY AN AFTERIMAGE; BEHIND HIM, LEDAS KICKS THE ALIEN'S FEET OUT FROM UNDER HIM AND PUNCHES HIM INTO THE DIRT; SO VICIOUS ARE LEDAS' PUNCHES THAT EVERY SINGLE ONE SENDS THE BENEFACTOR FLYING BACK SEVERAL FEET; AS LEDAS CONTINUES TO PUNCH THE BENEFACTOR, HE TELEPORTS IN FRONT OF THE BENEFACTOR'S TRAJECTORY AND SHOOTS A KYORRA FLASH AT HIM; HOWEVER, THE BENEFACTOR BATS THE BLAST ASIDE, REGAINING HIS FOOTING; HE SHOVES A CLAW INTO LEDAS' CHEST, RIPPING AWAY THE CLOTHES AND SKIN AND THEN IMMEDIATELY SHOOTS A SMALL BLAST (WITH THE SAME HAND), WHICH KNOCKS THE SAIYAN OVER; AS LEDAS STAGGERS TO GET UP, THE BENEFACTOR PLACES HIS HANDS TOGETHER, LEAVING A TRIANGLE SPACE BETWEEN THEM AND FIRES OFF A RED BEAM; LEDAS IS HIT WITH IT AND DOES NOT GET UP>
<THE BENEFACTOR STEPS OVER HIM AND PLACES A HAND ON LEDAS' HEAD; LEDAS STRUGGLES, TRYING HIS HARDEST, BUT THE BENEFACTOR SLAMS HIS HEAD REPEATEDLY INTO THE GROUND; LEDAS TRIES SEVERAL FINGER BEAMS WITH BOTH HANDS, BUT THEY ONLY GRAZE THE BENEFACTOR'S ARMS; WITH A LAST POWERFUL PUNCH, THE BENEFACTOR HITS LEDAS IN THE FACE AND KNOCKS HIM UNCONSCIOUS, CONCUSSING HIM IN THE PROCESS; LEDAS FALLS LIMP AS THE BENEFACTOR PLACES HIS ARMS OUT AND PREPARES TO RIP THE ENERGY FROM THE BOY'S BODY>
<CUE Strength of a Thousand Men>
<THE BENEFACTOR IS SUDDENLY THROWN FORWARD INTO THE DIRT; HE REELS AROUND AND SEES VEGETA STANDING WITH A LOOK OF HATRED ON HIS FACE>
Vegeta: You're going to pay for that, freak!
<VEGETA THRUSTS OUT HIS ARMS AND HE QUICKLY ASCENDS TO SUPER SAIYAN 2; HE STARTS SCREAMING AND THE GROUND SPLINTERS AND EXPLODES AROUND HIM; LIGHTNING FLASHES AROUND HIM AS HE SLOWLY WALKS UP TO THE BENEFACTOR; THE BENEFACTOR STANDS UP AND ANGRILY SHOOTS AN ENERGY ATTACK AT VEGETA, BUT IT SIMPLY DISINTEGRATES IN VEGETA'S AURA; HE KICKS THE BENEFACTOR AWAY>
<Strength of a Thousand Men REACHES 0:45 NOW>
Vegeta: I'll show you the true power of a Saiyan!
<VEGETA'S AURA EXPLODES IN BLINDING WHITE LIGHT; A LARGE GUST OF WIND PICKS UP, THROWING LEDAS' UNCONSCIOUS BODY AWAY; THE BENEFACTOR STRUGGLES TO SHIELD HIS FACE WHEN VEGETA COMES ROARING THROUGH AND PUNCHES HIM ACROSS THE FACE; THE BENEFACTOR CAN SEE VEGETA'S HAIR HAS CHANGED; IT IS NOW LONG LIKE GOKU'S HAD BEEN, ALTHOUGH VEGETA DOES NOT APPEAR TO HAVE THE FATIGUE THAT GOKU DID; AS THE BENEFACTOR RECOILS, VEGETA BASHES HIM WITH PUNCHES AND KICKS, NONE OF WHICH THE BENEFACTOR CAN BLOCK>
<VEGETA GRABS THE BENEFACTOR AND SHOVES A PURPLE BALL OF ENERGY INTO HIS FACE, CAUSING THE ALIEN TO BE FLUNG INTO THE AIR; THE BENEFACTOR RETALIATES BY FIRING A GROUP OF ENERGY BLASTS; VEGETA EASILY BLOCKS THESE AND TELEPORTS UP TO THE BENEFACTOR, PUMMELING HIM AROUND IN THE AIR UNTIL THE BENEFACTOR IS ABLE TO DODGE OUT OF THE WAY; THE BENEFACTOR CHARGES UP TO MAXIMUM, HIMSELF, THEN DASHES AT VEGETA; VEGETA DASHES AT HIM
<THE BENEFACTOR ATTEMPTS TO ELBOW VEGETA, BUT VEGETA CATCHES HIM, AND TWISTS IT; THE TWO ERRUPT INTO A BLOW EXCHANGE WITH EACH PUNCH AND KICK CREATING A SONIC BOOM; AS NEITHER SIDE YIELDS, THE BENEFACTOR TAKES HIS KNIFE, WITH HIS OTHER HAND, AND SPINS THE OTHER WAY, AND CUTS VEGETA ACROSS THE FACE WITH IT; VEGETA LETS GO OF THE ALIEN AND SHOOTS A ONE-HANDED ENERGY WAVE VOLLEY, WHICH THE BENEFACTOR BLOCKS>
<THEN, FROM ABOVE COMES VEGETA; HE KICKS DOWN, SENDING THE BENEFACTOR INTO THE GRASS BELOW; HE GRITS HIS TEETH, CREATING A MAXIMUM FLASHER; HE SENDS IT DOWN AFTER THE BENEFACTOR; THE ALIEN JUMPS OUT OF THE WAY, BUT HE IS STILL THROWN BY THE EXPLOSION THAT THE BLAST'S IMPACT GENERATES>
<VEGETA LANDS AND HITS THE BENEFACTOR OVER THE HEAD WITH HIS ELBOW; EVEN AS HE DOES SO, HIS SAME HAND HOLDS ENERGY AND HE FIRES IT DEEP INTO THE GUT OF THE BENEFACTOR; VEGETA TELEPORTS BEHIND THE BENEFACTOR AND SWIPES HIS FEET OUT FROM UNDER HIM, WHILE NOT EVEN FACING THE ALIEN; AS THE BENEFACTOR FALLS, VEGETA TWISTS TO HIS RIGHT AND PUNCHES THE CREATURE; THE BENEFACTOR FLIPS UP, CLAWING AT VEGETA AS HE GOES>
<THEY ARE BOTH QUIET FOR A MOMENT ONCE THE BENEFACTOR LANDS, JUST LOOKING AT ONE ANOTHER; THEN, IN UNISON, THE TWO READY THEIR STRONGEST BEAMS AND FIRE THEM AT ONE ANOTHER; FOR THE BENEFACTOR, IT IS HIS RED WIND, A RED BLAST; FOR VEGETA, IT IS HIS FINAL FLASH ATTACK, A YELLOW BLAST; THE TWO BEAMS OF ENERGY SHOOT TOWARDS ONE ANOTHER, CLASHING AND COVERING THE SCREEN IN WHITE>
<CUTS TO THE NEW RED RIBBON ARMY>
<IT IS DARK; THE HILL IS TORN APART; BODY PARTS OF MEN LIE AROUND, SUPPLIES ARE LYING DAMAGED AND BLOWN APART, AND THE TRUCK IS ON ITS SIDE; NOTHING MOVES FOR A LONG WHILE UNTIL RUSTLING CAN BE HEARD FROM INSIDE THE TRUCK; OUT FROM IT COMES RYORI IN HIS DIRTY CLOTHES; A STREAK OF BLOOD IS RUNNING DOWN FROM HIS FOREHEAD AND HE HOLDS DEWBERRY'S PISTOL IN HIS HAND; HE WALKS PAST BODIES OF MEN WHEN HE HEARS NOISE UP AHEAD; DRAWING THE PISTOL UP TO HIS EYES, HE MOVES FORWARD>
<UP AHEAD HE SEES SUPREME GENERAL SILVER ON THE GROUND; IN HIS LEG IS A LARGE SPLINTER OF WOOD OR METAL WHICH IS PREVENTING HIM FROM STANDING; HE IS BLEEDING; NEAR HIM IS PRIVATE WISCONSIN, WHO IS ALSO BLOODY FROM THE LIGHTNING STRIKE; HE IS PINNED UNDER THE MOTORCYCLE AND APPEARS TO BE EITHER UNCONSCIOUS OR DEAD>
Silver: Private! Wake up! Private! I order you to wake up! Help me! Don't ignore me! Private! <RYORI WALKS UP TO HIM, SOLEMNLY; SILVER NOTICES HIM> Y-you?! What? Impossible! How are you here, kid?
Ryori: You killed my brother.
Silver: I–
<RYORI RAISES HIS PISTOL AND PUTS A BULLET THROUGH SILVER'S HEAD; THE SHOT ECHOES FOR A WHILE AND THEN FADES OUT; SILVER'S BLOOD BEGINS POOLING AT RYORI'S FEET BEFORE HE GOES TO WALK OFF>
<THE CAMERA PANS BACK, SHOWING THE VAST DEVASTATION OF THE NEW RED RIBBON ARMY'S LAST STAND; THE CAMERA SHOWS WHERE THE Z FIGHTERS ARE STILL LYING UNCONSCIOUS, GUVA'S DEAD BODY, AND EVEN LEDAS' STILL UNCONSCIOUS BODY; THERE IS NO SIGN OF VEGETA OR THE BENEFACTOR; INSTEAD, LARGE CRATERS AND DEEP GASHES IN THE EARTH ARE SCATTERED OVER THE LAND – NONE OF WHICH WERE THERE A FEW HOURS AGO>
<THE CAMERA FOCUSES IN ON LEDAS' FIGURE AND THEN HIS HAND, WHICH IS LYING OUTSTRETCHED; THE SCREEN MATERIALIZES TO ANOTHER PLACE, WHERE IT IS NIGHT AS WELL; LEDAS' HAND IS IN THE SAME POSITION; SUDDENLY ANOTHER HAND GRABS IT; THE CAMERA PANS BACK, SHOWING VEGETA HELPING HIS FRIEND STAND UP; THE PLANET IS SMOLDERING AND THERE ARE BODIES EVERYWHERE; BOTH SAIYANS ARE WEARING PLANET TRADE ORGANIZATION ARMOR AND APPEAR TO BE THE SAME AGE AS IN THE FIRST SAGA; THIS IS OBVIOUSLY A FLASHBACK>
Ledas: This one didn't take long.
Prince Vegeta: Of course not. We're Super Saiyans.
Ledas: <SCRATCHING THE BACK OF HIS HEAD, CHUCKLING> Wewll, not yet…
Prince Vegeta: But soon. I can feel it. <HE LOOKS UP TO THE SKY AND LEDAS DOES AS WELL; THERE ARE NUMEROUS STARS UP THERE> Once we are, all of that will be ours. Frieza's pathetic empire won't be half the size of ours! We'll be unstoppable. No one will stand up to us!
Ledas: Do you really think we'll be great warriors one day, Vegeta? The kind people tell stories about?
<CLOSEUP SHOT ON THE PRINCE; VEGETA SMIRKS>
Prince Vegeta: I'd bet my life on it. Look how strong we already are. Most of Frieza's best soldiers aren't even this good. And we're still kids. It's crazy. I mean, who could have it better than us?
Ledas: <LAUGH> Nobody!
<THE CAMERA PANS BACK, SHOWING THE TWO BOYS WATCHING THE STARS AND LAUGHING AS THE SCREEN SLOWLY FADES TO BLACK>
<END REUNION SAGA>
Cue Great Spirits. Credits roll during this time.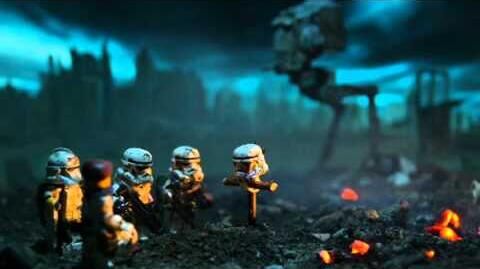 For feedback, or general thoughts about this saga, please leave comments on the Reunion Saga completed! page. That's the place that I'm most likely to see your comments about this saga.
Not counting the Outbreak special, this saga is the only time where The Benefactor's face is shown. Although even then, it's only in a flashback to his childhood.
This saga is tied with the Lauto Saga and the Stomping Grounds Saga for the largest number of main villains, with four.
This saga is by far the shortest in terms of the timeline. Not counting the flashbacks, it spans only one day.
In "They Call Me Yamcha", Ledas is only seen in a single barely-two-line paragraph. This is the smallest role that Ledas plays in any chapter he is present in in the entirety of The Forgotten.
This saga features the following swear words: "bastard", one time; "damn", two times.
Community content is available under
CC-BY-SA
unless otherwise noted.