The information on this page, Raimie, is not up-to-date and is subject to change. This may due to the page either being tied to a story of KidVegeta's that's on hiatus, or that the story this page is tied to is not written yet. The information on this page is not canon to KidVegeta's Universe, though it will be once this banner is removed. As long as this banner remains on this page, this page is not up-to-date.
Raimie (ライミ, Raime) is the second child of Cooler and the twin of Haimaru. She was born not long before her father was killed, and she was, along with her brother Haimaru, raised on Ipha, the moon of The Stomping Grounds. During the Planet Trade Organization civil war, she and her brother were targeted by rogue Faereth and assumed to have been killed when Ipha was destroyed, although it is later revealed that they both escaped with the help of Admiral Nectarian.
She is featured as a minor character in The History of the Decline and Fall of the Planet Trade Organization, and is one of the protagonists of Dragon Ball: Heart of the Dragon.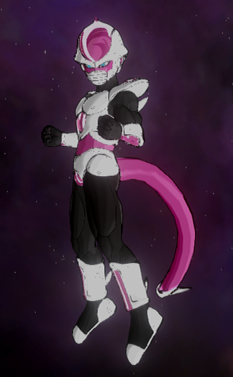 Like all Arcosians, Raimie's name is a pun on something cold. Her name is a pun on the word "rimy".
Community content is available under
CC-BY-SA
unless otherwise noted.