This article, Oolong (Xz), is the property of dark TRUNKS.

Oolong is a character in the Dragonball Xz series. He was a animal-type Earthling that later became a Demon. He ruled over HFIL until his defeat
Biography
[
]
Background
[
]
Oolong was born from a village of perverted pigs and got kicked out of kindergarden before meeting Puar in shapeshifting school. He later conned people into gettiong a mansion where he harassed the villagers and kidnapping women.
In Dragonball, Goku defeats Oolong and they become fr5iends. Along the way, he meets his old 'friend' Puar and defeats Emperor Pilaf with a wish for panties. After Goku wins Fortuneteller Baba's tournament, he later encounters Devilman, he introduces him to HFIL and Demons.
In Dragonball Z, he continues to hang out at Fortuneteller Baba's sometimes, where he watched the fight against the Saiyans. He otherwise moves in with Master Roshi at Kame House. He's later eaten by Super BVuu anbd revived. During this time, he was likely busy becoming a Demon.
In Dragonball GT, he left Earth to go to the new Tuffle Planet before returning after the Black Star Dragonball threat was taken care of. During this time, he was likely busy taking over HFIL.
Oolong is nowhere to be seen during the dark TRUNKS Saga.
Oolong sneaks aboard the ship during the Red Star Dragonball Saga. He's later found by Piccolo. He later redirects the ship to go off course when trying to get the 6th Red Star Dragonball. Oolong stays in the ship until the Unammed Icy Planet, whgere he convinces the others to let him come with. They encounter Succubus 18, currently disguised as Android 18.
After Suiccubus 18 reveals herself, Oolong reveals that he's act6ually the ruler of HFIL and that Succubus 18 is his creation. After Succubus 18 is defeated, Oolong reveals his Demon powers and absorbs Succubus 18 and corrupts the 6 Red Star Dragonballs they've collected by then, becoming a Daemon called Omnibus Oolong 18. Omnibus Oolong 18 is then defeated by Super Namekian 2 Piccolo & Super Positive Saimekian 2 Trunks and dies, losing the Red Star Dragonballs.
Transformations
[
]
Omnibus Oolong 18
[
]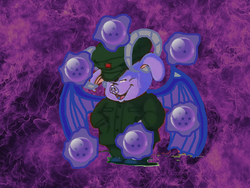 After absorbing Succubus 18, Oolong took the 6 Red Star Dragonballs they had collected up until then and turned into Omnibus Oolong 18.