This page, Lauto Saga (The Forgotten), is property of KidVegeta.
This story, Lauto Saga (The Forgotten), is written with the intent to preserve and respect the official Dragon Ball canon, and to fit perfectly into the established Dragon Ball universe, per this policy.
Please Note: This story contains occasional swearing and graphically gruesome deaths.
| | |
| --- | --- |
| | This story, Dragon Ball Z: The Forgotten, received two 2010 Destructivedsk Awards for "Best Written Fan Fiction" and "Best Overall Fan Fiction". Amazing! |
| | |
| --- | --- |
| | This page, Dragon Ball Z: The Forgotten, was a recipient of the official 2014 Dragon Ball Fanon Wiki award for "Best Drama-format Stories". Incredible job! |

The Lauto Saga is the second saga in the series Dragon Ball Z: The Forgotten. It takes place after the Prince Vegeta Saga and before the Stomping Grounds Saga. This saga chronicles the aftermath of Planet Vegeta's destruction and the survival of the Saiyan Ledas following his crash landing on Planet Cooler 92.
Awards
[
]
Awards

These are the awards that The Forgotten has won so far:

2010 Destructivedisk Awards - Best Overall Fan Fiction:
2010 Destructivedisk Awards - Best Written Fan Fiction:

| | |
| --- | --- |
| | This story, Dragon Ball Z: The Forgotten, received two 2010 Destructivedsk Awards for "Best Written Fan Fiction" and "Best Overall Fan Fiction". Amazing! |




2010 Destructivedisk Awards (nominee) - Most Original Fan Fiction.
2011 ExtremeSSJ4 Awards - Best Two Fan Fics:

| | |
| --- | --- |
| | This story, Dragon Ball Z: The Forgotten, was one of the recipients of the 2011 Extreme Award for Best Two Fan Fictions. Cool! |




2012 Sponge Awards - Best Original Fanon:

| | |
| --- | --- |
| | This story, Dragon Ball Z: The Forgotten, received the 2012 Sponge Award for Most Original Fan Fiction. Wowzers! |




2012 Sponge Awards - Longest Story Ever:

| | |
| --- | --- |
| | This story, Dragon Ball Z: The Forgotten, received the 2012 Sponge Award for Longest Story Ever. Unbelievable! |




2014 Official Dragon Ball Fanon Wiki Awards - Best Drama-format Stories:

| | |
| --- | --- |
| | This page, Dragon Ball Z: The Forgotten, was a recipient of the official 2014 Dragon Ball Fanon Wiki award for "Best Drama-format Stories". Incredible job! |
Characters
[
]
For a complete list of characters in the Lauto Saga, please visit this page.
Theme Song
[
]
The theme song for this saga is One Truth (Globus).
Tagline
[
]
Complete Dialogue
[
]
When I was born
I had bright blue eyes.
Over the years, they mysteriously turned
more and more green.
And now
my eyes are going back
to a darker teal.
I wonder if this is normal...
-KidVegeta
Lyin' And Laughin'

[

]
<PLANET COOLER 92>
<EARLY 739 AGE>
<SPACE TRAFFIC CONTROL>
<A POD IS SHOWN IN SPACE; IT IS APPROACHING A PLANET>
Planet Cooler. 92 Technician 1: <IN A ROOM FILLED WITH COMPUTERS AND SUCH, WORKING AT ONE OF THEM> We have some type of object incoming, matching the standard space pod classification. Can anyone confirm?
Planet Cooler. 92 Technician 2: Roger that. It's definitely a pod.
Planet Cooler. 92 Technician 3: Strange, We don't have any due for return today…
Planet Cooler. 92 Technician 1: <CONTINUES TYPING> Look, there's now a clear visual. The verification number is definitely not one of ours. <BRIEF PAUSE, WHILE HE CONTINUES TYPING> I'm pinging the pod for a response.
<HE PRESSES A BUTTON AND WAITS; NOTHING HAPPENS>
Planet Cooler. 92 Technician 2: No response…
Planet Cooler. 92 Technician 3: What should we do?
Planet Cooler. 92 Technician 1: I'll contact the Captain. <LEANS OVER AND PRESSES A BUTTON> Captain Banas, we have an unknown pod approaching base, no responses received… please advise.
Payar: <THERE IS A BRIEF PAUSE> Say again, soldier? The captain's out. This is Payar. Go ahead, and I'll see if I can help.
Planet Cooler. 92 Technician 1: Sir, we have a space pod incoming. It's not one of ours, so we tried pinging it for response, but got none. We need someone to check it out when it lands.
Payar: Where's it headed to?
Planet Cooler. 92 Technician 1: It is projected to land in the southern quadrant. A visible smoke trail should lead you to it.
Payar: <CURTLY> Send first platoon to my location. We'll investigate.
Planet Cooler. 92 Technician 1: <PAUSES> Affirmative sir. They are on their way. And, sir… should I inform the governor?
Payar: No, soldier. I will tell Guva myself.
<CAMERA CHANGES TO THE SOUTHERN QUADRANT; MANY REGULAR SOLDIERS, APRIDO, MELOON, AND PAYAR AMONG THEM, MOVE TO THE LOCATION OF THE POD; THERE IS A VISIBLE SMOKE TRAIL ABOVE THEM, TO THE LEFT, DESCENDING TO RIGHT IN FRONT OF THEM>
<EACH SOLDIER WEARS COOLER'S STANDARD ARMOR; THIS IS DIFFERENT FROM FRIEZA'S SOLDIERS' IN THAT THERE IS ONLY ONE SHOULDER PAD OVER THE LEFT SHOULDER>
<MELOON IS A LARGE ALIEN; HE IS PINK AND SPIKY LIKE DODORIA; APRIDO IS A SMALL CREATURE, OF APPULE'S RACE; PAYAR IS A SHORT-FACED, RED ALIEN; HE IS THE CLEAR LEADER AMONGST THE TROUPE>
Soldier 1: <THE SOLDIERS APPROACH THE POD> It hasn't opened yet.
Soldier 3: Maybe they're dead?
Soldier 4: Or maybe it's a trap. <A FEW TAKE A STEP BACK>
Payar: <MOVING FORWARD THROUGH THE CONGREGATION OF TROOPS AROUND THE POD> Get back! <PRESSES BUTTON ON SCOUTER> There's a faint reading coming from inside, so whoever it is, they're not dead.
<PAYAR WALKS UP TO THE POD AND HITS IT, IT OPENS; UNCONSCIOUS, LEDAS FALLS OUT, DRIED BLOOD IS ON HIS FOREHEAD>
Soldier 2: Ah, he is dead!
Soldier 1: No, only unconscious.
Payar: <KNEELS DOWN TO INSPECT THE STRANGER, HE PICKS LEDAS UP BY THE TAIL> Well, this is interesting. It's a Saiyan. A child.
Meloon: I thought Frieza killed them all.
Payar: Evidently not. But that was a long time ago… over a year, I think. Why did he just get here now?
Meloon: <PEERING IN> May'e he got lost?
Payar: <CAUGHT UP IN HIS OWN GLORY; DROPS LEDAS> Imagine the reward we will get for delivering such a prize to Lord Cooler!
<PAYAR STANDS UP; MELOON SHOOTS AN EAVESDROPPING SOLDIER, WHO FALLS OFF THE HILL THEY ARE ON INTO A CREEK BELOW; PAYAR THEN TURNS TO MELOON>
Payar: <IN A STRICT WHISPER> We go straight to the Captain with this, not Guva. <TURNING BACK TO THE SOLDIERS> Two of you, grab the kid. We're taking him back to base.
<2 SOLDIERS CARRY LEDAS BACK TO CAMP WITH THE REST OF THE GROUP; LEDAS WAKES UP>
Soldier 1: Uh sir, he's waking up.
<LEDAS SENDS OUT A POWERFUL ENERGY WAVE THAT KILLS THE TWO SOLDIERS CARRYING HIM, HE DOES A ROLL TO THE RIGHT, INTO THE FOLIAGE; THE GROUP OF SOLDIERS PURSUE HIM>
Payar: <READING HIS SCOUTER> This one has some fight in him. Look at his power level. I've never seen a Saiyan with one so high.
Meloon: <STILL CONFIDENT, NOT WORRIED> He is still much weaker than us.
Aprido: <WITH A FEW OTHER SOLDIERS, THEY RUN AT LEDAS> Come back here you runt!
Payar: You are not to kill him.
Meloon: Heh heh, Payar, ya think he could?
<LEDAS BACKS INTO A TREE; HAVING KILLED SEVERAL SOLDIERS, THE REST HAVE BACKED OFF A BIT; PAYAR AND MELOON MOVE TOWARDS HIM>
Payar: <SHOUTING> Give it up, Saiyan! We don't want to kill you!
Ledas: <CORNERED; PANICKY> I'm super elite! You don't know who you're dealing with.
Meloon: That don't mean shit out here.
Payar: Even the best of you Saiyans are nothing compared to us. We don't want to kill you…
Meloon: …yet….
Payar: <CLOSES EYES> I am losing patience.
Ledas: No! <LEDAS SHOOTS A POWERFUL ENERGY BLAST AT THE TWO; IT DOES NOTHING>
Meloon: Ha ha ha! That all you got?
<IMPATIENT, PAYAR RUNS AND TRIES TO HIT LEDAS, BUT THE SAIYAN DODGES IT; LEDAS THEN MOVES AROUND PAYAR, AND SHOOTS A BURST OF ENERGY AT HIM, BUT IT IS EASILY DEFLECTED; PAYAR JUMPS AGAIN, AND THIS TIME HE IS TOO FAST FOR LEDAS, PUNCHING THE SAIYAN CHILD IN THE FACE, KNOCKING HIM OUT; PAYAR PICKS HIM UP AND STARTS CARRYING HIM>
Meloon: <IN A GOOD MOOD> This better be worth it.
Payar: <CALMING DOWN> It could get us off this rock. That's worth it to me.
<SCENE CHANGE>
<LEDAS WAKES UP FROM A DAZE, HE IS INSIDE, IN A ROOM WITH PAYAR, WHO IS SITTING ACROSS FROM LEDAS, WITH HIS KNEES UP>
Ledas: <SITTING UP> What happened? Where am I?
Payar: <UNCONCERNED, FIDDLING WITH SOMETHING IN HIS HANDS> I knocked you out.
Ledas: <ANGRY, TRIES TO GET UP> You idiot!
Payar: <RAISES HAND> Save it.
Ledas: <IS TOO WEAK TO GET UP, SO STAYS SITTING> At least tell me where I am.
Payar: Planet Cooler 92, in the main outpost. And it's a shithole.
<BANAS, LIEME, MELOON ENTER THROUGH A DOOR ON THE RIGHT; BANAS IS A TALL ALIEN WITH A FLAT FACE AND BLACK HAIR; HIS SKIN IS YELLOW; LIEME IS A TALL ALIEN, TOO; HE HAS A SMALL, LONG FACE AND TALL HAIR; HIS SKIN IS GREEN>
Banas: <WALKS UP TO PAYAR AND LEDAS; BANAS SHOOTS OUT ENERGY BEAMS, WHICH BIND AROUND LEDAS' WRISTS AND ANKLES, CAUSING THE SAIYAN TO RISE INTO THE AIR; THE SAIYAN HOVERS IN FRONT OF THE CAPTAIN WITH HIS ARMS AND LEGS OUTSTRETCHED> So tell me, Saiyan… what are you doing on my planet?
Ledas: <FIGHTING AGAINST THE ENERGY BINDS> I don't know. This wasn't where I was going!
Banas: Still, you landed here, and that's all that matters now. <STARTS TO PACE A BIT> But entertain me… where was it that you were headed?
Ledas: <VERY CHILD-LIKE, STILL FIGHTING AGAINST THE ENERGY> That's none of your business!!
<BANAS, QUICKLY MOVES AND HITS LEDAS, SEVERAL DIFFERENT TIMES; HE GRABS LEDAS' NECK AND PREPARES AN ENERGY BLAST>
Banas: Talk, or die. I don't have time to play games with you all day.
Ledas: <FEARFULLY> I w-was headed to a planet. I don't remember the name… me and Vegeta were gonna clear it out. P-please… just let me go…
Banas: <EXTINGUISHES HIS BALL OF ENERGY; HE LETS GO OF LEDAS, AND WALKS BACK, IGNORING HIM> Vegeta? <TURNS TO OTHERS> That name sounds familiar. Who is it?
Lieme: <WITHOUT PAUSE> That's the name of the Saiyan king and his son.
Banas: <TURNS BACK TO LEDAS> You liar. <HITS HIM> Now, tell me where you were really going.
Ledas: <HEAD KNOCKED TO THE SIDE> I did! Me and Vegeta were going to conquer a planet for Lord Frieza.
Banas: You must think I'm stupid. Frieza destroyed your home planet and killed all of the other Saiyans over a year ago. I know there's none of your kind left.
Ledas: <IN TEARS> What? <CRYING> You're lying!!
Payar: He he he, betda the kid didn't know what happened. How long have you been out of touch?
Ledas: <WITH MUCH ANGER AND HATRED> I ALREADY TOLD YOU! <LEDAS BREAKS FREE OF HIS ENERGY BINDING, BUT IS QUICKLY SUBDUED AGAIN BY MELOON AND PAYAR>
Banas: Come on now, why would I lie about something like that? It's true. But judging by your reaction, I would guess you didn't know.
Ledas: <HEAD BOWED, STILL CRYING BUT MORE SUBDUED> I didn't know…
Payar: <FAKE ENTHUSIASM> But don't worry, you're safe with us. After all we're all soldiers under Cooler, Frieza's brother. And I don't think he'll try to kill you like Frieza did.
Meloon: <CHEWING ON SOMETHING> Wewll den, can I?
<NO ONE ANSWERS>
Ledas: <QUIETLY> Come on. Lemme go.
Payar: Yeah, right. Let you get away when we were just getting to know each other? You killed a lot of my men. Someday, somehow, I will make you pay for that.
<LEDAS CAN SEE WHAT HE IS PLAYING WITH; IT LOOKS LIKE A NECKLACE>
Ledas: I promise I won't tell anyone.
Lieme: <ARMS FOLDED> Never trust a monkey. <MELOON LAUGHS>
Banas: <BANAS HAD WALKED OVER TO A DESK, AND GATHERED SOME PAPERS, HE COME BACK TO THE GROUP> Payar and Meloon tell me that your power level is high for a Saiyan.
<LEDAS DOES NOT ANSWER>
Banas: <HINT OF SARCASM> We've already gone through this lesson. You answer me or you die. So, what is your power level?
Ledas: <TRYING TO STOP CRYING> I don't know… it was like 12,000…
Banas: Good, he's not dangerous. <TURNS BACK TO HIS TROOPS> Now we need to figure out some kind of plan to keep this out of Guva's sight.
<THE OTHERS NOD IN AGREEMENT AS THE SCREEN FADES TO BLACK>
To Cooler, With Love

[

]
<THE CAMERA IS LOOKING DOWN FROM THE SKY ONTO ONE OF THE BUILDINGS; VOICES ARE HEARD COMING FROM INSIDE, AND THE CAMERA SLOWLY ZOOMS FORWARD>
Payar: <STILL UNSEEN, THE CAMERA IS MOVING FORWARD TO THE BUILDING> No, I told him not to say anything. I think we still have time.
Lieme: I do not think this will be something that you can hide for much longer, Captain. If you want to move, you need to do it now.
Banas: <CAMERA FINALLY REACHES THE BUILDING, IT GOES INSIDE, BANAS, PAYAR, AND LIEME ARE TALKING; MELOON HAS LEDAS SUBDUED IN A CORNER> Very well. Payar, Meloon, take this Saiyan to my quarters. Guva won't be able to get in there, even if he does suspect us. We will keep the child there until I fig–
<GUVA, FLANKED BY SEVERAL SOLDIERS, ENTERS>
<UNLIKE THE OTHERS, GUVA DOES NOT WEAR ARMOR; AND EVEN THOUGH IT WAS STATED HE WAS THE GOVERNOR IN THE LAST CHAPTER, I SHOULD MENTION GUVA IS THE GOVERNOR SO NOBODY IS CONFUSED>
<GUVA IS A TALL ALIEN; HE HAS A REGAL STATURE AND PURPLE SKIN; HIS HAIR IS WHITE>
Guva: Captain Banas. <LOWERS HIS HEAD AS HE STEPS THROUGH THE DOOR; LOOKS AROUND> Conspiring, are we?
<GUVA WALKS INTO THE ROOM, LEAVING HIS GUARDS AT THE DOOR>
Banas: <WALKING FORWARD TO BLOCK THE VIEW OF LEDAS> Governor… you're here early. I didn't even put out the tea yet–
Guva: <WALKS PAST HIM> Spare me the theatrics, captain. <SPOTS LEDAS, IN THE CORNER; GESTURES TOWARDS HIM> Who is this?
Banas: He's just one of our grunts.
Guva: <SEES LEDAS' TAIL; SMILES> We have no Saiyans on this installation, Captain. And, if I may be so bold, I would say he was the one who recently crash-landed in the southern quadrant.
Banas: That is a bold accusation.
Guva: Bold? Perhaps. Incorrect? I think not. <WITH AUTHORITY> Hand him over.
<BANAS STARES DEFIANTLY STARES AT GUVA>
Guva: Believe it or not, I am still much stronger than you, Banas. Just like I always have been.
Banas: I hope you are not implying you wish to kill me? <LAUGHS> That would set such a bad example.
Guva: <WALKS PAST BANAS> Payar, give me the child.
Payar: <SITTING, KNEES UP AGAIN, ON THE EDGE OF THE DESK; SEEMS UNCONCERNED AS HE PAUSES FOR A SECOND> Yeah, take him.
Lieme: <IN A WHISPER TO BANAS> All of us together could take him.
Banas: <WHISPERS OUT OF THE SIDE OF HIS MOUTH; STILL EYEING GUVA> Now is not the time, Lieme. <GUVA GRABS LEDAS AND STARTS WALKING OUT; BANAS WAVES TO HIM> Until next time, governor. It's always nice having you over. <GUVA WALKS OUT WITHOUT ANOTHER LOOK AT BANAS> Don't worry boys, we'll get the last laugh out of this. I'm sure we will.
<SCENE CHANGE>
<ONBOARD COOLER'S SHIP, UNKNOWN LOCATION>
Cooler Soldier 1: My lord, we have an incoming transmission from Planet 92.
Cooler: <IN HIS CHAIR; HE IS LOOKING IN THE OPPOSITE DIRECTION, OUT A WINDOW> Very well.
<SOLDIERS TURN ON THE SCREEN, GUVA IS STANDING, LOOKING THROUGH HIS SCREEN>
Cooler: <AS IF BORED> What is it, governor?
Guva: Yes, my lord. <PAUSES> We recently had an intruder land at our base.
<COOLER'S TAIL MOVES, AS IF IRRITATED>
Guva: This intruder was a Saiyan. He killed several of our men, and his power level is quite high.
Cooler: <TURNS AROUND TO LOOK AT GUVA> Now why, governor, would you go out of your way to call me up over such a pedestrian tale?
Guva: It was only a child, milord.
Cooler: Ah. Just a child… that nearly managed to topple your little regime? And it benefits you to tell me this, how?
Guva: No sir, we were able to contain him, very quickly actually. But we thought since Lord Frieza's destruction of the Saiyan planet so long ago, this could be one of the last… so we kept him alive…
Cooler: Even my dear brother couldn't get rid of all the rats. It's just like him to be careless and arrogant. No, even he has several onboard his ship right now.
Guva: Oh… well, since this one looks like he could have a lot of potential… maybe you would like to take him, milord?
Cooler: You <EXPRESSION REMAINS UNREADABLE> wish to give me a gift.
Guva: Yes… sir.
Cooler: You know, governor, I remember 92. And I must say… I am surprised.
Guva: Sir?
Cooler: Planet 92 is a rather easy one to manage. Quite different from the trials it took to promote a governor to there, but an easy rule nonetheless. The local species are weak, but they are also useful workers. I assumed that you would like that. But, perhaps, you would prefer more excitement? More adrenaline? Tell me, governor, was I wrong for putting you in charge of that planet?
Guva: N-no, sir. Of course not.
Cooler: Planet Vegeta was in Frieza's quadrant. They are his mess. I do not care about his drama, governor. Such things are beneath me, and should be beneath you. <TURNS BACK TO FACE THE WINDOW> Though I must say, if only a child was able to kill so many of your soldiers, he will be an interesting, if not impressive project, should you decide to keep him.
Guva: Yes, my lord.
Cooler: Perhaps, with enough guidance, he could outmatch you one day.
Guva: <GUVA TRIES TO HIDE HIS RAGE, LIP TREMBLING> Yes, of course, Lord Cooler.
Cooler: Oh, one more thing, Guva. I know what you were trying to pull. If I wanted to reassign you to my ship, I would have done so by now. Good day, governor.
<TRANSMISSION ENDS, STAYS ON GUVA IN HIS OFFICE; BANAS, WHO WAS OFF SCREEN, ENTERS>
Guva: <SHOOTS A POWERFUL BEAM OF ENERGY THROUGH HIS WINDOW, MELTING A LARGE CIRCLE THROUGH IT> What am I supposed to do?!?!?!
Banas: Backfired, did it? <LAUGHS>
Guva: <FURIOUSLY> Brilliant deduction, shithead. <TRYING TO COMPOSE HIMSELF> Br-bring in the child.
Banas: Why?
Guva: <CALMING DOWN> That wordy little bastard gave me an idea. Go on, bring him in!
<BANAS GOES OUTSIDE, RETURNS WITH LEDAS>
Guva: <REGALLY; COMPOSED> Good news, Saiyan. I will spare your life.
Banas: <MOCKINGLY> Now that you're safe, I think we should–
Guva: You will join the Plantains. That's the team led by Captain Banas.
Banas <EYES WIDEN> What?
Guva: That's right. You will train him. It will be your job to make him into a competent soldier.
Banas: <STEPING FORWARD, TRYING TO ELIMINATE LEDAS FROM THE CONVERSATION; HE GETS RIGHT UP TO GUVA'S FACE; HEAD COCKED> We did not discuss this.
Guva: <MENTALLY PUSHING HIM BACK> We don't have to. I am in charge here. I am the governor.
Banas: Gah!! <TURNS TO LEDAS> Don't count on this being a cakewalk, kid. <WALKS OUT ANGRILY>
Guva: Now, Saiyan, let's talk for a moment.
Ledas: Sir?
Guva: You know who that was… Banas? My captain?
Ledas: <FEARFULLY, LOOKING AT THE GROUND> Yeah…
Guva: I get the feeling you don't like him.
Ledas: <OBVIOUSLY SCARED> I don't know him…
Guva: You don't need to lie to me. As it so happens, I don't like him either. So, I ask again; do you like my captain?
Ledas: <A BIT MORE CONFIDENTLY> Wewll, no.
Guva: <SMILES> That's more like it. Now, let us discuss what I want to do to him.
Ledas: But he's right outside! He could hear you!
Guva: Then, <KNEELING DOWN> let us whisper now, together, you and I.
Ledas: <INNOCENTLY; WHISPERING> Do you want me to kill him or something?
Guva: <STILL IN A WHISPER> For now, I want you to train under him and grow strong. And I have a feeling that won't take long. Your power level is already extraordinary for your age.
Ledas: But… what's in it for me?
Guva: How about I don't kill you.
<LEDAS STARES AT GUVA, CURIOUS>
Guva: Is that not enough for you? How would some information about your fellow Saiyans do, then?
Ledas: <EAGERLY> There are other Saiyans alive? Who? When can we see them?
<GUVA PUTS ONE FINGER OVER HIS LIPS>
Guva: <GESTURES TO THE DOOR> Until next time.
<CUTS TO BANAS, HE IS ANGRILY WALKING OUT OF GUVA'S OFFICE, AND IS DOWN ONTO THE GROUND LEVEL NOW; IN TANTRUM, HE KICKS UP THE DIRT AS HE WALKS>
<BANAS ENTERS THE BARRACKS, AMONG OTHER SOLDIERS, PAYAR IS THERE>
Banas: <AGITATED> Payar, we're going.
Payar: <SITS UP> Where to, captain?
Banas: We're going to a safe place, away from prying eyes.
<BANAS WALKS PAST PAYAR; PAYAR HOPS OFF HIS CHAIR, GRABS HIS SCOUTER AND FOLLOWS>
Wind Swept

[

]
<SPACE SHOT OF A PLANET, IT IS NOT 92>
<THE CAMERA DISSOLVES INTO FOCUS ON PLANET; IT IS FLAT, WITH SOME HILLS, BUT THERE ARE VERY FEW TREES, THE GROUND IS COVERED IN LIGHT YELLOW/GREEN TALL GRASS; THERE ARE FIVE SPACE PODS LINED UP IN A ROW, EMPTY; DOWN A TRAIL, BANAS AND HIS 'TAINS, AS WELL AS LEDAS ARE ALL IN A FLAT AREA>
<ALL ARE WALKING, BANAS SEEMS A BIT PREOCCUPIED>
Payar: Yeah, you should've seen the look on their faces… ha ha ha!
Meloon: You let 'em keep their faces? I tell ya, I wouldn't have done that.
Payar: That's the difference between you and me, Meloon. I keep them around for the pain; you just kill them before they know what happens. It's no fun like that.
Banas: Stop. This is it.
Meloon: This is what?
Banas: <TO LEDAS> I want you to show me your full power.
Ledas: <AS IF UNABLE TO, DUE TO VEGETA'S INFLUENCE> I can't…
Banas: That is no matter. I have other ways to force my will.
<THE WIND PICKS UP A LITTLE>
Banas: Meloon?
Meloon: Yeah, boss?
Banas: Make him bleed.
Meloon: <A WIDE SMILE ON HIS FACE> No probl'm.
<MELOON MOVES FORWARD, LEDAS MOVES BACK>
Meloon: Aw, come back. I ain't gonna hurt ya! <CRACKING HIS KNUCKLES> Heh heh heh!!! <LEDAS STOPS; MELOON DISAPPEARS, AND REAPPEARS BEHIND LEDAS; HE PUNCHES LEDAS INTO THE GROUND; MELOON WALKS PICKS THE CHILD UP BY HIS TAIL> Come on, kid. Ya aren't even tryin'! <THROWS LEDAS AWAY, HE LANDS ON HIS FEET>
Banas: You know, kid, it must be hard having to deal with the thought that all you cared about, everyone you knew is now dead. It's only you left… all alone, out here in space.
Ledas: Shut up!!
Banas: Your parents, your friends, all gone.
Ledas: SHUT UP!!
<BANAS NODS TO MELOON, WHO ATTACKS AGAIN; THIS TIME LEDAS DODGES, AND FIGHTS BACK, HE STARTS RAINING ENERGY BLASTS DOWN ON MELOON>
Meloon: Heh, that tickles. <HE RISES INTO THE AIR AND KICKS LEDAS, SENDING HIM FLYING; MELOON FIRES A BEAM OF ENERGY AFTER HIM, WHICH DETONATES ON LEDAS AND CAUSES A HUGE BURST OF SMOKE; THROUGH THE BOTTOM OF IT, LEDAS DROPS TO THE GROUND; MELOON PURSUES HIM; WHEN MELOON REACHES LEDAS, HE STEPS ON THE UNMOVING CHILD, PRESSING DOWN; LEDAS STARTS SCREAMING, AND SPITTING UP BLOOD>
Meloon: Ha ha ha!
<LEDAS SENDS OUT A WAVE OF ENERGY AND PUSHES MELOON OFF OF HIM; HE THEN, GETS UP AND CHARGES AT MELOON, PUNCHING AT HIM>
Lieme: <WATCHING FROM AFAR> 13,000, captain.
Banas: That's high, for a Saiyan, and a child at that. But still, I wonder why he is putting up so much of a fight with Meloon…
<CUTS BACK TO LEDAS, WHO IS VIGOROUSLY ATTACKING MELOON; MELOON, GETTING ANNOYED, BATS HIM AWAY, LEDAS FALLS TO THE GROUND AGAIN>
Meloon: <THERE IS A SMALL BRUISE ON HIS FACE, HE IS AWARE OF IT> You can't beat me, you're just a stupid monkey! <WALKS UP TO LEDAS, STARTS STOMPING DOWN ON HIM>
Ledas: Ahhhhhh!!!!!
Lieme: <SHOUTING, FROM AFAR> Meloon! You're going to kill him.
Meloon: So?
Lieme: Do you remember nothing?! We are to keep him alive! Governor's orders!
Meloon: <STEPS OFF OF LEDAS> Uh, I knew that.
<BANAS, LIEME, AND PAYAR WALK UP TO MELOON; LEDAS IS ON THE GROUND, COVERED IN BLOOD, GASPING AND COUGHING>
Lieme: <KNEELING DOWN TO LEDAS, INSPECTING THE CHILD> Cap'n, he's going to die if we don't do anything soon. He has massive internal bleeding.
<BANAS IS STARING AT A DISTANT TREE WHEN HIS SCOUTER BEEPS, PICKING UP A POWER LEVEL; HIS EYES WIDEN IN SURPRISE UPON SEEING THE READING; THIS CAUSES HIM TO BRIEFLY FORGET ABOUT THE SITUATION AT HAND>
Lieme: Cap'n?!
Banas: <COMING BACK TO REALITY; PAUSE BEFORE SPEAKING> Idiot, Meloon! Payar, you have a kit on you?
Payar: Yeah, I'll save him… <QUIETLY> this time. <PAYAR TAKES OUT A MEDICAL KIT AND STARTS TREATING LEDAS; LEDAS IS WRITHING IN PAIN> Stop squirming!
Banas: <LOOKING OFF INTO THE DISTANCE> Fix him up, and let me know when you're done. I'm going to check something out.
<BANAS TAKES OFF, AND STARTS FLYING LOW TO GROUND; HIS SCOUTER IS SHOWING STRANGE CHARACTERS; HE GETS FAR AWAY FROM HIS TEAM, OVER A LOT OF HILLS; AFTER A WHILE, BANAS LANDS>
Banas: What are you doing here? As you can see, I already cleared this planet of life. It's my haul. There's no real purpose for you to be here… unless you're following me.
<THREE ALIENS COME OUT FROM BEHIND SOME FOLIAGE; THEY WEAR STANDARD ARMOR>
Alien 1: <SMILING SINISTERLY> Captain Banas! What an honor it is!
Banas: <FACES THEM> Do I know you?
Alien 2: <SEEING HIM> Nah, you don't. But we know you.
Banas: How'd you find me? What do you want? Make it fast, whatever it is. I'm busy with my team.
Alien 3: <NODDING WAY TOO MUCH> Oh, sure, sure, Captain. We'll just cut to the chase. We found you in the databases. Your record and strength is impressive. We're here to ask–
Banas: You hacked into the Planet Trade Organization databases? Bravo! <MOCK CLAPS> I've never seen a couple of guys with such a massive death wish. But I'm flattered you found my life so interesting to come and pay me a visit. Thanks for the ego boost, guys! <HE LAUGHS AND TURNS TO LEAVE>
Alien 1: Wait, Captain! We ain't in the Planet Trade no more. We wanted you to join us.
Banas: Join you in what?
Alien 2: Killing Lord Cooler and freeing ourselves from his tyranny!
Banas: That's a great plan. But Cooler's pretty strong. You'll need hundreds of soldiers.
Alien 2: <EYES WIDE> We already have thousands! Join us, Captain! Your strength will guarantee you better riches! After Cooler is dead, you can rule entire systems with captains to serve under you!
Banas: <SIGHING, LOOKING DOWN AT HIS BOOTS> Now… that's a compelling offer. You know how to bargain, I'll give you that. But you three have mistaken me for a rebel; and I'm as loyal as they get. Unfortunately, I'm going to have to kill you now.
<BANAS, WITHOUT ANY MORE WARNING, LOOKS UP AT THE THREE AND SHOOTS OFF SEVERAL ENERGY BLASTS AT EACH OF THE THREE; THIS CAUSES THEM TO ROAR IN ANGER AND CHARGE HIM>
<BEFORE THEY REACH BANAS, HE JUMPS TO THE AIR, NOT FACING THEM; THEY CHARGE, AND HE DOES A BACKFLIP OVER THEM, LANDING RIGHT BEHIND THE SECOND ALIEN, HE BLASTS IT, KILLING IT; THE OTHER TWO TURN AROUND AND ATTACK HIM, SENDING TONS OF BLASTS TOWARD BANAS, WHO EFFORTLESSLY HITS THEM AWAY, HE WORKS HIS WAY THROUGH THE BLASTS ALL THE WAY TO ALIEN 3, AND WITH A SINGLE SWIPE, DECAPITATES THE ALIEN; THE FIRST ALIEN IS HIT WITH A BLAST, AND FALLS TO THE GROUND>
Banas: <DESCENDS TO THE GROUND, NEXT TO SINGED ALIEN> I'm surprised at you. Shouldn't my profile have told you that I'm just so much better than all of you in every possible way? No? Well, that's your loss.
<THE ALIEN GETS UP, AND TRIES TO RUN OFF; BANAS WATCHES HIM FOR A MOMENT, THEN SHOOTS A FINAL BLAST, WHICH HITS THE ALIEN, AND SENDS HIS LIFELESS CORPSE SPRAWLING FORWARD INTO THE GRASS>
<THEN, BANAS RETURNS TO HIS SQUAD>
Payar: <LOOKING DOWN, STILL WORKING ON LEDAS> What was that all about?
Banas: Sometimes I get the urge to shake the beehive, to see if the bees will actually come out to sting me.
Lieme: <STANDING, LOOKING AT BANAS> Did they?
Banas: Not yet. <SIGHS> There's always tomorrow.
<LEDAS IS QUIET; WITH PAYAR DISTRACTED BY THE CAPTAIN, HE VENTURES FOR AN ATTACK ON MELOON AGAIN; THE BIG BEAST DOESN'T SEE THE TEARDROP SHAPED BLAST UNTIL IT IS TOO LATE; IT KNOCKS HIM OVER>
<MELOON GETS UP; HE GROWLS, GETTING READY TO POUND LEDAS INTO THE DUST AGAIN; BANAS THROWS OUT HIS ARM>
Banas: No, leave him alone. He's persistent, I like that. When he gets older, he'll be as dangerous as any of you. None of Cooler's other teams will be able to touch us.
<LEDAS IS WRITHING AGAIN, FLAILING HIS ARMS ABOUT; BUT PAYAR SNAPS HIS ARM DOWN QUICKLY AND BANDAGES HIM UP>
Dread Lord

[

]
<SCREEN IS BLACK>
Voice: Where am I?
<THERE IS NO RESPONSE; THE CAMERA SLOWLY FADES TO LIGHT; THE SURROUNDINGS ARE REVEALED; THE ENTIRE AREA IS A ROCKY CAVE, DIMLY LIT; IN THE CENTER OF THE SCREEN IS AN OBSCURED FIGURE; HE IS LYING ON THE GROUND>
Voice: <LOOKING UP; HIS FACE IS COVERED IN A BLACK HOOD> Who's there?!
<AFTER HEARING NO RESPONSE, THE BEING BEGINS CRAWLING ACROSS THE GROUND; AS HE GOES, THE FIGURE OF ANOTHER CAN BE SEEN BEHIND HIM, STANDING QUITE STILL AND WATCHING; THE FIGURE'S FEATURES ARE DARK AND INDISCERNIBLE; HOWEVER, A TALL MOHAWK CAN BE SEEN>
<THE CRAWLING FIGURE REACHES A ROCK AND USES IT TO TRY TO STAND UP; AS HE DOES, HE NOTICES A GROUP OF FIGURES HAS MATERIALIZED AROUND HIM; EACH OF THEM IS STARING HIM DOWN WITH SNARLING FACES AND THEIR ARMS CROSSED; HE QUICKLY NOTICES THEM TO BE ZARBON>
Zarbons: <IN UNISON> My, my. What a pity. Lord Frieza will be so disappointed by what you've done.
Voice: <WEARY> Fool…!
<THE CLOAKED FIGURE RAISES HIS ARM AND SHOOTS OFF A YELLOW BLAST AT THE ZARBON IN FRONT OF HIM; THE BLAST GOES THROUGH ZARBON AND EXPLODES ON THE FAR WALL; AFTER THE SMOKE CLEARS, THE ZARBONS ARE GONE>
<THE CREATURE STUMBLES UP AND STARTS LIMPING FORWARD, HOLDING ONTO HIS SHOULDER>
Voice 2: <LIKE THE ZARBONS, THIS IS A COLLECTION OF MANY OF THE SAME VOICE SPEAKING AT ONCE; ECHOES THROUGHOUT THE CAVE> Heheheheheheh.
<THE ROBED CREATURE MOVES AROUND AN OUTCROPPING OF ROCK; ON THE OTHER SIDE, HE SEES FRIEZA HOVERING IN THE AIR, ABOUT 2 FEET OFF THE GROUND; AT ONCE, THE ROBED FIGURE STOPS AND FALLS TO HIS KNEES>
Frieza: That will be all, Benefactor!
<FRIEZA LIFTS HIS FINGER UP AND STARTS TO CHARGE UP A DEATH BEAM>
The Benefactor: Not this time…
<HE RAISES BOTH OF HIS ARMS AND READIES HIS OWN BLAST; THE BENEFACTOR FIRES A JAGGED CRIMSON BLAST OF ENERGY TOWARDS THE FLOATING TYRANT; THE BLAST CONNECTS AND SENDS SMOKE FLYING; THE BENEFACTOR STAYS ON HIS KNEES BREATHING HEAVILY AS THE SMOKE CLEARS; AS IT DOES, A DIFFERENT FIGURE IS IN FRIEZA'S PLACE; THEIR FEATURES ARE SHROUDED IN BLACK; THE FIGURE DESCENDS TO THE GROUND>
<WHILE THE FIGURE IS MOSTLY COVERED IN DARKNESS, THE BENEFACTOR CAN SEE THAT IT POSSESSES A TALL MOHAWK; AS SOON AS THE FIGURE TOUCHES THE GROUND, IT THROWS BOTH OF ITS HANDS FORWARD; THIS IMMEDIATELY SENDS THE BENEFACTOR FLYING BACK UNTIL HE HITS THE CAVE WALL; AS HE DOES, HE FINDS HIMSELF STUCK TO THE WALL BY SOME UNSEEN FORCE; THE FIGURE APPROACHES HIM>
Mysterious Figure: Welcome. I suppose we haven't been acquainted yet. Please, call me Lauto. <REACHES THE BENEFACTOR; THE BENEFACTOR LOOKS DOWN AT LAUTO> I am the one who saved you, if you are curious. Yes, it's true; you crashed here dying of blood loss, and I brought you back from death's embrace. And as you've been resting, I've had… wonderful access to your memories.
The Benefactor: <LOW GROWL; TUGGING AGAINST THE FORCE THAT IS PINNING HIM TO THE WALL> Let me go. You don't want to mess with me.
Lauto: <RAISES HAND, CAUSING THE BENEFACTOR'S HEAD TO SLAM AGAINST THE WALL AND REMAIN THERE> You're strong, but you are not that strong. You're evil, but you are not that evil. <RISES IN THE AIR TO MEET THE BENEFACTOR EYE TO EYE; PLACES A HAND ON THE BENEFACTOR'S HOOD, PULLING IT DOWN, REVEALING THE BENEFACTOR'S SCARRED REPTILIAN FACE> I look through your memories, and all I see is death; a monster feeding off of the fear and blood of his victims; and you grow stronger with each kill. Perhaps it's the predatory frenzy built into your species' veins that drives you to act like this. But know this: everything you have done, I have done ten times over. All those you have ravaged are but a speck of sand on the beach of those I've killed. <PAUSE> Your self-love of your own savagery will end soon enough.
The Benefactor: <QUICKLY, BREATHING THROUGH HIS TEETH> You speak too much and you don't know anything. Let me go before I rip your throat from your flesh.
Lauto: <RAISES HAND> Enough empty threats. Let's talk about where you were going. <THE BENEFACTOR STRUGGLES AGAIN AND GROWLS MIGHTILY; LAUTO IGNORES THIS> I know you were fleeing from a galactic lord who tried to kill you. I know you were chasing down a child to murder. But your memories have been poor as to explaining their connection.
The Benefactor: <IN QUIET RAGE> First him, then the Prince – once he's away from the safety of that ship – and then Zarbon. Then Frieza's precious pets will be dead. He'll have nothing left… After that, I'll take his worlds, one by one, feeding on their power until I can challenge him myself.
Lauto: You are seeking revenge, I see. And hurting those your enemy loves the most is a clever move. But know this, Benefactor. When you let your emotions rule you, you will inevitably make a critical mistake. And with the weight of your crimes, you will not escape with mercy… should you be caught.
The Benefactor: Frieza will never find me–
Lauto: You mistake me, Iyxan.
The Benefactor: <SHOCK> How do you know the name of my species?!
Lauto: <IGNORING THE BENEFACTOR'S PREVIOUS STATEMENT> But you've already made your critical mistake. You landed here. In time, you'll realize who you're up against.
<LAUTO LOOKS AT THE BENEFACTOR FOR A FEW MORE SECONDS, THEN DISAPPEARS; AS HE GOES, THE LIGHTS GO OUT TOO>
<SCENE CHANGE>
<BACK ON PLANET COOLER 92, THE PLANTAINS HAVE RETURNED; THE SCREEN PANS FROM THE GARAGE TO THE NEARBY BARRACKS; THERE, PAYAR AND LEDAS ARE WALKING; LEDAS IS LIMPING FROM HIS WOUNDS SUSTAINED FROM HIS FIGHT AGAINST MELOON; HIS FACE AND ARMS ARE BANDAGED; HE STILL WEARS HIS FRIEZA ARMOR>
<THE TWO ENTER INTO THE BARRACKS AND WALK PAST NUMEROUS REGULAR SOLDIERS; MANY OF THEM ARE NOT WEARING ARMOR; SOME ARE WORKING OUT WITH WEIGHTS; SOME ARE LOUNGING; SOME ARE EATING; ALL LOOK UP AS PAYAR ENTERS; HOWEVER, THEY START LAUGHING AND POINTING AT LEDAS AND HIS WRETCHED CONDITION>
<PAYAR STEERS LEDAS THROUGH THE GROUP AND MOVES TO THE BACK OF THE BARRACKS; THEY STOP AT THE LAST ROOM, AND PAYAR GESTURES THE SAIYAN BOY INSIDE>
<THE ROOM IS SMALL, WITH BARELY ANY ROOM OUTSIDE OF THE BUNK BED; IT ALSO HAS A SMALL BATHROOM (WITH ITS OWN DOOR) ON THE LEFT SIDE; ON THE RIGHT, A SMALL CLOSET IS ALL THERE IS; AND MUCH OF THE CLOSET IS ALREADY FILLED; THERE IS A SUIT OF PLANET TRADE ORGANIZATION ARMOR IN IT>
Payar: All right, Saiyan. This is your new home. Unpack your stuff and get cozy.
Ledas: <LIMPING IN> I don't have any stuff.
Payar: Watch your tone.
Ledas: <LOOKING UP AT PAYAR> But this place is so small… don't I get a better place with the rest of you?
Payar: <LOOKS INCREDULOUSLY AT LEDAS> Be thankful you get a room at all. You aren't a Plantain yet, despite what Guva might tell you. This is more than you deserve.
<LEDAS SITS DOWN ON THE BOTTOM BUNK AND WINCES FROM HIS INJURIES>
Ledas: <IMPATIENTLY, WITH A SCOWL> How long until I'm healed?
Payar: Watch it, kid. I saved your life earlier today. You should be grateful. <LEDAS IS STILL SCOWLING AT HIM> But you can go visit the rejuvenation tanks if you need to. They're just outside. <LEDAS PUTS HIS HANDS BEHIND HIS HEAD THEN LIES DOWN ON THE BED AND SIGHS; HE CLOSES HIS EYES; PAYAR TAKES THIS AS HIS MOMENT TO LEAVE, BUT BEFORE HE DOES, HE REACHES INTO THE CLOSET> Oh, and Saiyan, Captain Banas wanted me to give you these… <HE THROWS SOMETHING AT LEDAS, WHICH LANDS ON THE SAIYAN'S STOMACH, CAUSING THE BOY TO SIT UP IN A JOLT> … so you'll fit in better.
<PAYAR EXITS>
<LEDAS LOOKS AT WHAT PAYAR THREW HIM; IT IS A SET OF ARMOR JUST LIKE LIEME'S; IT IS BLACK ON GREEN WITH ONLY THE LEFT SHOULDER PAULDRON; THERE ARE NEW GLOVES AND BOOTS, REPAINTED WHITE AND GREEN, AND A BLACK JUMPSUIT FOR UNDERNEATH>
<AS LEDAS STARTS GETTING CHANGED, ANOTHER PERSON ENTERS>
Aprido: Hey, get off my bed!
Ledas: <TEMPER FLARING> Well, no one told me it was yours!
<APRIDO SHAKES HIS HEAD AS LEDAS STANDS UP; HE WALKS FORWARD, TO HIS BED, AND ELBOWS THE SAIYAN IN THE BACK OF THE HEAD AS HE WALKS PAST>
Aprido: You've got the top bed, punk. Just stay up there and stay out of my business.
Ledas: Whatever.
Aprido: Yeah, whatever.
<LEDAS THEN GETS CHANGED INTO HIS NEW ARMOR; AFTER HE IS DONE, HE WALKS OUT TO THE MAIN ROOM OF THE BARRACKS WITH MORE CONFIDENCE; LOW SHOT FROM BETWEEN LEDAS' LEG AT FLOOR LEVEL POINTING TOWARDS THE GROUP OF SOLDIERS TRAINING AND EATING IN FRONT OF HIM; LEDAS HAS HIS HANDS ON HIS HIPS>
Ledas: <WEARILY> Now, where's that rejuvenation tank?
<HE WALKS OUT OF THE BARRACKS AS THE CAMERA SLOWLY ZOOMS OUT>
<SCENE CUTS BACK TO LEDAS; THE DAY HAS TURNED TO NIGHT; HE HAS RETURNED FROM THE REJUVENATION TANKS, AND IS SITTING UP ON THE TOP BUNK; HE IS ONLY WEARING TRAINING PANTS; HE CAN HEAR SNORING AROUND HIM FROM APRIDO AND THE OTHERS IN THE OTHER ROOMS; AFTER A FEW SECONDS, HE LIES DOWN AND WRAPS BLANKETS AROUND HIMSELF>
<LEDAS LOOKS OUT THE SMALL WINDOW NEXT TO HIS PILLOW; OUTSIDE, HE CAN SEE THE FORESTS OF PLANET 92; THE NEAREST MOON SHINES QUITE BRIGHTLY OVER THEM; HE LOOKS OUT AT THE STARS ABOVE>
Ledas: <IN A WHISPER TO NO ONE IN PARTICULAR> Please… please let Vegeta be out there somewhere.
<HE CLOSES HIS TEAR-FILLED EYES>
Two One Eyed Dogs

[

]
<THE NEXT DAY>
<IN GUVA'S PERSONAL BUILDING; IT IS THE LARGEST AND TALLEST BUILDING, AND IS AT THE CENTER OF THE OUTPOST; ON THE THIRD FLOOR; HE AND BANAS ARE LOOKING AT THE WINDOW THAT GUVA SHOT A GIANT HOLE THROUGH EARLIER>
Guva: You took the Saiyan with you last time. How was it?
Banas: <LYING> Nothing you need to be worried about. He's just an inconvenience.
Guva: Good.
Banas: <MAD> Why is that good?!
Guva: Captain, you always seem to learn best from inconvenience.
Banas: Thanks for telling me.
Guva: <GETS UP OUT OF CHAIR; LYING> You see Banas, Lord Cooler wants us to train the Saiyan. And I will follow his orders. If you've got a problem with that, then you can take it up with him yourself.
Banas: I don't remember Cooler saying that.
Guva: Call him up and ask for yourself.
Banas: <OBVIOUSLY WILL NOT DO THAT, COOLER IS TOO DANGEROUS TO BRING INTO THE DRAMA> Gah, you're smarter than you look.
Guva: Just wait 'til you get to know me.
Banas: But about your new idea… I would like to hear your inspiration.
Guva: <STARING OUT THE WINDOW> These native species are like animals. So unskilled and uncivilized, and I must confess boredom.
Banas: I'll put them up against the lower class grunts then. They could use some fun.
Guva: Yes, I agree. We need the morale boost. A content army is not likely to rebel. <HE LOOKS AT BANAS> Right, Captain?
Banas: Ha! You should go out and fight them.
Guva: They're not worth my time.
Banas: <NODS, LAUGHS> Always the same elitist crap with you.
<CUTS TO PAYAR AND LEDAS, WHO ARE WALKING ON A TRAIL THROUGH A FORESTED AREA; BOTH ARE IN FULL ARMOR>
Payar: No funny business kid. Normally Lieme does this, but the captain thought it would be better for you to try.
Ledas: <CHILD TONE> But what am I doing? You haven't even told me.
Payar: <CONFESSING, BUT EMBARRASSED THAT HE HAS TO> I can't do the energy binds.
Ledas: <IN AWE> You can't use energy?
Payar: <THEY COME UP TO CLEARING, BELOW IN A VALLEY, THERE ARE THOUSANDS OF NATIVES WORKING, IN A QUARRY TYPE SETTING> Shut up. Look, see those down there? Use your energy to bind their hands and legs together; we're going to bring them back to the outpost without incident. <PAUSES, LEDAS DOESN'T SEEM LIKE HE WANTS TO DO IT> Do it, or you get beaten again. And I'm stronger than Meloon.
<LEDAS, SCARED BY THAT, JUMPS DOWN INTO THE QUARRY AND CREATES ENERGY BINDS; HE SHOOTS THEM AT THE NATIVES; THEY OFFER NO RESISTANCE>
Ledas: <IN HIS MIND> Why don't they fight back? They must be scared of me.
<AFTER A FEW MOMENTS, LEDAS HAS THE WHOLE GROUP LINED UP, BOUND TOGETHER; THEY, WITHOUT A NOISE, MOVE FORWARD, BACK TO THE OUTPOST>
Payar: <THERE IS A HUNGER IN HIS EYES> Good, good. <TO THE NATIVES> Come on, pick it up! <HE HITS ONE OF THE NATIVES; IT SLUMPS OVER DEAD, THE REST START MOVING FASTER, CARRYING THE DEAD ONE ALONG WITH THEM>
<LEDAS IS WATCHING THIS ALL, CURIOUS; AS A FEMALE NATIVE PASSES HIM, IT GIVES HIM A CHILLING LOOK; NOT ONE OF SADNESS OR DESPAIR, BUT OF PITY; AS SHE WALKS BY, LEDAS STAYS STILL, WATCHING HER>
Ledas: <IN HIS MIND> What's wrong with them? They look like they've given up…
<THEY ALL RETURN TO THE OUTPOST; SOLDIERS, CURIOUS AT THE COMMOTION, LINE THE STREETS, LOOKING IN ON THE PROCESSION; PAYAR IS AT ITS HEAD, AND LEDAS IS FOLLOWING BEHIND, HE NOW IS WALKING AS IF WITH A WEIGHT ON HIS SHOULDERS; HE SEEMS TO BE SHAKEN; THEY REACH GUVA'S OFFICE, THE GOVERNOR IS STANDING OUT IN FRONT>
Guva: Ah, <TO PAYAR AND LEDAS> good job, you two. We are in for an interesting night. Payar, take them to the ring.
<PAYAR GRABS THE FIRST IN THE LINE; HE DRAGS THE NATIVE AWAY, CAUSING THE REST TO BE PULLED ALONG WITH HIM>
<CUTS TO THE EVENING, GUVA IS STANDING ON A BALCONY; BELOW HIM, THERE IS A GLADIATOR RING; DOZENS OF NATIVES ARE IN IT, PACING NERVOUSLY>
Guva: <SITTING, BUT THEN STANDS UP; RAISES HIS ARMS DRAMATICALLY; IN A BELLOW> Let us begin!! <THE DOORS OPEN ON THE FAR SIDE, DOZENS OF LOW CLASS SOLDIERS ENTER AND START SHOOTING BLASTS FROM THEIR WRIST MOUNTED GUNS AT THE NATIVES>
Guva: <BANAS AND HIS 'TAINS, INCLUDING LEDAS, ARE WITH HIM> See, captain, isn't this entertaining? <THE SCREAMS OF NATIVES, AND THE LAUGHS OF SOLDIERS RISE TO A DEAFENING LEVEL>
Payar: <WATCHING IT ALL, HIS EYES ARE TWINKLING> It's amazing.
<THE YELLING STOPS; ALL OF THE NATIVES ARE DEAD>
Guva: <STANDS UP AGAIN; PRESSES A BUTTON, THE DOORS REOPEN AND THE SOLDIERS LEAVE; A NEW GROUP OF SOLDIERS AND NATIVES COME OUT> Round two!!! <ROUND TWO STARTS, AND GOES MUCH LIKE ROUND ONE>
Banas: What does everyone think of putting our new acquisition into the mix?
Guva: <SITTING, DOES NOT LOOK BACK AT BANAS> Yes.
Banas: Meloon, take our little Saiyan down there.
Ledas: But, I don't wanna g– <MELOON GRABS LEDAS BY THE ARM AND PULLS HIM DOWN, CARRYING HIM ALL THE WAY TO THE RING; HE THROWS THE KID INTO THE GROUP OF SOLDIERS GOING FOR ROUND 3> Hey! Stop it!
Meloon: Shut up and do what the guv'na wants, kid. <WALKING OFF, BACK TO GUVA'S LEDGE; TURNS BACK AROUND> And don't think about running off! You know what'll happen to ya if you do.
<THE GROUP FOR ROUND THREE IS SMALLER, WITH ONLY 6 OTHER SOLDIERS BESIDES LEDAS, APRIDO IS AMONG THEM>
Aprido: Ah, it's you! What are you doing in our group?!
Ledas: Mr. Meloon made me come. But, um, what I am supposed to do?
Aprido: <SINISTER> Haven't you been watching? We get kill them all. As many as we want!
Ledas: I bet you do this a lot. The others really like it, especially Payar… <QUIETLY> but I don't want to do it. I don't want to be their stupid pet…
Aprido: <WITH MALICE ON HIS FACE> Ah, Payar! He can't help himself. He goes down to the quarries every now and then and when he returns, there's a load of them dead. I've seen it with my own eyes. We haven't had many of these organized events, though.
Ledas: <TO HIMSELF> They can't be very strong if Payar can kill them. He doesn't even use energy. <HE LOOKS AT APRIDO> I know I'm stronger than those guys, too…
<THE DOORS OPEN AGAIN, UP ABOVE GUVA CAN BE HEARD>
Guva: <IN A SHOUT> Round three!!!
<ALL, INCLUDING LEDAS, ENTER THE RING; THERE ARE HUNDREDS OF NATIVES, CROWDING LITERALLY EVERY AVAILABLE SPACE IN THE RING, AS SOON AS THE DOOR CLOSES, THEY ALL CHARGE; LEDAS DOES NOT ENTER ENTHUSIASTICALLY>
<THE FIVE LESSER SOLDIERS START FIRING BLASTS IMMEDIATELY, SHOOTING DOWN DOZENS OF NATIVES, BUT THERE ARE TOO MANY AND THE SOLDIERS ARE OVERWHELMED AND KILLED; JUST LEDAS AND APRIDO ARE LEFT>
Aprido: Aren't you gonna attack? Come on, they're running right at us!
Ledas: I don't want to be like Payar. <HE DROPS TO HIS KNEE> I'm not killing them. I'm sick of all the tests.
Aprido: <TO HIMSELF> He thinks he better than me? Well just wait, that little ape won't see what I have in store!
<APRIDO CHARGES UP A BLAST, AND TAKES OUT A LOT OF NATIVES, THE MAJORITY OF THEM FOCUS ON HIM, BUT A FEW, CAUTIOUSLY RUN UP TO LEDAS, AND START CIRCLING HIM, ALMOST SCARED TO ATTACK HIM; AFTER A FEW MOMENTS, A BOLD NATIVE JUMPS ON HIM, ALL THE OTHERS QUICKLY FOLLOW; LEDAS OFFERS NO RESISTANCE, AND FALLS TO THE GROUND, AS THEY PUNCH AND KICK HIM>
<THE NATIVES CONTINUE TO PUNCH AND KICK LEDAS, HE STARES OFF INTO THE SKY ABOVE, AS IF UNAFFECTED>
Ledas: <IN HIS MIND> I wonder what would Vegeta do? <A BRIEF FLASHBACK IS SHOWN OF THE TWO BLOWING UP A CITY FILLED WITH THOUSANDS OF CIVILIANS; THEY ARE LAUGHING AND HAVING A GREAT TIME; A TEAR COMES TO LEDAS' EYE> Vegeta wouldn't be so weak. <OUT LOUD, DETERMINED> He wouldn't be so weak!! <LEDAS SENDS OUT A WAVE OF ENERGY, DESTROYING THE NATIVES UPON HIM; HE GETS UP AND SENDS OUT ONE MORE BLAST, DETONATING IN THE MIDDLE OF THE RING, CAUSING A HUGE WHIRLWIND, KICKING UP DIRT AND SMOKE; WHEN ALL THAT CLEARS, ONLY APRIDO AND LEDAS ARE LEFT STANDING> I bet Payar liked that. <LOOKS UP AT GUVA> But they won't force me to do what they want forever…
Guva: <FROM ABOVE> So captain, you think this Saiyan is going to slow you down, do you?
Banas: <IN HIS MIND> I never did. But you don't need to know that, Guva. <OUT LOUD> Oh, govvie, you know me. I'm always wrong and you're always right.
<DOWN BELOW, LEDAS HAS LEFT THE COMPLEX AND IS WALKING BACK TO THE BARRACKS>
Ledas: Wherever Vegeta is, it can't be as bad as this place. <HE STOPS; HE LOOKS AT THE SKY> I hafta get out of here.
Big Mistake

[

]
<SOME TIME LATER>
<IT IS RAINING SLIGHTLY, THE GROUND OUTSIDE IS MUDDY; BANAS, PAYAR, LIEME, MELOON, AND LEDAS ARE OUTSIDE, IN A FLAT, TRAINING AREA; LEDAS HAS AGED SOMEWHAT; HE IS TALLER>
Banas: Lieme, Payar, begin your rounds. I'll work with the kid and Meloon today.
Lieme: <NODS> Boss. <LIEME AND PAYAR RISE INTO THE AIR, AND START SPARRING>
Banas: <WALKS OVER TO MELOON AND LEDAS, THE RAIN PICKS UP> Now Saiyan, I know you're stronger than you let on. You've proved that on our last few missions. But my team, the Plantains, is a legendary force; and we are feared by all. If you're weak, you'll bring down our reputation. And I won't have that. <TURNS TO MELOON> Meloon, it's time to test the kid again. Let's see if he's ready to become a member!
Meloon: <CRACKING HIS KNUCKLES> Heh, can't wait.
Banas: Show this kid what's expected of a member of my team. Don't try to kill him this time, either.
Ledas: <AS MELOON IS APPROACHING HIM, HE HOLDS HIS GROUND; IN HIS MIND> Vegeta wouldn't run from this guy… he would laugh at him! And then beat him! <MELOON REACHES LEDAS> Heh he heh.
Meloon: What's so funny?!
Ledas: Aha ha ha!! Grandpa always said strength isn't everything! You idiot! Ha ha ha ha ha ha ha!!
Meloon: Why, you lit– <IN MID SENTENCE, MELOON IS HIT IN THE BACK OF THE HEAD BY LEDAS, WHO HAD MOVED TOO FAST FOR THE ELITE TO SEE; MELOON HITS THE GROUND, AND HIS HEAD IS COVERED IN MUD>
Lieme: <SEES MELOON FALL, STOPS> Hey, Payar. <NODS TO MELOON> Check it out. <BOTH STOP SPARRING; THEY WATCH MELOON AND LEDAS' FIGHT>
<MELOON GETS UP; HE IS ANGRY; HE CHARGES LEDAS, WHO DODGES OUT OF THE WAY AND SHOOTS A BLAST AT MELOON>
Lieme: It's amazing. Look, Meloon is obviously the stronger one, yet he's losing. The child is playing on Meloon's weaknesses, and he's winning now, when he shouldn't be.
Payar: How do you know?
Lieme: That's what I would do.
<CUTS BACK TO MELOON AND LEDAS, LEDAS AND HIM ARE SPARRING, LEDAS DODGING EVERY PUNCH AND KICK MELOON IS THROWING AT HIM; LEDAS IS LAUGHING YET AGAIN, AND THIS CAUSES MELOON TO BE RECKLESS; LEDAS DODGES HIM EASILY; MELOON IS HIT TO THE GROUND AGAIN, LEDAS SHOOTS A HUGE BEAM OF ENERGY AT MELOON ON THE GROUND, MELOON IS BLOWN INTO A HUGE CRATER>
Banas: Thank you, Meloon, for single handedly destroying my reputation for me. His power level didn't even go above 40,000. You're significantly stronger than that. So why is it you who's on the ground?
Meloon: <GETS UP> Little brat confused me…
Banas: Lieme! Get over here!
<LIEME DESCENDS TO THE GROUND, SENDING MUD FLYING>
Banas: You and the kid. Go.
Lieme: Boss.
<HE MOVES FORWARD AND ATTACKS LEDAS; THIS TIME LIEME IS EASILY THE BETTER, AND UNLIKE MELOON OR PAYAR, HE DOES NOT TOY WITH LEDAS; HE HITS THE CHILD INTO THE GROUND, AND EFFORTLESSLY MOVES AROUND HIM, CONTINUING TO CONFUSE HIM; LEDAS, FRUSTRATED, SENDS OUT SEVERAL KI BLASTS; LIEME CATCHES ONE AND THROWS IT BACK AT HIM; LEDAS, BREATHING HARD, GETS UP AGAIN>
Banas: Thank you, Lieme. As you can see, kid, we–
Ledas: <STANDING DEFIANTLY> Why didya stop? I wasn't done.
<WITHOUT A WORD, LIEME HITS LEDAS AGAIN, WHO BLOCKS IT, BUT CAN'T HOLD IT, HE IS THROWN INTO THE AIR; LIEME SHOOTS A KI BARRAGE AT HIM AND THEN DISAPPEARS TO A SPOT BEHIND HIM; HE HITS THE CHILD INTO THE BARRAGE; LEDAS FALLS TO THE GROUND, YET AGAIN; HE IS UNCONSCIOUS>
<FLASHBACK>
<LAYEECK AND LEDAS ARE TRAINING IN A SLIGHTLY FORESTED AREA>
Layeeck: What do you do when the opponent is stronger than you?
Ledas: <WANDERING OFF, NOT PAYING ATTENTION> I dunno…
Layeeck: <WITH CONTEMPT> If you were a coward you would run, but we are Saiyans. We never retreat from battle.
<LEDAS STILL ISN'T LOOKING AT HIS FATHER>
Layeeck: Think! What is your opponent dependent on?
Ledas: <FLOATING> A scouter?
Layeeck: Very good. That is the first thing that you should always go for, assuming they have one. <PAUSES> But what if they don't need a scouter?
Ledas: <FLYING UPSIDE DOWN, STILL NOT PAYING ATTENTION> Then I have to use the power ball.
Layeeck: It will drain your energy to even use it. It's a gamble. But if you have to…
<LEDAS COMES BACK INTO CONSCIOUSNESS; HE LOOKS UP AT LIEME WHO IS FAST APPROACHING HIM; HE SEES LIEME DOES NOT WEAR A SCOUTER; LEDAS ROLLS OVER AND GATHERS HIS ENERGY AND SHOOTS A POWER BALL INTO THE AIR; LIEME STOPS, ABOUT TEN YARDS AWAY FROM LEDAS>
Lieme: <EYES WIDEN> Oh, well this is going to be interesting.
<CLOSE UP OF THE POWER BALL, IT IS SEVERAL HUNDRED FEET IN THE AIR AND IS SHINING BRIGHTLY; THE RAIN HAS STOPPED>
Ledas: <ROLLS OVER ONTO HIS BACK, IS LAUGHING> Ha ha ha. You guys don't know what I'm about to do, huh? <STANDS UP, ARMS OUTSTRETCHED> Well watch this!
Lieme: Boss, we have a situation here.
Banas: Yeah, what is that thing?
Lieme: It's–
<LEDAS STARTS TRANSFORMING INTO HIS GREAT APE FORM, HE GROWS VERY TALL, AND GAINS HAIR ALL OVER HIS BODY; IN JUST A FEW SECONDS, LEDAS IS FULLY TRANSFORMED>
Lieme: …an artificial moon.
Banas: Oh, you've got to be kidding me…
<LEDAS JUMPS FORWARD, AND BATS LIEME AWAY, INTO A NEARBY MOUNTAIN, PAYAR MOVES FORWARD, BUT LEDAS GRABS HIM IN HIS HAND; LEDAS LAUGHS AGAIN; HE THEN THROWS PAYAR TO THE GROUND, COVERING HIM IN RUBBLE; BANAS RISES INTO THE AIR TO FACE THE APE AS HE TURNS TO AROUND TO APPROACH THE CAPTAIN>
Banas: There's not many people alive who could single-handedly take out my entire team… with such ease. I applaud you, Saiyan.
<HE CLAPS TWICE, AND ON THE SECOND CLAP DISAPPEARS; LEDAS LOOKS AROUND, BUT DOES NOT SEE HIM; BANAS REAPPEARS ABOVE THE APE'S HEAD, AND HANDS INTERLOCKED, BRINGS DOWN A POWERFUL PUNCH ONTO HIS CRANIUM; LEDAS, IN A ROAR OF RAGE, JUMPS INTO THE AIR, MUCH HIGHER THAN BANAS EXPECTS, AND HITS HIM AWAY; BANAS IS ABLE TO RECOVER, MIDAIR, AND IMMEDIATELY SHOOTS A POWERFUL BEAM OF ENERGY AT LEDAS; LEDAS, AS WELL, WITHOUT HESITATION SHOOTS A BEAM OF ENERGY OUT OF HIS MOUTH, CAUSING A BEAM STRUGGLE BETWEEN THE TWO; BANAS, BEING STRONGER THAN LEDAS IN HIS GREAT APE FORM, EASILY OVERPOWERS IN THE STRUGGLE; A HUGE EXPLOSION SENDS LEDAS FLYING WAY BACK INTO THE FOREST; HE IS LYING DOWN, NOT MOVING>
Banas: <MOVING OVER TO PAYAR> Hey, <BREATHING HEAVILY> Payar, you there?
Payar: <ROLLS OVER; DAZED AND IN PAIN> Hey, cap'n. Did ya get him?
Banas: <GLANCES OVER AT LEDAS, WHO STILL IS NOT MOVING> Not yet. You know how to get him back to normal?
Payar: Naw, cap'n. <COUGHS> Try Lieme, he'll prolly know… He knows everything…
Banas: <RISES INTO THE AIR, AND FLIES OVER TO LIEME> Lieme! You awake?!
Lieme: <COMES FROM AROUND A CORNER OF THE RUBBLE; HE IS DISHEVELED AND LIMPING> Yeah, boss, I'm here.
Banas: I need to know how to get him <NODS TO LEDAS> to go back to normal.
Lieme: <PAUSE> You have to cut off his tail. <COUGHS> It won't be easy, though.
Banas: Are you okay to fight? Can you help?
Lieme: Sorry, boss. <SLIDES DOWN TO A SITTING POSITION UP AGAINST THE ROCK> I can't.
Banas: Alright. Meloon won't be of any use either. I'll try to get to his tail before he wakes up. Stay here, I'll be back.
Lieme: Heh, <COUGHS AGAIN> where else would I go, boss?
<BANAS RISES INTO THE AIR, AND FLIES OFF TO LEDAS; UNFORTUNATELY, LEDAS IS LYING ON HIS BACK, AND BANAS CAN'T GET TO HIS TAIL; HE TRIES TO ROLL THE SAIYAN OVER>
Banas: <IN AGONY> C-c-c-ome on!!!! Roll over, you stupid ape!
<BANAS GETS LEDAS ROLLED OVER HALFWAY, WITH HIS LEFT HAND, HE KEEPS LEDAS PINNED UP, WITH HIS OTHER, HE READIES A RAZOR BLAST TO SEVER THE SAIYAN'S TAIL>
<LEDAS' EYES OPEN, WITH A GROWL, HE TAKES HIS HAND REACHES BEHIND TO HIS BACK TO HIT BANAS; BANAS DODGES IT; LEDAS GETS UP AGAIN AND GRABS A TREE, HE THROWS IT AT BANAS, WHO DUCKS>
Banas: You even in there, Saiyan? Or am I just staring at a beast?
Ledas: <LAUGHS> Captain Banas.
<BANAS IS TAKEN ABACK BY THIS AND LETS HIS GUARD DOWN, LEDAS CHARGES AND GRABS HIM, THEN RAISES HIM TO THE AIR, AND SLAMS HIM INTO THE GROUND>
<LEDAS TRIES TO STEP ON HIM, BUT BANAS MOVES OUT OF THE WAY, ROLLING THROUGH LEDAS' LEGS; HE SEES AN OPENING AND SHOOTS A RAZOR BLAST UP AT LEDAS' TAIL, IT SEVERS IT AND THE SAIYAN QUICKLY REGRESSES, FALLING TO THE GROUND, HARD, INTO A POOL OF HIS OWN BLOOD>
Banas: <STANDS UP, FIXES HIS HAIR, AND LOOKS AT THE SAIYAN> All this destruction from such a little kid. <WALKS OVER TO LEDAS, HE IS SLEEPING; BANAS IS NOT MAD> You see that, Lieme?! Amazing!
<CUTS TO THE MEDICAL BUILDING>
<BANAS IS WALKING DOWN THE HALLS, WHERE LESSER ALIENS ARE WORKING ON SEVERAL REJUVENATION PODS; IN THE PODS, LIEME, PAYAR, AND MELOON ARE HEALING; STRANGELY, THOUGH HE IS INJURED HIMSELF, BANAS IS NOT GETTING HEALED>
<GUVA ENTERS>
Guva: <SERIOUS> This Saiyan gave your team quite a shellacking, I hear. I'm lucky to have you as my captain, Banas. Were you not as strong and smart as you were, he would have probably destroyed half the outpost before I could respond.
Banas: <SERIOUS AS WELL, BUT STILL LOOKING AT HIS TEAM> Maybe, but the real question is, what do we do with him now? Do we kill him? <BOTH START WALKING>
Guva: No, I think he's tamed now. He wouldn't try the same trick twice. That form's main power, after all, is its unexpectedness. And now that that's no longer a problem, the form itself is no longer a problem. <BOTH ARRIVE AT LEDAS' TANK, THEY LOOK AT HIM; LEDAS IS BRUISED, AND WITHOUT A TAIL>
Banas: Look at him sleeping. So peaceful. <PUTS HIS HAND ON THE TANK> Well, enjoy your rest while you can, kid. You're gonna need it.
<CAMERA ZOOMS INTO BANAS' EYES; THERE IS A BRIEF MONTAGE OF LEDAS BEING PUNISHED AND TORTURED ALL AROUND; HE IS THROWN ABOUT, BLOODIED, AND PHYSICALLY WORN OUT; THE CAMERA ZOOMS BACK OUT TO BANAS' FACE; HE CHUCKLES>
New Tricks

[

]
<A MONTAGE PASSES, MUCH LIKE AT THE ENDING OF THE LAST CHAPTER, WHERE LEDAS IS GETTING BEAT UP; AGAINST LIEME, PAYAR, BANAS, HE CANNOT WIN; HE DOES NOT FIGHT MELOON AGAIN, BECAUSE TWICE IS ENOUGH; ON MISSIONS, LEDAS IS FORCED TO DO A MAJORITY OF THE WORK, BUT THE CAPTAIN AND THE OTHERS NEVER SHOW GRATITUDE TOWARD HIM; THIS MONTAGE SPANS A GOOD DEAL OF TIME, MAYBE A YEAR>
<THE MONTAGE STOPS BACK ON THE PLANET>
<FLASHBACK>
Layeeck: What else is the power ball good for?
Ledas: It can re-grow my tail, but–
Layeeck: But what?
Ledas: <CHILD-LIKE> Power balls are hard to make.
Layeeck: You have to practice the technique. Whenever you have a free moment… try and make one.
Ledas: But what happens if I transform… I'd have to cut off my tail again.
Layeeck: If you feel you are about to transform, just destroy the power ball. You won't transform that way. Don't let yourself go without a tail. A good amount of our power is in our tails, son and so is our identity. Our tails make us Saiyans, they make us who we are. Without one, you are not a true Saiyan.
Ledas: But you cut off my tail…
Layeeck: <LOOKS ANGRY> Circumstances dictate responses.
Ledas: <INNOCENTLY, PLAYFULLY> I don't know what you're talking about…
<SCREEN FADES TO LEDAS, WHO IS WALKING OUTSIDE, HE IS HAVING A HARD TIME, AND FALLS OVER, BUT THEN GETS BACK UP; HE RETURNS TO HIS ROOM; AS HE WALKS PAST THE TROOPS, HE STILL STRUGGLES WITH BEING ABLE TO BALANCE; THEY LAUGH AT HIM; HE GOES INTO HIS ROOM AND FINDS THAT APRIDO IS NOT IN THERE; HE CLIMBS ON THE TOP BUNK, AND SITS ON THE EDGE, WITH HIS FEET HANGING OVER THE CORNER>
Ledas: <LOOKING DOWN AT HIS HAND, HE CREATES A POWER BALL> Can't let the others see…
<THE POWER BALL STARTS TO FORM, AND GETS BIGGER; LEDAS' WHOLE ROOM IS COVERED IN A BRIGHT LIGHT; HE IS HOLDING IT IN HIS PALM, BENT OVER IT, STARING>
<HIS TAIL GROWS BACK, INSTANTLY; FEELING IT, LEDAS QUICKLY DISSIPATES THE POWER BALL; HE STANDS BACK UP AND WALKS OUTSIDE; HE GOES DOWN THE DIRT PATH UNTIL HE NOTICES SOMETHING>
<LIEME IS TRAINING ALONE, IN A LARGE, CIRCULAR ROOM; IT IS LIKE A STADIUM; THE ROOF IS MADE OF ROCK, AND HAS MANY NATURAL HOLES, AND SUCH IN IT, THUS, THE GROUND IS LITTERED WITH POCKETS OF LIGHT; THE GROUND IS SAND; IT IS HOT OUT>
<LEDAS IS STANDING BACK, WATCHING LIEME TRAIN>
Ledas: Mr. Lieme… why don't you use a scouter?
Lieme: <LANDING, BREATHING HARD> Because I don't need one.
Ledas: <CURIOUS KID TONE> You mean you have a scouter in your brain?
Lieme: If that helps you understand it, then yes. I can see things you couldn't even begin to comprehend.
Ledas: <RUNS UP TO LIEME; AT THE BARRIER> Teach me how to do that!
Lieme: <CURTLY> It's not something you can learn, I was born with it.
Ledas: Then you can show me!
Lieme: <LOOKING AT LEDAS; IN HIS MIND> The kid has potential. Maybe training with him could help me figure out how he's gotten so powerful… and use that secret, myself… <OUT LOUD> As long as you don't get in my way–
Ledas: Great!! <LEDAS JUMPS OVER THE BARRIER, INTO THE TRAINING ZONE>
Lieme: <QUICKLY, AND TO THE ASTONISHMENT OF LEDAS, RIPS OFF THE CHILD'S SCOUTER, AND THROWS IT INTO THE STANDS ABOVE> If you want to learn, there will be no more scouters. You must learn to get rid your reliance on such archaic machines. Because, anything that is made artificially will fail you eventually.
Ledas: Mr. Lieme… do you think I can learn to sense people just like you?
<LIEME DISAPPEARS, THEN REAPPEARS BEHIND LEDAS, HITS HIM TO THE GROUND>
Ledas: <GETS UP> No fair… you gotta teach me.
Lieme: I don't have to do anything. If you can't adapt, then there's no point to continuing this! <LIEME DISAPPEARS AGAIN AND HITS LEDAS>
<LEDAS DODGES, BUT DOES SO, RIGHT INTO LIEME, CAUSING BOTH OF THEM TO FALL OVER; LIEME IS GETTING A LITTLE AGITATED; LIEME STARTS DISAPPEARING AND REAPPEARING ALL AROUND LEDAS; THERE ARE ABOUT HALF A DOZEN AFTERIMAGES SURROUNDING AND CONFUSING THE CHILD; LEDAS PUNCHES AT EACH OF THEM, BUT NONE ARE THE REAL LIEME, COMING FROM RIGHT IN FRONT OF HIM, LIEME JUMPS FORWARD AND KICKS LEDAS IN THE FACE>
<LEDAS FALLS TO THE GROUND, BUT BEFORE HE HITS IT, HE DISAPPEARS, AND REAPPEARS BEHIND LIEME; LIEME SENSES HIM AND BACKFLIPS OVER THE CHILD AND BRINGS A CRUSHING BLOW DOWN UPON LEDAS' HEAD>
Ledas: <DESCENDS TO THE GROUND, HOLDING HIS HEAD; WITH LETHARGY> Owwwwie… you don't need to hit me so hard…
Lieme: Stop your whining.
Ledas: <STILL IN PAIN> I'm just a kid. You're going too hard on me.
<LIEME IS STILL A BIT AGITATED, HE ATTACKS AGAIN>
Lieme: <IN HIS MIND> He's a Saiyan, so he'll get stronger after every fight… even this one. I have to watch myself.
<LEDAS PUNCHES AT HIM, AND HE DODGES UP INTO THE AIR>
<UP IN HIS OFFICE, GUVA IS SEEN WATCHING LEDAS AND LIEME TRAIN; HE IS CONTENT>
<CUTS BACK TO LIEME AND LEDAS, IT HAS BEEN SEVERAL DAYS, AND THEY ARE TRAINING AGAIN>
Lieme: You're getting quick. <DODGES OUT OF THE WAY, ACTUALLY HAS TO PUT EFFORT INTO TRYING NOT TO GET HIT> But you still are not focused enough.
Ledas: <STOPS ATTACKING> Whoa….
Lieme: <STOPS AS WELL> What is it, now?
Ledas: <SUDDENLY GRINS> I can feel you.
Lieme: <UNCONVINCED> Really? You think you can back that up? <HE RUSHES AROUND LEDAS, CREATING A CONFUSING MESS OF AFTERIMAGES AGAIN, BUT THIS TIME, LEDAS IS EASILY ABLE TO PICK UP UPON THE REAL LIEME, AND HITS HIM; LIEME STOPS THE CONFUSION, AND SLOWLY DESCENDS BACK TO THE GROUND> So, you weren't lying…
Ledas: <GIDDY WITH EXCITEMENT> Ha ha! I did it… I did it!
Lieme: Don't get too cocky. You're just beginning… and I'm still much better than you. <IN HIS MIND> How the hell is he learning all this so fast? I'm watching him with my own eyes, and I can't even believe it! What is his secret?
Ledas: I'm gonna attack again, Mr. Lieme… <LEDAS ATTACKS AGAIN, AND LIEME DEFENDS, BUT THEN LEDAS DISAPPEARS; LIEME CANNOT SENSE HIM>
Lieme: What the… where'd he go? <AFTER A FEW MOMENTS OF LOOKING AROUND, LEDAS COMES DOWN ON LIEME'S NECK, FROM BEHIND, SHOCKING THE ELITE; HE GETS BACK UP> And where did you go?
Ledas: I learned a new trick…
Lieme: <SPUTTERING> Yeah? And what was that?
Ledas: <PLAYFUL ARROGANCE> Hmph… I'm not gonna tell you!
Lieme: <IN HIS MIND> He must be raising and dropping his power level at will. Clever.
<LIEME AND LEDAS SPAR AGAIN; THEY GO ON FOR THE DAY, UNTIL THE SUN SETS>
<CUTS TO BANAS AND GUVA, WHO ARE WATCHING AGAIN>
Banas: He's over 100,000. Can you believe it?
Guva: At such a young age? Were you that powerful when you were young?
Banas: No…
Guva: Don't you think it strange this Saiyan is so powerful? All the other ones I've met have been worthless. This one's different… <LAUGHS> but I'm not worried.
Banas: <SARCASTICALLY> No, of course not… until he gets stronger than you.
Guva: I have a plan in place if something like that was to happen. Seriously, Banas, you need to stop worrying so much. Stress is so bad for your health.
Banas: And what happens when he grows up? Hmm? He'll certainly be even stronger!
Guva: I am fully aware of what we have on our hands. I would rather use it for our advantage than squander it. He's nowhere near our capabilities, Banas, and he never will be.
<BACK AT THE TRAINING AREA, LIEME HAS LEFT AND LEDAS IS SITTING ON A HILL OVERLOOKING THE NATIVES' MINING POST; THE SUN IS SETTING BEHIND HIM; HE WATCHES AS PAYAR PATROLS THE NATIVES' WORK AND KILLS A FEW>
Ledas: <TO HIMSELF> They're just slaves here… just like me.
<HE SHAKES HIS HEAD AND STANDS UP TO LEAVE WHEN HE NOTICES SOMETHING UP IN THE STANDS OF THE STADIUM BEHIND HIM; HE FLIES OVER TO IT, AND SEES THAT IT WAS HIS SCOUTER, WHICH LIEME THREW SO MANY WEEKS AGO; HE PICKS IT UP, REMEMBERING THE DAY THAT HIS FATHER GAVE IT TO HIM, THE FIRST MISSION THAT THEY WENT ON TOGETHER; HE STARES AT IT, WITH SADNESS; WITHOUT ANOTHER THOUGHT, HE WALKS OUT, WITH THE SCOUTER STILL IN HIS HAND>
<THE CAMERA PANS BACK OUT, OVER THE OUTPOST COMPLEX, IN THE DISTANCE, APRIDO CAN BE SEEN, IN THE FAR LEFT CORNER, WATCHING LEDAS; THERE IS MUCH JEALOUSY ON HIS FACE>
<SCENE CHANGE>
<BACK INSIDE THE CAVE WITH THE BENEFACTOR; HE IS STILL BOUND TO A CAVE WALL; HE LOOKS TO BE IN POOR HEALTH>
The Benefactor: <TIREDNESS IN HIS VOICE> What do you want with me?
Lauto: <FLOATING NEARBY, BUT NOT LOOKING AT THE BENEFACTOR> You're awake? I suppose we can get started now. Your body has proven to be remarkably durable.
<HE TURNS AROUND TO FACE THE BENEFACTOR AND YELLS, CREATING A KI AURA AROUND HIM; AS HE DOES, HE PLACES BOTH OF HIS HANDS ON THE BENEFACTOR'S BODY; WHEN HE DOES, HIS KI ENVELOPS THE BENEFACTOR; THE BENEFACTOR STRUGGLES AGAINST IT, IN PAIN, BUT IS UNABLE TO MOVE; WITHIN SECONDS, LAUTO HAS STOPPED AND MOVES BACK; THE BENEFACTOR'S HEAD HAS DROOPED AND HE IS BREATHING HEAVILY; HOWEVER, IN BETWEEN LAUTO AND THE BENEFACTOR IS NOW A BLACK MIST>
The Benefactor: <STRUGGLING TO LOOK UP> What… what have you done to me?!
Lauto: <GESTURES IN FRONT OF HIMSELF> This is your energy; your ki; your life-force. It's relatively high for a regular being such as yourself. I will enjoy the boost it gives me.
The Benefactor: What?
Lauto: I should explain. I was once a god – the Grand Supreme Kai of this universe. But my fellow Kais thought I was a poor ruler and had me replaced. They were my friends once. <HE STEPS INTO THE LIGHT FOR THE FIRST TIME; THE BENEFACTOR SEES HIS FACE; IT IS LIGHT PURPLE WITH A WHITE MOHAWK; HIS FACE IS WRINKLED AND LOOKS OLD; ACROSS HALF OF HIS FACE, HE HAS AN INJURY THAT LOOKS LIKE HIS SKIN WAS BURNED> But not anymore. I was born to watch over all life in this universe! Without that, I am nothing. And should I die, I'll have to go back to my people… but that won't be happening. <HE FLIES RIGHT UP TO WITHIN A FEW INCHES OF THE BENEFACTOR'S FACE> I will be taking your body. I was planning on finding an ideal candidate – someone like Frieza or his brother Cooler – but you happening on my door has been most fortunate. You'll do for now.
The Benefactor: <DETERMINED> I'll slit your throat.
Lauto: Then you'll be slitting your own. <HE MOVES BACK> Now stay quiet. I must attune my life-force to yours. <HE MOVES INTO THE CLOUD OF THE BENEFACTOR'S ENERGY AND RAISES HIS ARMS OVER HIS HEAD>
<THE BENEFACTOR STRUGGLES AGAIN, BUT IT'S NO USE; HE SLUMPS FORWARD AND BOWS HIS HEAD IN SHEER EXHAUSTION>
You're So Lucky

[

]
<SOME TIME LATER>
<LEDAS IS LYING ON HIS BED, DAYDREAMING; HE IS NOT WEARING ARMOR, BUT IS DIRTY, AS IF HE HAS JUST GOTTEN DONE WITH SOME TRAINING; ON THE SIDE OF HIM IS HIS SCOUTER>
<HE HAS HIS HANDS IN THE AIR WHEN PAYAR ENTERS; PAYAR DOESN'T EVEN KNOCK; AS THE SCREEN PANS BACK, APRIDO CAN BE SEEN NAPPING ON HIS BED>
Payar: Saiyan. Cap'n has a new shipment in. We're picking it up.
Ledas: <PICKS UP HIS SCOUTER AND LOOKS THROUGH THE LENS, HOLDING IT AWAY FROM HIS FACE> Can't you get Lieme to help you? I'm tired.
Payar: Nope, you're helping me today.
Ledas: Fine.
<LEDAS FOLLOWS, BUT DRAGS HIS FEET; HE BRINGS HIS SCOUTER WITH HIM>
<THE TWO LEAVE AND TAKE THE SECONDARY ROAD DOWN FROM THE OUTPOST TO THE CLOSEST NATIVE ENCAMPMENT; AS THEY GO, THEY NOTICE MELOON SITTING OUTSIDE BEHIND A TABLE EATING A LARGE AMOUNT OF FOOD; HE IS SURROUNDED BY A FEW LESSER SOLDIERS, WHO ARE CHEERING HIM ON; LEDAS SMIRKS WHEN HE SEES IT>
Ledas: <LOOKING AT THE TREES AS THEY GO INTO THE WILD COUNTRY> Payar, why do you kill the natives so much?
Payar: Because I want to. <WALKS FOR A WHILE BEFORE CONTINUING> You're one to complain. You kill just as many.
Ledas: Because you and Guva make me do it.
Payar: Well? You don't like it? You can't be serious. It's the most entertaining thing we can do on this rock!
Ledas: <IN HIS MIND> Yeah, but you force me to do it! <OUT LOUD> You don't have to kill so many of them. When you do, I have to go clean up the bodies. Besides, the way you do it is really gross.
Payar: Have you ever, for once, entertained the thought that I just don't care? Because I don't. So save your petty complaints.
Ledas: I wasn't being–
<PAYAR HOLDS UP HIS HAND; THEY BOTH STOP>
<AHEAD OF THEM, THE NATIVES ARE ALL DEAD; THEIR HOUSES ARE SMOLDERING AND BURNT; THE LANDING AREA, WHICH CONSISTS OF A LANDING PAD AND A TOWER, IS ALSO DESTROYED; THE SOLDIERS WHO WORK THE TOWER ARE STREWN ABOUT, DEAD; THE CAPTAIN'S SHIPMENTS ARE NOWHERE TO BE SEEN>
Ledas: Whoa, who did this?!
Payar: What the hell…?
<PAYAR SUDDENLY KICKS LEDAS TO THE RIGHT, SENDING THE BOY FLYING INTO THE BUSHES; HE LEAPS LEFT, BEHIND A TREE; BEFORE LEDAS REALIZES WHAT IS GOING ON, OR HAS A CHANCE TO YELL OUT, PAYAR BUZZES HIM>
Payar: <OVER HIS SCOUTER> Don't say a word, Saiyan. There's someone up there.
<LEDAS GETS DOWN ON HIS STOMACH; HE PEERS THROUGH THE BUSHES; HE CAN SEE A FEW BEINGS AHEAD; BUT HE CANNOT MAKE THEM OUT>
Payar: <OVER HIS SCOUTER> Go around right. I'll go around left. Give some suppressing fire to lead them my way. Then, I'll deal with them.
Ledas: <BREAKING THE SILENCE; OVER HIS SCOUTER> Um, what if it's Lieme or someone?
Payar: <OVER HIS SCOUTER> It's not them. They wouldn't destroy this place. Wait for my signal. <HE PEERS OUT AGAIN; WE GET TWO PANELS OF HIM LOOKING; THEN HE SPEAKS> Hurry up, go!
<LEDAS BOLTS OUT AND RUNS RIGHT; HE JUMPS OVER THE BUSHES AND FOLIAGE, AND COMES CRASHING DOWN INTO THE MUD IN FRONT OF THE CREATURES; THERE ARE TWO OF THEM; CLEARLY, NEITHER IS A MEMBER OF THIS PLANET; HOWEVER, THEY WEAR COOLER'S ARMOR; THIS MAKES LEDAS HESITATE>
<THE FIRST ALIEN LUNGE-PUNCHES LEDAS BACK; LEDAS ROLLS FORWARD; HE CREATES A PLAYFUL GALICK; WHEN HE STEPS UP FROM HIS ROLL, LEDAS FIRES IT OFF; THE TWO CREATURES BLOCK IT, BUT ARE PUSHED BACK; SEEING HIS OPPORTUNITY, LEDAS FIRES OFF AN UNRELENTING ENERGY BURST; THE DOZENS OF SMALL KI BLASTS ENGULF THE TWO CREATURES; THEY ARE PUSHED BACK>
<PAYAR COMES OUT FROM BEHIND HIS TREE; LEDAS STOPS FIRING THE BLASTS, SO HE DOESN'T HIT HIS ALLY; PAYAR LEAPS FORWARD, ATTEMPTING TO GRAB THE TWO ALIENS; HE MISSES, FALLING TO THE GROUND; THE TWO CREATURES RISE INTO THE AIR; THEY WORK TOGETHER TO ATTACK PAYAR>
Ledas: <PRESSES HIS SCOUTER> Captain Banas! We need your help! <LEDAS RUNS FORWARD TO HELP PAYAR; PAYAR CANNOT USE ENERGY, SO HE IS ABSOLUTELY OUTMATCHED NOW THAT THE ALIENS ARE OUT OF HIS PUNCHING RANGE> Someone's attacking us down on the landing pad!
<LEDAS REACHES THEM; HE SHOOTS AWAY THEIR ENERGY BLASTS BEFORE THEY REACH PAYAR; THE TWO FACE HIM AGAIN; THEY COMBINE BLASTS; LEDAS ROLLS AWAY, DUCKING AND WEAVING AROUND; HE SHOOTS OFF SEVERAL SMALL KI BLASTS, BUT CANNOT GET A GOOD POSITION TO AIM; HIS KI MISSES THE MARK>
<JUST AT THIS TIME, A HAIL OF YELLOW ENERGY COMES FLYING FROM BEHIND THE TWO CREATURES; THE BLASTS HIT THEM, BUT DO NOT EXPLODE; INSTEAD, THEY CUT INTO THE CREATURES, THROUGH THEIR ARMOR AND INTO THEIR SKIN; THEY YELL OUT>
<BEHIND THEM IS BANAS; HE IS ALONE, BUT IN FULL ARMOR; THEY FACE HIM>
Banas: <IN ALL HIS FURY> Who are you?!
Alien 1: <THROUGH PAIN> Captain Banas! We were wondering when you'd show up! <BANAS CHARGES UP A LARGER BLAST AND FLINGS IT AT THE CLOSER ALIEN; IT IMPALES THE ALIEN THROUGH THE NECK AND HE FALLS TO THE GROUND DEAD> Okay, okay! Let's just calm down a bit! Come here, let's talk.
<THE ALIEN DESCENDS TO THE GROUND AND BECKONS LEDAS AND BANAS TO DO LIKEWISE>
Banas: <AS HE REACHES THE GROUND> What are you doing on my planet?!
Alien 1: Just returning the favor for killing our friends. <HE SMILES AND PRESSES A BUTTON ON HIS ARMPAD>
Banas: The hell? You can't be talking about those rebels that came to me years ago…?!
Alien 1: <SMILING> Ah, you remember us! Well, we're stronger now! And we can afford to dish out some payback! <HE LAUGHS WHILE RAISING HIS HEAD AND ARMS INTO THE AIR; WITHIN A MOMENT, HE IS COATED IN A WHITE LIGHT> This is for those you've killed, Captain!
<THE BLAST ENGULFS THE THREE PLANTAINS; BANAS RECOVERS BEFORE THE OTHERS AND DASHES UP TO THE ALIEN; WITHOUT ANOTHER THOUGHT, HE MERCILESSLY PUNCHES THE ALIEN THROUGH THE STOMACH; AS HIS FIST COMES OUT THE OTHER SIDE, THE CAPTAIN FLINGS THE ALIEN OFF OF HIS ARM AND DOWN TO THE GROUND>
Banas: <WITH UTTER DISGUST> Get off my planet.
<JUST AS BANAS KILLS THE ALIEN, LIEME AND MELOON ARRIVE>
Lieme: Boss, what is this?
Meloon: We're under attack?!
Banas: I don't know… keep your eyes sharp.
Lieme: Boss… that guy <NODS TO THE DEAD ALIEN AT BANAS' FEET> wasn't the only power level I felt coming over here.
<JUST AS BANAS GOES TO ANSWER, A LOUD NOISE CAN BE HEARD; ALL FIVE OF THE SOLDIERS LOOK UP AND SEE TWO MASSIVE GUNBOATS DESCENDING FROM THE CLOUDS; A SLEW OF CREW MEMBERS COAT THE NEAREST SIDE OF EACH SHIP, AND THEY ARE ALL READYING UP ENERGY BLAST>
Banas: Ah, hell. Get to cover!
<THE PLANTAINS DODGE AS THE BLASTS START RAINING DOWN, BOMBARDING THE ENTIRE LANDSCAPE; LEDAS DROPS TO A KNEE AND SHOOTS OFF A GALICK GUN, BRIEFLY ENGAGING IN A BEAM STRUGGLE WITH ONE OF THE CREW MEMBERS ABOVE BEFORE DESTROYING THE ALIEN; THE OTHER PLANTAINS TRY SIMILAR MANEUVERS; MELOON, HOWEVER, JUST SHOOTS A BUNCH OF RANDOM BLASTS UPWARD, HOPING TO DAMAGE THE SHIP; CLEARLY, HOWEVER, THE PLANTAINS ARE BARELY HOLDING THEIR GROUND, AS THE COMBINED FIREPOWER OF DOZENS OF ENEMIES STARTS TO PUSH THEM BACK>
<PAYAR, WHO IS FLINGING TREES AT THE BOATS LIKE GULDO ON STEROIDS, IS HIT WITH SEVERAL BLASTS AND FALLS TO HIS KNEES; WITHIN MOMENTS, THE COMBINED ENERGY IS FOCUSED ON MELOON, AND HE HAS TO TAKE COVER; THE BLASTS THEN TURN TO LEDAS>
Ledas: <HE ROLLS BACK AND ATTEMPTS TO FIND COVER WHEN A CONCENTRATED ENERGY BLAST HITS HIM IN THE FACE, DESTROYING HIS SCOUTER; HE FALLS DOWN, FACE FIRST, INTO THE MUD> No! Dad gave me that scouter!
<THEN, AS THE REMAINING PLANTAINS START GETTING MORE AND MORE OVERWHELMED, THEY NOTICE A NEW AURA LIGHT UP THE SKY, COMING FROM DUE NORTH, TO THEIR RIGHT; IT IS PURPLE>
Meloon: Captain! Looks like the governor's come to play! Ha ha! <HE IMMEDIATELY GETS HIT WITH A BLAST AND IS FLUNG AWAY LIKE A RAGDOLL>
Banas: <TO HIMSELF> Shit.
<THE CAMERA FOCUSES ON GUVA, WHO IS FLYING AT HIS FASTEST SPEEDS; HE IS WEARING EXTREMELY ORNATE PURPLE AND GOLD ARMOR, AS WELL AS A CAPE; WHEN HE REACHES THE NEAREST GUNBOAT, HE CREATES TWO ENERGY SWORDS IN HIS HANDS; HE FLIES THROUGH THE GROUPS OF REBELS AND CUTS THEM TO PIECES, MOSTLY DECAPITATING AND CUTTING THEM IN HALF; THEIR LIMBS AND CORPSES FALL FROM THE BOAT TO THE GROUND; AFTER GUVA KILLS THEM ALL, HE LANDS ON TOP OF THE GUNBOAT AND POINTS HIS HANDS DOWN TO THE FLOOR; HE THEN CREATES AN ELEGANT FINISHER AND SHOOTS IT; WITHIN SECONDS, THE FIRST GUNBOAT IS DESTROYED>
<AS GUVA MOVES TO THE SECOND GUNBOAT, THE REBEL CREW NOTICES HIM AND TURN THEIR FIRE ON HIM; HE GOES ON THE DEFENSIVE, WEAVING AND DODGING UP INTO THE SKY; AS HE DOES, HE NOTICES THE AURA OF BANAS COME UP AND LAND ON THE DECK BEHIND THE CREW; WITHIN A SINGLE BLAST, HE ENGULFS THEM AND INCINERATES THEM; THEN, HE SHOOTS AN ENERGY BARRAGE ONTO THE SHIP ITSELF; THIS IS JOINED BY THE BLASTS OF LIEME, MELOON, AND LEDAS FROM BELOW; AS WELL, GUVA, FROM ABOVE, SHOOTS ANOTHER ENERGY BLAST DOWN AT THE GUNBOAT; WHEN ALL OF THEIR ATTACKS HIT, THE SHIP BLOWS UP>
<THEN, AS THE SMOLDERING RUINS FALL TO THE GROUND, BANAS AND GUVA RETURN TO THE REST OF THE GROUP>
Guva: <ALL BUSINESS; BEFORE HE HAS EVEN LANDED> Who were they?
Banas: Just some rebels.
Guva: And why were they attacking us, Captain?
Banas: <STEADFAST; STARTS WALKING AWAY AS HE LANDS> I don't know, guvvy.
Guva: <TELEPORTS IN FRONT OF BANAS> I am not in the mood for games, Banas. I can interrogate your team if I have to.
Banas: <SIGHS> Nah, you don't have to. Those guys were here because I didn't join them a few years back. Actually killed two or three of them, I think. They were coming back for revenge.
Guva: <ANGER SURGING> What?! You were approached by a rebel group and didn't report it to me?!
Banas: I didn't think it was important at–
Guva: <RAISES HIS HAND; HIS FACE IS STILL LIVID> Shut up. I don't want to hear it. As of now, you are removed as Captain of my installation.
Banas: <SHOCK> What?! Guva, you can't–
Guva: I'm your governor; I can do what I please. Now follow me to my office; I'm going to need to report this to Lord Cooler. No more backtalk, either. Come on, let's go.
<GUVA AND BANAS THEN LEAVE, THE LATTER STILL IN SHOCK; HIS PLANTAINS JUST STAND THERE, RECOVERING FROM THEIR WOUNDS, WATCHING THE TWO GO; NO ONE SPEAKS; AFTER SOME TIME, MELOON AND LIEME LEAVE; BOTH ARE IN ALMOST AS MUCH SHOCK AS BANAS WAS; PAYAR, HOWEVER REMAINS BEHIND>
<LEDAS WATCHES AS PAYAR KICKS THE GROUND; CLEARLY, THE ALIEN IS ANGRY; HE THEN WATCHES PAYAR TAKE THE FAMILIAR PATH DOWN TO ANOTHER CAMP OF NATIVES>
<LEDAS SINKS TO THE GROUND AND LOOKS AT THE BROKEN PIECES OF HIS TEAL SCOUTER; HE CROUCHES ON HIS HANDS AND KNEES>
Ledas: Dad gave that to me on the first mission he ever took me on… <HE SIGHS AND SITS UP AGAINST A NEARBY TREE; AROUND HIM ARE THE BURNING PIECES OF THE GUNBOATS> Guess a lot has changed since then.
The Day I Had 60 Pokémon

[

]
<GUVA AND LEDAS ARE STANDING, FACING ONE ANOTHER, OUTSIDE OF GUVA'S OFFICE ON THE THIRD FLOOR; BEHIND THEM IS A WALL-WINDOW; THE SUN IS SETTING BEHIND THEM, PARTIALLY SILHOUETTING THEIR FIGURES>
Guva: What's your power level?
Ledas: <SHRUGGING> About half of their's, I guess…
Guva: That won't do. With Banas on suspension, I can see him making a move on me soon. I need you to be stronger, Ledas. I'm hoping Payar will side with us should Banas try something, but I can't guarantee his loyalty.
Ledas: I'm training as hard as I can, sir.
Guva: <KNEELS DOWN, PLACES HANDS ON LEDAS' SHOULDERS> I'll find any remaining Saiyans if you help me with this. You know that. <STANDS BACK UP> So don't take too long. I'm not sure either of us can afford it. Now give this to Lieme. It's the flight plan from the gunboats. He'll be able to find where they came from with this. <HE HANDS LEDAS A SMALL INFORMATION CHIP>
<GUVA EXITS RIGHT, LEDAS EXITS LEFT>
<LEDAS LEAVES THE BUILDING AND WALKS TO THE SECONDARY POD LAUNCH STATION; THERE, THE PLANTAINS ARE WAITING FOR HIM; LIEME IS LEANING UP AGAINST A WALL WITH HIS ARMS CROSSED AND HEAD BOWED; MELOON IS SITTING AT A TABLE NAPPING, AND PAYAR IS SITTING ON A LEDGE NEAREST THE ENTRANCE; WITHOUT SPEAKING, LEDAS ENTERS AND THROWS THE CHIP AT LIEME, WHO LOOKS UP AND CATCHES IT AT THE LAST SECOND; HE NODS TO LEDAS AND STANDS UP, MOVING TO HIS POD; HE MOTIONS FOR MELOON TO JOIN HIM>
<LEDAS FINDS HIS ARMOR NEARBY AND STARTS PUTTING IT ON; PAYAR WATCHES HIM>
Payar: Saw you talking to the governor. Why'd he talk to you and not Lieme?
Ledas: <BARELY PAYING ATTENTION; SLIPS CHEST HARNESS OVER HIS HEAD> I dunno.
Payar: It's fucking bullshit, you know.
Ledas: <STOPS AND LOOKS UP> What?
Payar: <SUDDENLY FUMING> Guva. Making Lieme the temporary captain. I should be captain. I'm a better leader.
Ledas: <GOES TO PUT ON HIS GLOVES AND BOOTS> Yeah, but Lieme's stronger than you. Plus, he can use ki.
Payar: Watch it, kid. I ain't in the fucking mood.
Ledas: Does it really matter? I bet being captain is boring.
Payar: <JUMPS OFF THE LEDGE> Yeah. Well, it's Guva's mistake. If he thinks letting me kill the natives is enough, then he's in for a shock.
Ledas: Enough for what?
Payar: Don't think I don't know what's going on, kid. I know why you're still here. Guva wants you as protection in case Banas tries to take over the outpost. He probably thought up that plan the day we found you. And he's been bribing me with the gladiator matches so I'd help him too. But he messed up. I should be captain. That's all there is to it.
<PAYAR WALKS PAST HIM, TO THE PODS; ONCE LEDAS' GEAR IS ON, HE JOGS OVER TO THE REST OF THE GROUP; AS HE GETS THERE, HE NOTICES LIEME IS HOLDING A BOX>
Lieme: Governor gave me enough for all of us. 60 apiece. <HE TAKES OUT SMALL POUCHES FROM THE BOX AND TOSSES THEM TO ALL THREE OF HIS SUBORDINATES> Don't let them out until we're on board. These are the latest models. They don't need to be planted. Just warm them up a bit with your ki, okay?
<PAYAR AND MELOON NOD>
Ledas: But what are these, Mr. Lieme sir?
Lieme: Saibamen.
Ledas: Saibamen? I used to train with those. They're so weak!
Lieme: Not in large numbers. Besides, governor thinks it's better than using regular soldiers. Something to do with morale. Now, keep them close, and don't let them out until I give you the word. All right, let's move.
<THE FOUR PLANTAINS GET INTO THEIR PODS AND FLY OFF>
<CUTS TO IN SPACE, AS THE PLANTAINS REACH THEIR TARGET; IT IS A LARGE, ICE-COVERED PLANET; HOVERING ABOVE THE PLANET IS A LARGE ARMORED RIG; IT IS COVERED IN WEAPONRY; THEY LAND ON THE PLANET AND ALL EXIT; SINCE LEDAS CAN SENSE KI, AND HIS SCOUTER WAS DESTROYED IN THE LAST CHAPTER, HE NOW USES A WRIST-PAD TO COMMUNICATE WITH THE OTHERS; THIS IS THE SAME WAY THAT LIEME COMMUNICATES WITH EVERYONE; THE FOUR PODS ALL LAND ON DIFFERENT PARTS OF THE PLANET; LEDAS LANDS NEAR THE NORTHERN POLE>
<AS HE EXITS HIS POD, HE STARTS SHIVERING FROM THE COLD; HOWEVER, THERE ARE NO WINDS; HE CAN SEE MANY TALL TOWERS AROUND HIM>
Lieme: <OVER THE COM> All right. Their base is too heavily fortified to go in normally. Everyone get to the nearest tower as quietly as you can. Once you're inside, use the teleportation grid; that will put you on board their base. <LEDAS LOOKS UP AND NOTICES THE LARGE FLOATING INSTALLATION FAR ABOVE THE TOWERS; IT IS LINED WITH GUNS> And go slowly. We don't know how many there are. They could overwhelm us if we aren't careful.
<LEDAS CREEPS FORWARD TO THE NEAREST TOWER; IT IS INCREDIBLY TALL; AT THE TOP OF THE TOWER IS A CIRCULAR OBSERVATORY WITH DUAL FINS ROTATING AROUND IT; FROM THE OBSERVATORY DOWNWARD IS A THIN CABLE WHICH DESCENDS ALL THE WAY TO WITHIN A FEW METERS OF THE ICY SURFACE; AS LEDAS LOOKS AT IT, THE END OF THE OF CABLE LIGHTS UP, AND SUDDENLY A BOLT OF ENERGY FLIES FROM IT, SLAMMING INTO THE GROUND; THE ICY ROCK BREAKS APART AS THE AREA IS COATED IN A PINK-YELLOW HAZE WHICH DEMATERIALIZES MUCH OF THE LOOSE ROCK>
<AS LEDAS WATCHES, A GUNBOAT, LIKE THE ONE THAT ATTACKED PLANET 92, COMES BY THE SPIRE AND UNLOADS A FEW TROOPS; THEY ARE WEARING VACUUM-SEALED PLANET TRADE ORGANIZATION ARMOR; AS THEY GET OUT, THE TWO SOLDIERS MAKE THEIR WAY TO A METAL POST NEARBY THE TOWER AND PRESS A BUTTON; WITHIN MOMENTS, THEY ARE DEMATERIALIZED LIKE THE ROCKS; LEDAS WAITS FOR THE GUNBOAT TO LEAVE BEFORE RUSHING UP TO THE POST AND DOES LIKEWISE>
<LEDAS RE-MATERIALIZES INSIDE THE OBSERVATORY OF THE TOWER; HE MOVES FORWARD; HE NOTICES THE TWO SOLDIERS HAVE MOVED FORWARD TO THE CENTER OF THE LARGE ROOM, WHERE A COMPUTER CENTER IS; THOUGH LEDAS IS SNEAKING, HE TRIPS ON SOMETHING ON THE GROUND WHICH ALERTS THEM TO HIS PRESENCE; THE TWO TURN AROUND AND SEE HIM>
Rebel 1: Hey! What are you up to?
Ledas: <TAKEN ABACK BY THEIR NON-AGGRESSION> I, uh, was just going to the main place. You know… <HE POINTS TO THE CEILING>
Rebel 1: <NARROWS HIS EYES> Command isn't allowing anyone on the rig right now…
Rebel 2: Hey, why aren't you wearing sealed armor?
<LEDAS FROWNS AND LEANS FORWARD; HE THEN CHARGES STRAIGHT INTO THE SOLDIERS BEFORE THEY CAN SEE WHAT IS HAPPENING; HE HEADBUTTS THE NEAREST ONE SO HARD THAT IT SHATTERS THE ALIEN'S HELMET; HE FALLS BACK, DEAD; THE SECOND SOLDIER CHARGES LEDAS, BUT THE SAIYAN DODGES AROUND HIM, AND ELBOWS HIM IN THE BACK; THEN, HE KICKS OUT THE ALIEN'S FEET AND TELEPORTS ABOVE THE FALLING CREATURE; HE SLAMS DOWN ON IT WITH BOTH OF HIS FEET, CAUSING IT TO COUGH UP BLOOD AND SPLATTER IT ON THE INSIDE OF ITS HELMET BEFORE DYING; THE COMMOTION, HOWEVER, ALERTS THE REST OF THE GARRISON>
<ABOUT FIVE OTHER SOLDIERS COME AROUND THE CORNER BEHIND LEDAS; THEY READY THEIR WRIST-BLASTERS AND SHOOT AT HIM; AS THE CLOUD ENGULFS HIM, THE ALIENS THINK THEY HAVE WON AND START CHEERING; THEN, LEDAS APPEARS BEHIND THEM>
Ledas: <GETTING THEIR ATTENTION> Hey! <THE GROUP TURNS AROUND> Here you go!
<LEDAS SHOOTS HIS SIGNATURE CYAN BLAST AT THE ALIENS AND DESTROYS THEM COMPLETELY; HE NOTICES, OUT THE OBSERVATORY, THE OTHER FLOATING TOWERS AND THE MASSIVE BLUE STAR IN THE SKY; THEN, HE TURNS BACK AND GOES OVER TO THE COMPUTERS>
<LEDAS STARTS PRESSING ALL SORTS OF BUTTONS WHICH DON'T DO ANYTHING; AFTER A FEW MORE BUTTONS, THE TOWER STARTS SHAKING; HE BARES HIS TEETH IN SURPRISE; FINALLY FINDING BUTTON THAT LOOKS JUST LIKE THE ONE HE PRESSED ON TO MATERIALIZE UP TO THE TOWER, HE PRESSES THAT AND DISAPPEARS>
<LEDAS REAPPEARS INSIDE A DIMLY LIT ROOM; THE CAMERA PANS BACK, SHOWING IT TO BE A LARGE HANGER THAT LOOKS QUITE AGED AND RUSTED; PLANET TRADE ORGANIZATION SHIPS, INCLUDING GUNBOATS AND PODS, SPARSELY POPULATE THE HANGERS; THERE ARE A FEW REBELS PATROLLING ABOUT AS WELL; AS SOON AS LEDAS FINDS HIS FEET, HE RUNS BEHIND A BUNCH OF CRATES AND PULLS OUT THE POUCH THAT LIEME HAD GIVEN TO HIM; HE RAISES HIS LEFT ARM AND TURNS ON THE COMMUNICATOR WITH HIS RIGHT HAND>
Ledas: <CROUCHING, LOOKING OFF-SCREEN; WHISPERING> Mr. Lieme, I'm on the ship.
Lieme: <OVER THE COM> Find a hole and stay put. We are still waiting on Meloon and Payar.
Ledas: Okay, but sir, what am I supposed to do with the Saibamen?
Lieme: <OVER THE COM> Let them do as much damage as possible. Try to find a power source if you can. We'll try to get the rig's defensive system offline. Then we won't have to sneak around.
Ledas: <STANDS UP UPON SEEING SOME SOLDIERS APPROACHING HIS AREA> Okay sir.
<THE SOLDIERS GET CLOSER, PROMPTING LEDAS TO DISAPPEAR>
Rebel 3: Did you hear that? <HE NUDGES HIS PARTNER>
Rebel 4: Probably some space rats, man. They're all over these old rigs.
Rebel 3: <PICKS UP A CRATE WITH THE OTHER REBEL; THEY START CARRYING IT AWAY> That's gross. You'd think they would have cleared the place out before bringing us on board…
<BACK BEHIND CRATES FURTHER BACK, LEDAS IS WATCHING THE TWO LEAVE; HE SIGHS AS THEY GET OUT OF RANGE>
Rebel 5: Hey kid, what are you doing back here?
<LEDAS LOOKS BEHIND HIM, SEEING ANOTHER REBEL HAS SPOTTED HIM; AS THE TALL ALIEN REACHES FOR HIM, LEDAS WILD SENSES BEHIND HIM AND KICKS THE ALIEN IN THE NECK; THIS CAUSES THE ALIEN TO FALL FORWARD, DEAD; LEDAS NOTICES THE ALIEN IS THE SAME RACE AS LIEME>
<HOWEVER, THE ALIEN'S DEATH SCREAM ALERTS SOME OTHER SOLDIERS, AND THEY IMMEDIATELY RUN OVER; THEY SPOT LEDAS AND START SHOOTING AT HIM; HE DODGES, ROLLING BEHIND A PARKED GUNBOAT; HE CALLS UP LIEME AGAIN>
Ledas: <YELLING OVER THE SOUND OF ENERGY BLASTERS SHOOTING AT HIM> Sir, they found me! What am I supposed to do?
Lieme: <OVER THE COM> Damnit, Saiyan! Didn't I tell you to hide–
Ledas: <RETREATS FURTHER BACK> I tried to hide, but they were everywhere!
Lieme: <OVER THE COM; CLEARLY ANGRY> Stupid monkey! I can't help you. You're on your own.
Ledas: Come on! <LIEME CUTS THE CONNECTION>
<LEDAS RISES INTO THE AIR AND SHOOTS HOMING FINGER BEAMS AT THE SOLDIERS, IMMEDIATELY INCAPACITATING THEM; THEN, HE LANDS AND BRINGS THE POUCH BACK IN HIS HAND; HE YELLS, CAUSING HIS AURA TO FLARE AROUND HIM; THEN, HE THROWS THE POUCH TO THE METAL FLOOR, WHILE IT IS STILL ENCASED IN HIS AURA, AND STEPS BACK>
<A SUDDEN ENERGY ATTACK HITS HIM ACROSS THE FACE, CAUSING HIM TO TURN AROUND; THERE, A GUNBOAT IS FLYING STRAIGHT AT HIM; LEDAS TAKES TO THE AIR AND FLIES RIGHT AT IT, FLARING UP HIS AURA; HE FLIES RIGHT INTO THE GUNBOAT, DESTROYING IT; AS HE EMERGES THE RUINS, HE TURNS AROUND, AND NOTICES A SEA OF GREEN BEHIND HIM; WHERE THE POUCH ONCE WAS IS NOW A SIGNIFICANT AMOUNT OF SAIBAMEN; THEY ARE CRAWLING OVER EVERY SURFACE, SHOOTING KI BLASTS RANDOMLY AND SCRATCHING AT THE METAL WALLS>
Ledas: Hey! All of you! <LEDAS POINTS TO THE FAR DOOR> Go that way!
<THE SAIBAMEN BREAK OUT INTO CACKLES OF LAUGHTER AND RUSH TOWARDS THE FAR DOOR; LEDAS FLIES ABOVE THEM; AS THEY ALL REACH THE DOORS, THE DOORS PREMATURELY OPEN AND SEVERAL SOLDIERS COME OUT; THE SAIBAMEN JUMP ON THEM AND RIP THEM TO PIECES; AS THEY STEP THROUGH THE DOORS, LEDAS SEES THAT THIS PART OF THE RIG IS IN BETTER CONDITION THAN THE HANGER; THE WALLS AND FLOOR ARE ALL WHITE; THERE ARE DOORS LINING THE HALLWAY, AND THE HALLWAY ITSELF SPLITS OFF INTO A THREE-WAY FORK JUST A LITTLE BIT AHEAD OF THEM>
<LEDAS LANDS IN FRONT OF HIS POSSE; HE NOTICES TWO RED SAIBAMEN AMONGST THE OTHERS>
Ledas: <SENSING THEIR POWER> Whoa, I've never seen a red one before. You guys are stronger, too. I can feel it. <POINTING AT THE NEAREST RED SAIBAMAN> You!
Red Saibaman 1: Gruhh?
Ledas: Take a few Saibamen up ahead and see how many rebels there are! <THE RED SAIBAMEN NODS AND RUSHES FORWARD WITH ABOUT 8 OTHERS; LEDAS LOOKS AT THE OTHER RED ONE> And you! <HE POINTS AT IT> You'll lead the main force! Keep everyone under control, okay?
<RED SAIBAMAN 2 GRUNTS AND NODS>
<WITHIN A FEW MORE SECONDS, RED SAIBAMAN 1 COMES RUNNING BACK AT GREAT SPEED; HE ONLY HAS A FEW SAIBAMEN WITH HIM; AS THEY TURN THE CORNER TO THE MAIN HALLWAY, LEDAS SEES A BUNCH OF ENERGY ATTACKS FOLLOW THEM; EVIDENTLY A LARGE FORCE IS PURSUING THEM>
Ledas: Ready! <HE POINTS FORWARD AND WAITS FOR THE SAIBAMEN SCOUTS TO DIVE BACK INTO THE RANKS> Fire!
<AS THE ALIEN FORCES COME AROUND THE CORNER, THEY ARE BLASTED WITH A WALL OF KI; ALL ARE INCINERATED IMMEDIATELY; UPON SENSING THE LAST SOLDIER'S DEATH, LEDAS ORDERS HIS ARMY FORWARD; HE LEADS THEM, RUNNING AHEAD; THE SAIBAMEN FOLLOW HIM LOYALLY>
<THE SAIBAMEN CLOG THE HALL AND RIP OPEN ANY DOOR THEY COME ACROSS; SPILLING INSIDE, THEY TEAR APART THE ROOMS, AND KILL ANY SOLDIERS THEY FIND; HOWEVER, SOME SOLDIERS ARE STRONG ENOUGH TO TAKE ON THE SAIBAMEN AND FIGHT BACK; LEDAS KILLS THE STRONGER REBELS, HOWEVER; MANY OF HIS SAIBAMEN START SELF-DESTRUCTING AS WELL>
<A HOST OF SOLDIERS COMES FROM THE OPPOSITE SIDE; LEDAS WATCHES AS THEY ENGAGE HIS ARMY; RED SAIBAMAN 2 LEADS THE MAIN FORCE AND ORDERS HIS UNDERLINGS TO ATTACK; MANY JUMP ON THE SOLDIERS AND RIP THEIR LIMBS OFF; FOR THE STRONGER REBELS, WHO SIMPLY KILL ANY SAIBAMAN WHO IS FOOLISH ENOUGH TO ATTACK, THE SAIBAMEN FOCUS ENERGY ATTACKS ON THEM UNTIL THEY HAVE FALLEN; THE GROUP MOVES FORWARD AS THEY CONTINUE TO TEAR THE AREA APART>
<AS THEY RUN, LEDAS SEES EXPLOSIONS GOING OFF ALL AROUND; THIS CAN BE ATTRIBUTED TO THE OTHER PLANTAINS; FINALLY, THE HALLWAY COMES TO A LARGE DOOR; IN FRONT OF THE DOOR IS A HOST OF SOLDIERS; WHEN THEY SEE LEDAS, THEY ACTIVATE THEIR DEFENSES; TURRETS DROP FROM THE CEILING AND THE ALIENS TAKE POSITION BEHIND COVER>
<AS LEDAS' GROUP RUNS FORWARD, MANY ARE ANNIHILATED; LEDAS FIRES SEVERAL PLAYFUL GALICKS AS HE TRIES TO DESTROY THE DEFENSES; HOWEVER, MORE SOLDIERS START POURING IN AROUND THEM UNTIL LEDAS AND HIS GROUP ARE SURROUNDED; LEDAS ATTACKS AS BEST HE CAN, BUT MORE AND MORE OF HIS GREEN BUDDIES ARE DYING; THE SOLDIERS COME AROUND AND THE SAIBAMEN ATTACK; DUE TO THE CLOSE QUARTERS, THIS IS VERY BLOODY; THE SAIBAMEN OFTEN RESORT TO USING THEIR CLAWS AND TEETH TO ATTACK; MANY OF THEM LATCH ONTO THE ALIENS AND SELF-DESTRUCT, INCINERATING ENTIRE GROUPS OF THE REBELS>
<HE NOTICES AS THE TWO RED SAIBAMEN START CREATING MASSIVE KI BLASTS; THEY ARE JOINED IN BY THE REST OF THE SAIBAMEN AND DESTROY AN ENTIRE SECTION OF THE TROOPS; THEN, THE SAIBAMEN LINE UP AND CREATE A ROW OF KI; SOME OF THE SAIBAMEN ARE HIT WITH ATTACKS AND DROP TO THE GROUND, DEAD, BUT MOST REMAIN INTACT AND START PUSHING THE SOLDIERS BACK; LEDAS CLEARS THE REST OF THE SOLDIERS COVERING THE DOOR, AND DESTROYS ALL TURRETS; WITHIN A FEW MOMENTS, THE SAIBAMEN HAVE CLEARED OUT THE HALLWAY BEHIND>
Ledas: <BREATHLESS> Good job. <HE LOOKS AT THE SMALL GROUP THAT REMAINS> How many of you are left? <HE STARTS COUNTING, POINTING AT THEM AS HE DOES> One, two, three, four, five…
<WHILE HE IS SPEAKING, THE LIGHTS GO OUT; THEN, THEY COME BACK ON WITH BACKUP POWER; THE BACKUP POWER IS MUCH DIMMER, AND CAUSES SIRENS TO START UP>
Lieme: <OVER THE COM, OPEN CHANNEL> We've deactivated the security. Now find me this rig's commander.
Meloon: <OVER THE COM> Nothing over here, Lieme. Everyone's dead, heheh.
Ledas: <LOOKING AT THE DOOR> Oh, wait! There's a pretty strong power level near me. I just sensed it.
Lieme: <OVER THE COM> Is it stronger than you?
Ledas: No, but it's close…
Lieme: <OVER THE COM> Then go and kill it! Must I walk you through everything?!
Ledas: Okay, okay. You don't need to yell.
<LIEME CUTS THE COM AND LEDAS STEPS FORWARD TO THE DOOR>
Ledas: <OPENS THE DOOR, BUT BEFORE HE STEPS INSIDE, LOOKS BACK AT THE REMAINING SAIBAMEN> Uh, just guard this door, okay? Kill anyone you see, 'cept me, of course! <HE LAUGHS AT THIS; THE SAIBAMEN ALL GRUNT IN APPROVAL> All right. <HE STEPS INTO THE ROOM INSIDE> Now to find who's behind this.
A Mess Of Politics

[

]
<SCREEN FADES FROM BLACK>
<LEDAS ENTERS THE ROOM BEHIND THE DOOR; HE NOTICES THIS NEW ROOM TO BE UNLIKE ANYTHING HE'S EVER SEEN; MASSIVE COILS AND WIRES HANG EVERYWHERE; THE WALLS ARE COVERED IN COMPUTERS AND BLUE LIGHTS; THE FLOOR ITSELF SEEMS TO BE MADE OF CLEAR GLASS, WITH A LIQUID SEA OF BLUE COOLANT UNDERNEATH>
<HE MAKES HIS WAY TOWARD THE POWER LEVEL HE CAN FEEL; TURNING A CORNER, HE COMES UPON ONE BEING; IT IS DRESSED IN ARMOR; IT IS HUDDLED OVER A COMPUTER PANEL; AS LEDAS REACHES IT, THE BEING TURNS AROUND>
<THE BEING IS A FEMALE; SHE IS OF THE SAME RACE AS LIEME; HER SKIN IS GREEN, BUT IT IS DARKER GREEN THAN LIEME'S SKIN; HER HAIR IS SHORT; FOR THE SAKE OF NOT TRYING TO FORCE HER NAME IN DIALOGUE, THIS ALIEN'S NAME WILL BE REVEALED HERE AS LENOMI>
Lenomi: So you've found me. I was wondering when the little menace I felt outside my door would come in.
Ledas: <STEPPING FORWARD, CAREFULLY> You can sense too, huh?
Lenomi: All of my people can.
Ledas: You know I'm here to kill you, right?
Lenomi: <UNCONCERNED> Yes, I know. Cooler sent you. You're here to eradicate the filthy rebel scum.
Ledas: <SNARL> No, Cooler didn't send us. We're here because you sent your people to attack us.
Lenomi: Oh, you're here on behalf of Banas. That's odd. I would have expected the captain to come, himself, if he felt wronged.
Ledas: Well, he can't. I guess I'm going to have to kill you.
Lenomi: <GETTING INTO A FIGHTING STANCE> Walk away. You have no hope of winning this.
Ledas: <RAISING HIS OWN FISTS> My grandfather always told me to never underestimate my opponents and you shouldn't underestimate me.
<LEDAS GOES TO ATTACK, BUT LENOMI SPEAKS, CAUSING HIM TO PAUSE IN MID-LUNGE>
Lenomi: But why do you fight for this captain? Why are you so content with being his slave?
Ledas: I'm not–
Lenomi: Did he force you to come here? Did he force you to swear loyalty to him? Did he force you to become what you are? <LEDAS DOESN'T SPEAK> Then you're his slave.
Ledas: <LOWERING HIS FISTS; MORE TO HIMSELF THAN TO HER> I'm not anybody's slave…
Lenomi: <PIERCING GAZE> Yes, you are. Just like every other one serving Cooler. It's obedience or death.
Ledas: <UNNERVED> Who are you?! What are you talking about?
Lenomi: I am one of many who thinks it is our duty to finally step up and stop that rogue tyrant. And if you try to kill me, I will be defending not only my life, but the lives of all those we hope to save.
Ledas: <SKEPTICAL> How would you do that?
Lenomi: <GESTURES TO COMPUTER SCREEN> By using that. We've hacked into the Organization's network and have been using its records to recruit the strongest and brightest fighters.
Ledas: Everyone is on there?
Lenomi: Everyone who's ever served.
<LEDAS RUNS OVER TO THE SCREEN, FORGETTING TO FIGHT LENOMI; HE SCROLLS THROUGH THE COMPUTER>
Ledas: <TO HIMSELF; FORGETTING LENOMI IS THERE> I can see if my parents and Vegeta are still alive…
<HE SCROLLS THROUGH THE SAIYAN TAB; A PANEL SHOWS THE FOLLOWING:
Dogom – Deceased

Aubere – Deceased

Cuber – Deceased

Kailon – Deceased
LEDAS CONTINUES TO SCROLL THROUGH THE PAGE UNTIL LANDING ON HIS PARENTS' NAMES:
Layeeck – Deceased

Cyleria – Deceased

Ledas – Deceased
UPON SEEING THIS, LEDAS BOWS FORWARD OVER THE SCREEN; HE IS CLEARLY CRYING; HE IS HOLDING ON VERY TIGHTLY TO THE PANEL; HE THEN SCROLLS DOWN FURTHER WHILE STILL CRYING, AND FINDS VEGETA'S NAME:
Prince Vegeta – Active
SEEING THIS, LEDAS TOUCHES HIS FINGER TO THE SCREEN, RIGHT ON VEGETA'S NAME>
Ledas: Ve-vegeta?! N-no way! H-he's alive! <HE TURNS TO LENOMI; HE IS STILL CRYING>
Lenomi: <SHE MOVES FORWARD> If you join us, we can reunite you with your family. You will be free to–
Ledas: <THROUGH GRITTED TEETH> My family's dead. <HE POINTS TO THE COMPUTER AND STARTS YELLING> Tell me where Vegeta is and I'll help you!
Lenomi: <SNEER> Who's that?
Ledas: He's my friend. We used to work for Frieza.
Lenomi: Sorry, kid. Frieza's empire is too far away. We're focusing our energy on freeing our own planets first.
Ledas: <SNIFFLING> You won't help?
Lenomi: Look, if you join us, I'm sure we can work something out. We can send you over there in a few years after Cooler's–
Ledas: No!!
<HE SCREAMS, COVERING HIMSELF IN HIS AURA; HOWEVER, HE KEEPS SCREAMING PAST CHARGING UP TO HIS MAXIMUM; THIS SHATTERS HIS AURA; HE IS SEETHING; LEDAS LUNGES AT LENOMI AND STARTS ATTACKING; DUE TO HIS RAGE, LEDAS HAS LOST CONTROL OF HIS EMOTIONS AND GONE COMPLETELY FERAL; BECAUSE OF THIS, SMALL AMOUNTS OF KI ARE SPARKING OFF OF HIS BODY, AND FLOWING FROM HIS FISTS AS HE ATTACKS; WHILE IT DOESN'T DO SIGNIFICANT DAMAGE TO LENOMI, IT DOES SOME>
<LENOMI DODGES LEDAS' ATTACK AND JUMPS OVER HIM; AS SHE DOES, SHE SHOOTS A YELLOW DISK DOWN ON LEDAS; IT HITS HIM, AND SENDS HIM TO THE FLOOR; BEFORE HE CAN RECOVER, SHE PICKS HIM UP BY THE TAIL AND PUNTS HIM UP INTO THE AIR; THEN, SHE TELEPORTS TO WHERE HE IS FLYING TO; JUST BEFORE SHE HITS HIM, LEDAS RECOVERS, AND TELEPORTS BEHIND HER; HE CLUBS HER DOWNWARD WITH INTERLOCKED HANDS AND THEN SHOOTS AN ENERGY BARRAGE AT HER; HE FOLLOWS THIS UP WITH A STREAM OF RAZOR BLASTS; THIS DESTROYS MUCH OF HER ARMOR>
<LENOMI SITS UP AND FIRES A ONE-HANDED GREEN BLAST AT LEDAS; THE SAIYAN BOY SWATS IT ASIDE; YET, AFTER HE DOES, HE SEES LENOMI IS GONE; SENSING HER SUDDENLY, HE TURNS AROUND AND SEES HER CHARGING A MUCH LARGER GREEN BLAST; SHE HITS HIM RIGHT IN THE CHEST WITH IT, CAUSING HIM TO FALL; THEN, SHE PURSUES HIM AND KICKS HIM DOWN TO THE GROUND; LENOMI LANDS NEXT TO LEDAS AS HE SITS UP; SHE IMMEDIATELY SHOOTS A FINGER BEAM AT HIS FACE, CUTTING HIM UNDER HIS LEFT EYE; HE FALLS BACK, AND SHE MOVES FORWARD>
<BUT AS SHE DOES, LEDAS RELEASES AN EXPLOSIVE WAVE; THIS STUNS HER; HE THEN TELEPORTS TO HER SIDE, AND KICKS HER IN THE RIBS; SHE KEELS OVER; LEDAS CHARGES AND STARTS ATTACKING AGAIN, KI SPARKS FLYING; IN HIS RAGE, HE PUMMELS HER TO THE FLOOR AND CONTINUES TO ATTACK; SHE TRIES TO HIT HIM WITH ANOTHER KI ATTACK, BUT LEDAS FLIPS OVER IT, AND LANDS, WITH BOTH OF HIS BOOTS, ON HER NECK; THIS WEAKENS HER SIGNIFICANTLY AND KNOCKS THE WIND OUT OF HER, BUT SHE CONTINUES TO STRUGGLE>
<LEDAS SHOOTS ANOTHER BLAST AT HER, BUT SHE ROLLS OUT OF THE WAY, AND THE BLAST JUST TEARS A HOLE THROUGH THE GLASS AND EXPOSES THE BLUE COOLANT; LENOMI ATTEMPTS TO STAND UP, BUT LEDAS RUSHES HER; AS SHE FIGHTS HIM, HE PUNCHES HER INTO SUBMISSION AND HOLDS HER OVER THE NOW EXPOSED COOLANT; THOUGH SHE FIGHTS HIM, HE SLOWLY PUSHES HER DOWN, UNTIL HER HEAD TOUCHES IT, BURNING IT AWAY; BY THE TIME HALF OF HER HEAD IS INCINERATED, LENOMI IS LIFELESS AND LEDAS LETS HER BODY FALL IN>
<LEDAS STANDS THERE FOR A SECOND, BREATHING HEAVILY; HE FEELS THE CUT ON HIS FACE AND THEN WALKS OUT; OUTSIDE THE DOOR, HIS SAIBAMEN ARE LOYALLY DEFENDING HIM; SOME MORE OF HIS PETS HAVE DIED, HOWEVER BECAUSE MORE SOLDIERS HAVE COME TO ATTACK; THE SAIBAMEN ARE HOLDING THEM OFF, HIDING BEHIND THE COVER THAT THE PREVIOUS REBEL GUARDS HAD BEEN USING; AS LEDAS EXITS THE DOOR, HE TAKES OUT ALL OF THE SOLDIERS WITH A SINGLE, ONE-HANDED KYORRA FLASH; HE IS FROWNING AS HE LOOKS AT HOW MANY SAIBAMEN HAVE SURVIVED; AT THIS TIME, LIEME COMES AROUND THE CORNER>
Lieme: <HE IS BATTLE-DAMAGED, WITH SOME PIECES OF HIS ARMOR CHIPPED AWAY> Did you kill him, Saiyan?
Ledas: <NUMB> I killed her.
Lieme: Her?
Ledas: And she looked like you. <HE WALKS PAST LIEME>
<SCENE CUTS BACK TO PLANET COOLER 92; IT IS A FEW DAYS LATER, THOUGH THE PLANTAINS HAVE JUST RETURNED>
<LEDAS, PAYAR, MELOON, AND LIEME ARE ALL OUTSIDE; GUVA WALKS UP TO THEM; BANAS IS THERE AS WELL, BUT HE IS IN THE BACKGROUND; HE IS NOT WEARING ARMOR>
Ledas: <SITTING ON THE FLOOR; MELOON AND PAYAR ARE WATCHING HIM; HE HAS ALL OF HIS SURVIVING SAIBAMEN OUT; THERE ARE SEVEN, INCLUDING BOTH RED ONES> And that's Ses, and that's Ame, and that's Poy, and that's Oppa, and that's Carawa, and that's Sonfla. Oh, and that one's Wilde. He's my favorite.
Meloon: Heheh, they're just Saibamen. No need to name them.
Ledas: Did you have any survive?
Meloon: Nah. I ain't needin' any, either.
Payar: Put them away, Saiyan.
Ledas: But why?
Payar: I'll have some fun with them if you don't.
<THIS CAUSES LEDAS TO QUICKLY PUT THEM AWAY; GUVA REACHES THE GROUP>
Lieme: <NOT EVEN SAYING HELLO> I am telling you, governor, none of them were that powerful. That couldn't have been all of them. They must have a larger base somewhere else.
Guva: <STANDING TALL> Lord Cooler won't be pleased. This means there are more rebels than we had thought. Did you destroy their base?
Meloon: Yeah we did! Whole place lit up like fireworks!
Lieme: Aye, governor. We were forced to destroy the entire facility.
Guva: What type was it?
Lieme: Vanadium mining. You know, forging alloy for the ships.
Guva: <SIGHS> Cooler won't be pleased that that mine was destroyed.
Banas: <WAVES HIM OFF> Bah, don't worry about that. If he even does suspect us, we can just say the insurrectionists blew it up themselves. That or a rabid bunch of space ducks swarmed the place. You know how dangerous those are.
Meloon: But the space duck is a majestic creature…
Payar: That's it, I'm outta here. <HE GETS UP AND STARTS WALKING OFF>
Guva: Where are you going?! We aren't done here.
Payar: Whatever, guvvy. All this talk bores me. All I care about is seeing some blood. <HE HAS SOMETHING IN HIS HANDS THAT HE'S MESSING WITH> You know where I'm going.
Banas: <CHIPPER> I'll come with you, Payar. It's been a while since I've helped wrangle up some natives!
<THE TWO EXIT>
Meloon: Boss, does this mean we're gonna go blow up some more places?
Guva: <PINCHING THE BRIDGE OF HIS NOSE; SHAKING HIS HEAD> No. I have enough bad news to tell him as it is. We'll just say that was all of them. If some more rebels pop up in the future, it won't be our problem. <HE LOOKS UP> You two can be excused now. I'll gather the team up later to fully debrief you.
<LIEME NODS AND LEAVES WITH MELOON; GUVA GOES TO LEAVE, BUT LEDAS STANDS STILL, JUST LOOKING AT HIM; HE IS STILL QUITE INJURED>
Ledas: Sir?
Guva: <TURNS BACK AROUND TO SEE HIM> What do you want?
Ledas: Sir, I… well, I found something on the last mission.
Guva: Out with it.
Ledas: <MUSTERS HIMSELF UP> Well… my friend Vegeta is still alive.
Guva: And?
Ledas: I want to go see him.
Guva: And where is he?
Ledas: I think he still works for Frieza.
Guva: <AT ONCE> No. Out of the question.
Ledas: <SHOCK> What?
Guva: I'm not getting involved with Frieza. Do you have any idea the political fallout that would come if I were to–
Ledas: <PLEADING> He's my friend! Please!
Guva: <STEPS FORWARD, GRABS LEDAS AROUND THE NECK AND PICKS HIM UP; STARING INTO LEDAS' EYES> Do you think this is a game? You are here for one purpose and one purpose only; to be my aid. I don't give a fuck if you've found your long lost friend. As far as I'm concerned, as long as Banas lives, you stay. And you can't run away; I have the entire Planet Trade Organization behind me to hunt you down if you do. Now get to a rejuvenation tank. You need it.
<HE THROWS LEDAS TO THE GROUND, TURNS AROUND, AND FLIES OFF>
Ledas: <GRASPING HIS NECK; BREATHING HARD> Then I'll kill you too. <HE STANDS UP AND LOOKS AROUND AT THE PLANET; TO HIS RIGHT IS THE FOREST, WHERE PAYAR AND BANAS WENT TO GET SOME NATIVES; TO HIS LEFT IS THE OUTPOST> I'll kill all of them if I have to. <HE LOOKS UP TO THE SKY> I'll find Vegeta. I promise I will. <HE SIGHS AND STARTS WALKING BACK TO THE OUTPOST> Maybe that girl Lieme was right.
My Hour Of Darkness (season finale part 1)

[

]
<SOME TIME HAS PASSED; LEDAS IS NOW 12 YEARS OLD; BANAS IS STILL ON SUSPENSION>
<LIEME AND PAYAR ARE ON A PLANET, IT IS DARK OUT AND ROCKY; THE ENTIRE AREA IS FILLED WITH NOTHING BUT ROCKS AND CAVES>
Lieme: Keep your eyes peeled.
Payar: No readings on my scouter. This place is empty.
Lieme: Soldiers, form up.
<SIX SOLDIERS, INCLUDING LEDAS, ALL FLY INTO THE AREA WHERE LIEME AND PAYAR ARE>
Payar: Did the governor tell you why we're here?
Lieme: There were massive power readings coming from here a few weeks ago. Four other teams were assigned to this rock before us. None of them have been heard from since. Who knows? It could be another rebel hideout or it could be a trap. But I want us to be extra careful either way.
<THE PLANET SHIFTS SLIGHTLY, THE SOLDIERS TAKE SOME EFFORT TO KEEP THEIR BALANCE>
Lieme: And did I mention the planet's unstable?
<THEY WALK FOR A WHILE, AND COME UPON SOME DEAD SOLDIERS; THEY ARE NOTHING BUT SKELETONS IN ARMOR>
Payar: <KNEELING DOWN TO INSPECT> No energy burn… and no blunt trauma <TRAILS OFF> evident…
Soldier 2: What killed them?
Payar: No idea… <ROLLS OVER ONE OF THE SKELETONS; IT HAS AN INSIGNIA ON IT> Planet 71, by the looks of it.
Lieme: That was the last planet to send a squad here. But that was only a week ago. I wonder why they they have fully decomposed already…
Payar: <STANDS BACK UP, DROPPING THE SKELETON> Alright, let's just do this and get out of here…
Lieme: <THEY CONTINUE WALKING FOR A FEW MOMENTS> Now, I need two of you to g– <PAYAR GETS A READING ON HIS SCOUTER>
Payar: <STANDS UP STRAIGHT, LOOKING AROUND> Got a power spike. It's faint, but it's definitely there. I can't tell how large… there's massive interference.
Lieme: You got a direction of origin? <PAYAR NODS, AND POINTS SOUTH> Then let's go.
<ALL EIGHT OF THEM FLY SOUTH FOR THE WINTER UNTIL THEY FIND A CAVE; THEY STOP; LIEME ASSUMES THAT IS WHERE THE POWER LEVEL SPIKE WAS SEEN>
Lieme: Payar, take 3 soldiers and go into the cave. Contact me once you cleared out the inhabitants.
Payar: You two, come on. And you too, Saiyan.
<PAYAR GATHERS HIS THREE SOLDIERS, AND THEY ALL GO INSIDE THE CAVE, AS THEY DO, PAYAR LOOKS BACK ONE MORE TIME, AND LIEME LOOKS RIGHT BACK AT HIM, TAPPING HIS WRIST-COM>
Lieme: Any trouble at all, and I'm here. <PAYAR NODS, AND GOES INSIDE>
<THE FIRST SOLDIER LIGHTS AN ENERGY BALL TO GUIDE THEIR WAY, AS THEY WALK THROUGH THE TUNNEL>
Ledas: Sir, what are we looking for?
Payar: Quiet.
<THEY WALK INTO AN AREA OF THE TUNNEL THAT WIDENS OUT CONSIDERABLY, IT IS NATURALLY LIT; AS THEY ENTER, SUDDENLY THERE IS AN EARTHQUAKE; THE ENTRANCE THAT THEY JUST CAME THROUGH IS BLOCKED OFF. SEVERAL LARGE ROCKS FALL ON SOLDIER 2, WHEN IT ALL SETTLES, THERE IS NO MOVEMENT UNDERNEATH THEM>
Ledas: Aw, crap! Watch out! <THE EARTHQUAKE SUDDENLY STOPS>
Soldier 1: Is he dead?
Payar: What do you think? Shut up and stay close. Saiyan, take point.
Ledas: Okay, sir.
<HE LEADS PAYAR AND THE SOLDIER OVER THE DEBRIS AND FURTHER INTO THE CAVE; AS THEY MOVE, THE CAVE STARTS TO TREMBLE AGAIN>
<CUTS TO THE BENEFACTOR>
<THE BLACK MIST THAT IS HIS LIFE-FORCE IS OUTSIDE OF HIS BODY; LAUTO, THE KAI, IS MEDITATING JUST OUTSIDE IT; FROM HIS BODY PURPLE ENERGY IS FLOWING INTO THE CLOUD; AS HE IS DOING THIS, THE ENTIRE AREA IS RUMBLING; THE BENEFACTOR'S HEAD IS BOWED, AND HE IS BREATHING HEAVILY; BEFORE HIM HAS MATERIALIZED ANOTHER HALLUCINATION; THIS ONE IS OF HIS MOTHER; HER FACE IS BARE AND SHE WEARS PLAIN CLOTHES; SHE IS MATERIALIZED BUT A FEW FEET FROM THE BENEFACTOR'S BODY>
Mother: Look at mommy, dear.
The Benefactor: <LOOKS UP> Not her… Make her go away…
Lauto: <STILL IN MEDITATION POSE> It's strange that in all of your memories, I can't find what happened to her. It's a pity you didn't find out.
Mother: Come on, dear. I won't hurt you. I've been looking for you all day!
The Benefactor: <BREATHING HEAVILY> You aren't real… You died… a long time ago…
Mother: Died? Oh, my dear, you must be tired. I'm right here.
The Benefactor: <BOWS HIS HEAD AGAIN; TO LAUTO> I… I won't let you play me any longer… When I'm free… you will be sorry… to have brought her back.
<MASSIVE AMOUNTS OF ENERGY ARE RADIATING FROM LAUTO'S HOVERING BODY; LAUTO SUDDENLY OPENS HIS EYES AND FLIES AWAY FROM THE CLOUD; THE BENEFACTOR'S MOTHER DISAPPEARS>
Lauto: <LANDING IN HER PLACE; IGNORING THE BENEFACTOR'S PREVIOUS COMMENT> Perhaps this is ill-suited. Our energies are taking far too long to align.
The Benefactor: <RAISES HIS HEAD TO FACE LAUTO> I'll… kill…
Lauto: Not with your energy at my fingertips.
The Benefactor: I can… feel… you… becoming weak…
Lauto: That's because my energy is in there too. But it doesn't matter. I can't wait much longer.
The Benefactor: Then… you'll die.
Lauto: No. I may be hurt greatly by our clashing life-forces. But the pain should not kill me. I had hoped to avoid torturing myself, but if it's the alternative to death, then so be it. You, however, will die. For all your insolence and threatening, I won't make it painless. <THE BENEFACTOR SNARLS> Don't worry, it will soon be over.
<LAUTO DESCENDS TO THE GROUND AND LOOKS UP AT THE CLOUD OF ENERGY; WITHIN IT, THE BLACK ENERGY OF THE BENEFACTOR AND THE PURPLE ENERGY OF LAUTO ARE STARTING TO FUSE TOGETHER; ALTHOUGH, MANY EXPLOSIONS AND BRIGHT FLASHES ARE OCCURRING>
<CUTS BACK TO LEDAS>
<THE PLACE IS STILL RUMBLING, AND PARTS OF THE CAVE ARE COLLAPSING; BOTH PAYAR'S AND THE SOLDIER'S SCOUTERS SUDDENLY EXPLODE>
Soldier 2: What the hell is going on?
Ledas: <TURNS TO FACE THE SOLDIER> I don't know. Maybe it's a trap?
<LEDAS LOOKS UP AND SEES A FIGURE>
The Benefactor: Ya know kid, I never thought you'd make it all the way here.
Ledas: <IN HORROR, FALLS BACK ONTO THE GROUND, HE BLINKS, THE BENEFACTOR IS NO LONGER THERE; IT MUST HAVE JUST BEEN A HALLUCINATION> D-did you see that?
Payar: See what?
Ledas: <ERRATIC> That guy! With the hood! He was standing right there. <POINTS NEXT TO THE SOLDIER; NO ONE IS THERE>
Payar: <STEPS BACK> You must be seeing things, kid. There was no–
<A LARGE EARTHQUAKE OCCURS; LEDAS STANDS BACK UP AND HE SEES ANOTHER FIGURE IN FRONT OF HIM; THIS TIME, IT'S FRIEZA>
Frieza: You Saiyans are all the same. Bold and stupid.
<AT THIS, LEDAS BOLTS OFF; PAYAR CHASES HIM>
Payar: Get back here, Saiyan!
<HE CHASES AFTER LEDAS; AS HE DOES, THE EARTHQUAKE CAUSES MASSIVE ROCK SLIDES BEHIND HIM; THIS BURIES THE UNFORTUNATE SOLDIER; PAYAR, HOWEVER, ESCAPES, AND CHASES LEDAS THROUGH THE CAVE>
<AS LEDAS IS RUNNING, FRIEZA CONTINUOUSLY APPEARS AROUND HIM>
Frieza: My, my. You really are something.
<LEDAS COMES TO A WIDE ROOM, SKIDDING AROUND THE CORNER; AS HE DOES, HE STOPS AND LOOKS UP; IN FRONT OF HIM IS A SWIRLING CLOUD OF BLACK AND PURPLE>
Ledas: What the…?
<AT ONCE, PAYAR COMES AROUND THE CORNER AND TACKLES LEDAS FORWARD; THE TWO TUMBLE INTO THE CLOUD; PAYAR PINS LEDAS AND PUNCHES HIM; LEDAS BLOCKS HIS ATTACKS, BUT IS STILL PUMMELED>
Payar: You fucking deserter! You think you can just run away?! After all we've done for you?! <HE PUNCHES LEDAS RUTHLESSLY> Ain't happenin', kid. I've been waiting for this moment for a long time. Now you're mine.
<PAYAR PUMMELS HIM; LEDAS SHOVES PAYAR BACK WITH HIS CROSSED ARMS AND THEN KICKS THE ALIEN AWAY; HE STANDS UP TO FACE PAYAR; AS PAYAR TURNS BACK TO ATTACK AGAIN, LEDAS DROPS TO HIS HANDS AND KNEES AND STARTS SCREAMING; HE POUNDS THE GROUND IN AGONY; AS HE SCREAMS, HIS AURA MATERIALIZES AROUND HIM AND BLOOD STARTS DRIPPING FROM HIS NOSE; HE COUGHS AND SPITS UP BLOOD ONTO THE GROUND>
<PAYAR IS STANDING IN THE CLOUD TOO; HE IS TAKEN ABACK BY LEDAS' SUDDEN ACTIONS; HE CAUTIOUSLY STARTS TO APPROACH THE SAIYAN; AS HE DOES, LEDAS SITS UP ON HIS KNEES AND THROWS HIS HEAD BACK, SCREAMING EVEN LOUDER; PAYAR CAN SEE THE SAIYAN'S HAIR HAS TURNED WHITE>
<AS PAYAR STEPS UP TO THE SAIYAN, LEDAS CREATES AN ENERGY WAVE; PAYAR IS FLUNG BACK AND THE CAMERA IS OVERTAKEN BY WHITE LIGHT; AS THE LIGHT AND SMOKE CLEARS, THE ENTIRE AREA IS SEEN TO BE IN RUIN; PAYAR IS NOWHERE TO BE SEEN>
<LEDAS IS NO LONGER SCREAMING; HE IS STILL SITTING, BUT NOW HE'S IN A CRATER FROM HIS RECENT ATTACK; HE LOOKS AROUND AT WHAT HE HAS DONE; HIS EYES HAVE TURNED GREEN; THERE ARE BLOODSTREAMS RUNNING FROM HIS EYES AND EARS AS WELL AS HIS AFOREMENTIONED NOSE AND MOUTH>
<LEDAS RAISES HIS HAND AND NOTICES THAT HE HAS KI FORMING AROUND HIS ENTIRE BODY; IT IS IN HIS AURA'S COLOR; FROM THE RIGHT TO LEDAS COMES LAUTO, HOLDING ONE OF HIS ELBOWS WITH HIS HAND>
Lauto: <BREATHING HARD> What have you done? <THE SAIYAN IS SPOOKED BY THE SUDDEN FIGURE AND SHOOTS A KI BLAST AT HIM; LAUTO IS HIT WITH THE BLAST AND DROPS TO HIS KNEES, STILL HOLDING HIS INJURED ELBOW; DEFEATED TONE> You've stolen all of my energy…
Ledas: <SPITTING AWAY BLOOD> Who are you?! What did you do to me?!
<LAUTO CLOSES HIS EYES AND RAISES A HAND TO LEDAS' DIRECTION; HE BEGINS READING LEDAS' MEMORY TO FIGURE OUT WHO HE IS>
Lauto: <AFTER A FEW MOMENTS; IN A WHISPER, WHICH SEEMS TO COME FROM RIGHT BEHIND LEDAS' EAR> You have suffered much loss, Ledas. That much can be seen.
Ledas: <ON EDGE AND IN PAIN> Who are you? How do you know my name?
Lauto: <WEARILY> Who am I?
<LAUTO DISAPPEARS AND THE LIGHTS GO OUT, EXCEPT FOR A SMALL CIRCULAR AREA AROUND LEDAS>
Ledas: <STILL ON EDGE, SCARED> Y-yeah… what the heck are you?! I can't see you anymore.
<IN FRONT OF LEDAS NOW APPEARS HIS GRANDFATHER, LASCON>
Lascon: Open your eyes. Show them to me, Ledas.
Ledas: G-grandpa?! Where'd you come from?
<FRIEZA MATERIALIZES>
Frieza: <THE LIGHT BRIGHTENS EVEN MORE> Look, a Saiyan.
Ledas: I know what I am, you murderer!
<PRINCE VEGETA MATERIALIZES>
Prince Vegeta: Yeah. Just a stupid weakling.
Ledas: <THIS AFFECTS HIM GREATLY; TEARS COME TO HIS EYES> I'm not weak… you told me I wasn't, Vegeta…
<THE BENEFACTOR MATERIALIZES>
The Benefactor: Your death is near. <RIFE WITH HUNGER> Can't you feel it? It will be so… satisfying.
Ledas: I-I'm not going to die! My father always said there will be no glory in death, in my death… <HE LOOKS UP>
<LAYEECK MATERIALIZES>
Layeeck: No, only in conquest everlasting.
Ledas: <HIS EYES WIDEN, AND HE REACHES OUT TO TOUCH LAYEECK, BUT LAYEECK IS ONLY A HALLUCINATION; STRICKEN; CHILD-LIKE FRIGHT> What are you doing to me?!!
Frieza: Nothing, my dear Saiyan, that you haven't already thought of doing yourself.
Ledas: Shut up! You killed everyone! I hate you! <SHOOTS AN ENERGY BLAST AT FRIEZA>
<A NOISE COMES FROM BEHIND>
Soldier 1: <CRAWLING OUT FROM AROUND THE ROCK PILE FROM AROUND THE CORNER; IN PAIN AND BORDERLINE SHOCK> K-kid… get outta the way.
<LEDAS DOESN'T REGISTER THE COMMAND FAST ENOUGH; THE SOLDIER SHOOTS HIS BLASTER AT THE SEMI-CIRCLE OF HALLUCINATIONS AROUND LEDAS; IT DOES NOTHING BUT GO THROUGH THEM AND HIT HIM; SUDDENLY, THE SOLDIER STARTS TO DISSOLVE, SLOWLY AND IN AGONY; HE SCREAMS UNTIL HE DIES; LEDAS' ANGER AT FRIEZA EVAPORATES; HIS MOUTH IS OPENED IN SHOCK>
Ledas: <SURPRISING SHIFT TO CALMNESS> Are you gonna kill me too?
Lauto: <SOUNDS SLIGHTLY TIRED, BUT IT IS ALMOST UNNOTICEABLE> Every person assumes much. Children, especially.
Ledas: Just, please, tell me… what do you want with me?
<KING VEGETA MATERIALIZES>
King Vegeta: It's a pity they weren't the ones to fulfill the legend.
Prince Vegeta: The last Super Saiyan died because he couldn't control his power.
Ledas: <WATCHES THE KING, UNTIL HE DISAPPEARS, GRADUALLY, LEDAS HAS A HUGE ANGER SURGE> N-n-no!! It's not t-true! I will become a Super Saiyan!!
Lauto: <HIS SPEECH IS STILL COMING FROM RIGHT BEHIND LEDAS> What guarantees are there after everything that's happened to you? What can you say is certain?
Ledas: My father is dead. <LOWERS HIS FISTS TO THE GROUND, RELAXING HIS POSTURE> Most everyone I know is dead. Vegeta's out there somewhere, but there's no way I can get to him… <REGRESSING TO CHILD-LIKE TENDENCIES, TEARFUL> I don't know what to do…
Lauto: Your masters have kept you as a slave.
Ledas: <SNIFFLING> H-huh? How'd you know?
Lauto: Your memories say much. But now, I'm afraid, it's time for this to end.
Ledas: I-I don't understand.
Prince Vegeta: <HALLUCINATION, WALKS RIGHT UP TO LEDAS> You could've helped me kill Frieza, Ledas… if you weren't gone. Oh well, I'll find somebody else.
Ledas: <REACHES OUT TO THE HALLUCINATION; BUT IT DISAPPEARS; TEARFULLY ANGRY> No, stop it!!! Stop twisting my memories!!!
<HE GRABS ONTO THE SIDES OF HIS HEAD WITH BOTH HANDS; HIS AURA FLARES UP EVEN MORE AROUND HIM, BURNING AWAY ALL OF HIS HALLUCINATIONS>
<THE CAMERA PANS BACK SLIGHTLY, AND IT SHOWS THAT, IN THE DARKNESS, LAUTO HAS STUMBLED UP AND STARTED WALKING TOWARDS THE UNSUSPECTING LEDAS; HE COMES UP RIGHT BEHIND THE KID AND THRUSTS HIS ARMS OUT>
Lauto: <IN HIS MIND> Just a minor setback. No… it's fortunate. I can use this Saiyan's body instead.
Greatest Expectations (season finale part 2)

[

]
<SHOT OF THE DARK, ROCKY PLANET; CAMERA SHOOTS ACROSS TO THE CAVE; LIEME AND HIS SOLDIERS ARE STILL WAITING OUTSIDE, PACING; THE WIND IS BLOWING, AND LIEME'S HAIR FLYING AROUND BECAUSE OF IT>
<ZOOMS INTO THE CAVE AGAIN, THE LIGHT IS STILL DIMMED; LEDAS' EYES ARE STILL GREEN AND HIS HAIR IS STILL WHITE; HE IS LOOKING AT HIS HAND, WHICH IS RADIATING WITH KI>
Ledas: <IN AWE> W-what's happening? It hurts. This can't be Super Saiyan… can it? <HE GRIMACES> My entire body hurts. <HE STANDS UP> H-hey, Mister? Where'd you go?!
<AHEAD, THE HALLUCINATION OF FRIEZA MATERIALIZES AND WALKS UP TO LEDAS>
Frieza: <SMILES> A worthless Legend, from a desperate race. Saiyans turn into monkeys, nothing else. Just a bunch of stupid monkeys.
Ledas: <TREMBLING WITH ANGER> Me and Vegeta will become Super Saiyans and beat you! You should be afraid of us!
Frieza: Why should I be afraid of a stupid brat?
<LEDAS SHOUTS AND SHOOTS A ONE-HANDED KYORRA FLASH AT FRIEZA; SINCE FRIEZA IS A HALLUCINATION, THE ENERGY GOES RIGHT THROUGH HIM AND EXPLODES ON THE FAR WALL; AS THE CAMERA LOOKS BACK TO LEDAS AFTER HE SHOOTS THE BLAST, IT IS SEEN THAT HIS EYES AND HAIR HAVE RETURNED TO NORMAL, THOUGH HE IS STILL COVERED IN MUCH DRIED BLOOD>
<THE LIGHT FROM THE ATTACK ILLUMINATES THE DARK CAVE FOR A FEW MOMENTS; LEDAS NOTICES LAUTO IS STANDING TO HIS RIGHT; THE KAI'S ARMS ARE THROWN FORWARD, ONE INTERLOCKED BEHIND THE OTHER, AND A BALL OF PURPLE KI IS FORMING IN FRONT OF THEM; AS LEDAS LOOKS AT THE KAI, HE NOTICES ENERGY BEING PULLED FROM HIS BODY TO THE BALL>
Ledas: <SLOWLY; HE LOWERS HIS ARMS AND TURNS TO FACE LAUTO> What are you–
<A BLACK FIGURE SUDDENLY JUMPS UP AND LATCHES ON TO LAUTO; THE TWO WRESTLE TO THE FLOOR AND LAUTO DROPS THE ENERGY; ONCE HITTING THE FLOOR, IT DETONATES, CAUSING A MASSIVE EXPLOSION TO GO OFF; ONE PANEL IS SHOWN OF LEDAS' SMALL FORM SILHOUETTED BEHIND THE MASSIVE BLAST; LEDAS SHIELDS HIS FACE FROM THE LIGHT AND DEBRIS>
<THE LIGHT DIMS BACK DOWN, BUT THE SMOKE DOES NOT; AS LEDAS LOOKS AT WHERE LAUTO ONCE STOOD AND WHERE SMOKE NOW BILLOWS, THE EARTHQUAKES START UP AGAIN; THE ROOF STARTS COLLAPSING, CAUSING LEDAS TO DODGE OUT OF THE WAY; HE RUNS OUT OF THE PLACE, DECIDING NOT TO STAY AND FIND OUT WHAT JUST HAPPENED>
<SUDDENLY, A FIST PUNCHES THROUGH THE RUBBLE AHEAD; IT IS PAYAR, WHO IS BADLY INJURED; HIS ARMOR IS HEAVILY CRACKED>
Payar: <WEAKLY, GASPING> Saiyan… help me.
<DODGING THE FALLING ROCKS, LEDAS RUNS OVER AND STANDS OVER PAYAR>
Ledas: Why should I?! You attacked me!
Payar: Please… just help me up. We'll forget what happened here.
Ledas: Fine, but only because Lieme can prolly sense you're still alive.
<LEDAS HELPS HIM UP, AND THE TWO RUN OUT; LEDAS HAS ONE ARM AROUND PAYAR'S NECK, AS THE TWO LIMP OUTSIDE>
Ledas: <IN HIS MIND> I bet he wouldn't save me if I was the one down there.
<LIEME AND THE THREE OTHER SOLDIERS ARE STANDING RIGHT OUTSIDE, COMPLETELY UNAWARE OF WHAT WAS HAPPENING INSIDE; AT THE SIGHT OF PAYAR AND THE BLOODY LEDAS, THEY ALL RUSH OVER>
Lieme: What going on?! What happened to you two?
Ledas: <THE EARTHQUAKES START TO RISE OUT OF THE CAVE, THE ENTIRE PLANET IS SHAKING> We have to go, now!
Lieme: <ALL ARE RUNNING TO THE PODS> I'm going to torch this place, leave nothing behind.
Ledas: No!!! Don't do that! Didn't you see the power levels from in that cave? How high were they?
Lieme: Yes. It was large, but I couldn't get an exact number. There was massive interference. I assumed it was you two.
Ledas: Wewll, we just gotta leave this place alone!! We're no match for what's in there! We have go!
<LIEME HAS A CURIOUS LOOK ON HIS FACE, WATCHING LEDAS, AS THEY ALL RUN>
<ALL SIX REMAINING SOLDIERS SCRAMBLE TO THEIR PODS, THEY BARELY MAKE IT; THE REST OF THE JOURNEY GOES WITHOUT INCIDENT>
<THEY RETURN TO PLANET COOLER 92; THEY LAND>
Lieme: <GETTING OUT OF HIS POD, RUNNING OVER TO PAYAR'S; SHOUTING TO THE MANY SOLDIERS GATHERING AROUND THEM> Is the medical tank ready?
Technician 1: Yes sir, we've prepped it according to your directions.
<THE DOOR OPENS, PAYAR FALLS OUT, SEVERAL SOLDIERS GRAB AND TAKE PAYAR TO THE MEDICAL TANK; SOME RUSH TO LEDAS, WHO IS BLOODY, BUT HE WAVES THEM AWAY>
<THE COMMOTION LESSENS FOR A BIT; GUVA AND BANAS ENTER>
Guva: What happened this time?
Banas: <HE IS RATHER MUTED, DEPRESSED, AND NOT IN ARMOR; HE WALKS UP TO PAYAR'S TANK> Is he going to live?
Technician 1: At this point, sir, his status is critical… we're doing all we can, but I can't guarantee anything.
<BANAS BOWS HIS HEAD BUT DOES NOT MOVE>
Guva: I'll ask again… what happened here? Why are two of my men dead, and another, right there, in critical condition?
Ledas: I…
Lieme: Not out here. <LOOKING AT THE MULTITUDE OF REGULARS STANDING AROUND> I think we should discuss this in private.
<ALL BEGIN WALKING TO GUVA'S OFFICE, LIEME PUTS HIS HAND OUT TO STOP LEDAS>
Lieme: Not you, kid.
Ledas: But… <EVEN GUVA AND BANAS LOOK CONFUSED>
Lieme: <TO THE OTHERS> I'll explain, <DIRECT> in private.
Guva: Fine.
<THE REST LEAVE FOR GUVA'S OFFICE, LEDAS WALKS OFF, IN THE OPPOSITE DIRECTION, TO THE FOREST>
<THE SUN IS SETTING, LEDAS IS STANDING ON THE EDGE OF THE FOREST-CLIFF, LOOKING DOWN AT THE NATIVES WORKING; HE REMEMBERS THE FACE OF THE ONE THAT HE BOUND UP SO LONG AGO; HE PULLS A SMALL POUCH FROM HIS POCKET AND PLUCKS TWO LITTLE SEEDS FROM INSIDE IT; HE THROWS THEM TO THE GROUND; WITHIN A FEW SECONDS, HIS TWO RED SAIBAMEN, WILDE AND CARAWA, HAVE SPAWNED AND START FIGHTING; LEDAS SMILES AS HE WATCHES THEM; HE STRETCHES HIS ARM OUT, FEELING THE AIR>
<FLASHBACK>
Layeeck: <SIGHS> It's actually simple. Frieza's the strongest. He's our leader.
Ledas: But if he's so strong, then why does he need us to do all the work?
Layeeck: Doesn't want to get his precious hands dirty. But listen to me, Ledas. If you ever meet Frieza, you must treat him with the utmost respect. While he's around, think of him as our king. Because, he could kill you, if you even look at him the wrong way…
<END FLASHBACK>
Ledas: Guva, Banas, the others… I'm just their slave <HE LOOKS BACK AT THE WORKERS; OBVIOUSLY TIRED> Just like them. <HE LOOKS TO HIS TWO SAIBAMEN AND SMILES AGAIN> At least I've got you guys.
<CUTS TO INSIDE GUVA'S OFFICE; GUVA, BANAS, AND LIEME ARE IN THERE, TALKING>
Lieme: The spike was massive, governor. Who else could it be, besides the kid?
Guva: But you say you already had a reading coming from that cave, before any of you even got there.
Lieme: Payar said it was faint. Nowhere near the power I felt later.
Banas: But the kid was injured, too. Didn't you see him?
Lieme: I don't know how the kid could've survived going in there if it wasn't him. Anyone with a power level that high could kill us in an instant, without any trouble… and Payar was heavily injured…
Banas: <STILL WITHOUT THE AUTHORITY THAT HE HAD WHEN HE WAS CAPTAIN> So then, why didn't he kill Payar and the rest of you? It would have been easy for him to kill all of you and run off if he was that strong.
Guva: He's right, Lieme. If it was the kid, you wouldn't be here telling us about it.
Lieme: Then I want to send another team to investigate.
Guva: No. After all of the other teams who died there, you were lucky enough to get out alive. <HE SIGHS> But I'll contact Lord Cooler. Maybe he'll send someone stronger than us to see what's going on there. Now you can be excused, Lieme.
Lieme: Governor <NODS>… boss. <HE LEAVES>
Guva: They still see you as their captain.
Banas: <WATCHING LIEME FLY OFF IN THE DISTANCE> Old habits are hard to break…
Guva: <WALKS UP TO HIS WALL-WINDOW> I know you want to kill me for suspending you.
Banas: Nah, guvvy. I've never wanted to kill you. Hey, how about this? I'll fight you, and if I win, I get to be captain again.
Guva: Banas–
<BANAS LUNGES AT GUVA AND STARTS PUNCHING HIM; BANAS IS LAUGHING AND NOT TAKING IT VERY SERIOUSLY; GUVA BLOCKS HIM AND KICKS OUT HIS FEET; BEFORE BANAS LANDS, HE FLIPS OVER AND SHOOTS A SMALL BLAST INTO GUVA'S BACK, CAUSING THE GOVERNOR TO STUMBLE FORWARD; BANAS RUSHES FORWARD, BUT GUVA TURNS AROUND AND CATCHES THE CAPTAIN BY THE THROAT, SLAMMING HIM INTO THE WALL; HE CREATES A KI SWORD AND PUTS IT TO BANAS' THROAT; AFTER A MOMENT, HE DISSIPATES THE SWORD AND LETS IT GO>
Banas: Ah, c'mon, guvvy!
Guva: <BREATHING HARD, GOING BACK TO THE WINDOW> You're faster than I remember, at least.
Banas: <WALKING UP BEHIND HIM> That's funny; I was thinking the opposite of you.
Guva: Watch yourself. I could have you executed for attacking me just now.
Banas: <STILL CHIPPER> You know it was all in good fun–
Guva: It doesn't matter. I can't make you captain again even if I wanted to. Lord Cooler's High Council has asked me to send you to them. They want to question you about your involvement with the rebels.
Banas: <ALL HAPPINESS IS GONE; HE GOES PALE> W-what?!
Guva: I couldn't stop them. Digranite himself asked for you. He's Cooler's Supreme General. I couldn't say no, Banas. I'm sorry.
Banas: <EXTREME ANXIETY> They'll kill me, Guva. They'll kill me!
Guva: Not if you don't have anything to hide.
Banas: You don't get it. They haven't found the rebel leaders. They'll want to have a public execution of someone important to boost morale. I'm that someone, guvvy!
Guva: You can't be sure. Besides, there's nothing I can do, even if it is.
Banas: <COMES TO RESOLUTION> Give me the kid.
Guva: Why?
Banas: I'll tell them it was him – that the rebels came for him. I'll bring him with me and they'll make an example of him, instead.
Guva: Banas, he's just a kid.
Banas: So what? He's a soldier they could have targeted. Besides, don't I matter more to you? I thought we were friends.
Guva: <STUMBLING THROUGH SPEECH> I…
Banas: Oh, come on! Don't tell me you want to replace me with him.
<THE TWO ARE SILENT FOR A SECOND AND THEN BOTH BURST INTO LAUGHTER>
Guva: All right take him. You're right; he's just another soldier. If giving him to them keeps you alive, then it's worth it.
<BANAS NODS AND EXITS>
<GUVA SITS DOWN AND SINKS INTO HIS CHAIR; HIS FAKE SMILE IS GONE; HE PUTS HIS HEAD INTO HIS HEAD>
Guva: What am I supposed to fucking do? Without the kid, Banas and his team can kill me with no problem. <GUVA LOOKS UP AND WATCHES AS BANAS WALKS OUT OF THE BUILDING, DOWN THE ROAD, AND OUT OF THE OUTPOST> I've run out of luck.
<SCENE FADES OUT>
<THE NEXT SCENE FADES IN; IT IS EARLY IN THE MORNING; LEDAS IS SITTING OUTSIDE OF THE BARRACKS; HE WATCHES AS MELOON INJECTS HIMSELF WITH A SYRINGE AND OTHER SOLDIERS SPAR; HE'S EATING A PIECE OF BREAD; BANAS, UNARMORED, WALKS UP TO HIM FROM DOWN THE LANE>
Banas: Hey kid.
Ledas: Did Mr. Guva make you captain again, sir?
Banas: Nope. That's not why I'm here. Wanna go for a ride? <HE JINGLES HIS KEYS IN FRONT OF LEDAS' FACE>
Ledas: <NARROWS HIS EYES> Where?
Banas: Oh, just to go see Cooler at the Capitol. Nothing important.
Ledas: But why?
Banas: The weather there is lovely this time of year.
Ledas: Seriously, sir, why?
Banas: <SIGHS> Because somebody needs to die. And it sure as hell won't be me.
<BEFORE LEDAS CAN REACT, BANAS KICKS HIM IN THE FACE; LEDAS SLUMPS FORWARD, UNCONSCIOUS; NONE OF THE SOLDIERS AROUND CARE AT ALL AND CONTINUE WITH THEIR LIVES; BANAS PICKS LEDAS UP, SLINGING HIM OVER HIS SHOULDER, AND WALKS DOWN TO WHERE THE PODS ARE>
<SCREEN PANS BACK FROM BANAS WALKING UNTIL HE IS BUT A SMALL DOT; THE CAMERA THEN LOOKS UP TO THE RISING SUN>
<END LAUTO SAGA>
Cue Great Spirits. Credits roll during this time.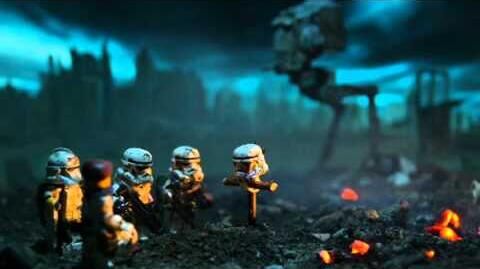 Trivia
[
]
For feedback, or general thoughts about this saga, please leave comments on the Lauto Saga completed! page. That's the place that I'm most likely to see your comments about this saga.
Cooler is the only canon Dragon Ball character featured in this saga.
This saga is tied with the Stomping Grounds Saga and the Reunion Saga for the largest number of main villains, with four.
This saga features the smallest amount of named characters' deaths, at only one.
This saga features the following swear words: "fuck", five times; "shit", five times; "bastard", one time; "damn", one time.