Super Kami Goku

Race

Saiyan

Gender:

Male

Aliases:

Son Goku
Godku

Date Of Birth:

Age 737

Date of Death:

 ???

Debut:

Family:

God (predecessor)
Goddess Chi-Chi (wife)
Goku (alternate timeline)
Future Goku (Yang) (alternate timeline)
Kakarotto (alternate timeline)
Goku (Mystic universe) (alternate timeline)
Grandpa Gohan (adoptive grandfather)
Mr. Popo (attendant)
Evil Kakarotto (clone, alternate timeline)
Future Goku (Yin) (Yin side from another universe)
Kakarotta (sister)
Raditz (brother)
Bardock (father)
Gine (mother)
Till (paternal grandfather)

Appears in:

Goku (also called Godku) is Goku from an alt universe in which he took over god's/"kami"'s role as the God of Earth, the Dragon Balls now belong to him and once he dies they turn into stones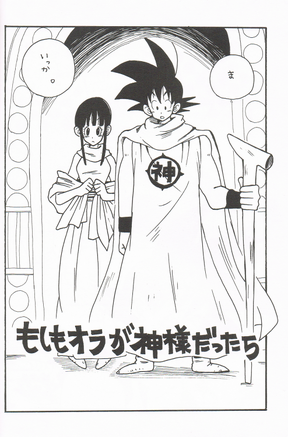 Goku however find it boring
Community content is available under
CC-BY-SA
unless otherwise noted.