Jurassic World: Dominion Dominates Fandom Wikis - The Loop
Play Sound
Grand Priest
大神官
Daishinkan

Alternate Names

Daishinkan

Debuts

Appears In

Debut

Episode 1

Characteristics

Race

Gender

Male










Address







The Grand Priest ( 大神官 Daishinkan ) is the main character as well as the villian for the story, Dragon Ball Ultra.
Personality
[
]
In this story, the Grand Priest has more of a "low-key egotistical" and evil personality. Though he still keeps his respects and gentle aspects.
Biography
[
]
Pre-Episode 1
[
]
The Grand Priest seems to have brutally killed Frieza, Gohan, Krillin, Vegeta, Granolah, Broly, Trunks, and Piccolo with most of them being injured by crystals similar to that of Lagss'.
Episode 1
[
]
The Grand Priest appears at the start of the episode as he releases a open hand gesture and proceeds to transform into his True Form by leaving Earth and into the supercluster of galaxies whereby he completes his transforming process and then produces large humongous explosions.
The Grand Priest then teleports himself back on earth where he confronts Goku. Seconds after Goku spots him, Goku intensely transforms into his Super Saiyan Infinity form where in the process of transforming shows all his forms that he possesses. After all that, the two then prepare to battle.
Power
[
]
When transforming into his True Form, the Grand Priest had to leave Earth into the clusters of galaxies order to not explode it while in the process of transforming. In his true form, he produced wind in legit space and set off humongous explosions that was seen from the superclusters to earth.
Abilities
[
]
God Detonation - While in the supercluster of galaxies and in his True Form, the Grand Priest emits enourmous explosions that were seen from even earth.
Instant Transmission - The Grand Priest uses this to teleport from the supercluster of galaxies to earth, making his far superior.
True Form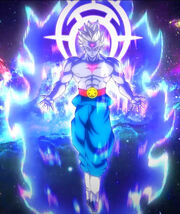 The form that seems to be the combination of
Destroyer Form
and
Perfected Ultra Instinct
with a halo behind him similar to that of
Merged Zamasu
's halo.
[

]
This navigation box is unfinished
Dragon Ball Ultra

Characters
This navigation box is unfinished
Pages by UltimateBreaker

Characters

Techniques

Transformations

Ultra Destroyer (Saiyan Form)

Objects

Templates

Power Levels & Multipliers

Stories

Other