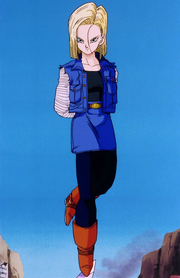 This story, Future Lazuli (BH version), contains adult themes and situations, or explicit sexual content, and may not be appropriate for children.
Reader discretion is advised.
Future 18 is a villain in Gohan's, Goten's and Trunks's future. She (along with her twin brother) had an deal with BH to spare the lives of Tien and Naiccolo, but were said to kill Vegeta and others as much as the like (Roshi was killed by her when he touched her). She was killed by Gohan
Ressurection
Edit
Lazuli and Cell were wished back for the BH game, unlike Lapis. Unlike Cell who killed himself, Lazuli is still alive........but not for long.
Community content is available under
CC-BY-SA
unless otherwise noted.