This article, Frozen (Xz), is the property of dark TRUNKS.
Frozen
Dragonball Xz Character
Vital statistics
Homeworld:
Unknown
Species:
Changeling
Gender:
Male
Birthdate:
Unknown
Date of Death:
Still Alive
Family
Personal Weapons Systems
Chronological & Political Information
Affiliations:
Changeling Universal Army
Enemies:
Z-Fighters

Frozen is the one of the God-Emperor of the Changeling Universal Army's Elites. He was released when the Original Namekian's seal was broken upon his death.
Transformations
[
]

Pretending the monstrous form is his ultimate one, he doesn't give this one a name and feigns madness and savagery.

While fighting Trunks, he reveals this form, calling himself 'Titanic Frozen' in an attempt to mask it not being his final form.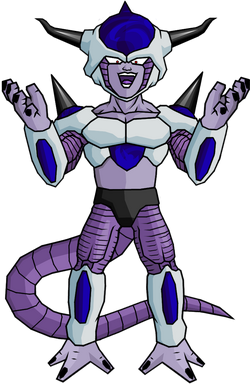 Frozen is first revealed in this form, pretending it is their only form before transforming against Trunks.

Frozen notices Zero & Iceberg return to base form against Gohan & Goten and uses it against Trunks.
Abilities
[
]
???