This article, Eternal Dragon (Xz), is the property of dark TRUNKS.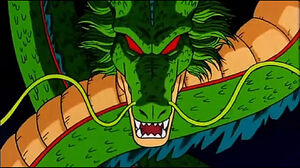 Eternal Dragons are a powerful race of giant immortal serpent dragons. They live inside Dragon Balls and are created by Namekians.
Physical Appearance
Edit
They can be any color, though they are usually green. They are giant, glowy, and really really long. They are also dragon-like.
Notable Eternal Dragons
Edit

Black Smoke Shenron is the main villain of the dark TRUNKS Saga. He is the Dark COUNTERPART to Shenron and was born from all of the negative energy coming from his wishes. He is the only evil Eternal Dragon.

Shenron is the Eternal Dragon of Earth's Dragon Balls. He was created by Dende.

Porunga is the Eternal Dragon of Namek's Dragon Balls. He was created by Moori.
Community content is available under
CC-BY-SA
unless otherwise noted.