This article, Dark Big Bang Attack (dark TRUNKS), is the property of dark TRUNKS.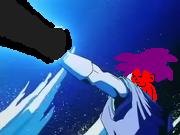 Dark Big Bang Attack is an attack used by dark TRUNKS in the series Dragonball Xz.
Overview
[
]
After using the Dark Copy technique while in Super Dark Saiyan, dark TRUNKS copies Vegetas's Big Bang Attack attack. When dark TRUNKS uses Dark Big Bang Attack, it is black instead of blue and is exactly 10x stronger than the version dark TRUNKS copied. This combined with dark TRUNKS being in Super Dark Saiyan proves to be a powerful attack.