This article, Colaria Masenko (U93), is the property of Jodenku.
Colaria is the mother of Jodenku, Kazuto and Asonja. Her husband is Hitzu. She was one of the saiyans that survived the 934 implosion. She is still alive today.
Colaria
character image
DragonBall PD Character
Vital statistics
Birthplace:
New Planet Vegeta
Power level:
998,704,906
Homeworld:
Earth
Species:
Saiyan
Gender:
Female
Birthdate:
Age 893
Date of Death:
Still alive
Height:
5'9
Weight:
162lbs
Hair Color:
Black
Eye Color:
Black
Family
Mother:
Unknown
Father:
Unknown
Spouse(s):
Hitzu (Hitzu is dead so she's single now)
Children:
Jodenku, Kazuto, Asonja
Grandchildren:
JODENKU: Riyaku,Celora Jr. KAZUTO: Masukao
Personal Weapons Systems
Energy Basic Attacks:
Ki Blast
Heavy Energy Attacks:
SS Deadly Bomber, Diguiser 562, Ultimate Revenger
Chronological & Political Information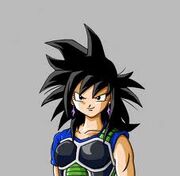 Community content is available under
CC-BY-SA
unless otherwise noted.