This story, Brolyna (Saiyan Battles), contains adult themes and situations, or explicit sexual content, and may not be appropriate for children.
Reader discretion is advised.
THIS ARTICLE CONTAINS HEAVILY MATURED THEMES INCLUDING SEXUAL CONTENT. 15+. PLEASE DO NOT READ THIS ARTICLE IF YOU ARE 15 OR BELOW 15. Edit
Brolyna is Broly's Sister. She makes a cameo appearance in the Special: Destiny! Broly's Revenge! Much of her information is unknown.
AppearanceEdit
Brolyna looks a lot like her brother but is not completely mad with rage. However she is very powerful and can fight if provoked.
PersonalityEdit
Brolyna is first seen operating her husbands ship before they crashed on a lonely planet. She is very cruel as she is seen executing some soldiers for failing to mop the floor correctly. She is weaker than Broly but acts as his brains.
She is the youngest child and only daughter of her father Paragus. However, Paragus favored Broly over herself as the former was stronger. She is very supportive to her brother.
TransformationsEdit
Restrained Super Saiyan - This is her only known form. Her power increases 20x and she gets bluish-green hair.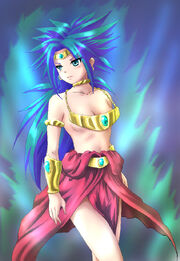 Community content is available under
CC-BY-SA
unless otherwise noted.