Brolia (PGT)
Edit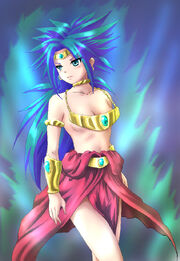 Description
Edit
Brolia is the sister/sister clone of Broly Jr. She may be a saiyan, but she shows a fear of fighting. Her genetic code and DNA was disrupted like her brothers. She is also a little shorter than her father. Ironically, she has been given the ablilty to transform in to super saiyan.
Aside from her good looks, she is also very smart, albeit weak in a fight.
She too, like her brother, has a tail.
Whatever she wears, is whatever she wears... You think of it!
She too was born as a clone, and was sentenced to death by General Kodak, but she escaped, without fighting.
Statistics
Edit
Name(s), Nickname(s)
Brolia, Miss Broly, Sweet Soul Sister.
Birth and Age

(I have no clear conception of time within Dragon Ball, notify me if you know, TitaniumBardock 02:29, January 24, 2011 (UTC)

Age: 18

Family

Broly- Original/ Biological Father

Broly Jr.- another clone/ brother

Spouse is to be announced

Incubator/Cloning Tube-artificial mother

Stories
Transformations
Edit
Techniques
Edit
Community content is available under
CC-BY-SA
unless otherwise noted.