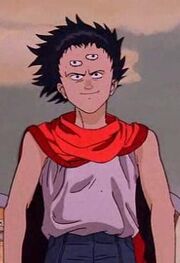 "I got four eyes, man! Of course I can watch your back!"


Bego is the estranged son of Tien Shinhan and is a four-eyed telepath. He can also communicate with the dead, earning him the title "He who speaks to the Next World."
Biography
[
]
Personality
[
]
Bego is brave and rash, believing every problem he has can be easily solved by using his telepathic powers. However, without his powers, he can be quite a coward.
Is cringe.
Powers
[
]
His telepathic powers allow him to control all materials he can find. He can cause the ground to shake on command, he can draw out energy from a person, and he can even control the wind in the air.