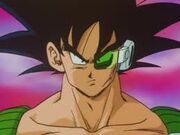 This article, Bardock Unleashed (MysticGotenks), takes place in an alternate universe or timeline,
and is not considered a part of the main Dragon Ball Timeline.
This article, Bardock Unleashed (MysticGotenks), is the property of MysticGotenks.
"My Father told me I had tons of potiental, but i never believed him."
— Bardock before fighting King Cold
Please Note: This story contains occasionally swearing,cursing, and graphically gruesome deaths that may not be appropriate for young readers. THANK YOU!
Bardock Unleashed is a Bildungsroman fan-fiction/manga created by MysticGotenks. This story is about Bardock's life and adventures he faces. This takes place in an alternate timeline. It is currently in progress.
Theme SongsEdit
1)Tora Saga-TBA
2)Rivalry Saga-TBA
3)Cooler Saga-TBA
4)Fasha and Bardock Saga-TBA
5)War Saga-TBA
6)Elite Saga-TBA
7)Genocide Saga-TBA
8)Afterlife Saga-TBA
9)Android 9 Saga-TBA
10)Tournament Saga-TBA
11)King Piccolo Saga-TBA
12)Chilled Saga-TBA
13)Vegeta Saga-TBA
14)Mecha Frieza Saga-TBA
15)Attack of the Androids Saga-TBA
16)Ultimate Lifeform Saga-TBA
17)Legendary Super Saiyan Saga-TBA
18)Cold Family Saga-TBA
19)Fusion Saga-TBA
20)Saiyan Saga-TBA
Important Pages
Edit
Character List of bardock Unleashed
Power Levels as they progress throughout Bardock Unleashed
Timeline pf Bardock Unleashed
List of Sagas in Bardock Unleashed
Tora SagaEdit
Focuses on Bardock in Saiyan School and meeting his lifelong friend Tora. Episode List 1)Prologue 2)Tora and Vegeta 3)Garlick Gun 4)Training with Father 5)Detention 6)Destiny Battle 7)
Community content is available under
CC-BY-SA
unless otherwise noted.