We're Getting Mutants in the MCU - The Loop
Play Sound
This article, Bardock (Nikon23's Extended Universe), is the property of Nikon23.
Bardock

Race:

Saiyan

Gender

Male

Alias:

バーダック

Date of Birth:

Age 691

Date of Death:

Age 739

Debut:

Manga: Dragon Ball Minus - The Departure of the Fated Child,
Movie: Dragon Ball Super: Broly

Occupation

Commander

Allegiance

Frieza Force
Saiyan Army
Other World Defense Force

Address

Bardock's House

Relatives

Bardock (バーダック) is a low-class Saiyan warrior. He is the son of Bagge and older brother of Parsley. He is married of Gine, and the father of Raditz and Kakarot. Bardock's childhood until his early years in adulthood is unknown, but he is shown to lead his own squad into battle, and they are very successful in accomplishing their assignments. He is an adept fighter and a devoted Saiyan Army soldier under Frieza's Force until he realizes that Frieza plans the annihilation of the Saiyan race.

Appearance
[
]
As noted by Raditz and Frieza, Bardock bears a striking resemblance to Goku: he is a tall man of muscular built with black hair. His hair is unkempt.
In Dragon Ball Minus: The Departure of the Fated Child and Dragon Ball Super: Broly, Bardock wears a beige Battle Armor with shoulder pads and boots without the red shinguards, blue armbands instead of red has no headband of any kind. The scar on his check is smoother and x-shaped. He also has an additional thin scar running horizontally across his right bicep. His tail is also draped more loosely around his hips.
Personality

[

]
Like most Saiyans from Universe 7, he is somewhat cocky, loves fighting, and will kill in cold blood. But compared to the cold-hearted and simple thoughts of his race, Bardock also happens to possess calm judgment and a measure of humanity. Due to his actions of saving his companions, which is rare for a Saiyan, he is greatly adored among a portion of the low-class warriors. He has a great sense of pride and independence as while most Saiyans have all been tamed by Frieza and his army, even King Vegeta, Bardock is the only one that maintains something of their pure nature and showed a willingness to challenge Frieza.

In Dragon Ball Minus: The Departure of the Fated Child and Dragon Ball Super: Broly, Bardock's personality has some distinct differences. While still a Saiyan soldier at heart with a stern and straightforward approach to things, he was more social as he would warmly greet other Saiyans after arriving in his homeworld. He showed great care and compassion for his own children, an action he says that is due to Gine's softness rubbing off on him. In Broly, he stated that it might be that after all the death and destruction he had caused, he felt the fickle urge to actually save something, particularly if that something was judged to be a low level like his son, Kakarot. Upon learning of Frieza's growing fear of the Super Saiyan legend, Bardock quickly comes up with a plan to get Kakarot off the world so he could live. Bardock also displays some heroic qualities as well, as when Frieza launches his Supernova to destroy Planet Vegeta, Bardock flies up to try and stop it, resorting to fighting several of Frieza's minions and then throwing himself in front of it as a last ditch effort to save his race from extinction.

Background

[

]
Bardock is a low-class Saiyan mercenary who leads a small platoon comprised of four other Saiyan soldiers, Tora, Fasha, Borgos, and Shugesh. His wife Gine was also part of Bardock's Team at one point. Together, the team makes a living by traveling to various planets where they decimate the defenses of these civilizations and prepare them for Frieza's Planetary Market. Bardock was famous for his bravery even among the Saiyans. After being saved on the battlefield by him several times, Gine developed some feelings for Bardock. Due to her gentle nature, Gine was not cut out for fighting and retired. Her gentle nature has also changed Bardock's behavior, as Saiyans usually do not demonstrate care for their children but Bardock does. Leek and Taro eventually joins Bardock's team at some point.

Dragon Ball Minus: The Departure of the Fated Child

[

]
Dragon Ball Super: Broly

[

]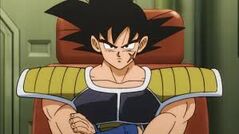 Bardock and Leek are in a battle against aliens on another planet when they receive a message on their Scouters ordering all Saiyans back to Planet Vegeta. The two head back to the planet, noticing Frieza's Spaceship hovering in orbit above Planet Vegeta. Bardock believes that Frieza must have a hidden agenda. Upon his return to Planet Vegeta, Bardock learns from Taro that Frieza's men had been asking about the Super Saiyan legend.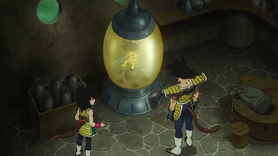 Bardock heads home to reunite with Gine and asks if their son, Kakarot, is still in his incubator. Gine says that he is, but it has been three years, so he will be released soon. Bardock also learns that Raditz is off world with Vegeta and Nappa. Bardock fills Gine in on what is going on and reassures her everything is going to be alright as he has a plan. His plan is to send Kakarot off world to a planet called Earth, which he already scouted prior and the population is mostly peaceful and anyone may not pose a threat to Kakarot. From there, they would wait it out and if Bardock is wrong they will simply go to Earth and get Kakarot and come back and if not they to will escape to Earth if there is time.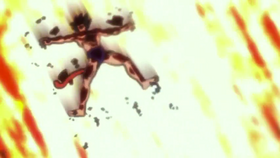 Later at night, Bardock steals an Attack Ball, and he and Gine send Kakarot away to Earth, also deciding to inform Raditz about this. Bardock places his hand on the cockpit window as to does Kakarot. Bardock tells his son to be strong and brave for him and smiles at him as Kakarot is flown to safety. After this Frieza flies up above Planet Vegeta and throws his Supernova at it. Bardock tries blasting it but his attack is overwhelmed and he is disintegrated.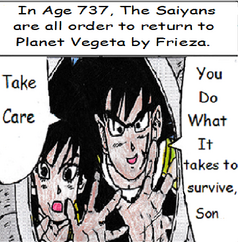 Bardock makes a appearance in the first chapter of Dragon Ball SF. In Age 737, Bardock and Gine secretly send Goku off on the opposite side of the planet so Frieza's ship can't see him escaping in an unauthorized departure to Earth.Gine informs Raditz of Kakarot's departure to Earth which he mistakenly assumes to be a Saiyan Army authorized mission to invade Earth.
Just prior to the destruction of Planet Vegeta, King Vegeta launches an assault on Frieza's spaceship, but ends up being murdered by Frieza. Frieza destroys Planet Vegeta, killing most of the Saiyans including Bardock, Gine, Leek, and Taro in the process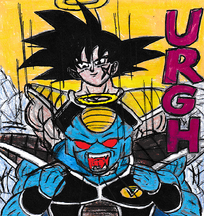 Years later in Age 790, After being allowed to have a body, Bardock is allowed to train under Grand Kai along with Raditz, Piccolo and Pikkon. Bardock later joins the Other World Defense Force and works directly under King Yemma. In Chapter 6 of Dragon Ball SF, He is seen fighting against many villains in Hell alongside his comrades. He is fight seen fighting against Pui Pui and later holding Burter in a choke hold.
Power

[

]
While on an unknown planet with a fellow Saiyan comrade, he is able to easily decimate the native aliens of that planet. Months later, he is easily killed by first form Frieza.
Statements by authors and guidebooks
It was stated by Akira Toriyama that Bardock was one of the strongest low-class warriors, but was not strong enough to be considered a mid-class warrior. Bardock was also strong enough to protect Gine several times and other members of his group whenever they were caught in danger.
Abilities

[

]
Trivia

[

]
Bardock's name, like all other Saiyan characters, is a pun on edible plant material, in this case, the burdock herb (this pun is more apparent in the Dragon Ball manga, where the character's name is literally spelled Burdock). Bardock's family are all named after root vegetables (burdock, onion, radish, and carrot). The word "burdock" transliterated into katakana is badokku (バードック, bādokku), but the character's name is written as Badakku (バーダック, Bādakku), changing the 'do' character to 'da'. This character change actually makes the kana sound more like "Bardock" to English speakers, making it difficult to accurately romanize the word to convey the pun.
Bardock was the first anime original character to later be included in two panels of the manga.
The way Bardock tries to warn the Saiyans about Frieza destroying them all in the 1990 TV special is similar to how Jor-El from Superman tries to inform his people of Krypton's destruction. The 2014 Dragon Ball Minus manga further increases the similarities between Bardock and Jor-El.