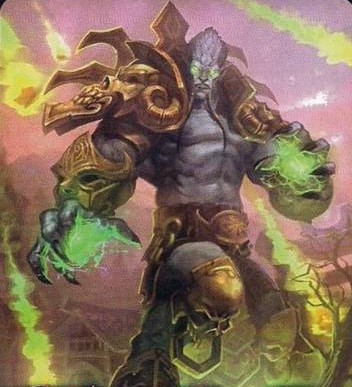 Archimonde
One of the Demonic overlords of the burning legion, he is extremely powerful. Having mastered a almost all arcane spells, warlock, mage, and others. He knows Kil'jaeden's abilities(and Kil'jaeden knows his too), and both are extremely powerful when working together. Archimonde is more combat-oriented, while Ki'jaeden is the mastermind of the legion.
Background
It was assumed that Archimonde had died in that last battle. Yet, in a change of events influenced by Akoni himself, he had absorbed the power of Nordrassil and became far greater in power than ever before. His abilities
Abilities
Ignore the damage of these abilities shown on WoWwiki, the damage they now deal is far greater due to their enhancements
http://www.wowwiki.com/Archimonde_(tactics)
http://www.wowwiki.com/Kil'jaeden_(tactics)
All Warlock abilities
All Mage abilities
All Demonic abilities
Telekinesis
Mind manipulation
Paramount Spells
Cloning
Size Manipulation
Wish granting
Shape changing(gains abilities, powers and fighting styles of target)
Hellfire manipulation
Self-enhancement
Enfeeble – drops the enemy's hp to 1, lasts for 10 seconds. If the target is hit at any point of time, they die instantly.
Traits
Archimonde is arrogant and cocky, but very cunning. He rarely tolerates the failures of his underlings, as demons can easily be resummoned. Even before joining Akoni or absorbing Nordrassil's power, his magical capabilities were described to be monumental. All of his demonic underlings were fodder to him, and while normal demons can summon a few infernals a day, Archimonde can summon countless numbers of them, making them rain from the sky, and basically summoned the entire Burning Legion into Azeroth with his sheer power alone. In the war of the ancients, he killed Cenarius father, as well as casually wiped out huge armies with his magic.
Ever since he joined Akoni, his power has increased leaps and bounds beyond his original capabilities. Now, he is far more powerful than previously implied, and all of his spells are enhanced beyond measure. The amount of power he has is proportionate to the number of seals released – where his access, control over, and potency of magic is boosted based on the Makyo Star's power. It can be said that the Makyo Star is not enhancing the user's power, but rather releasing their true capabilities.
He is a particularly skilled conjurer, having a wide array of self-enhancing abilities and powerful debuffs, he has skills such as Enfeeble and Gravity, on top of raining Infernals and Abyssals. Using a wide selection of such skills, his capacity for damage is unmatched.
Community content is available under
CC-BY-SA
unless otherwise noted.