This article, Android 18 vs. The Benefactor (ERB), is the property of Guysponge22.
Android 18 vs. The Benefactor is the third episode of Epic Rap Battles of Dragonball Fanon Wiki. Note: This rap battle contains swearing.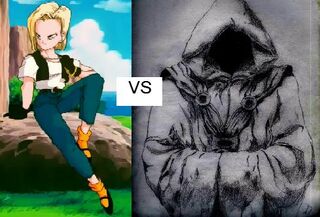 [Nararrator (KidVegeta)]:
EPIC RAP BATTLES OF DRAGONBALL FANON WIIIKI!
EPISODE 3: ANDROID 18 VS. THE BENEFACTOR
BEGIN!
[The Benefactor]:
Hello, I'm the Benefactor,
And I'm the best, ME!
After this battle, you'll become history!
And after this, I'll make you less
You'll become a hot mess!
You haven't even experienced a "Oh yes!"
So go take ya robot ass
And on that party, I'll pass.
So please,
Take ya loss with ease?
Dang, you look like Mr. T!
You shoulda died in GT!
[Android 18]:
A-hole,
You trying to hide that mole?
You're just too much of a prick, to show ya face!
Lemme get my mace
'Cause bitch
I'll make ya go to a ditch
You look like a manslaughter
Go have a date with Harry Potter!
Go die
Why don't I give ya some "Ledas Rocks" pie
Hear you're a reptilian freak!
Can I take a peek?
[The Benefactor]:
No wonda you suck
You were always outta luck
So like POW!
How do you like me now?
[Android 18]:
Stealing that from ERB?
I'm actually original, you see?
Tsk, tsk.
Don't be a dick
Like I said, ya prick
[Narrarator (Guysponge22)]:
THAT WAS AWESOME!
BUT WHO'S NEXT?
Community content is available under
CC-BY-SA
unless otherwise noted.