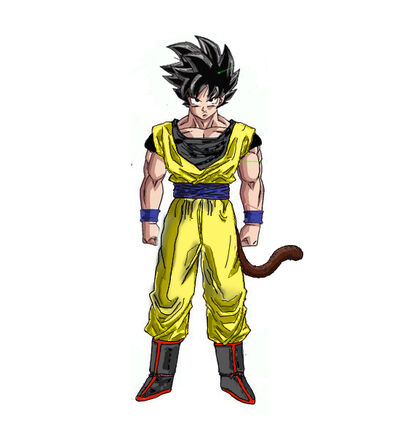 Voice Over Actors:
(American:Josh Grelle)
(Japanese: Miyu Irion)
Bio
Name:
Aang
Daikon
Monkey Boy
Daigun-sa
Aam-sa
Aperance in: Dragon Ball Z Ultimate Tenkaichi
Race: Saiyan
Gender: Male
Date of birth:Age 737(Assumed July-August by Aang's human parents)
Date of Death:Unknown
Date of Brought back to life: Unknown
Height: 180 cm/6'5 (adult)
Weight: 62 kg/137 lbs. (adult)
Address: Kami's Lookout  Occupation: Martial Arts
Allegiance: Ultimate Fighters
Family:
Aang's Earth Dad/Mentor
Aang's Earth Mother
Zio Birth Father/Mentor
Android 18:Wife
Aung: Son
Piccolo (ULT) :Mentor
Aang
This character is the main protagonist in the Dragon Ball Z Ultimate Tenkaichi novel.The story is about a man named Aang born Daikon.He is a sayian that was raised on earth,and later become Earth's greatest defender.He was sent by his father Zio.When planet vegeta was destroyed by frieza. He was found on earth by an old couple.He soon had grown friendships along the way but the earth was destroyed by Omega sheron. Aang wanted to go out and save the planet but his parents told him to wait until he was 20 then he can fight the evil as earth champion. Aang Marries Android 18.
Personality
Edit
Aang is Cheerful, courageous and also a bit naive and also pure-hearted.Aang has an energetic personality and his love of competition; specifically sport fighting and eating. He will eat anything.He has remarkable intuition at seeing the good in others in spite of their actions, though his capacity for forgiving his enemies has occasionally been criticized as excessive; Aang, for the most part, only fights to win, and spares his enemies after defeating them only for them to attack him when his back is turned.His staggering power is simultaneously reined in and enhanced by his fierce loyalty and morality.Aang can also be very blunt, and not afraid to express his opinion in a discussion.Despite his kind-hearted nature, Aang can feel incredible anger in cases of extreme turmoil, such as the death of a close friend/relative, or when someone murders many innocents needlessly. He has a simple, practical view of the world and is somewhat naive to the world around him. Because of this, many characters incorrectly assume him to be somewhat stupid, although once he has a basic understanding of things, he learns very quickly. His most remarkable ability is his will to succeed, his tenacity and persistence. He is always determined to push himself beyond his limitations, and never give up even when the odds are stacked against him.Aang is a man with no negative feelings or thoughts but when things get bad he gives a person 1 chance to give up and become someone better.
" I"ll never forgive whoever did this to our world.....I will change it back!".
Story Line

Edit
The parallel world was at peace for many years by the warrior Aang and his mentor Piccolo, but something unusual happened.Multiple disasters, natural catastrophes....
An evil has awaken,A pare,Mother and son.They are change the history of the warrior and destroy the fabric of time. The people of the parallel earth are dying. All hope is lost.... But The Suprime Kai of Time and her new Time Partrollers, Topaz,Unda,Blizzard,and Majin Boola are going to stop the  Evil Time destrpying pare.New world setup - a clock that once had stopped will start to tick again in an enigmatic and futuristic city.There hope? To return peace to the world and rid the planet of evil.
Apperiance
Edit
Aang has spiky black bed hair that never changes throughout the franchise. He is most commonly seen wearing his trademark Yellow gi over a black shirt with blue ristbands and black boots with red strips.Featured with the Deamon King Symbol
Biography
Edit
When Aang was born his father Zio had big hopes for him to be the most strongest Saiyan ever, but the Planet Vegeta was destroyed by Frieza. Aang was born on the same day Goku and Broly were born.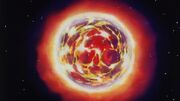 Aang was soon found by his earth parents and his earth father tought him how to fight and taught him the Kamehameha.Aangs earth parent showed him that he is not a human but a saiyan.They showed him the ship he came in and the Hologram video that his father made.The video showed him how to fight,the saiyan history,who his family,and some of his father old storys from when he was young.
....................................................................................................................................................................................
After Aangs fight against the androids he heard of a demon king that use to attack earth,and soon turned good. He went to see if the rumors were true.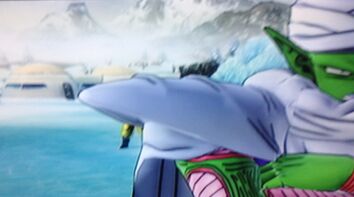 Piccolo soon threatens Aang and they are full on fighting.Piccolo then throws a Special Beam Cannon at Aang and defeats him. Aang soon get up with his will and turns into a Super Sayian.And soon defeats Piccolo.Piccolo respects Aang and soon trains him to defeat Baby.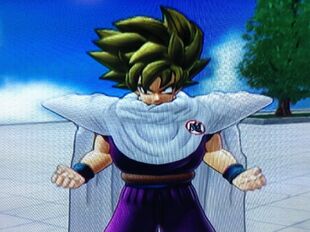 Piccolo trains Aang for 1 day in the Hyperbolic Time Chamber which is a year in there.So now Aang is 21 yeras old
....................................................................................................................................................................................
Aang then Summons The Ultimate Sheron and Wishes him to change the world back.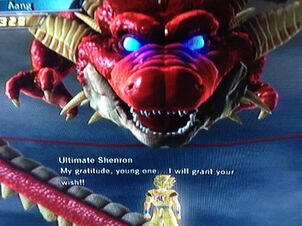 Aang remembers Omega Sherons last words and now is anger that he cannot save the wolrd.But he showed omega Sheron by whishing to bring bck all of the people who were killed in the chaos.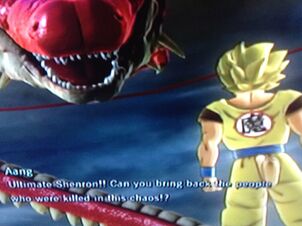 Aang the quoted that if he canot fix the wrold with the Dragon Balls then he will fix the world with his own two hands.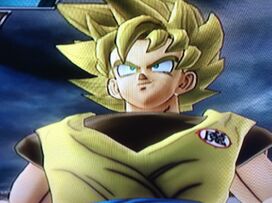 The hero is very powerful, with his base form's power being above that of the Super Namek Piccolo. 
Techniques
Edit
Kamhameha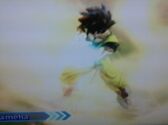 Grand Smasher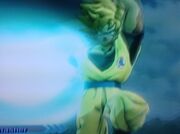 Special Bean Cannon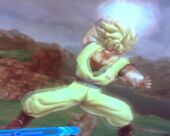 Full power energy wave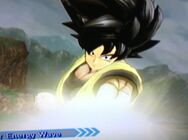 Full power energy ball
Full power energy barrage wave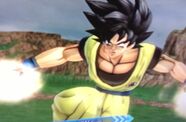 Glalactic Blow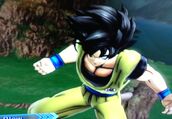 Super Explosive Wave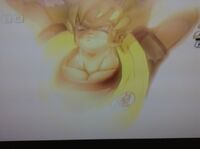 Self Explosion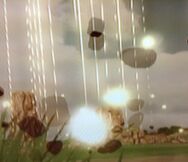 Transformation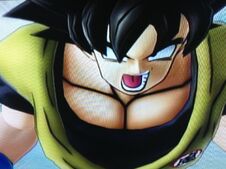 Afterimage Technique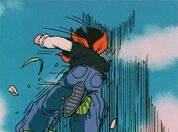 Zenkai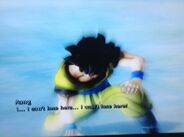 Force Field
Ultimate Blow 
Ki Blast
Invisible Eye Blast
Saiyan Aura Blast
Homing Energy Wave
Ki Sense
Kiai
Spirit Shot
Telepathy
Telekinesis
Mimicry
Mystic Clasher
Fighting Style
Edit
Goku Super Saiyan 2/Hero Boxing Style 
Normal Form:
Great Ape Form: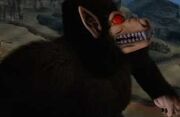 Super Sayian Form:
Full-Power Super Saiyan Form: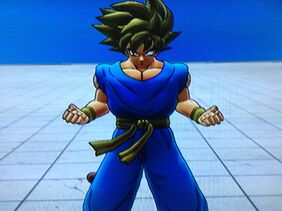 Super Saiyan GOD Form: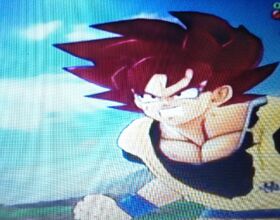 Community content is available under
CC-BY-SA
unless otherwise noted.